STREET PHOTOGRAPHY SELECTION - MONOMAD || ENG-ESP || (08 Pics)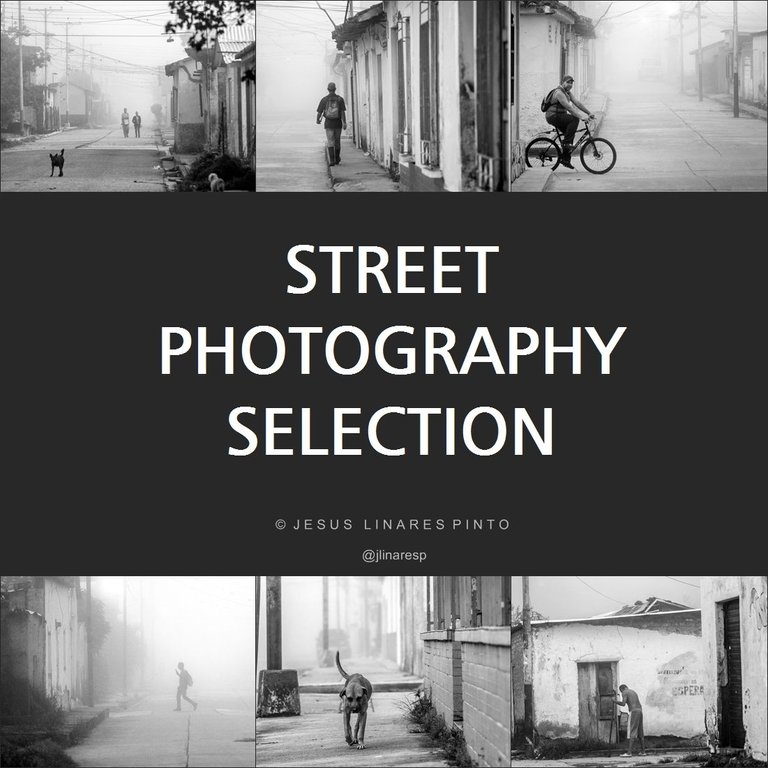 ---
Hello to all my dear monochromatic #Hive friends.... It's almost the end of August and the weather here is still as capricious as it has been these past few months. I guess it's not news to anyone that the weather is upside down and unpredictable. However, it is something that never ceases to amaze me, especially because of the contrast between the foggy dawns and the later hours of the day in which downpours fall or the heat goes beyond the usual and the solar radiation seems to melt everything in the landscape.
Hola a todos queridos amigos monocromáticos de #Hive... Ya casi finaliza Agosto y el clima aquí sigue siendo tan caprichoso como lo ha sido estos últimos meses. Supongo que no es nuevo para nadie el hecho de que el clima esté trastocado e impredecible. Sin embargo, es algo que ami nunca deja de sorprenderme, en especial por el contraste que hay entre los amaneceres con nieblas y las horas posteriores del día en las cuales caen sendos aguaceros o el calor va más allá de lo acostumbrado y la radiación solar parece poder derretir todo lo que hay en el paisaje.
---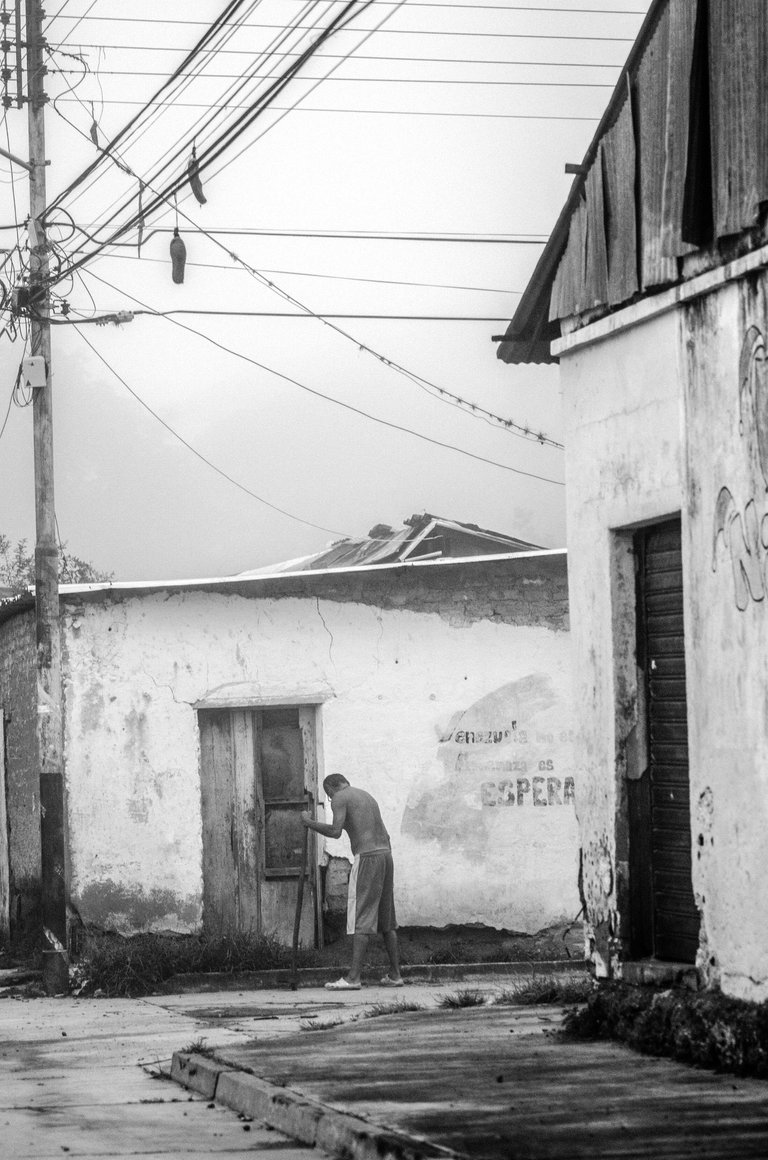 "Where Luis"/"Donde Luis"
---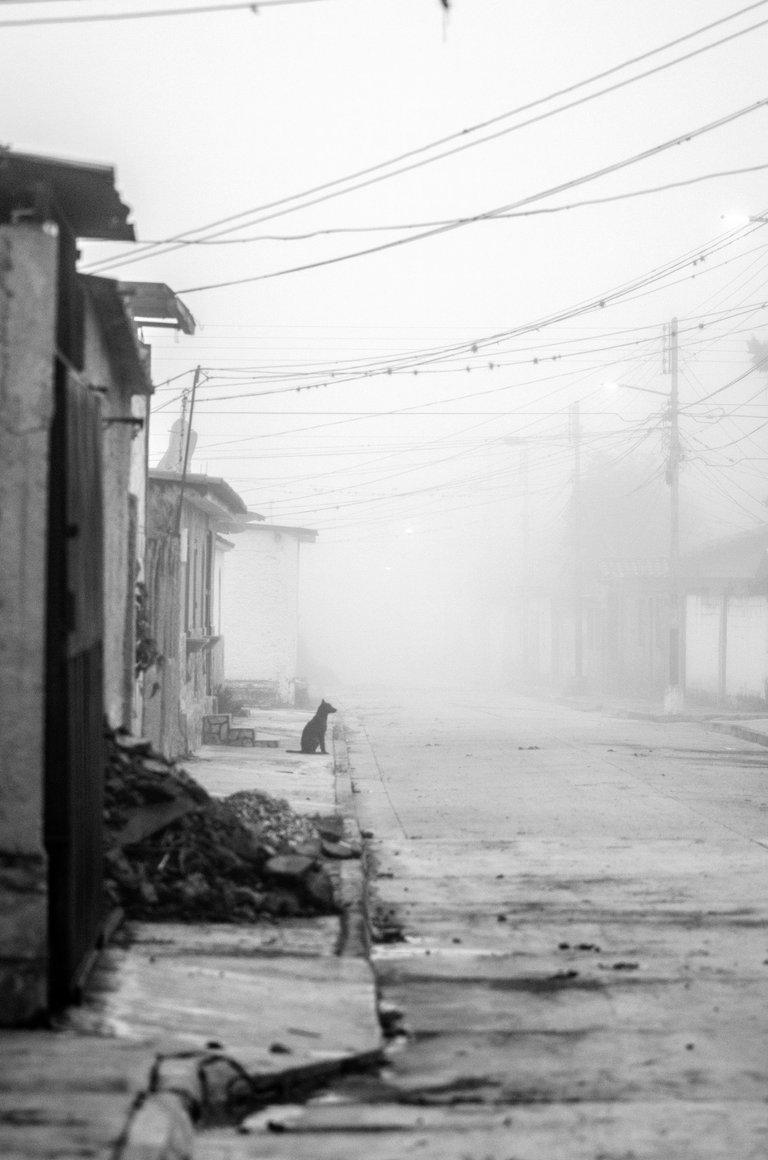 "Dog thinking far"/"Perro pensando lejos"
---
In the midst of all this climatic incoherence, I continue to do the same thing every morning I can... I wake up early, open the old window of my room overlooking the street and see if there is fog. Then, when there is, I barely make myself a cup of coffee and rush out to take pictures leaving the usual note to my wife to tell her I've gone outside.
En medio de toda esta incoherencia climática, yo continúo haciendo lo mismo cada mañana que puedo... Me despierto temprano, abro la vieja ventana de mi habitación que da a la calle y observo sí hay niebla. Entonces, cuando la hay, apenas me preparo un café y salgo disparado a hacer fotos dejando la acostumbrada nota a mi esposa para decirle que he salido a la calle.
---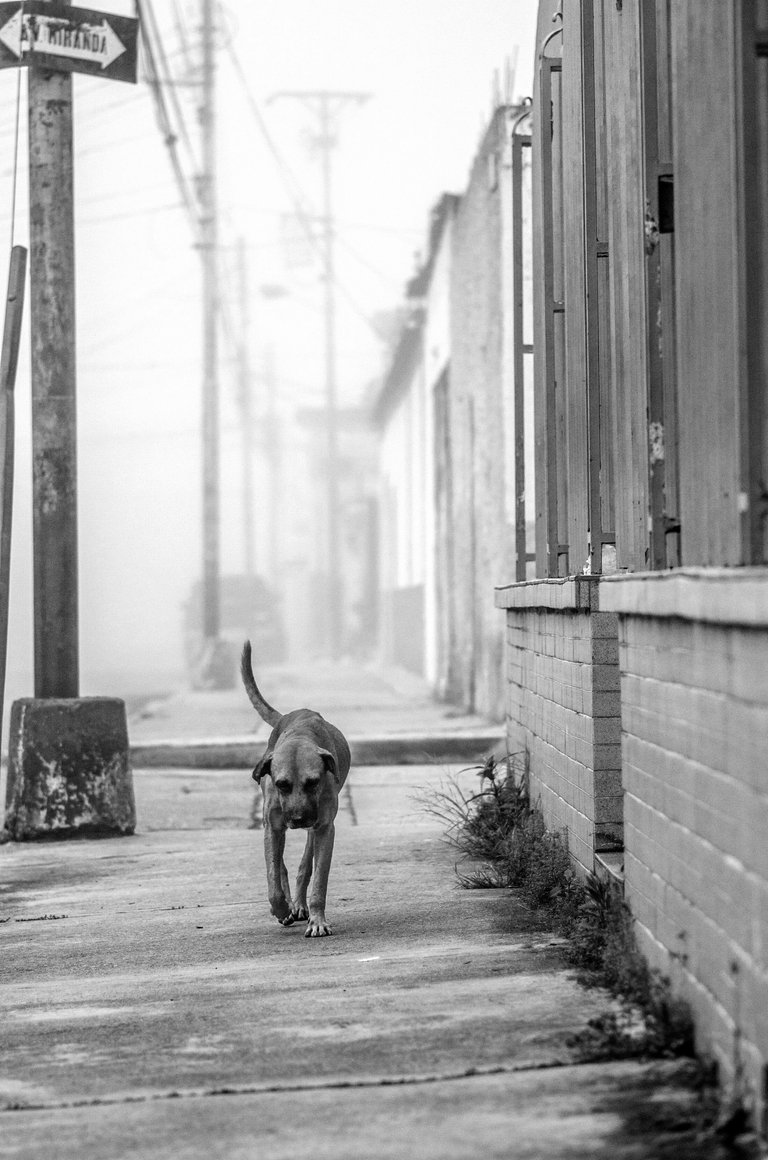 "Old and tired"/"Viejo y cansado"
---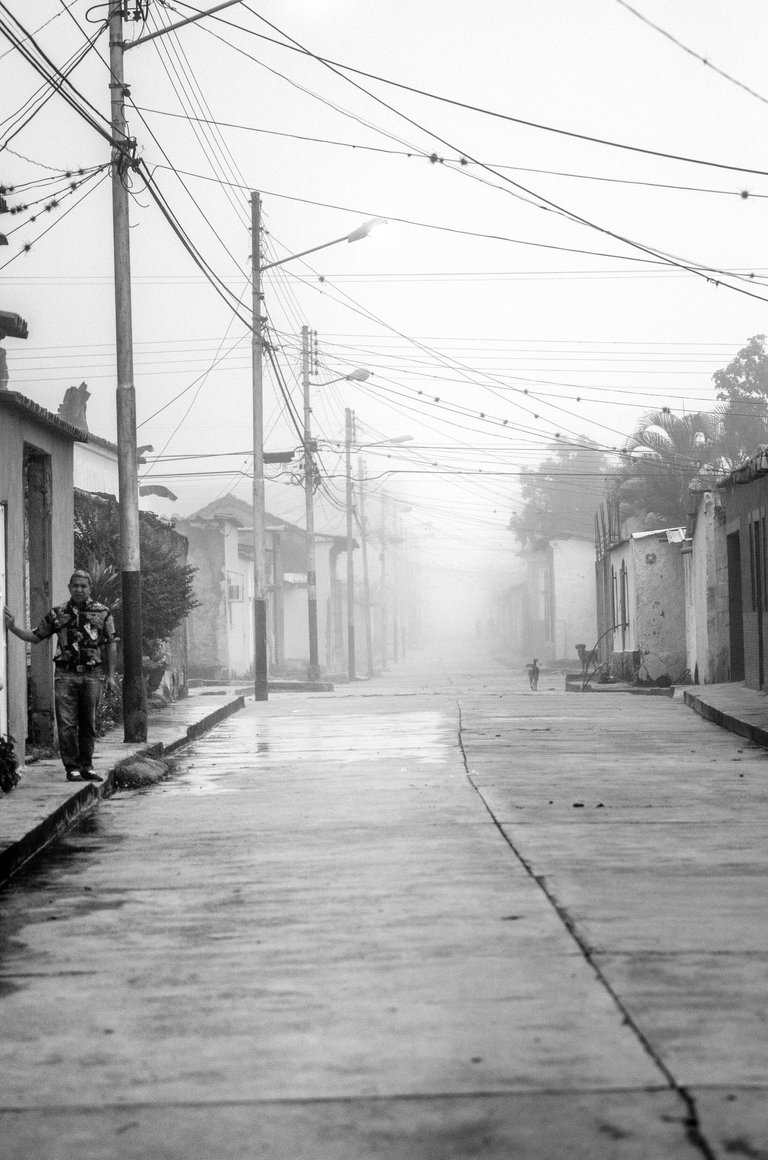 "Like in slow motion"/"Como en cámara lenta"
---
Outside, the same streets, the same people are waiting for me... But almost never "the same photos" because every day this whole puzzle of daily events seems to assemble differently. Perhaps the strangest piece of all this is myself wandering around with a camera in my hand playing to go unnoticed in the middle of that fog now smooth, meek and lukewarm... Not like the fog of before years, which was fresh, dancing and sonorous...
Afuera me esperan las mismas calles, las mismas personas... Pero casi nunca "las mismas fotos" porque cada día todo este rompecabezas de sucesos cotidianos parece ensamblarse distinto. Quizás la pieza más rara de todo esto sea yo mismo deambulando con una cámara en la mano jugando a pasar desapercibido en medio de esa niebla ahora mansa, macilenta y tibia... No como la niebla de antes, la cual era fresca, danzarina y sonora...
---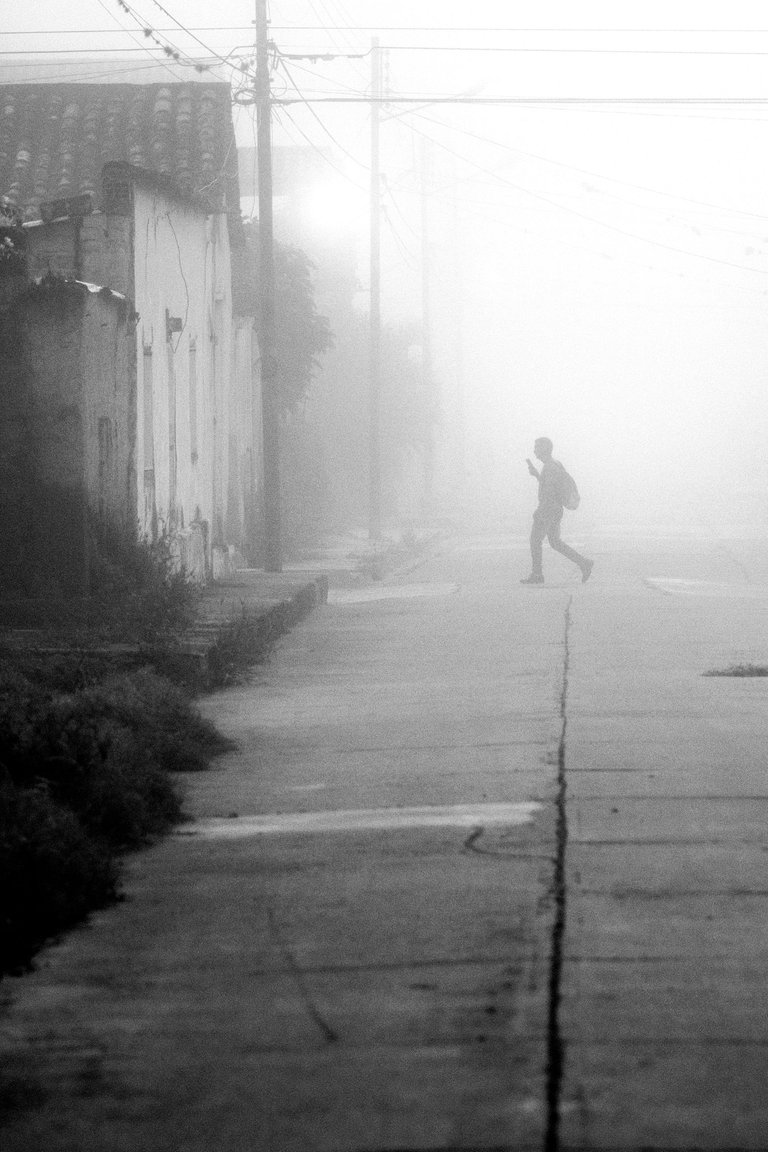 "Spectrum in the corner"/"Espectro en la esquina"
---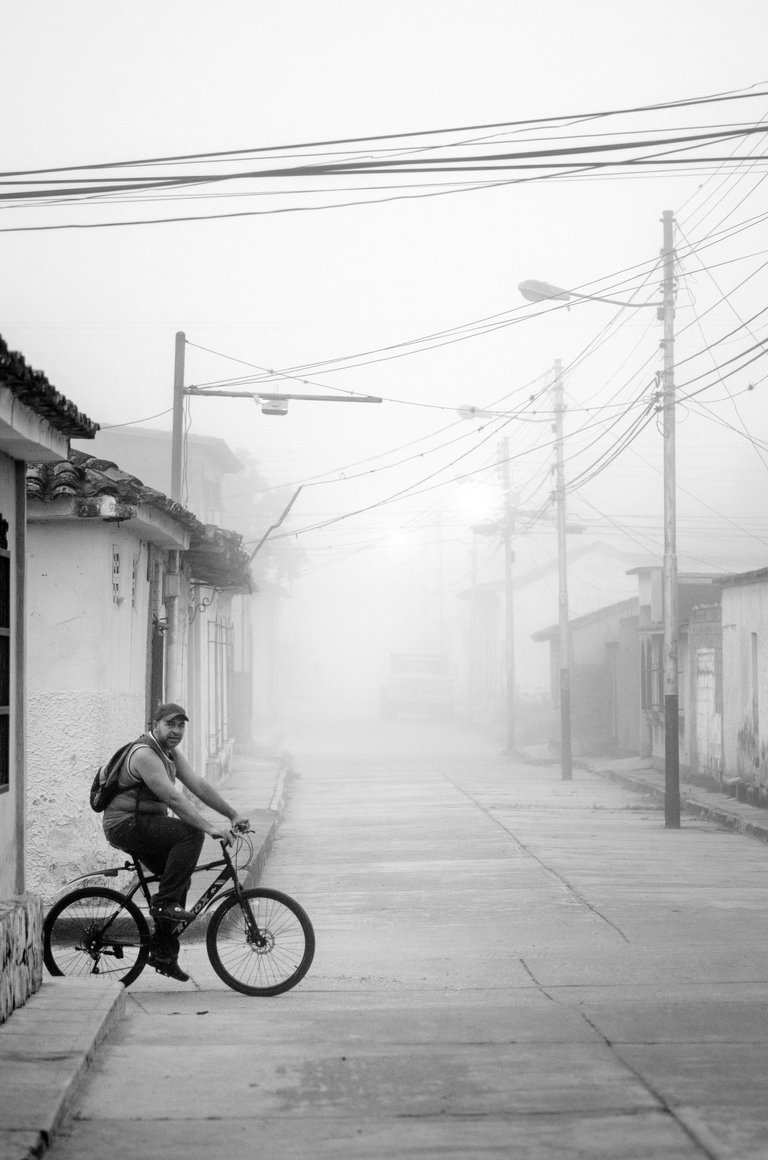 "Street & Javier"/"Calle y Javier"
---
One thing remains unquestionable, is that staying at home while the fog floods the streets, is something that generates an unbearable "sense of loss"... Hundreds of photos are happening out there and I'm at home!... No, I am not fit to let foggy morning days go by without going to photograph the streets... So at this point of the year, I'm already owing 22 "breakfast making days" to my wife! 😂.... We usually take turns making breakfast, so while one of us cooks, the other can attend to unfinished business or even sleep a little too much. So it's possible that in months to come it will be my turn to make a couple of dozen breakfasts in continuous days 😂... But this "debt" looks like it won't stop growing, as 2023 seems to have more foggy days than usual!!!
Algo que sigue siendo indudable, es que el quedarme en casa mientras la niebla inunda las calles, es algo que me genera una insoportable "sensación de pérdida"... ¡Allá afuera están sucediendo centenares de fotos y yo en casa!... No, no estoy apto para dejar pasar los días de mañanas con niebla sin ir a fotografiar las calles... ¡Así que a estas alturas del año, ya estoy debiendo 22 "días de hacer el desayuno" a mi esposa! 😂... Por lo general nos turnamos la hechura del desayuno, así que mientra unos de nosotros cocina, el otro puede atender asuntos pendientes o incluso dormir un poco más de la cuenta. Así que es posible que en meses venideros sea mi turno de hacer un par de docenas de desayunos en días continuos 😂... ¡Pero esta "deuda" parece que no parará de crecer, pues 2023 parece tener más días con niebla de lo acostumbrado!.
---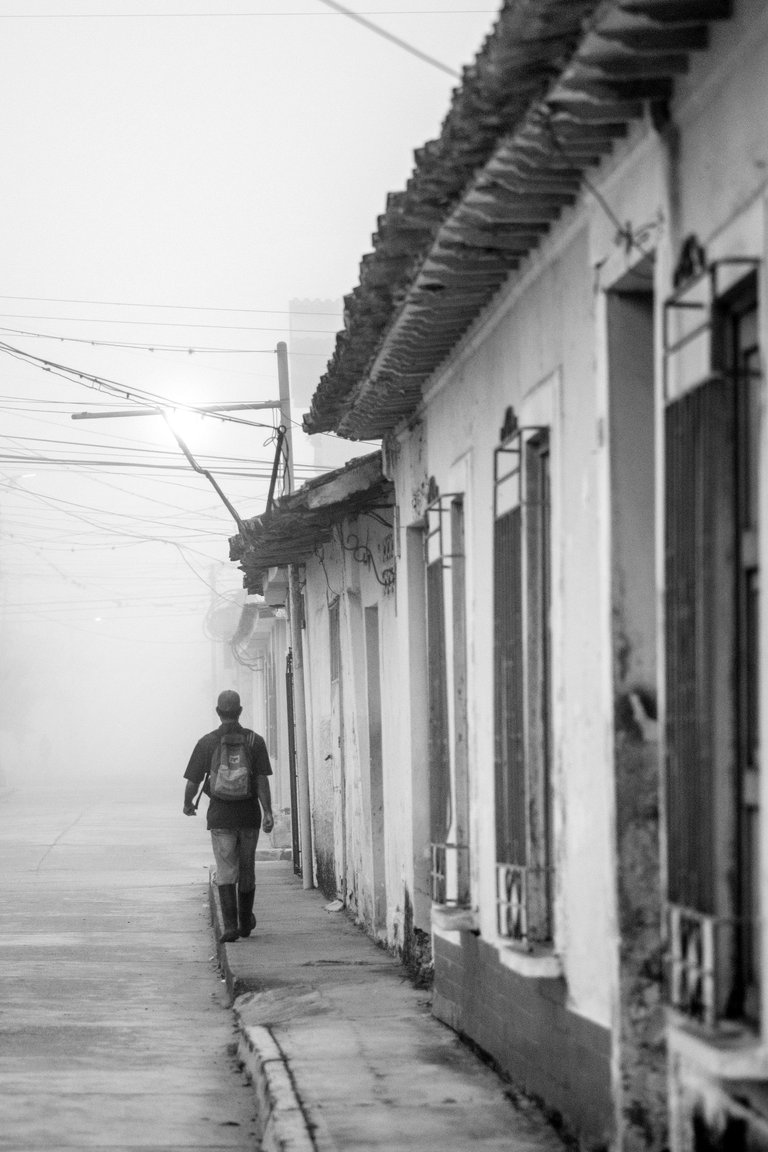 "Man and facades"/"Hombre y fachadas"
---
ADDITIONAL TECHNICAL NOTE: Photographs captured with my Nikon D7000 DSLR camera in RAW format, then processed in Adobe Camera RAW for adjustments regarding light, sharpening, contrast and depth... They were then exported to JGP format on which minor modifications such as straightening and adding watermarks were carried out using PhotoScape 3.6.3.
NOTA TÉCNICA ADICIONAL: Fotografias capturadas con mi cámara DSLR Nikon D7000 en formato RAW, procesadas posteriormente en Adobe Camera RAW para ajustes relativos a luz, afilado, contraste y profundidad... Luego fueron exportadas a formato JGP sobre el cual se llevaron a cabo modificaciones menores como enderezado y agregado de marcas de agua usando PhotoScape 3.6.3.
---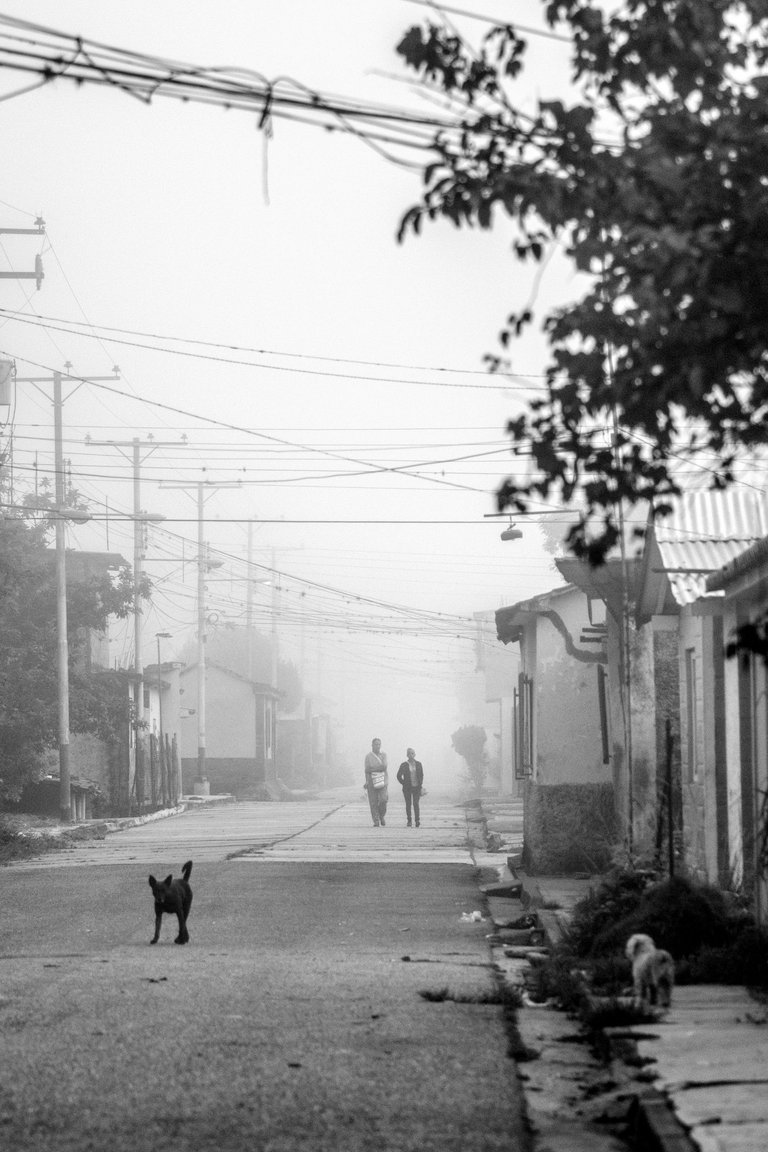 "Doña Ana's workers"/"Las trabajadoras de Doña Ana"
---
As usual, today's photos and the accompanying text are my entry to the #monomad challenge from our dear team @monochromes... If you like to appreciate black and white photographs and even more "if you like to take black and white photographs" then this is a place not to be missed.... I assure, you will love this monochromatic corner of #Hive forever!.
Como de costumbre, estas fotografías de hoy y el texto el cual les acompaña, son mi entrada al reto #monomad de nuestro querido equipo @monochromes... Sí les gusta apreciar fotografías en blanco y negro y más aún "sí les gusta hacer fotografías en blanco y negro" entonces este es un lugar el cual no pueden perderse... Les aseguro que amarán este rincón monocromático de #Hive para siempre.
---
Thank you very much for your visit and appreciation!
¡Muchas gracias por pasar y apreciar!
---
END / FIN
---
"We make photographs to understand what our lives mean to ourselves." - Ralph Hattersley.
"Hacemos fotografías para comprender lo que nuestras vidas significan para nosotros mismos." - Ralph Hattersley.

---
Camera: Nikon D7000
Lens: Sigma 18-200mm f3.5-6.3 II DC OS HSM
Lens: Tokina ATX-PRO 100mm f/2.8 d MACRO
Lens: AF-S DX NIKKOR 55-300mm f/4.5-5.6G ED VR
Lens: AF-S DX NIKKOR 18-55mm f/3.5-5.6G VR
Lens: Nikon AF Nikkor 50 mm f/1.8d FX
Lens:AF-S DX NIKKOR 35mm f/1.8G
Cámara: Nikon D7000
Lente: Sigma 18-200mm f3.5-6.3 II DC OS HSM
Lente: Tokina ATX-PRO 100mm f/2.8 d MACRO
Lente: AF-S DX NIKKOR 55-300mm f/4.5-5.6G ED VR
Lente: AF-S DX NIKKOR 18-55mm f/3.5-5.6G VR
Lente: Nikon AF Nikkor 50 mm f/1.8d FX
Lente: AF-S DX NIKKOR 35mm f/1.8G
---
Montalbán, Carabobo, Venezuela.
---
---