"STOLEN STORIES" - MONOMAD - 08NOV22 || ENG-ESP || (10 Pics)

---
Hello dear monochromatic friends at #Hive... Sometimes the stories are a bit more "impersonal"... I want to say: "I'm less involved than usual" in the image... It's as if I wanted to take some pictures absolutely "without being there"...
Hola queridos amigos monocromáticos en #Hive... A veces las historias son algo más "impersonales"... Quiero decir: "Estoy menos implicado de lo que acostumbro" en la imagen... Es como si algunas fotografías las hubiese querido realizar absolutamente "sin estar allí"...
Good heavens, what I just wrote did sound strange!... I'm beginning to sound like those oriental Gurus who try to explain to us the total futility of the phenomenal universe! 😊... I think that years and years of taking photographs is finally paying off then!...😊
¡Santos cielos, eso que acabo de escribir sí que ha sonado extraño!... ¡Estoy comenzando a parecerme a esos Gurúes orientales que intentan explicarnos la total futilidad del universo fenoménico! 😊... ¡Creo que años y años de hacer fotografías por fin está dando sus frutos entonces!...😊
But let's leave the "cessation of all duality" for another day and move on to the photos: Today I wanted to select more open shots, some of them captured in a more furtive way than I usually do... These ten "stolen stories" are then my entry to today's #monomad challenge...
Pero dejemos el "cese de toda dualidad" para otro día y sigamos con las fotos: Hoy quise seleccionar tomas más abiertas, algunas de ellas captadas de una manera más furtiva de lo que usualmente hago... Estas diez "historias robadas" son entonces mi entrada al reto #monomad de hoy...
---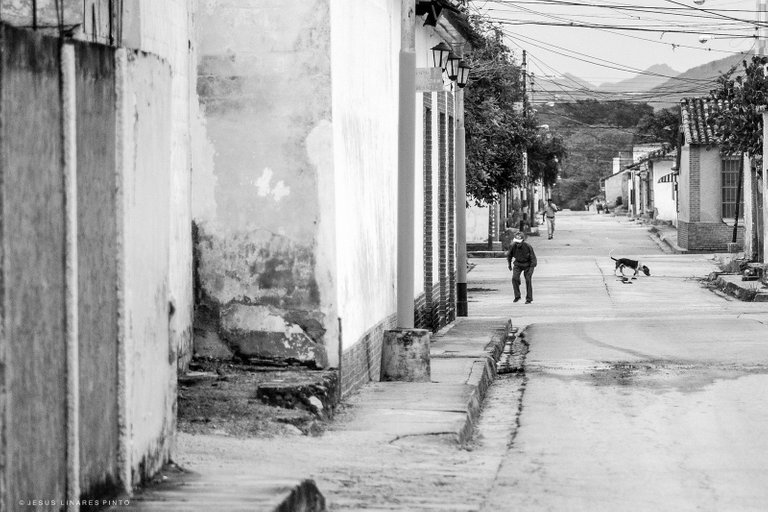 "The bent old man"... From afar, the bent old man crosses the street silently, he crosses it towards the church, it is Sunday, that old man goes to mass, like every Sunday since the end of the limitations due to the pandemic... He will do it as long as his years allow, as long as his legs can carry him...
"El anciano encorvado"... Desde lejos, el anciano encovado cruza la calle silente, la cruza rumbo a la iglesia, es domingo, ese anciano va a la misa, como cada domingo desde que finalizaron las limitaciones por la pandemia... Lo hará mientras se lo permitan sus años, mientras sus piernas puedan seguir llevándole...
---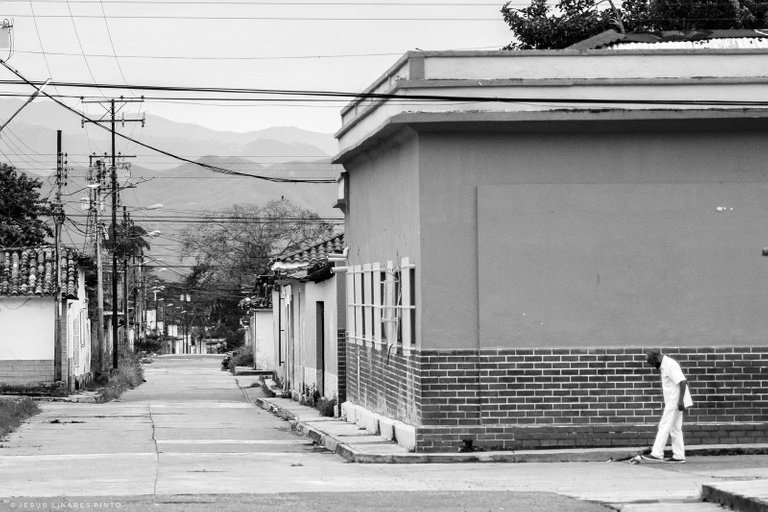 "The nurse"... A nurse kicks papers and rubbish accumulated in front of the façade of the old hospital (nowadays degraded to a dispensary)... It's Sunday, no one comes to call in sick, everyone knows that they will hardly find any help there...
"El enfermero"... Un enfermero patea papeles y desperdicios acumulados frente la fachada del viejo hospital (hoy por hoy degradado a dispensario)... Es Domingo, nadie viene a reportarse enfermo, todos saben que casi no encontrarán ayuda alguna allí...
---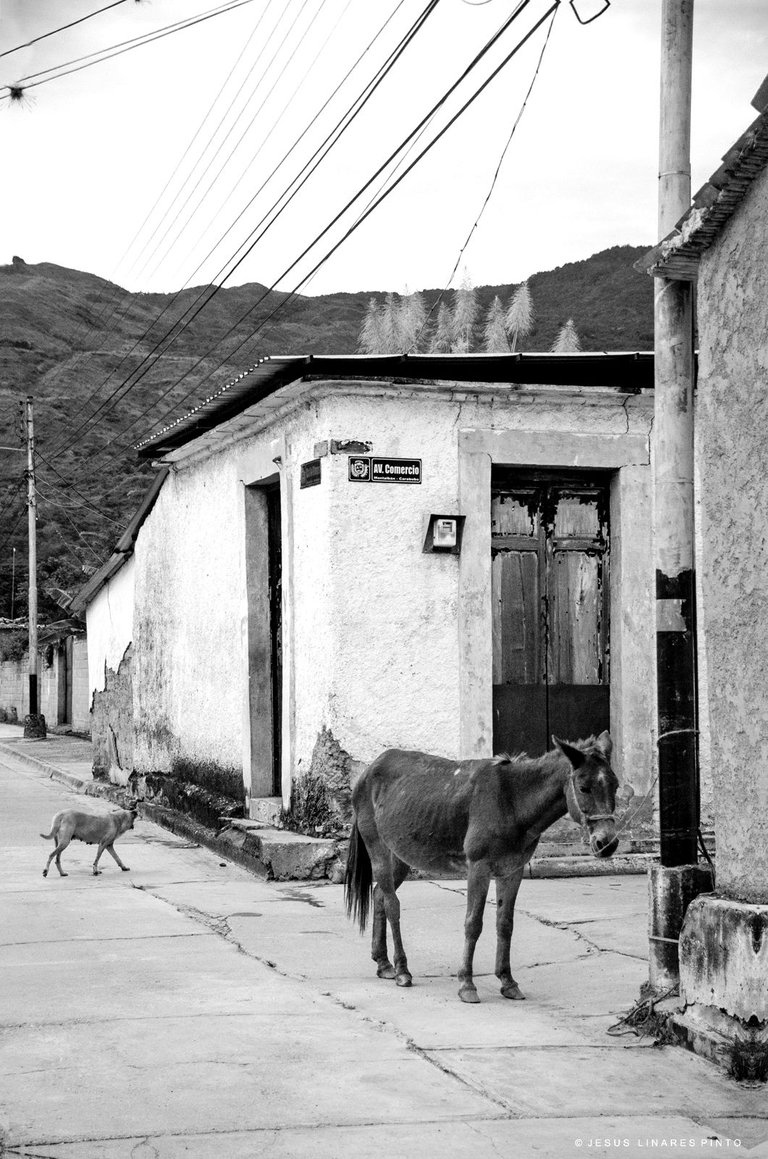 "Unfinished story"... A small mule remains tied to a streetlight pole in a corner on Sunday morning... Where is its owner?... There's not even a sound nearby... Just the solitude walking silently...
"Historia inconclusa"... Una pequeña mula permanece atada a un poste de alumbrado público en una esquina en la mañana del Domingo... ¿Donde está su dueño?... No hay siquiera sonidos cerca... Apenas la soledad caminando silente...
---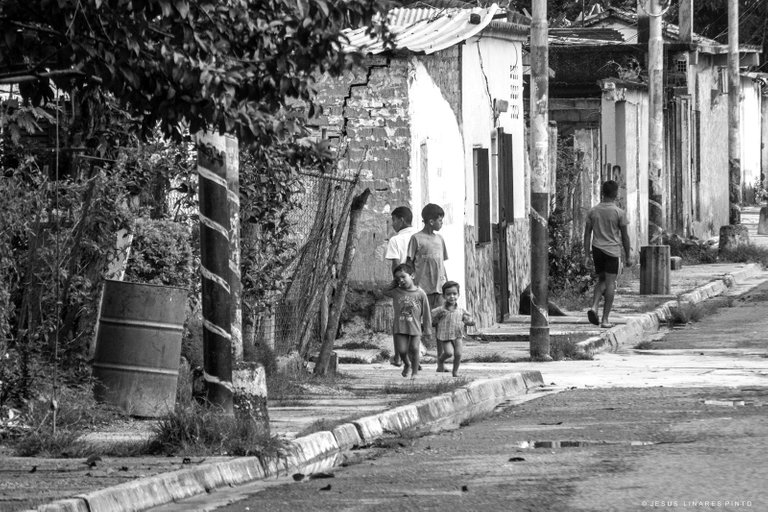 "Uncontestable joy"... I watch the children laughing and playing while everything around me seems to be ready to fall down at any moment... The Master was right when he said: "Blessed are those who are like children"...
"Incontestable alegría"... Observo a los niños riendo y jugando mientras alrededor todo parece poder caer en cualquier momento... Razón tenía el Maestro al decir: "Benditos aquellos que son como niños"...
---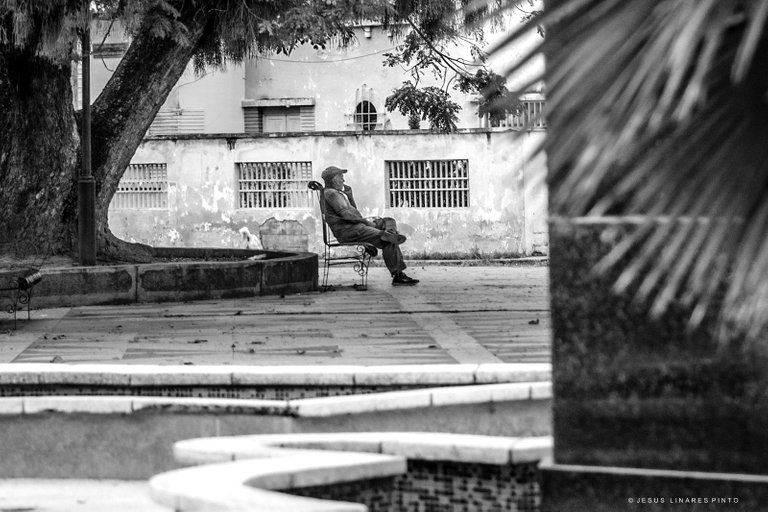 "Toto"... Toto was my childhood friend until early adolescence, when we used to go to the local cinema (closed more or less 36 years ago) to watch martial arts movies, we used to go out to make gangs of kids ready to beat each other up to "relive what we saw in the movie"... 😂😂😂 Now we are too old to do those things, but we laugh remembering those times....
"Toto"... Toto fue mi amigo de la infancia hasta la temprana adolescencia, cuando íbamos al cine local (cerrado hace más unos 36 años) veíamos películas de artes marciales, salíamos de ahí a armar bandas de chicos dispuestos a darnos palizas entre nosotros para "revivir lo visto en la película"... 😂😂😂 Ahora somos demasiados viejos para hacer esas cosas, pero reímos recordando aquellos tiempos...
---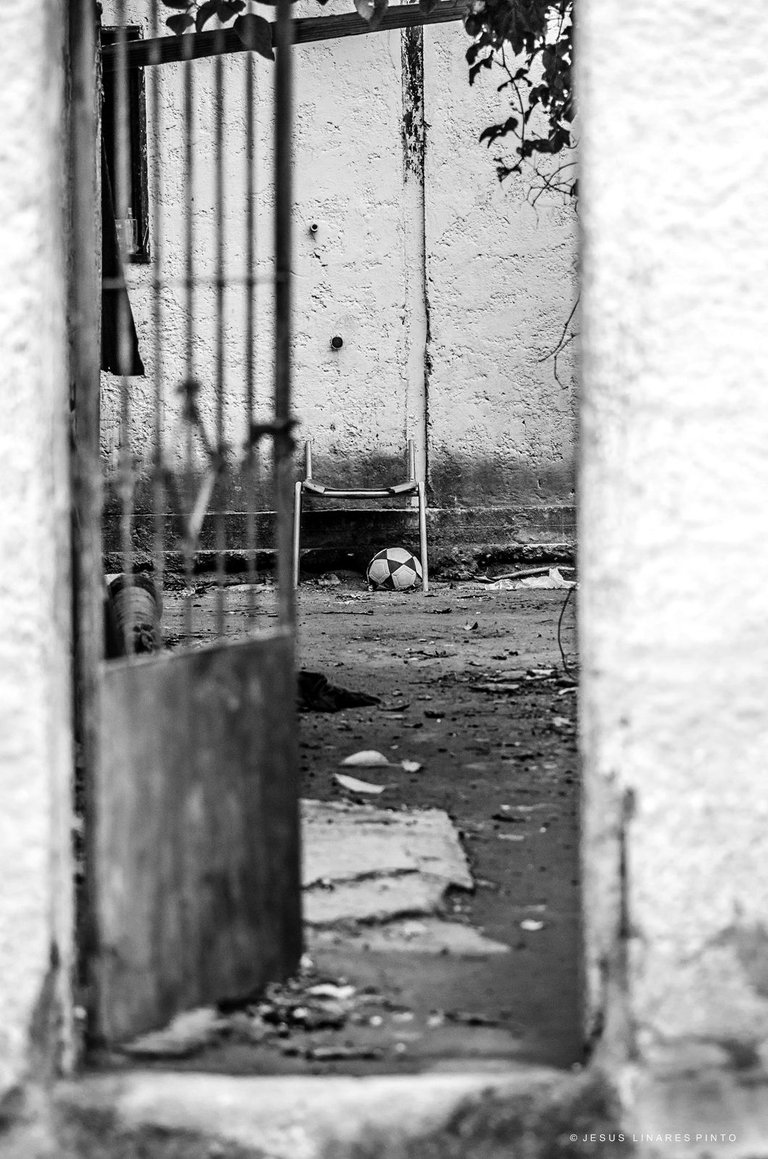 "The absent boy"... Yes, I liked that title for this photo which I "stole" from the street to the courtyard of a humble house located in the outskirts of the village... "It was almost possible to imagine a little boy playing with that deflated ball"... ⚽
"El chico ausente"... Sí, me gustó ese título para esta foto la cual "robé" desde la calle hacia el patio de una casa humilde localizada en los margenes del pueblo... "Casi era posible imaginar a un pequeño niño jugando con ese balón desinflado"... ⚽
---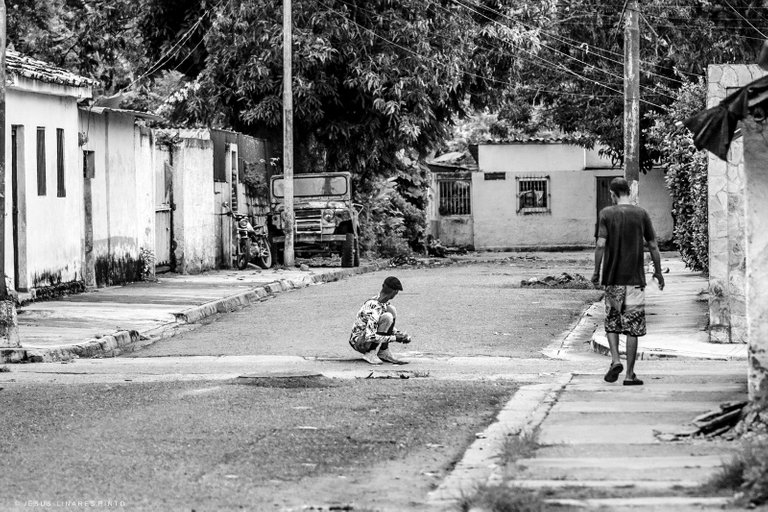 "Julio"... It's not all loneliness and calm on Sunday mornings... In this photo a young man prepares some kind of "substance" to continue consuming... He does it in the middle of the street and during the day... Apparently, in his mind, it is "still night"... 😐
"Julio"... No todo es soledad y calma los domingos en la mañana... En esta foto un hombre joven prepara algún tipo de "sustancia" para seguir consumiendo... Lo hace en plena calle y ya de día... Al parecer, en su mente, sigue "siendo aún de noche"... 😐
---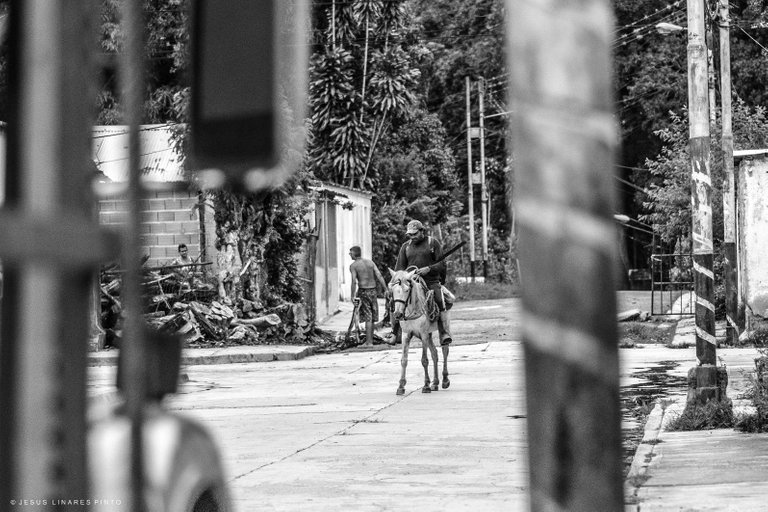 "Arriving in town"... A few metres from the unfortunate scene in the previous photo, you can see "Ramón" arriving in the village on horseback, he is coming from the mountains to work as a labourer on one of the village farms, at the end of the day he will return along this same street and leave the village...
"Llegando al pueblo"... A pocos metros de la desafortunada escena de la foto anterior, se puede observar a "Ramón" llegando al pueblo a lomos de caballo, viene desde las montañas a trabajar como jornalero en un las fincas de pueblo, al finalizar el día volverá por esta misma calle y se irá del pueblo...
---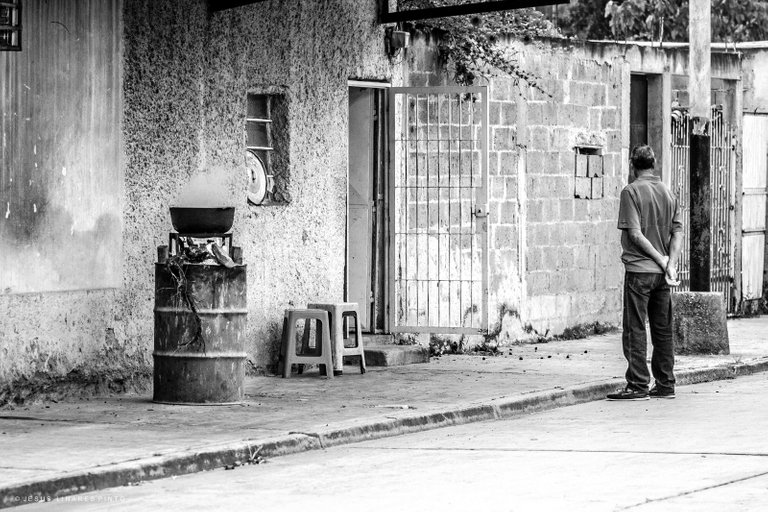 "Taking care the soup"... While his sister "Lina" goes into the house to look for seasonings and vegetables, Eduardo is in charge of watching over the soup cooked on firewood, which they make to sell to the people of the village... 🍲
"Cuidando la sopa"... Mientras su hermana "Lina" entra a casa a buscar aliños y verduras, Eduardo se encarga de vigilar la sopa cocinada en leña, la cual hacen para vender a las personas del pueblo... 🍲
---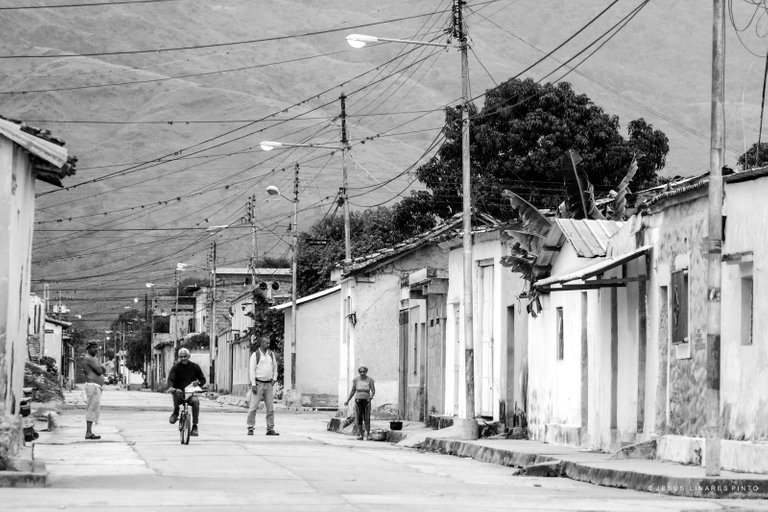 "Commerce Avenue"... It is somewhat ironic, isn't it?... One of the loneliest streets in the town is called "Commerce Avenue"? It seems to me that these are reminiscences of other times, of a town whose nature was different... Now only silence usually swarms in the corners of this avenue...
"Avenida Comercio"... ¿Es algo irónico cierto?, que una de las calles más solitarias del pueblo se llame así "Avenida Comercio"... Me parece que son reminiscencias de otros tiempos, de un pueblo cuya naturaleza era otra... Ahora solo el silencio suele pulular por los rincones de esta avenida...
---
Thank you very much for stopping by and appreciate... We'll see you soon again with more stories ✍ and more pictures 📷... Greetings to all...
Muchas gracias por pasar por aquí y apreciar... Nos veremos pronto de nuevo con más historias ✍ y más fotografías 📷... Saludos a todos...
---
END / FIN
---
"We make photographs to understand what our lives mean to ourselves." - Ralph Hattersley.
"Hacemos fotografías para comprender lo que nuestras vidas significan para nosotros mismos." - Ralph Hattersley.

Camera: Nikon D7000 | Lens: Sigma 18-200mm f3.5-6.3 II DC OS HSM
Cámara: Nikon D7000 | Objetivo: Sigma 18-200mm f3.5-6.3 II DC OS HSM
Montalbán, Carabobo, Venezuela.
---
---