"Rural countryside vision in black and white"... (And speaking about about this kind of photography) || ENG-ESP
Hello #Hive friends... Yesterday we had a dawn full of grey skies and an unusually warm air, also silence seemed to be everywhere, as if the town was "waking up slowly and lazily".... So I take my camera and wandered off to the north, in search of the dirt roads leading off into the countryside...
Hola amigos de #Hive... Ayer tuvimos un amanecer repletos de cielos grises y un aíre inusualmente cálido, también el silencio parecía estar por todas partes, como si el pueblo estuviese "despertando lentamente y con mucha pereza"... Entonces tomé mi cámara y me alejé hacia el Norte, en busca de los caminos de tierra que se adentran en el campo...
---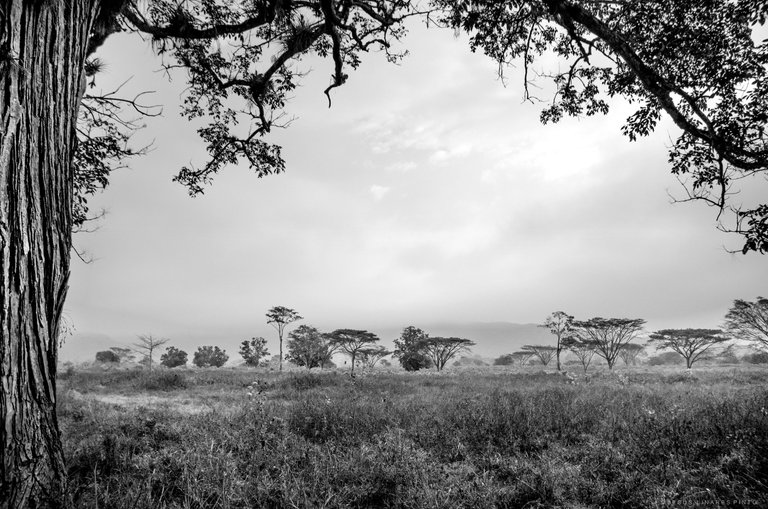 Nikon D7000 | F/7.1 | 1/1600s | 18 mm | ISO 320
The awning skies allow for even brightness and low contrast, so the landscape becomes a bit tricky to photograph, but at the same time provides a powerful visual appeal.
Los cielos atoldados permiten una luminosidad pareja y con contraste bajos, entonces el paisaje se hace un poco complicado de fotografiar, pero al mismo tiempo brinda un atractivo visual poderoso. ​
---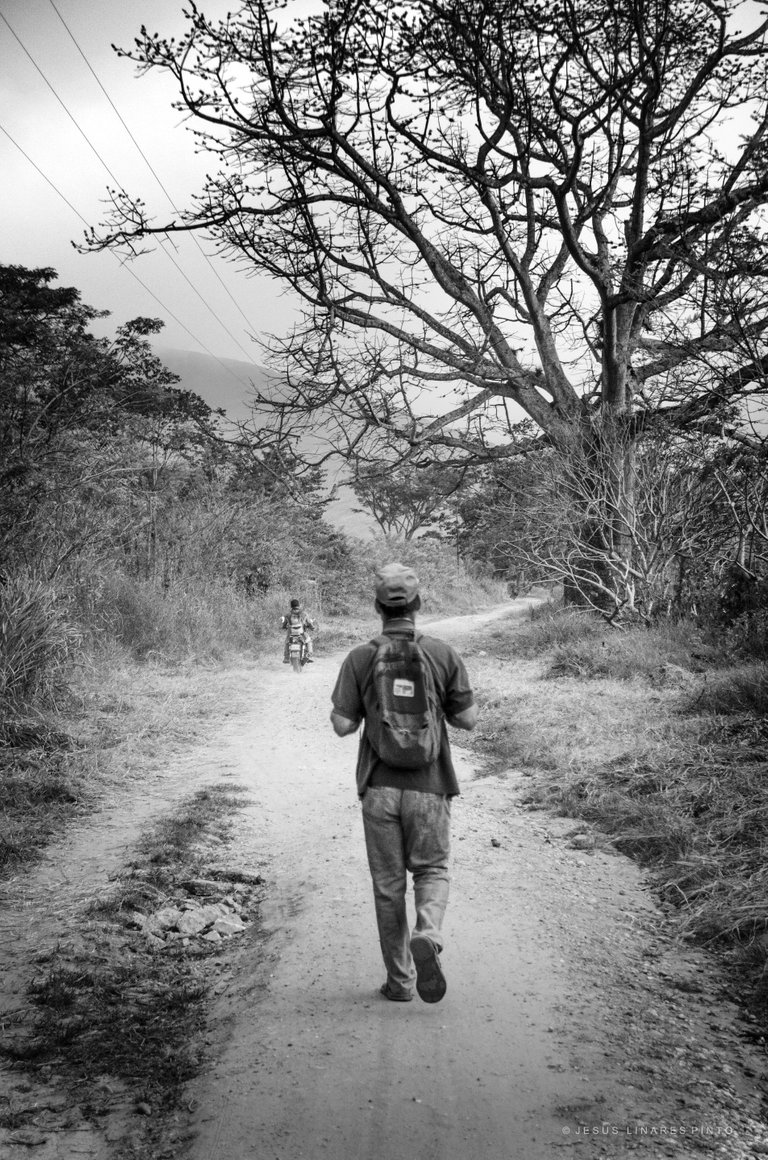 Nikon D7000 | F/4.8 | 1/4000s | 46 mm | ISO 400
The roads are charming and are beginning to show signs of the dry season, with dust and trees beginning to lose their leaves... Interesting pictures of the road can be taken, however the scenery on the sides of the road is still perhaps the best thing to see.
Los caminos son encantadores y comienzan a mostrar señales de la estación seca, con polvaredas y árboles comenzando a perder sus hojas... Se pueden hacer interesantes fotos del camino, sin embargo el paisaje a los lados de este, sigue siendo quizás lo mejor de ver.
---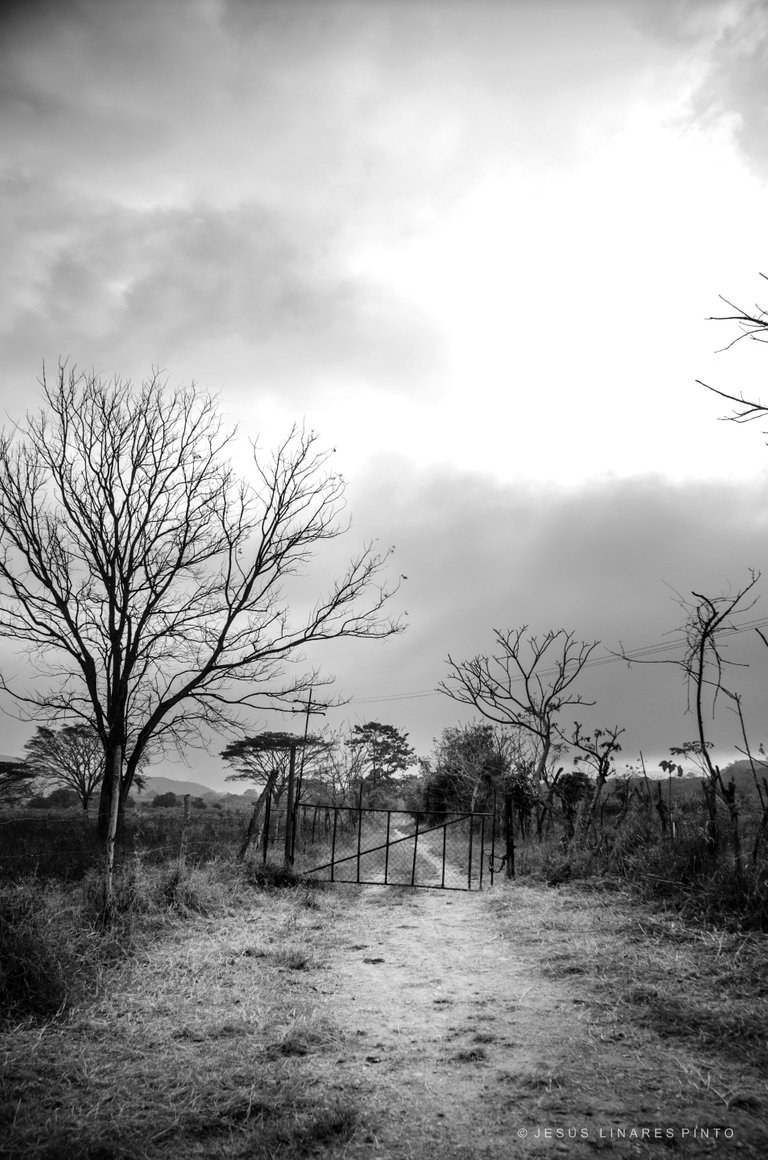 Nikon D7000 | F/4 | 1/5000s | 18 mm | ISO 320
Everything seems to be designed for "black and white" around here".... This sort of "fusion" of human and natural elements, very typical of the rural environment, is something worth capturing with the camera.
Todo parece estar diseñado para "blanco y negro por aquí"... Esta especie de "fusión" de elementos humanos y naturales, muy propia del medio rural, es algo digno de captarse con la cámara.
---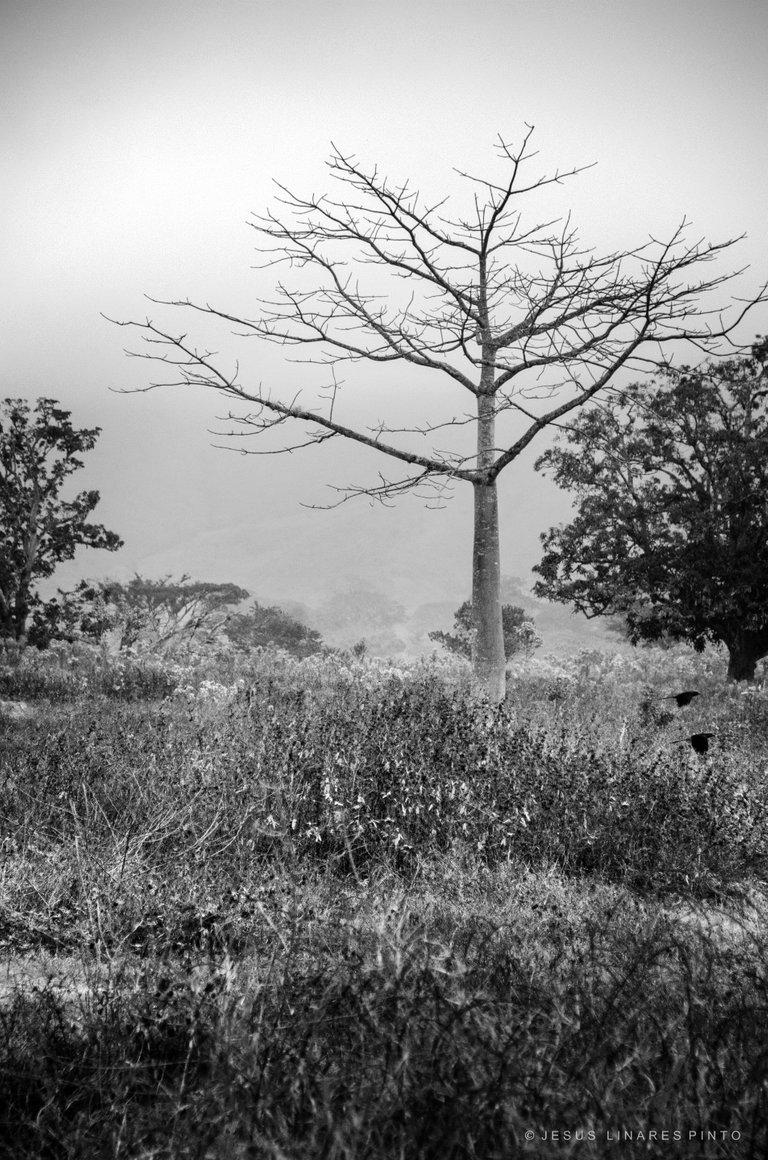 Nikon D7000 | F/5.3 | 1/1000s | 86 mm | ISO 320
---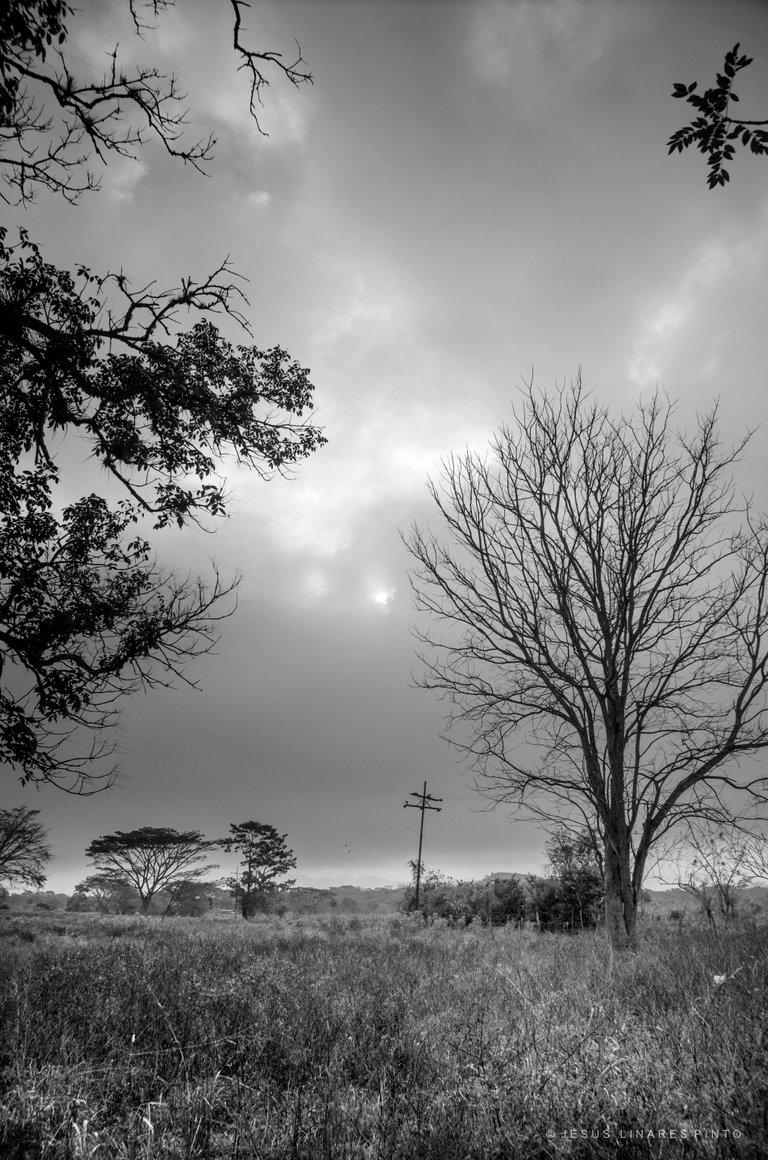 Nikon D7000 | F/7.1 | 1/600s | 18 mm | ISO 100
Leafless trees and backlighting are something like one of my "fetish photographic combinations"... And the dry season is just beginning!... In a couple of months I'm sure I'll be spending hours "hunting for bare branches" in nature!... This kind of things must be done with a wide focal range zoom lens, because the situations are usually very diverse and you are usually limited by the distance from the road to what you want to photograph (unless you like to jump fences, but around here that is not usually well seen)...😂
Los arboles deshojados y el contraluz son algo así como una de mis "combinaciones fotográficas fetiches"... ¡Y apenas está comenzando la estación seca!... ¡En un par de meses estoy seguro de que pasaré horas "cazando ramas desnudas" en la naturaleza!... Este tipo de cosas hay que hacerlas con un lente Zoon de rango focal bastante amplio, pues las situaciones suelen ser muy diversas y se suele estar limitado por la distancia del camino al lo que queremos fotografiar (a menos que os guste saltar vallados, pero por aquí eso no suele estar bien visto)... 😂
---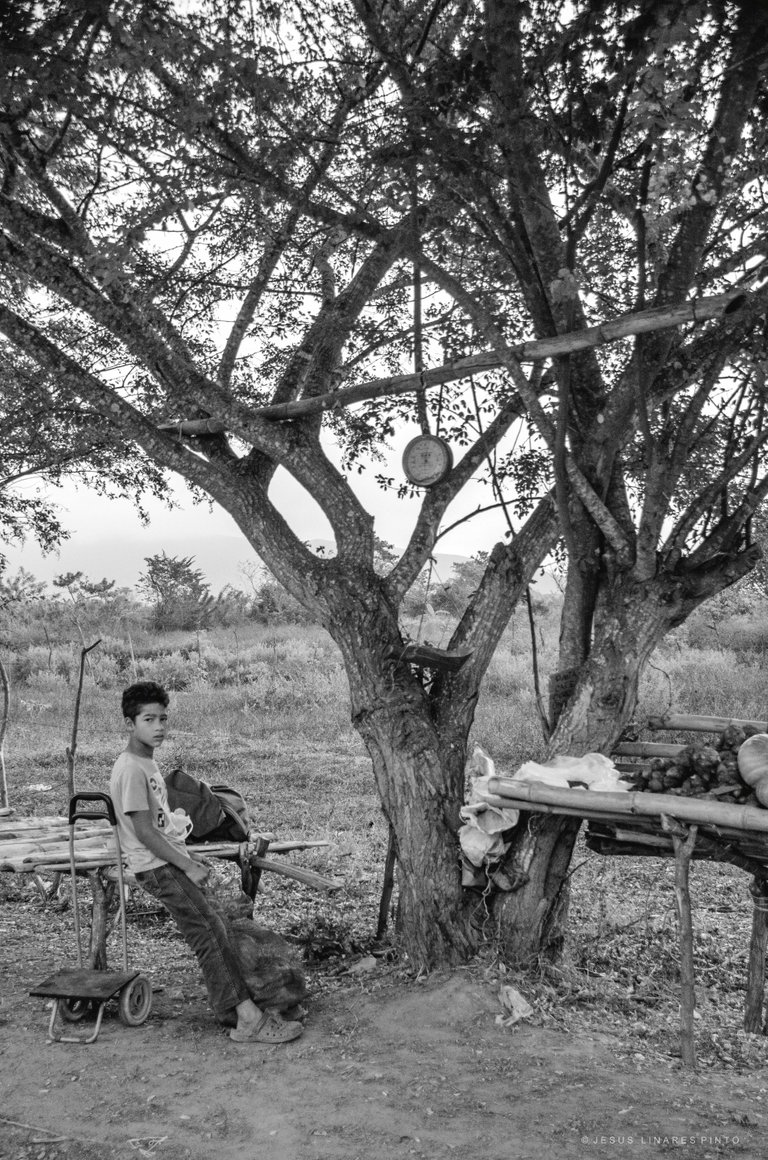 Nikon D7000 | F/4 | 1/1250s | 29 mm | ISO 400
A pleasant surprise!... I find a young boy at a makeshift stand selling vegetables on the side of the road, this I had not seen before, I imagine they have decided to sell part of what they plant directly to people passing by.
¡Una agradable sorpresa!... Encuentro a un joven chico en un improvisado puesto de venta de verduras a la orilla del camino, esto no lo había visto antes, me imagino que han decidido vender parte de lo que siembran directamente a las personas que pasan.
---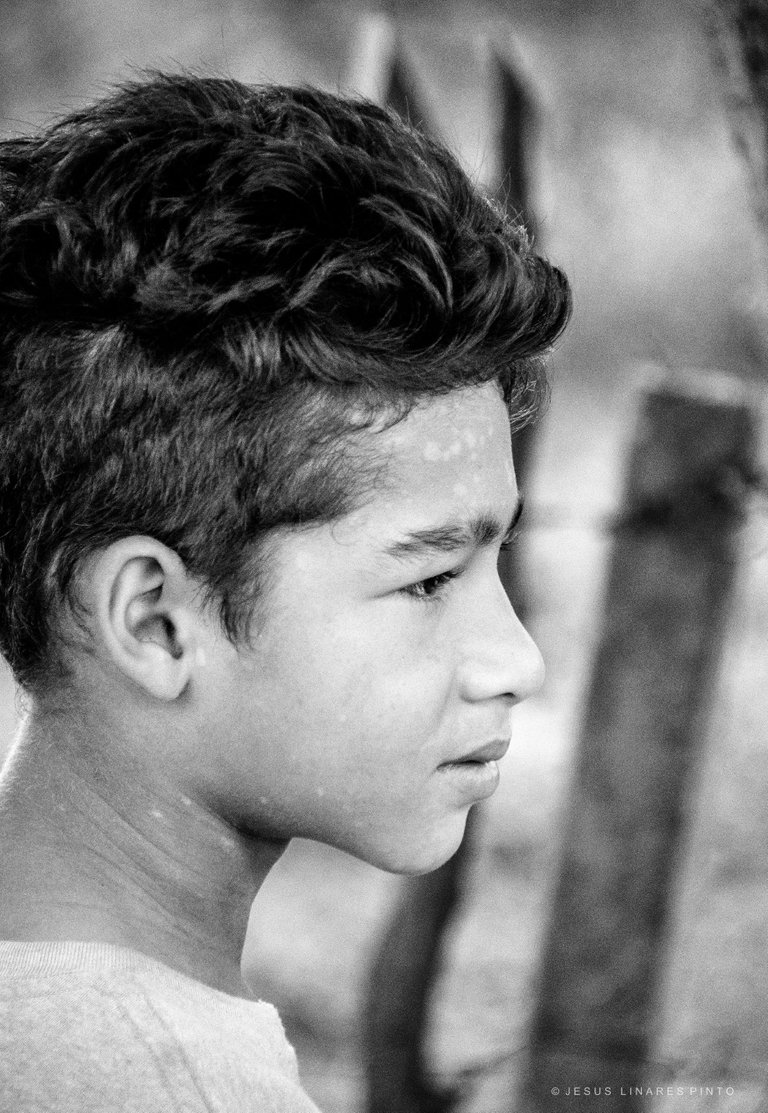 Nikon D7000 | F/6.3 | 1/320s | 200 mm | ISO 400
One of the advantages of using my old "all terrain" lens (a Sigma 18-200mm f3.5-6.3 II DC OS HSM) is that I can take the previous photo and then this portrait practically without moving and making few adjustments...
Una de las ventajas de usar mi viejo lente "todo terreno" (un Sigma 18-200mm f3.5-6.3 II DC OS HSM) es que puedo hacer la foto previa y después este retrato prácticamente sin moverme y haciendo pocos ajustes...
---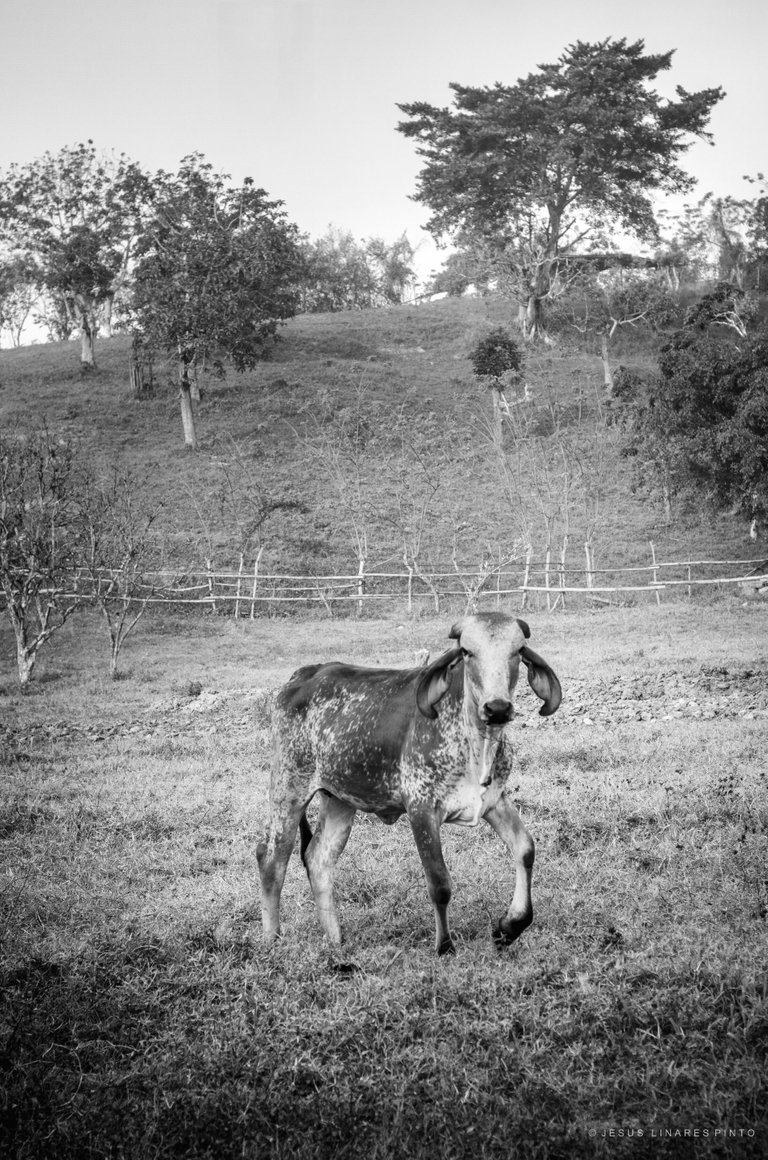 Nikon D7000 | F/5 | 1/400s | 55 mm | ISO 100
And they also have a cute young bull that looks at me with attention! 😂🐮
¡Y también tienen un bonito toro joven que me mira con atención! 😂🐮
---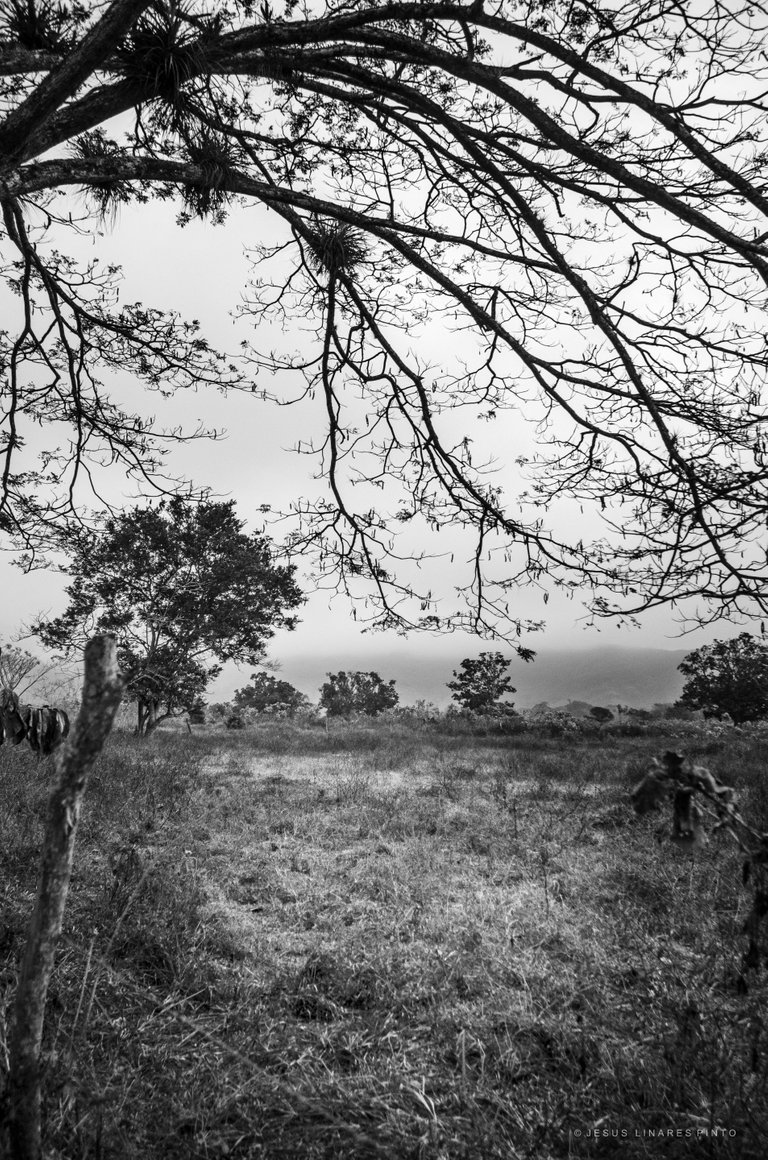 Nikon D7000 | F/3.5 | 1/2500s | 18 mm | ISO 320
---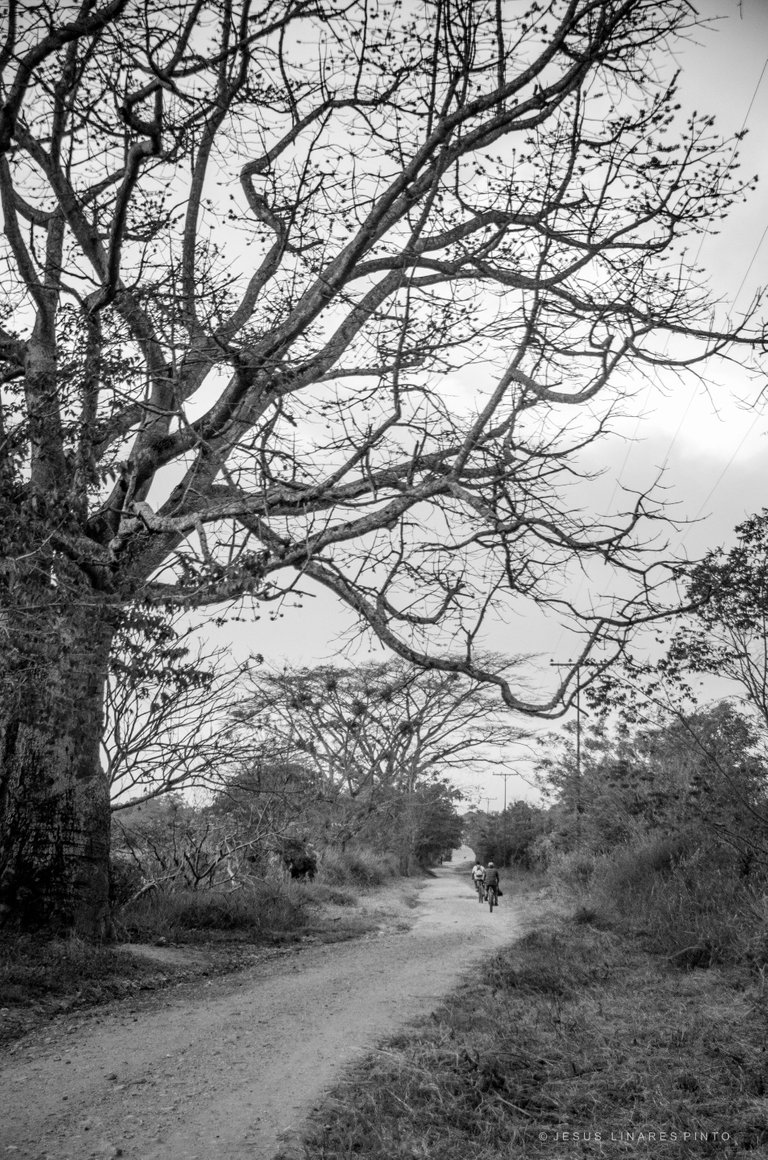 Nikon D7000 | F/4.5 | 1/2500s | 38 mm | ISO 320
On the way back to the village, I continue to satiate my need to photograph the leafless trees and the path... People come and go walking or on old bicycles, the heat begins to feel more and then I know it's time to return after a pleasant morning of rural photography... 📷
De retorno hacia el pueblo, sigo saciando mi necesidad de fotografiar los arboles deshojados y el camino... Las personas van y vienen caminando o en viejas bicicletas, el calor comienza a sentirse más y entonces sé que es hora de retornar después de una agradable mañana de fotografías rurales... 📷
---
Thank you all so much for stopping by and appreciating!.... We'll see you soon again with more pictures in between!.... Greetings!.
¡Muchas gracias a todos por pasar por aquí y apreciar!... Nos veremos pronto nuevamente con más fotografías de por medio!... Saludos!.
---
END / FIN
---
"We make photographs to understand what our lives mean to ourselves." - Ralph Hattersley.
"Hacemos fotografías para comprender lo que nuestras vidas significan para nosotros mismos." - Ralph Hattersley.

Camera: Nikon D7000 | Lens: Sigma 18-200mm f3.5-6.3 II DC OS HSM
Cámara: Nikon D7000 | Objetivo: Sigma 18-200mm f3.5-6.3 II DC OS HSM
Montalbán, Carabobo, Venezuela.
---
---