My NFT Art | Grumpea Goes Camping

Camping was not my favorite when I was a kid. All I want to do back then was to play with video games and watch Disney movies all day. I do not had a concept of nature trippings at all.
Now that I am an adult, I appreciate more going out and feeling the breeze outside. Actually, I make it a habit to have a Sunday morning walk whenever the weather is good. Sitting all day and eyes glued on the screen is such a freaking tiresome routine. This then triggered me to make a concept for Grumpea. Would it be a nice weekend to have a night camping? Hihi.
Sketch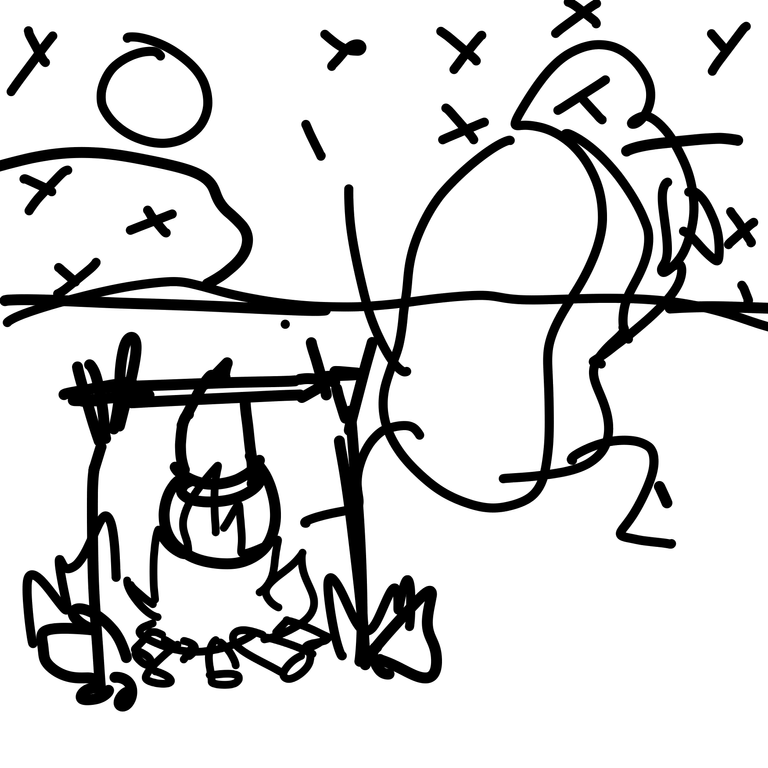 Sketching for this NFT art was quite easy for me because I had an idea in my mind already. This Grumpea 1/1 Moment was the first in my collection, so I was really excited creating it. I drew a pot over a campfire while hanged. Grumpea was just sitting beside the pot to keep him toasty for the night. The background was mountains and a night sky full of stars and a gray moon.
Flat Color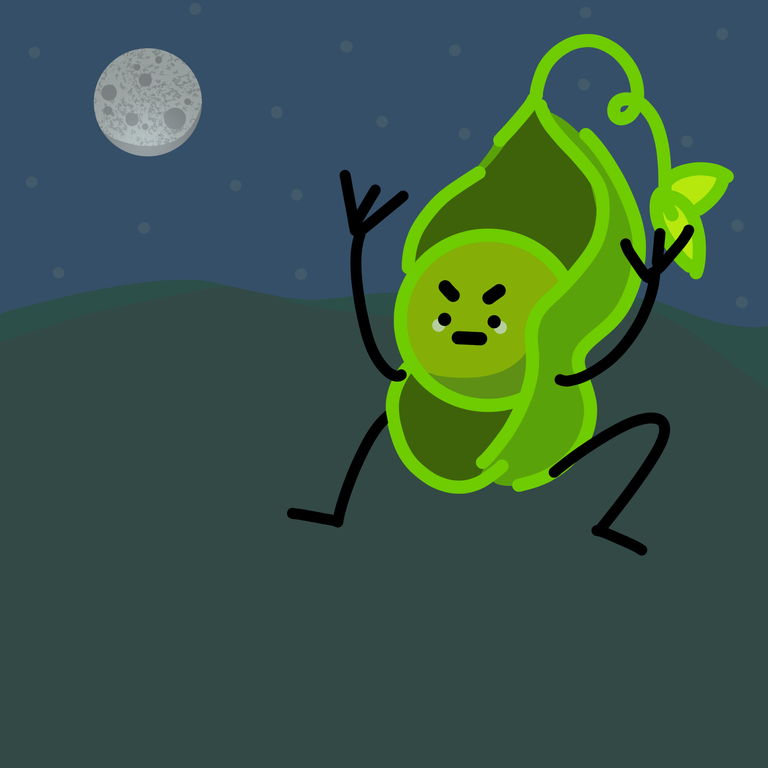 I chose the darker shades of blue and green since the scene was at night. I added a little lighter shade of green in the mountain to make it appear that it has dimensions. The stars were just a little dot for now and to be highlighted later on. For the moon, I used circles for the shape and for the craters. I used a textured brush to make the moon rocky.
Details on the pot and campfire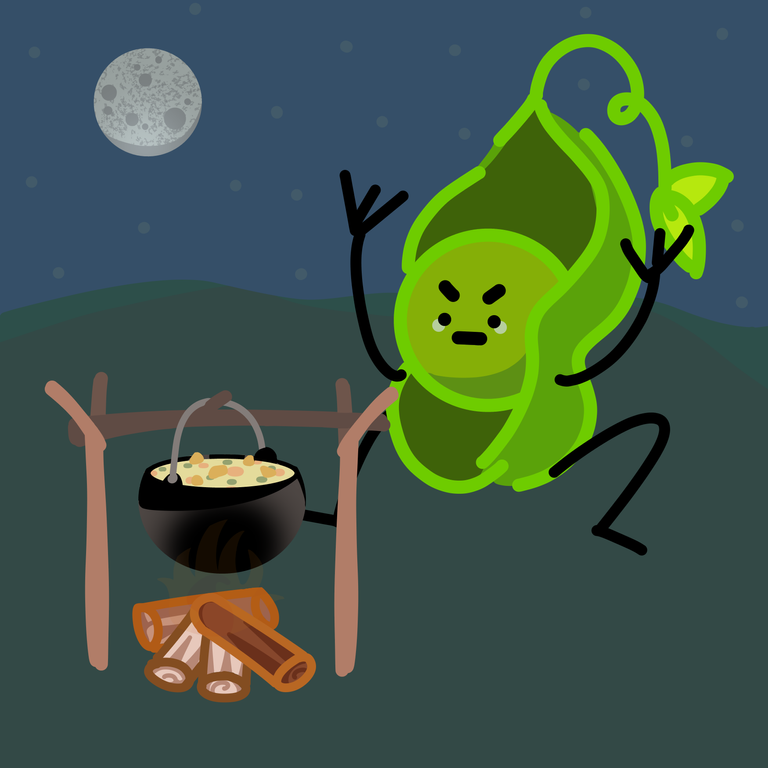 This was a little challenge for since this part was very detailed on my end. Having references were a big help for me too!
Pot - With the aid of shapes, I can easily make a perfect half curve for the pot. For the shine, I added another layer, clipped on the first layer, and used gray airbrush.
Soup - When I think of camping, I always thought of this yellow soup with greens and carrots. So, I just chose the off-yellow color. Used the shapes to make an oblong. For the carrots and greens, make another layer, no need for clipping. Just draw those vegetable bits naturally.
Sticks - Use the pencil and choose the most natural color for a wood. I used darker shade for the stick in the middle to have a dimension. For the logs, I played with different shades of brown. I just experimented on what will be the outcome and turned out fine. I just copy-pasted and changed the colors.
Details on fire, grass, and rocks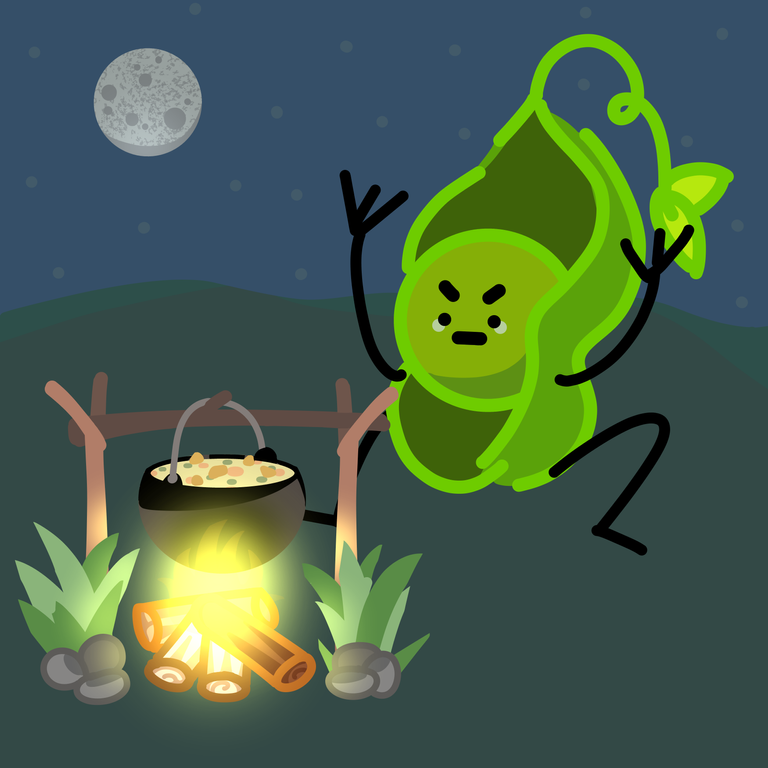 Rocks- I chose two shades of gray to show dimensions. Of course, I kept keen where the light source was to guide my shading of the rocks. I just copy-pasted the rock to form three rocks piled up.
Grass- I got a little challenge here as I was struggling with what grass is suited from camping, lol. Is that even important? Haha. So I ended up drawing these tall grass. Again, two shades of green.
Fire - I made it glowy using the airbrush and the Add effect. I chose a bright yellow for this part.
Final Art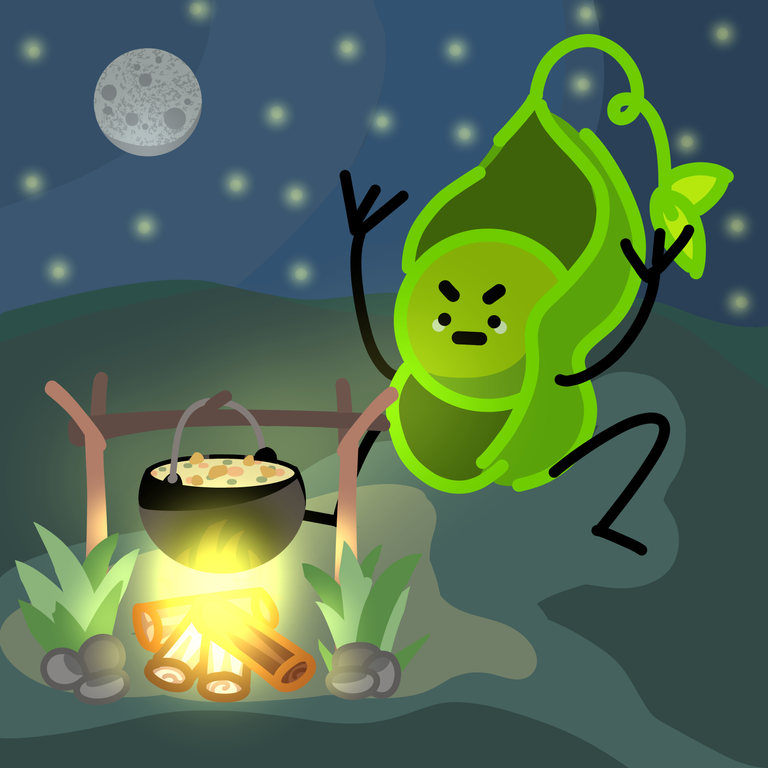 Almost done! Noticed that I made different shades of blue for the sky. I think it elevated more of that plain blue. I airbrushed every star with dull yellow. Too bright will confused people of who the real star of this art is, lol. Also, I added different shades of green to make it appear as if the ground has different dimensions. A little fining of colors here and there, and...
tadaaa! Grumpea Goes Camping is done!
This NFT art is already sold!
More Grumpeas here! https://opensea.io/collection/grumpea 💚🎶
Let's follow each other on Twitter! : @/Jijisaur
All of my Grumpeas are minted on Polygon. 1/1 non-generative, hand-drawn art, 1 by 1 produced.
---
Software: MediBang Paint
Check out their website here! https://medibangpaint.com/en/
That is it for this article. I will see you at the next one!
📸 All photos are owned and taken by me, otherwise credited. ©️jijisaurart
---
---