Chibis on Hive | It's Sugar Rush!!!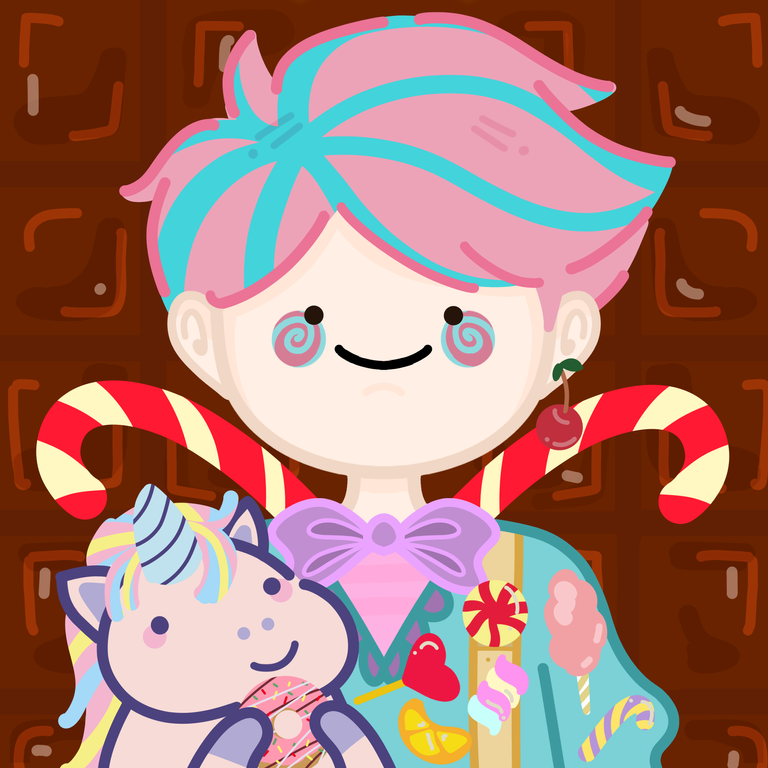 Name
Meet Sugar! I cannot expound enough why his name is Sugar, haha! Too much sweet will make you sick, okay? Too much sugar means a sugar rush! A sugar rush is when you feel abrupt energy after eating a lot of candy, chocolate, or any food with a lot of sugar content.
Character Inspiration
I got the inspiration from Vanellope von Schweetz, and from the song Sugar Rush by AKB48, a Japanese girl group.
🎶 S-U-G-A-R
Jump into your racing car
It's SUGAR RUSH!
SUGAR RUSH! 🎶🍭
Though I cannot understand the lyrics, because it is Japanese, I find the melody catchy and kawaii. Thanks to Google translate, I can check the English lyrics. Sugar Rush is one of the soundtracks of the movie Wreck-It Ralph. It was played during the end credits. Have you seen that movie? You should!
You can check the soundtrack here!
Character Story
Sugar is obsessed with sweets. Is it not obvious? Two-toned hair, a cute bow, a cherry earring, and a pet unicorn. He loves collecting candy tin pins which he proudly shows his collections pinned on his shirt. Err, he better stop eating too many candies!
---
This NFT is up for grabs! Check it out here!
All of my NFTs are 1/1 non-generative, hand-drawn art, 1 by 1 produced.
👾 NFT Showroom: nftshowroom.com/jijisaurart
That is it for this art blog. I will see you at the next one!
📸 All photos are owned and taken by me, otherwise credited. Lyrics from the song Sugar Rush by AKB48.
©️jijisaurart
---
---