Improvising for enjoyment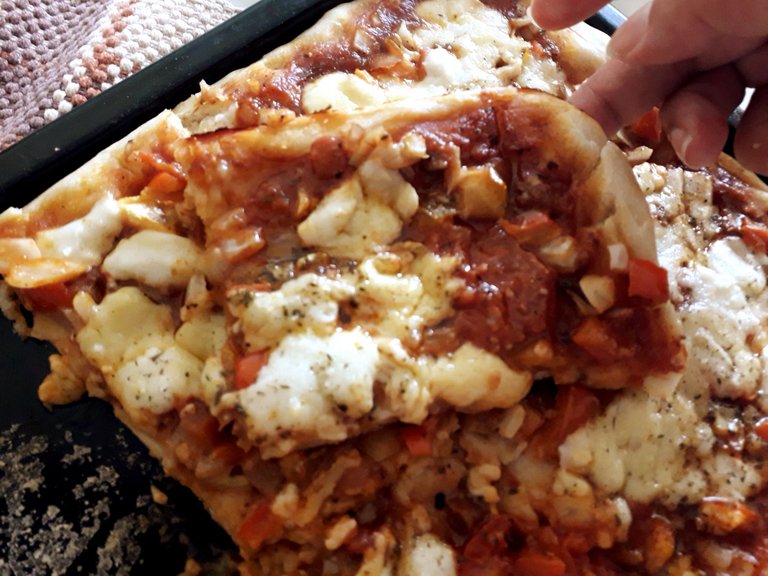 ---
Lo que se puede apreciar en las imágenes que acompañan a esta publicación es el resultado de lo que llevaba días imaginando comer, me encantan las pizzas, son de la comida rápida, mis favoritas 🙂.
La semana pasada estuvo de visita la menor de mis adorables sobrinas, a la cual le quería preparar pizzas y también aprovechaba para materializar lo que imaginaba. Días previos a su llegada preparé la salsa, luego de que estuvo lista, la llevé al congelador, de tal forma ahorrar tiempo en la preparación de la pizza.
Bueno, mientras mi sobrina estuvo de visita, no dio chance preparar la pizza, entre tantas salidas de paseos y lo que comían, para mi sobrina,la pizza no era una prioridad entre sus gustos. Así que no preparé la pizza en ese momento🙃.
El domingo pasado me dispuse a preparar la pizza, no quería posponer las ganas de comerla 😋.
What you can see in the images accompanying this post is the result of what I had been imagining to eat for days, I love pizzas, they are fast food, my favorite 🙂.
Last week was visiting the youngest of my adorable nieces, to whom I wanted to prepare pizzas and also took the opportunity to materialize what I imagined. Days before her arrival I prepared the sauce, after it was ready, I took it to the freezer, in order to save time in the preparation of the pizza.
Well, while my niece was visiting, there was no chance to prepare the pizza, between so many outings and what they ate, pizza for my niece was not a priority among her tastes. So I didn't prepare the pizza at that time🙃.
Last Sunday I set out to prepare the pizza, I didn't want to postpone the desire to eat it 😋.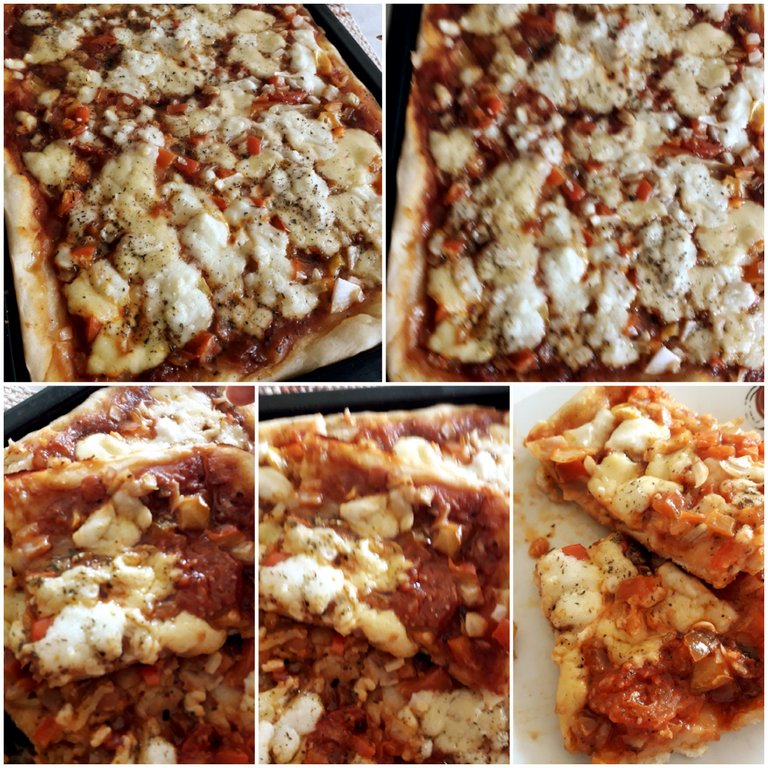 ---
Los ingredientes / The ingredients
---
Antes de iniciar con la preparación de cualquier plato, me gusta organizar los ingredientes, de tal forma saber qué tengo:
Para la masa:
Harina, levadura, azúcar, sal, aceite y agua.
Para los toppings de la pizza:
Saqué del congelador la salsa, la cual había preparado previamente, corté cebolla y pimentones.
Comienzo a ubicar el queso mozzarella, ¿qué creen?, no había, lo habían usado🙃, aquí es donde comienzo a improvisar, estaba sola en casa, ya que mi familia había salido de viaje y no quería ir al supermercado. Mi mamá acostumbra a congelar queso para hacer gordon blue, así que me tropecé con unas lonjas de queso amarillo, listo me dije tengo algo de queso, aunque no es queso mozzarella, creo que puede servir. En esa búsqueda del queso amarillo me tropecé con queso de cabra, pensé ¿será que a la pizza le va bien queso de cabra?, me dije creo que puede resultar bien, así que también saqué el queso de cabra.
Before starting the preparation of any dish, I like to organize the ingredients, so I know what I have:
For the dough:
Flour, yeast, sugar, salt, oil and water.
For the pizza toppings:
I took out of the freezer the sauce, which I had previously prepared, chopped onion and bell peppers.
I start to locate the mozzarella cheese, what do you think, there wasn't any, they had used it🙃, this is where I start to improvise, I was alone at home, since my family had left on a trip and I didn't want to go to the supermarket. My mom uses to freeze cheese to make gordon blue, so I stumbled upon some slices of yellow cheese, ready I said to myself I have some cheese, although it's not mozzarella cheese, I think it can work. In that search for yellow cheese I stumbled upon goat cheese, I thought to myself, could it be that goat cheese goes well with pizza, I said to myself I think it could be good, so I also took out the goat cheese.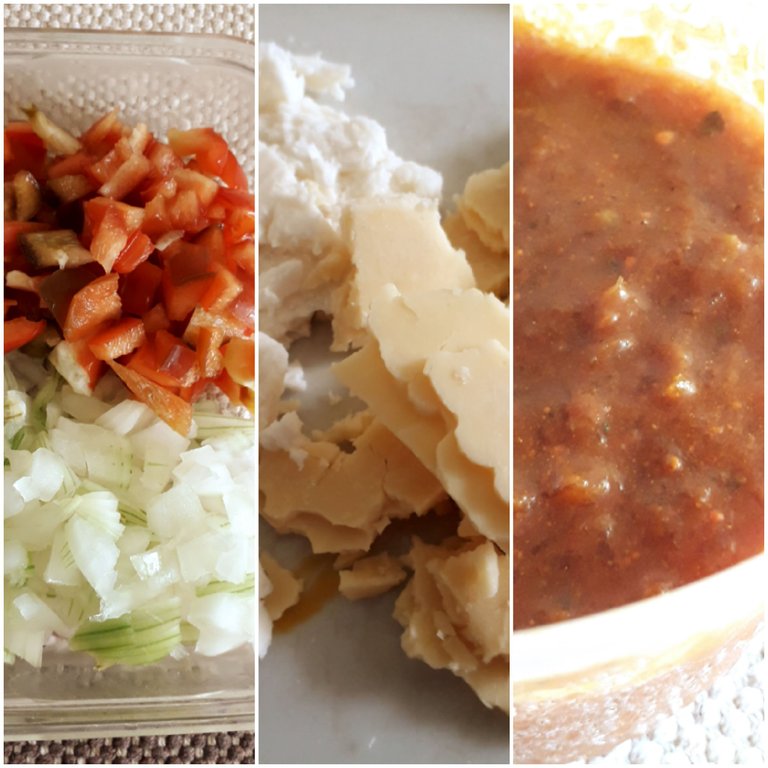 ---
Para completar el topping de la pizza, asé unos tomates, lo cual realicé cortando tomates en ruedas, luego los coloqué en un sartén con aceite de oliva, sal y pimienta. Los mantuve en el fuego hasta que estuvieron asados por ambas caras. Si ven en la primera foto tengo un ajo pinchado con un cubierto, esto es para saborizar y evitar que el ajo se queme.
To complete the topping of the pizza, I roasted some tomatoes, which I did by cutting tomatoes into rounds, then placed them in a pan with olive oil, salt and pepper. I kept them on the fire until they were roasted on both sides. If you see in the first picture I have a garlic pricked with a cutlery, this is to flavor and prevent the garlic from burning.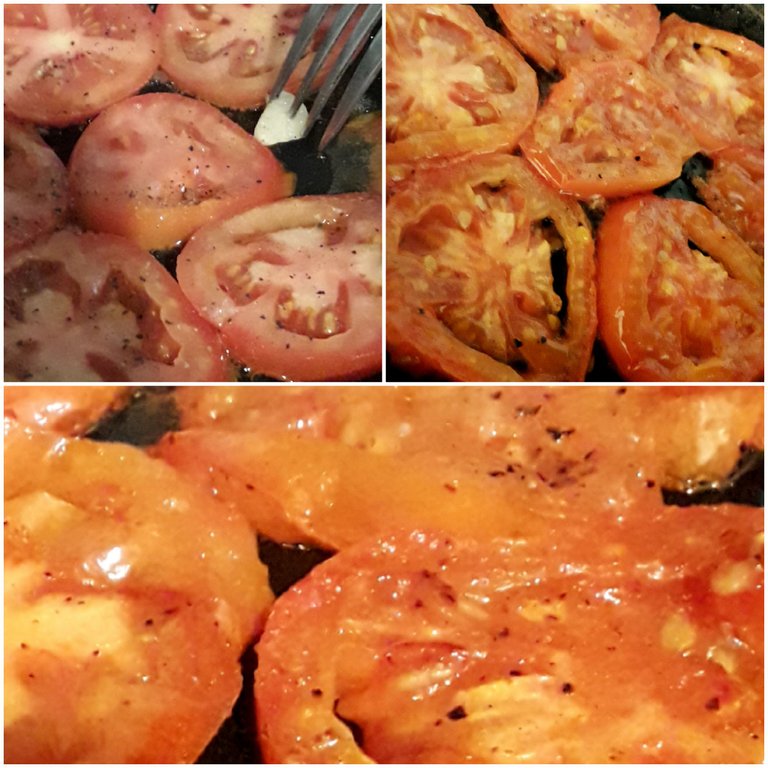 ---
¿Cómo preparé la pizza? / How did I prepare the pizza?
---
Les cuento un secreto, no le digan a la fisiatra ni al traumatólogo que hice pizza, ya que estoy de reposo por una lesión en mi mano derecha.
Así que para amasar la masa usé solo la mano izquierda fue algo laborioso pero lo logré🙂.
Otro reto de esta preparación fue tender la masa en la bandeja, acostumbro a usar rodillo para estirar la masa para luego llevar a la bandeja, en esta ocasión el rodillo no lo podía utilizar. Recordé que viendo una vez un programa, me encanta ver programas de cocina, el chef decía que el no usaba rodillo para tender la masa de la pizza, que si la masa estaba bien amasada, la masa se podía extender con facilidad.
Me volvió tocar improvisar, pues me dispuse a extender la masa, solo podía usar la mano izquierda, eso hice, realmente el chef tenía razón; puede extender sin problemas e inclusive con una sola mano.
I'll tell you a secret, don't tell the physiatrist or the traumatologist that I made pizza, since I'm on bed rest due to an injury in my right hand.
So to knead the dough I used only my left hand, it was a little laborious but I managed to do it🙂.
Another challenge of this preparation was to lay the dough on the tray, I usually use a rolling pin to stretch the dough and then take it to the tray, this time I couldn't use the rolling pin. I remembered watching a TV show once, I love watching cooking shows, the chef said that he did not use a rolling pin to roll out the pizza dough, that if the dough was well kneaded, the dough could be rolled out easily.
I was touched to improvise, because I set out to roll out the dough, I could only use my left hand, that's what I did, the chef was really right; you can roll it out without problems and even with only one hand.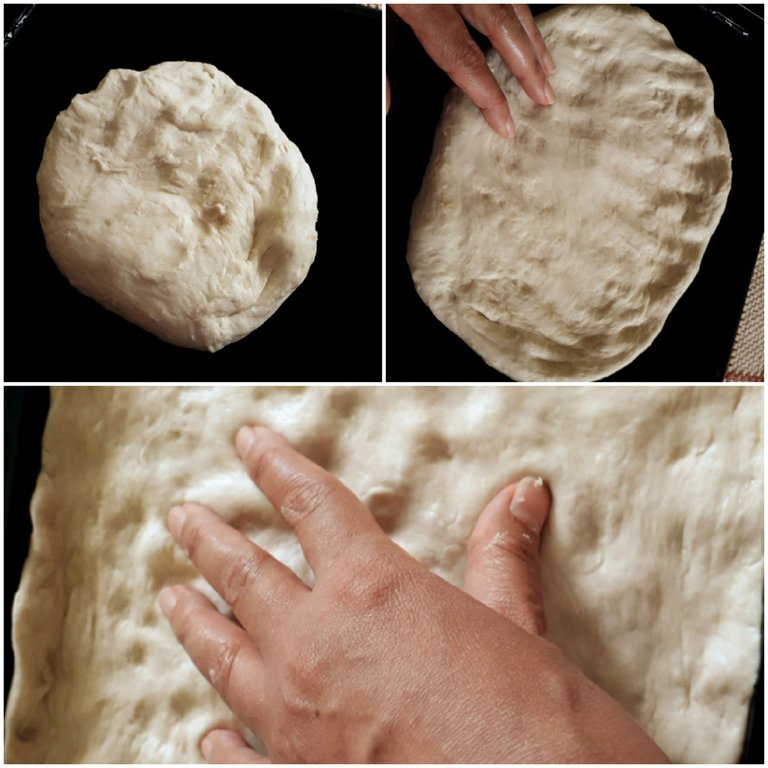 Llegó mi parte favorita, colocar los toppings, comenzando con la salsa, la cual distribuí encima de la masa extendida, luego coloqué los tomates asados y seguidamente distribuí la cebolla y pimentón picados, finalmente agregué los quesos, orégano molido, pimienta y aceite de oliva.
Then came my favorite part, placing the toppings, starting with the sauce, which I distributed on top of the rolled out dough, then I placed the roasted tomatoes and then distributed the chopped onion and paprika, finally I added the cheeses, ground oregano, pepper and olive oil.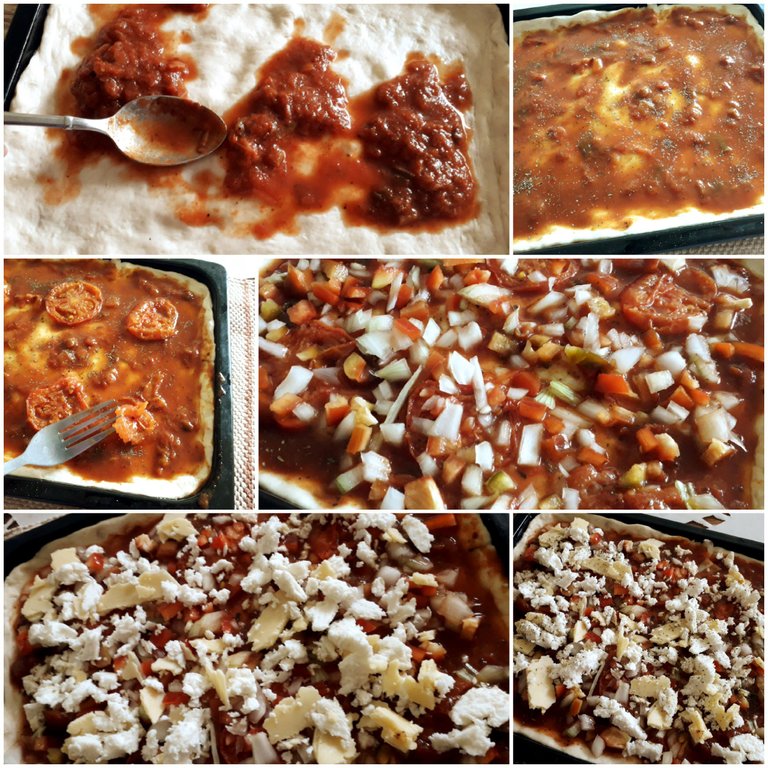 ---
Luego de agregar los toppings, llevé la pizza al horno por 25 minutos, hasta que estuviera doradita, me gusta crujiente...Cuando la saco del horno, amo ver ese queso derretido. Antes de picar agregué nuevamente pimienta, orégano y aceite de oliva.
After adding the toppings, I took the pizza to the oven for 25 minutes, until it was golden brown, I like it crispy...When I take it out of the oven, I love to see that melted cheese. Before chopping I added pepper, oregano and olive oil again.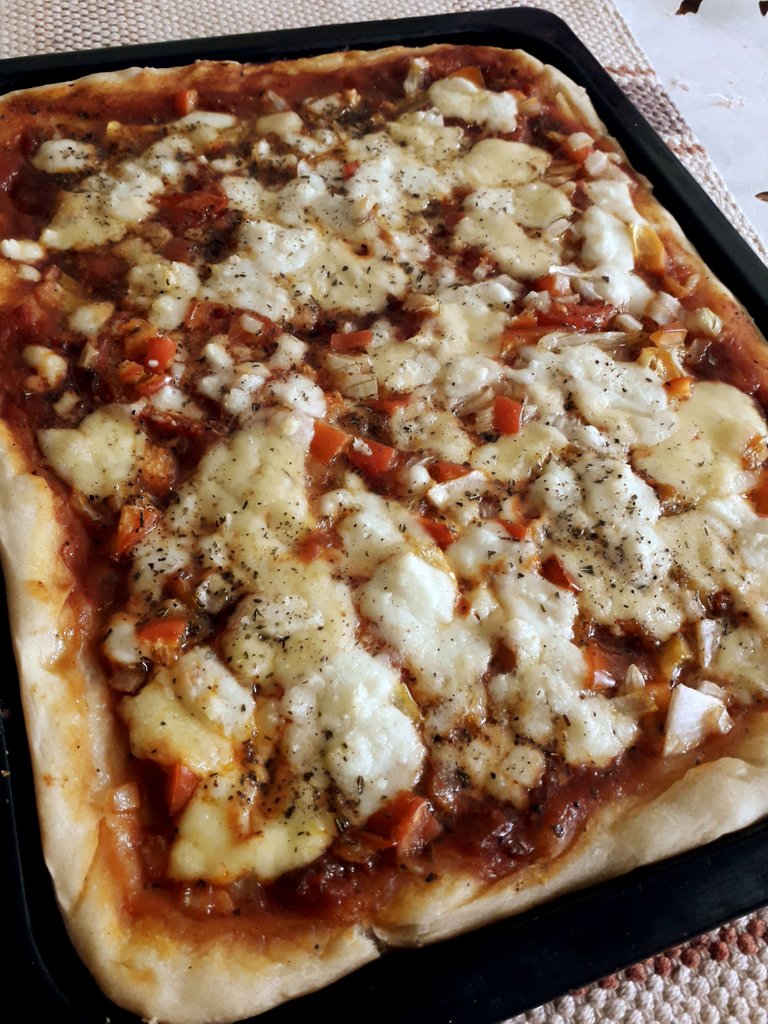 ---
Seguidamente corté la pizza con mucha dificultad, ya que no soy tan diestra con la mano izquierda, con paciencia, pude lograrlo.
I then cut the pizza with great difficulty, since I am not so dexterous with my left hand, but with patience, I was able to do it.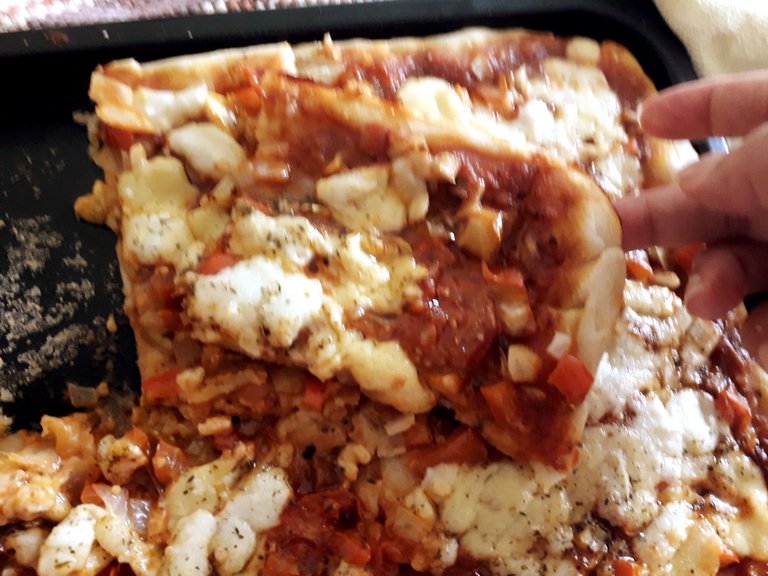 ---
Llegó el momento de disfrutar de la pizza / It's time to enjoy the pizza
---
Al finalizar el picado de la pizza, me dispuse a disfrutar, ¿qué creen? me comí toda la pizza, el queso de cabra combinado con el amarillo resultó ser un éxito, que suavidad, que sensación de contraste de sabores.
Quiero volver a repetir esta preparación, quedó extremadamente deliciosa. Estoy escribiendo y me está provocando 😊.
When I finished chopping the pizza, I enjoyed it, what do you think? I ate the whole pizza, the goat cheese combined with the yellow cheese turned out to be a success, what a softness, what a sensation of contrast of flavors.
I want to repeat this preparation, it was extremely delicious. I am writing and it is provoking me 😊.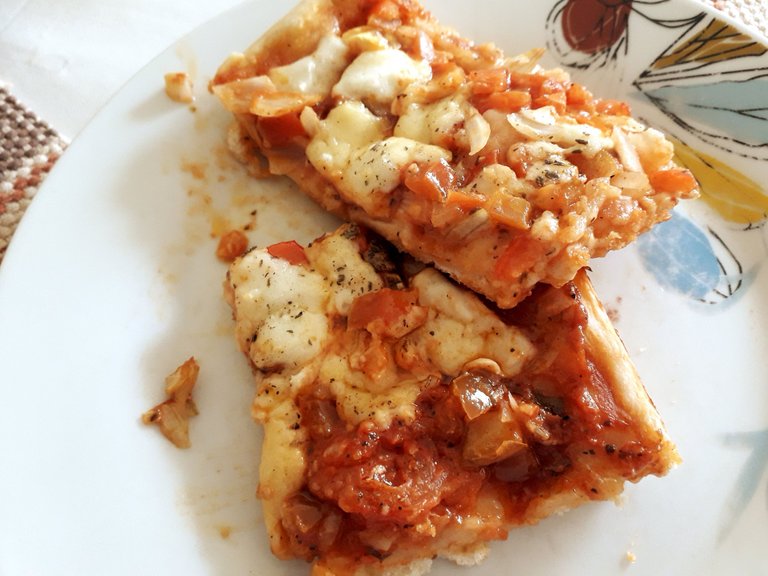 ---
Atrévete a improvisar / Dare to improvise
---
Considero que no necesariamente se deben tener todos los ingredientes para hacer una receta, con creatividad, entusiasmo y muchas ganas se puede improvisar en la cocina y lograr buenos resultados.
Deja que tu creatividad se recree, disfruta del proceso e imagínate disfrutando de grandes resultados.
I believe that you don't necessarily need to have all the ingredients to make a recipe, with creativity, enthusiasm and a lot of desire you can improvise in the kitchen and achieve good results.
Let your creativity run wild, enjoy the process and imagine yourself enjoying great results.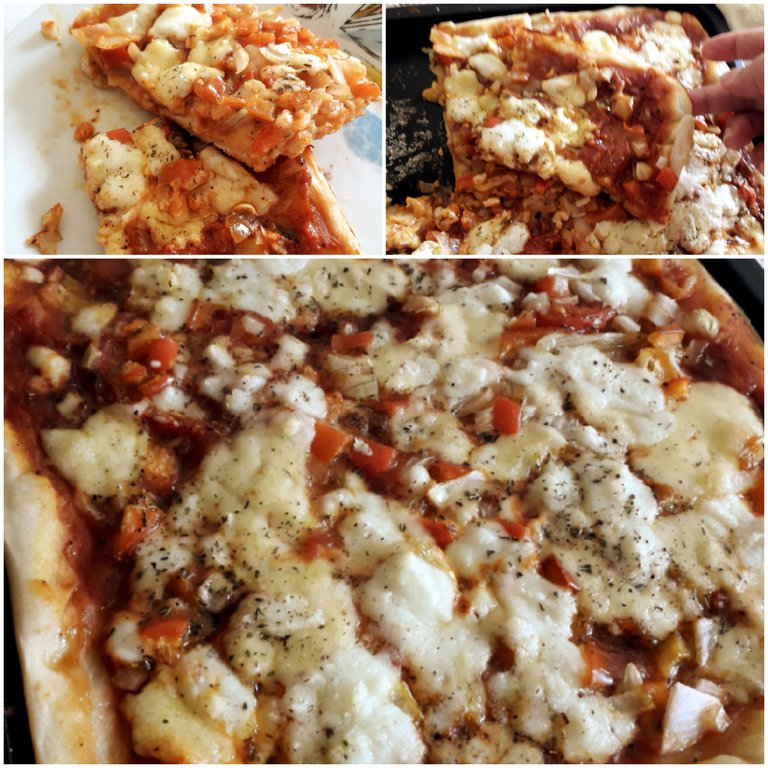 ---
Cuéntame ¿eres de los que improvisa en la cocina?
Tell me, are you one of those who improvise in the kitchen?
---
Gracias por dedicar un espacio de su tiempo para leer la publicación. Si hay alguna pregunta, por favor pregúntame en la sección de comentarios a continuación.
Thank you for taking the time to read this publication. If there are any questions, please ask me in the comments section below.
Texto e imágenes: Por @jicrochet
Text and images: By @jicrochet
---
---