A Dachshund mascot bracelet
Una de las cosas que más disfruto de mi mágica y maravillosa vida, es regalar❣️, pero no regalar por regalar.
Cuando le voy a regalar a alguien inmediatamente y totalmente de manera espontanea se activan en mi corazón y mente una sinfonía con una melodía de amor💕, y dicha melodía en tan suave que me embriaga de ternura y me permite divisar y percibir claramente el corazón de a quien voy a regalar.
Una vez que navego en el corazón de esa persona especial, nace la idea del regalo😍, y a partir de allí, comienza la magia de la creación.
One of the things I enjoy the most in my magical and wonderful life, is gifting❣️, but not gifting for the sake of gifting.
When I am going to give a gift to someone immediately and totally spontaneously a symphony with love melody💕 is activated in my heart and in my mind, and that melody in so soft that it intoxicates me with tenderness and allows me to glimpse and perceive clearly the heart of the one to whom I am going to give a gift.
Once I navigate in the heart of that special person, the idea of the gift is born😍, and from there, the magic of creation begins.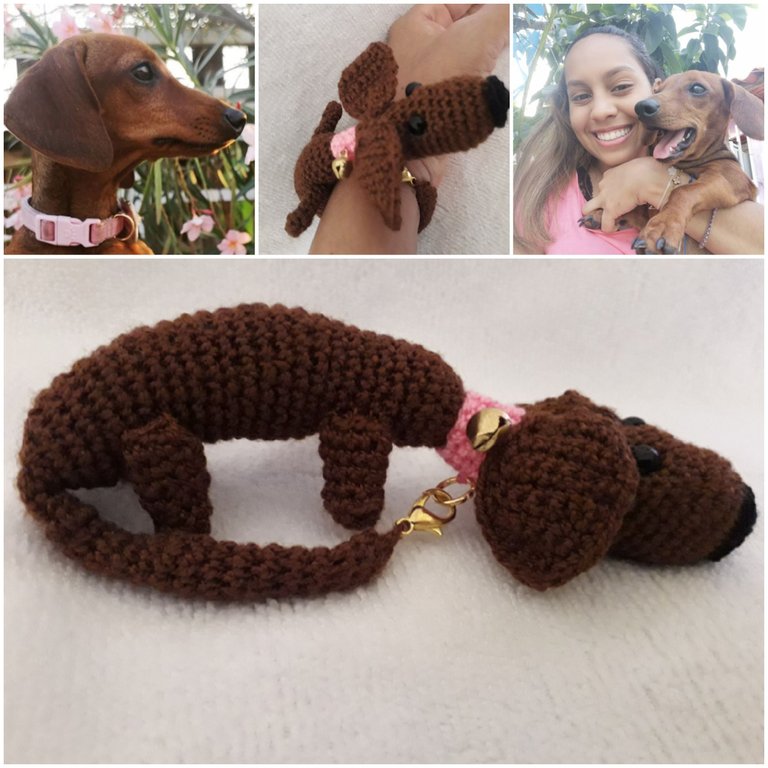 Como les he contado en mis publicaciones anteriores, tengo dos preciosas sobrinas, a la mayor le encanta que le haga cosas tejidas, a la pequeña no tanto.
Mi sobrina mayor, la dueña absoluta de mi corazón, es que esa nena es tan especial, tiene una cachorra de raza canina Dachshund 🐶, la cual dice que es su hija, su hijita lleva por nombre Eva Luna, realmente su mascota es muy tierna y tiene la personalidad juguetona y dulce de mi sobrina.
Me encanta que mi sobrina cuide y valore a su mascota, le da el espacio que se merece, y la consiente muchísimo, Eva Luna le responde con mucho afecto y travesuras.
As I have told you in my previous posts, I have two beautiful nieces, the older one loves it when I make her knitted things, the little one not so much.
My oldest niece, the absolute owner of my heart, is that baby is so special, she has a Dachshund puppy 🐶, which she says is her daughter, her little daughter is named Eva Luna, really her pet is very tender and has the playful and sweet personality of my niece.
I love that my niece takes care and values her pet, she gives her the space she deserves, and spoils her a lot, Eva Luna responds with a lot of affection and mischief.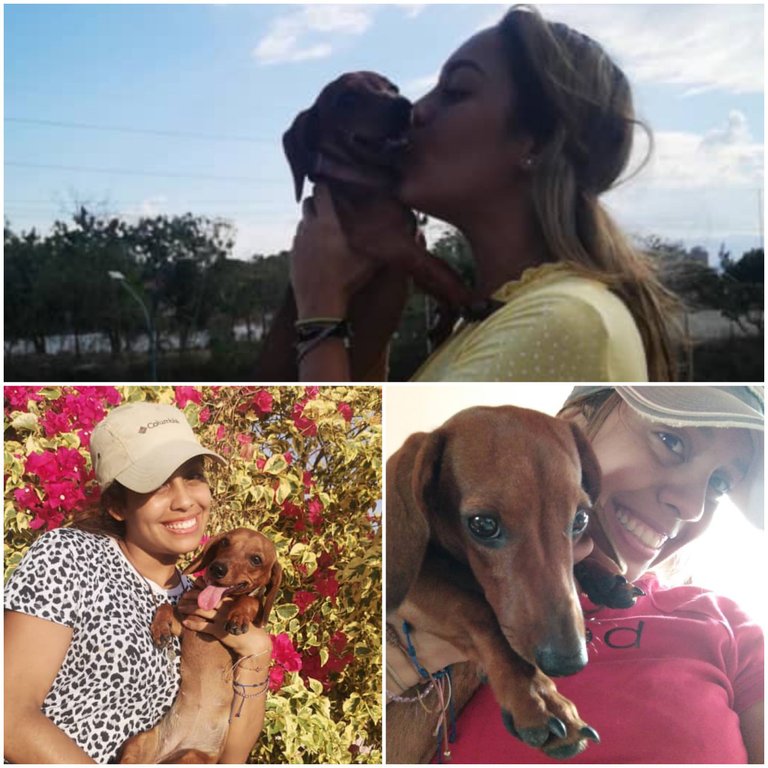 Mi sobrina tiene a su mascota muy coqueta. Siempre que voy a visitar a mis sobrinas le llevo regalos y dulces. En esta ocasión, quise hacer de regalo para mi sobrina mayor una pulsera mascota, esa pulsera mascota tenía que parecerse a Eva Luna😍.
Es más quería que la pulsera mascota tuviese hasta el collar parecido al de Eva Luna.
My niece has a very flirtatious pet. Whenever I go to visit my nieces I always bring her gifts and treats. On this occasion, I wanted to make a pet bracelet as a gift for my oldest niece, that pet bracelet had to look like Eva Luna😍.
What's more, I wanted the pet bracelet to have a collar similar to Eva Luna's.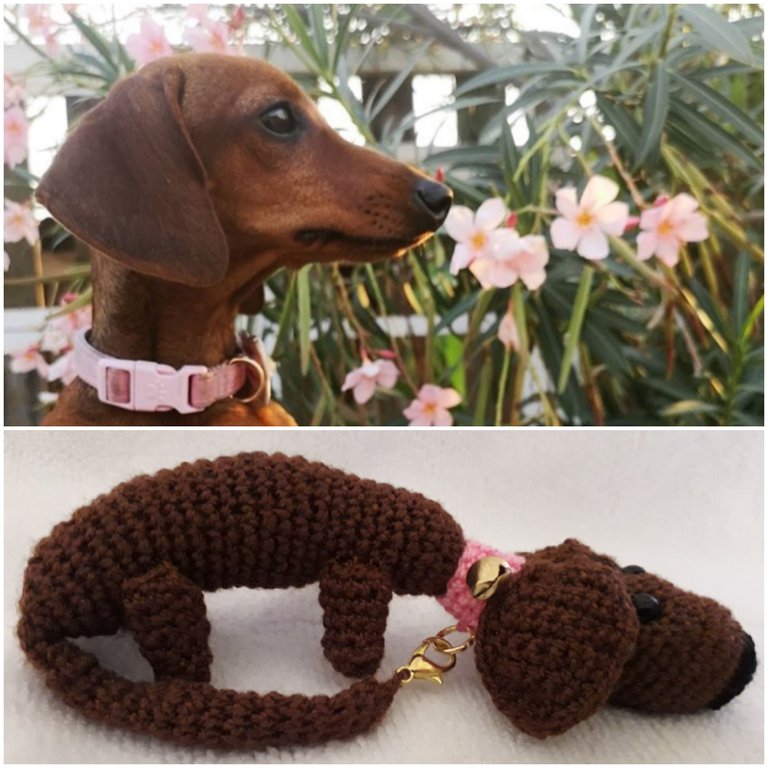 Para realizar esta pulsera mascota utilicé hilo acrílico, ya que en ese tipo de hilo tenia el color marrón más parecido al color de Eva Luna. También usé dos ojos de seguridad y un accesorio de cascabel, Eva Luna cuando camina se escucha, ya que su collar tiene un cascabel también.
Adicional, trancaderos para pulseras e hilo en color rosado para el collar.
Para hacer esta pulsera mascota, comencé tejiendo dos orejitas y 4 patas. Luego tejí el hocico en color negro, seguidamente tejí la cabeza, coloqué los ojos de seguridad. Hice algunas disminuciones, para comenzar el cuerpo, luego fui disminuyendo para hacer la cola. Uní las cuatro patas y las orejas.
To make this pet bracelet I used acrylic yarn, since that type of yarn had the brown color closest to Eva Luna's color. I also used two safety eyes and a bell accessory, Eva Luna can be heard when she walks, since her collar has a bell too.
Additional, bracelet strings and pink thread for the necklace.
To make this pet bracelet, I started by weaving two little ears and 4 paws. Then I wove the snout in black, then I wove the head, placed the safety eyes. I made some decreases, to start the body, then I decreased to make the tail. I joined the four legs and the ears.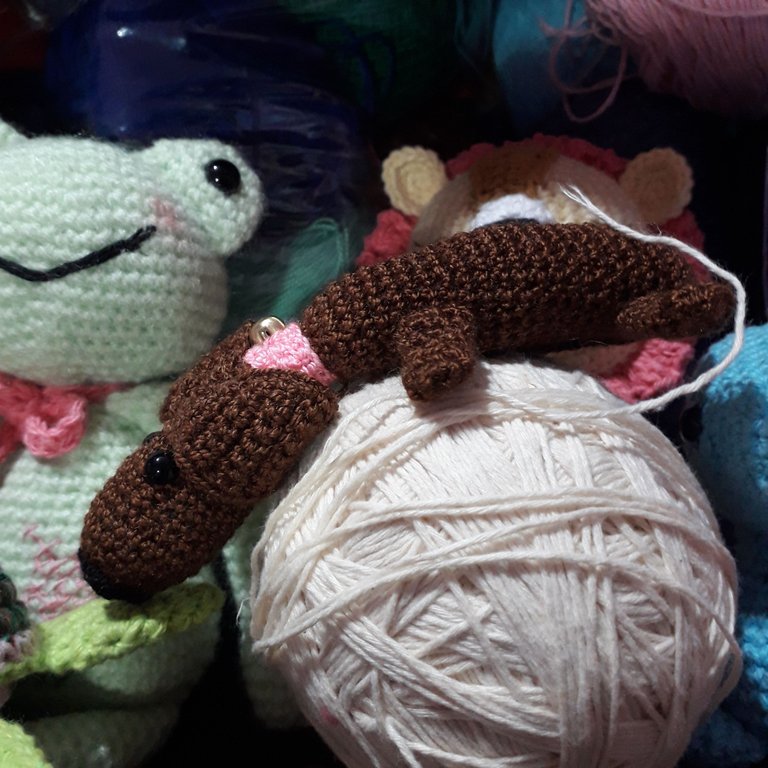 En color rosado hice el collar, y lo coloqué en el cuello. Finalmente coloqué el trancadero.
In pink I made the collar, and placed it on the neck. Finally, I placed the necklace on the neck.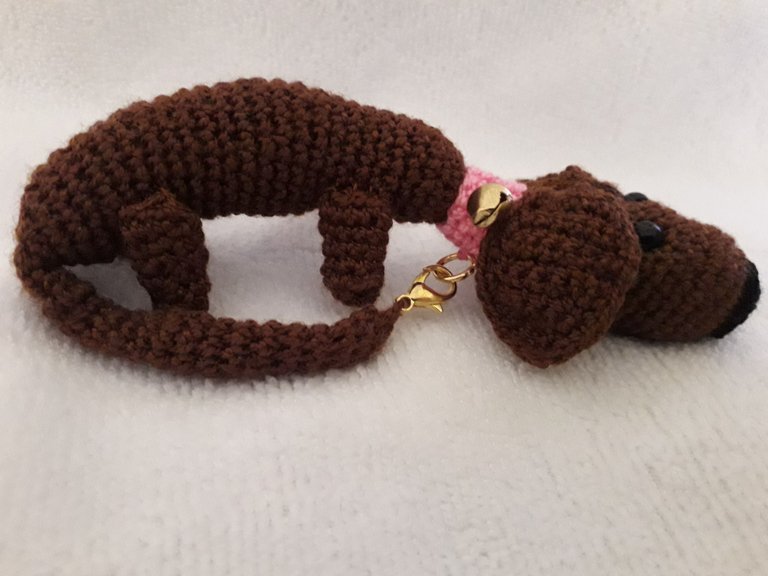 ---
Por situación pandemia, no pude llevar la pulsera mascota a mi sobrina, la envié por encomienda. Cuando me llamó luego de recibir la pulsera, el escandalo por la emoción no era normal, estaba muy feliz con su pulsera, lo que más le emocionaba es que su pulsera se parece a su mascota Eva Luna.
Me encanta sorprender con mis regalos, es que un regalo va desde el sentimiento con que lo hago...❤️.
Due to the pandemic situation, I could not take the bracelet to my niece, I sent it by parcel. When she called me after receiving the bracelet, the excitement was not normal, she was very happy with her bracelet, what excited her the most is that her bracelet looks like her pet Eva Luna.
I love to surprise with my gifts, is that a gift goes from the feeling with which I do it...❤️.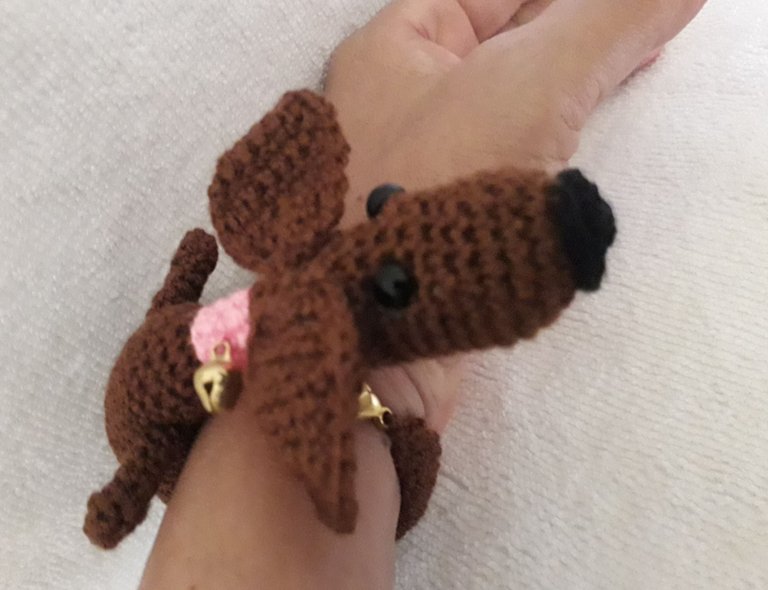 ---
Coméntame ¿Qué te inspira para regalar? / Tell me, What inspires you to give as a gift?
---
Gracias por dedicar un espacio de su tiempo para leer la publicación. Si hay alguna pregunta, por favor pregúntame en la sección de comentarios a continuación.
Thank you for taking the time to read this publication. If there are any questions, please ask me in the comments section below.
Texto e imágenes: Por @jicrochet
Text and images: By @jicrochet
---
---