A celebration full of infinite emotions
Tengo dos sobrinas, a quienes amo inmensamente, son quienes revolotean en mi vida a diario y me hacen ver la vida de una manera especialmente mágica.
Recientemente, celebramos los quince años de mi sobrina menor, fue para ella un día muy especial, los días previos a su día soñado estuvo lleno de preparativos, sorpresas, regalos, globos y flores y lo más importante de mucho amor.
I have two nieces, whom I love immensely, they are the ones who flutter in my life on a daily basis and make me see life in a particularly magical way.
Recently, we celebrated the fifteenth birthday of my youngest niece, it was a very special day for her, the days before her dream day were full of preparations, surprises, gifts, balloons and flowers and most importantly, lots of love.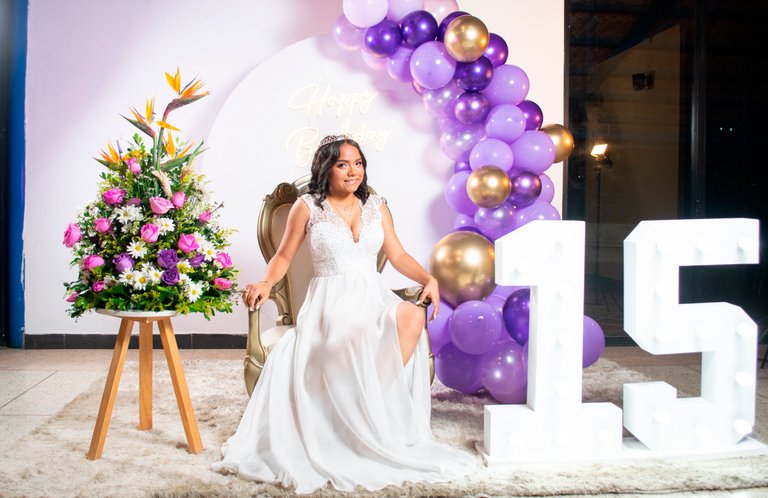 ---
La nostalgia embriagó los días previos
---
Días antes de la celebración lloraba todos los días, las lágrimas corrían por mis mejillas sin ser invitadas, es que llegaba a mi mente mi amado hermanito, el padre de mi sobrinita cumpleañera, sentía mucho su ausencia, el falleció hace aproximadamente cuatro años. Sabía que él hubiese disfrutado tanto ese día como los preparativo. Mi hermanito era muy especial para mi, era el más consentido de mi corazón.
Junto a mis hermanas y la madre de mi sobrina decidimos hacer del cumpleaños de Daniela Valentina un día especial, un día que lo recordará, que lo recordáramos como una referencia de alegría, de paz de disfrute y de mucho goce.
Days before the celebration I cried every day, the tears ran down my cheeks without being invited, it is that my beloved little brother came to my mind, the father of my birthday niece, I was very sorry for his absence, he passed away approximately four years ago. I knew that he would have enjoyed that day as much as the preparations. My little brother was very special to me, he was the most spoiled of my heart.
Together with my sisters and my niece's mother, we decided to make Daniela Valentina's birthday a special day, a day that she will remember, that we remember as a reference to joy, peace, enjoyment and much joy.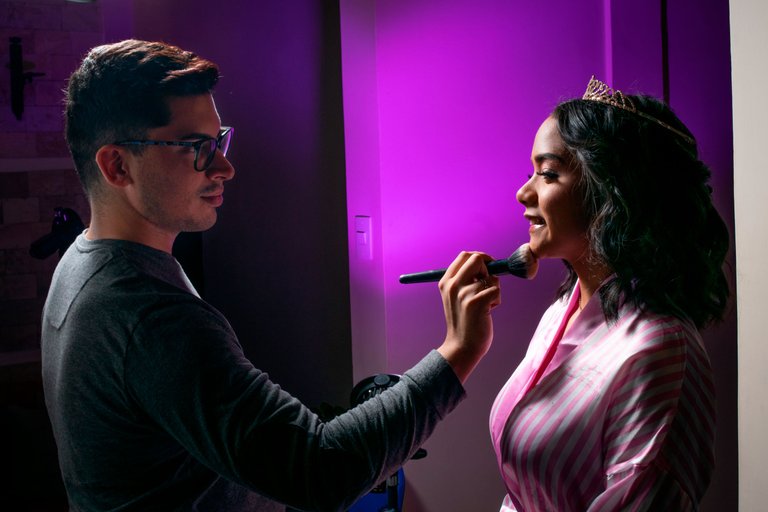 Ver la alegría de mi sobrina en cada momento al día de mi cumpleaños fue ese toque de magia que fue suavizando la nostalgia que invadía mi corazón. Definitivamente, disfrutar y acariciar la alegría del otro es la mejor medicina.
Seeing the joy of my niece at every moment on my birthday was that touch of magic that softened the nostalgia that invaded my heart. Definitely, enjoying and caressing the joy of the other is the best medicine.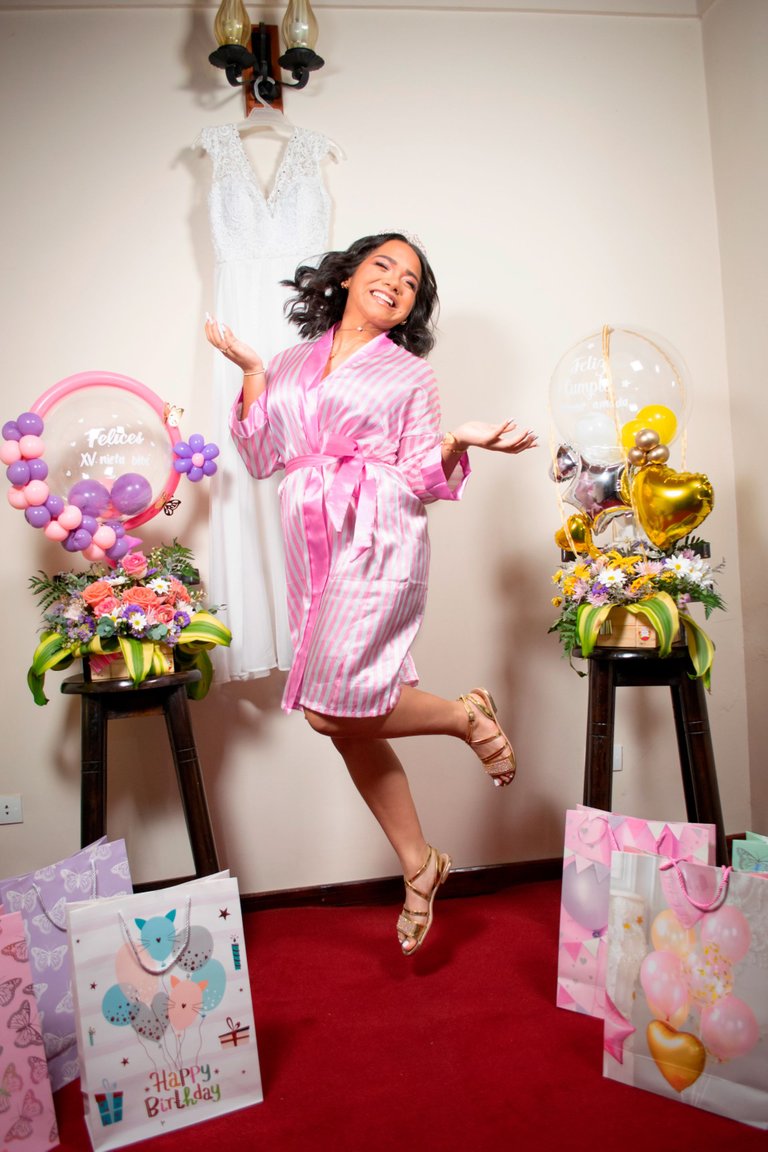 ---
Disfrute en cada detalle
Enjoy in every detail
---
Se cuido cada detalle, Daniela tuvo varias sesiones para ajustar su vestido, vestido que usó mi sobrina mayor en su graduación de bachillerato, Daniela en el acto de graduación que fue hace ocho años, le dijo a la abuela "quiero usar ese vestido en mis quince años", y sus palabras fueron ordenes. Realmente el vestido le quedó hermoso, ella le gustó mucho.
Every detail was taken care of, Daniela had several sessions to adjust her dress, a dress that my eldest niece wore at her high school graduation, Daniela at the graduation ceremony that was eight years ago, told her grandmother "I want to wear that dress on my fifteen years", and his words were orders. Her dress was really beautiful on her, she liked it a lot.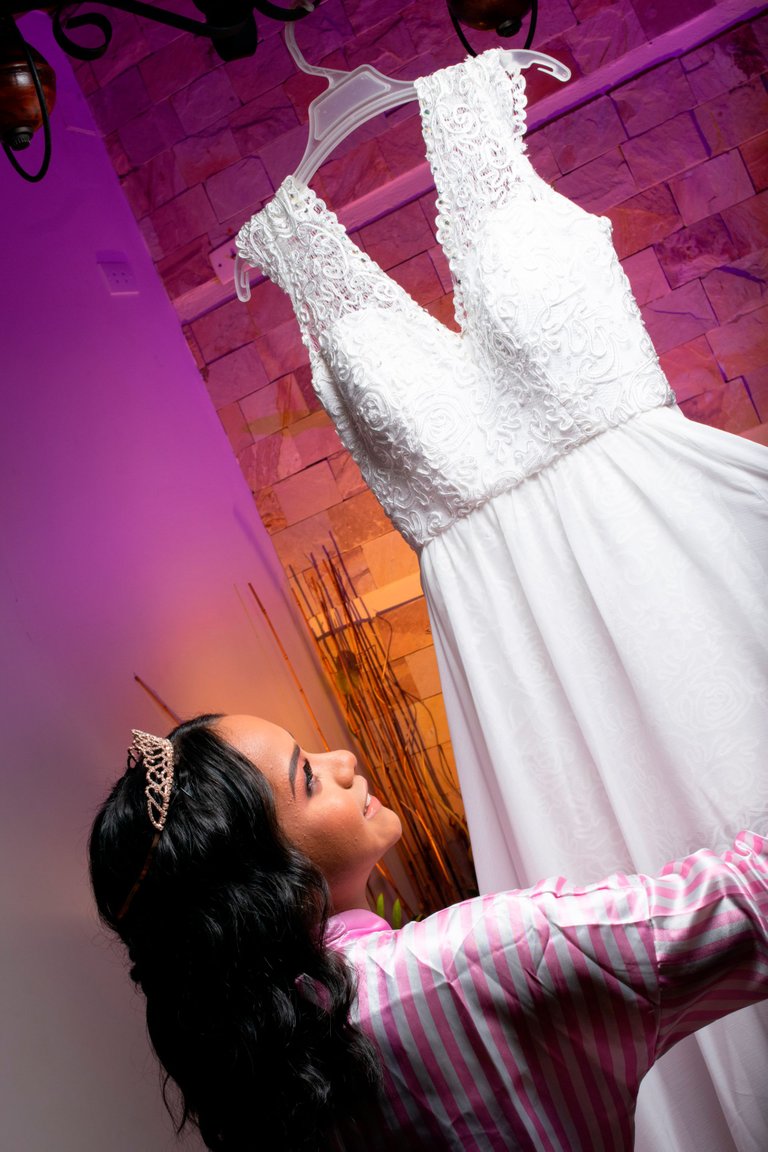 Una de mis hermana le regaló una medallita grabada con una foto de ella con su papi cuando era niña, este lo consideró su regalo favorito, fue muy conmovedor cuando mi hermana le entregó la caja.
A mí me tocó buscar el regalo en la joyería, y mientras estuvo conmigo ese regalo, abría la caja todas las noches para apreciar la belleza de esta medalla...
One of my sister gave her a medal engraved with a photo of her with her daddy when she was a child, she considered this her favorite gift, it was very touching when my sister handed her the box.
It was my turn to look for the gift in the jewelry store, and while she was with me that gift, she opened the box every night to appreciate the beauty of this medal...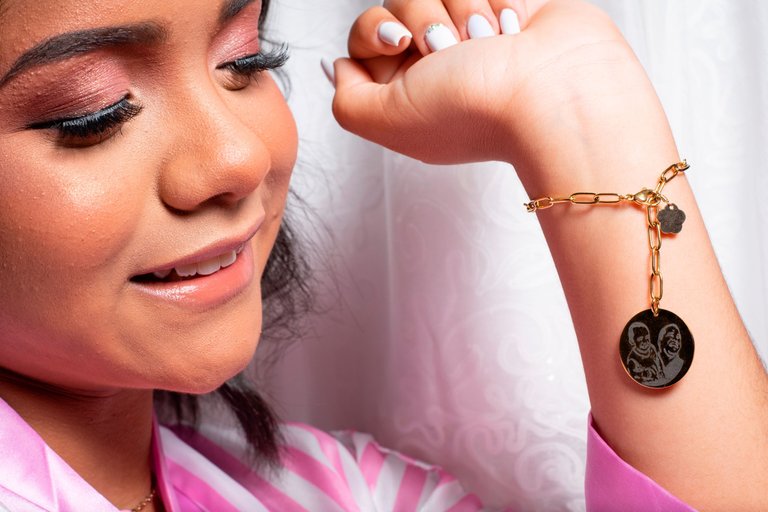 Mi sobrina antes de salir al club para la celebración quiso tomarse fotos en el jardín de su hogar, es que su papi junto a su mami construyeron su casa con sus propias manos, es una casa hermosa y cargada de mucho amor.
My niece, before going out to the club for the celebration, wanted to take pictures in the garden of her home, because her daddy and her mommy built their house with their own hands, it is a beautiful house full of love.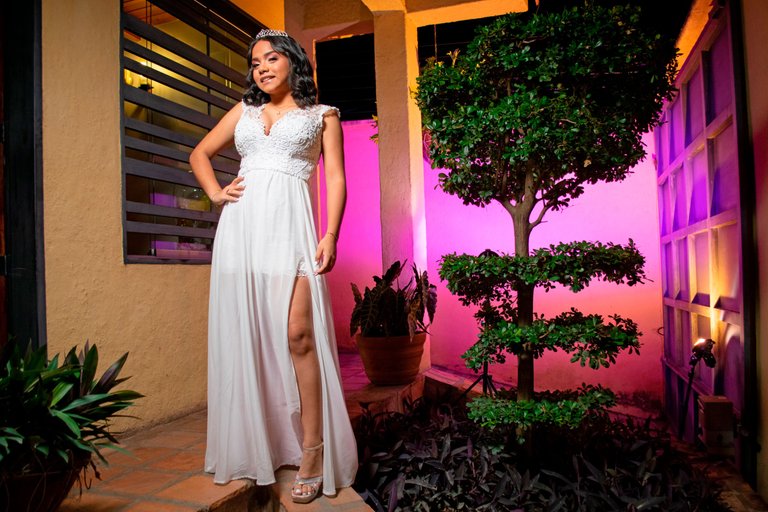 ---
Un sueño hecho realidad
A dream come true
---
Y se hizo realidad el sueño de mi sobrina, celebrar sus quince años como una princesa. Su mami haciendo gala de una gran fortaleza es quien acompañó a mi sobrina al salón en donde se realizará la celebración la cual iniciaría con el baile del vals.
And my niece's dream came true, to celebrate her fifteen years as a princess. Her mother, displaying great strength, is the one who accompanied my niece to the room where the celebration will take place, which would begin with the waltz dance.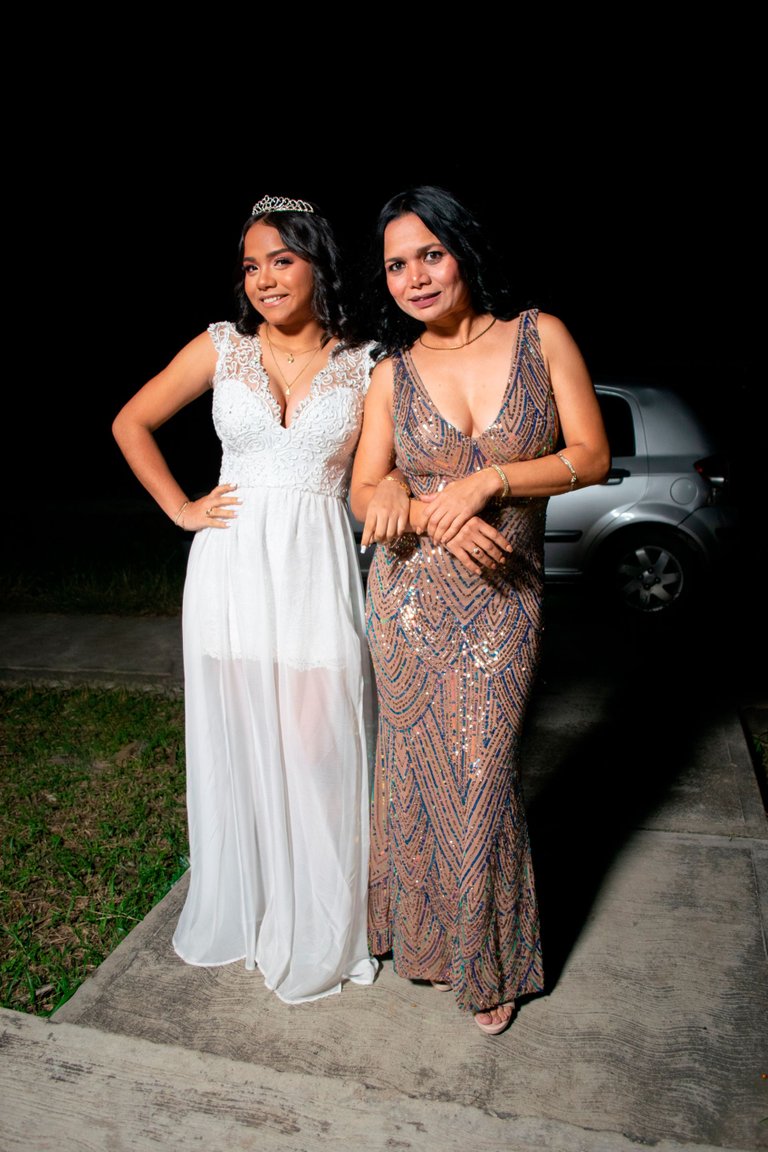 Mi sobrina iniciaría el baile con su abuelo materno, mi papá su abuelo paterno, por temas de salud no pudo asistir. Fue muy conmovedor ese momento, en el que el abuelo recibe a su hija y nieta.
My niece would start the dance with her maternal grandfather, my father her paternal grandfather, due to health issues he could not attend. That moment was very touching, in which the grandfather receives his daughter and granddaughter.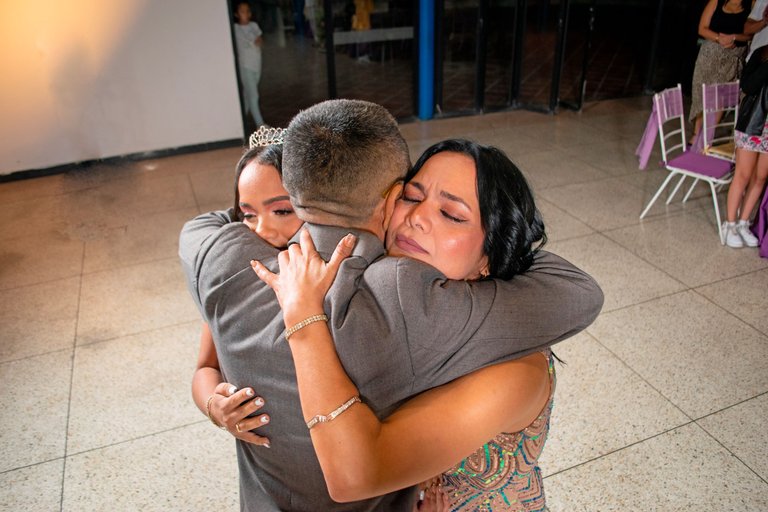 Mi sobrina cumpleañera, días previos decía que su cumpleaños es para estar feliz y celebrar, que no quería ver lágrimas de tristeza, que su papi era alegría.
My birthday niece, days before, said that her birthday is to be happy and celebrate, that she did not want to see tears of sadness, that her daddy was joy.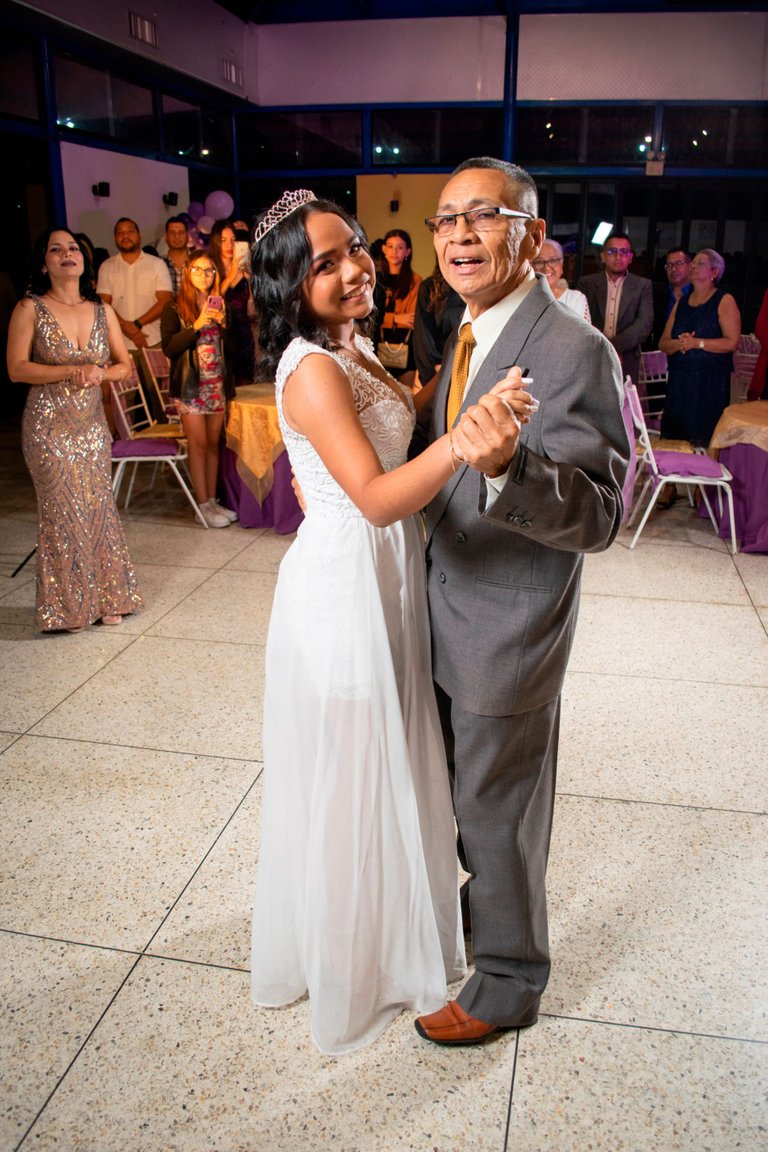 Bailó con su abuela materna, abuela agradecida de poder celebrar con su nieta, e infinitamente feliz porque Dios le permitió esta oportunidad.
She danced with her maternal grandmother, a grandmother grateful to be able to celebrate with her granddaughter, and infinitely happy because God allowed her this opportunity.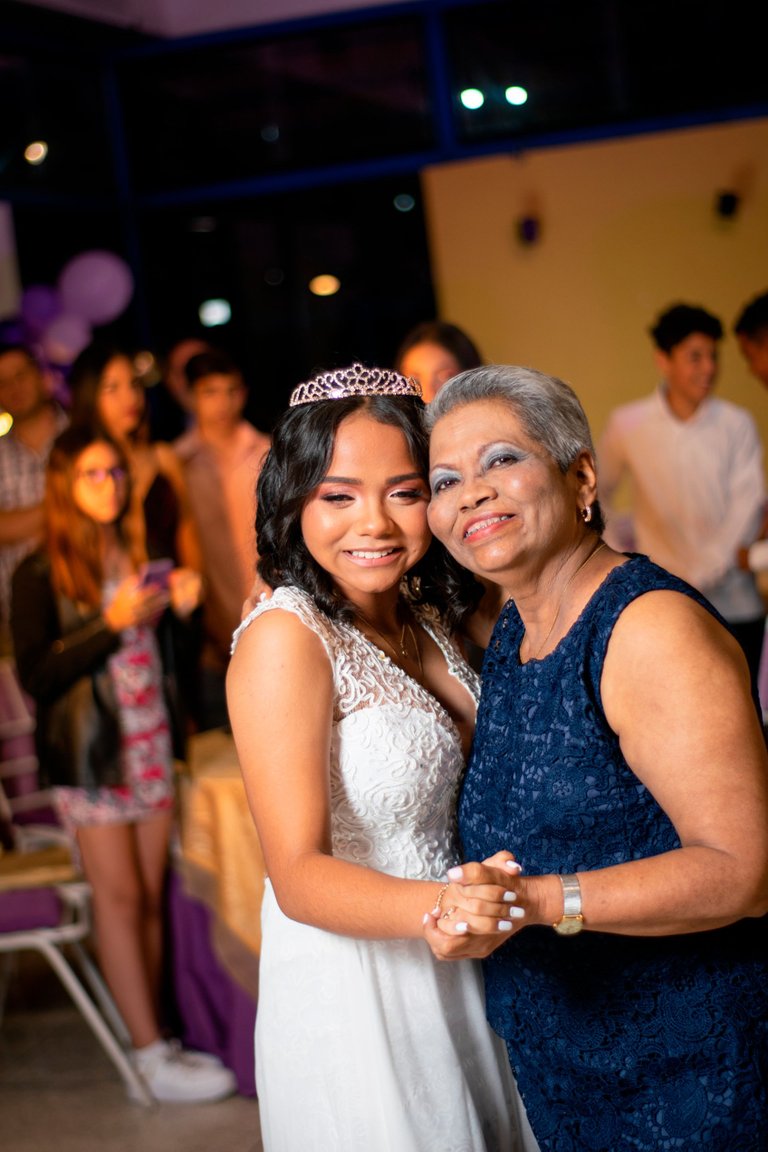 Y con la abuela materna, la madre de su papito amado, este fue un momento conmovedor, mi madre a la altura, con la fortaleza impecable y el amor que la distingue.
And with the maternal grandmother, the mother of his beloved daddy, this was a moving moment, my mother at the height, with the impeccable strength and love that distinguishes her.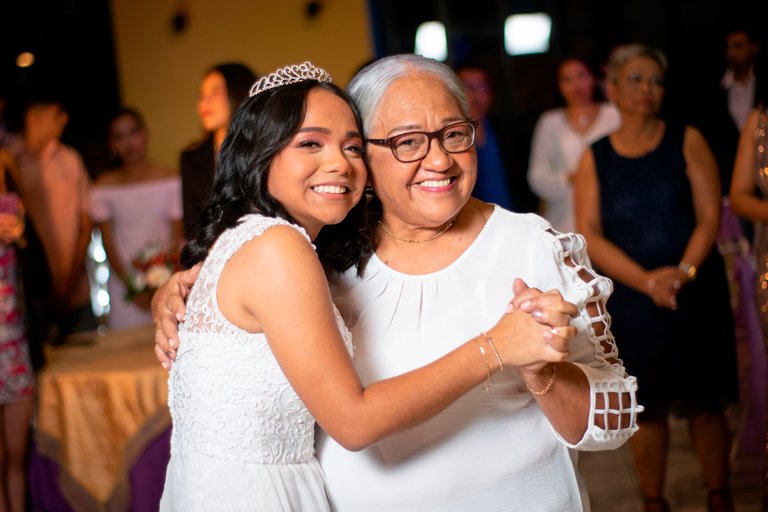 Valentina bailó el vals con casi todos los invitados, con cada uno sonrió, y disfrutó...Todos los invitados tenía los ojos puesto en ella...
Valentina danced the waltz with almost all the guests, with each one she smiled, and she enjoyed... All the guests had their eyes on her...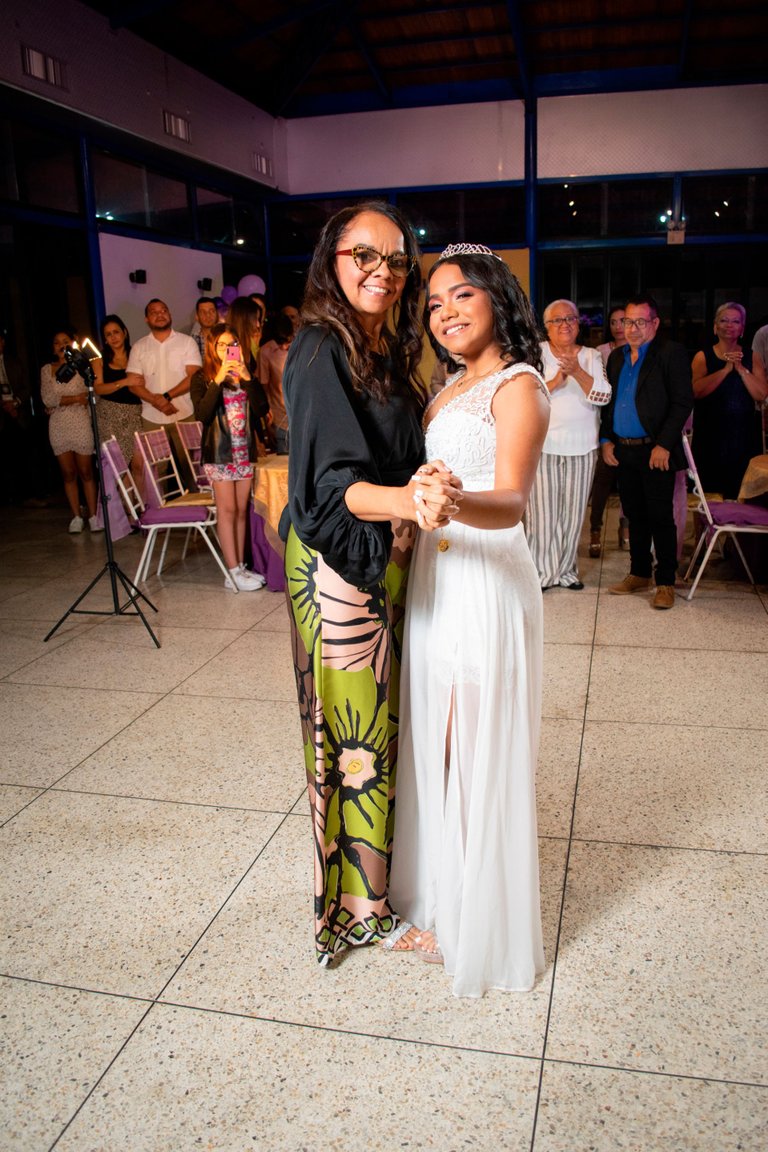 La reina madre con sus princesas, mi sobrinita menor es la más chiquita de la casa, la más consentida...todos la protegemos y cuidamos de que siempre este feliz.
The queen mother with her princesses, my youngest niece is the youngest in the house, the most spoiled...we all protect her and take care that she is always happy.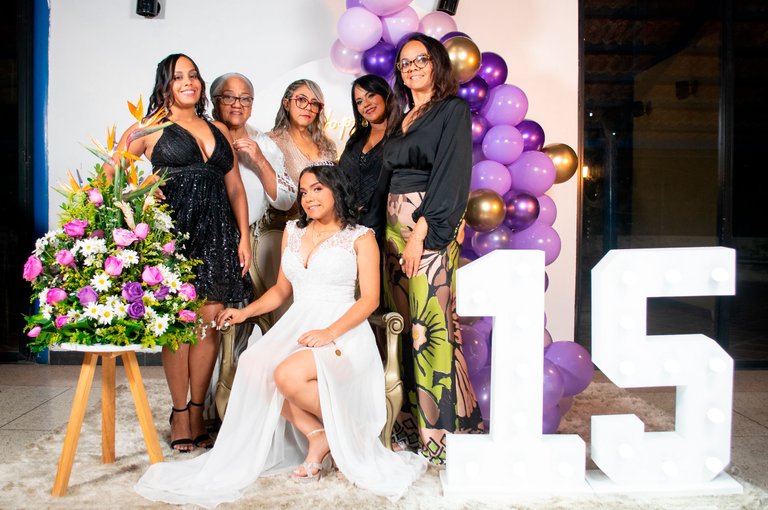 Celebramos la vida de mi beba con todo el amor del universo, ella le gusta mucho el morado, por ello la decoración fue realizada en esos tonos y la torta llevaba mariposa.
We celebrate my baby's life with all the love in the universe, she really likes purple, that's why the decoration was done in those tones and the cake had a butterfly.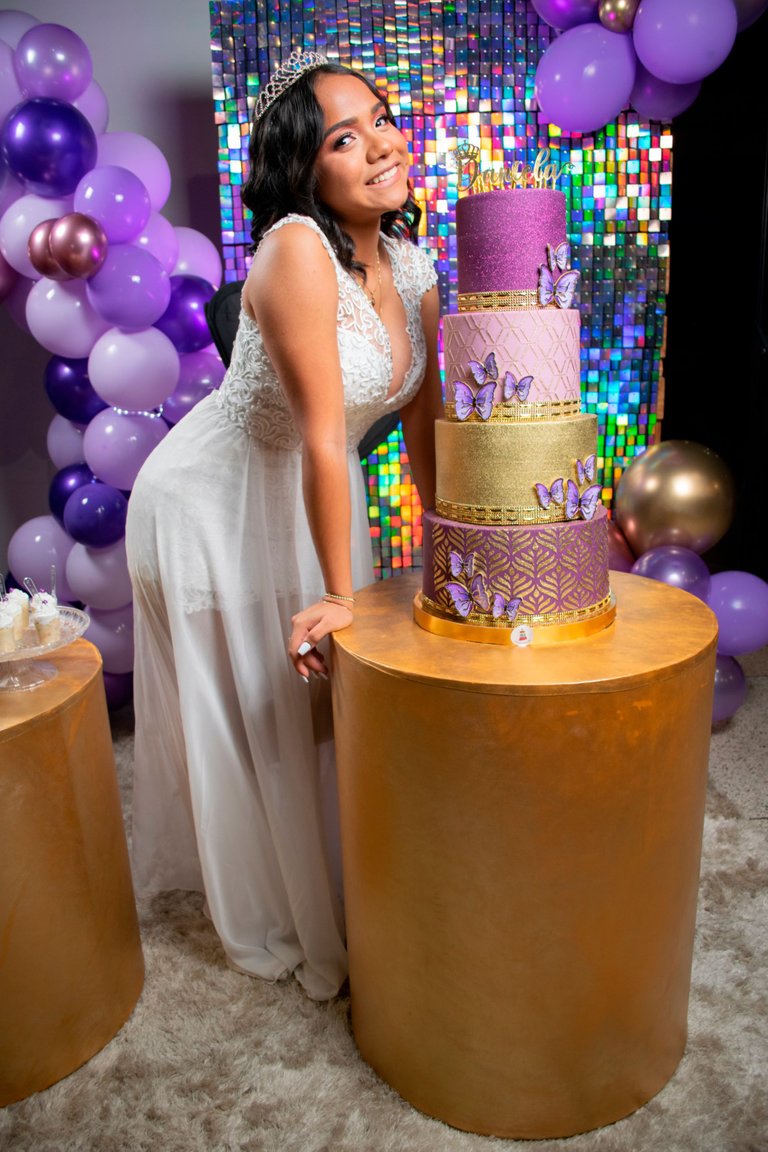 Mi sobrinita de amor, se disfrutó la fiesta de punta a punta, no dejó de bailar, todo lo que sonó. Que siga la fiesta de la felicidad en ella a cada instante, y que baile el son que la vida le toque.
My little niece of love, she enjoyed the party from end to end, she did not stop dancing, everything that sounded. May the party of her happiness continue in her at every moment, and may she dance to the sound that her life touches her.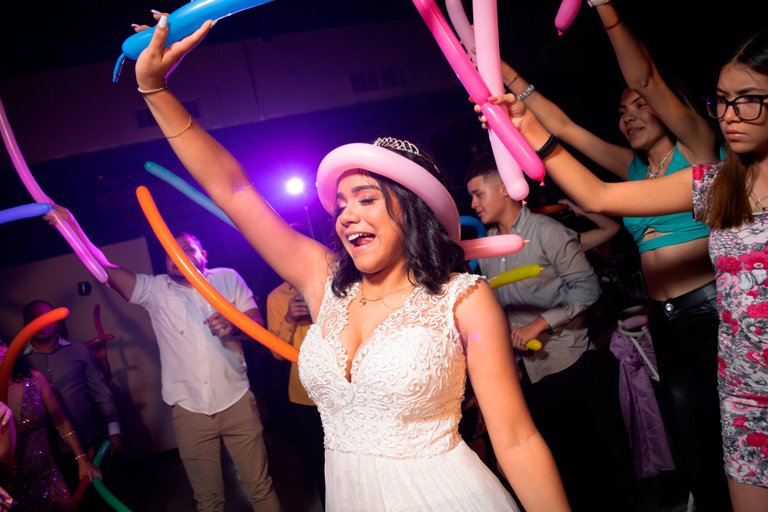 Mi sobrina me dio una gran lección de fortaleza, es un gran ejemplo de ello. Gracias a Dios por esta maravillosa experiencia.
---
Gracias por dedicar un espacio de su tiempo para leer la publicación. Si hay alguna pregunta, por favor pregúntame en la sección de comentarios a continuación.
Thank you for taking the time to read this publication. If there are any questions, please ask me in the comments section below.
Texto e imágenes: Por @jicrochet
Text and images: By @jicrochet
FRIENDS LOVE SPANISH NEOXIAN LIFE VIDAPERSONAL BLOG PALNET ORIGINALCONTENT FEELGOOD
---
---