Breathtaking Batanes: Things you need to Know Part 3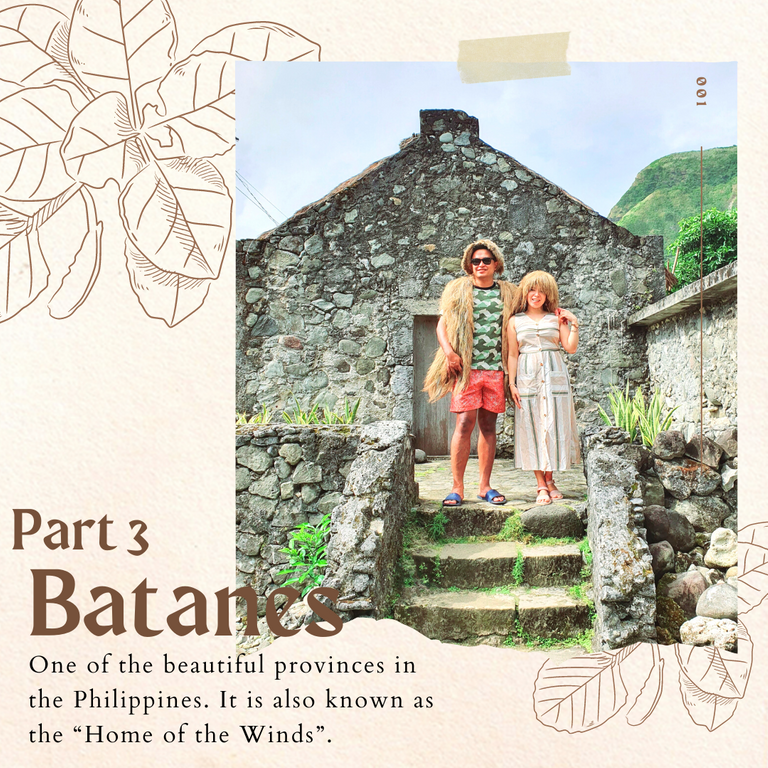 This is the last part of my Batanes series.
Again, I would like to take this opportunity to thank all Hivers who took the time to read, reblogged, and upvoted Part 1 and Part 2 of this series which you can read HERE.
Here's our Itinerary:
Day 3
Our Sabtang Island tour is part of the package that we got from Fullham and the group decided to stay for a night so that I won't get tired from the tour. We didn't worry about getting our boat tickets or looking for hotel accommodation because everything was included in the package.
Sabtang is the smallest and the southernmost island municipality of Batanes. This island is known for its old stone houses in the villages of Chavayan and Savidug. We had to wake up as early as 5:00 AM because our driver picked us around 5:30 AM so that we can catch up on the first trip of the boat going to Sabtang. It took us 30 minutes from Basco to Radiwan Port, Ivana. Around 7:00 AM we boarded on the faluwa boat (faluwa has a U-shaped body designed to endure strong waves) and we were so blessed that it was not a bumpy ride.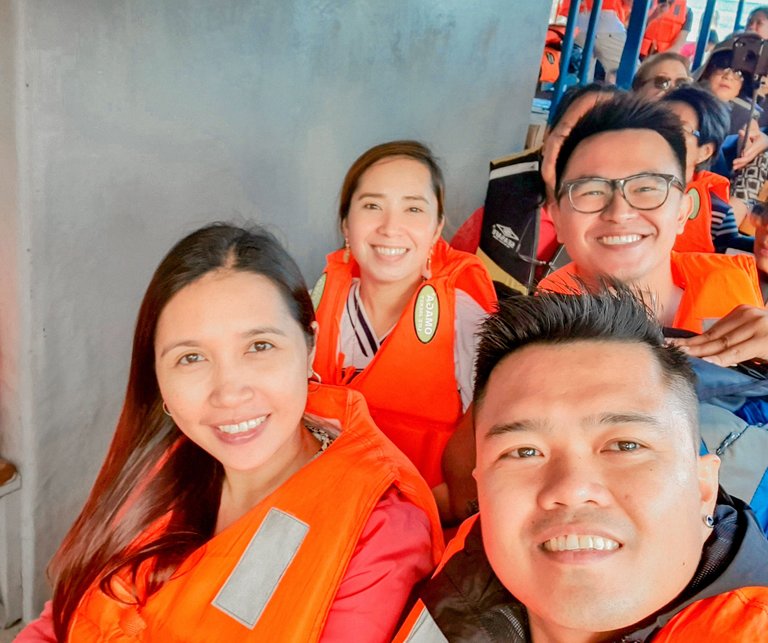 Tip No. 10
Bring or take medicine if you have seasickness because waves in Batanes are terribly strong depending on the weather.
It was a 30-minute faluwa ride and we really enjoyed the view as we approached the port. Our tour guide picked us up and have us checked-in in Twin Heart Hometel to freshen up.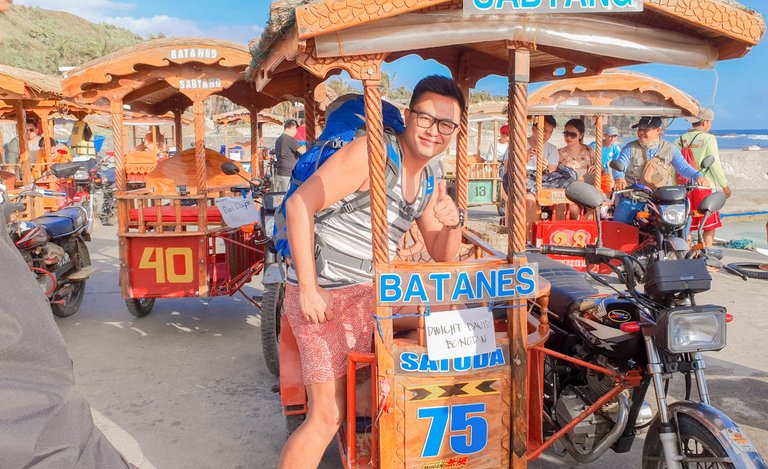 We were shocked because there was nobody in the place and the door has no keys on it. That's how amazingly honest the people in Batanes are.
Our Sabtang Tour started at exactly 9:00 AM.
• Sleeping Beauty Mountain
This is our first stop on the tour of sleeping beauty mountain. It's used to be one of the ancient Idiangs (were ancient fortresses manned by a chieftain and its tribe to defend against invaders) scattered on the island. There were a bit of drizzle so we needed to get just a quick photo of the place.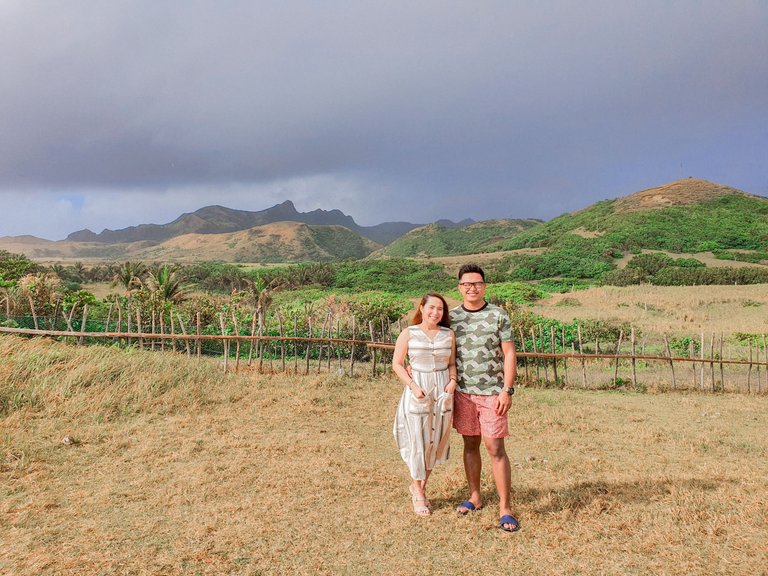 • Chamantad-Tinyan Viewpoint
Our next stopover is the Chamantad-Tinyan viewpoint. This is Sabtang's very own rolling slopes carpeted in luscious green grass and rocky cliffs overlooking the Pacific Ocean. It has an incredible landscape, and this claim can't be refuted otherwise when you are at Chamantad-Tinyan Viewpoint.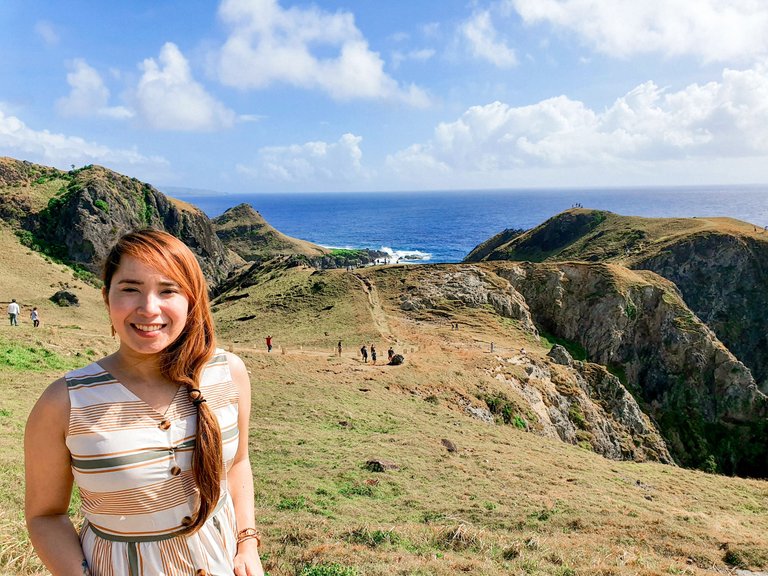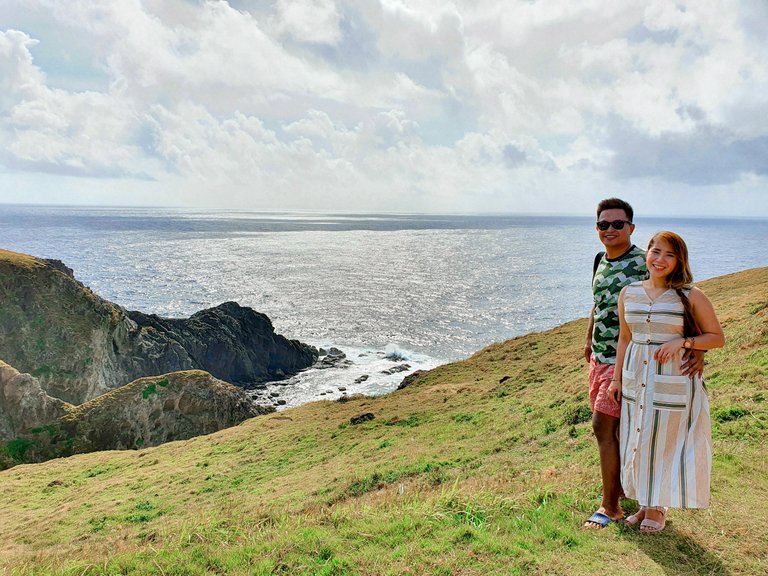 I didn't go to the edge of the cliff because it's a bit slippery and it would be difficult for me to climb because of my condition. I was left behind and just looked at the incredible view around me. Also, there were a lot of stores in this place so I got myself a delicious pancit and a buko juice for refreshments.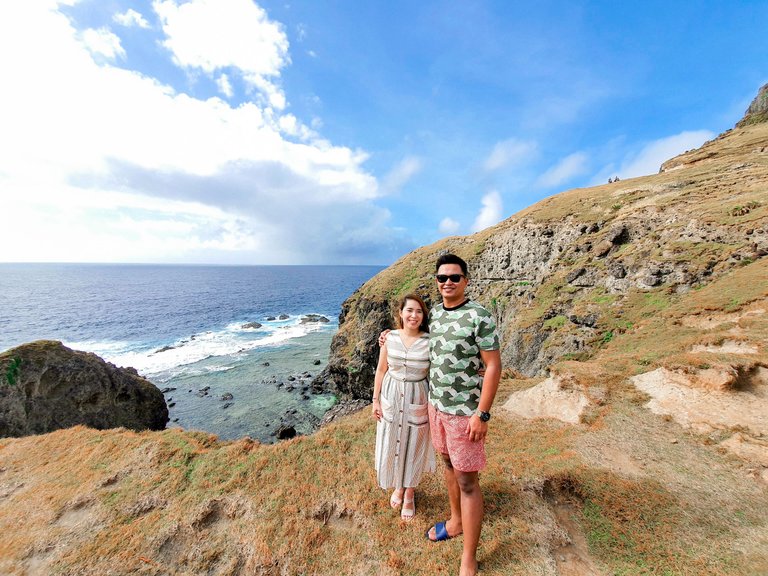 • Chavayan Stone
Here you will see the Sabtang Weavers Association where we borrowed Vakul and Kanayi costumes. This ancient fishing village is probably one of the most well-preserved villages in Batanes.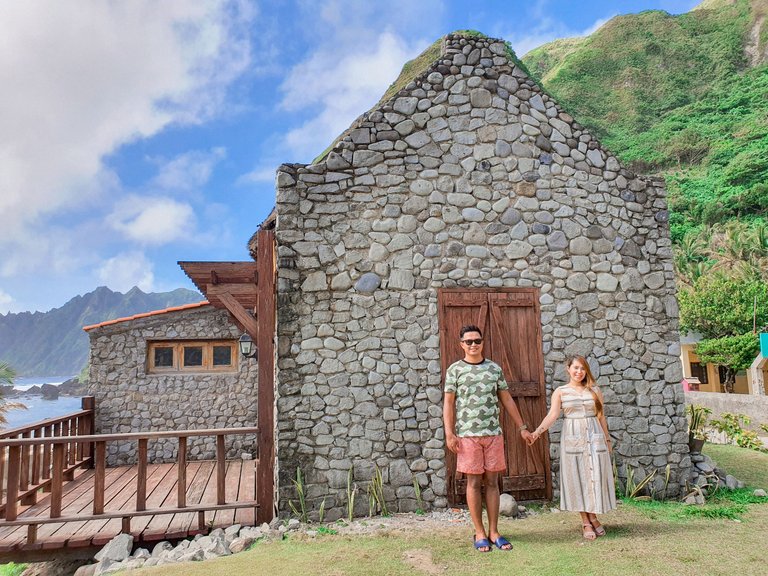 We had a walking tour under very hot weather wearing our Vakul (headgear designed to protect the wearer from sun and rain) and Kanayi (traditional all-weather farm wear).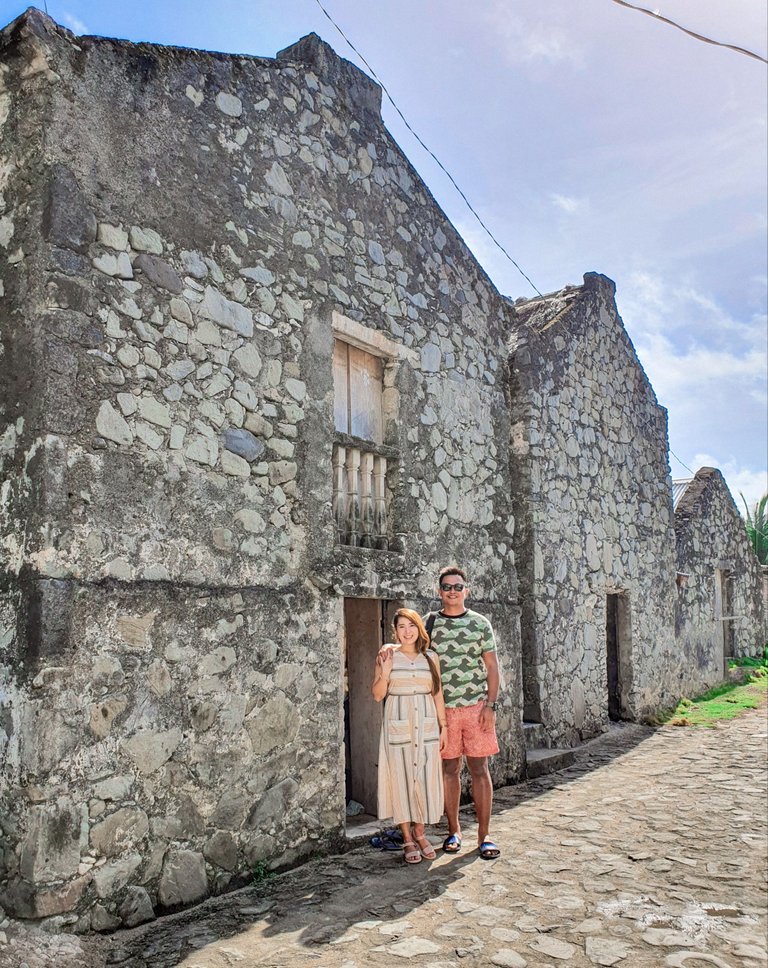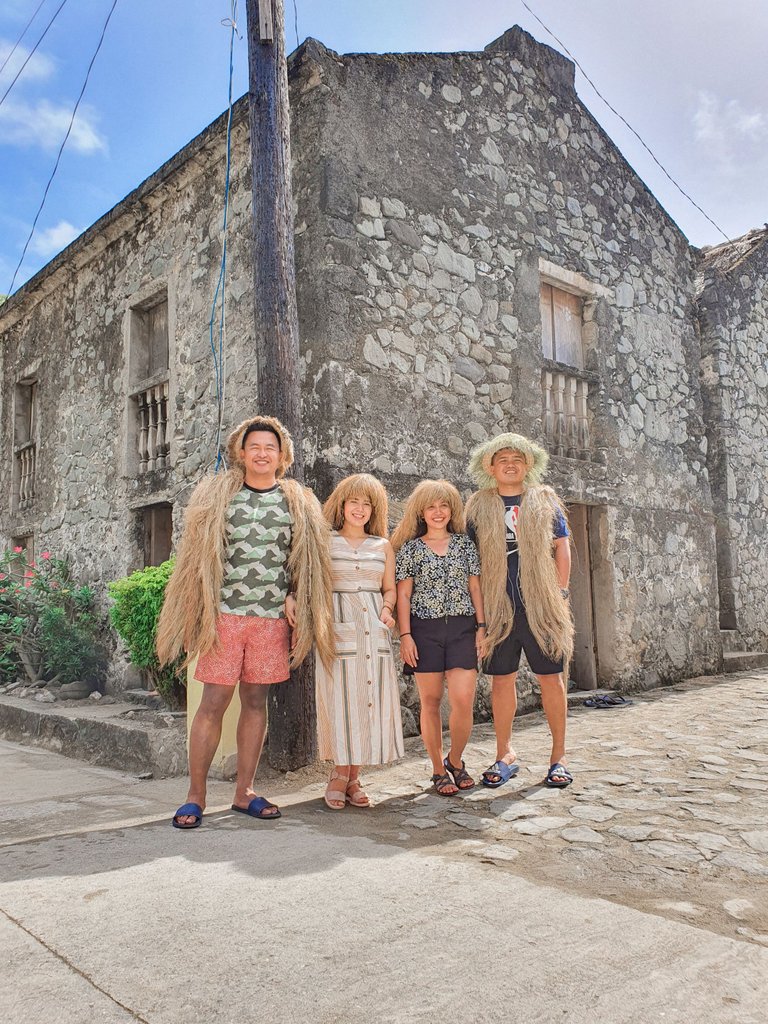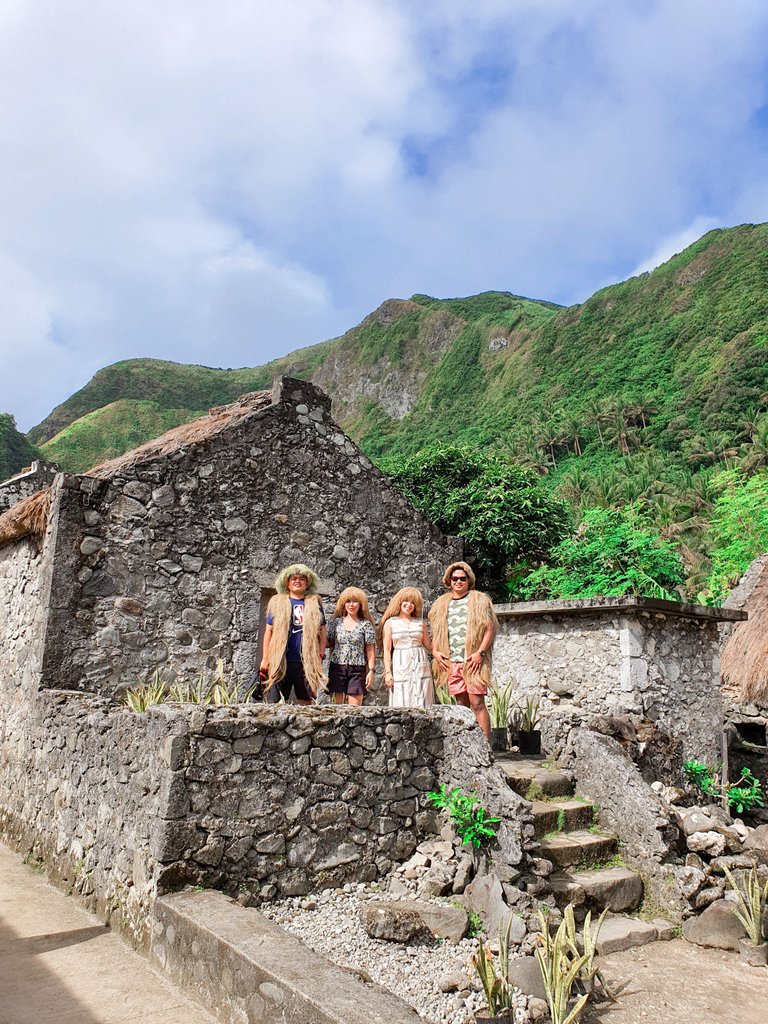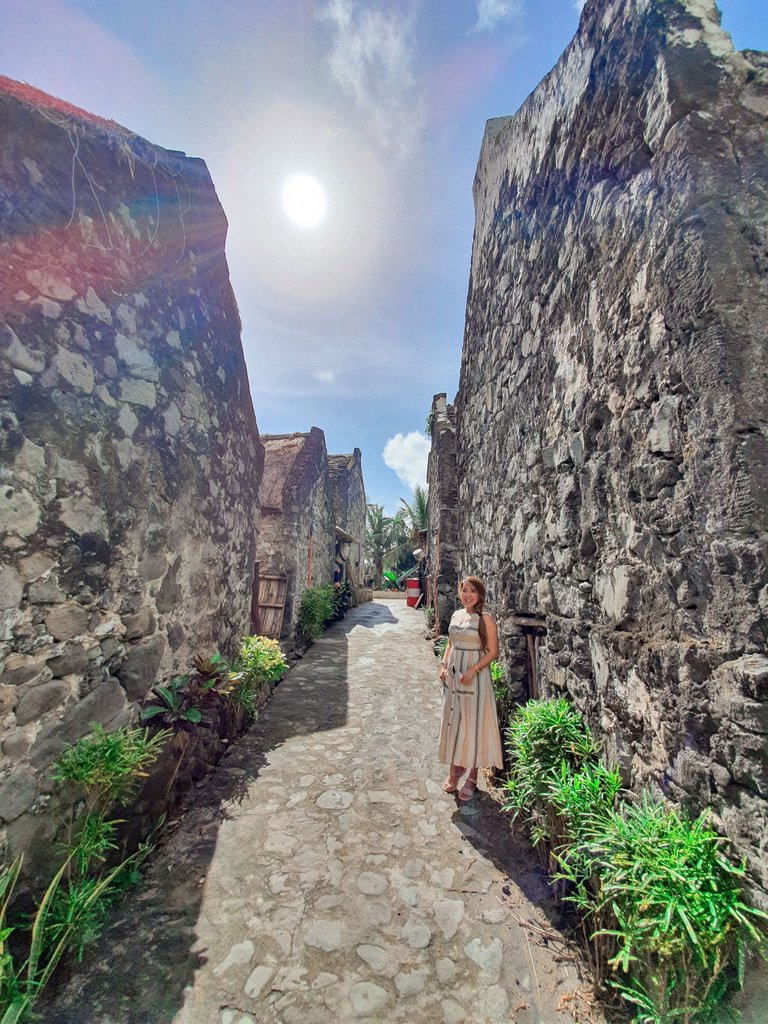 I can't imagine myself wearing it for the entire day. The level of hotness in Sabtang is not the same in Batan island.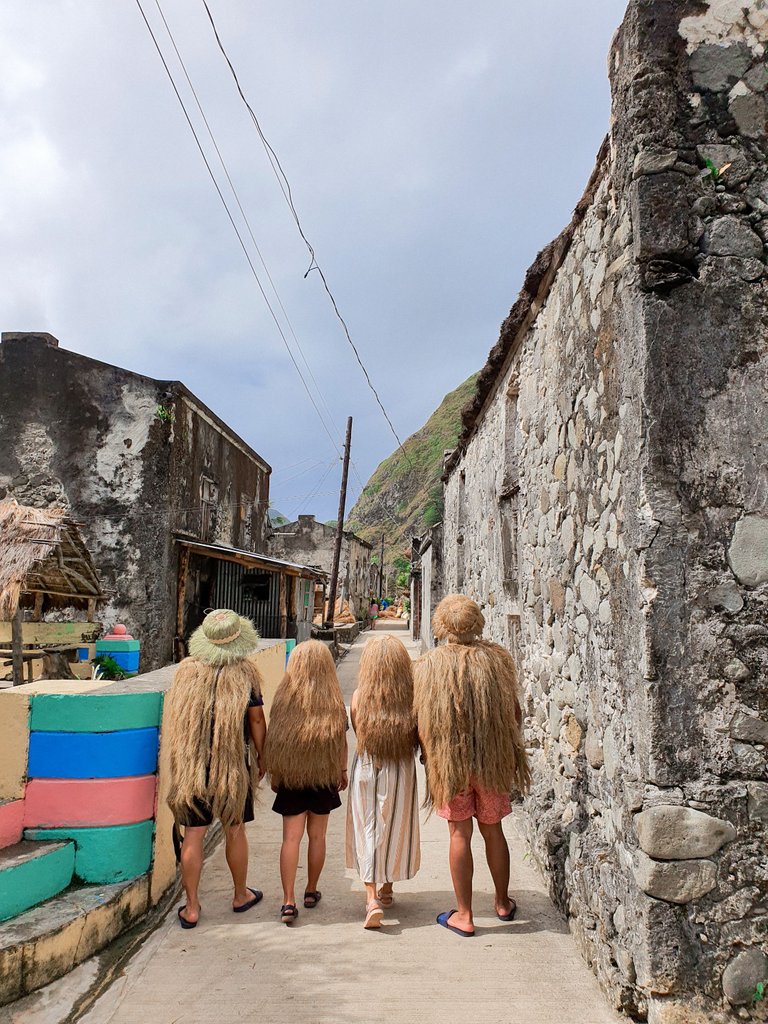 Tip No. 11
Wear light or comfortable outfits because it's really humid in Sabtang island compared to Batan Island.
We found this chapel the Sta. Rosa de Lima which has a cogon roofing structure.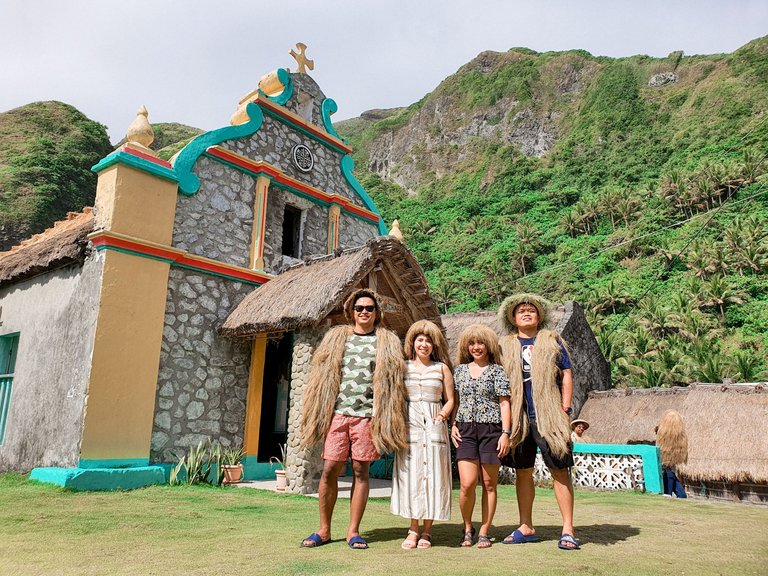 Part of this fishing village is they have this Kissing Rocks of Chavayan Village. Our guide was our photographer and gave us very cute photos.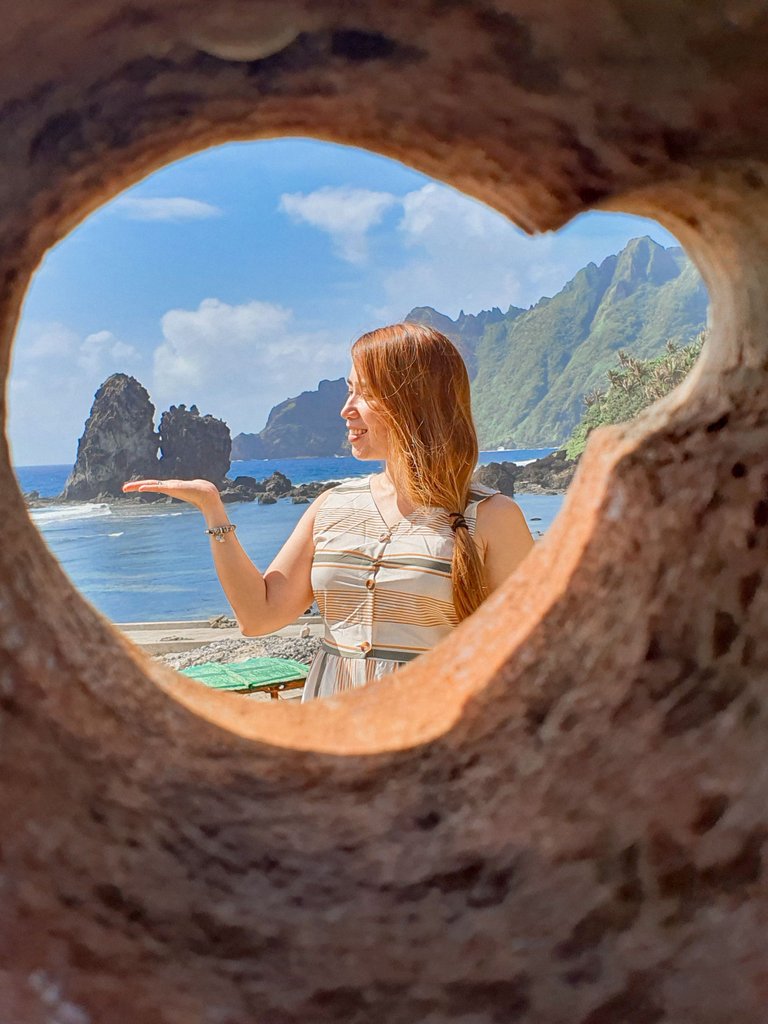 • Sto. Thomas Aquinas Chapel and The Old Beaterio
Our next stop is this parish chapel in Savidug Village that is a modest chapel all painted in white. I wasn't able to get in because it was close that time.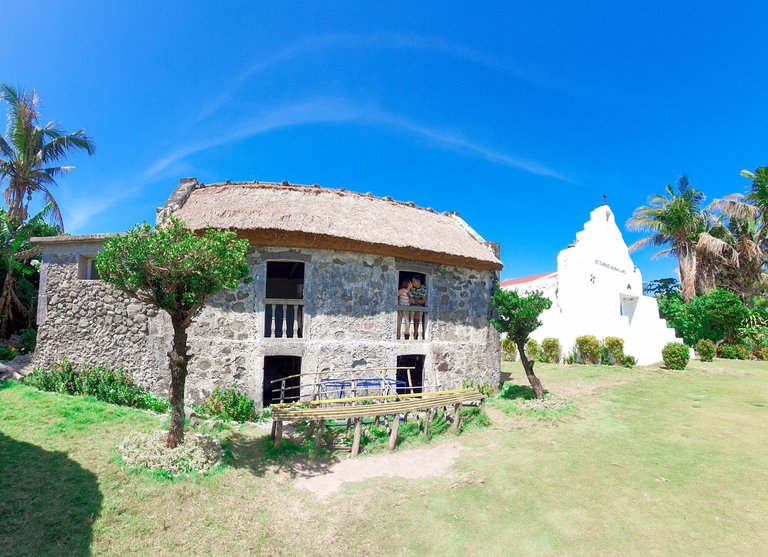 Just beside the chapel is the Old Beaterio, and this is one of the most photographed place in Savidug because of its archaic façade.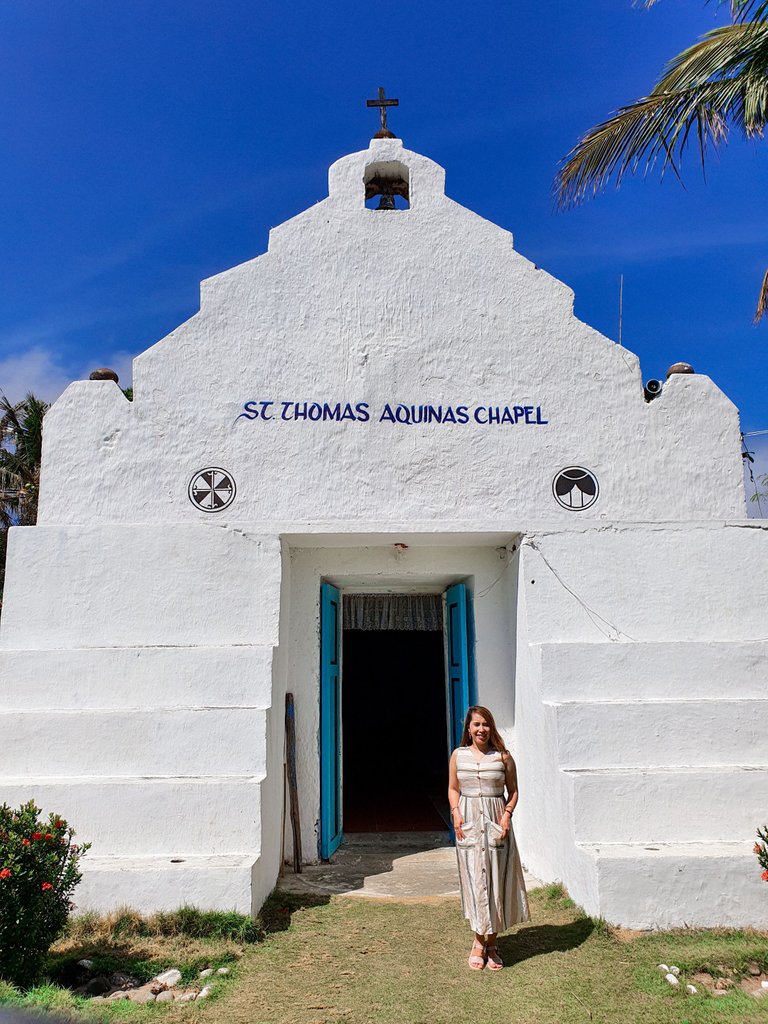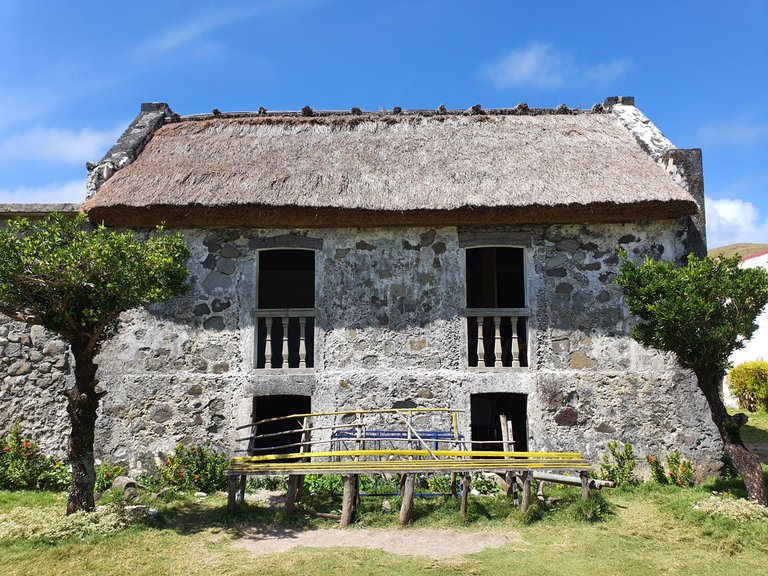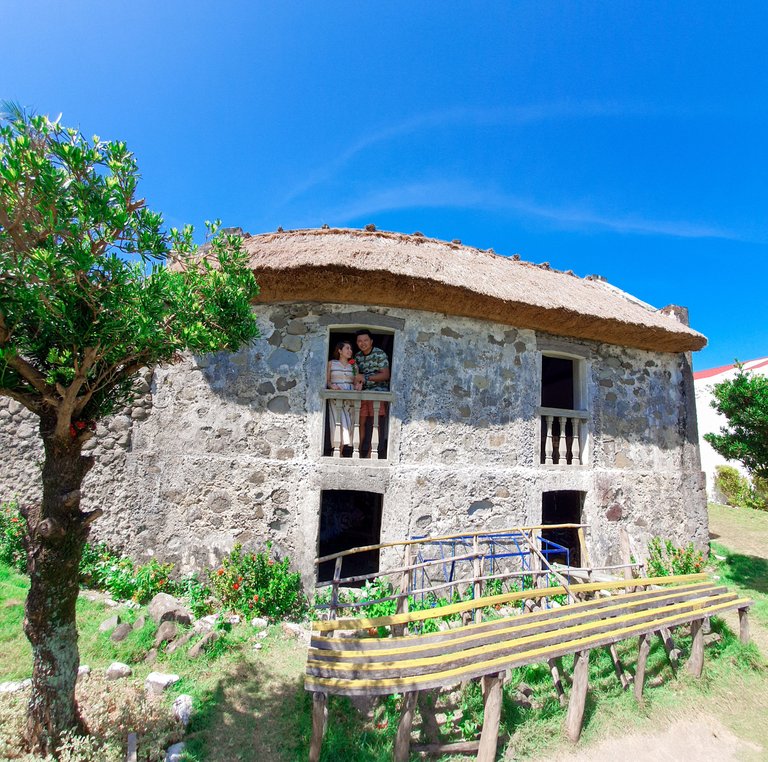 • Morong Beach and Nakabuang Arch
A good swimmable beach is a rarity in Batanes for its typical hilly and mountainous topography that is surrounded by crashing waves, so a white beach like that of Morong is genuinely revered and protected. Morong beach or others call it Nakabuang beach is a white stretch of soft sands with clear blue water but it's not always safe to swim because most of the times waves get bigger and stronger.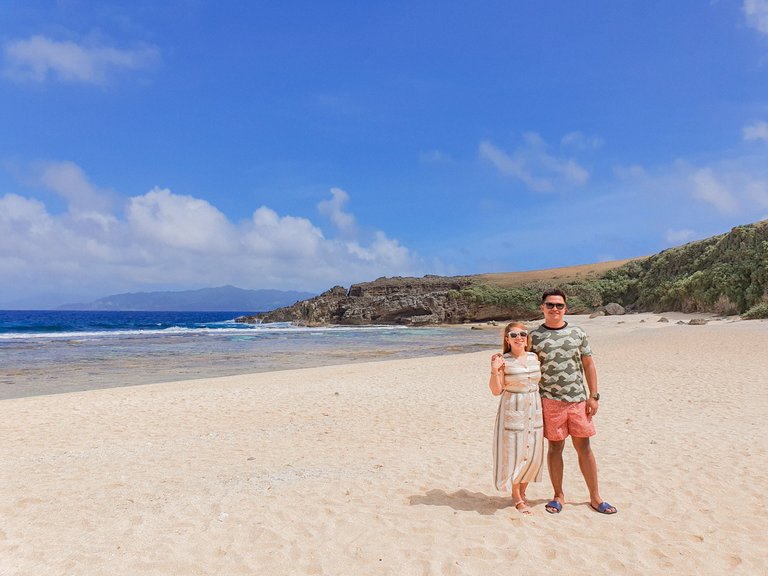 Apart from its white sands, Morong beach is flocked with tourists for its naturally carved rock formed into an arch. This place is perfect for picnics and camping.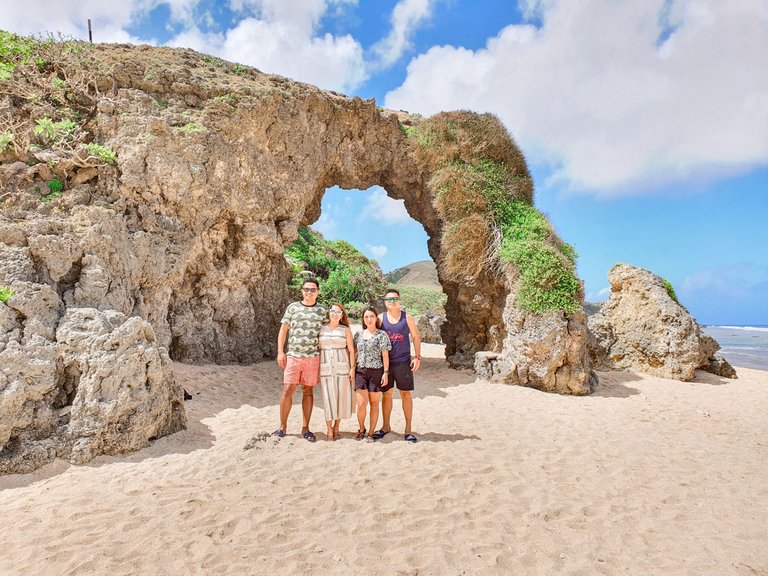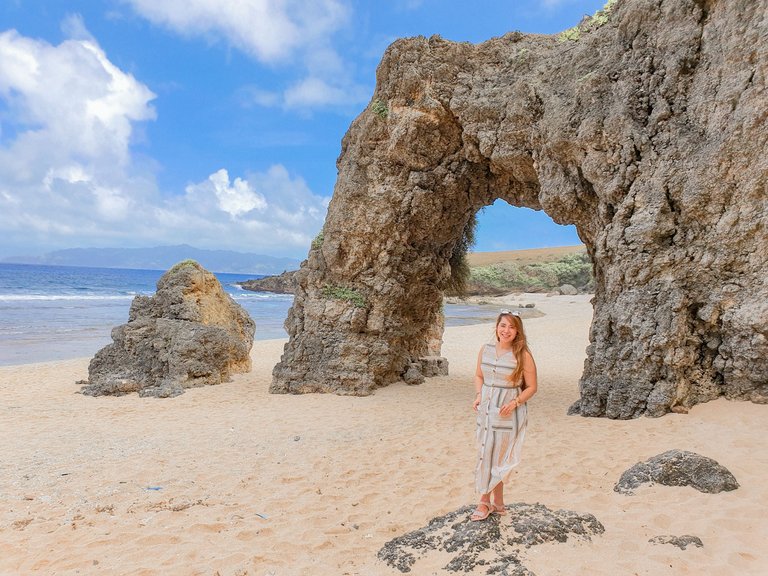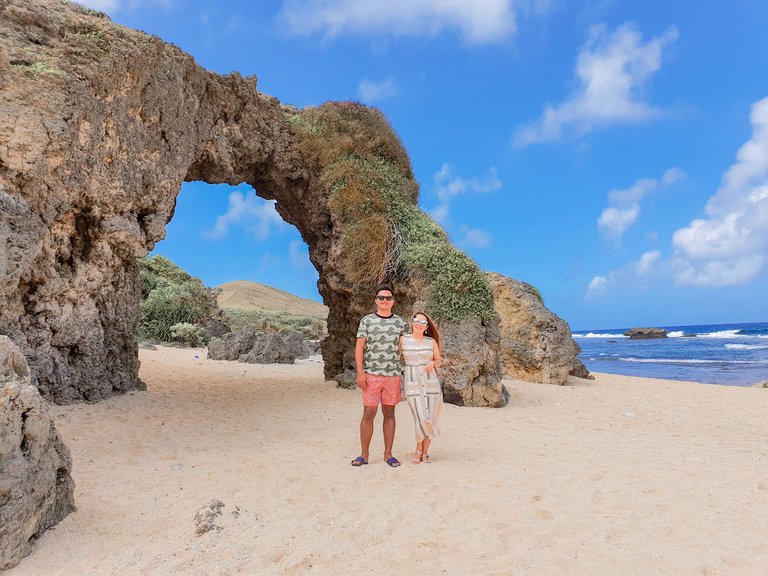 While Morong beach is a favorite stop during lunchtime as there are small restaurants and carinderias nearby, it is best enjoyed in the morning when there are fewer people. We had our lunch here at Pananayan Canteen. It's a set meal with vegetables, beefsteak, soup, pork, and rice.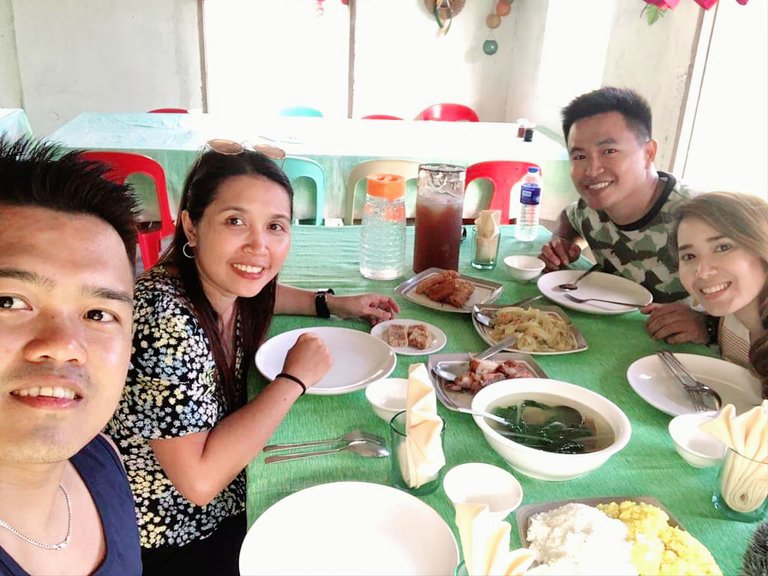 Tip No. 12
Don't forget to bring swimming attire because this beach is really beautiful and perfect for Instagram-worthy poses.
• Sumnanga Village
After our lunch, we headed straight towards Sumnanga Village, which is another small fishing village in the West part of Sabtang. This town is small and very quiet, almost like nobody is living in the place.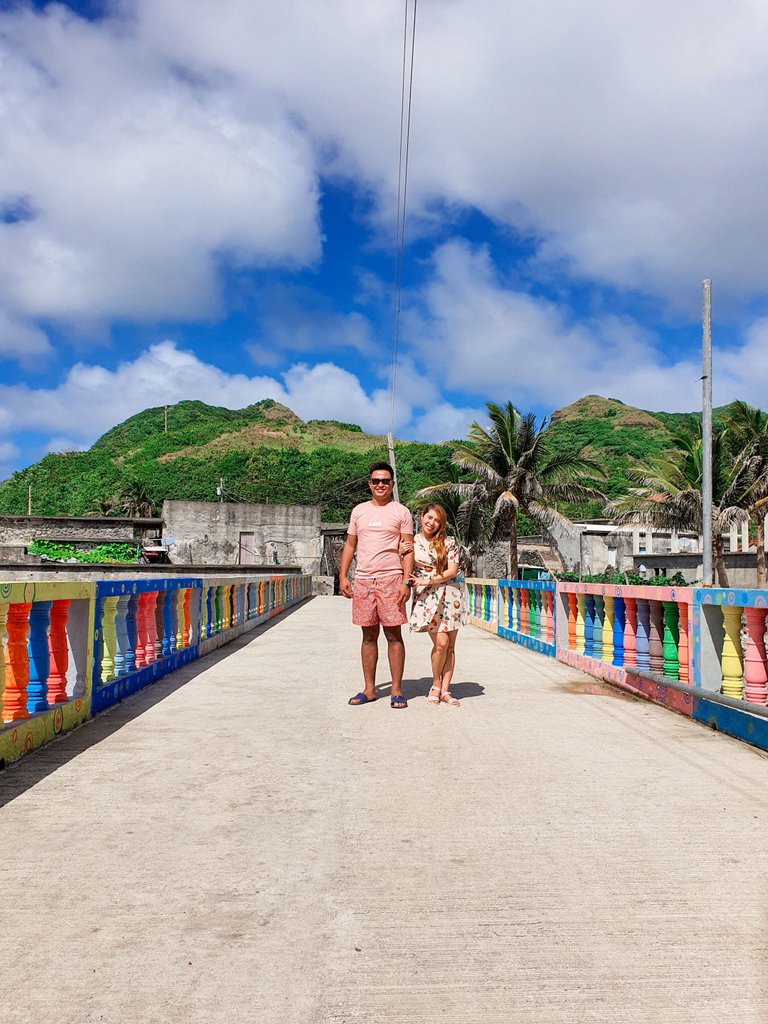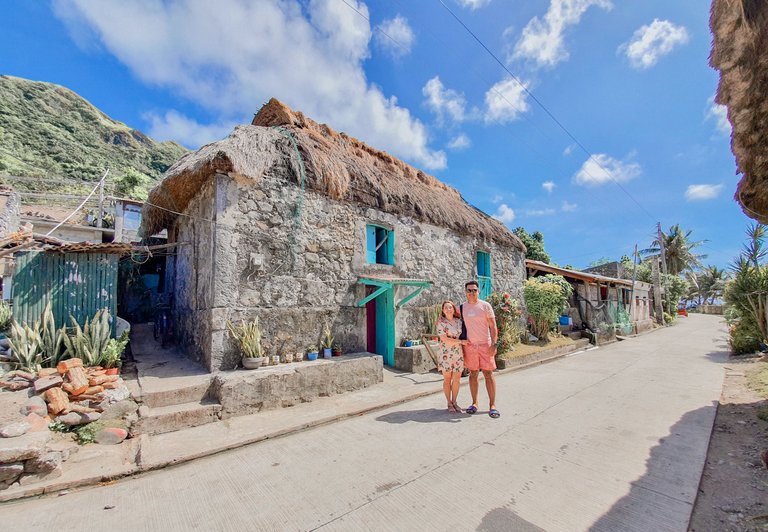 We had to take a quick stop on this road leading to Sumnanga Village.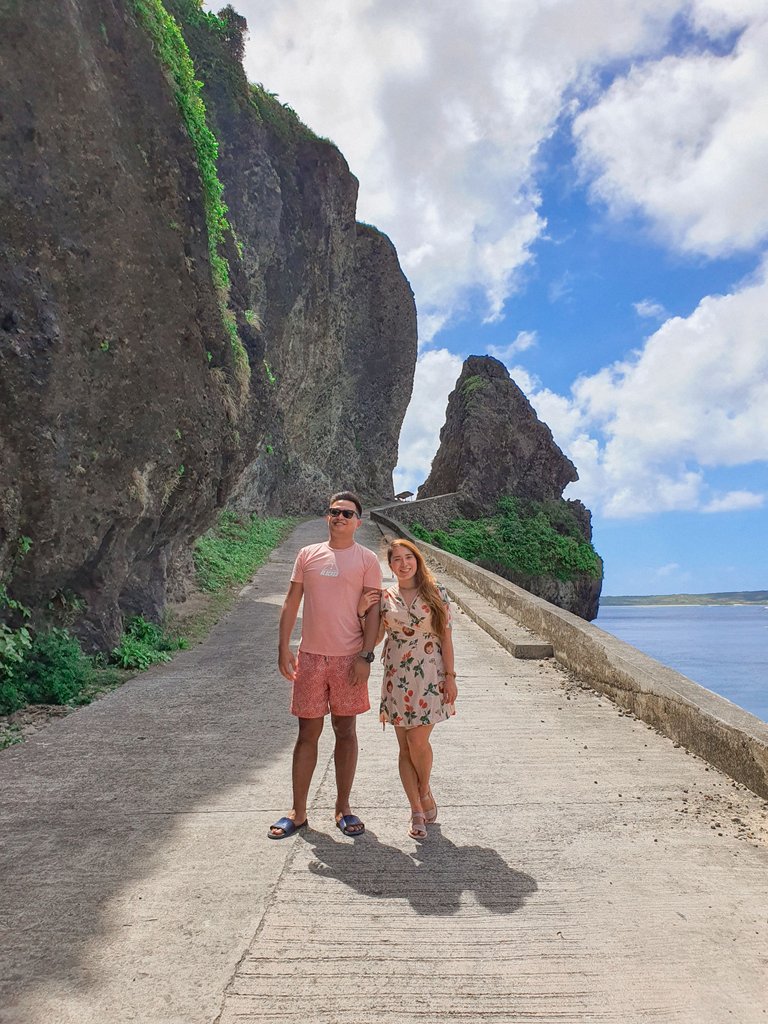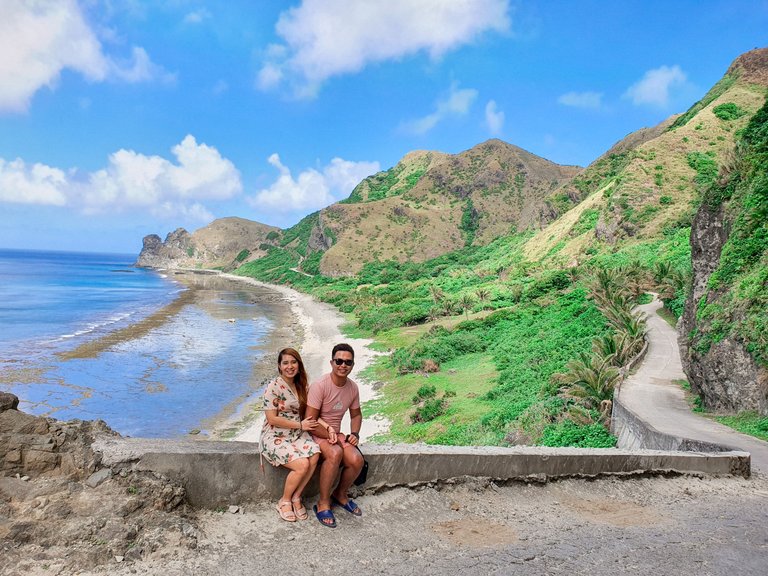 Afterward, we went back to catch the sunset and took more photos showing the view of the Morong beach.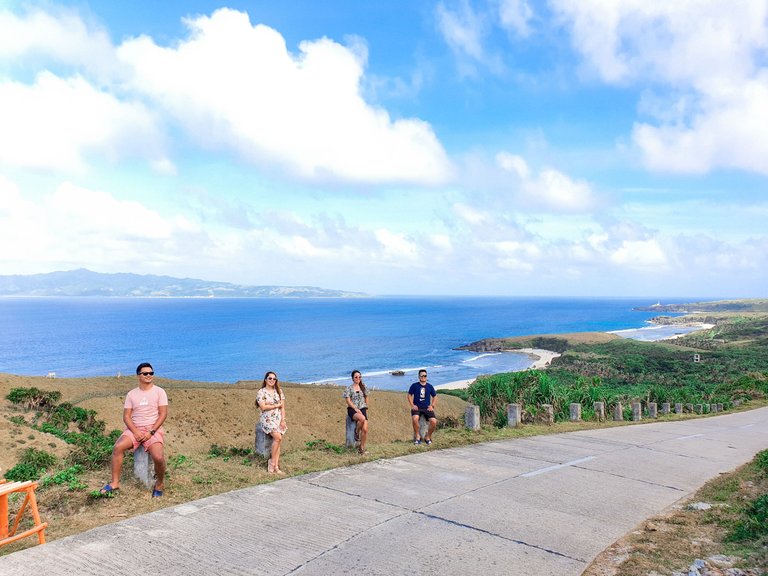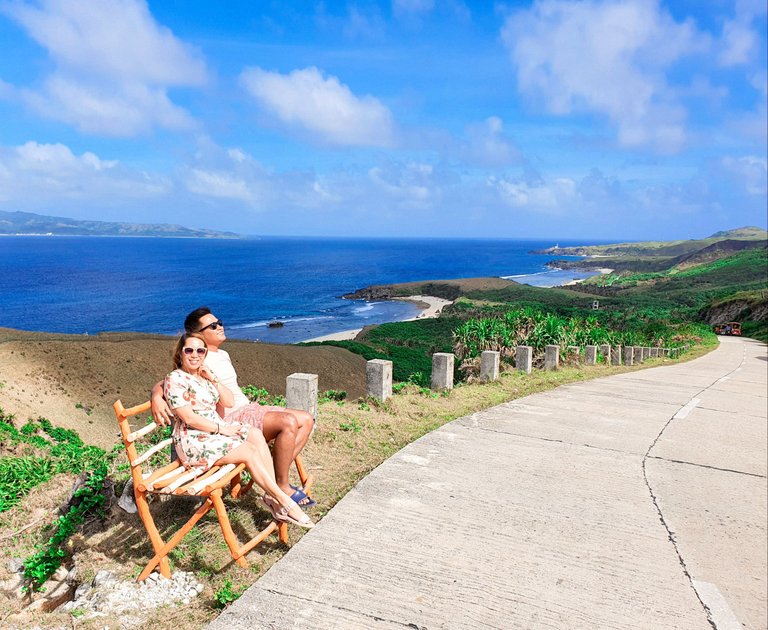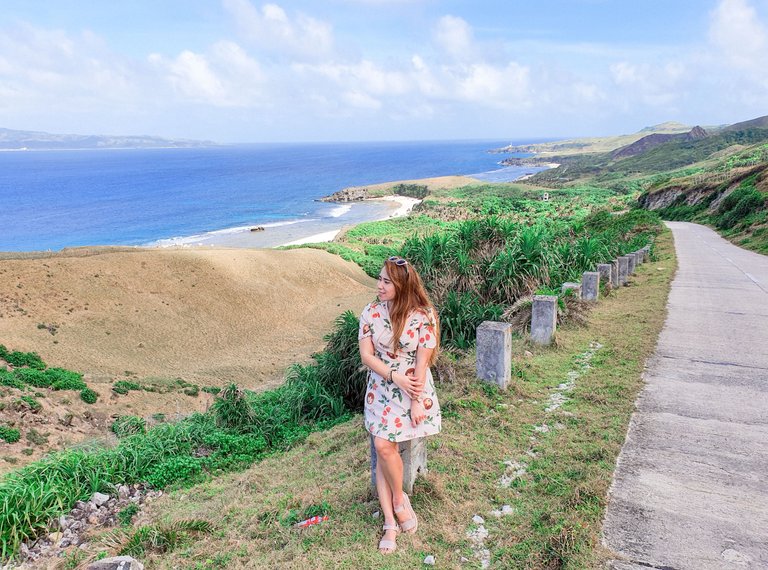 We had so much fun with our day 3 tour and decided to take a quick dip in the beach of the Hometel that we were staying in.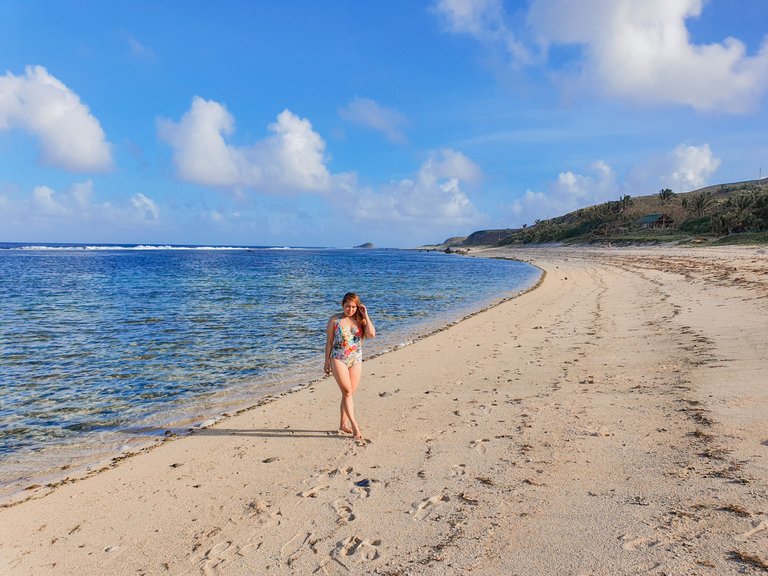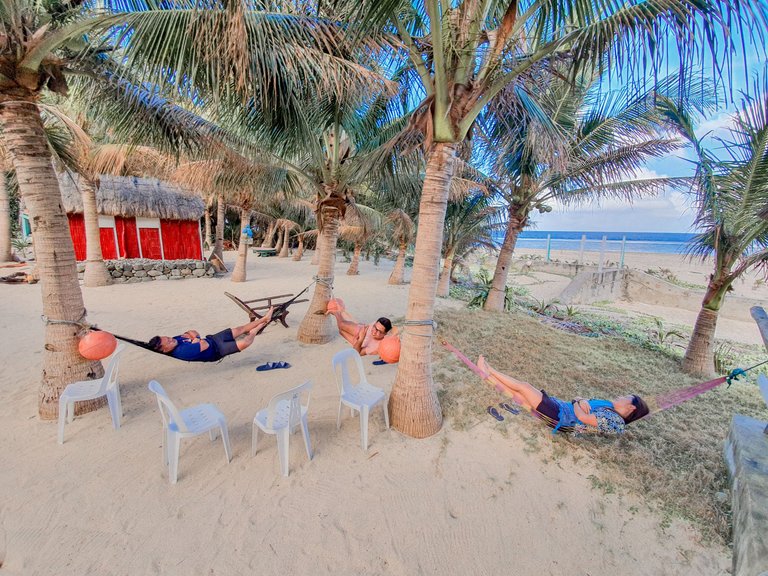 For our dinner, the owner of Twin Hearts Hometel prepared the food and they served us fresh buko juice, pinakbet, sinigang na baboy, pork steak, and graham ube flan for dessert. As early as 8:00 PM we all sleep because we need to get up early the following day.
Despite the scorching weather, Sabtang still succeeded in winning our hearts and captivated us with its simplicity and charm.
Day 4
The next day, we woke up as early as 4:00 AM to catch the first trip at 6:00 AM going back to Basco. We arrived at Basco around 6:40 AM and then we had our breakfast at a carenderia near our hotel. We freshened up and relaxed for an hour to get ready to go to spring. Around 9:00 AM we headed to the Fountain of Youth. Getting there is quite of an exercise because we have to trek for at least 30 minutes depending on your pace but since I can't walk fast it took as longer.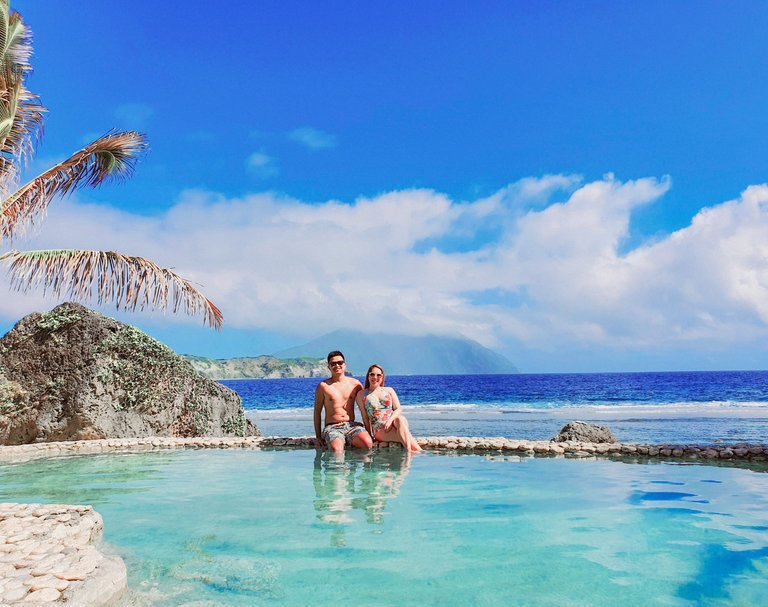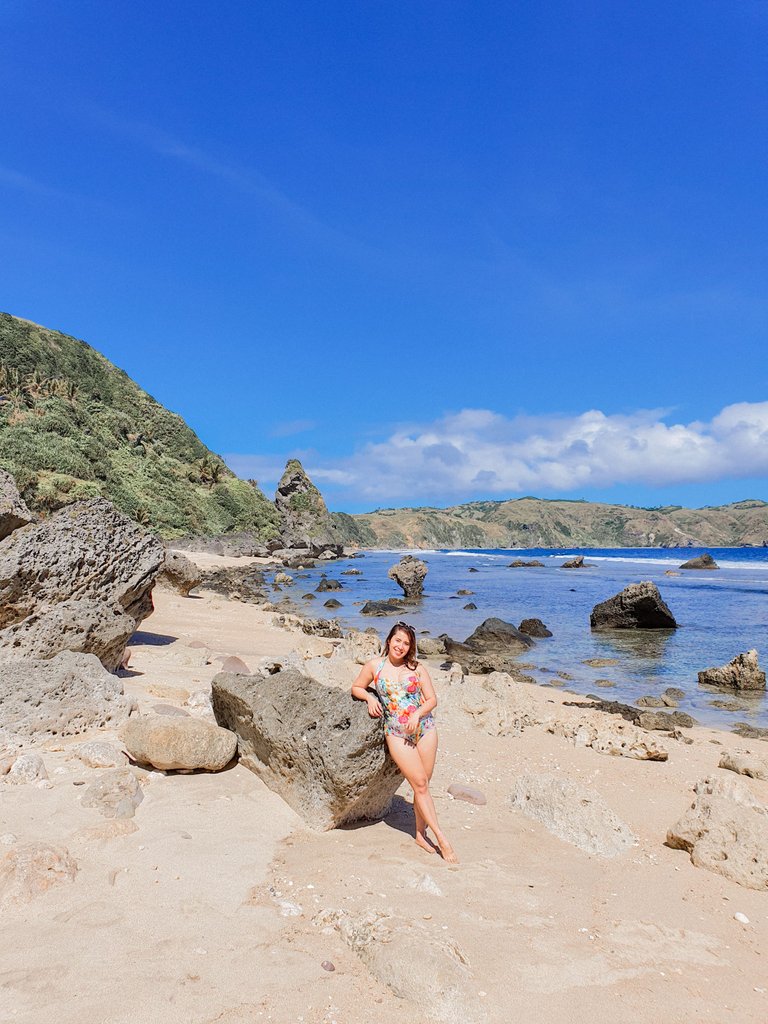 This was not part of the tour package from Fullham so we paid an additional Php 1,000 per Cogon tricycle (max of 3 persons) and paid Php 100.00 each for the entrance fee in Diura Fishing Village and the Fountain of Youth.
We were so lucky because we own the pool just for ourselves at that time. The water was very clean and it had been a soothing feeling watching the beautiful view of Mt. Iraya. We stayed for pretty much three hours then we had our late lunch at Harbour Cafe.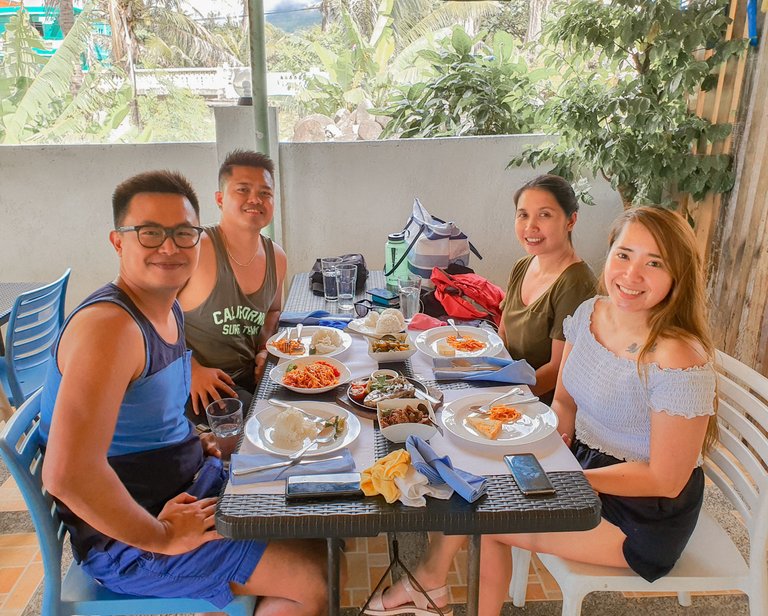 After lunch we went back to our hotel to wash up and rest and packed our things since it's our last day here at Batanes. Around 5:00 PM we decided to have our dinner at Octagon Bed and Dine and this place got one of the nicest sunsets.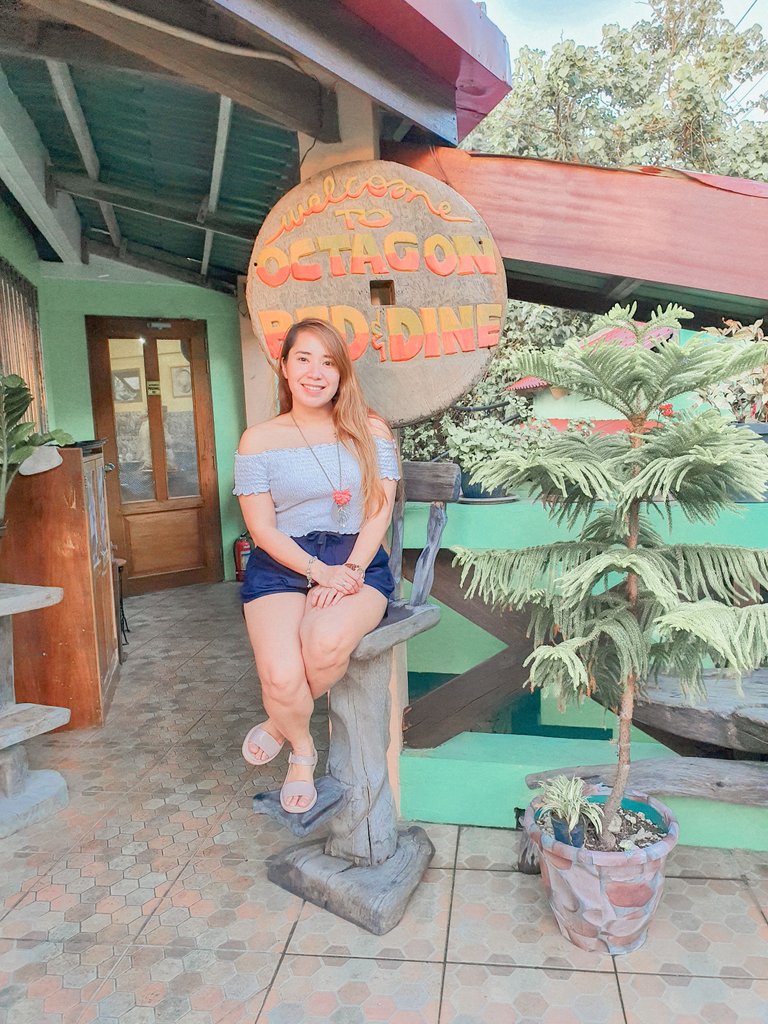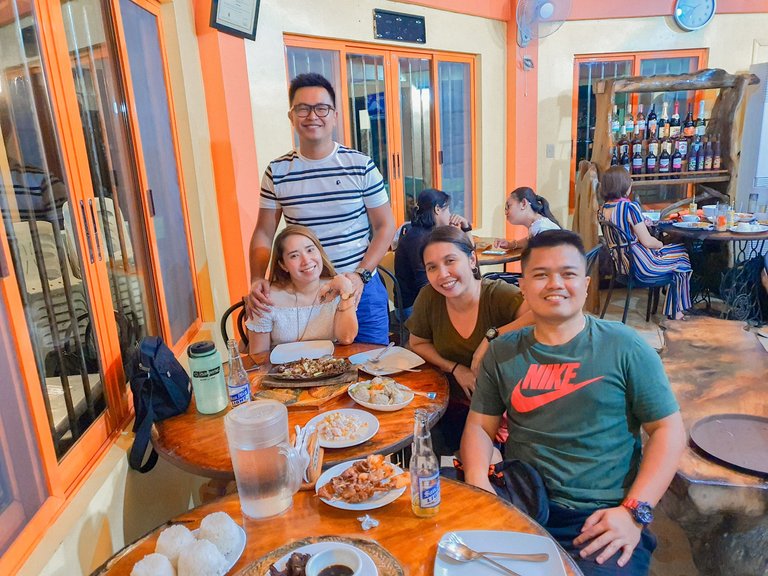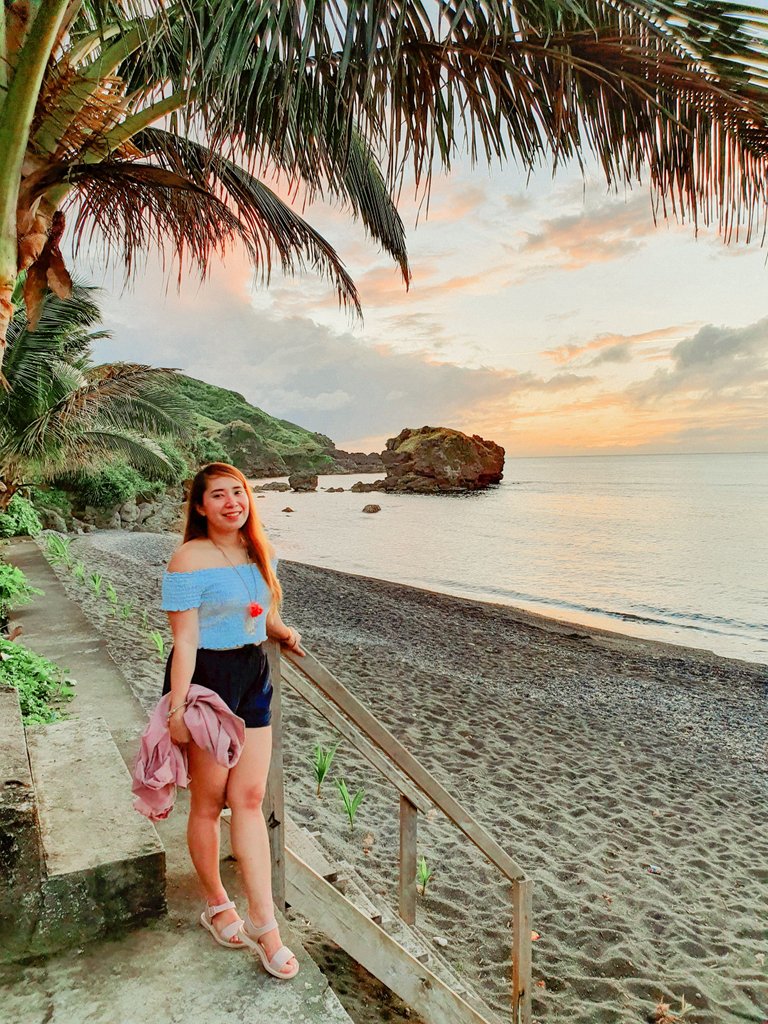 Day 5
Finally, the time has come where we needed to say goodbye to this breathtaking place. It was indeed a very memorable and great vacation. Surely, we are going to be back however it'll be a DIY itinerary since we already knew what we liked most during this travel.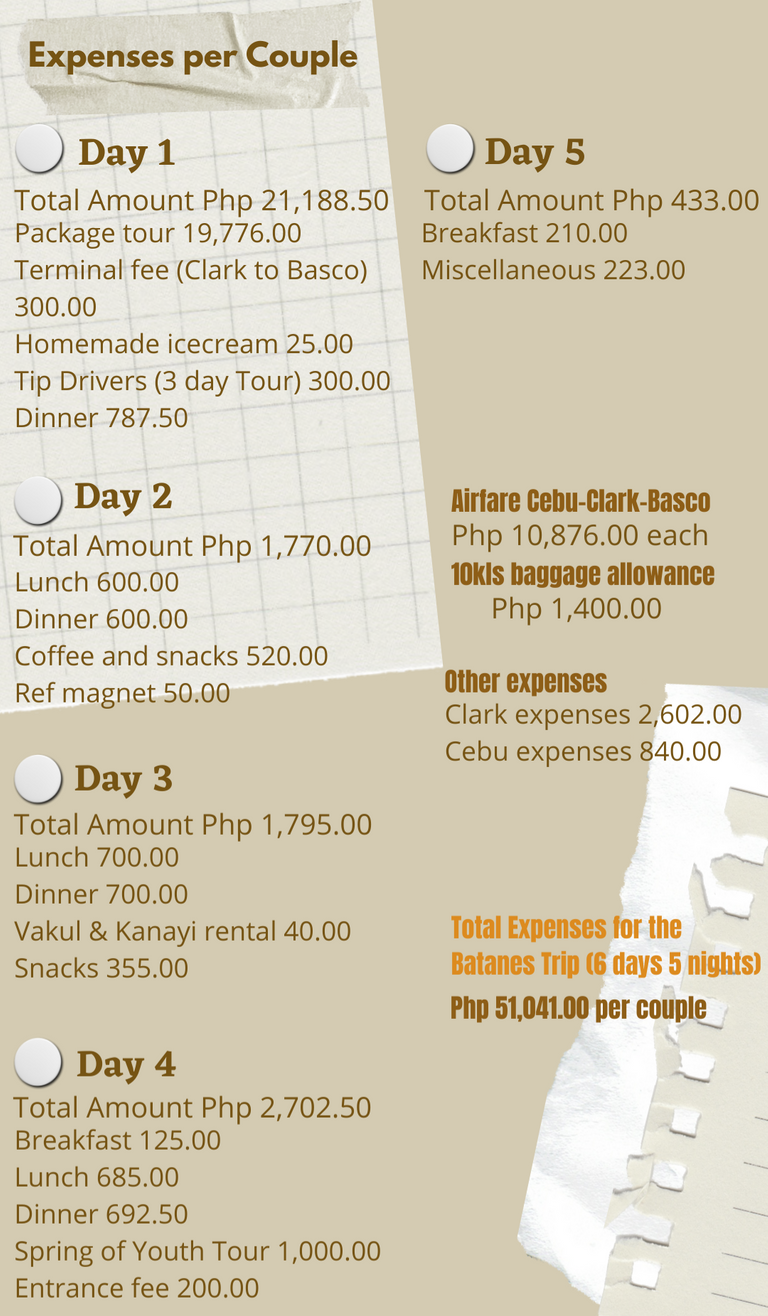 So here are some highlights and a few tips for you Hivers who wanted to visit this exceptionally lovely island in the Philippines.
Highlights and Tips:
My Top attractions: Tukon Church, Vayang Rolling hills, Marlboro Hills, Mahatao Boat Shelter, Tayid Lighthouse, Boulder beach, Chawa View deck, Over-looking view of the Morong beach and Chavayan Village, Fountain of Youth.
Unique eats: Uvud balls (made from the banana heart with ground meat), Luñis (pork adobo), Vunes (made of gabi), one-day-old fish (it's a flying fish daing)
What to wear or bring: Wear comfortable footwear. If you opt to wear dresses, please make sure to wear long but not flowy dresses because it's windy. Bring a jacket and plenty of water coz there's going to be more walking. Bring extra clothes for OOTDs there are comfort rooms where you can change. Make sure to bring with you your camera, power bank, and extra batteries for your camera because you don't want to get low bat. Don't forget your sunblock, sunglasses and hat you will need this. Lastly, bring a lot of cash, because they don't accept credit cards or gcash at that time (I don't know now wherein cashless payment is encouraged).
Worth staying overnight at Sabtang? I would say, it depends. Compared to Batan Island, Sabtang Island was very hot when we visited the place.
Memorable Travel Highlights: Wearing Vakul and Kanayi in Sabtang in very sunny weather.
That's a wrap for our 5-day itinerary on the Island of Batanes. We had to stay a night at Clark, Pampanga because there's no direct flight from Batanes to Cebu. I hope you all enjoy reading about my travel experience. Let me know in the comment, what's your favorite attraction in the itinerary. Bye 💚
---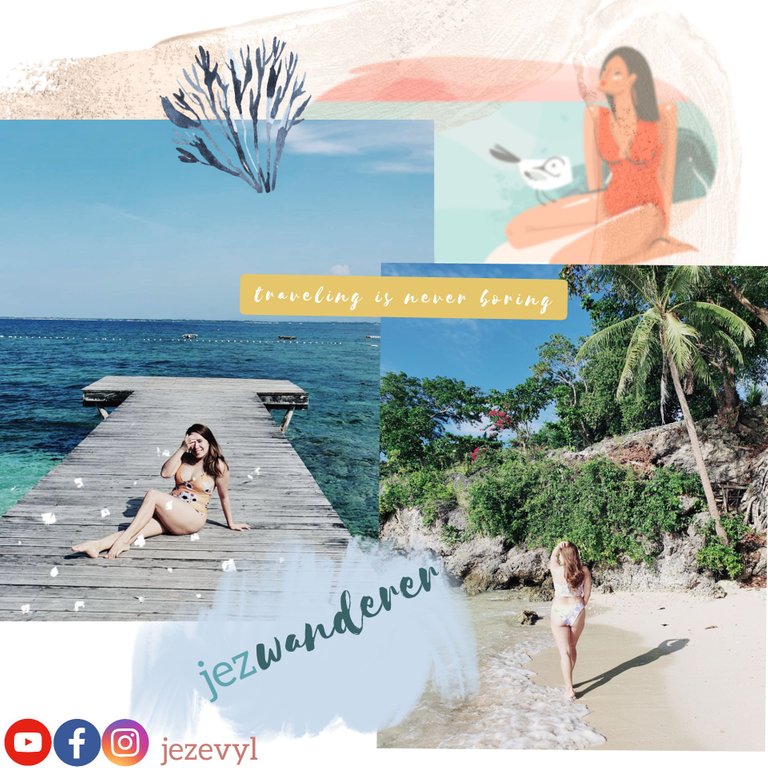 Hey Hivers! It's @jezwanderer. She's a Youtuber and a Wanderer. She loves to share her happiness and love for travel, food and lifestyle. She always believe that traveling is never boring.
If you like her content please make sure to upvote and leave a comment -- she would love to listen to your thoughts 💚. Feel free to reblog and please follow her so you won't miss any of her post. 💚
---
Originally posted on Jez Wanderer. Hive blog powered by ENGRAVE.
---
---