Cleopatra's issues with space and Sofía [Eng | Spa]
Hello, Hive Pets community!
Babies are nosey, and cats do not get it anytime easier around them, my poor empress Cleopatra ain't got it easy with my daughter, for some random reason of genetics or whatever my small baby love cats, she adores them if I can say so, and wants to pet them 24/7 if allowed, and Cleo got issues with it, as she hates to be pet and wants to be left alone, yet Sofía won't let her be. So I decided to write a piece about my lovely Cleopatra and her issues with space, and join me in this funny adventure.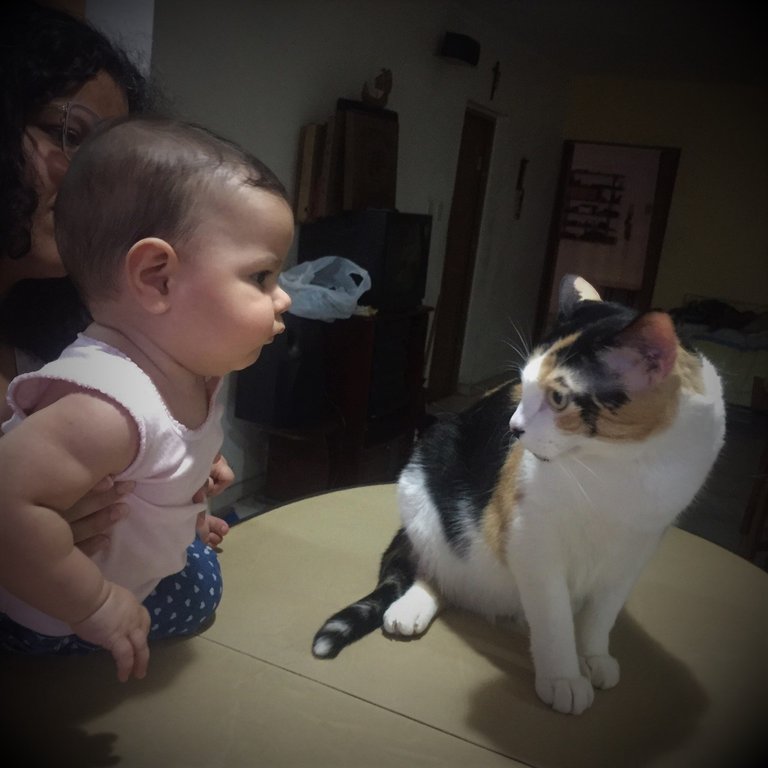 At the start, it was a lot more controlled, as we could easily avoid Sofia being in the same space as Cleopatra, after all, Cleopatra had a small episode of stress from being displaced as the little princess of the family that affected her at some degree, but at the beginning, they could get along a lot easier.


Things came with time like they always do, Cleopatra was more eager to smell my baby and got closer and closer each week until she decided to hang around Sofía daily, the issue was when our baby learned two things. One, cats are cute. Two, Cleopatra does not like to be a pet. That ended up with Sofía chasing our lovely Cleopatra every time she saw her, we wonder how it will be when Sofía can run...


So Cleopatra took the other way and started to be in places where Sofía wasn't able to reach her, like in a window, or the security cage added between the window and the outside. Making these lovely pictures of her, hating to be reduced to running from Sofía with all her guts.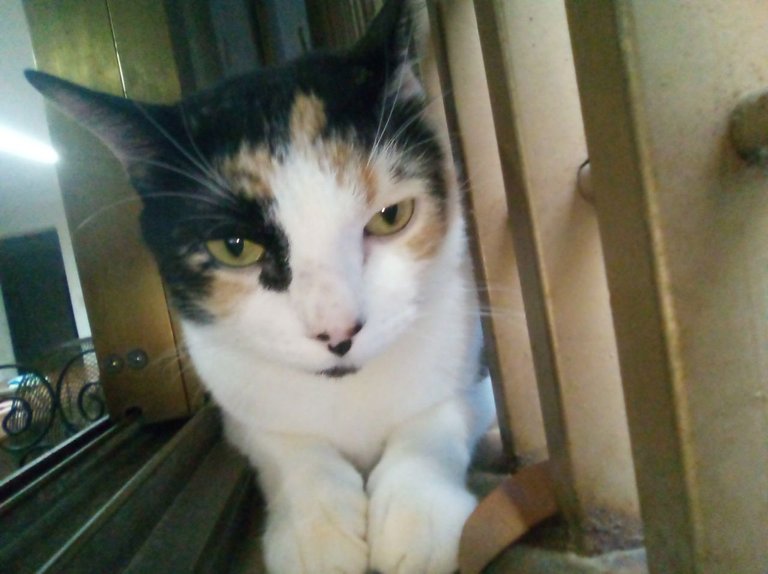 Another thing that started suddenly was Cleopatra breaking boxes and other stuff, she had never in her 9 years of life dedicated time to breaking something up, now out of nowhere she started to break stuff, it began with this box, then it came with a glass of water, and it has been escalating since, we don't know about how to stop her from doing so, but at least she pretends not to be the one to break them while one is around.


We all guess she is just lonely and trying to get some attention because we are a lot more focused on the baby than on her, yet that is not fair for Cleopatra, she was our first baby, and we all love her deeply, so we are working on a way to balance things out among ourselves to dedicate time to both the baby and our empress Cleopatra.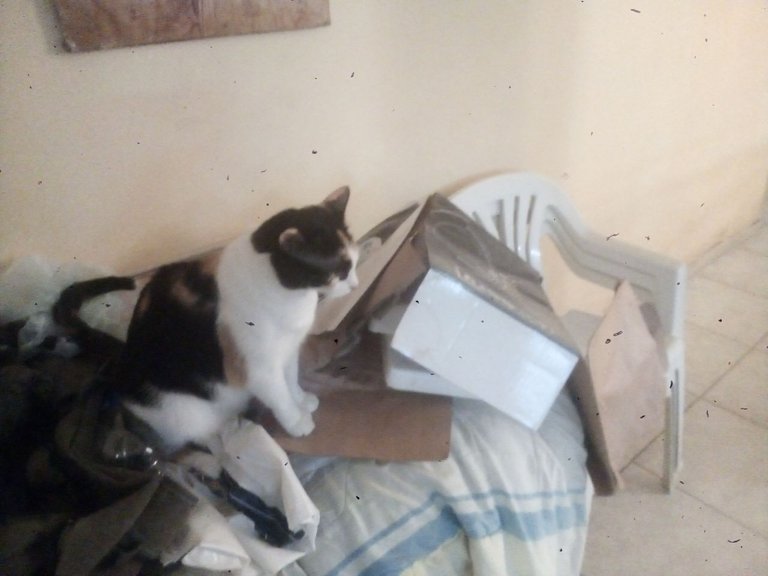 So she has been harder to take pictures of, as she is trying her best to be left alone, locking herself up in places where people can't go in, and keeping her own space for her cat introversion and thoughts, sometimes I wonder what is on her head, why is she so lonely lately and how could we help her, those are daily questions of mine since the past month, I just hope to find some way to do so.


My biggest guess is that Cleopatra is getting older, and as such, she is becoming a lot more stubborn and who knows, maybe in a couple of months she will be more relaxed and happy, we will wait and see, after all, we are splitting time to feed her and pet her, mom being the main focus as she was the closets to Cleopatra.


Yet it amazes me how much she is still eager to pose for the photos like she does, just look at her eyes, we in our home all love our Empress Cleopatra. And sure hope to find a way for her to relax and live along with Sofía and all the family, as she is as much a part of the family as my daughter.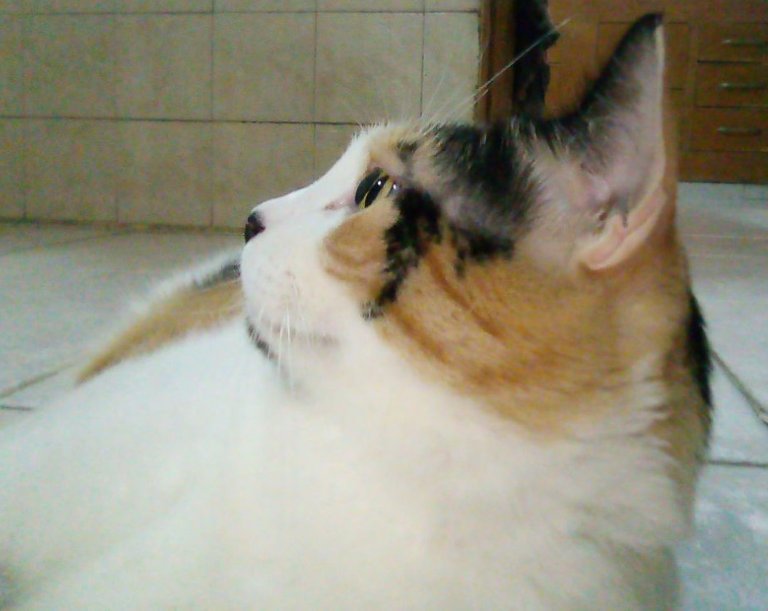 Hope you loved the photos of my lovely Cleopatra and if you have any pieces of advice about how to fix the issues she is having I will gladly read them in the comment section below, I thank you beforehand for giving them and sending you a big hug.
---

---
¡Hola comunidad de Hive Pets!
Los bebés son entrometidos, y los gatos no lo tienen nada fácil con ellos, mi pobre emperatriz Cleopatra no lo tiene fácil con mi hija, por alguna razón aleatoria de genética o lo que sea a mi pequeña le encantan los gatos, los adora si se puede decir así, y quiere acariciarlos las 24 horas del día si se le permite, y Cleo tiene problemas con ello, ya que odia que la acaricien y quiere que la dejen en paz, pero Sofía no se lo permite. Así que decidí escribir un artículo sobre mi adorable Cleopatra y sus problemas con el espacio, y acompáñame en esta divertida aventura.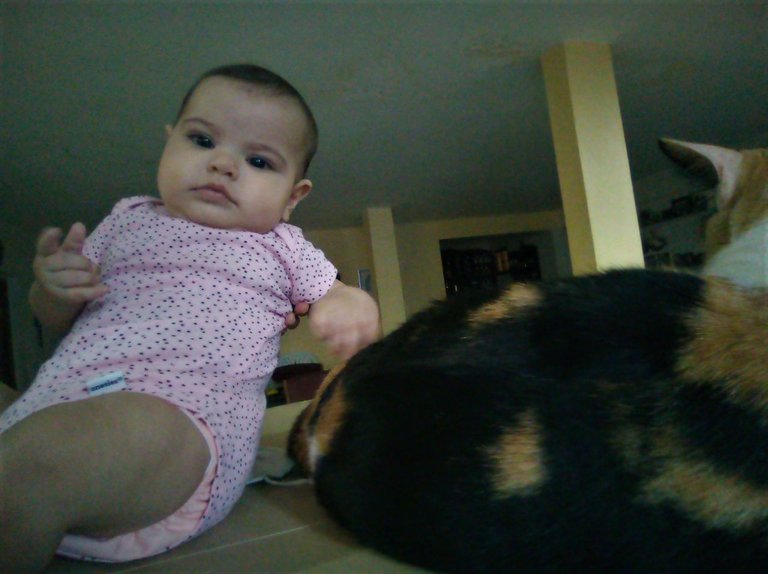 Al principio, todo estaba mucho más controlado, ya que podíamos evitar fácilmente que Sofía estuviera en el mismo espacio que Cleopatra, después de todo, Cleopatra tuvo un pequeño episodio de estrés por ser desplazada como la princesita de la familia que la afectó en cierto grado, pero al principio, podían llevarse mucho mejor.


Las cosas llegaron con el tiempo como siempre lo hacen, Cleopatra tenía más ganas de oler a mi bebé y se acercaba más y más cada semana hasta que decidió estar cerca de Sofía a diario, la cuestión fue cuando nuestro bebé aprendió dos cosas. Una, que los gatos son lindos. Dos, a Cleopatra no le gusta ser una mascota. Eso terminó con Sofía persiguiendo a nuestra adorable Cleopatra cada vez que la veía, nos preguntamos cómo será cuando Sofía pueda correr...


Así que Cleopatra tomó el otro camino y empezó a estar en lugares donde Sofía no podía alcanzarla, como en una ventana, o en la jaula de seguridad añadida entre la ventana y el exterior. Haciendo estas preciosas fotos de ella, odiando verse reducida a huir de Sofía con todas sus tripas.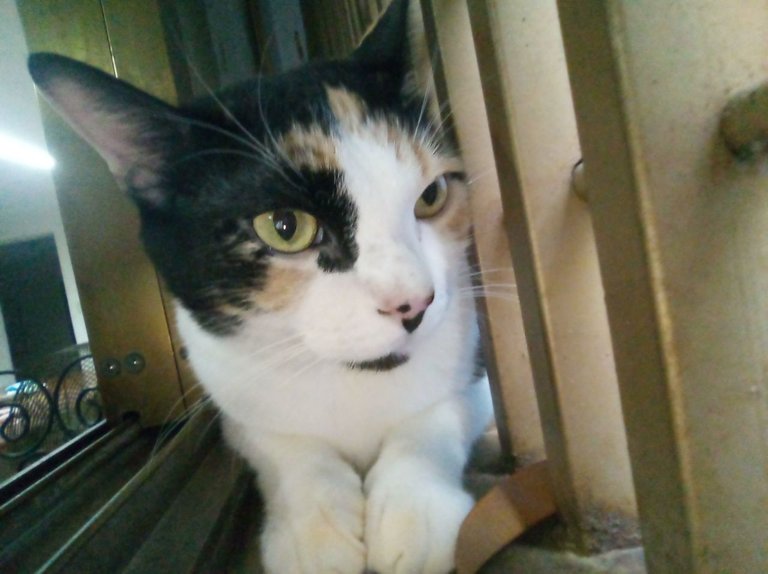 Otra cosa que empezó de repente fue Cleopatra rompiendo cajas y otras cosas, nunca en sus 9 años de vida se había dedicado a romper algo, ahora de la nada empezó a romper cosas, empezó con esta caja, luego vino con un vaso de agua, y ha ido escalando desde entonces, no sabemos como hacer para que deje de hacerlo, pero al menos pretende no ser ella la que las rompa mientras uno esté cerca.


Todos suponemos que se siente sola y que intenta llamar la atención porque estamos mucho más centrados en el bebé que en ella, pero eso no es justo para Cleopatra, fue nuestro primer bebé, y todos la queremos profundamente, así que estamos trabajando en una forma de equilibrar las cosas entre nosotros para dedicar tiempo tanto al bebé como a nuestra emperatriz Cleopatra.
Así que ha sido más difícil tomarle fotos, ya que está haciendo lo posible por estar sola, encerrándose en lugares donde la gente no puede entrar, y manteniendo su propio espacio para su introversión gatuna y sus pensamientos, a veces me pregunto qué hay en su cabeza, por qué está tan sola últimamente y cómo podríamos ayudarla, esas son preguntas diarias mías desde el mes pasado, sólo espero encontrar alguna manera de hacerlo.


Mi mayor conjetura es que Cleopatra se está haciendo mayor, y como tal, se está volviendo mucho más testaruda y quién sabe, tal vez en un par de meses esté más relajada y feliz, esperaremos y veremos, después de todo, estamos dividiendo el tiempo para alimentarla y acariciarla, siendo mamá el principal foco de atención ya que era el armario de Cleopatra.


Sin embargo, me sorprende lo mucho que todavía tiene ganas de posar para las fotos como lo hace, basta con ver sus ojos, todos en nuestra casa amamos a nuestra emperatriz Cleopatra. Y seguro que encontraremos la manera de que se relaje y conviva con Sofía y toda la familia, ya que es tan de la familia como mi hija.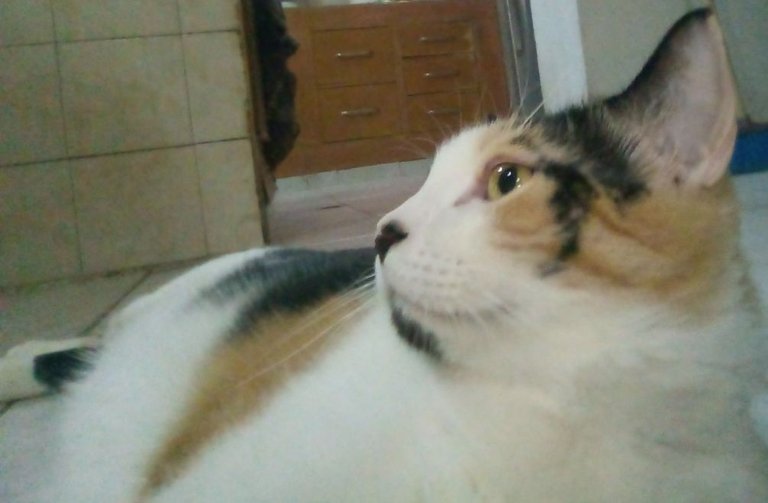 Espero que les hayan encantado las fotos de mi adorable Cleopatra y si tienen algún consejo sobre cómo solucionar los problemas que está teniendo con gusto lo leeré en la sección de comentarios de abajo, de antemano les agradezco que los den y les mando un gran abrazo.


El separador fue hecho en Canva, fuente del separador y la imagen viene de mi publicación donde presente a la emperatriz Cleopatra.
---
---