My imagination with One million Dollars

There's a place called Food Village in my school, and all the students go there to buy food and drinks during their break period.
It has become a usual thing for me to stay overnight at school during the weekends, and that's my way of cutting down on transportation expenses.
I and my coursemates were discussing it a few minutes ago when I mentioned that I was going. Then one of them advised that I better go buy the food as soon as possible before the time gets later than it already is.
Despite knowing that I was hungry, I couldn't help but lament about the amount I had spent on buying food all through the day. But do I have a choice? I don't; I have to eat.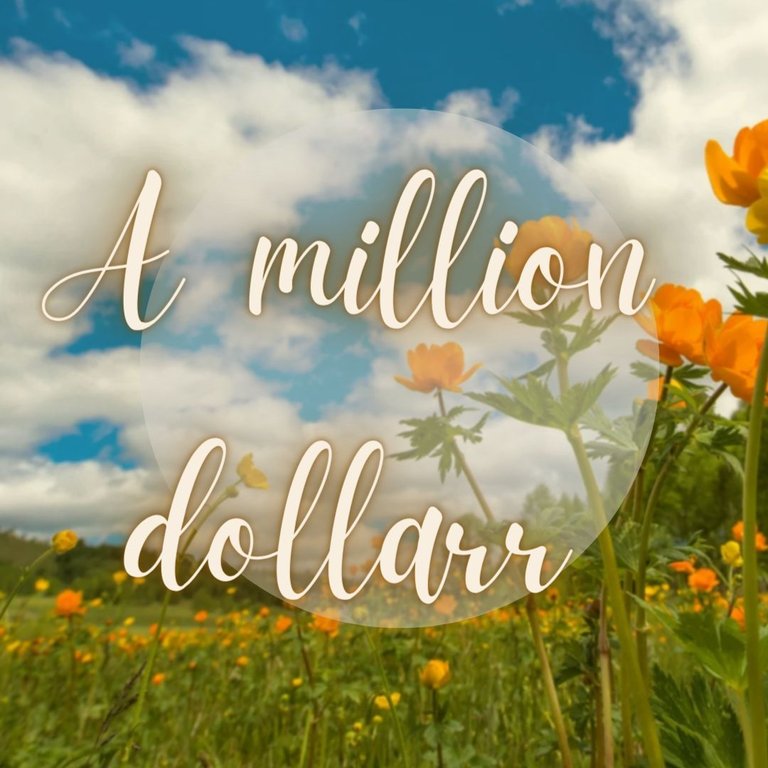 Editen on Canva
After eating, I opened Hive and made my way to the Hive Ghana community when I mentioned the topic, which asked what I would do if I had a million dollars.
First, if I have a million dollars, I would go check how much it is worth in Naira. Since I am in Nigeria, I only spend Naira and not dollars.
Already, I know that a dollar is worth about N988 per naira at the black market price.
If I sum that up, it will be about or almost a billion Naira.
Even though the naira has lost its value, that amount would still go a long way for me.
But, @hiveghana I wish this wasn't a game. LoL
Already, I have a lot of financial commitments, and being privileged or fortunate enough to have that amount is definitely one of the best things that would happen to me.
Here are a few of the things I will do with that amount of money.
Debts
I remember the days when loan apps would instruct their agents to call my number day and night. They were calling to remind me endlessly that my money was due for repayment and that they were already adding overdue charges. Those moments weren't fun at all, but I was able to manage the situation and get out of the debt.
But as we all know, life is filled with so many ups and downs. One thing led to one thing and then another thing, and like that, I am in debt again.
I don't like it when I owe people; my kind isn't usually at rest.
That's the reason why I will start clearing any debt if my account ID is credited with a million dollars. I will clear the debts so they don't keep marching on.
Assets.
One of the major plans on my list is to acquire land and build a nice house for my parents.
I don't like seeing them struggle to ensure the availability of cash to meet the rent payment each year.
At least, it's okay if they try to go out and earn money to meet other needs like food and projects they might have in mind.
If I had my way, I would retire them so they don't have to do so much in order to live a good life.
I think one way to ease their financial stress is to buy a house or acquire land for them so a house can be built.
My personal projects and goals
As for me, there are a lot of things I have in mind to do for myself and my son.
Investment
A friend of mine advised me to get into other things, like investing in stocks. He said that crypto is great and I shouldn't stay out of it, but it would be even greater if I invested in stocks and stuff like that.
I don't know much about those stock things yet, but when I am serious about them, I'm sure I will understand them well.
So, the money that would be left would be used to invest in cryptocurrencies and other stuff like that.
Flexing
Oh! Did I forget about flexing that money?
Why would I not flex and enjoy the money? I can't kill myself, naaa.
I will wait until my exams are over, and after that, I will take my family on a trip to any place of our choice to have fun to the fullest.
Shopping
I need new clothes, shoes, bags, and hair, and my son needs to change his wardrobe as well. I also need new interior designs for my house, new quality furniture, and probably new paints or wallpapers.
In addition to that, I need to get a lot of food items that will last us for a very long time.
These are the things I would use the money for.
I know I won't be able to spend it all at once, so I will save the ones I do not necessarily need to spend until a need arises for them.
What do you think? Hehe
---
---