Hive Open Mic week 136 / Don't Stop Believin' (cover) by @jessicaossom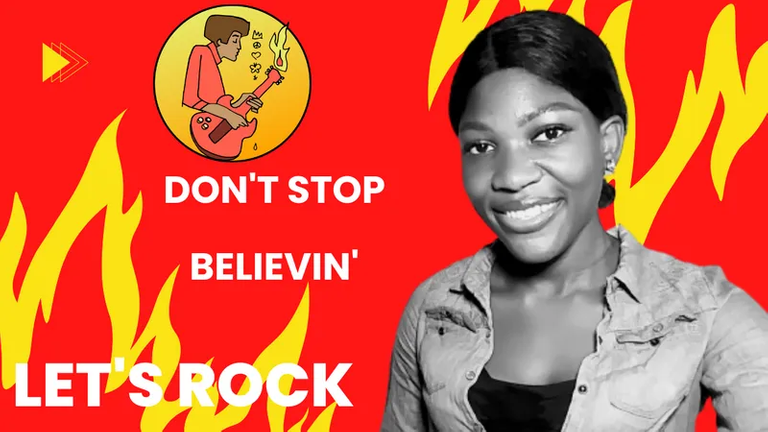 It appears that many people in the Hive Open Mic community are doing their own original songs for the theme of this week's theme. This theme has been chosen by the community's recent spotlight artist, @maitt87, which is 'LET'S ROCK'
As a part of Let's Rock, everyone is encouraged to connect with one another. There are a few original songs as well as cover songs that I have listened to that are really good.
My initial reaction to the theme was that we were expected to present rock music. I have never been a fan of rock music, so I don't know much about it.
My first choice was "Heart Attack" by Demi Lovato. However, aside from the technicalities, it was difficult for me to score the lyrics in a short amount of time.
We're supposed to make our presentation as professional as possible, so I kept reminding myself. I decided to completely avoid songs that made me look down at the PC screen for lyrics.
A song started playing in my head soon after.
Don't stop believing, hold on to that feeling, streetlight people'.
It wasn't until I googled the genre of the music that I realized that it was rock. The title is "Don't stop believin' by Journey. At that moment, I smiled and was happy that I had found a song that fit this week's theme.
To top it all off, the lyrics weren't so difficult to score. However, I kept making mistakes while recording the video. I resorted to taking bits from other ones I filmed to make my video for the Hive open mic presentation. I was already tired of recording over and over again.
While recording the video, I wished I was holding a guitar so I could look like a rock star. Hehe
I forgot to do my introduction, and it was the next day that I did it. Therefore, you can see that my appearance is different between the clip's introduction and the part where I start singing.
I hope that you enjoy listening to this song as much as I did. Thank you.
The header image was designed by me on Canva.
Don't Stop Believin'
Strangers waiting
Up and down the boulevard
Their shadows searching in the night

Streetlights people
Livin' just to find emotion
Hidin' somewhere in the night

Don't stop believin'
Hold on to that feelin'
Streetlight people

Thanks for watching and reading.
---
---