Leo: My zodiac sign
January 18, 2023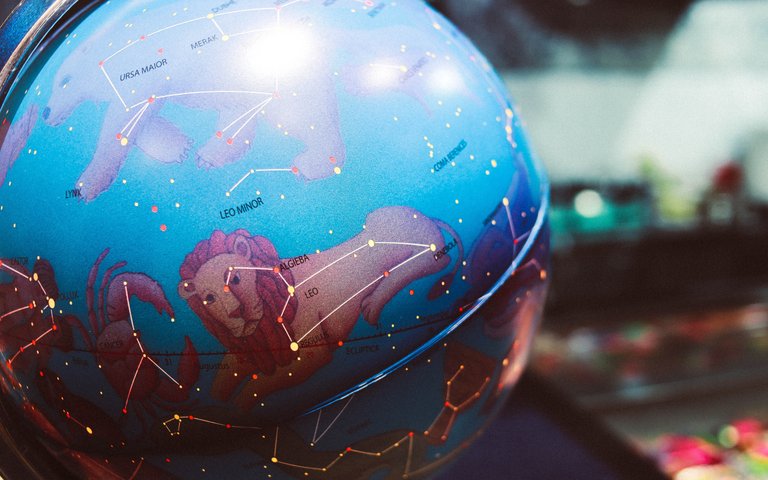 Photo from Unsplash by Nastya Dulhiier
Chinese new year is coming. For sure, some have a chance to celebrate it with our Chinese friends, some will have a chance to enjoy it through the event prepared for this celebration.
Chinese have a lot of beliefs that not only Chinese are embracing it but also other cultures like Filipinos.
Chinese zodiac signs and horoscopes are one of those things that other people are trying to check and believe.
Personally, I can't remember when I was able to know my zodiac sign. When I read about the HivePH January Blogging Contest and it talks about horoscopes and zodiac sign, I abruptly remember that Leo is my zodiac sign.
Zodiac sign is represented by twelve zodiac animals like Rat, Ox, Tiger, Rabbit, Dragon, Snake, Horse, Goat, Monkey, Rooster, Dog, and Pig. Every year was represented by one of these animals.
Year 2023 is the year of the rabbit, water rabbit to be exact. Rabbit in Chinese culture is a symbol of longevity, peace, and prosperity.
How about you? You were born in what year? Me? I was born in the year of the dragon.
Talking about this topic, I can say that I have a very limited idea. I am not into horoscopes, all I know is that I was born in the year of the dragon and Leo is my zodiac sign.
If ever you don't know yet your zodiac sign, check this out.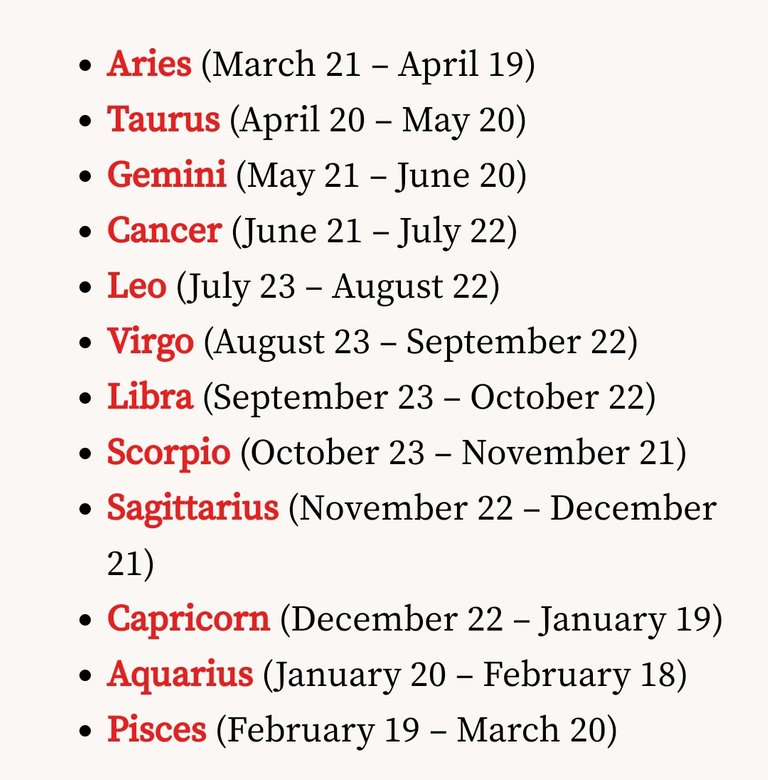 This is a screenshot from allure by Aliza Kelly.
Let's talk about my zodiac sign: Leo
It's no wonder your symbol is a lion. Your personality and presence are impressive to all. This may intimidate some, but your inviting spirit will help you easily make friends. Your confidence will be an asset to you throughout your life. By: Erica Martin
I can't really say if my personality and presence are impressive to all. I am an introvert back then but I manage to adjust and try to socialize with other people. I tend to get people's attention because of my loud voice and that makes me lead sometimes.
Most people who saw or met me for the first time will think that I am so strict and serious. This is quite true because I am strict and serious most of the time. But when you know me well, then you can say that I can be a good friend.
Speaking of confidence, hmmm I lack of it most of the time.
Let's talk about most compatible zodiac signs
Honestly, I never know about this until today when I scroll about zodiac sign.
While scrolling, I came to this part about the compatibility of zodiac signs.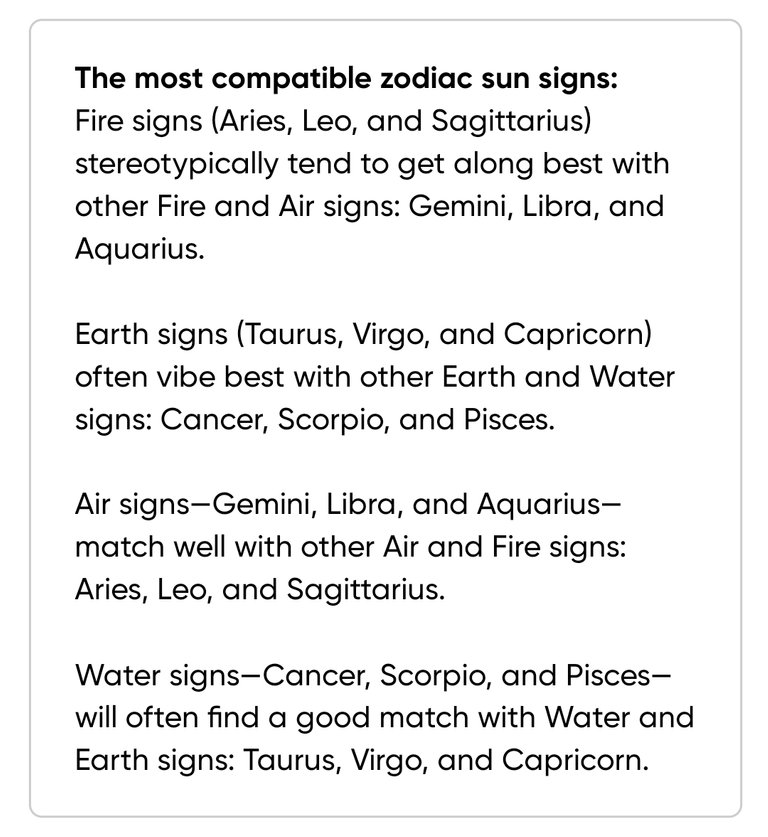 This is a screenshot from oprahdaily by: Lisa stardust.
Though, I am already married I became curious about it. Are we compatible to each other? I don't know my husband's zodiac sign so I also search it through his birthday and viola! he is aquarius. Ayeeeh! Leo and aquarius is compatible base on zodiacs.
To all single ladies and gentlemen out there, you may check your girlfriend or boyfriend's compatibility base on zodiac sign. Though I am not a fan of it because as what I have said I just learned about it today but what a co incidence I married a man where we are compatible based on our zodiac sign.
In reality, zodiac sign may provide you a guide but in the end you still have a complete control over who you choose to love. For me, long observation about your partner still matters.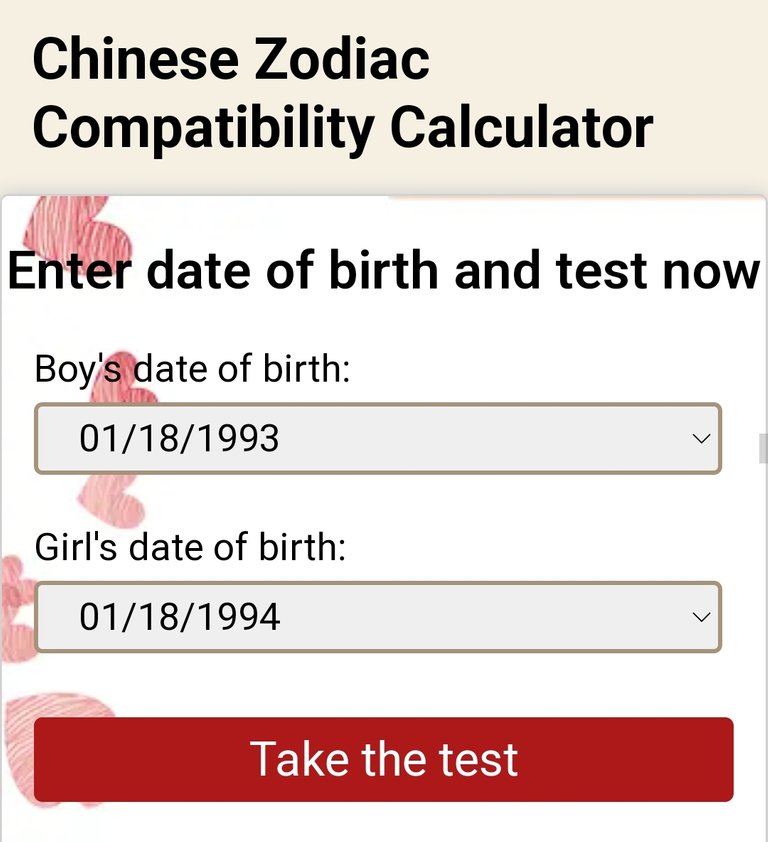 Just for fun or you may take it seriously you may check the compatibility of your partner or your crush in this COMPATIBILITY CALCULATOR. You just need to input your birthday and the birthday of your partner.
You can also share to me your feeling upon seeing the result in the comment box below.
I tried to check ours too and here's what I've got. This is just a screenshot of the result.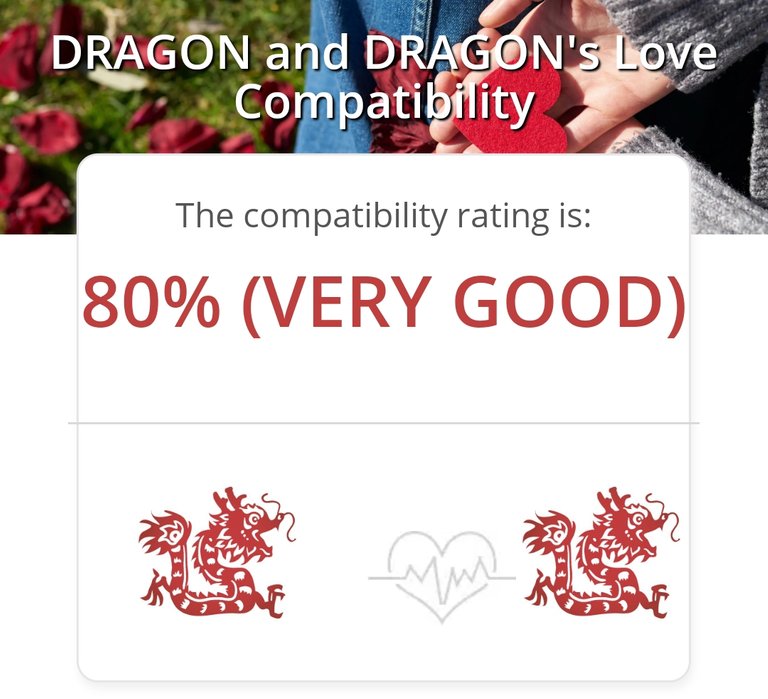 Ayeeeh! 80% compatible. I just hope so, lol.
Let's talk about my horoscope: Leo in 2023
All of the Leo horoscope I have mentioned below was taken from astrosage by Punit Pandey
Leo love horoscope for 2023
The feeling of love for one another will grow when the hatred and boredom in romantic relationships are eliminated.
For me, there's nothing new with this. It is normal that love will grow when hatred is absent in the relationship.
Every relationship needs love, trust, understanding, communication, loyalty and so on to add on.
Leo family horoscope for 2023
Issues will gradually arise that must be overcome but you may overcome them with understanding.
Inside the family, issues as problems, trials and challenges are always there. Indeed understanding is one of the best thing to settle it. Hopefully whatever issues that will come to us this year, we can still face and overcome it with love.
Leo career horoscope for 2023
You have a great opportunity to accomplish a lot this year based on your expertise and abilities. So seize the moment and give it your all to ensure the success of your profession.
I don't know how this will work to me. For now I am a housewife and a full time mom, I don't know what great accomplishment I can do this year? But whatever it is, I will just enjoy what I am doing, give my best and hopefully and at the end of the year, I can still say, 2023 is a successful year for me.
Leo health horoscope for 2023
unbalanced food and drink could make you ill. So exercise caution.
I think this advise is applicable for all and not only for Leo. We really need a balance diet and a balance lifestyle in order to have a good health. All of us really needs temperance in all aspects of our life because all that excess is not good.
I just choose some of the horoscopes because if I will discuss everything for sure it will be very long.
As a Christian, I believe God as the owner of our lives is the only one who knows our future very well. Our future also depends with what we have chosen today.
---
This is my participation for the HivePH January Blogging Challenge.
Thank you so much @hiveph you make me search about zodiac signs and horoscopes and I had some fun especially about the compatibility calculator.
I would like to invite some of our hiveph friends @jane1289, @ruffatotmeee, @eunoia101, @patsitivity, @teacherlynlyn to join this challenge or you may try the compatibility calculator to check if you are compatible with your girlfriend or boyfriend 😄✌️✌️
That's all for now, thank you so much for reading. Hope to see you again in my next blog.
---
---