I don't understand why?
January 15, 2023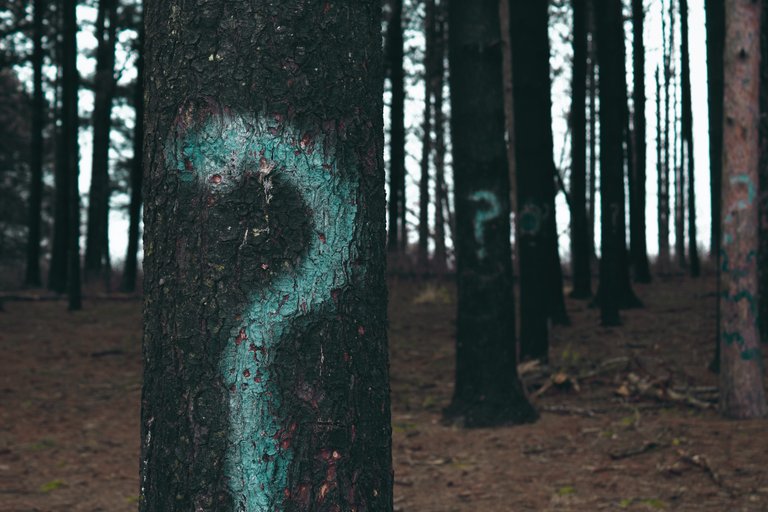 Photo from Unsplash by Evan Dennis
Helping others is good but sometimes it makes you feel bad.
I know a man who said, he needs help because he don't have something to cook. Someone offered him a money and told him to pay it on his salary. He felt bad because he wanted that someone will just give him money and not lend him a money.
A neighbor told this story to me and I said, letting him to lend money is also considered as help because his problem is being solved.
How about you, will you considered it as a help? Before you'll answer, let me tell you more about that man. That man is working and he will have a salary soon. He is a widow and just taking care of himself. I myself don't even understand why he can't buy his own food. He is in good health, have work and no one to take care onto because his children already have family and spices of income too.
This weekend sir @galenkp has another weekend engagement writing prompts and I would like to complete this phrase I don't understand why people...
I am a load retailer since 2012. My workmates, friends, neighbor and family are my common customers. One day, they asked if they can lend a load and they will pay it on during the salary day.
As a way of "help" I allow them to lend some load to me. At first it goes very well. They really pay they debt on or a day after the salary day.
The small side hustle continues even until I resigned for work after I gave birth my son. Some are still lending load to me and pay it on salary day.
Many are still good payers but there are some who never pay their debt to me.
I will just give one example about my workmate who never pay his debt even until now.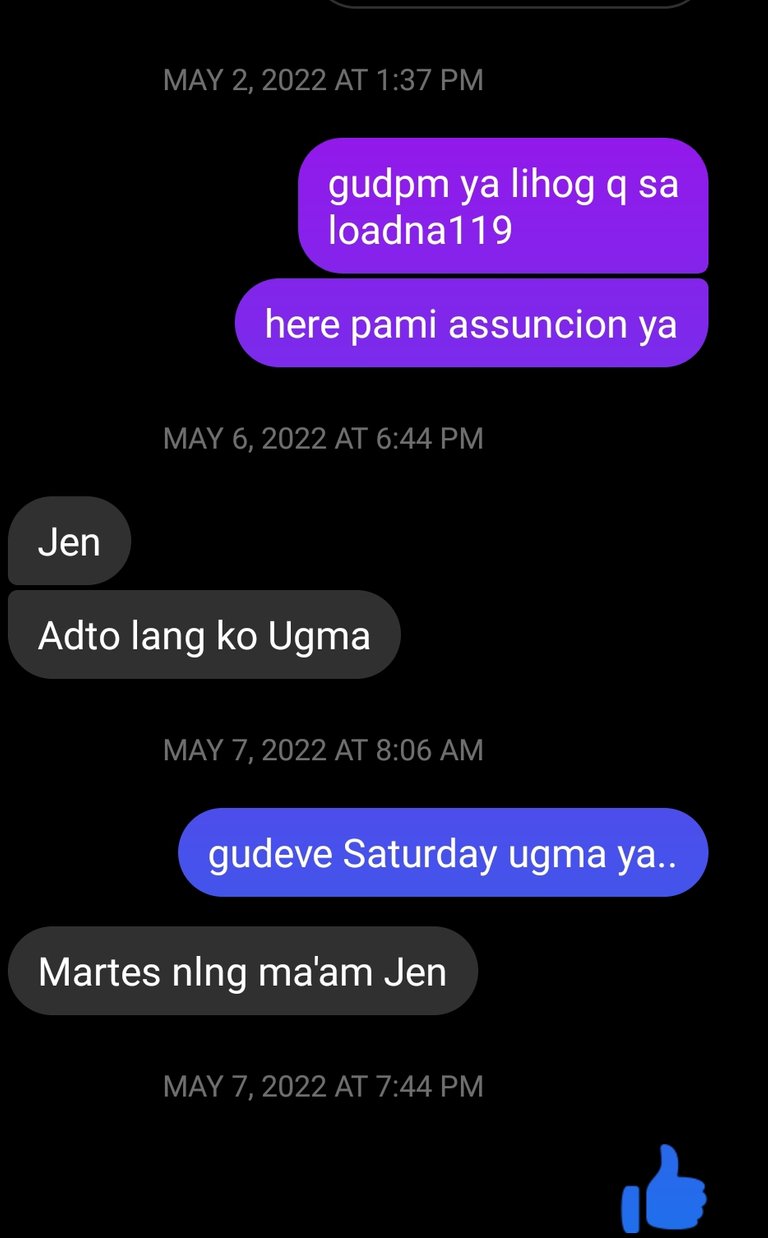 Last May 2022 I tried to collect 119.00 ($2.38) to my workmate back then who lend me some mobile load. Might be it is just small but it is already big for me who is now unemployed. He said he will go to our house and pay for it but he never did. I waited for hours and days but he never did until we were able to transfer location.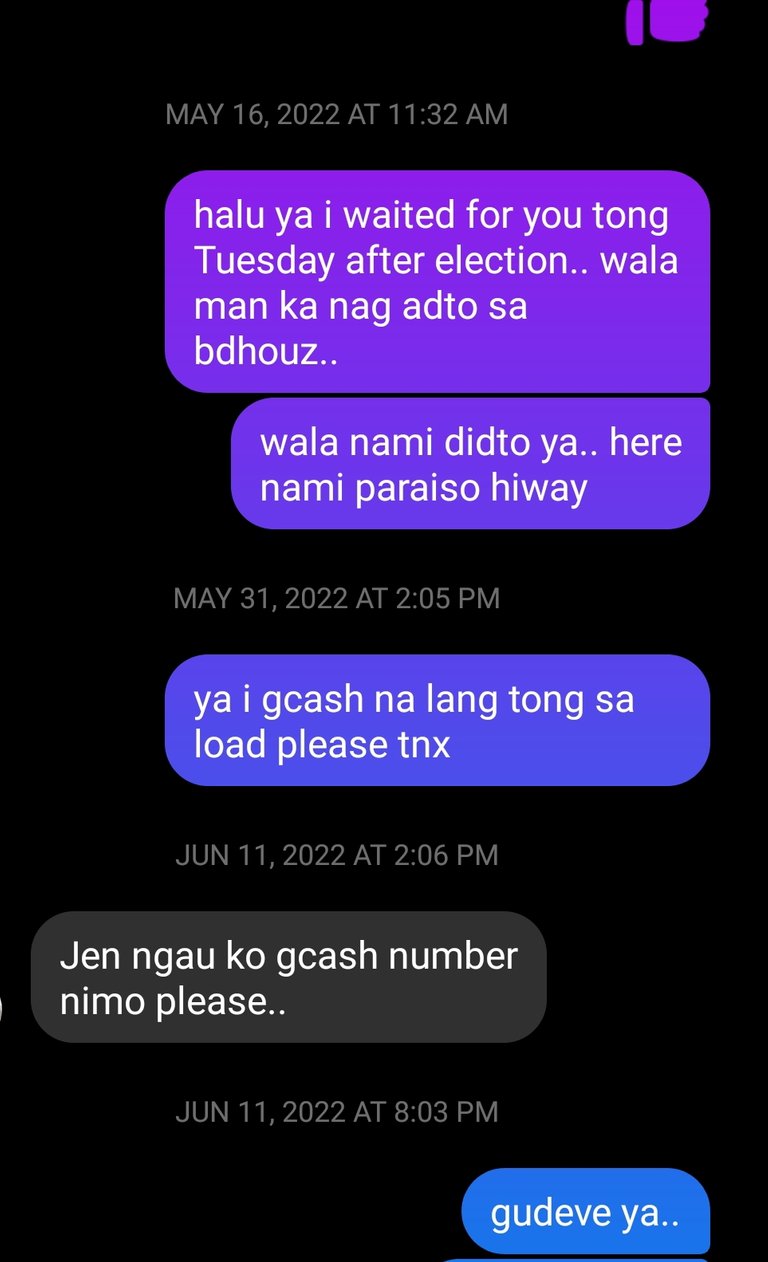 I reminded him again about it and asked if he can send the payment through gcash.
He even asked my gcash number and I gave it happily hoping he will send the payment soon.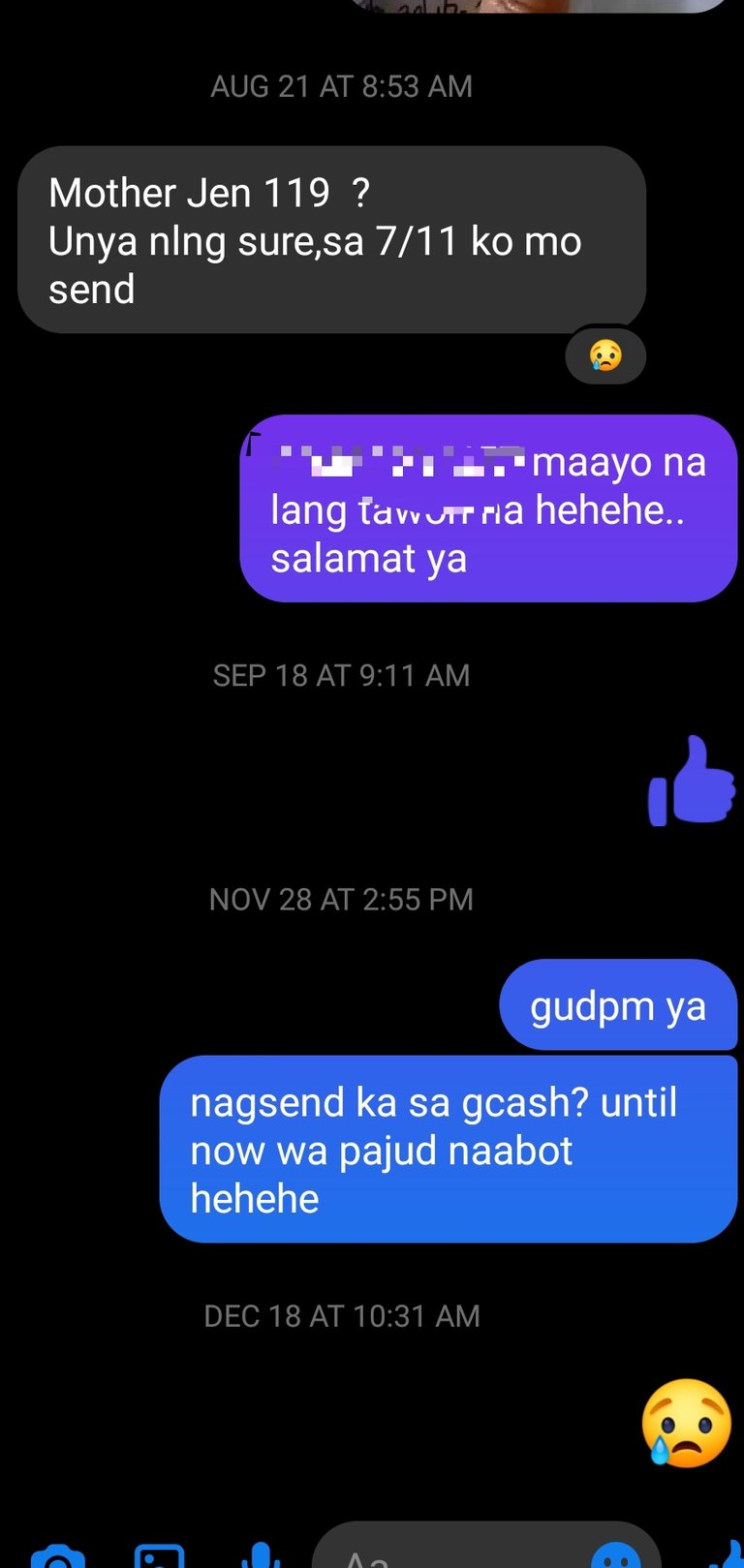 He even promised again to send it via gcash. I waited again but no one came from him even a single peso.
Lastly, he is just seeing my messages but he never tried to reply any word. I felt discouraged, I felt bad and sometimes talked to myself that I only added 3 pesos in every load transaction and they didn't pay me. Instead of having 3 pesos profit, I even lost bigger.
I felt tired of reminding. I felt tired of asking so until now I never bothered to ask him again about it.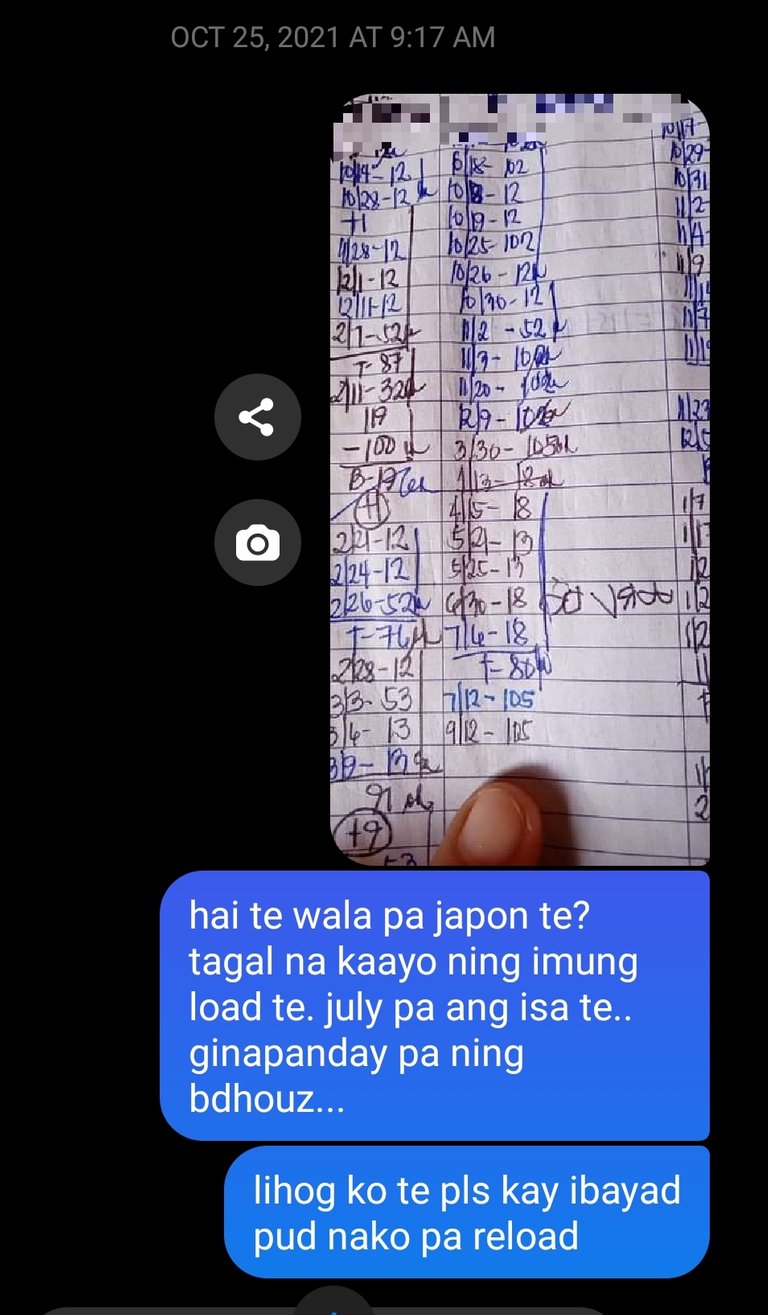 Another one is from our neighbor back then. I can still remember how she call my name along the fence and asked me a favor if he can lend some load because she badly needs it. Me, who is wanted to help even in that simple way, I then agreed and send him a mobile load she need. She even added another and promise to pay it very soon if his husband will send his salary to her.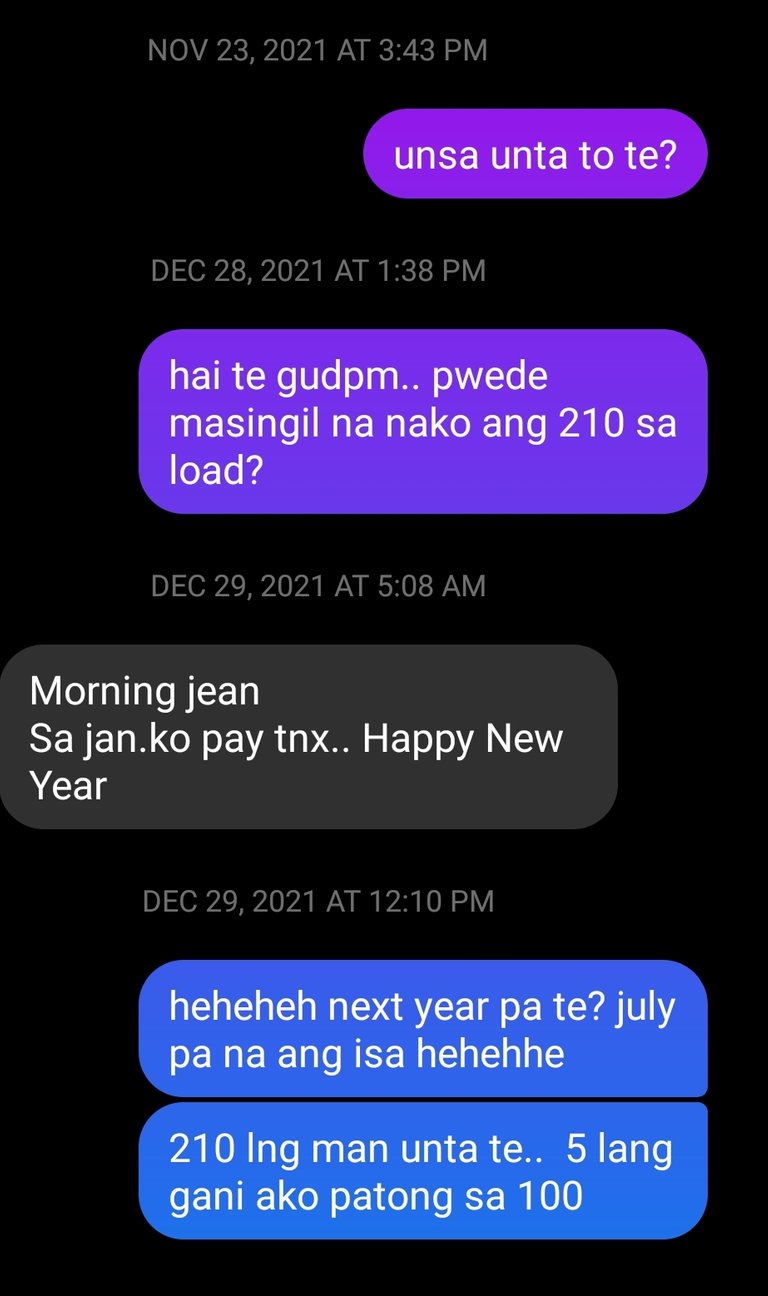 She lends it July 2021 and September 2021. I am waiting for her to pay it but nothing happens. Before the year 2021 ends, I tried to ask her to pay it but she promised to pay it by January 2022.
Year 2022 came but she never chatted or call me to pay for her debts. She just lend me 200 ($4) and I am asking her 210 ($4.2). A very small top up was given for that but she never bothered herself to pay it. Again, it might be so small but so big for me.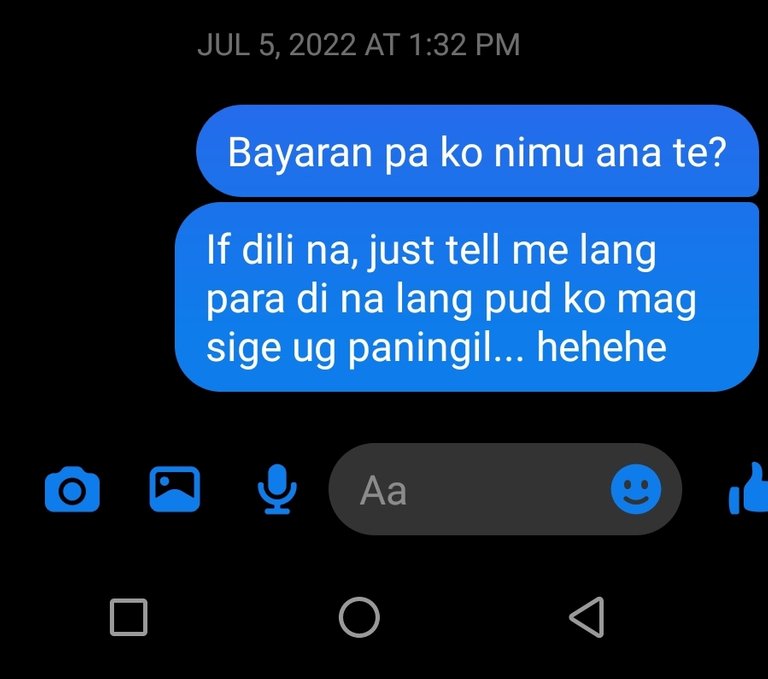 She never pay for it until July even she promised to pay it by January. January ended, February, March, April, may, June, July and that was my last message for her. Until now she never pay for it.
All photos are a screenshots from my messenger except the first photo which came from Unsplash. Language in the messages is in Cebuano dialect. So, only Cebuano or Bisaya can understand it well.
I don't understand why people are so good in lending some mobile load or money, but don't know how to pay it on time. I don't understand why people are having a good attitude while asking to lend some money to others but so good to hide themselves or so good to make different reasons when being asked to pay for it.
I don't understand why people keep on allowing people to lend some money even they already experienced that some people don't know how to pay accordingly.
Now, I still allow people to lend some mobile load to me but I just chosing those people whom I considered as a good payer.
To everyone, letting someone lend money is good because in that way, we were able to help them in a certain situations but always put in mind that letting someone borrowed your money is something like investment. Give what you can afford to loss. Debt without payment is a loss.
Those people just give me a lesson that not everyone you trust as a good payer is a good payer. Other will just easily forget you after having some debt at you. What made it funny is that, when they see you, they can easily turn to right or left way. Sometimes I saw them in the public place, so near to me but I just act that I didn't saw them because I felt shy, lol. How sad, they should be the one to felt that way towards me but yes, they also didn't even noticed me, I became invisible to them, lol.
---
Thank you so much for reading this rant of mine. I know someone can relate. I hope this will serve as a lesson for us too.
If this happens to you, high five, lol. Let's just give it to them as a gift.
Till next time, see you.
---
---