Gardening brings different emotions
October 6, 2022
Gardening makes you happy and sad. It will bring out your creativity and give you a piece of excitement. Gardening is a blessing.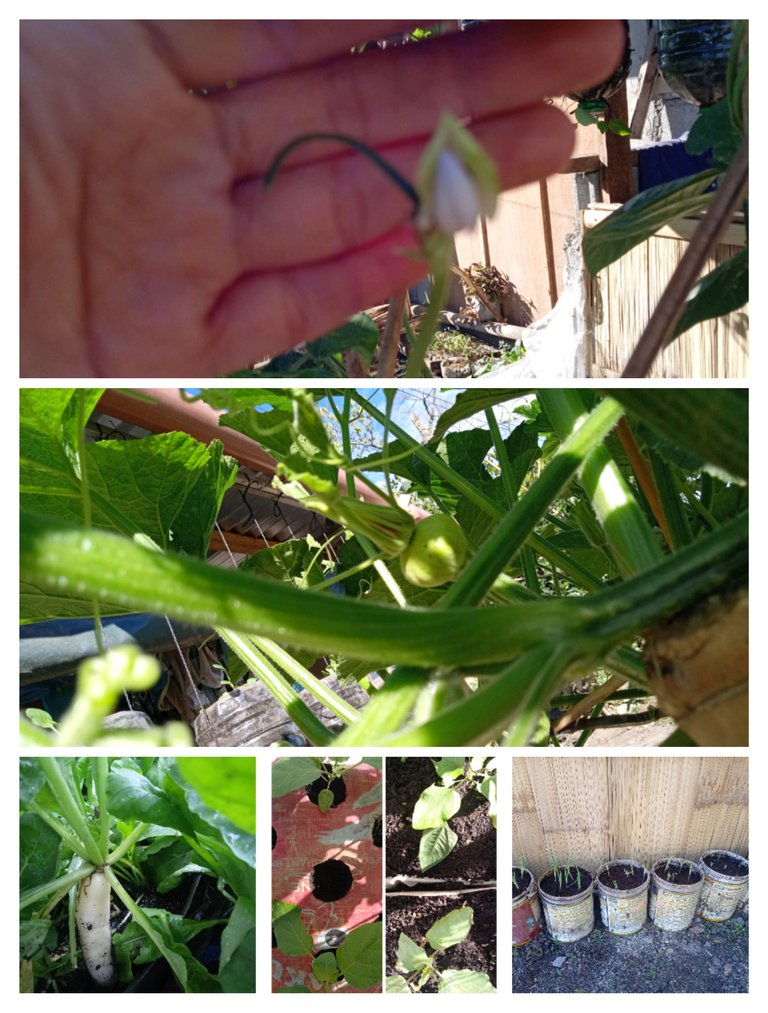 It's been a month ago since I posted about our garden in a very small space. So, it's a time for October Update.
Time flies so fast that we are now in the last quarter of the year. The days were rolling so fast and a days after we will be turning our calendar again.
The plants in our garden also grew fast and we were able to enjoy it. We felt so happy eating fresh vegetables from our garden.
Pechay can be harvested within 30 to 40 days. So, when its time for harvest we were able to get some for cooking.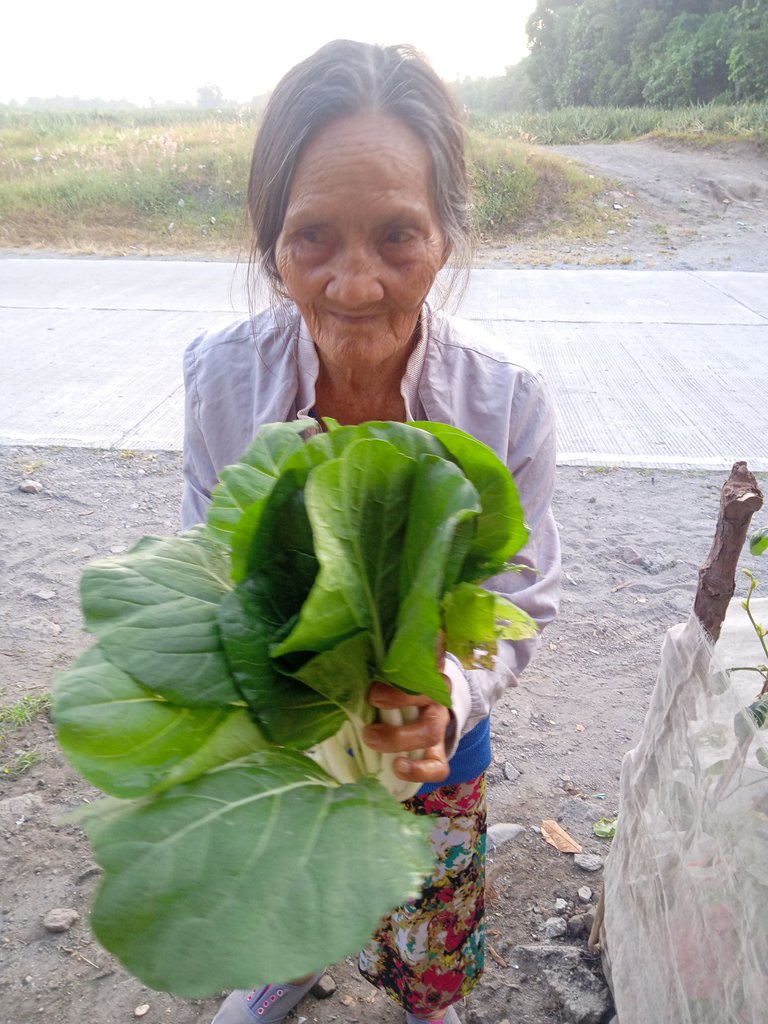 We are happy for our small harvest but some people are the happiest. Who wouldn't be happy to receive fresh pechay for free? Like this old grandma, she came to our small house and told me that she wanted to buy some pechay. I smile and told her, oh grandma, it's not for sale. I then get some and gave it to her. She is so happy and leave with a thankful heart.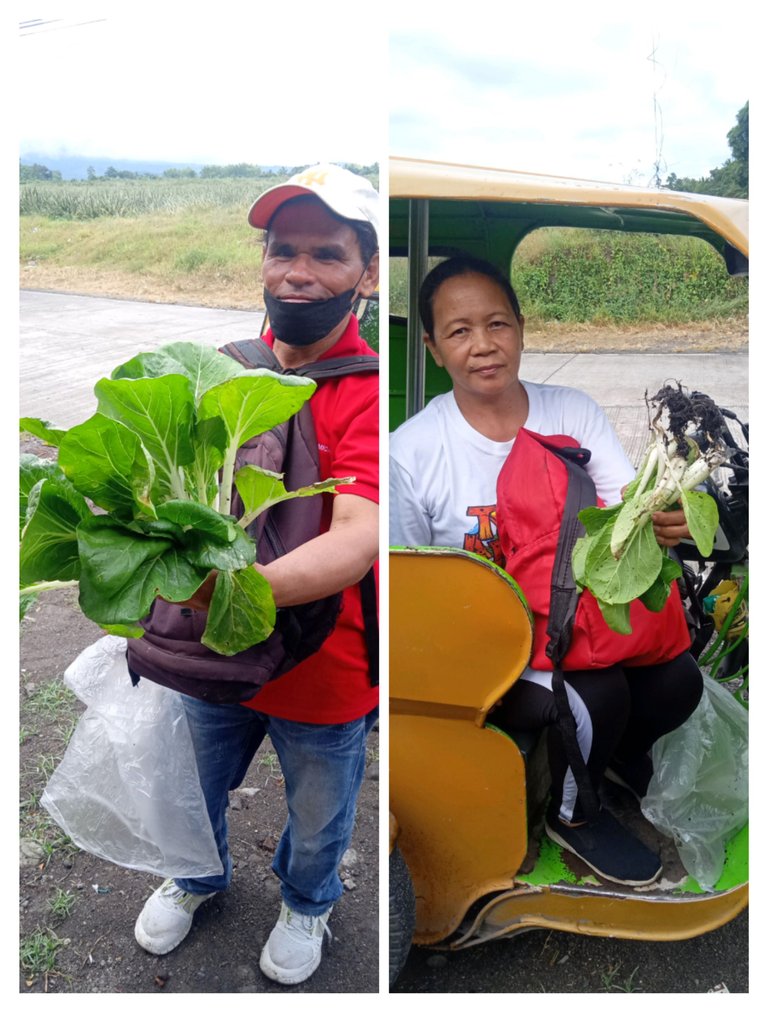 My husband's uncle passed by and we gave some pechay to him and gave another more to be given for my husband's brother who live in another purok. That woman is my husband's workmate. They were so happy because they had a free pechat very fresh from the garden.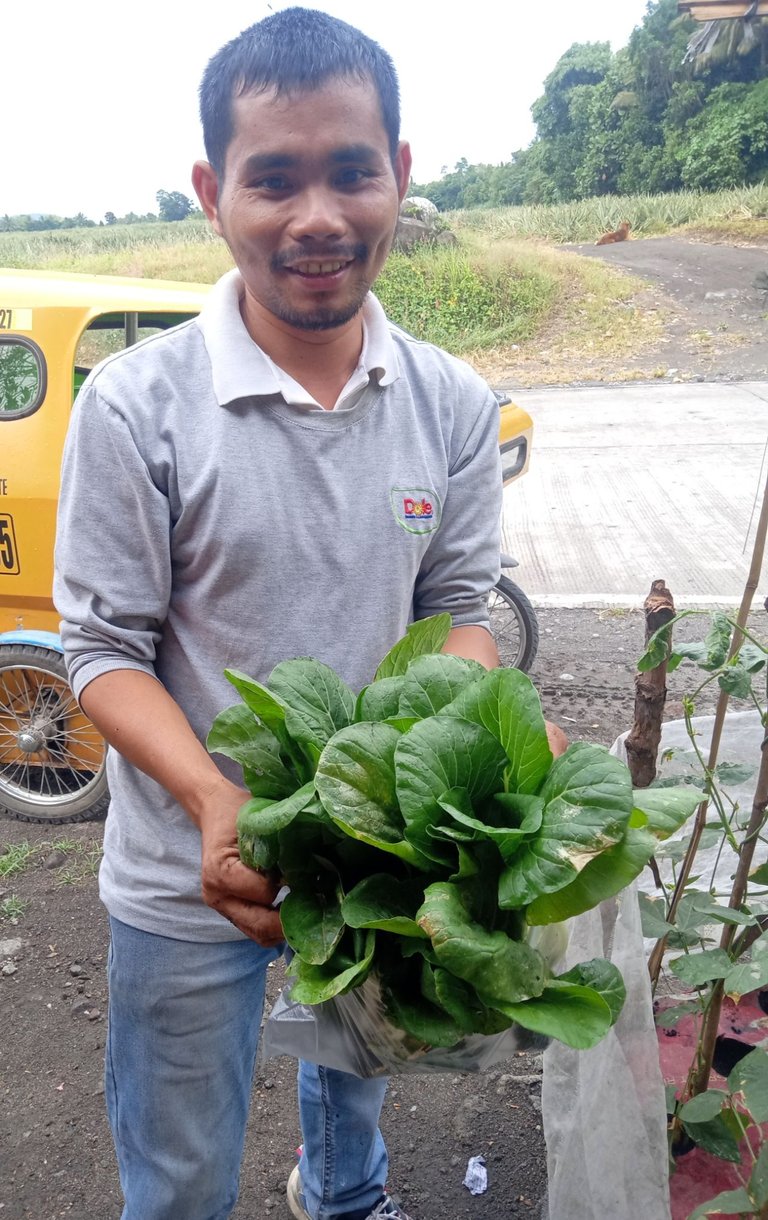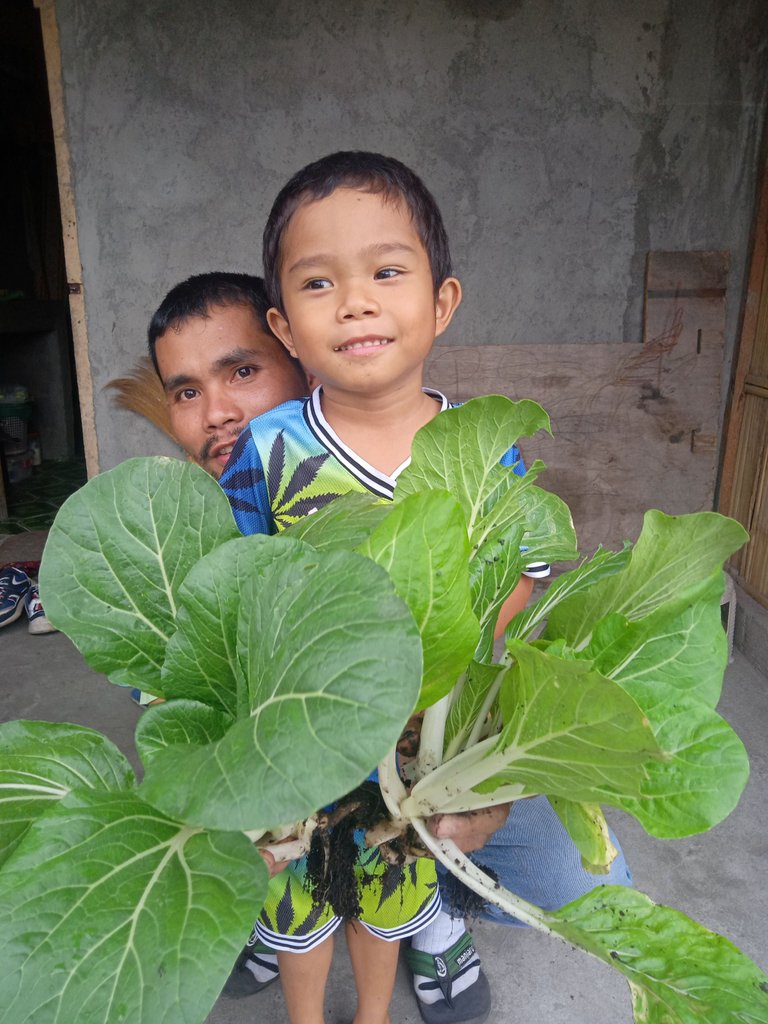 Off course, the gardeners were so happy too. My son had a great smile holding the plant he had planted and watered too.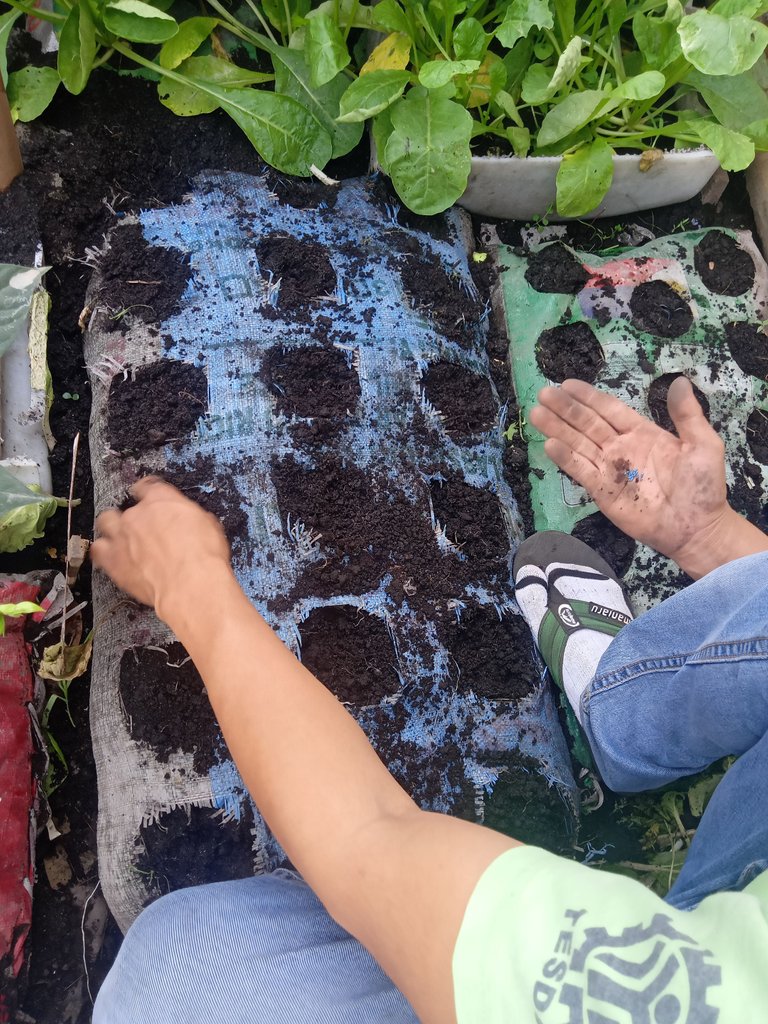 After the harvest, my husband sow another seed for a new batch of pechay.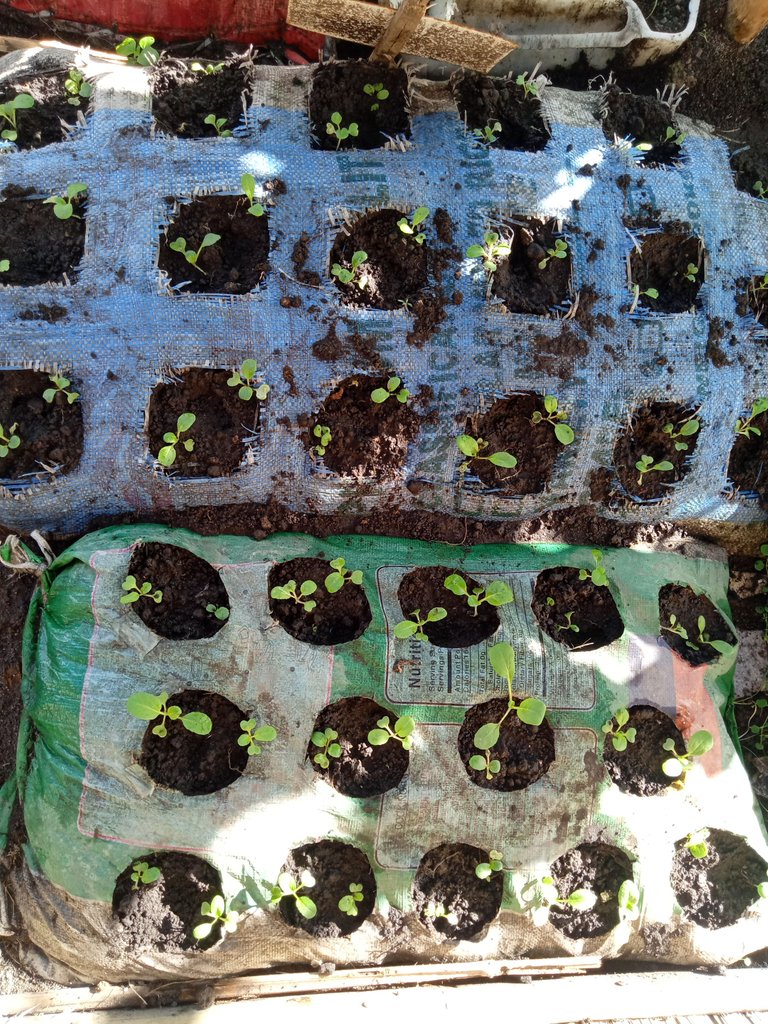 As of today, they look like this. We continue to take care of them by watering them early morning and late afternoon. We are hoping to have another set of good harvest soon and we will be able to give some too to our friends and neighbors.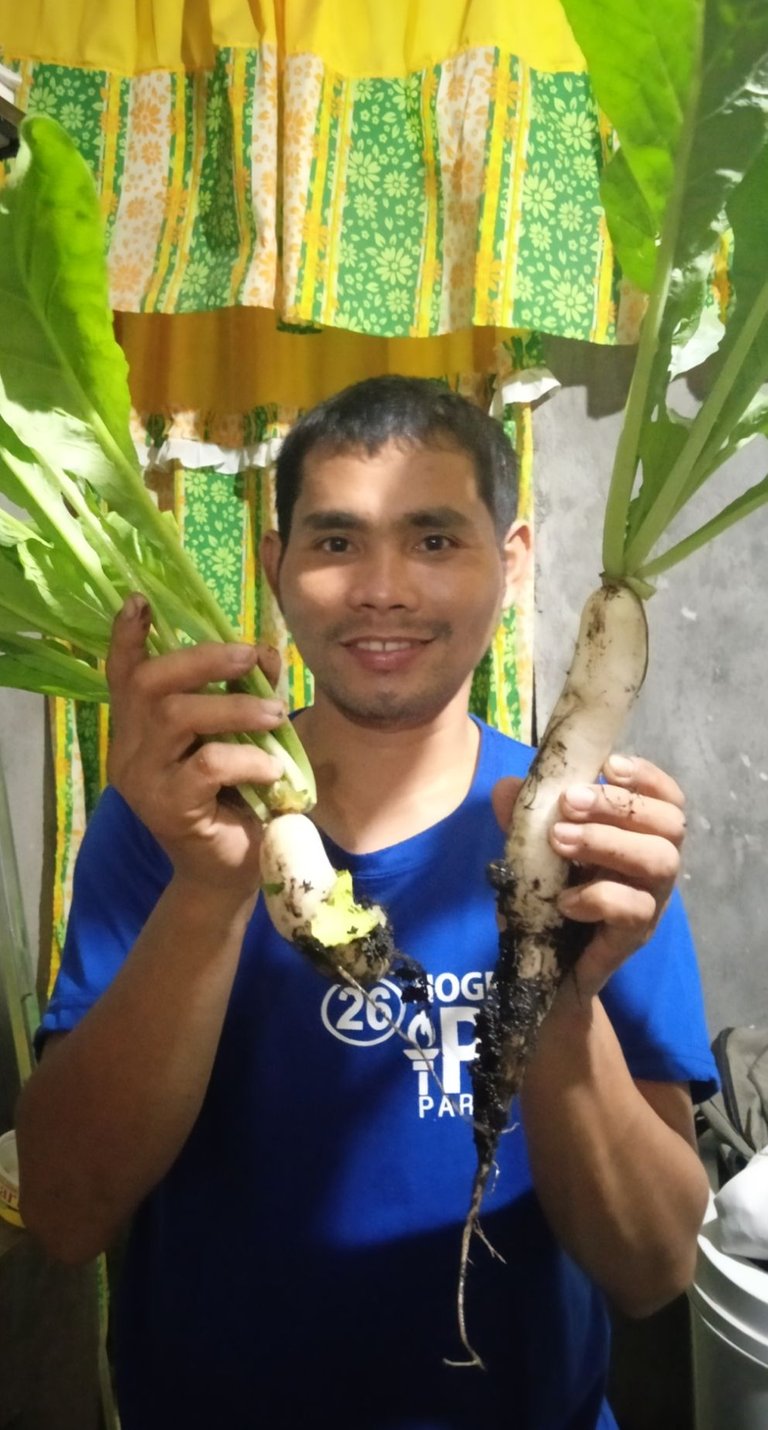 We were able to harvest our raddish too. We were happy to find some long and big raddish and felt a little bit sad looking at those small raddish. Those raddish which have been damaged by the chickens and being replanted turned out to give us small, short raddish and other never gave us one.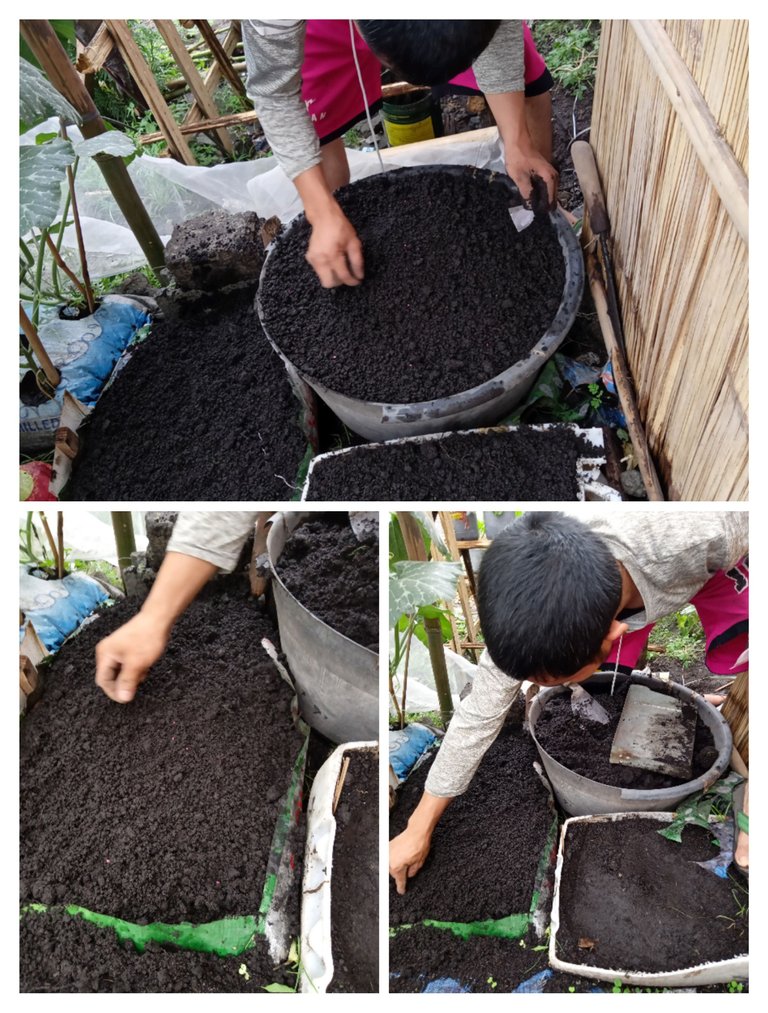 We didn't lost hope and planted another batch. This time we will make sure that no chicken can damage it.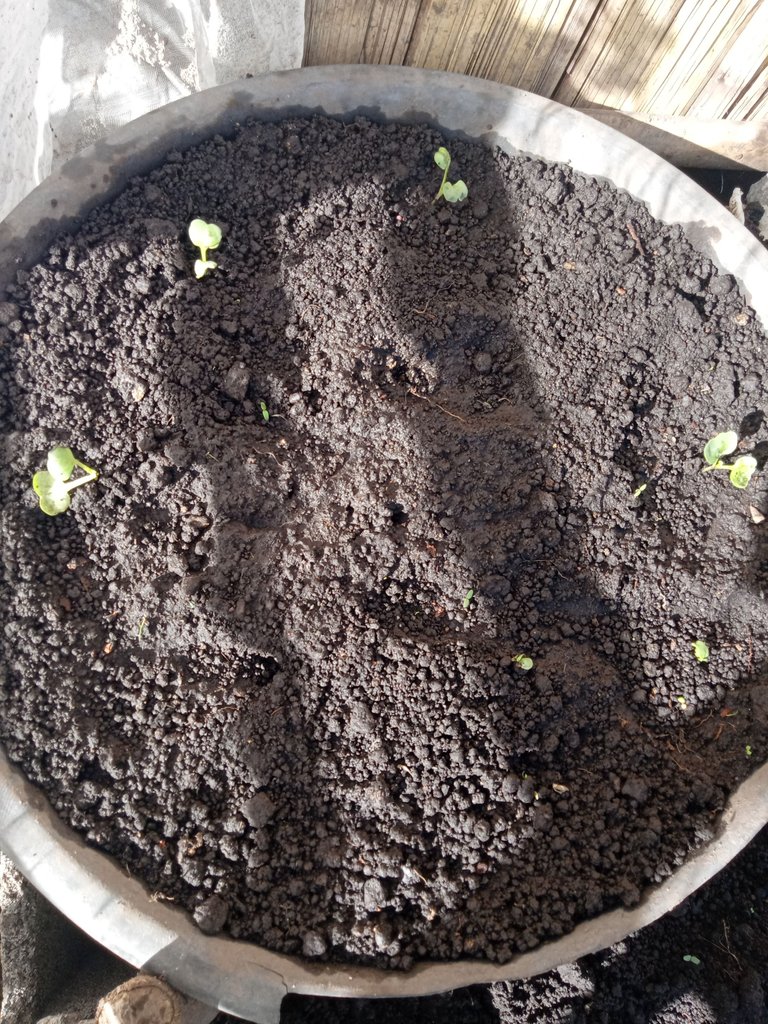 As of today, some already grow and others, I don't know. Might be they are still in the soil.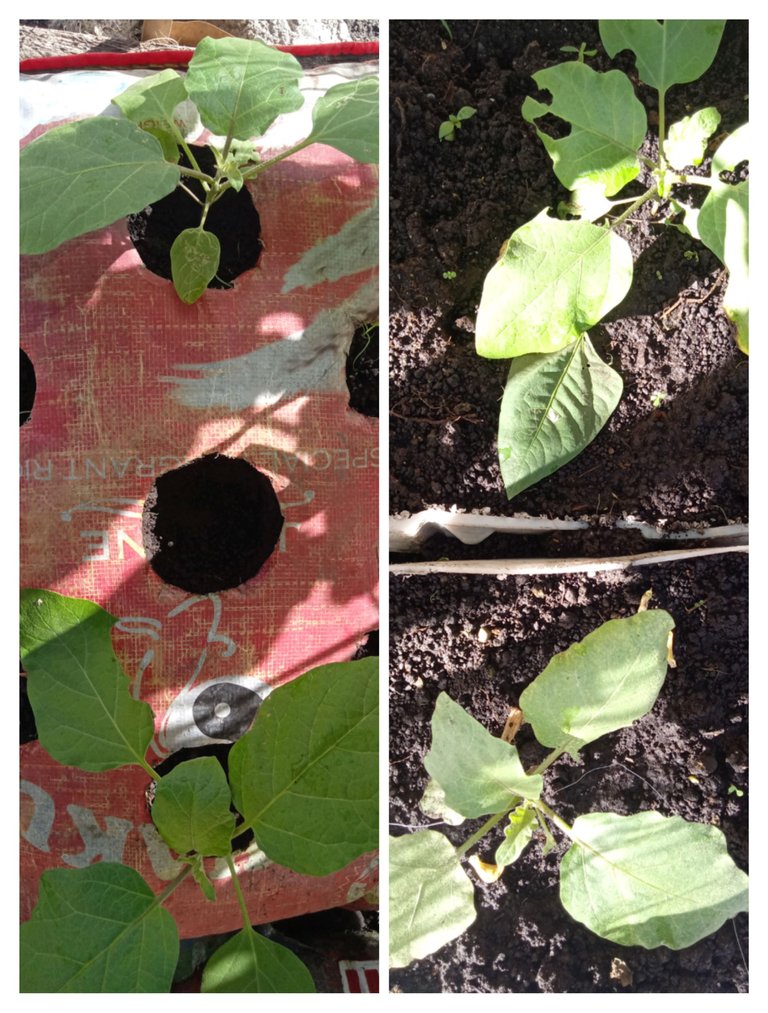 We are also happy to see our eggplant grow even we noticed that it grows so slowly. I noticed some marks on its leaves but haven't seen anything on it.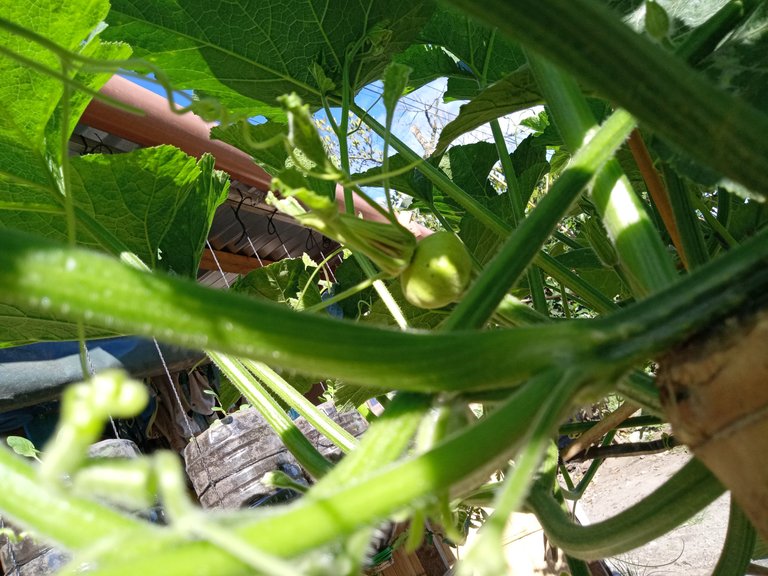 Our squash is in the flowering stage and we have seen some small squash. We felt so excited upon seeing them but today, I am a bit worried because it seems the baby squash turns yellowish. Is it dying? How sad.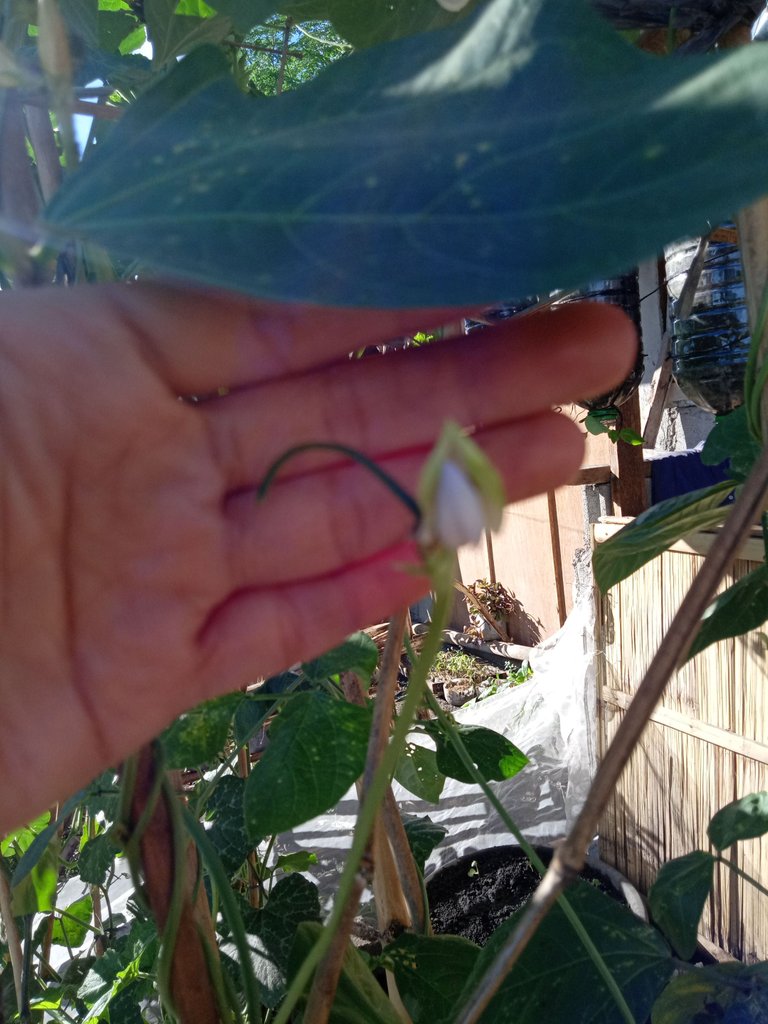 Our string beans already in flowering stage and gave some little string beans. I am excited to see them grow bigger.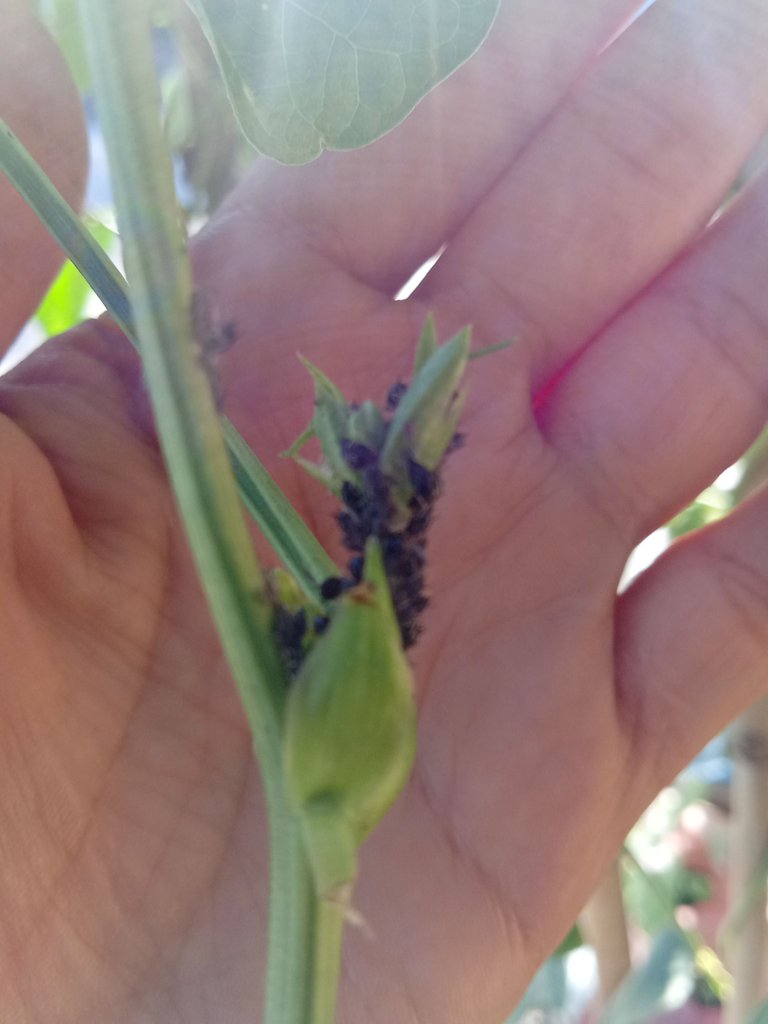 But I hate these black small insects. I don't know their name. It looks like they're eating the flowers and little leaves of our plant. Are they killing our string beans? Any idea to let them go? Help me please. I tried to put some water with detergent powder but I am hesitant because it looks like the plant doesn't like it and I am afraid that they will die.
This month we also added some plants and another recycling ideas in our garden.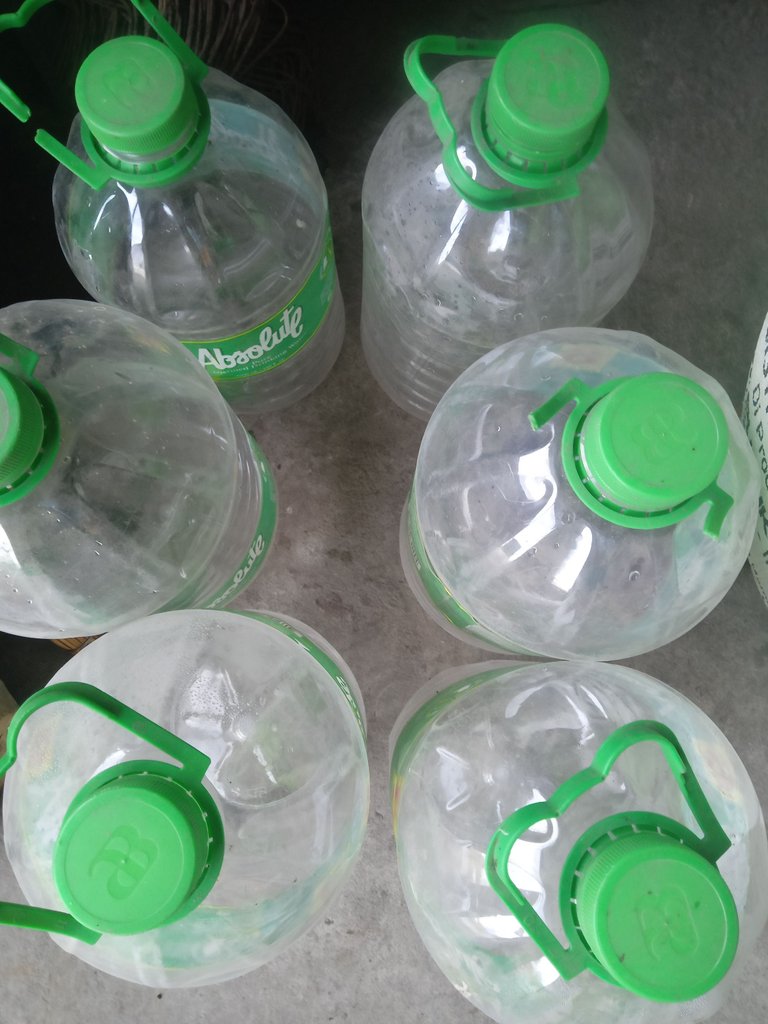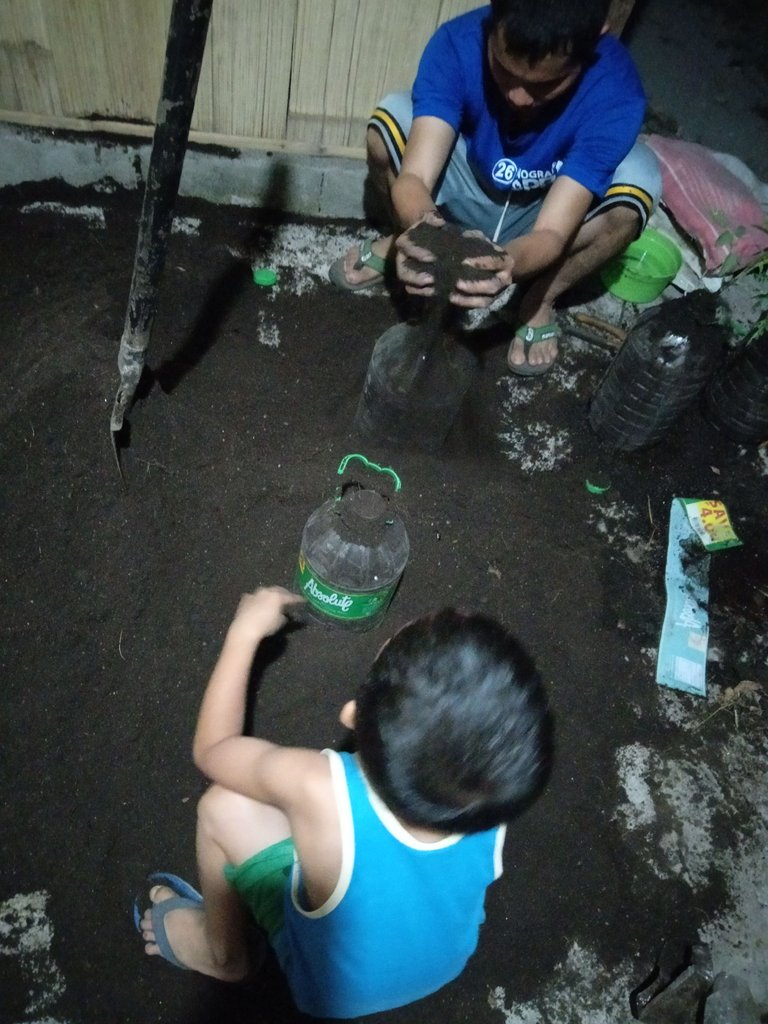 We provided water bottle and put some soil in it. Then, we plant tomatoes and some eggplant in there.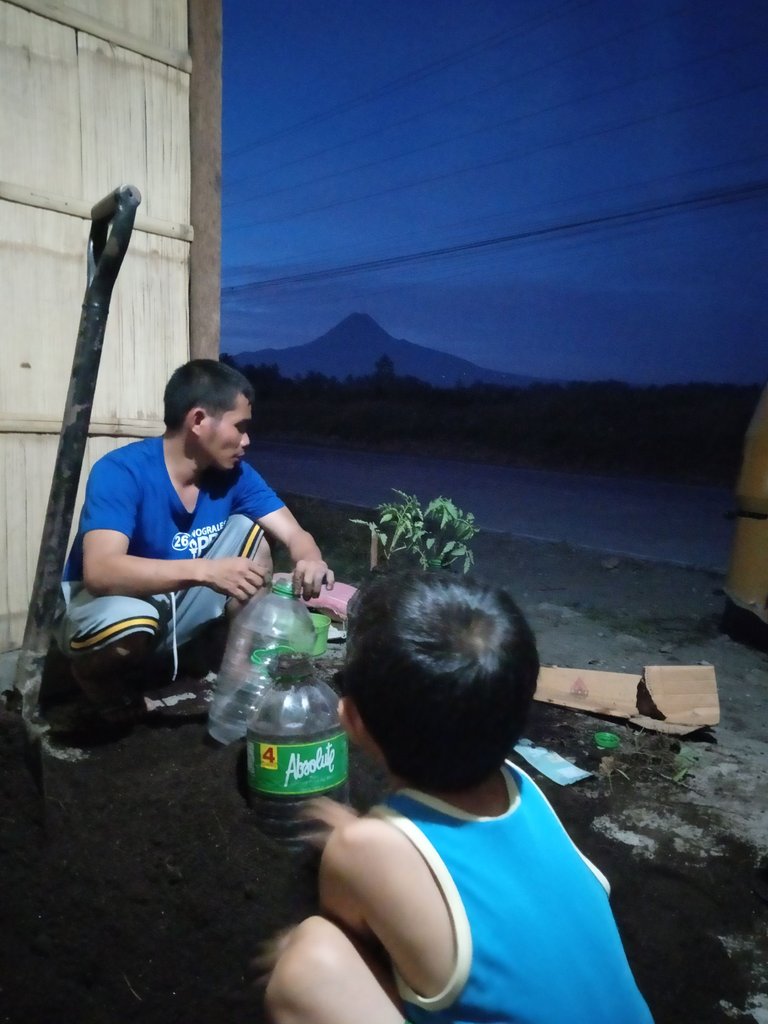 My son can't just watch, so, he will always gave a helping hand. He enjoys doing it. He seems just playing while gardening.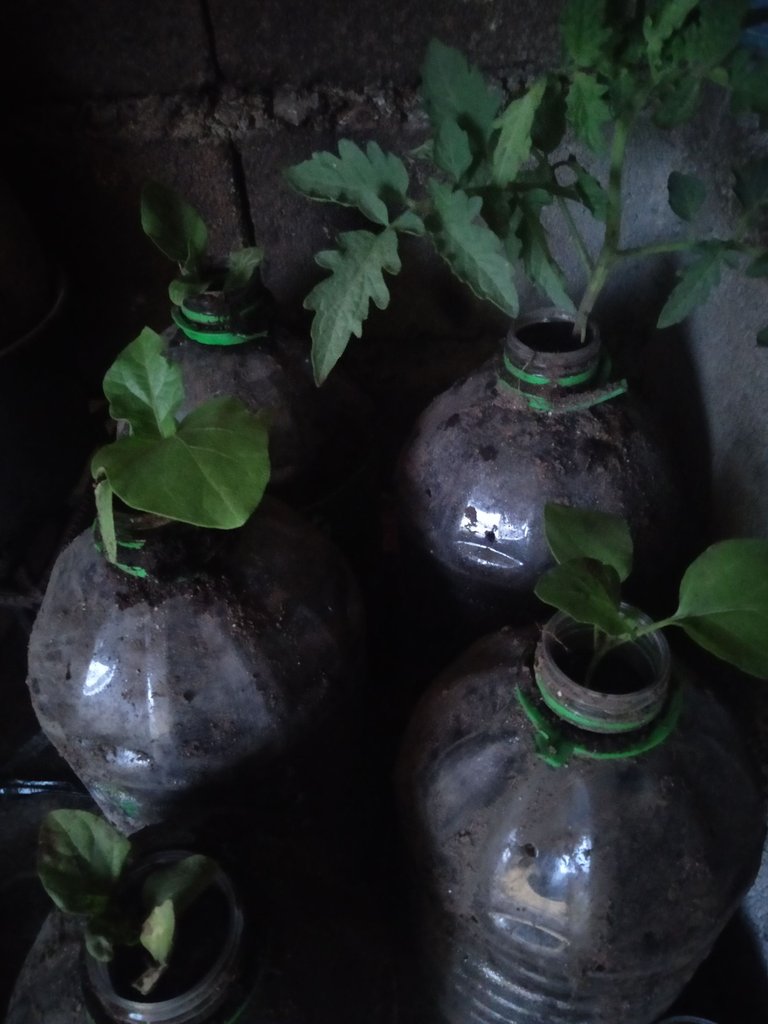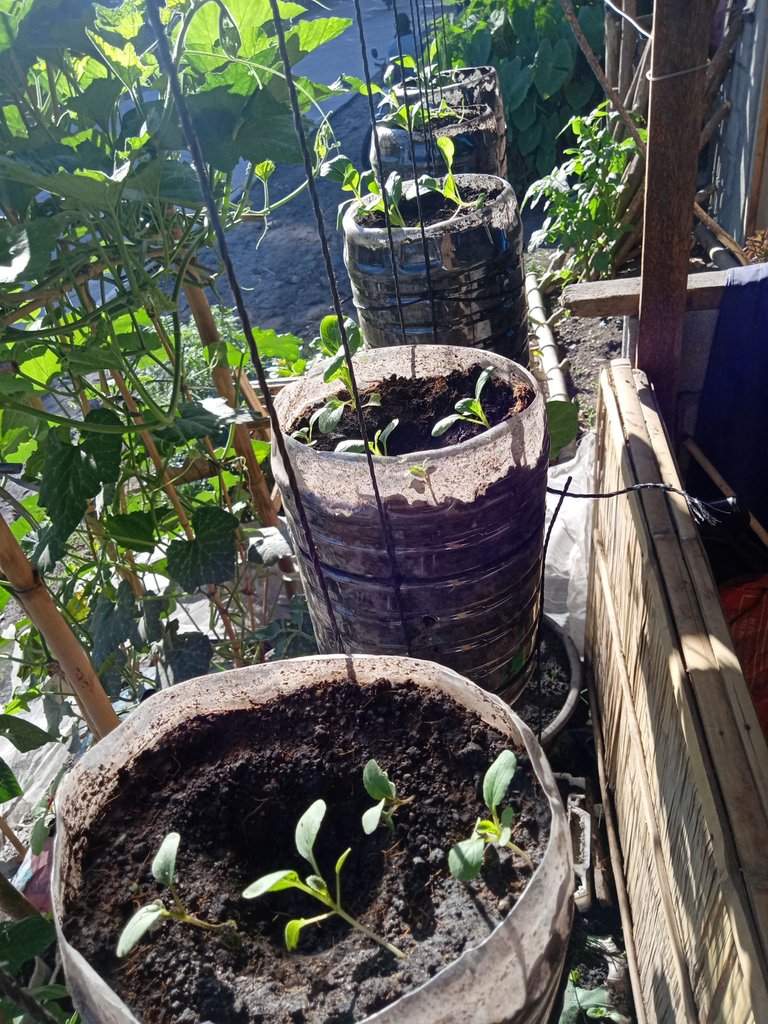 The idea doesn't end in planting some plants in a water bottle because when the plant grows, my husband turn them upside down, open the bottom (which become the top now) and plant some pechay too. Amazing, isn't it?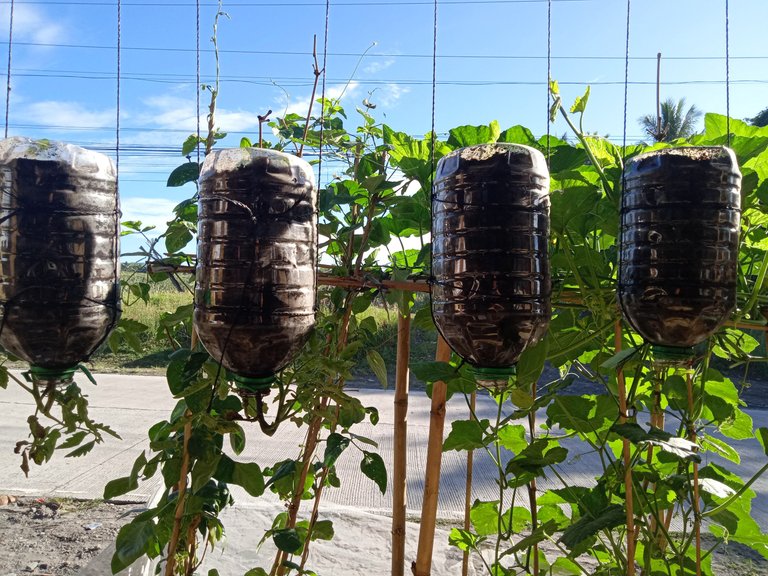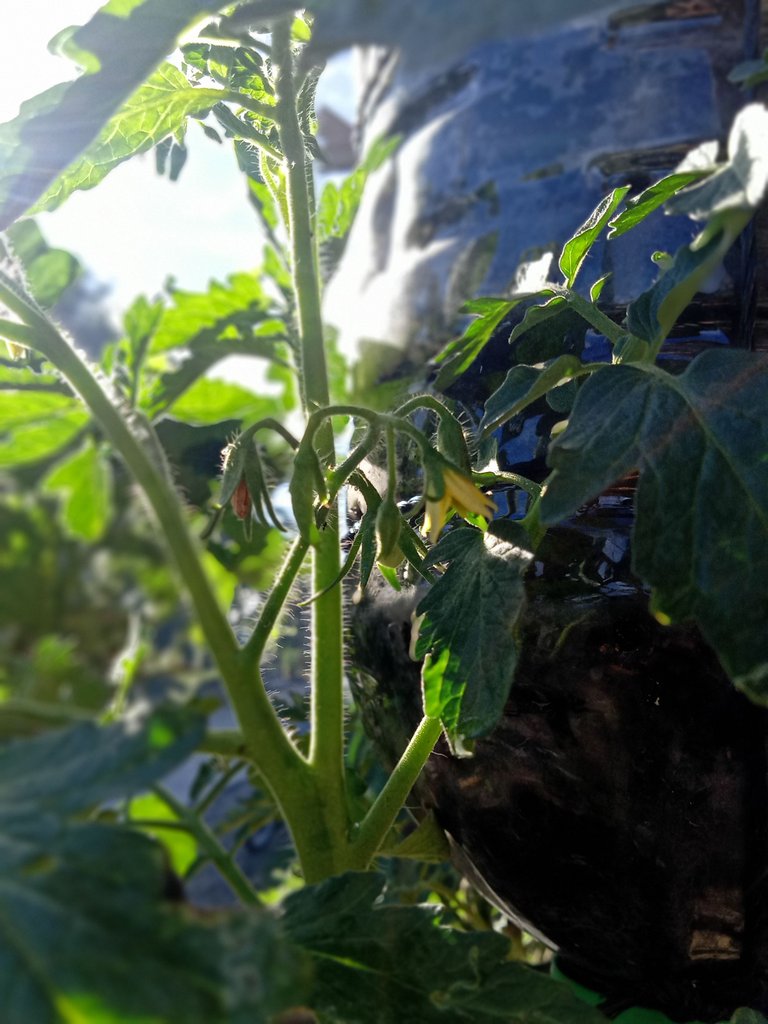 We are so happy seeing them hanging in our window. Everyday we can check them out and look, the tomato plant have a flower and a little tomato now. I hope it will grow big.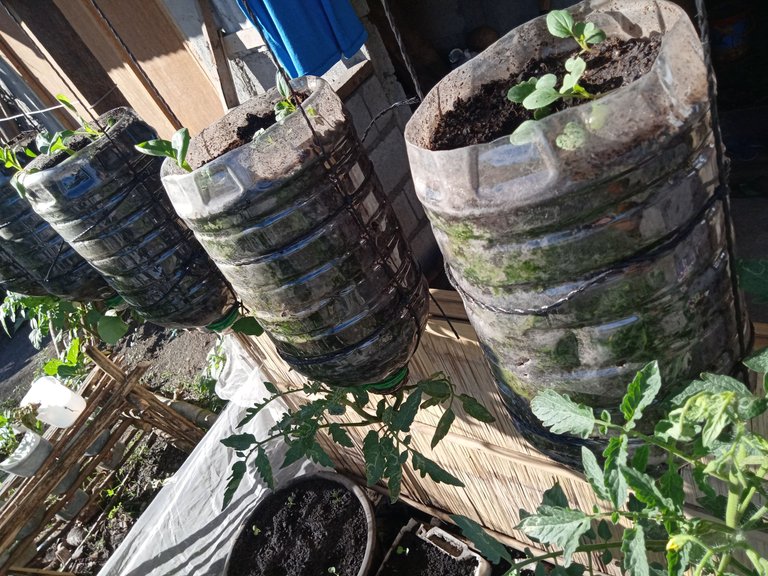 The tomatoes and eggplant are trying to grow, trying to bend their body towards the sun.
Sorry our dear tomatoes and eggplant, your gardener just wanted to try another ideas for creativity, recycling and using a little space for gardening.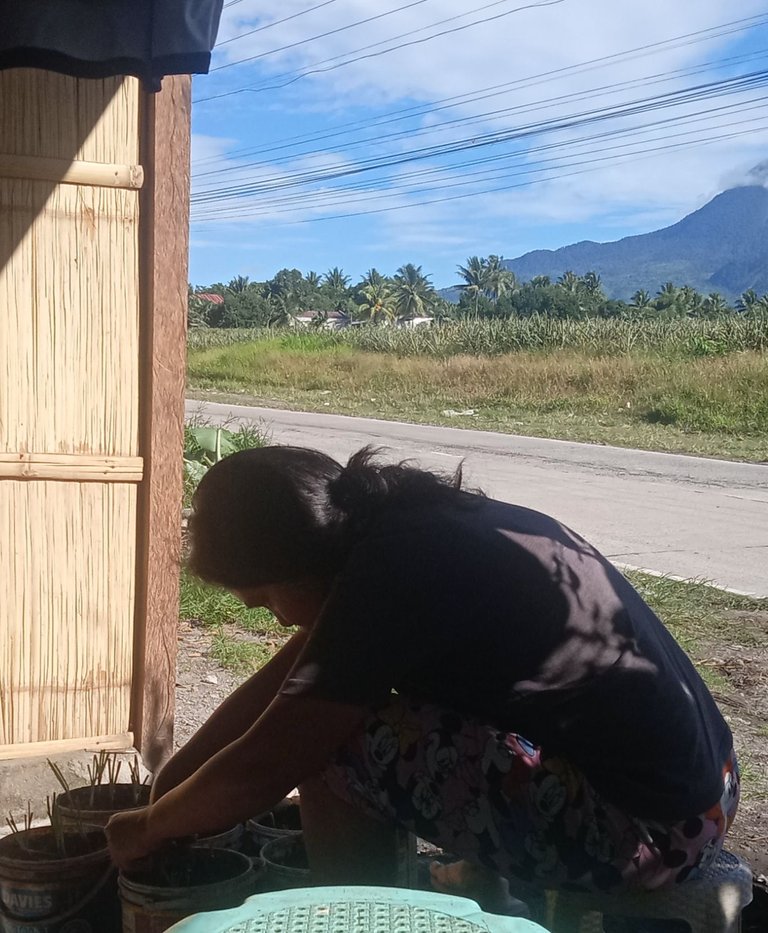 Today, I also replanted my spring onions because they look so unhealthy. I changed some good and healthy soil for them.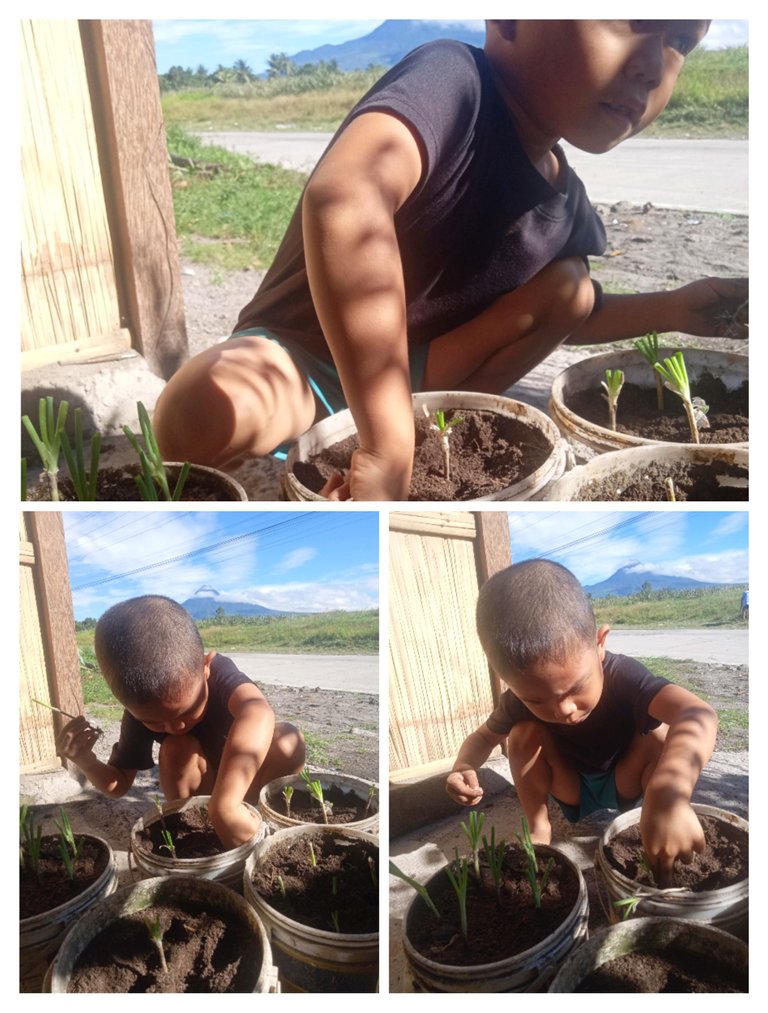 My son, wanted to plant too. So here he is, trying to make a hole by his little finger.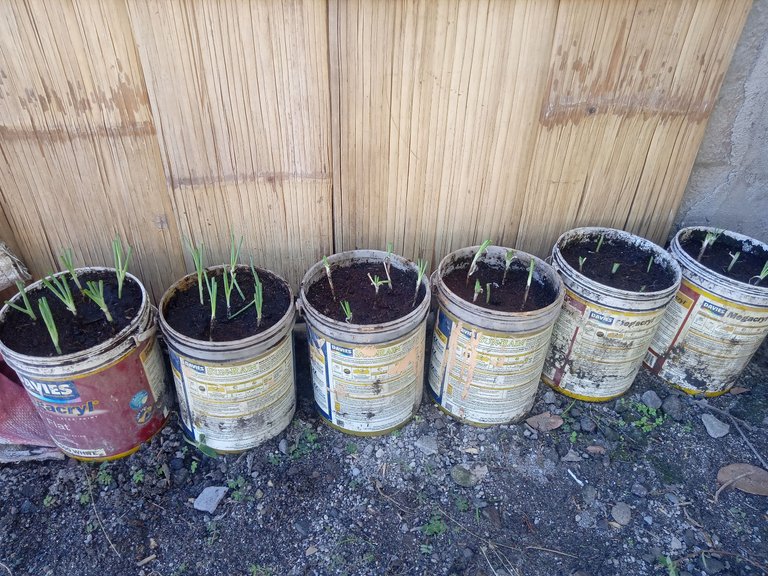 I put them on the side of the wall. Hopefully they will grow healthy despite they cannot see the sun often.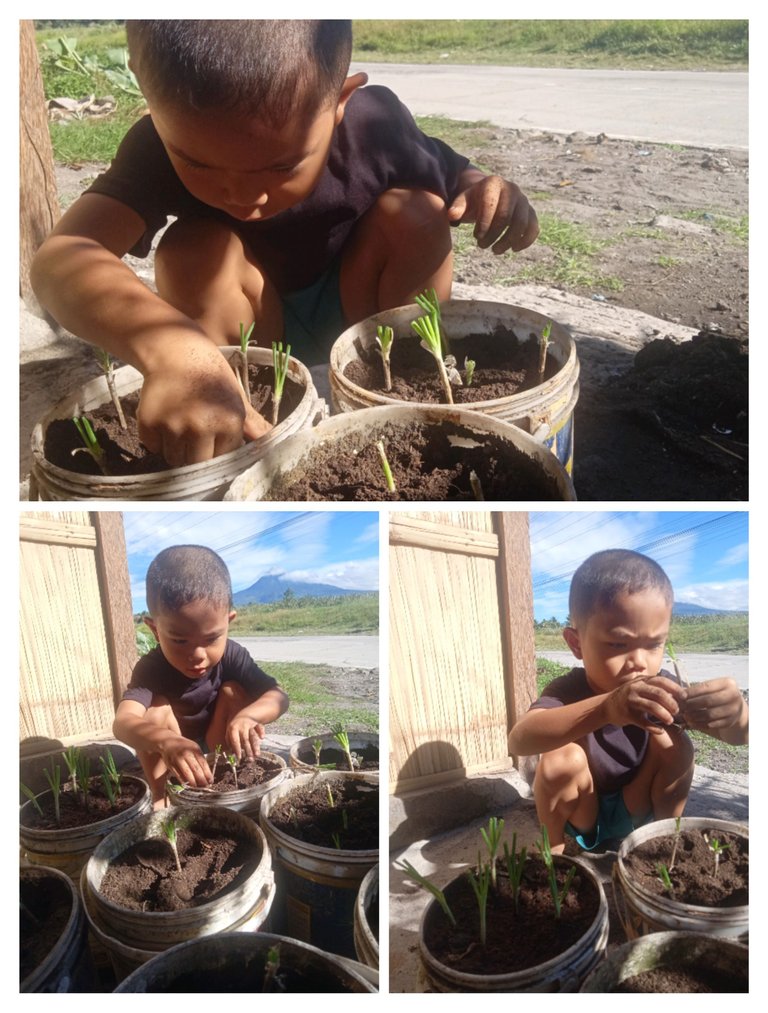 Then, he is so serious planting his spring onions.
We are happy to see them grows day by day. Every flower we see, makes us excited. Every small fruit makes us happy and when w have some harvest we feel so blessed as we can also able to share this blessings to others.
---
Thank you so much for reading. This is an update for the one and only garden journal challenge:
October 1 by @riverflows
---
Plant. Take care. Harvest. Have fresh and healthy vegetables. Share. Be a blessing.
---
---