Budgeting is absolutely needed
September 20, 2022
Budgeting is planning and allocating a specific amount to be spent for a particular necessities.
Is budgeting important?
Budgeting is necessary. It is essential to have budget so you will know a particular percentage or amount to be spent for a particular need or wants.
When you have a budget, it won't be difficult to find an amount to be paid or to be spent in a specific goods.
What are the benefits of budgeting to us?
When you have a specific budget for a specific thing, you will spend just the exact amount or lesser amount based on the budget. You don't have to spend more than it because if you do so, your budgeting is useless and you might spend the amount which is supposed to be allocated for the other things.
Having a budget will also help you monitor the in and out of your money.
You will also learn self discipline because you really need to spend according to the plan.
You will also learn temperance as need to control yourself on buying things which is needed or the things you just wanted. Sometimes or most of the time, food is one of the temptation to spend more even out of the budget. Am I right? We really need temperance on this.
How do I make a budget?
I am the eldest among the six siblings. When I have my first job, I became a breadwinner of the family. I need to support my parents for their needs especially for food and at the same time I have to support my younger brothers for their studies.
Because of that responsibility, I need to make a budget so I can alocate a specific amount for them every pay day.
When I get married, I do the same thing. Since day 1 of our marriage, I am the one who make a budget and fortunately it really helps and we don't have a problem about it.
When making a budget, I considered the income and the needs.
Income should be considered because your budget will depend on it. You cannot make a budget where its total is more than your income.
Needs is also to be considered. We need to list and alocate a budget for our needs first and foremost.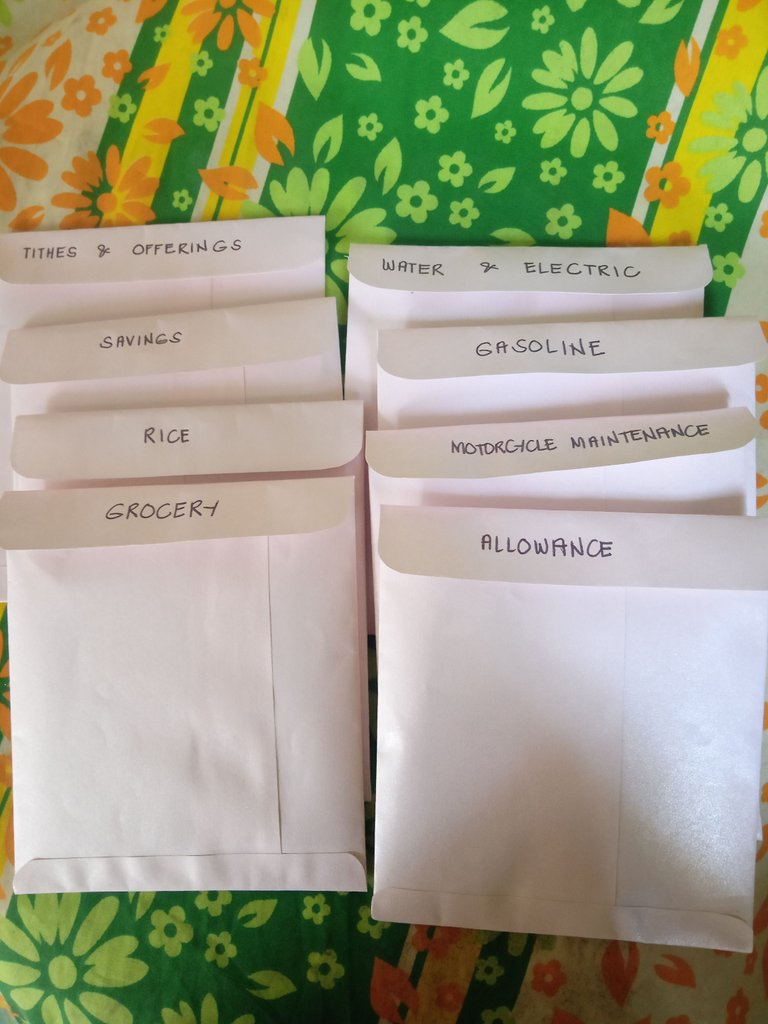 When budgeting, I provided a list of the needs and a small envelope for it where I will put the alocated budget.
I listed the basic needs and the amount is fix. Every pay day or salary day I will put a specific amount in the envelope based on the budget I made.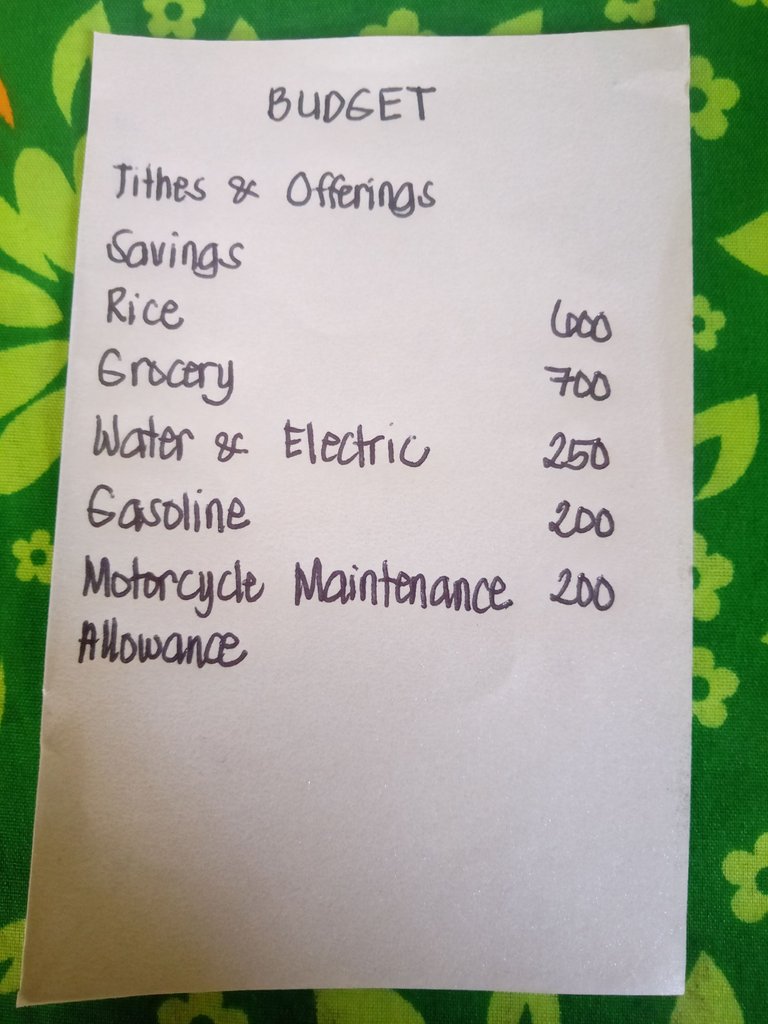 If you noticed, tithes and offerings is in the first of the list. I didn't put an amount because it will vary from the income.
In savings, I also didn't put an amount because it will also vary on the income.
Rice is the basic need. We are three in the family and we can consume about 25kg in four weeks or almost one month and it will cost about 950.00 - 1100.00 ($19-$22) depending of the price in the market. Since my husband salary is every two weeks, I alocate 600.00 ($12) per pay day so after one month I will have 1200 ($24) and we can buy 25kg rice.
Grocery is another basic needs in the house. I also alocate half of the budget every pay day so I can buy groceries once a month.
Water and electric is also needed. Water and electric company don't care if you have money to pay or not, what's important to them is you pay on or before the due date so your connection won't be disconnected. So, to avoid panicking or having head ache where to get money to pay the bills, budgeting is needed. So, every payday I alocate an amount estimated enough to pay for our water and electric bills. Fortunately we haven't experienced being disconnected due to lack of payment and I am thankful for this budgeting method.
Gasoline is also part of the budget because we have a tricycle. Motorcycle won't run without gasoline so I alocate some of my husband salary for it.
Motorcycle maintenance have an alocated budget too because motorcycle really need maintenance to continue its service to us. This tricycle is also another source of income of my husband and it will be added for our allowance and some abrupt needs.
Allowance don't have a specific amount because again it will depend on the income.

Last pay day my husband was able to work a complete payroll days which is 12 days and he have 3,141.71 as net pay. With this amount I was able to put an amount based on the planned budget and I also have some for savings
You might ask what if he will have a smaller salary? What will you do?
I will put an amount first on the basic needs like rice, grocery, water, electric and gasoline. I will skip the motorcycle maintenance and savings.
My husband salary is so small compared to others but still I am grateful because he have a regular job and it could sustain our basic needs. This is also the reason that we really need to spend according to the budget because if not, some of the needs cannot be provided.
As a housewife and a full time mom, I am trying my best to help my husband in financial aspects. I am a load retailer, an online seller and a writer in different blogging site aiming to help him in my own little ways.
I am responsible in budgeting so I know when and where to spend.
We really need to LIVE WITHIN OUR MEANS. It means that we should live according to what we have. We should spend according to the budget. Buy what is needed and buy your wants if you have some extra or you have alocated savings for that specific want.
---
Everyone have different needs and wants. Everyone have different spendings. Everyone have different level of income. Everyone have different ways of budgeting. What's important is, you make a BUDGET and you are following it.
All photos are mine.
---
Save more. Spend less. Do the budgeting.
Thank you so much for reading.
---
---