Pompón decorativo de calabaza. || Decorative pumpkin pompom.
Made in canva

¡Halloween se apoderó de mi blog!
Halloween took over my blog!
---
En mi blog iniciaron las publicaciones dedicadas a halloween, a partir de hoy los post que comparta sobre comida, manualidades y maquillaje serán inspirados en esta celebración, durante todo el mes mi blog será terroríficamente creativo, iniciaré esta serie con una artesanía simple, aunque admito que el resultado no es el mejor, debido a que necesité más estambre para el tamaño del patrón que usé, por supuesto ajusté medidas en el tutorial para que aquellos que lo sigan obtengan un mejor resultado, debo decir que esta manualidad pueden adecuarla a su gusto, no necesariamente basarla en halloween, pueden hacer pompones de gato, unicornio, pandas, lo que mejor prefieran.
In my blog began the publications dedicated to halloween, from today the posts I share about food, crafts and makeup will be inspired by this celebration, throughout the month my blog will be terrifyingly creative, I will start this series with a simple craft, although I admit that the result is not the best, because I needed more yarn for the size of the pattern I used, of course I adjusted measures in the tutorial so that those who follow it get a better result, I must say that this craft can be adapted to your taste, not necessarily based on halloween, you can make cat pompoms, unicorn, pandas, whatever you prefer.

Materiales: || Materials: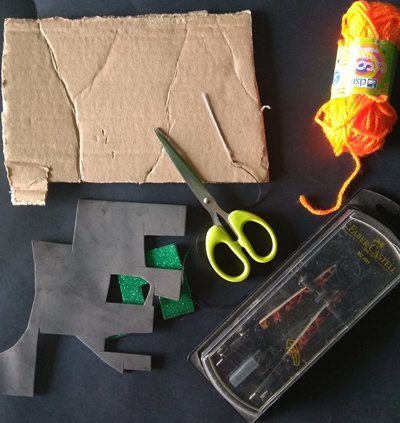 ▪️ Cartón.
▪️ Estambre o lana naranja.
▪️ Retazos de foami (negro y verde).
▪️ Aguja grande.
▪️ Compás.
▪️ Tijeras y pegamento.
▪️ Cardboard.
▪️ Orange yarn or wool.
▪️ Scraps of foami (black and green).
▪️ Large needle.
▪️ Compass.
▪️ Scissors and glue.

Paso a paso: || Step by step: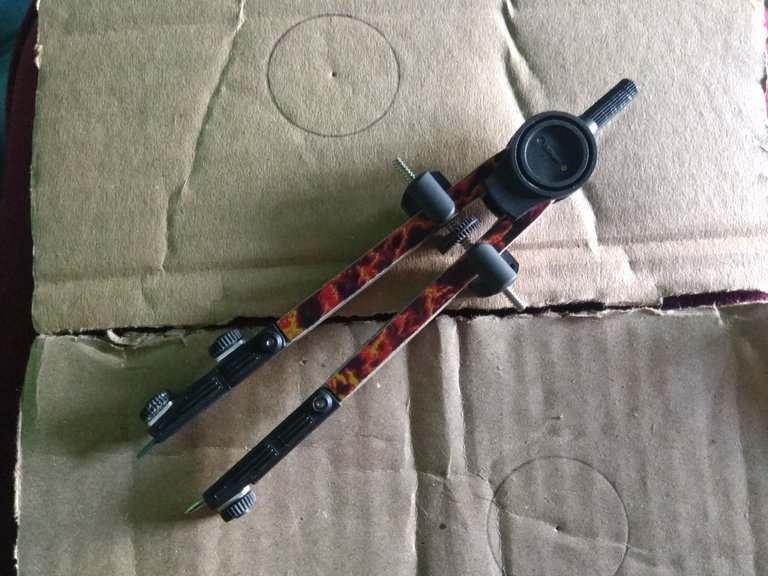 Primer paso: || First step:
▪️ Primero se debe crear una pomponera para que el resultado sea el esperado, debo confesar que usé una muy grande para la cantidad de estambre que tenía, sin embargo modifiqué las medidas para este tutorial, las ajusté a un carrete de estambre como el que se observa en la imagen de los materiales.
I must confess that I used a very large one for the amount of yarn I had, however I modified the measurements for this tutorial, I adjusted them to a spool of yarn like the one shown in the materials image.
---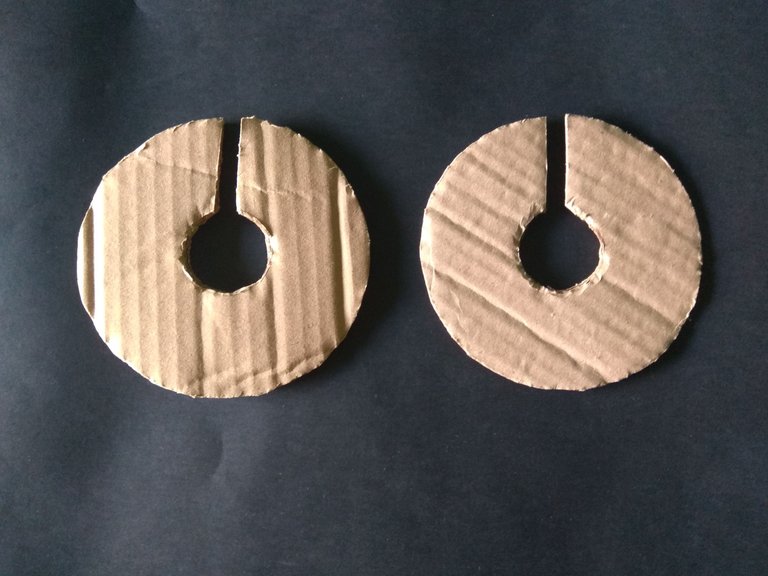 Segundo paso: || Second step:
▪️ Para hacer la pomponera se deben deben trazar dos círculos de 1,5 cm en una pieza de cartón, luego se debe trazar un círculo más grande de 4 cm, se recortan y se crea una abertura para introducir el hilo.
To make the pompom maker, two circles of 1.5 cm must be traced on a piece of cardboard, then a larger circle of 4 cm must be traced, cut out and an opening created to insert the thread.
---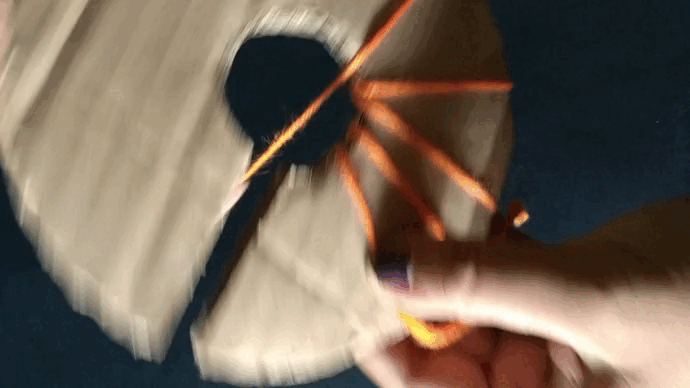 Tercer paso: || Third step:
▪️ Se coloca una pieza de cartón sobre otra y se empieza a enrollar el hilo, deben asegurarse de que el resultado final sea grueso, para que el pompon sea más esponjoso, además no apreten mucho a la hora de enrollar el hilo.
Place one piece of cardboard on top of the other and start winding the yarn. Make sure that the final result is thick, so that the pompon is fluffier, and do not press too hard when winding the yarn.
---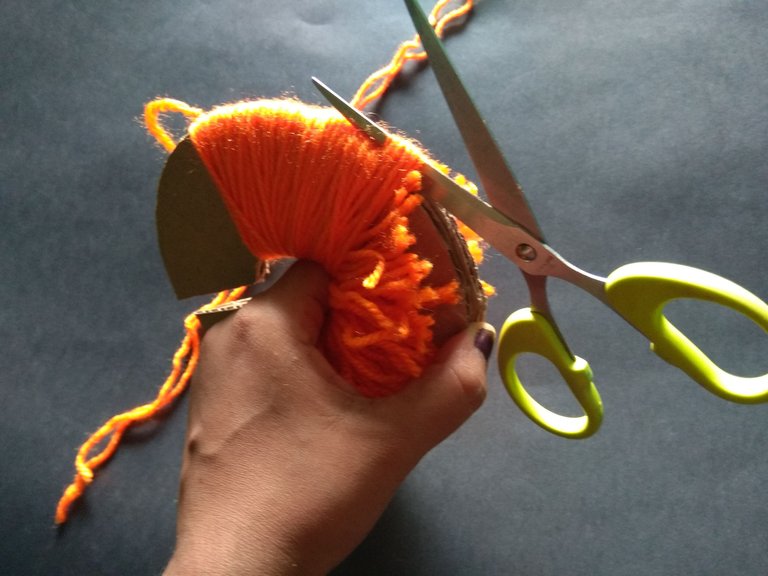 Cuarto paso: || Fourth step:
▪️ Dejamos a un lado dos tiras de estambre, seguido de ello cuidadosamente recortamos el estambre, esto se hace introduciendo la tijera entre los cartones.
We set aside two strips of yarn, followed by carefully trimming the yarn, this is done by inserting the scissors between the cardboards.
---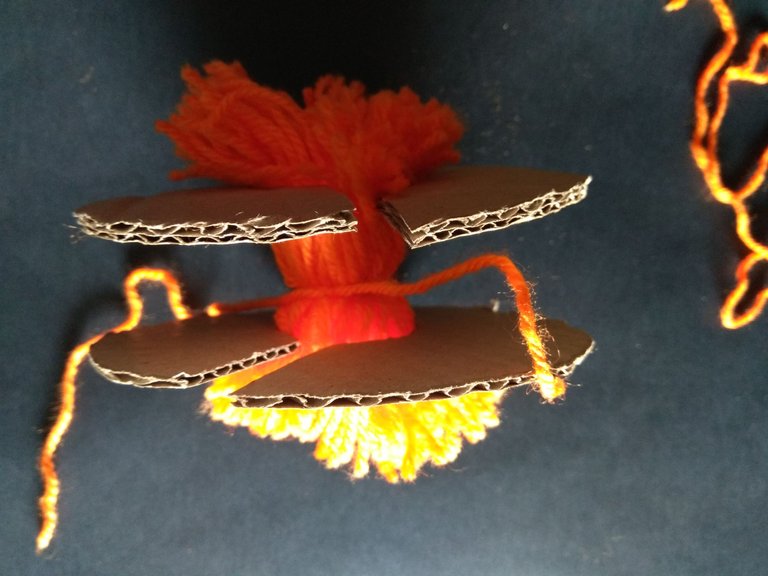 Quinto paso: || Fifth step:
▪️ Poco a poco metemos entre los cartones una tira de estambre y amarramos para que no se desate, aseguramos con una segunda tira.
Little by little we put a strip of yarn between the cartons and tie it so that it does not come undone, securing it with a second strip.
---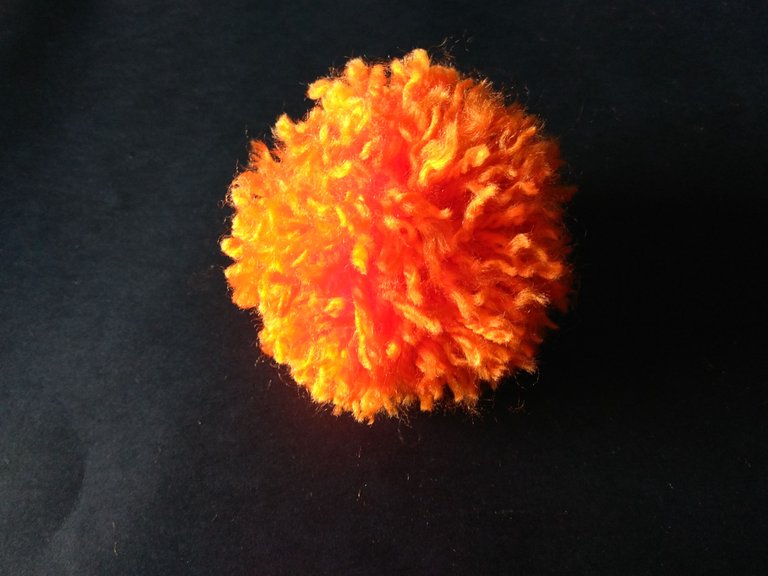 Sexto paso: || Sixth step:
▪️ Ahora simplemente se debe redondear el pompón usando la tijera, un tip que puedo brindarles si no quieren que cada hilo de lana se note, es usar un peine y desenredar cada hilo, esto le dará meor apariencia al pompón.
Now simply round the pompom using the scissors, a tip I can give you if you do not want each thread of yarn to be noticeable, is to use a comb and untangle each thread, this will give the pompom a better appearance.
---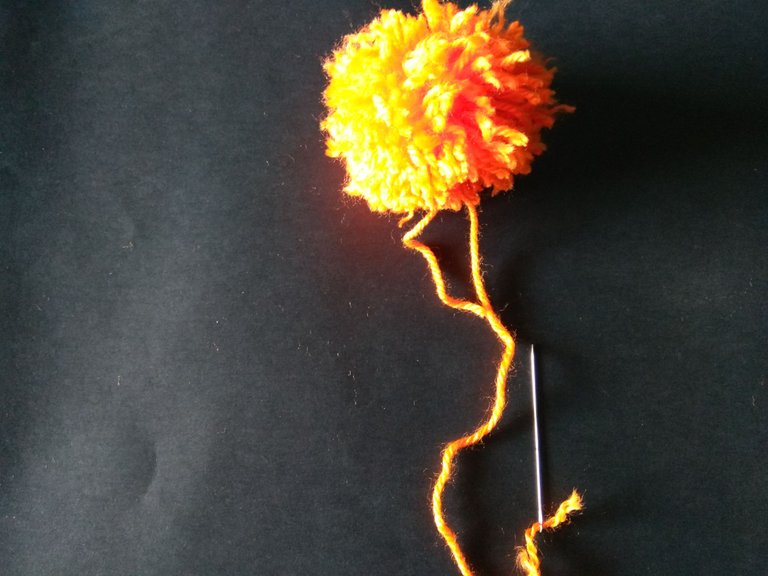 Séptimo paso: || Seventh step:
▪️ Este paso es opcional, pero si desear usar como llavero o colgar el pompón, puede en introducir con una aguja estambre a través del pompón y crear una agarradera.
This step is optional, but if you wish to use the pompom as a keychain or to hang the pompom, you can thread a yarn needle through the pompom and create a handle.
---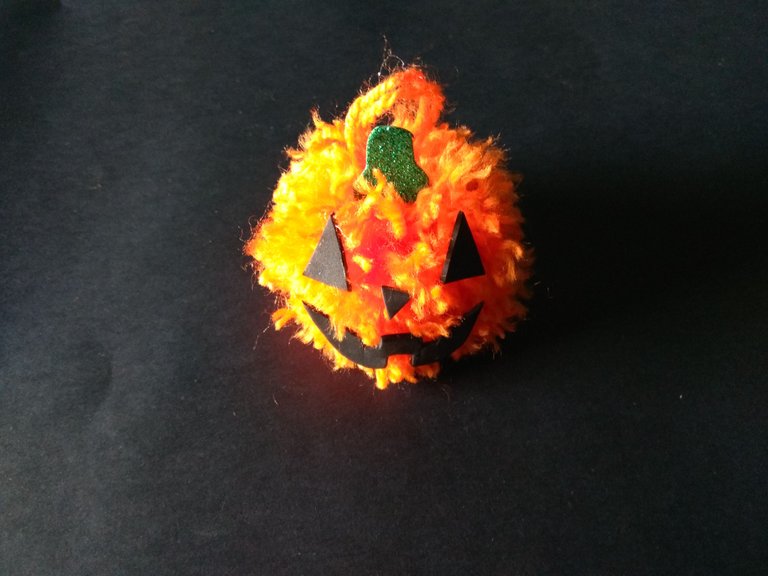 Octavo paso: || Eighth step:
▪️ Este pompón lo decoré con rasgos de calabaza de halloween, estos los hice en foami y lo pegué con silicón líquido.
I decorated this pompom with halloween pumpkin features, I made them in foami and glued them with liquid silicone.

Pompón decorativo de calabaza. || Decorative pumpkin pompom.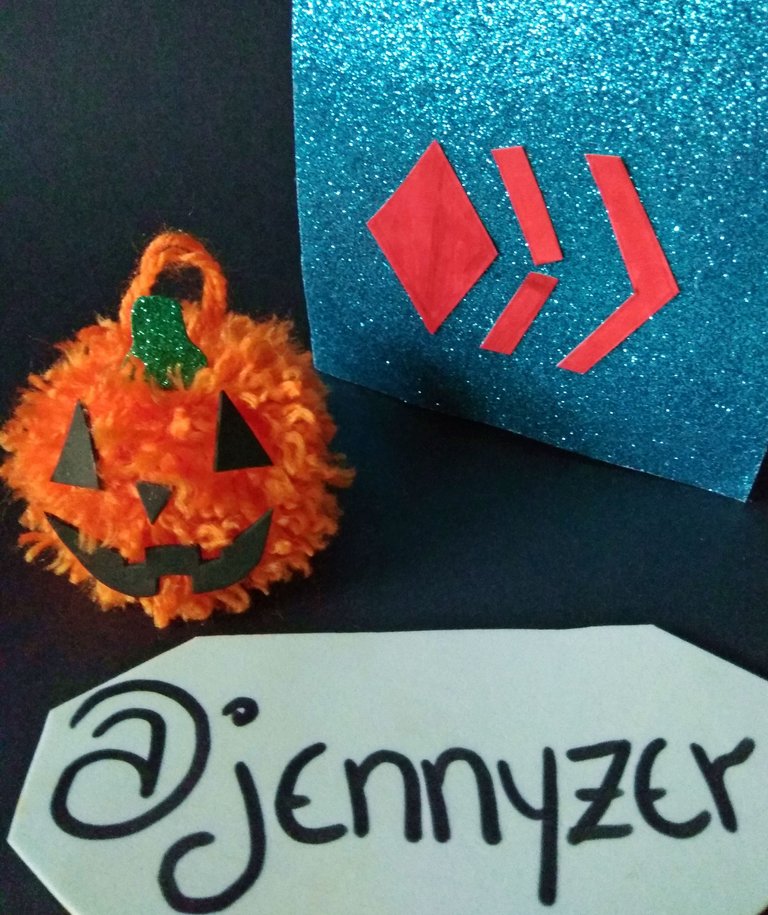 ---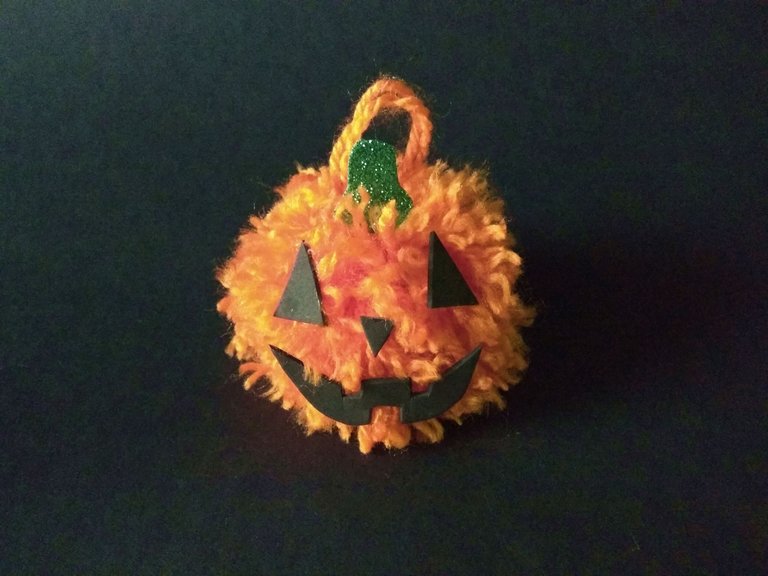 ---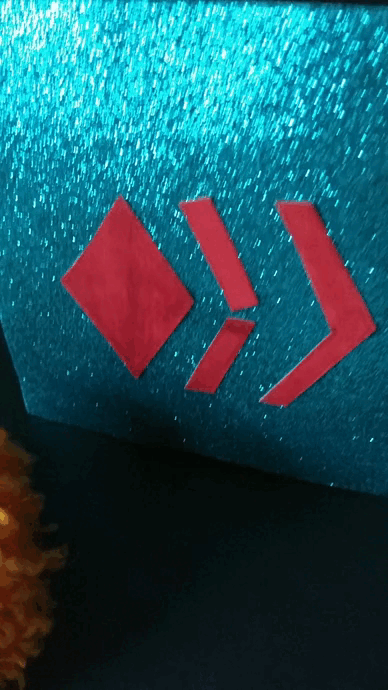 ---

---
Imágenes tomadas desde mi Xiaomi Redmi Note 4. || Images taken from my Xiaomi Redmi Note 4.
Separadores hechos en PhotoScape. || Dividers made in PhotoScape.
Ediciones hechas en Photoscape. || Editions made in Photoscape.
Translator Deepl.
---
---