Forro para lentes. || Lens lining.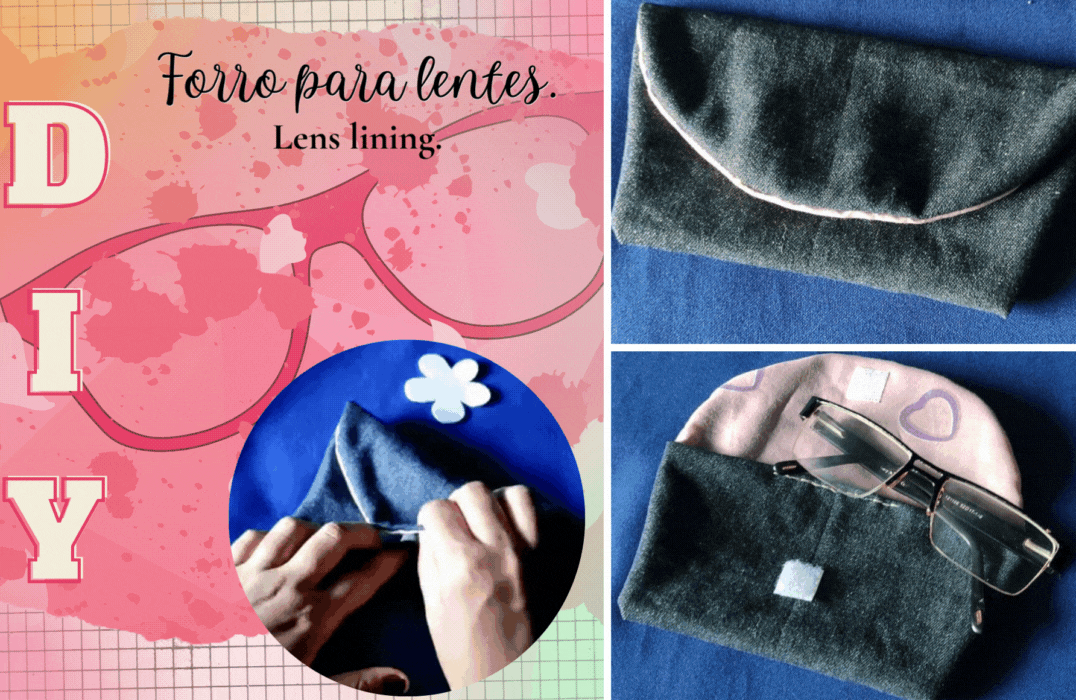 Made in canva

Ya mis lentes necesitaban un nuevo forro esta fue la escusa para poner manos a la hora y hacer una nueva costura, hola amigos de needleworkmonday ya extrañaba compartir contenido por acá, como leen les enseñaré otro fácil pero muy útil tutorial que muestra paso a paso como hacer un forro para lentes reusando tela, usé dos tipos de tela, el truco esta en escoger para el exterior una tela fuerte, sería ideal reusar la tela de algún jean sin usar que tengan tomando polvo en una esquina de su armario, en mi caso di una segunda oportunidad a una camisa que ya no me quedaba y tenía mucho tiempo ocupando un espacio innecesario en mi closet.
My glasses needed a new lining, this was the excuse to put my hands to work and make a new sewing, hello friends of needleworkmonday I missed sharing content here, as you read I will show you another easy but very useful tutorial that shows step by step how to make a lining for glasses reusing fabric, I used two types of fabric, the trick is to choose a strong fabric for the outside, it would be ideal to reuse the fabric of some unused jeans that you have gathering dust in a corner of your closet, in my case I gave a second chance to a shirt that no longer fit me and had long time occupying unnecessary space in my closet.

Este compacto forro puede ser reversible, en ese caso les recomiendo omitir colocar seguro para que sea sencillo cambiar de una tela a otra, sin más espero les guste este tutorial.
This compact lining can be reversible, in that case I recommend omitting the insurance to make it easy to change from one fabric to another, without further ado I hope you like this tutorial.

Materiales: || Materials: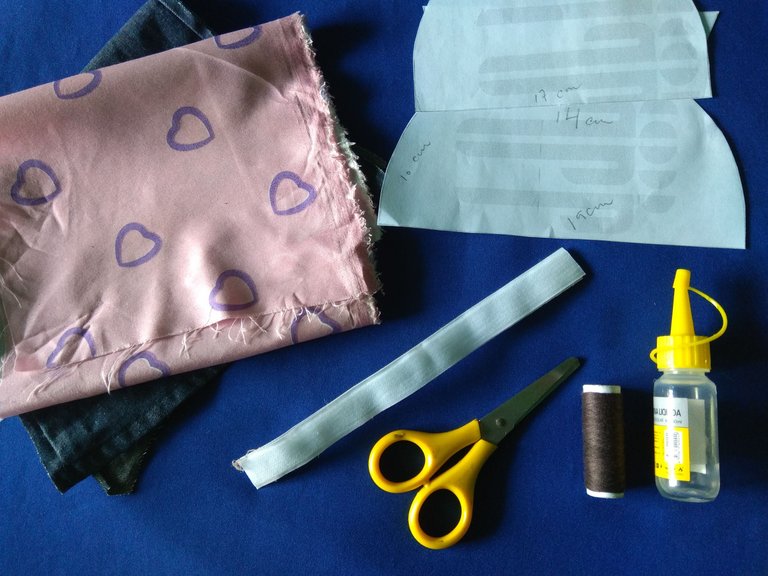 ▪️ Tela de jeans, tela para el forro, hilo, aguja, papel, lápiz, velcro, silicón líquido, compás, regla geométrica, marcador o tiza.
Denim fabric, lining fabric, thread, needle, paper, pencil, Velcro, liquid silicone, compass, geometric ruler, marker or chalk.

Paso a paso: || Step by step: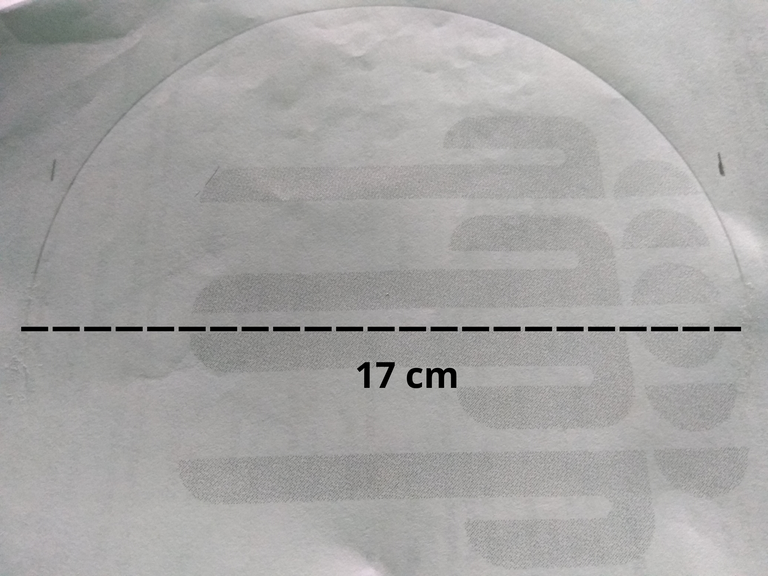 Primer paso: || First step:
▪️ Por supuesto el paso iniciar será hacer los patrones, consideren las medidas de sus lentes para crear el patrón, primero tracé una línea de 17 cm, a partir de allí medí 11 cm y usando el compás tracé un semi-círculo sobre la marca.
Of course the first step will be to make the patterns, consider the measurements of your lenses to create the pattern, first I drew a line of 17 cm, from there I measured 11 cm and using the compass I drew a semi-circle on the mark.
---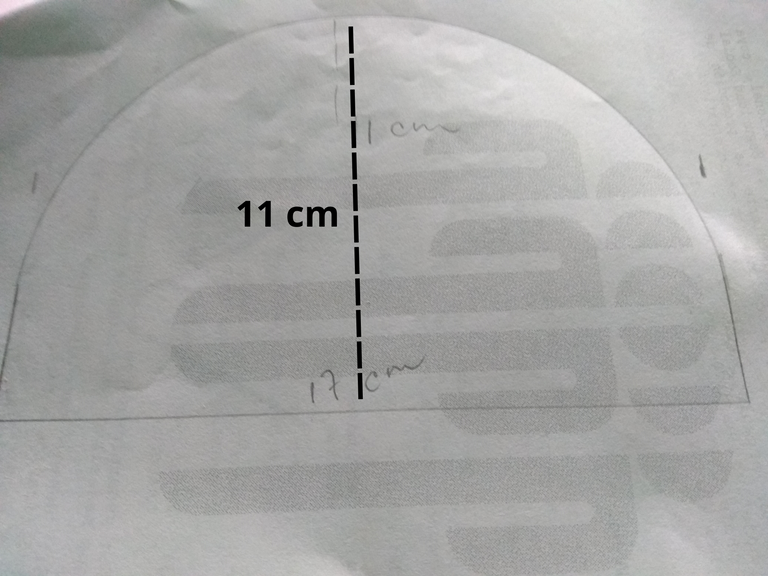 Segundo paso: || Second step:
▪️ Recorten la pieza, representa el primer patrón y es la tapa del forro.
Cut out the piece, it represents the first pattern and is the lining cover.
---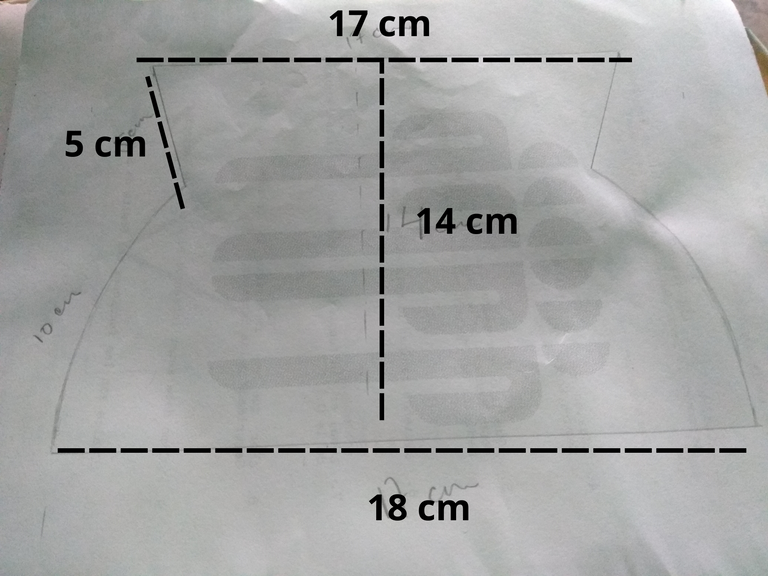 Tercer paso: || Third step:
▪️ La otra pieza es un poco más complicada, la primera media debe coincidir con el patrón anterior, desde ese punto tomen como referencia la imagen mostrada.
The other piece is a little more complicated, the first stocking must match the previous pattern, from that point take as a reference the image shown.
---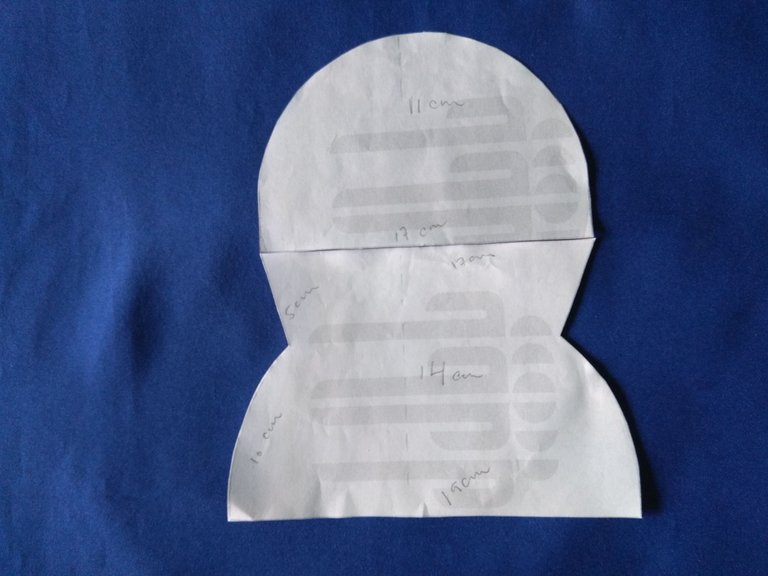 Cuarto paso: || Fourth step:
▪️ Ambas piezas unidas conforman el patrón para crear el forro.
Both pieces together form the pattern to create the lining.
---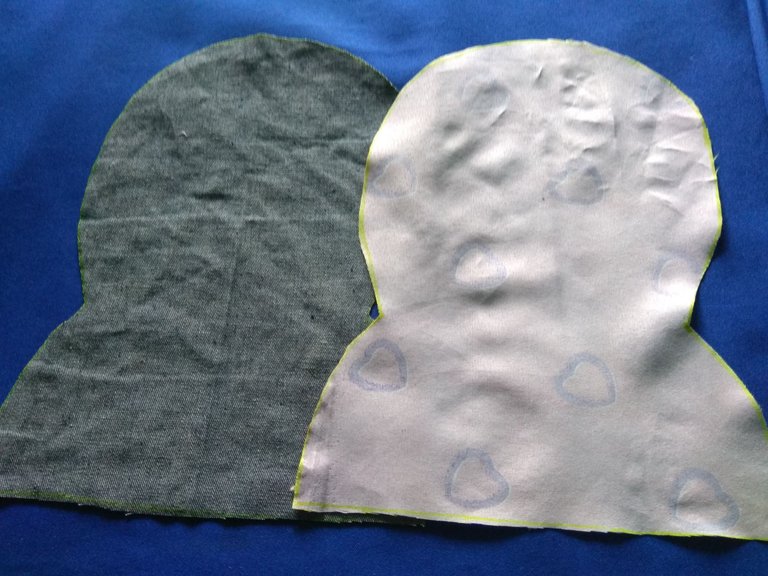 Quinto paso: || Fifth step:
▪️ Tracé en las telas los patrones y las recorté, es mejor usar tiza para trazar como no tenía usé marcador y eso deja el borde de la tela manchado, por suerte al coser no se nota.
I traced the patterns on the fabrics and cut them out, it is better to use chalk to trace as I didn't have it I used marker and that leaves the edge of the fabric stained, luckily when sewing it is not noticeable.
---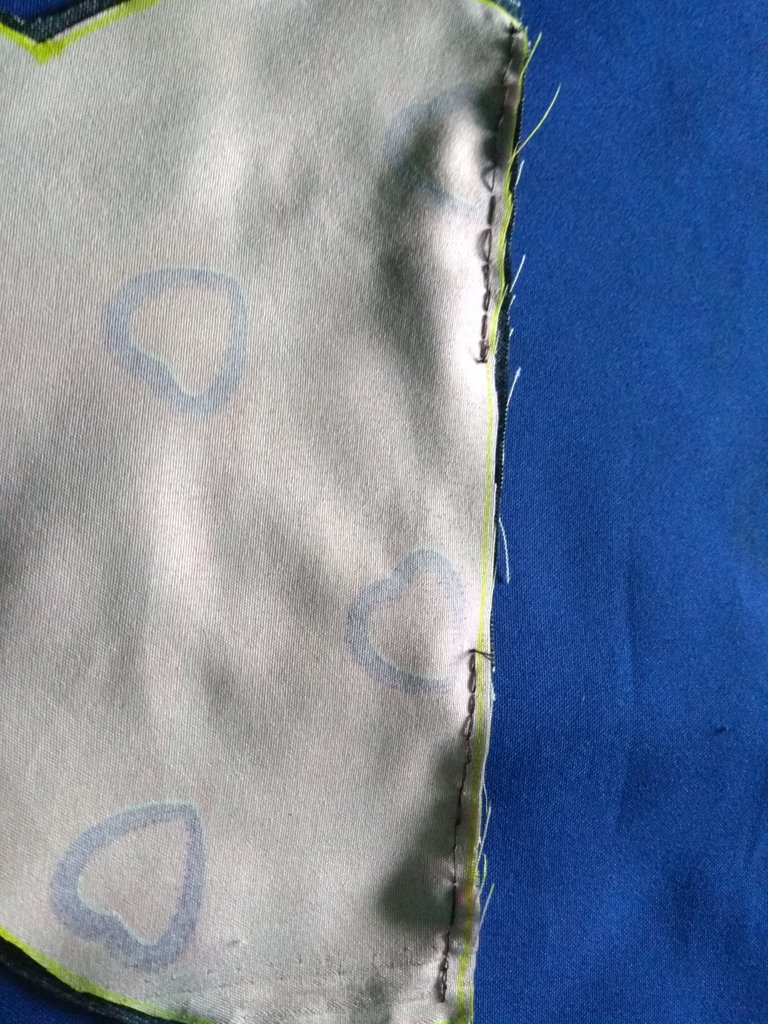 Sexto paso: || Sixth step:
▪️ Uní ambas telas con el frente viéndose y cosí dejando libre el centro, por allí podré dar vuelta a la costura.
I joined both fabrics with the front showing and sewed leaving the center free, so that I can turn the seam.
---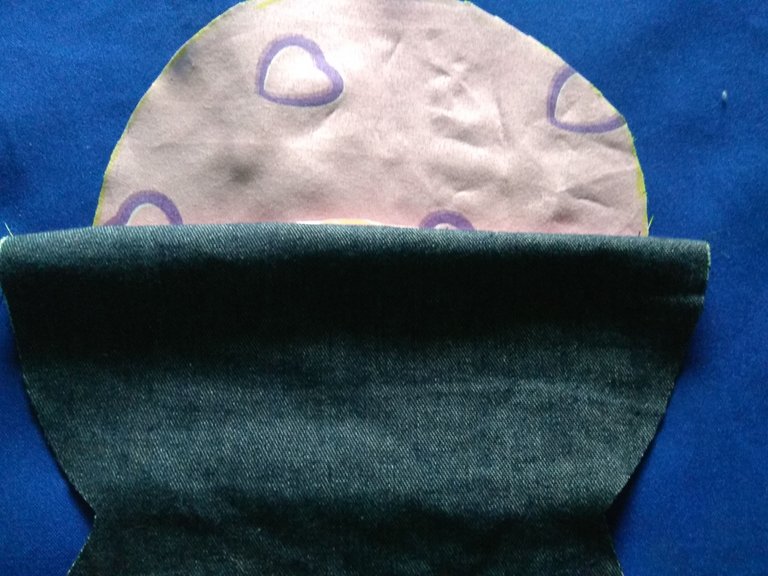 Séptimo paso: || Seventh step:
▪️ Abrí la tela e hice un dobles colocando ambas telas dobladas sobre la tela más delgada.
I opened the fabric and made a double by placing both fabrics folded over the thinner fabric.
---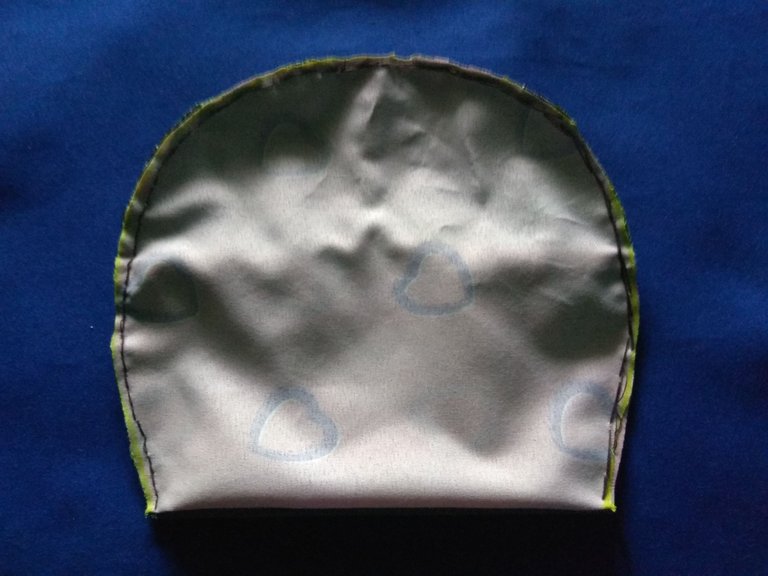 Octavo paso: || Eighth step:
▪️ Uní la parte restante y cosí todo el borde, si desean pueden cortar el excedente.
Join the remaining part and sew all around the edge, if you wish you can cut off the excess.
---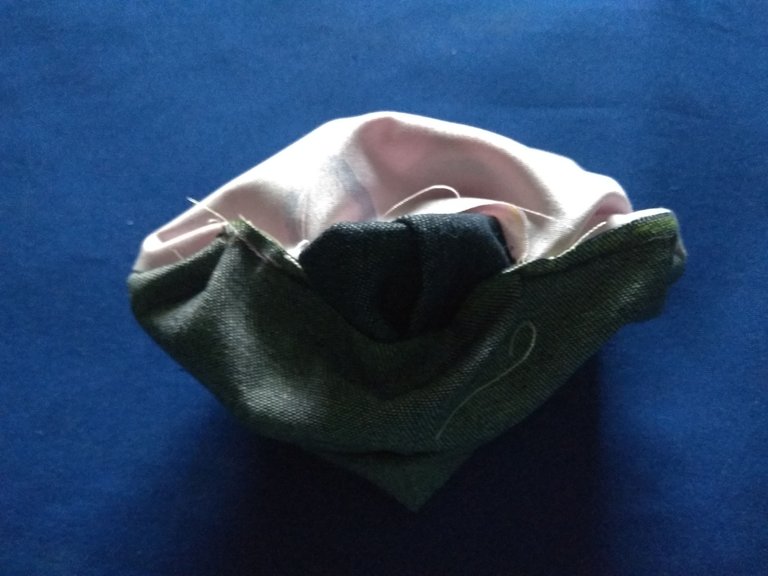 Noveno paso: || Ninth step:
▪️ Di vuelta por la abertura sin coser, luego por la primera abertura hecha di nuevamente vuelta, para dejar el frente de la tela expuesto, deben buscar la forma al forro.
I turned through the opening without sewing, then through the first opening made I turned again, to leave the front of the fabric exposed, to find the shape of the lining.
---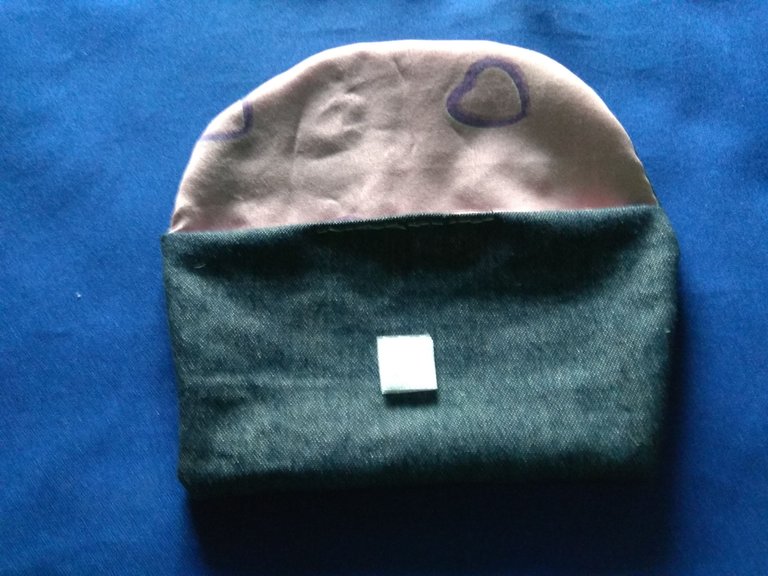 Décimo paso: || Tenth step:
▪️ Finalmente peguen un pedacito de velcro para cerrar y abrir su forro, aunque pueden optar por tener un forro reversible, en ese caso no coloquen velcro.
Finally glue a little piece of Velcro to close and open your lining, although you can choose to have a reversible lining, in that case do not place Velcro.

Forro para lentes. || Lens lining.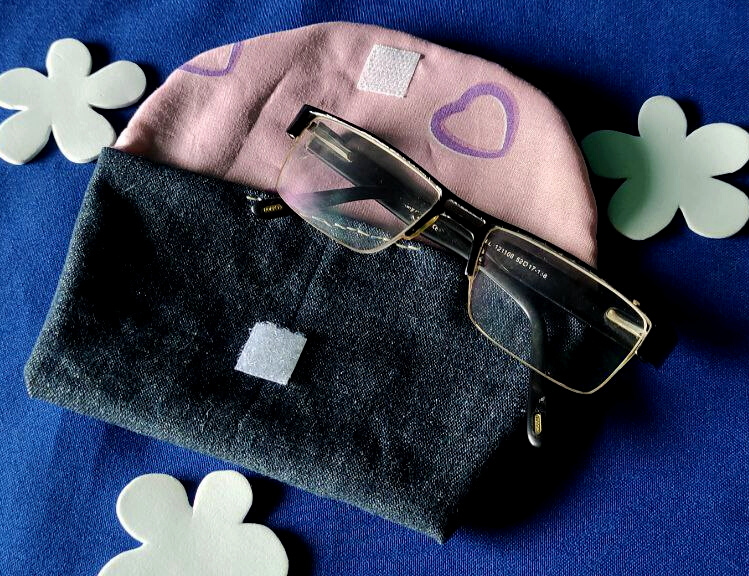 ---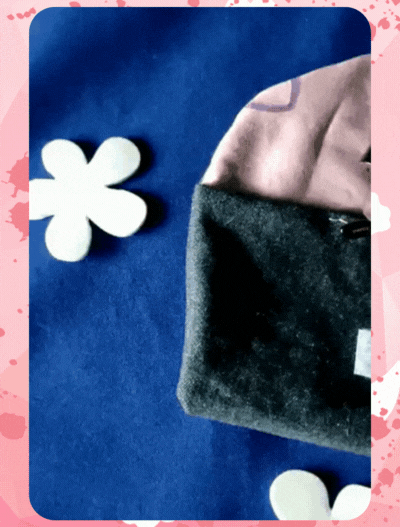 ---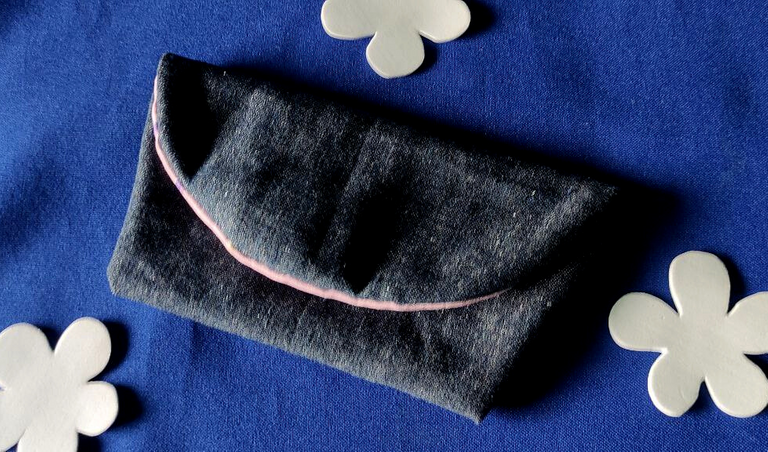 Por favor siéntanse libre de dejar sus comentarios, todas la criticas serán bien recibidas, gracias por llegar hasta aquí.
Please feel free to leave your comments, all criticisms are welcome, thank you for making it this far.



Imágenes tomadas desde mi Xiaomi Redmi Note 4. || Images taken from my Xiaomi Redmi Note 4.
Separadores hechos en Canva. || Dividers made in Canva.
Ediciones hechas en Canva. || Editions made in Canva.
Vídeos convertidos en gif || Videos converted to gif IMG2GO
Translator Deepl.
---
---