Convierte un frasco en un vaso reciclado. || Turn a jar into a recycled cup.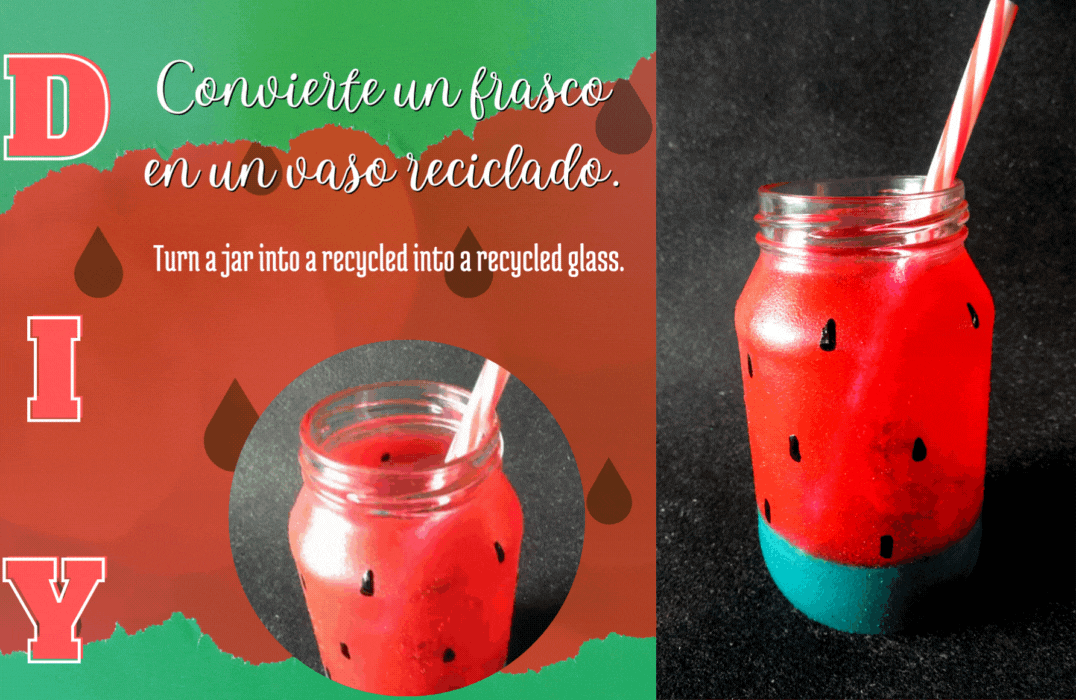 Made in canva

Casi acaba la semana pero las publicaciones no, el tutorial de este día es un vaso hecho a partir de un frasco, muchos tenemos este tipo de frasco en nuestro hogares, algunas personas al vaciar su interior los arrogan a la basura sin ver el potencial que tienen, te enseñaré un muy simple paso a paso que no requiere de mucho para convertir un frasco en un útil vaso decorado de vidrio que puede durar mucho.
The week is almost over but the publications are not, today's tutorial is a glass made from a jar, many of us have this type of jar in our homes, some people when emptying the inside throw them away without seeing the potential they have, I will show you a very simple step by step that does not require much to turn a jar into a useful decorated glass tumbler that can last a long time.

Necesitarás pintura de uñas, más adelante verás todos los materiales pero te adelanto que el diseño es inspirado en una patilla, con esto quiero decir que pueden hacer el diseño que quiere, puede ser frutal, de muchos colores, de animales, o incluso algo muy hermoso como una galaxia mezclando colores escharchados, como siempre resalto no pongan límites a su creatividad.
You will need nail polish, later you will see all the materials but I advance you that the design is inspired by a sideburn, with this I mean that you can make the design you want, it can be fruity, many colors, animals, or even something very beautiful like a galaxy mixing colors escharchados, as always I emphasize do not put limits to your creativity.

Materiales: || Materials: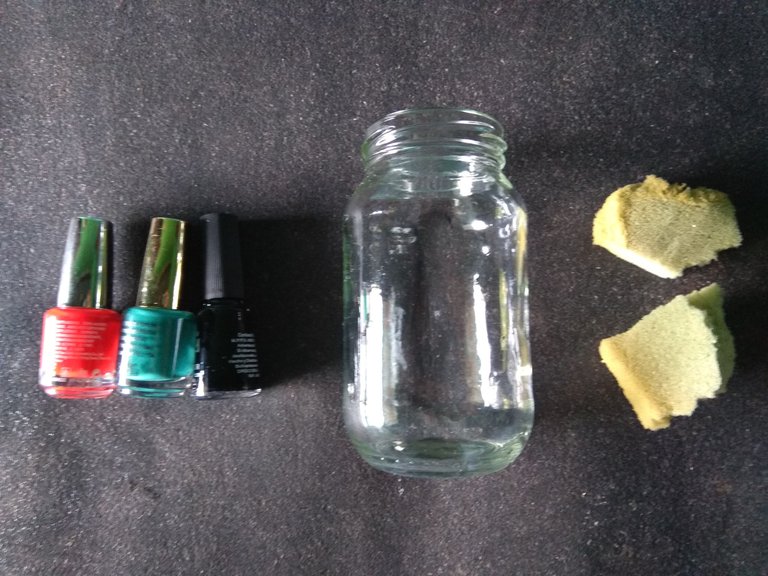 ▪️ Frasco de vidrio, pinturas de uñas (roja, verde y negra), esponja y envase.
Glass bottle, nail paints (red, green and black), sponge and container.

Paso a paso: || Step by step: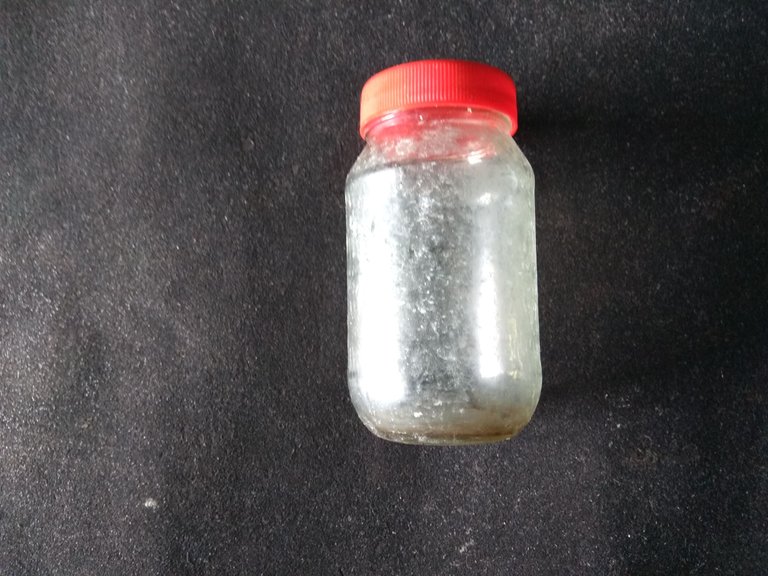 Primer paso: || First step:
▪️ El frasco que usé era un envase de mayonesa que mi mamá tenía guardado pero evidentemente jamás le dio uso, estaba completamente sucio.
The jar I used was a mayonnaise container that my mom had saved but evidently never used, it was completely dirty.
---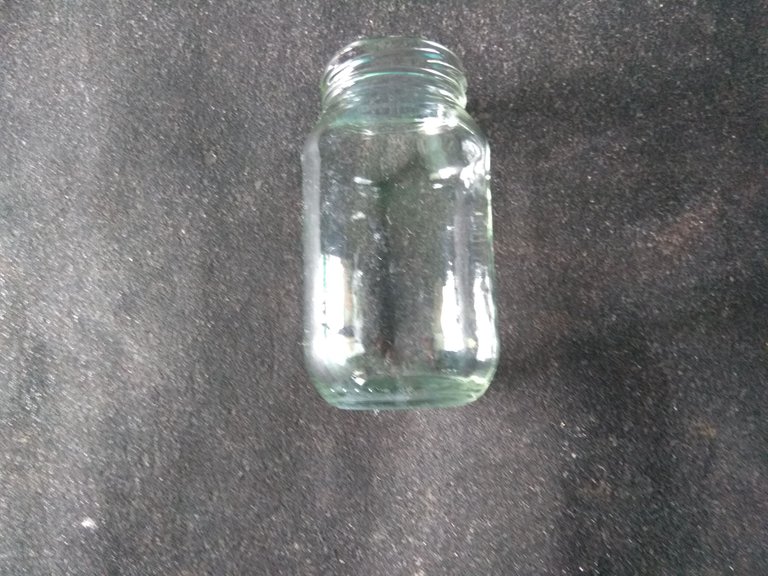 Segundo paso: || Second step:
▪️ Entonces mi primer paso fue lavar y secar el frasco, debe estar completamente seco para que la pintura pueda adherirse con facilidad.
So my first step was to wash and dry the jar, it must be completely dry for the paint to adhere easily.
---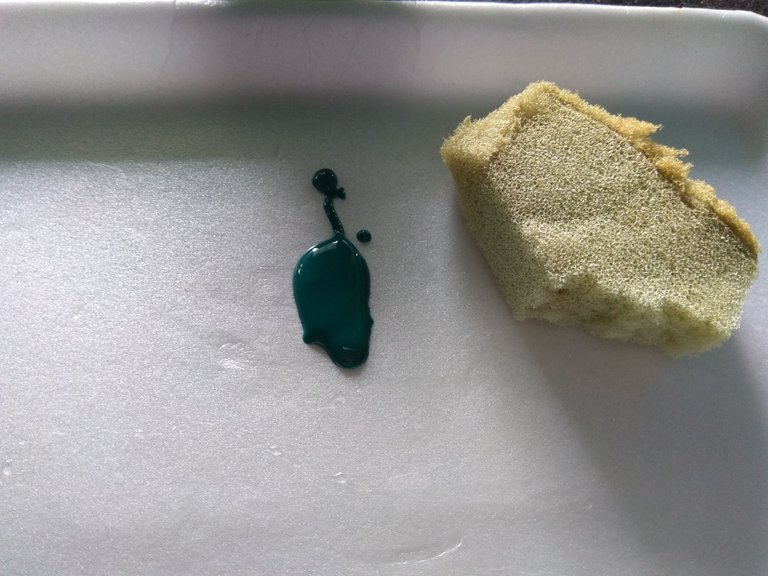 Tercer paso: || Third step:
▪️ En un envase agregué un poco de la pintura verde, esta será la base de la decoración de patilla, al agregar la pintura en el frasco pueden controlar la cantidad que usarán, recuerden que es pintura de uñas por ende seca rápido.
In a container I added some of the green paint, this will be the base of the sideburn decoration, when adding the paint in the bottle you can control the amount you will use, remember that it is nail polish so it dries fast.
---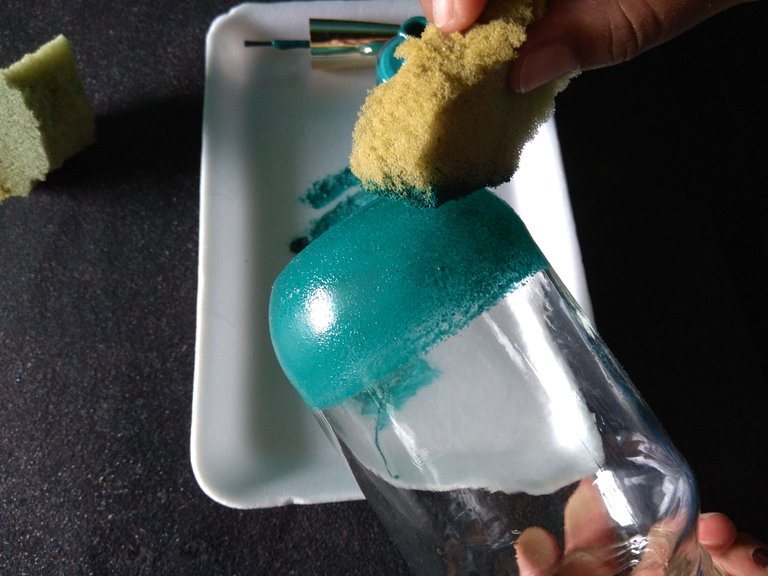 Cuarto paso: || Fourth step:
▪️ Mi esponja tenía una base cuadrada, esto me sirvió para marcar una línea y dividir el frasco, tengan en cuenta que deberán cambiar de esponja en cada capa que apliquen.
My sponge had a square base, this helped me to mark a line and divide the bottle, keep in mind that you will have to change sponge in each layer you apply.
---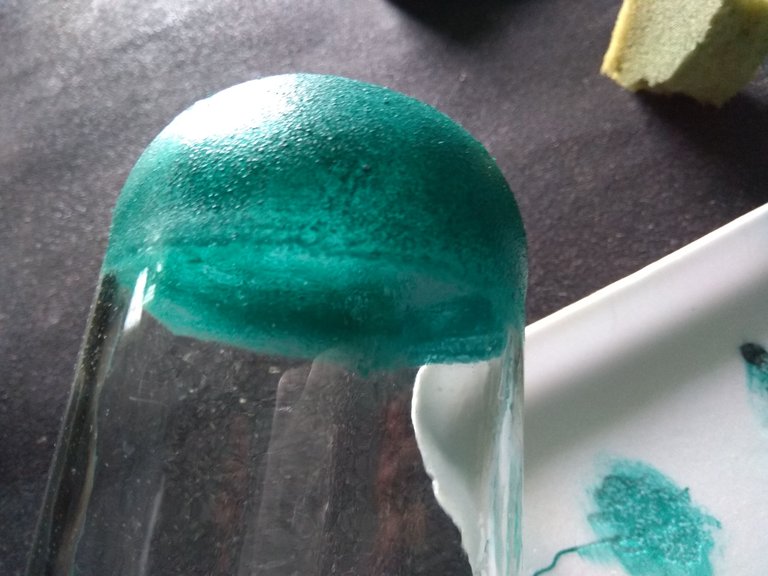 Quinto paso: || Fifth step:
▪️ Apliqué dos capas generosas de color verde y deje secar.
I applied two generous coats of green and let it dry.
---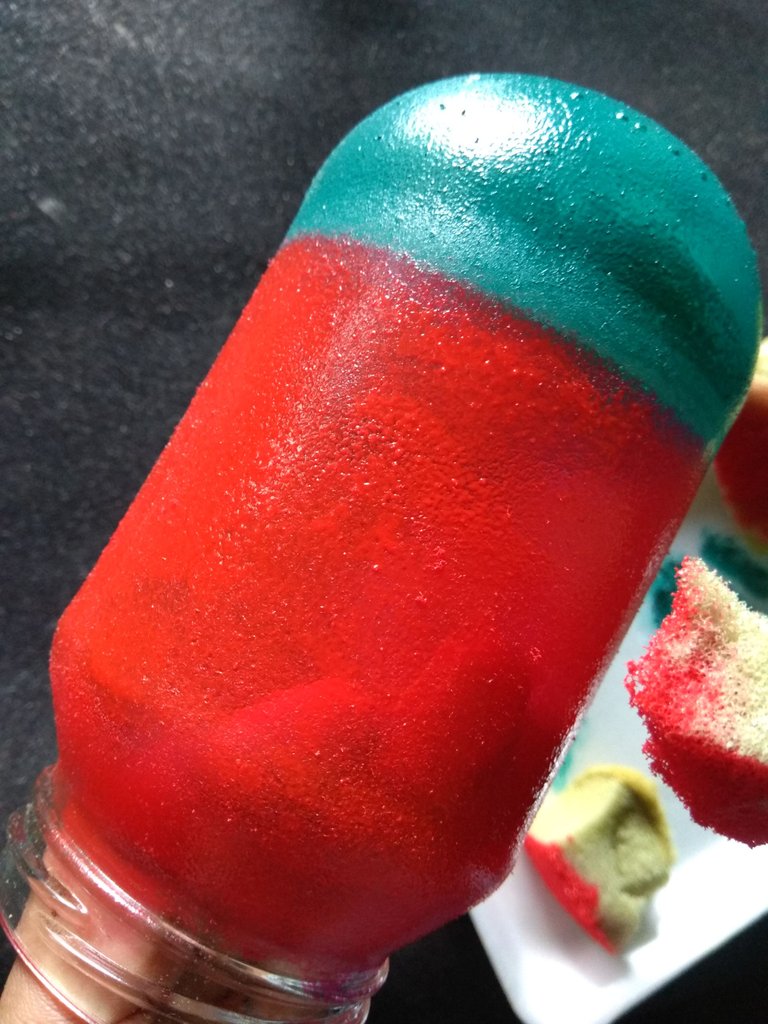 Sexto paso: || Sixth step:
▪️ Luego proseguí con el color rojo, cambié de esponja para iniciar con este color, apliqué tres capas, el color no era muy intenso consideren la pigmentación de sus colores al decorar.
Then I proceeded with the red color, I changed the sponge to start with this color, I applied three coats, the color was not very intense, consider the pigmentation of your colors when decorating.
---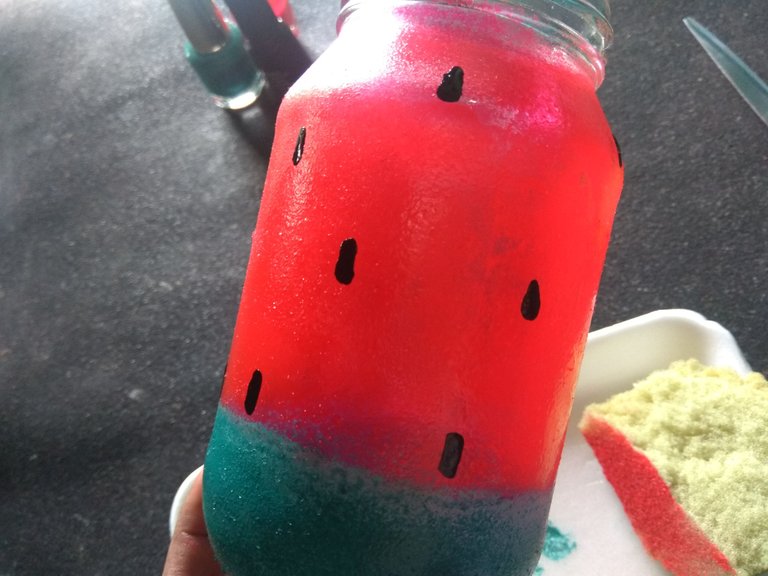 Séptimo paso: || Seventh step:
▪️ A esta decoración le faltan semillas, para ello usé pintura negra aunque fue difícil conseguir la forma perfecta de semillas, si harán este diseño les recomiendo usar un pincel fino con cerdas resistentes a este tipo de pintura.
This decoration lacks seeds, for this I used black paint although it was difficult to get the perfect seed shape, if you will make this design I recommend using a fine brush with bristles resistant to this type of paint.

Convierte un frasco en un vaso reciclado. || Turn a jar into a recycled cup.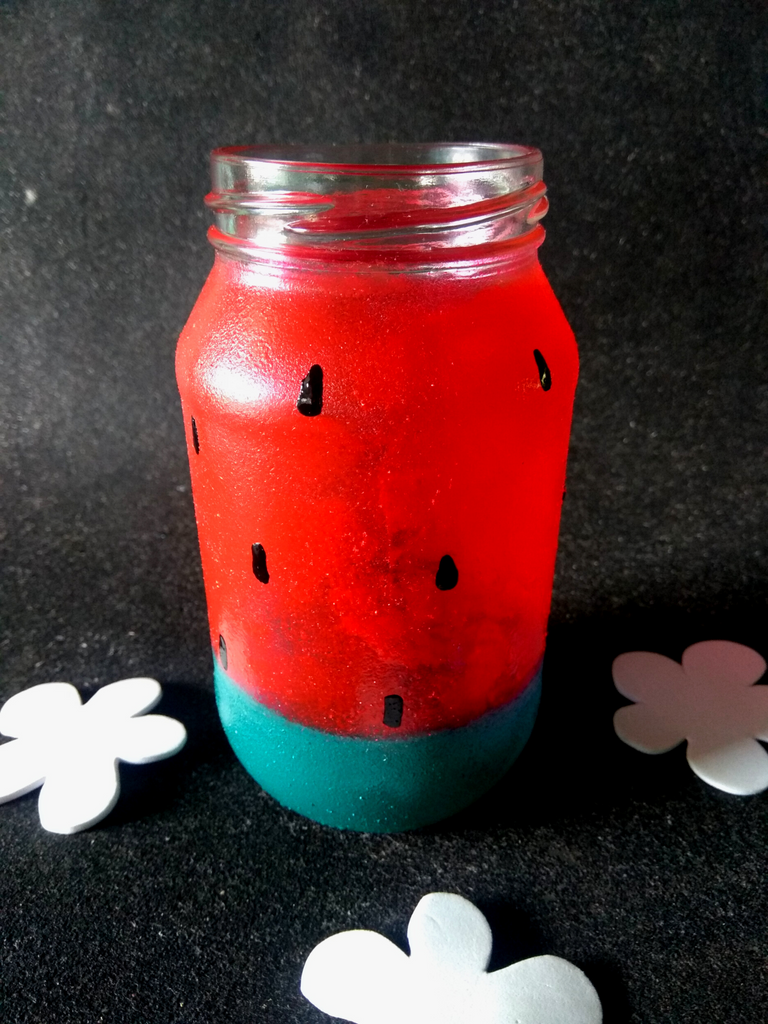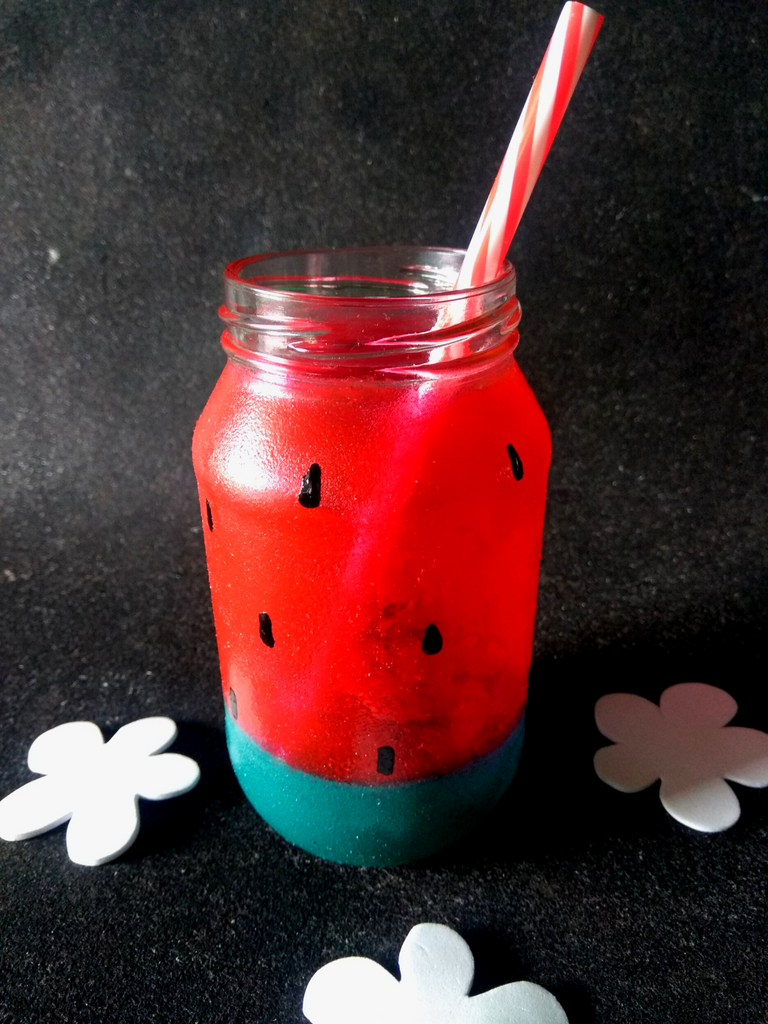 ---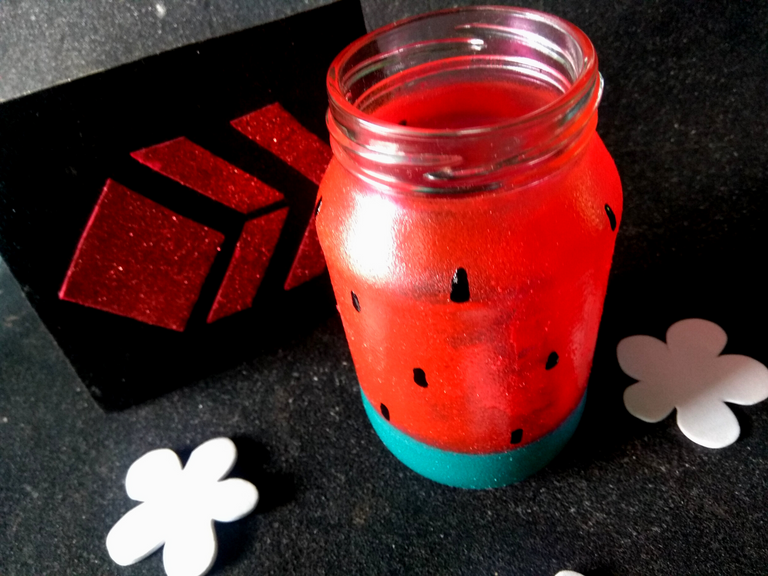 ---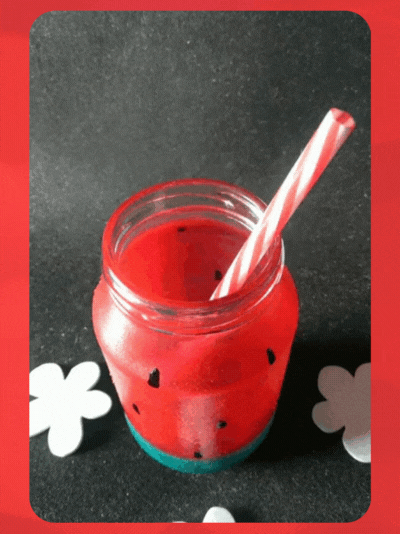 ¿Qué les parece esta manualidad? esta es una creativa manera de alargar la útil de un frasco de vidrio, al ser pintado con pinturas de uñas le da resistencia al diseño, pueden lavar con tranquilidad que no se caerá nada de la pintura, aunque si sienten dudas pueden sellar con algún brillo de uñas esta será una capa extra de resistencia, sólo me queda recordar que pueden inspirarse en el diseño que más les guste, por supuesto dejando volar su creatividad espero les sirva este contenido, gracias por llegar hasta aquí.
What do you think of this craft? this is a creative way to extend the useful life of a glass jar, to be painted with nail polish gives resistance to the design, you can wash with peace of mind that nothing will fall off the paint, although if you feel doubts can seal with some nail polish this will be an extra layer of resistance, I just remember that you can be inspired by the design that you like, of course letting your creativity fly I hope you use this content, thank you for coming here.



Imágenes tomadas desde mi Xiaomi Redmi Note 4. || Images taken from my Xiaomi Redmi Note 4.
Separadores hechos en Canva. || Dividers made in Canva.
Ediciones hechas en Canva. || Editions made in Canva.
Vídeos convertidos en gif || Videos converted to gif IMG2GO
Translator Deepl.
---
---