SOLOGENIC(SOLO) TOKEN TO THE MOON!!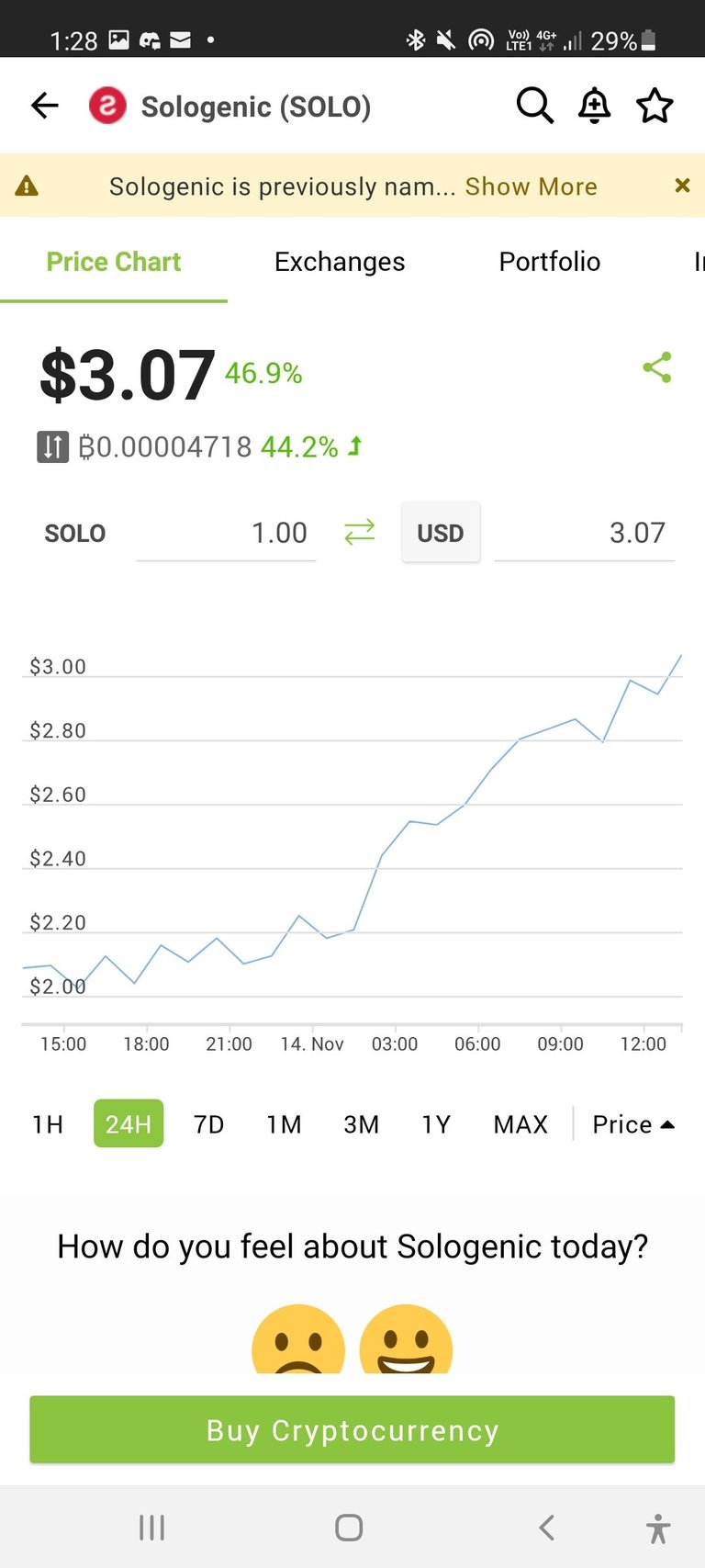 Check out Sologenic https://www.coingecko.com/coins/solo-coin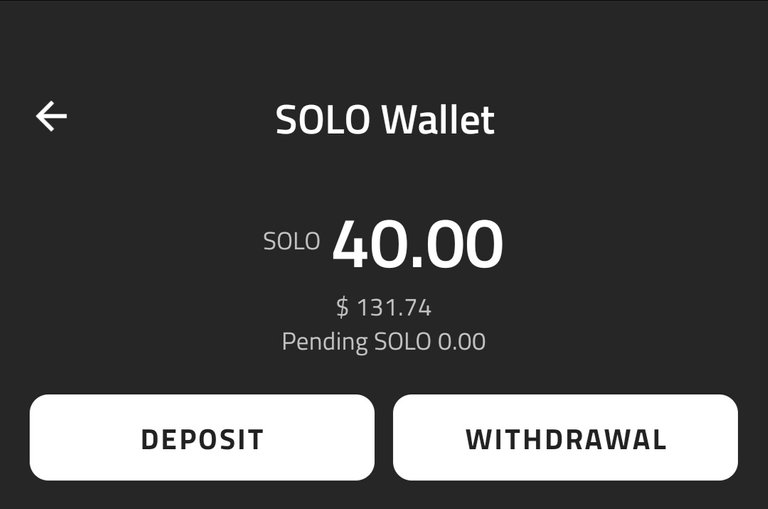 Another collections of my crypto is
bursting!! Im excited to share my #SOLO token journey, Last year I just sign up an
Coinfield app and complete the verification process and take 3 days to approved then they gave me 40 #SOLO tokens
for successful verify and until now I #hodl this coin.The market price of this token last year is 0.1 usd, you see how this token growing and bigger. Recently Coingecko list sologenic(Solo) and continues rise on price, #SOLO used #XRP LEDGER blockchain technology and its very cheap if you want to transfer money for remittance.
And this is another goodnews!!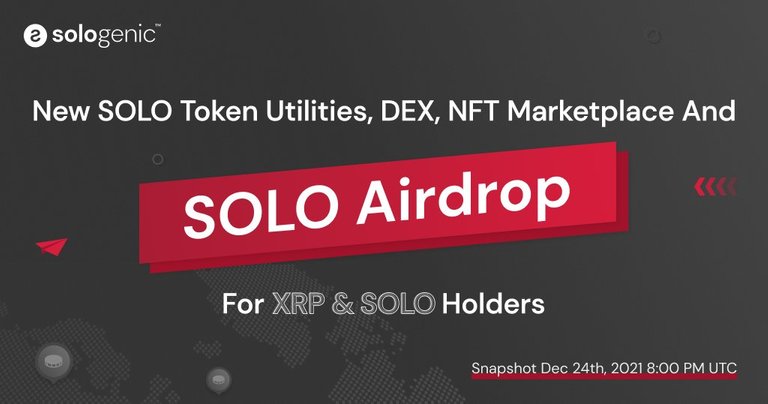 XRP and SOLO holders can receive airdrop of #SOLO
SOLO Token Airdrop
In order to engage the community to participate in the ecosystem and proposed governance utilities, the SOLO Core Team has decided to unlock 200,000,000 SOLO (Community SCF, and Expansion SEF) and conduct an airdrop to the XRP and SOLO communities.
How Will Airdrop Be Distributed?
The airdrop will take place after capturing a snapshot of the account balances on the XRP Ledger, which established a TrustLine to the Sologenic Gateway. The 200,000,000 SOLO will be distributed to those accounts that hold SOLO and XRP at the time of the snapshot.
The following ratio will be applied to the distribution:
XRP holders*: 50%
SOLO holders: 50%
Please note that a TrustLine to the Sologenic Gateway must be in place for the account to be eligible for the airdrop.
Example: Let's assume the final amount of XRP and SOLO which are qualified for the SOLO airdrop at the time of snapshot is as follows:
SOLO: 20,000,000
XRP: 500,000,000
Then the number of SOLO Airdrops for the holders of XRP and SOLO will be calculated and deposited as below:
SOLO Airdrop Amount:
(200,000,000 ÷ 2) ÷ 20,000,000 = 5 SOLO per each SOLO Holding
XRP Airdrop Amount:
(200,000,000 ÷ 2) ÷ 500,000,000 = 0.2 SOLO per each XRP Holding
When will the Snapshot be taken?
Snapshot Date/Time: Dec 24th, 2021 8:00 PM UTC
Sologenic Gateway (Issuer): rsoLo2S1kiGeCcn6hCUXVrCpGMWLrRrLZz
SOLO Currency Code: 534F4C4F00000000000000000000000000000000 Limit: 400,000,000
When will the SOLO Airdrop be Distributed?
Distribution Date/Time: Jan 20th, 2022 8:00 PM UTC
What if you hold your XRP & SOLO on a Decentralized Wallet?
For SOLO holders who take custody of their assets, no action is needed as these accounts already have a TrustLine established. We are in talks with the exchanges who support the SOLO Token to consider the airdrop distribution amongst SOLO holders.
For XRP holders who take custody of their assets, a TrustLine to the Sologenic gateway is required. This can be conducted using the SOLO Wallet app or the XUMM app by adding SOLO as a currency to your existing account.
What if you hold your XRP & SOLO on Centralized Exchanges?
XRP holders who hold their assets on exchanges will need to periodically check and see if their exchange is supporting the airdrop.
We will initially reach out to exchanges and ask them to distribute the SOLO tokens to their respective users. However, the XRP and SOLO community may help in asking their favorite exchanges to consider participating in the airdrop.
We hope that by distributing the locked SOLO to the community, we will have more user engagement on the Sologenic DEX as well as the NFT marketplace which brings a huge value to the XRP Ledger Ecosystem.
https://twitter.com/bobrasX/status/1456726275448393730?t=aIgol64J7WS12JPPc6WL8A&s=19
Read here for more info for the airdrop:
https://blog.sologenic.org/2021/11/05/solo-token-dex-nft-marketplace-and-airdrop/
@jim-crypto @splinterlands @bestfriend @doomz @gcollects @jbtc19yggwarrior @ultm8x @steemmonsters #thresholdguardians #hivegaming #proofofbrain #leofinance #oneup
#steemmonster
Subscribe also my youtube channel https://m.youtube.com/channel/UCAWaH68sWPVwIg5daryH74w
My referral link: https://splinterlands.com?ref=jbtc19warrior
---
---