HIVE OPENMIC #77 COVER JOY OF THE LORD BY MAVERICK CITY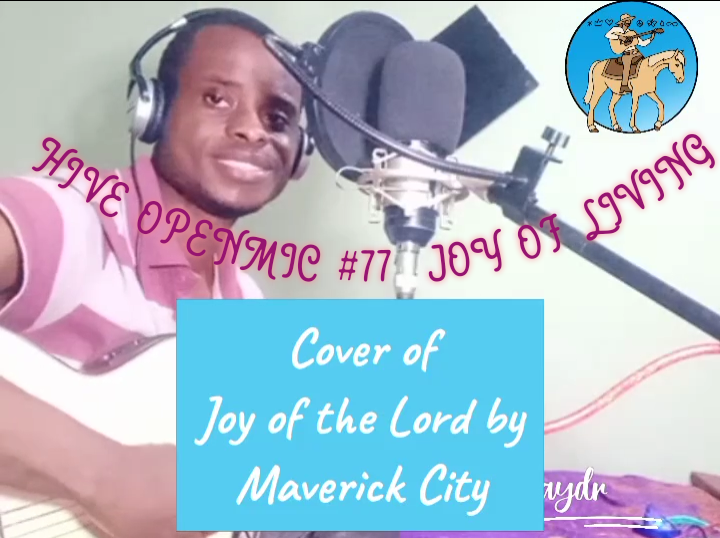 ---
Hi friends
I m delight to join the trail this week I almost gave up trying due to power supply, This is my rendition for Hive Openmic week 77 with the theme Joy of Living and being a very personal thing, Joy means a lot to me
I see like a river that needs to be stirred and can rumble up and settle down.
We sometimes think we get joy from things around us, but really, I believe joy resides inside life itself. Every one has joy in them, and like they say, happiness is free.
What stirrs your joy is different from what stirrs mine.
But ine thing that stirrs everyone's joy that I know is good music. Lol.
Aside that, scriptures say that the joy of the Lord is our strength, it also says that with joy we draw from the wells of salvation.
So I picked a Gospel song done by Maverick City Title Joy of the Lord.
It describes how the joy that comes from knowing that God is for us is our strength.
And no matter the situation our joy remains, knowing there will be glory.
I changed a few words and did it my way though but this is the original lyrics
I'm pulling on joy from Heaven's reserve
He's stored up enough, for every winter I'm served
I'm seeing beyond my circumstance
This joy that I have is my inheritance joy
This is the joy of the Lord
The chorus says
The joy, the joy
The joy of the Lord is my strength
The joy, oh, the joy
The joy of the Lord is my strength
Oh-oh-oh, He is my hope (yes, He is)
The joy, the joy
The joy of the Lord is my strength
There is a Saviour in the valley place
He's walking beside me and He knows my pain (yeah)
God, the beginning and the end
God, right there in the midst of it
Joy, this is the joy of the Lord (sing it again, joy)
Oh, joy, this is the joy of the Lord (oh)
The joy, the joy
The joy of the Lord is my strength (yes, it is)
The joy, oh, the joy
The joy of the Lord is my strength (oh)
Oh-oh-oh, He is my hope
The joy, the joy
The joy of the Lord is my strength (oh, mm)
There's gonna be glory
There's gonna be glory
There will be glory after this
No need to worry
In this present suffering
There will be glory after this (sing it out)
There's gonna be glory
There's gonna be glory
There will be glory after this (there will be glory after this)
No need to worry
In this present suffering
There will be glory after this (sing it again, there will be glory)
There will be glory (there's gonna be glory)
There will be glory (ooh, ooh)
There will be glory after this (oh, no need to worry)
No need to worry
In this present suffering
There will be glory after this (sing the joy)
Oh, the joy, the joy
The joy of the Lord is my strength
The joy, the joy
The joy of the Lord is my strength
Oh-oh-oh, He is my hope
The joy, the joy
The joy of the Lord is my strength
There is a King seated on His throne (yea)
Prepared a place that I'll call my home
And there I will see Him face to face
He'll wipe every tear from my face
Joy, this is the joy of the Lord
Oh, I'm talking about joy
This is the joy of the Lord
Oh, I'm talking about joy
This is the joy of the Lord
Oh, sing it from the hilltop
Joy (oh joy), this is the joy of the Lord
The joy, the joy
The joy of the Lord is my strength
The joy, the joy
The joy of the Lord is my strength
Oh-oh-oh, He is my hope
The joy, the joy
The joy of the Lord is my strength
Oh, the joy, the joy
The joy of the Lord is my strength
The joy (joy), the joy (joy)
The joy of the Lord is my strength
Oh-oh-oh, He is my hope
(Oh-oh-oh) Oh-oh-oh, He is my hope
(Oh) Oh-oh-oh, (He is) He is my hope
(The joy) The joy, the joy
The joy of the Lord is my strength (yeah)
Put on strength
Put on joy
Put on love
And don't take it off
Put on strength
Put on joy
Put on love
And don't take it off
The only way the world will change is if we
Put on strength
Put on joy
(Put on love) Put on love
And don't take it off
The only way things happen is if we put on strength (put on strength)
Put on joy (we put on joy)
Put on love (we put on love)
And don't take it off, don't take it off
Don't take it off (don't take it off)
We won't take it off (we won't take it off)
We commit today (we won't take it off)
We won't take it off (we won't take it off)
We won't take it off (we won't take it off)
We won't take it off (we won't take it off)
We commit today, we won't take it (we won't take it off)
I've decided, I won't take it off (we won't take it off)
We won't take it off (we won't take it off)
There's a dying world (we won't take it off)
Who is looking for hope (we won't take it off)
We won't take it off (we won't take it off)
Oh, the joy of the Lord (we won't take it off)
We won't take it off (we won't take it off)
We won't take it off (we won't take it off)
We've decided, we won't take it off
Won't take it off
Mm, won't take it off
The joy of the Lord, we won't take it off
Peace of the Lord, we won't take it off (won't take it off)
Power of the Lord, we won't take it off (won't take it off)
Yeah, strength of the Lord, we won't take it off (won't take it off)
Spirit of the Lord, we won't take it off (won't take it off)
Yeah, I will hold You forever, Lord, close to me (yes)
And I won't let go
I will hold You forever, God, and I won't let go (I won't let go)
Won't let go of Your hand (yes)
Won't let go of Your hand
I'll never let go of Your hand (I'll never let go)
Never let go of Your hand, no
Never let go of Your hand, no never
I'll never let go of Your hand, Lord
I'll never let go of Your hand, Lord
I'll never let go of Your hand
I'll never let go of Your hand (yes)
Never let go of Your hand
Yeah, I'll never let go of Your hand
Yeah, I'll never let go of Your hand
Yeah, I'll never let go of Your hand (oh Lord)
I'll never let go of Your hand, Lord
I'll never let go of Your hand, Lord
I'll never let go of Your hand (I'll never let go of Your hand)
I am safe there (yes)
And secure there (yeah)
Not fighting for attention, fighting for affection
I belong there (I belong there)
You said I belong there (I belong there)
Yeah
Said I'll never, I'll never let go of Your hand, no
Never let go of Your hand, Lord (I'm safe there)
Never let go of Your hand (I'm safe there)
Never let go of Your hand
Oh, I'll never let go of Your hand, Lord
I'll never let go of Your hand (safe and secure)
I'll never let go of Your hand, no (safe and secure)
I'll never let go of Your hand (I'll never)
I'll never let go of Your hand, Lord
I'll never let go of Your hand (I know where I belong)
I'll never let go of Your hand, Lord (I know where I belong)
I'll never let go of Your hand (in the safety of Your presence)
I'll never let go of Your hand, Lord (never)
I'll never let go of Your hand, Lord (never)
I'll never let go of Your hand (never let go of Your hand)
I'll never let go of Your hand
You've been holding me for a long time
You have my commitment
(Oh, Lord, I'll never let go of Your hand) You have my commitment
This is a vow made to You, daddy (yes, I'll never let go of Your hand)
This is a promise I make to You, daddy
(I'll never let go of Your hand) Oh it is Your hand that has kept me
(I'll never let go of Your hand) Holding Your hand has sustained
(I'll never let go of Your hand) Holding Your hand
(I'll never let go of Your hand) I won't let it go
(I'll never let go of Your hand) I won't let it go, I'll hold on
(I'll never let go of Your hand) I will go with You, I hold on
(I'll never let go of Your hand) You're a real, good friend
I'll never let go of Your hand
I'll never let go of Your hand
'Cause I know where my peace is (I'll never let go of Your hand)
Because I know where my restoration is
Oh, the hand of Jesus carries value
The hand of Jesus carries weight
Oh, and Father I hold onto the weight today
I hold onto the value today
I connect to the hand that has carried me through
I connect to the hand that has walked me through
Lord, You have my promise today
I won't let go, I won't let go
I'll never let go of Your hand, Lord
I'll never let go of Your hand, Lord
I'll never let go of Your hand, Lord
I'll never let go of Your hand
I'll never let go of Your hand
I'll never let go of Your hand
I'll never let go of Your hand (Do You hear us tonight?)
I'll never let go of Your hand (we really mean it, God)
I'll never let go of Your hand (Can You hear us tonight?)
I'll never let go of Your hand (ayy, we really mean it right now)
I'll never let go of Your hand (never)
I'll never let go of Your hand, oh

---
▶️ 3Speak
---
---