HIVE OPENMIC WEEK 166: YESHUA BY JESUS IMAGE COVERED BY JAYDR
---
Hello Hive openmic community..
It's a pleasure to be here again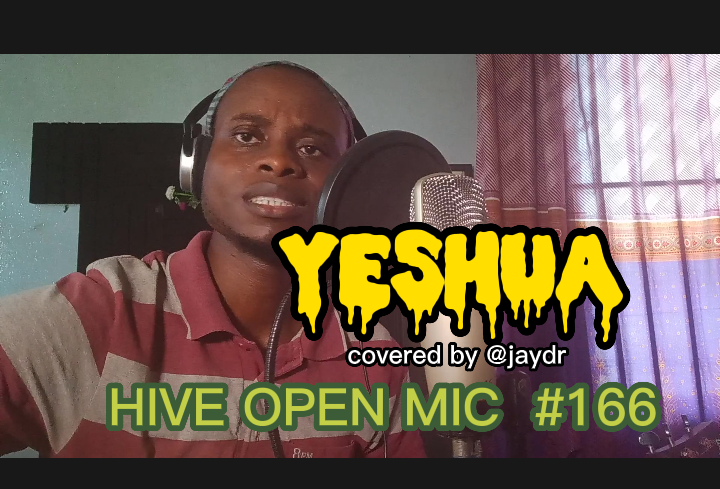 To never give up means a lot to me because I have been in situations where I tell myself never to think of giving up specially when there is a target that I have fixed for myself.
The aim is always inside even when there are a lot of things that argues against mine continuing.
It's a really great pick by my friend and brother, @ksam. He has been one of my strongest inspirations on hive and very creative too and I'm excited to be a part of this also.
My song of choice is Yeshua, a very common worship song in most churches and Christian gatherings.
This song exalts the name of Jesus in the Hebrew tongue as God and focuses attention on him.
I know some people may have faced several challenges in their pursuit of knowing him and understanding his ways.
I did this song to remind them that it is possible to do that despite the challenges. They should never give up. Because the journey of knowing God is in itself an experience coming from God himself. "Seek and you shall find", Jesus said, if you seek him, you ll find him.
Although the song started with repeating Yeshua over and over, it rises up to a super cool experience of worship and I hope everyone who watches this feels the longing to know God more through Jesus.
Don't give up, you re almost there.
Think of it this way, a man who has been digging for gold and finds out that he has not been able to reach his target for a long time meanwhile he's standing right on the gold. The only way to find is to seek.
Now several situations that may have happened to discourage people from continuing in this longing to know God more. The enemy the adversary also makes all his efforts to discourage.
God has a way of preserving his people and those that come to him. He ll keep you and showed you to the point where you know him and work with him and nothing will harm you.
I m a bit more spiritual in this post and it's not unintentional. My delight is to see people blessed and loving God as much as I do and we all loving him more. No limitations.
Once again, I m grateful to share on the openmic. If you find this video, and read till now please drop a comment and let me have your thoughts on how it can be improved. I had stopped out o a lot of work to do this and trust me, I loved it.
Music Source, I hope you love the original.
---
▶️ 3Speak
---
---