Project Flauwy - Shroomies 1UP-Bin
Finally! After a long time, I am now able to post this precious art commission for my friend @flauwy . This took almost a month with some struggle and delays in the art making process. Let's dive into the process but before that, Happy 2022 Year EVERYONE! I hope you're all doing well. Have a blessed and wonderful day, as we are now entering new year and new chapter of our daily lives. Cheers! And now I present to you Shroomie and his treasure, life and time adventure of @flauwy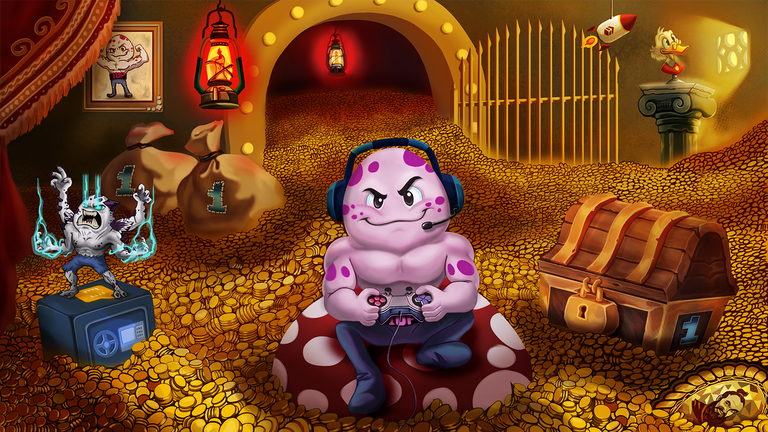 The words from @flauwy itself.
"I was thinking about a the mushroom playing a game, looking directly at the viewer. He is holding a game controller in his hands and looks happily concentrated. Behind him are piling the game tokens (maybe 1UP tokens?), making him look a bit like Scrooge McDuck."
That is the general idea that my friend gave me. Anyone who is a fan of Scrooge McDuck will immediately recognized where the art is inspired to.
1UP Mushroom Mascot and Monster-Curator Mascot (aka boss mushroom) art by @kayrex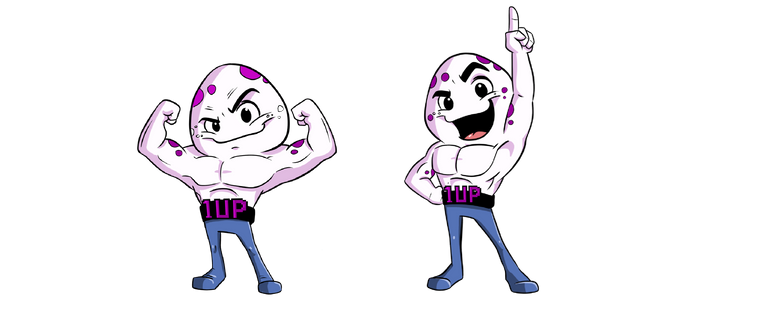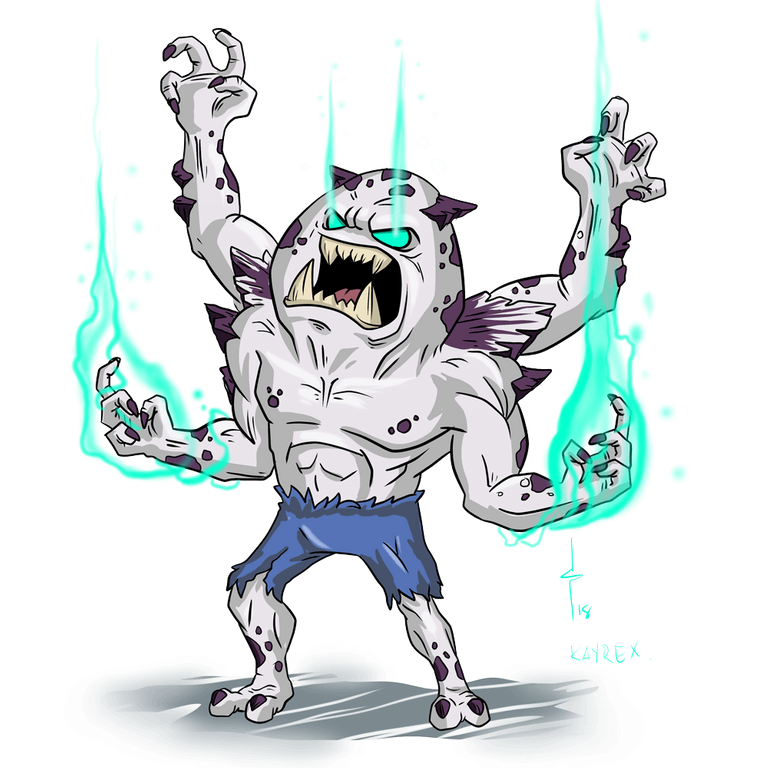 Process in making the Digital Art:
•To begin with, I always do a rough sketch of the character.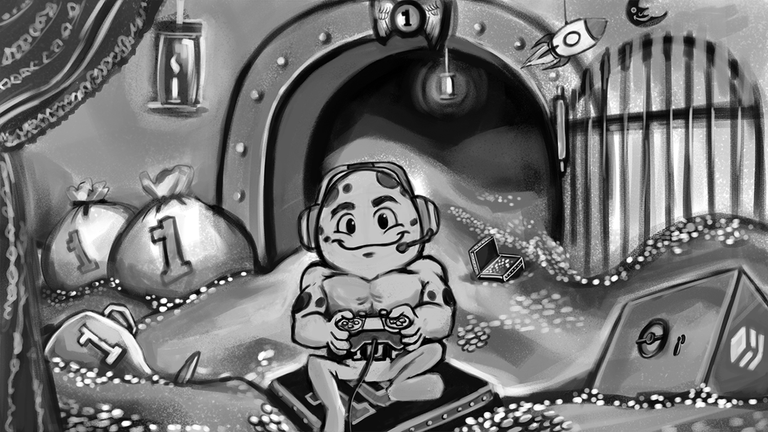 •Then, refined the sketch details. I added some characters and this is how it looks afterwards.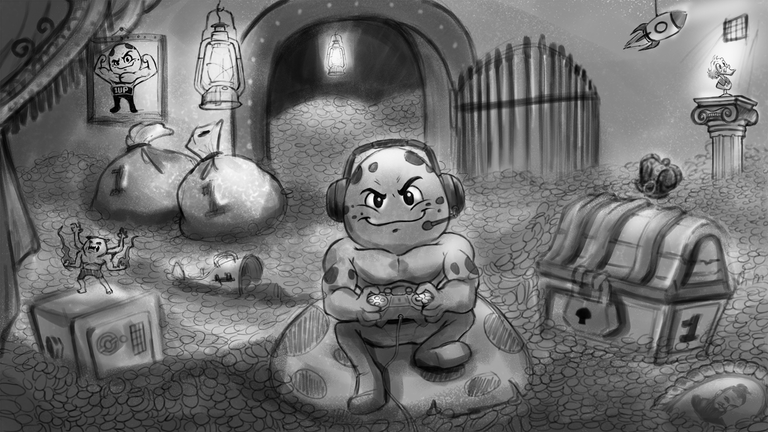 •I added the base colors after I made the sketch. I color every single part of the design starting with Shroomie.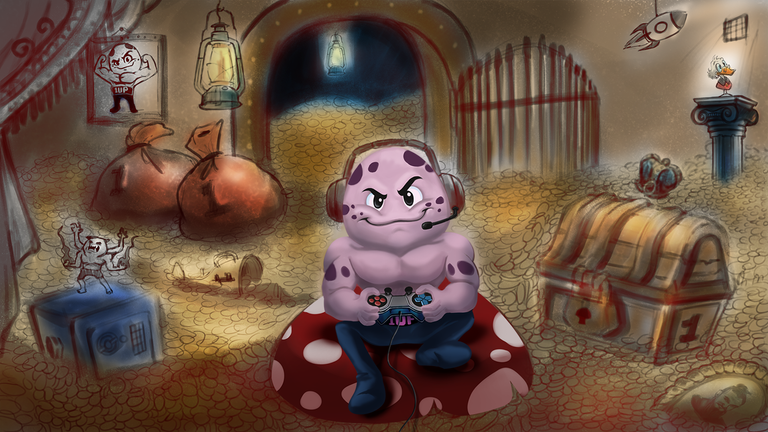 •I color the treasure chest and 1UP bags afterwards. I attempt to add the 1up tokens but I realized that it was the hardest thing to do, so I moved to the next character.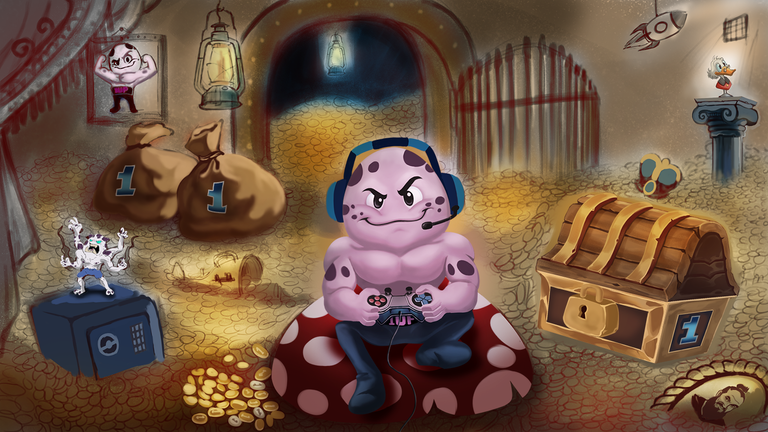 •I make the monster-curator mascot and adjusted its size to emphasized the details.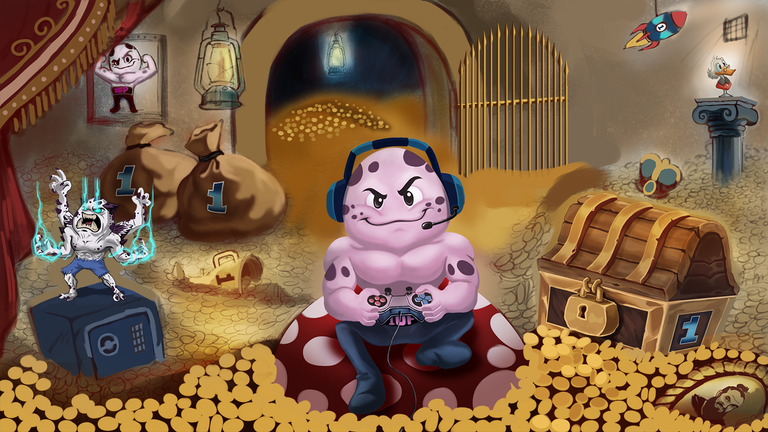 •After that, next thing to follow is Scrooge and the pillar. Then the lamps, curtain and the gate.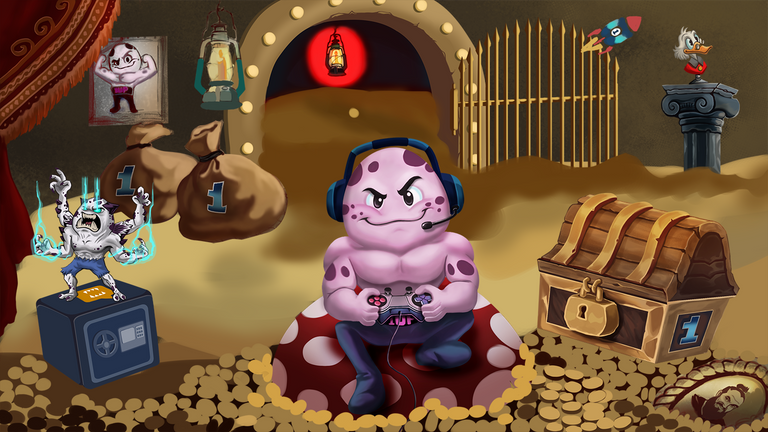 •Then, I started to refine these golden tokens while also refining the pictures of Flauwy and 1UP mascot. I also refine the rocket to the moon toy, added window and some lights towards the Scrooge. Almost done here, when the most tragic thing happen. December 17, 2021, Typhoon Odette a powerful and catastrophic tropical cyclone that struck the Philippines destroys part of the Visayas. And Cebu, where I live was not an exemption to this typhoon. Many people lost there home and some lost their lives especially areas part of Bohol. We suffered to no electricity, no water and oil price hike. Everyone panic and hoard everything that is essential. Also the Network connection is unstable, luckily I managed to contact @flauwy and tell him the situation. He totally understand and tell me not to worry about the art project we are building. This art has been delayed but I still manage to continue.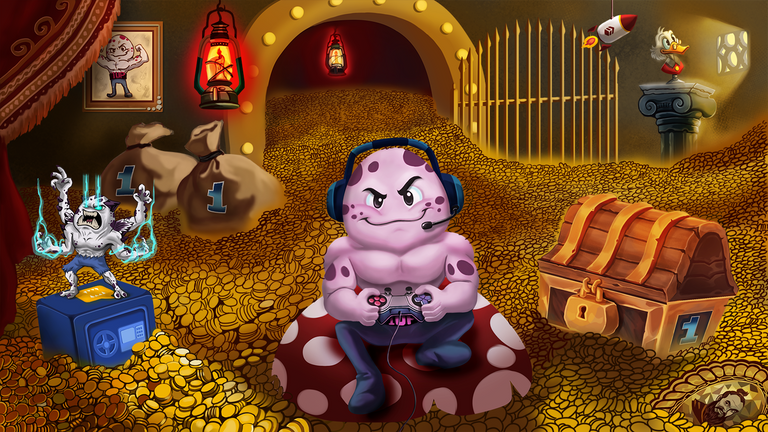 •Finally, by finding stores that have generator I manage to charge my laptop and finished the artwork there. I also travel to Bohol to visit the family of my girlfriend. Together, we went there and encounter many obstacles but thank God they we're totally fine. There, I also manage to get some network signal and immediately contact @flauwy to send him these final update of the art. I login to my discord and saw these message from him.
"Hey Steven, how are you? How is everything after the typhoon? I hope you are well!"
These words come from someone that I highly adore. Someone that is hardworking and too busy but still manage to give the time to check on what have you been. How worried he can be and also offer anything that he can able to help. Man, I really appreciate everything @flauwy . That is why this art is too precious to let everyone know and I love to share with you guys, not only the struggles and obstacles of this art have been through but also the kindness of the man who asked for this art commission.
I am very grateful to you and also for everyone who take the time to read this content. THANK YOU VERY MUCH!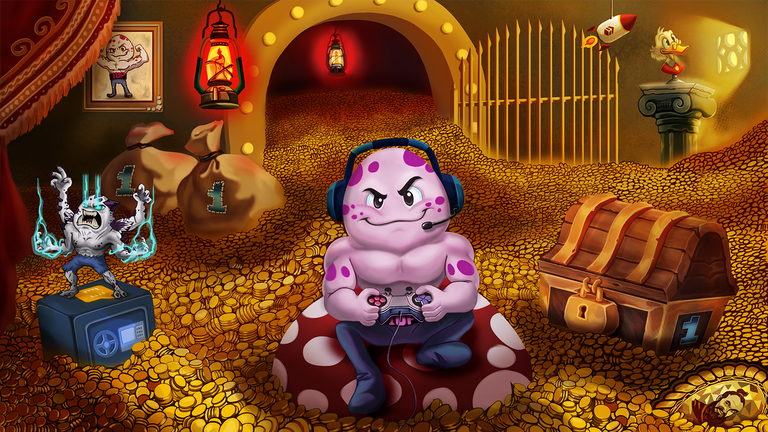 Enjoy this GIF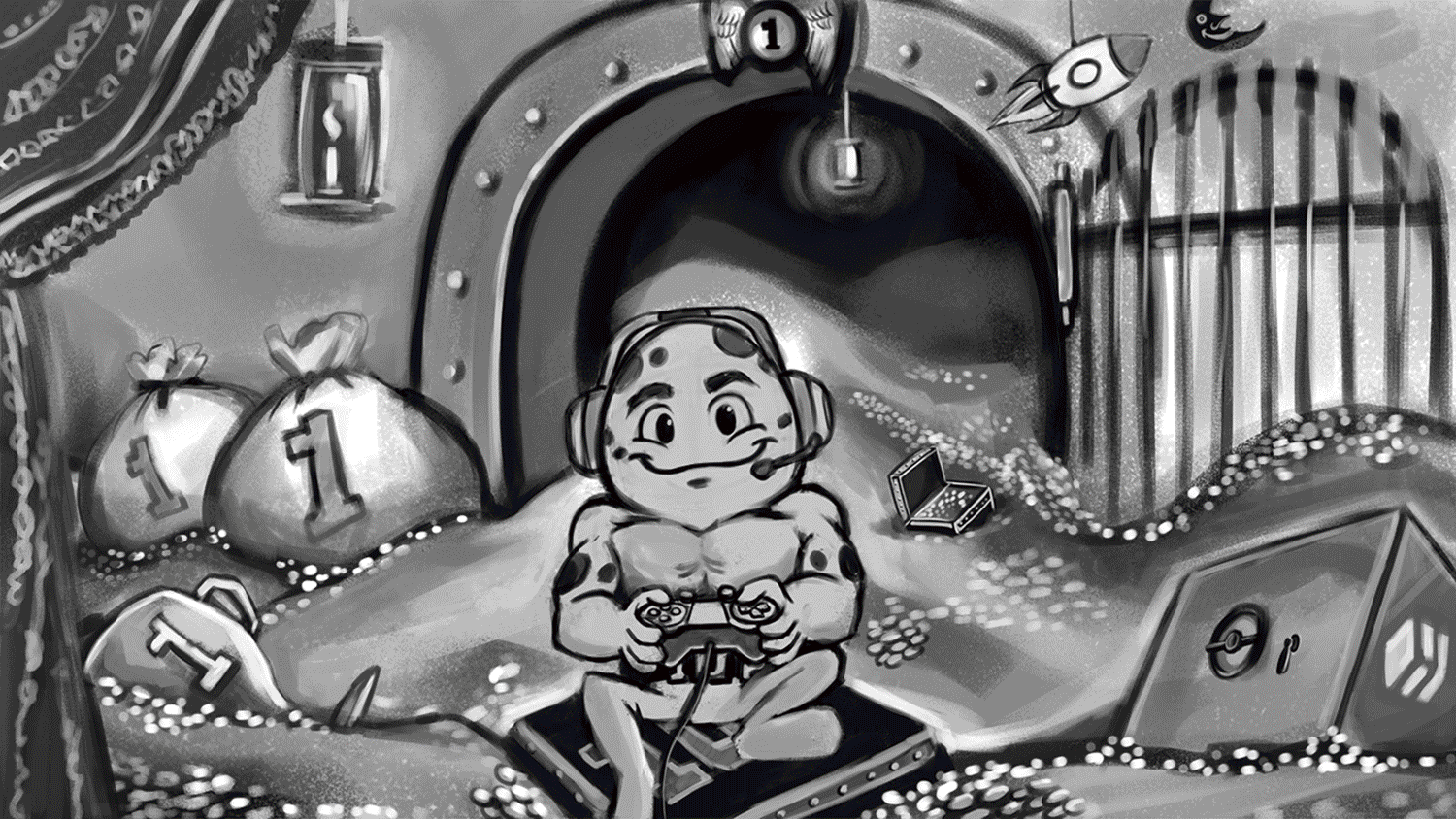 Oh! There is a hidden O.N.E.U.P signature in the art. Enjoy finding it! hmmmm... where can that be?

Don't forget to follow:
Flauwy: https://peakd.com/@flauwy
Kayrex: https://peakd.com/@kayrex
Splinterlands: https://peakd.com/@splinterlands/
Monster-Curator: https://peakd.com/@monster-curator/
1UP (#oneup): https://www.1up.zone/
NFT Studios and 1UP Discord: https://discord.gg/yRYTMKCttw
PGM Discord: https://discord.com/invite/KCvuNTEjWw
Rising Star Discord: https://discord.gg/ygNZ9fjr
PSYBER X-LVL Discord: https://discord.gg/vh9QfXb8
---
---