Project Flauwy - Boss Mushroom Monster

Hello guys! Steven again here,
Recently I've been asked by my friend @flauwy here, a man of wisdom and 21 years old at heart, to do a commission art of a Boss Mushroom Monster. May I present to you our very own Boss Mushroom Monster digital fan art.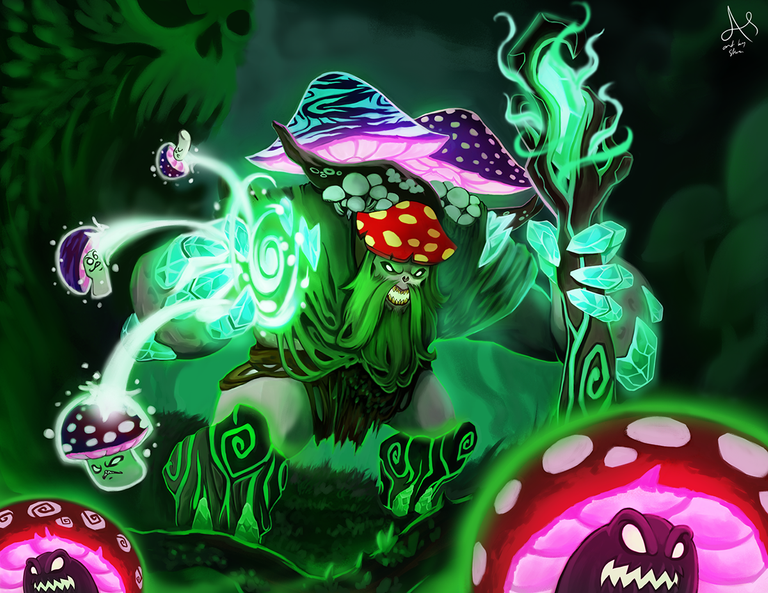 The general idea is to create a Boss Mushroom Monster inspired by his 1UP Mushroom Mascot that was created by his great illustrator @kayrex who also designed the boss.
Here are some images of the Boss Mushroom Monster and 1UP Mushroom Mascot credits to the rightful owner @kayrex. Images are downloaded via Discord that was sent to me by @flauwy.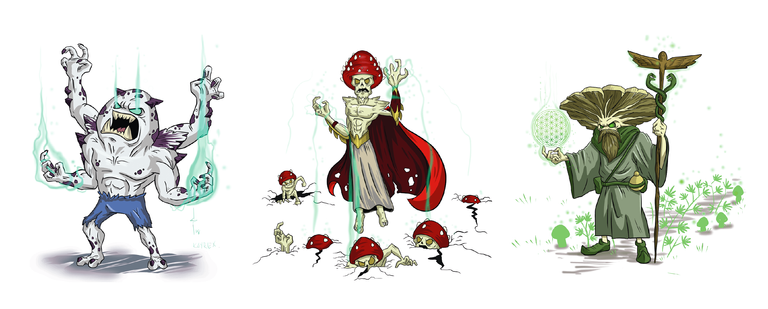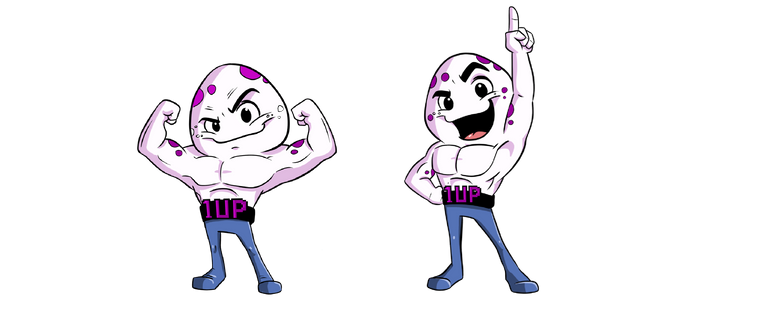 The ideas that @flauwy have are the following:
It should be very big, like a giant, strong.
It should have clear mushroom features.
It looks old, with crystals growing on its body.
It casts a colorful spell, magical spores and has glowing hands and eyes.
Minions of smaller mushrooms warriors, in different mushroom variants, grow out of the magical spores.
It carries an enormous legendary staff, Axis Mundi, in one of his hands.
Athough not all of the ideas of @flauwy were met but we still did a fantastic job in creating the art.



Process in making the Digital Fan Art:
To begin with, I roughly sketch the form and shape of the character. I created little characters and numbered them. Then, I showed it to @flauwy and let him choose. He chose number 4 character and number 4 staff.

Next, I created a rough sketch of the actual character base on the given ideas of @flauwy.


Third, I refined the lines and add some base color.


Fourth, I increased the depth of shadows.


Fifth, I gave clarity and highlights on the area of the face.


Sixth, here I made a lot of color changes. I adjusted the position of the staff and pulled towards the character. I also started giving colors to the mushrooms and glow area.


Seventh, I started to refine the details of the characters.


Eighth, I rendered the colors and highlights.


Finally, I rendered the whole character and add some glow. That's it were done!



Process GIF:

It's a very long process but I hope you like it.
Thank you for your time in viewing my art.
Stay tuned for more.
Don't forget to follow:
Flauwy: https://peakd.com/@flauwy
Kayrex: https://peakd.com/@kayrex
Splinterlands: https://peakd.com/@splinterlands/
Monster-Curator: https://peakd.com/@monster-curator/
1UP (#oneup): https://www.1up.zone/
Posted on: C/OnChainArt
---
---