[ESP / ENG] || Cinderella - Movie Review

Hello to all the movie lovers!!
Hola a todas las amantes del cine !!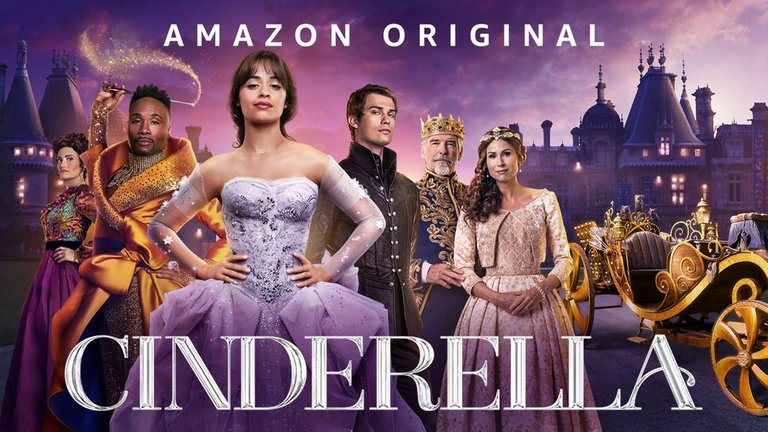 Source
Yesterday night I watch I really amazing movie on Amazon Prime in the movie is close to my heart because I have heard and watch this movie in animation for many times in my childhood and I am sure everyone must have heard about this movie for watched it at least once in their life it was a very different experience for me when I got to know that they are making the movie in a complete Real world like before this piece of this movie in animation many times but this time it was in Real world show all the characters were real humans and everything was real there was no animation in the movie so that is what make it special otherwise we all know the story of this movie up to a certain extent so now let's talk about the movie.
Ayer por la noche vi una película realmente increíble en Amazon Prime, la película está cerca de mi corazón porque he escuchado y visto esta película en animación muchas veces en mi infancia y estoy seguro de que todos deben haber escuchado sobre esta película para verla en al menos una vez en su vida fue una experiencia muy diferente para mí cuando supe que estaban haciendo la película en un mundo real completo como antes de esta pieza de esta película en animación muchas veces, pero esta vez fue en el mundo real. los personajes eran humanos reales y todo era real, no había animación en la película, así que eso es lo que la hace especial, de lo contrario, todos conocemos la historia de esta película hasta cierto punto, así que ahora hablemos de la película.
Cinderella 2021
The movie start in the world where we see everyone is singing in everyone is very happy in their life and slowly slowly we are introduced to all the characters in the movie so there are many characters in the movie there is a king there is Prince there is Princess and there are other characters but let's talk about only the specific characters which are more important so there is Cinderella her stepmother and two step sisters the stepmother don't treat Cinderella so good and she is always after her and whenever Cinderella does anything even if it's pretty much good. The mother will always tell her that it's not good and next time do it better always humiliate her and the motivate her in everything on the other hand centrally has many dreams and she wants to get out of this world and start her own life where she is completely and dependent and she can do whatever she wants.

Cinderella I want to be a designer and she design her on clothes in her basement where she live alone and don't forget that there are three rats in the basement with her the story starts to turn when the king forces his son to get married when the prince denies to get married the king tell him that you will get married or you are not going to be king The Prince agrees and the king announce a ball where all the The girls from the the country are invited to the prince can chose one of the girl is his bride.
La película comienza en el mundo donde vemos que todos cantan en todos están muy felices en su vida y poco a poco nos presentan a todos los personajes de la película, así que hay muchos personajes en la película, hay un rey, hay un príncipe, hay Princesa y hay otros personajes, pero hablemos solo de los personajes específicos que son más importantes, por lo que está Cenicienta, su madrastra y dos hermanastras, la madrastra no trata tan bien a Cenicienta y ella siempre la persigue y cuando Cenicienta hace algo, incluso si es bastante bueno. La madre siempre le dirá que no está bien y la próxima vez que sea mejor siempre humillarla y motivarla en todo por otro lado centralmente tiene muchos sueños y quiere salir de este mundo y empezar su propia vida donde está. completamente y dependiente y puede hacer lo que quiera.

Cenicienta quiero ser diseñadora y ella la diseña con ropa en su sótano donde vive sola y no olvides que hay tres ratas en el sótano con ella la historia comienza a girar cuando el rey obliga a su hijo a casarse cuando el príncipe niega casarse el rey dile que te casarás o no vas a ser rey El príncipe acepta y el rey anuncia un baile donde todas las chicas del país están invitadas al príncipe puede elegir una de la niña es su novia.

Source
people hear this news and they start to prepare themselves for the bowl on the other hand when Cinderella tries to prepare yourself for the ball well the mission is to go to the bowl and show her designs to the famous and rich people so that she can sell them and she can start her new life but when her mother got to know about that she tells her that you cannot go to the ball and that is how the story begins there are other twist and turns And that is how the story progress.
la gente escucha esta noticia y comienzan a prepararse para el cuenco por otro lado cuando Cenicienta intenta prepararse bien para el baile la misión es ir al cuenco y mostrar sus diseños a las personas famosas y ricas para que pueda vender ellos y ella puede comenzar su nueva vida pero cuando su madre se enteró le dice que no puedes ir al baile y así es como comienza la historia hay otros giros y vueltas y así es como avanza la historia.

Things that I like in the movie
The first thing that I really like in the movie was acting everyone has done really good job when it comes to acting everyone has performed their character to a very good extent I like the stepmother character she has done a fantastic job because you could hurt her and that is what her character requires I think she has done a good job and then Cinderella I mean as we have image and her in the books and in the animation she is the perfect castes actor I would say because you could really feel that she is perfect for Cinderella.
Cosas que me gustan de la pelicula
Lo primero que realmente me gustó de la película fue actuar, todos han hecho un muy buen trabajo cuando se trata de actuar, todos han interpretado su personaje en gran medida.Me gusta el personaje de madrastra, ha hecho un trabajo fantástico porque podrías lastimarla y eso es lo que requiere su personaje, creo que ha hecho un buen trabajo y luego Cenicienta, quiero decir, como tenemos la imagen y ella en los libros y en la animación, ella es la actriz de castas perfecta, diría porque realmente se puede sentir que es perfecta. para Cenicienta.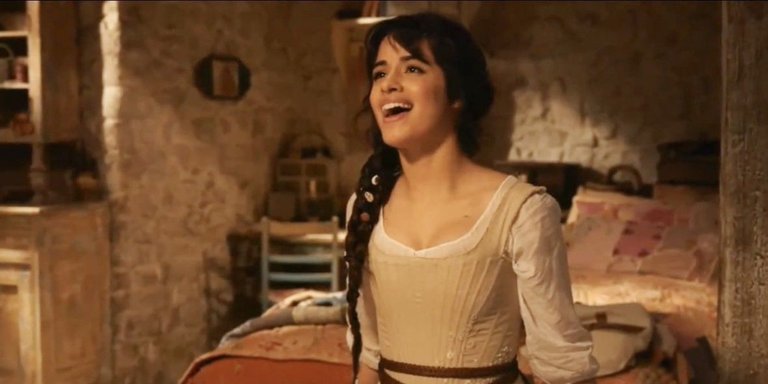 Source
The second thing that I really like about the movie was the set design and the costume design well as we all know that the movie is set in a modern time so everything was quite nice to see all the costumes were pretty much nice clean and looked great.
La segunda cosa que realmente me gustó de la película fue el diseño de la escenografía y el diseño de vestuario, ya que todos sabemos que la película está ambientada en una época moderna, por lo que todo fue bastante agradable al ver que todos los trajes estaban bastante bien limpios y se veían geniales. .

Music

Well we all know that this kind of movies are really famous for their music and to be honest I really like the music in this movie as well so we see a lot of songs in the movie I mean after a few minutes you will hear a character sing a song and all the character has sung the songs in the movie I am in not on their own but like in the movie The Singh songs and in the song the movie progress is to the other parts so that was a quite nice thing to experience and yes I have seen this many times in the Disney movies and to be honest it was quite refreshing so the movie is very different from other movies that we see nowadays and the music was also very new.
Música
Bueno, todos sabemos que este tipo de películas son realmente famosas por su música y, para ser honesto, también me gusta mucho la música de esta película, así que vemos muchas canciones en la película, quiero decir, después de unos minutos escucharás a un personaje. canta una canción y todo el personaje ha cantado las canciones en la película en la que estoy no solo, sino como en la película Las canciones de Singh y en la canción el progreso de la película es hacia las otras partes, así que fue algo muy agradable de experimentar. y sí, he visto esto muchas veces en las películas de Disney y, para ser honesto, fue bastante refrescante, por lo que la película es muy diferente a otras películas que vemos hoy en día y la música también era muy nueva.
Things that I don't like in the movie

Well to be honest for me it was a perfect watch I watched it I enjoyed each and every second of this movie for me as a girl I think it was very nice but I think most of the boys will find it a little bit boring because it's more of a girlish movie and there are many songs I said there are like very e little for boys and there is no action in it and the whole story surrounded by prince and princess so I think for boys it will be a little hard to watch this movie but I think they will like it as well but not completely enjoy it so I think that's a little bit that that boys won't be able to enjoy it I feel like that's my personal opinion I am not saying that it's not made for boys.
Cosas que no me gustan de la pelicula

Bueno, para ser honesto para mí, fue un reloj perfecto. Lo vi. Disfruté todos y cada uno de los segundos de esta película para mí cuando era niña. Creo que fue muy agradable, pero creo que la mayoría de los niños lo encontrarán un poco aburrido porque es más una película de niña y hay muchas canciones, dije, hay como muy pequeñas para los niños y no hay acción en ella y toda la historia está rodeada por el príncipe y la princesa, así que creo que para los niños será un poco difícil ver esto. película, pero creo que a ellos también les gustará, pero no la disfrutarán por completo, así que creo que es un poco que los niños no podrán disfrutarla. Siento que esa es mi opinión personal. No estoy diciendo que no esté hecha para niños. .
My ratings

I will give this movie the rating of 4.5 out of 5

I will recommend this movie to all the girls out there who never is reading this review I think you should give it a try it's a relief Beautiful movie and I believe that you will enjoy it to its complete extent so from my side is 100% recommendation.
Mis calificaciones

Le daré a esta película una calificación de 4.5 sobre 5. Recomendaré esta película a todas las chicas que nunca están leyendo esta crítica. Creo que deberías intentarlo. Es un alivio. Hermosa película y creo que la disfrutarás. en toda su extensión por lo que de mi parte es 100% recomendación.


Thanks For Your Time! / ¡Gracias por tu tiempo!

---
---