Where To Shop For Chinese New Year In Hong Kong? (Night Walk At Prince Edward Street Market)
13th January 2023
One of the most anticipated events here in Hong Kong is the Chinese New Year. People are preparing for it a month to a few weeks before the CNY. If my country has the longest Christmas season, Chinese countries like Hong Kong have the longest New Year celebration. And for them, it is the most special event of the year which usually runs for sixteen days from official CNY day to the Lantern Festival.
Just imagine that long celebration. The government gives a week of vacation for all residents, and foreign workers have three days off in a row unless they opt to work on those days, but I prefer not to. And fortunately, the start of CNY this year falls on Sunday, the 22nd of January, thus giving us four days off in a row until the 25th. I definitely love it!
So just more than a week to go before this special day. People are now excited about it and busy with their early preparations which include cleaning the house and buying auspicious things and food for CNY.
Where to shop for CNY in Hong Kong?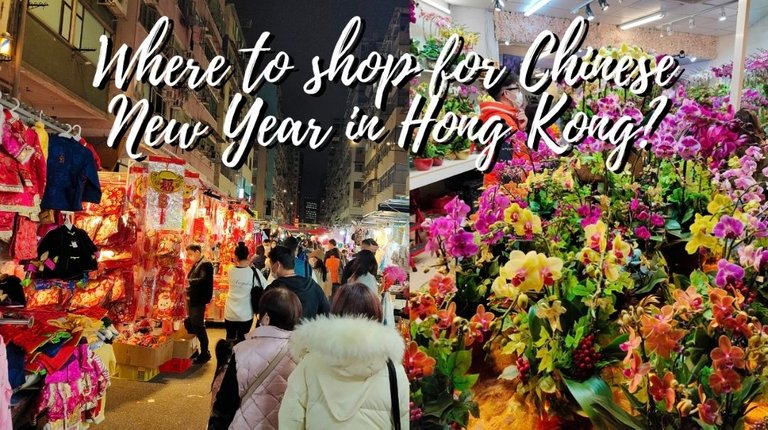 Among all markets I've been to here in Hong Kong, there is a place where we can find all the necessary items for CNY: decorations, merchandise, apparel, flowers, and even food displayed during CNY. It's no other than, Prince Edward Street Market.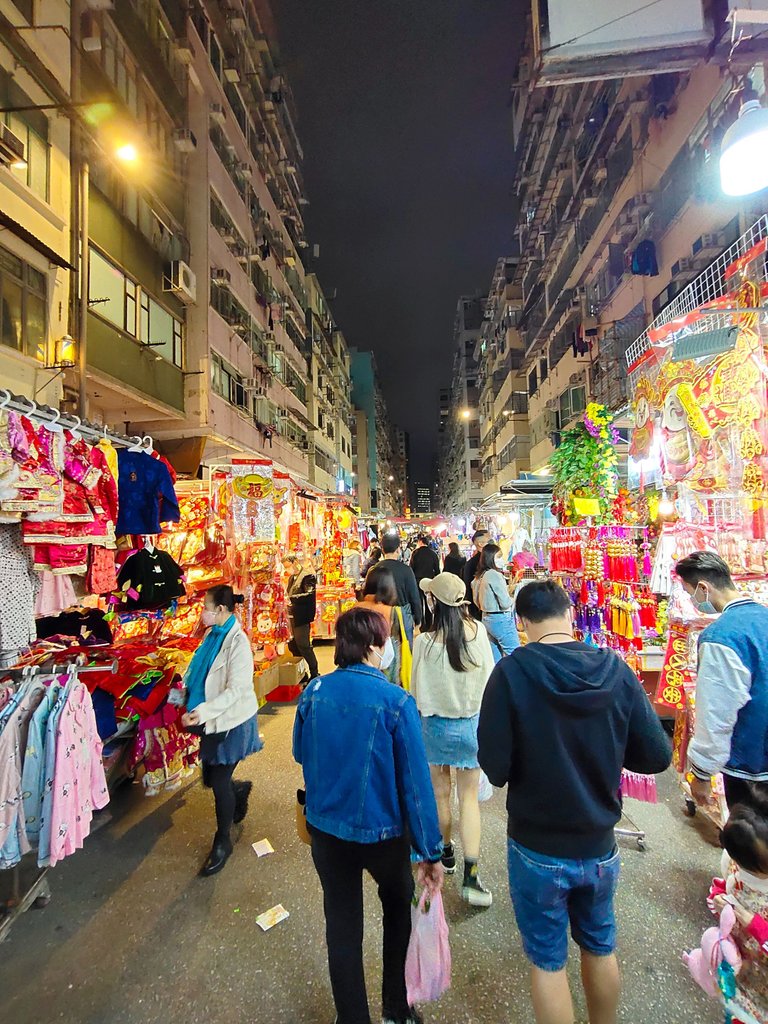 You probably are familiar with this place as I'd featured this on my blog before. This place is always crowded, with or without special occasions, especially during day time. So some prefer to shop at sunset until night since there are lesser people in the street market. Still crowded for me though.
I happen to pass by this market last weekend, and I thought to feature this in today's #MarketFriday blog initiated by @dswigle for the Market Friday Community. I never explored this street market at night time, so I thought it was the best time to do it. And indeed, the place is less crowded compared to the daytime.
There are four main things that Chinese people prepare for CNY: decorations, clothes, flowers, and food.
The stretching street with an array of outdoor shops seemed to have been transformed into a red street as the dominant colors of sold items are red. Chinese people are too superstitious and items used for CNY have symbolism. The red color, for instance, symbolized good luck and fortune. Apart from red color, yellow, orange, and pink are also some of their lucky colors which symbolized prosperity, fortune, success, and joy. So these colors can be seen on the streets too.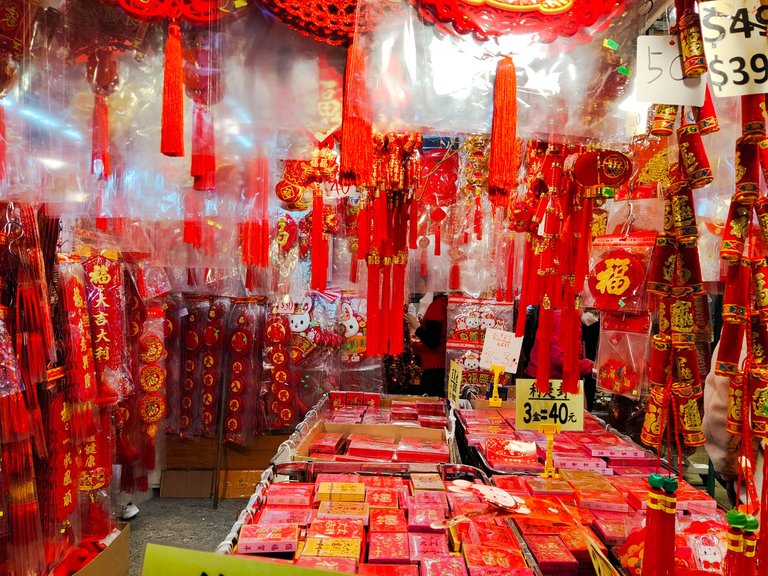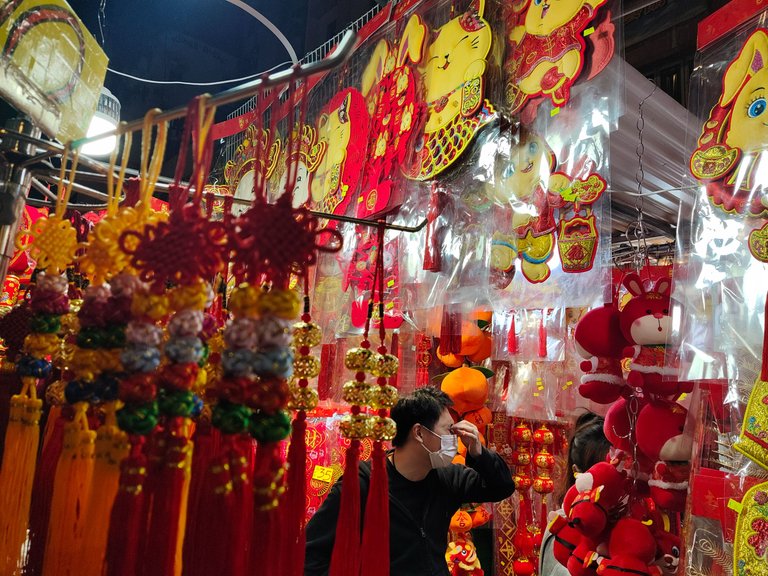 So if you walk on the streets of Hong Kong prior to CNY, you'll be seeing a plethora of red items. Different decorations have their own symbolism and meaning which I can't comprehend at all, lol. There are red pockets, red lanterns with different Buddha designs, paper cuttings, door couplets, and many more red decorations.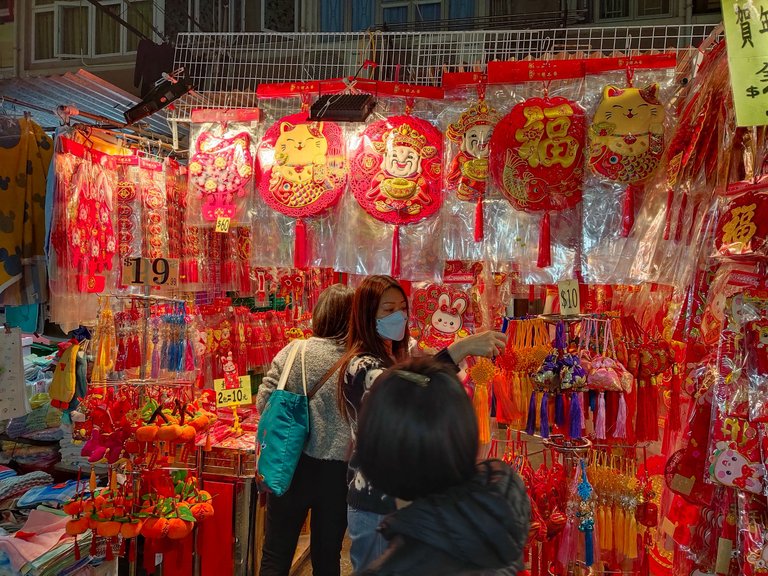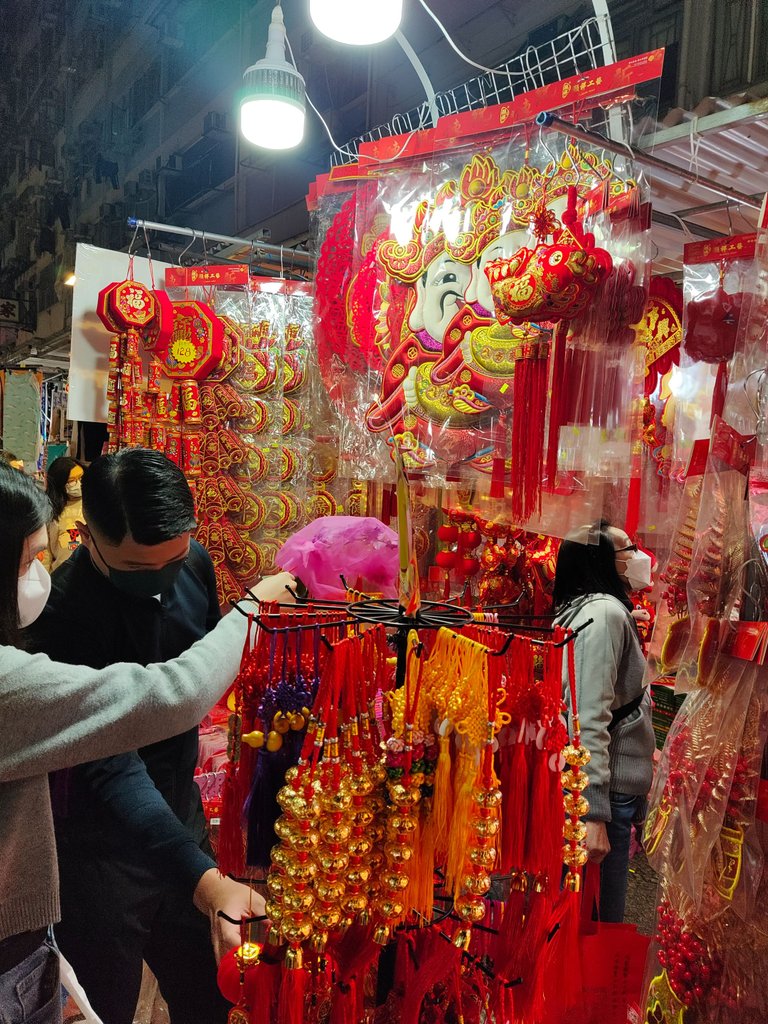 And since it's the year of the rabbit, there are a lot of rabbit decors and toys in the market. They believe that having one at home would give good luck to the family. I need to buy one for myself, lol. Besides, they are cute stuff too.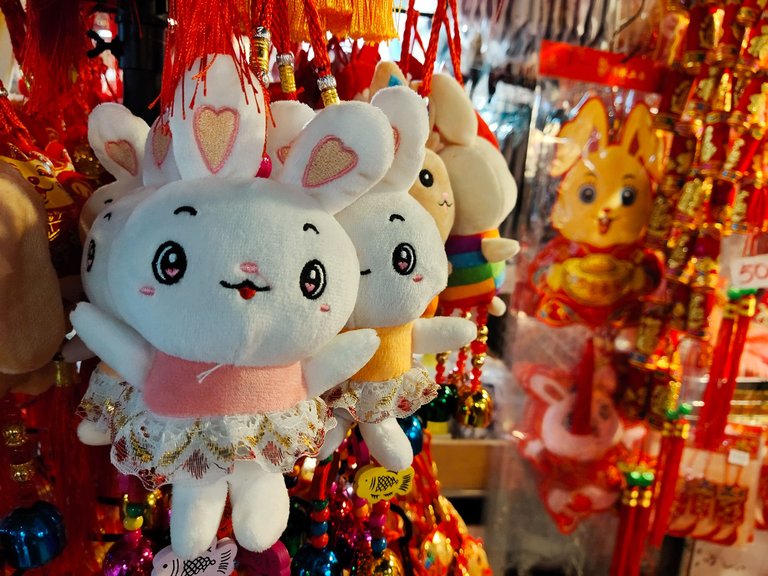 Lucky charms, you bet? These aren't just for the year of the rabbit, but for other years as well. I am not into lucky charms, because I am not a superstitious person, lol. If I'll be lucky, then accept it. If not, then let it be 😂. I am more into actions, than relying on beliefs.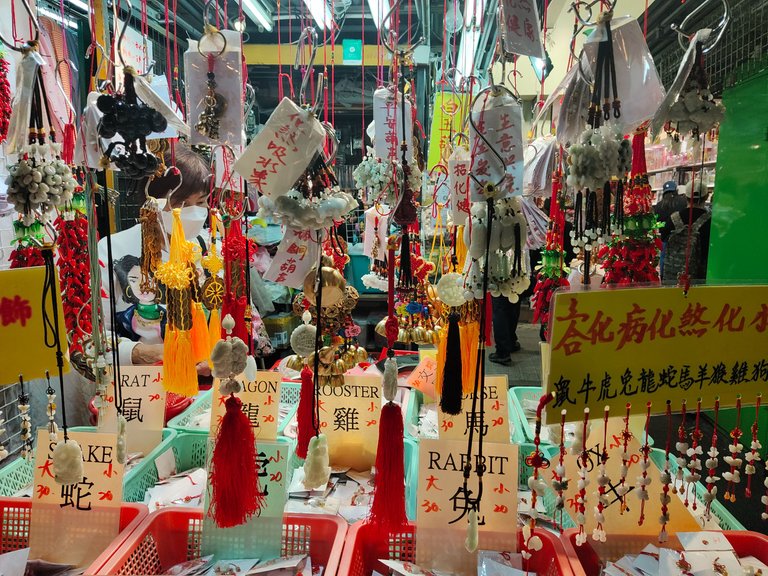 These dragon lanterns and stuffed toys are common decors every CNY too. They aren't just good as home decor, but also as a gift and souvenir items.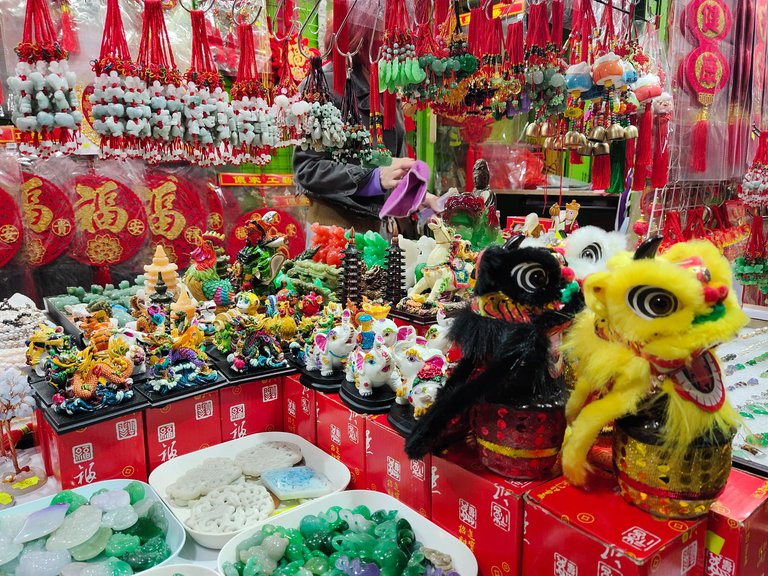 ---
Chinese traditional clothes with some touch of modernity are also in demand in CNY, especially the ones for kids. Well, only a few adults nowadays wear traditional clothes every CNY, but they want to see kids wearing them.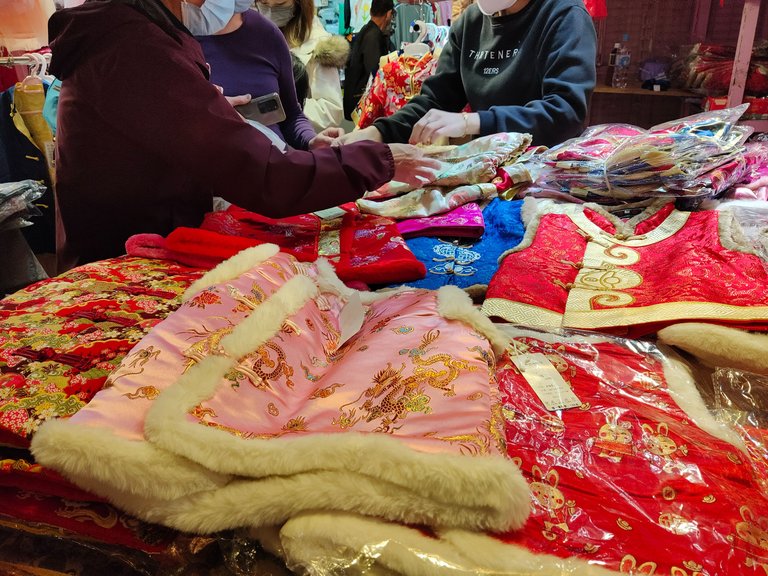 The majority of the colors for clothes are red as well because they believe that they'll be lucky if they wear red on CNY. Have you tried wearing red clothes including underwear? Ahm, I don't want to try 😅.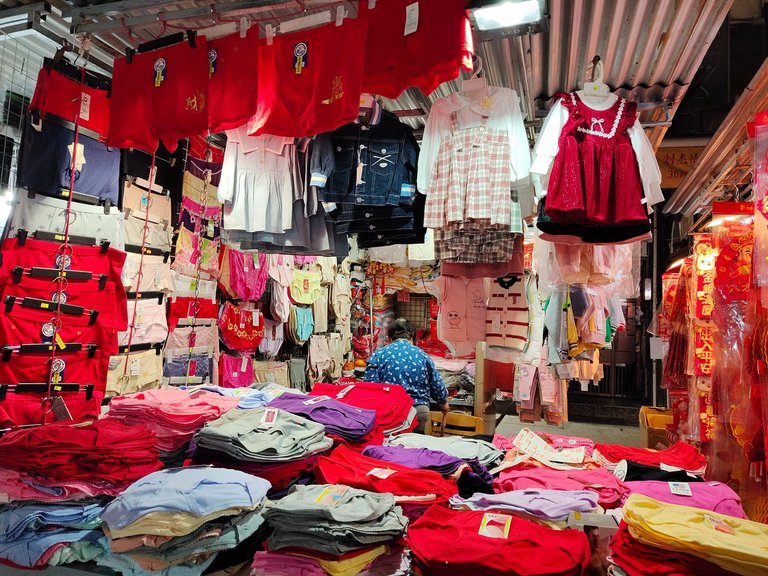 ---
When it comes to any special occasion in Hong Kong, people always consider buying flowers. My boss is one of those who like decorating her house with flowers.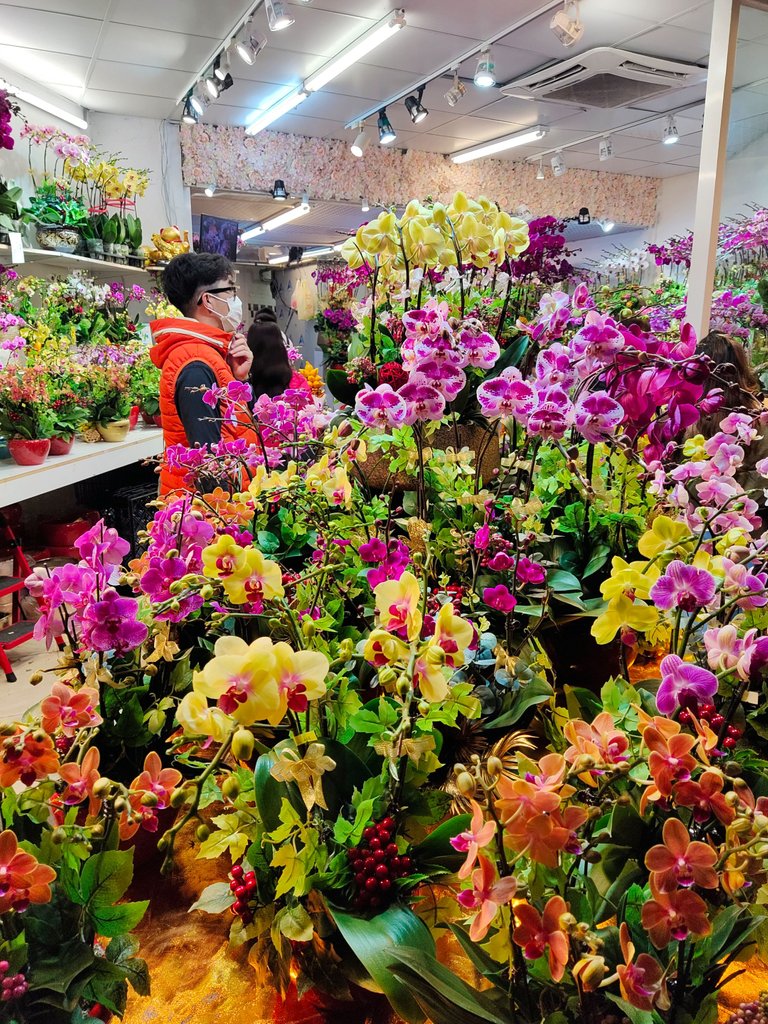 The most in-demand kind of flower that you'll see on the market every CNY are these moth orchids which are a lucky flower for the Chinese. They come in different colors: red, pink, purple, orange, yellow, and even white. Each color has a symbolic meaning. But since it's CNY, people usually buy red, yellow, purple, pink, and orange.
As much as possible, most people are avoiding white colors. Although some are still buying white-colored flowers. It really just depends on their beliefs.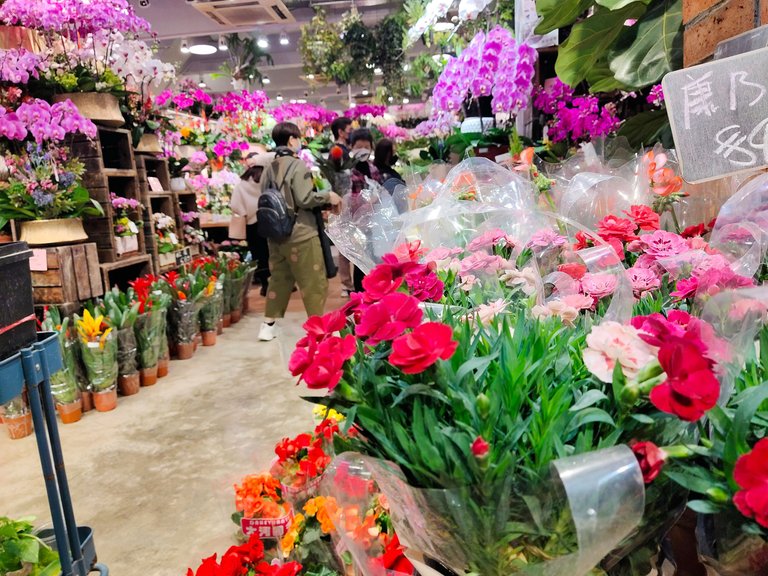 Several kinds of flowers can be found in this flower street market. Among them, my favorite is these tulips, as well as roses.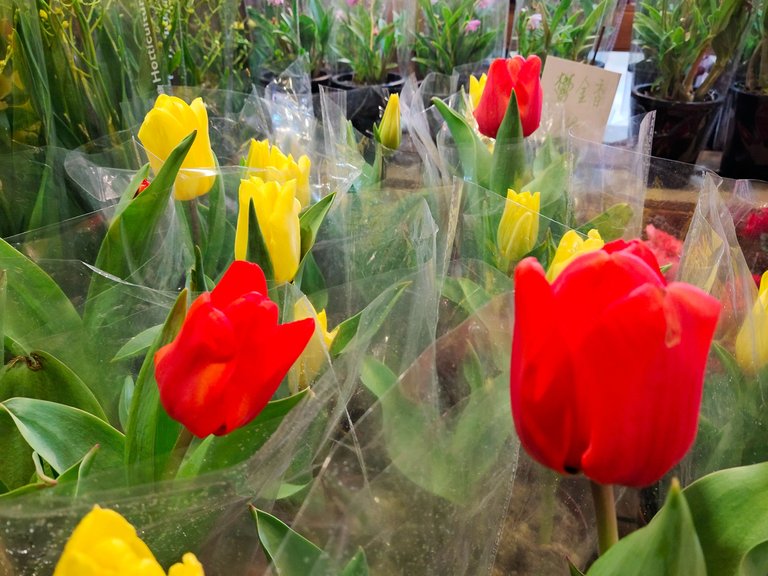 These fortune fruit and kumquat trees are always present every CNY. Aside from their yellow color, each has auspicious meaning too, and both symbolize luck and fortune.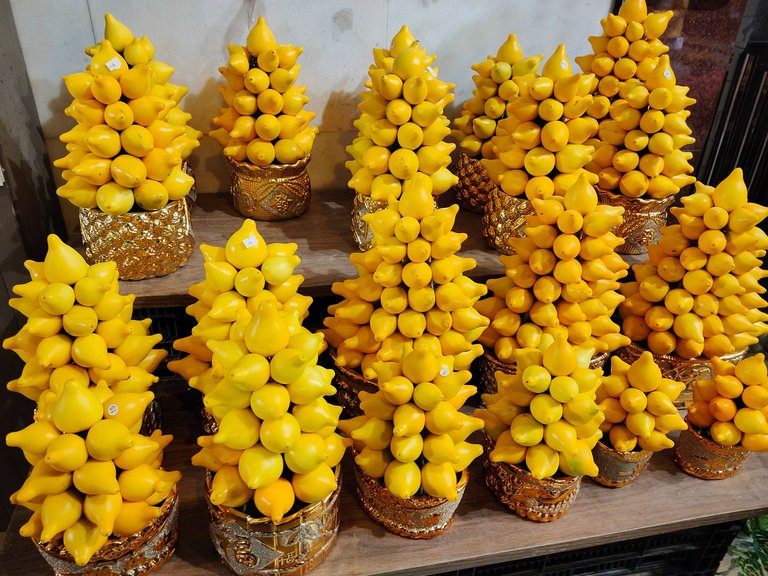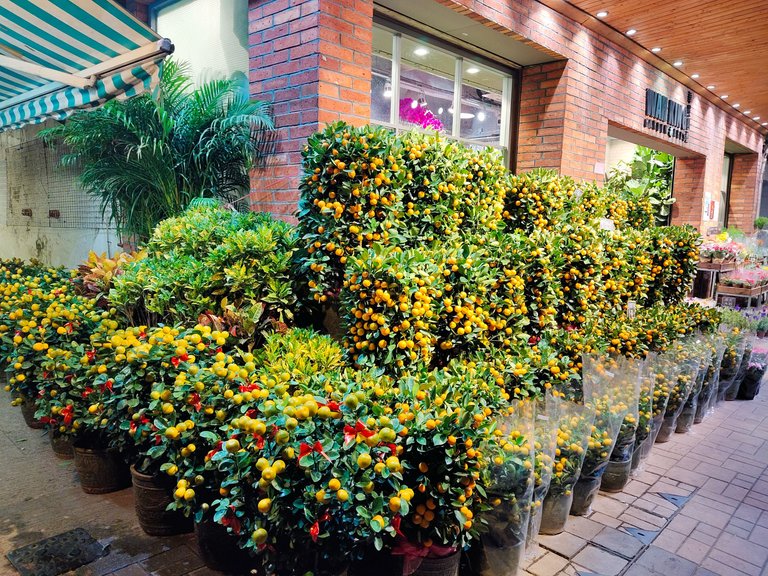 ---
And of course, just like us Filipinos, Chinese people also have kinds of foods that they prepare every CNY which brings good luck to them. If in the Philippines we usually serve 12 kinds of round-shaped fruits on the table every New Year, here in Hong Kong, they are serving a tray of different kinds of candies for the entire CNY celebration. Each food has symbolic meaning too, which includes togetherness, good luck, longevity, success, and prosperity.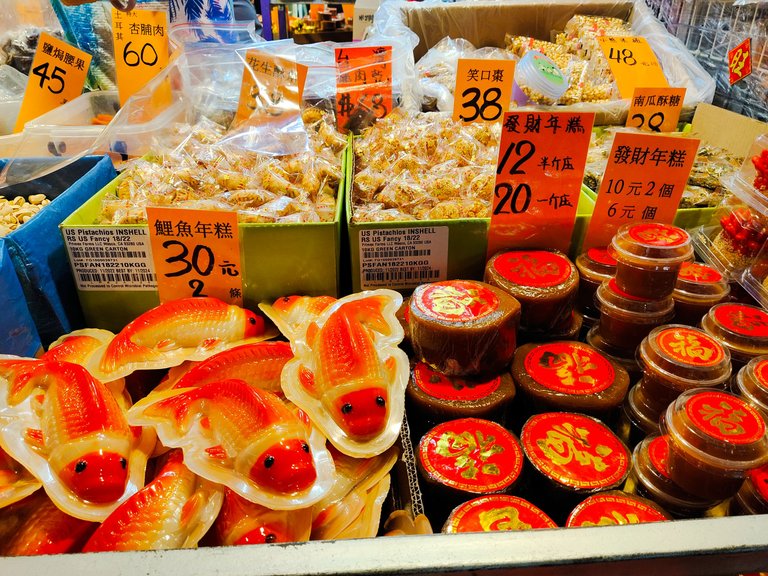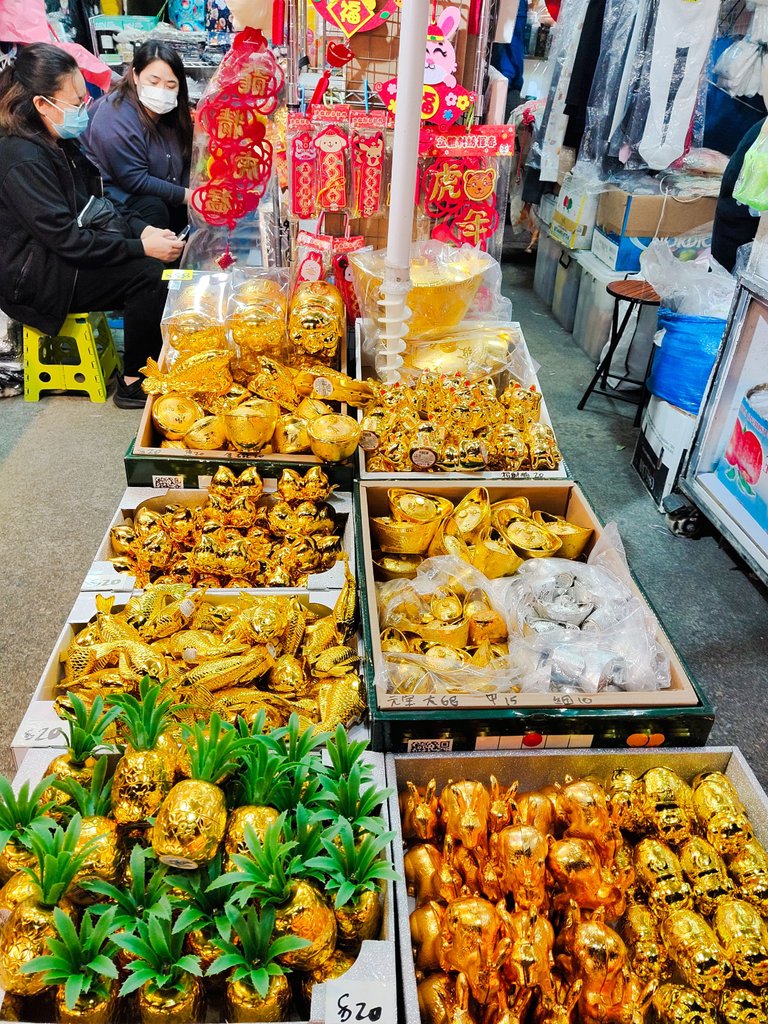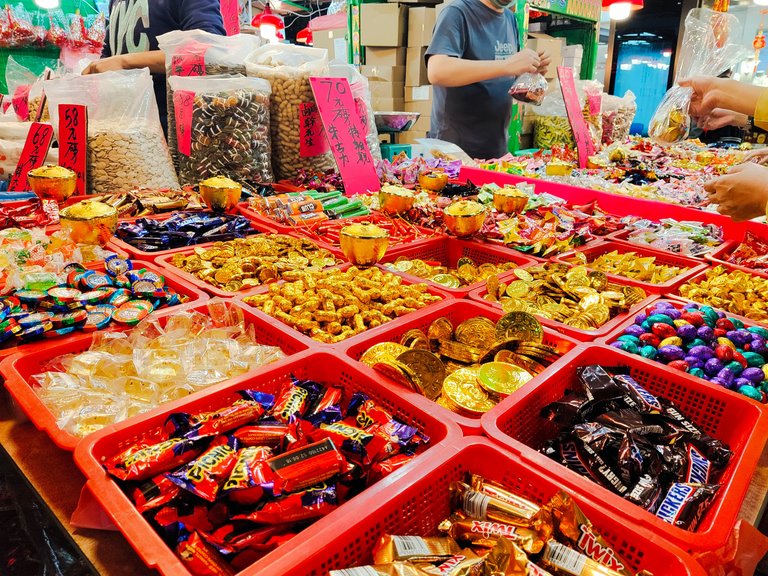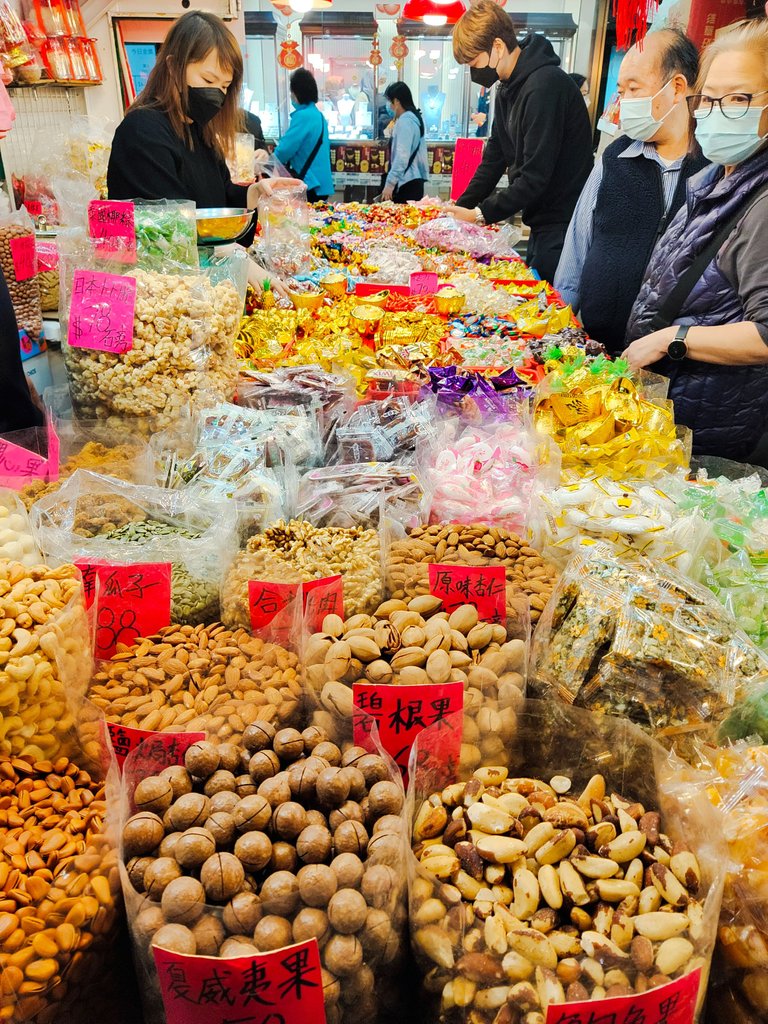 My favorite food every CNY are rice cakes and sesame ball snacks. I am not sure though why Chinese people like serving chocolates and others sweets every CNY. What I am certain of is, sweet food is for a sweet life. Sweet meaning, isn't it? Just don't eat too much, or else you'll get diabetes 😂.
---
That concludes my Market Friday blog. So if you are planning to shop for CNY in Hong Kong, you know where to go 😉. Prince Edward street market has all the items that you need. You can also check the video above about my night walk at Prince Edward street market.
Thanks for stopping by.
---
You can also reach me on my socials and let's be connected:
---
---