Micro ficción: Embarcado a lo desconocido | Drabble: Embarked on the unknown (SPA-ENG)

Versión en español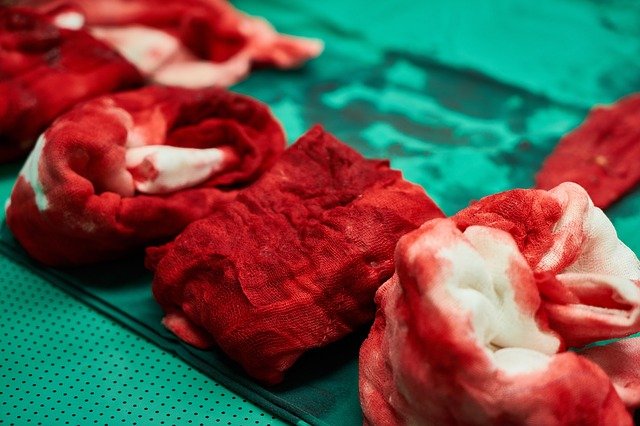 Embarcado a lo desconocido
La anciana tomó el cuchillo y abrió una herida en la espalda del joven paralítico sin que este se quejara. La sangre salpicó mi blanca bata, sacándome de mi asombro. La mujer de pelo canoso y ojos cansados, casi ciega, sumida en un trance profundo cortaba la carne con la precisión de un cirujano en aquella sala limpia, pero no ascética para una intervención quirúrgica.
Miré a mi alrededor en búsqueda de anestesia. Solo unos frascos con distintas yerbas entremezcladas al alcance de los dos asistentes de la anciana me pareció como medicinales.
Media hora ante, el padre del joven me contó cómo su hijo quedo postrado en la silla de rueda luego del fatídico accidente. Los mejores médicos y especialistas lo sentenciaron a una permanente inmovilidad desde el cuello hasta los pies. Así que, sin pensarlo dos veces acudieron a doña Gleba como último recurso.
Al ver al joven sobre la mesa cubierta con un blanco mantel, ahora ensangrentado, pensé que él moriría, y yo sería inculpado por la policía al permitirlo siendo médico.
Aquella anciana me miró a través de las carnosidades de sus ojos y sonrió diciéndome que tuviera calma y fe. Que todo saldría bien, el mal del muchacho no era tan grave como parece.
Ella le dijo al joven que moviera los dedos del pie izquierdo, pero este movió el del pie derecho. Pidió disculpas, mirándome de nuevo. Entendí como aquella mirada fuera una leve reprimenda por sacarla de concentración.
Con asombro vi cuando ella le pidió de nuevo que moviera los dedos del pie izquierdo. Increíble, el joven obedeció al instante mientras se quejaba que le dolía.
El asistente ubicado en el lado derecho, le dio a la casi octogenaria anciana uno de los frascos con un líquido de color morado oscuro. Mojó sus arrugadas manos y luego lo untó lentamente dentro de la herida.
Vi al joven mover con lentitud también los dedos de ambas manos mientras una tímida sonrisa mezclada con lágrimas se dibujaba en su rostro.
Pensé en callar lo que acababa de presenciar. Ver al joven salir a través de la puerta, adolorido pero visiblemente recuperado de la severa inmovilidad e insensibilidad, hizo pedazo el saber científico del cual me jactaba.
Me sentí empequeñecido ante la aparente frágil figura de la anciana capaz de sanar a los pacientes desechados por la ciencia.
Para mi sorpresa, afuera de la humilde casa estaba un vehículo aparcado justo al frente con dos hombres vestidos de negros con gafas muy oscuras. Me observaban al salir, y sin poder evitarlo uno de ellos salió a mi encuentro invitándome a abordar.
Escuché la voz de la anciana detrás de mí diciéndome, «no tengas miedo y ten fe».
No tuve más opción, ahora trabajo para ellos en un investigación que empecé solo por diversión y simple curiosidad. Quería desenmascarar a la charlatanería y prácticas supersticiosas. Nunca pensé que sería parte de un proyecto tan secreto para desentrañar lo desconocido.
Fin
---

Una micro ficción original de @janaveda
Imagen de Engin Akyurt en Pixabay

---
English version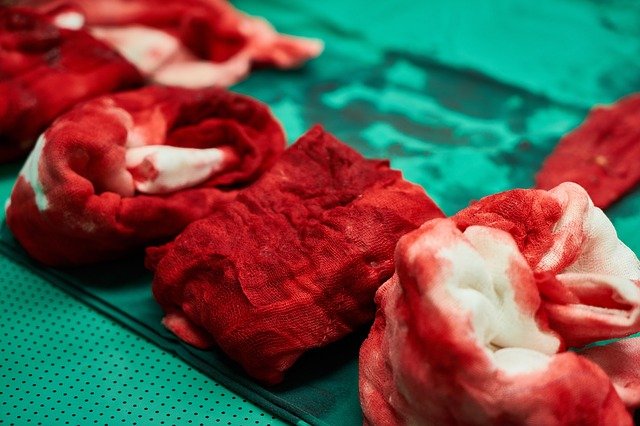 ---
Embarked on the unknown
The old woman took the knife and opened a wound on the back of the paralyzed young man without him complaining. Blood splattered my white robe pulling me out of my astonishment. The gray-haired, tired-eyed woman, almost blind, in a deep trance, cut meat with the precision of a surgeon in that clean, but not ascetic, room for surgery.
I looked around for anesthesia. Only a few jars with different herbs intermixed within reach of the two assistants of the old woman seemed to me like medicinal.
Half an hour before, the young man's father told me how his son was bedridden after the fatal accident. The best doctors and specialists sentenced him to permanent immobility from the neck to the rest of the body. So, without thinking twice, they turned to Dona Gleba as a last resort.
Seeing the young man on the table covered with a white tablecloth, now bloody, I thought that he would die, and I would be indicted by the police for allowing it as a doctor.
The old woman looked at me through her fleshy eyes and smiled, telling me that I had calm and faith. That everything would turn out well, the boy's illness was not as serious as it seems.
She told the young man to wiggle the toes of his left foot, but he wiggled the toes of his right foot. She apologized, looking at me again. I understood how that look was a slight reprimand for getting her out of concentration.
In amazement, I saw when she asked him again to wiggle the toes of his left foot. Incredible, the young man instantly obeyed as she complained that it hurt.
The assistant, located on the right side, gave the almost octogenarian old woman one of the bottles with a deep purple liquid. She wet her wrinkled hands and then slowly rubbed him into the wound.
I saw the young man also move the fingers of both hands slowly while a shy smile mixed with tears was drawn on her face.
I thought about shutting up what I had just witnessed. Seeing the young man come out through the door, sore but visibly recovered from the severe immobility and insensitivity, made a piece of the scientific knowledge of which I boasted.
I felt dwarfed by the seemingly fragile figure of the old woman capable of healing patients discarded by science.
To my surprise, outside the humble house was a vehicle parked right out front with two men dressed in black with very dark glasses. They were watching me as I left, and without being able to avoid it, one of them came out to meet me, inviting me to board.
I heard the voice of the old woman behind me telling me, "don't be afraid and have faith."
I had no choice. Now, I work for them in an investigation that I started just for fun and simple curiosity. I wanted to expose charlatanism and superstitious practices. I never thought I would be part of such a secret project to unravel the unknown.
The end


An original drabble by @janaveda
Image by Engin Akyurt on Pixabay

---
---