[ Eng - Esp ] I just want to drink you ☕ Coffee & Poetry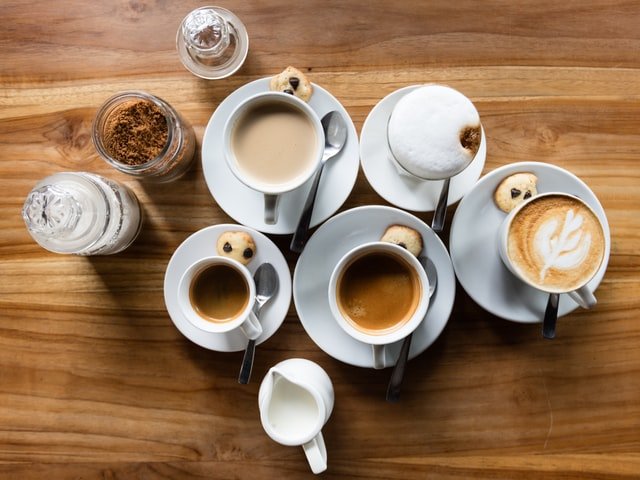 Happy beginning of the week, coffee lovers, I send you a tsunami of good energies, and I also wish you a productive week in everything you are about to do or undertake. Poetry and coffee, as many readers will have been able to appreciate in my posts, enclose a dimension of magical realism in my creative process as a writer. These two passions that I feed day by day are the intersection of two things that often some people may see as opposites, but they are not. The idea of my poetic proposal with the background of coffee is that readers who are not necessarily interested in poetry, can see how the pairing of this art of writing can be compatible with a cup of coffee, and show the best of both worlds in an enjoyable symbiosis between coffee and poetry. Poetry is an art form that dates back to the time of Homer. Poets have been writing poems for centuries using coffee as their muse. The relationship between coffee and poetry has not always been explored in depth, but it is clear that there are many similarities between these two art forms.
The subject of coffee and poetry has been a favorite theme of poets and writers for centuries but is lost in the mists of time. It is not hard to see why. Coffee is one of the most important and stimulating beverages in the world, as it has the power to enhance creativity, due to its main component, the alkaloid Caffeine. Poetry is one of the most powerful and sensitive forms of expression, which makes it an essential component of any writer's toolbox. It is for this reason that I am passionate about drinking coffee and writing poetry. As proof of the above, I share with you a poem I have written entitled: I just want to drink you.
Feliz inicio de semana, amantes del café, les envío un tsunami de buenas energías, y les deseo también una semana productiva en todo lo que se dispongan a realizar o emprender. La poesía y el café, como muchos lectores lo habrán podido apreciar en mis post, encierran una dimensión de realismo mágico en mi proceso creativo como escritor. Esas dos pasiones que día a día alimento son la intersección de dos cosas que a menudo algunas personas pueden ver como opuestas, pero que no lo son. La idea de mi propuesta poética con el trasfondo del café es que los lectores que no están necesariamente interesadas en la poesía, puedan ver como el maridaje de este arte de escribir puede ser compatible con una taza de café, y mostrar lo mejor de ambos mundos en una amena simbiosis entre café y poesía.La poesía es una forma de arte que se remonta a la época de Homero. Los poetas han estado escribiendo poemas durante siglos con el uso del café como musa. La relación entre el café y la poesía no siempre se ha explorado en profundidad, pero está claro que hay muchas similitudes entre estas dos formas de arte.
El tema del café y la poesía ha sido un tema favorito de poetas y escritores durante siglos que se pierde en la noche de los tiempos. No es difícil ver por qué. El café es una de las bebidas más importantes y estimulantes del mundo, ya que tiene el poder de potenciar la creatividad, debido a su componente principal, el alcaloide Cafeína. La poesía es una de las formas más poderosas y sensibles de expresión, lo que la convierte en un componente esencial de la caja de herramientas de cualquier escritor. Es por esta razón que me apasiona beber café y escribir poesía. Como prueba de lo anteriormente dicho les comparto un poema de mi autoría que he titulado: Sólo quiero beberte

I just want to drink you
and immerse me in you
to taste you and travel
in your aroma
to those distant lands
that brings us closer
when we drink coffee.
I just want to drink you
without the hours passing by
and time in a bottle
is eternal in us
like a cup of coffee
that shelters the warmth
between our hearts.
I just want to drink you
and soak in the coffee
of your sweet mouth
and walk with you
along the milky way
and in one of its cafes
and have a cappuccino.
I just want to drink you
at every moment
and spill the coffee
from your eyes in mine
and sleep eternally
in the shelter of your arms
and the perfume of your mouth.
I just want to drink you
in sips and a little at a time
to never stop drinking
the elixir of your lips
that rest on mine
when at any time
we look for a coffee as an excuse.
I just want to drink you
as much as I can,
I want to fill myself with you
and that the coffee in your eyes
illuminate my days
as well as every hour
I will share it with you.
I just want to drink you
and thank you for your company
from my earliest childhood
to the maturity of these days,
where I can't imagine a day without you,
without your smell, aroma, and taste
coffee of my days.

Solo quiero beberte
y sumergirme en ti
saborearte y viajar
en tu aroma
a esas tierras lejanas
que nos acercan
cuando bebemos café.
Solo quiero beberte
sin que las horas pasen
y el tiempo en una botella
sea eterno en nosotros
como una taza de café
que abriga el calor
entre nuestros corazones.

Solo quiero beberte
y mojarme en el café
de tu dulce boca
y pasear contigo
por la vía láctea
y en uno de sus cafés
tomarnos un capuchino.
Solo quiero beberte
en cada momento
y derramar el café
de tus ojos en los míos
y dormir eternamente
al cobijo de tus brazos
y del perfume de tu boca.
Solo quiero beberte
a sorbos y de a poco
para nunca dejar de beber
el elixir de tus labios
que en los míos reposan
cuando en cualquier momento
buscamos como excusa un café.
Solo quiero beberte
todo cuanto pueda,
deseo llenarme de ti
y que el café de tu mirada
me ilumine los dias
así como cada hora
que contigo comparto.
Solo quiero beberte
y agradecer tu compañía
desde mi más tierna infancia
hasta la madurez de estos días,
donde no imagino un día sin ti,
sin tu olor, aroma y sabor
café de mis días.
📌
Translated with 
www.DeepL.com/Translator 
(free version)
Notice to the reader
My mother tongue is Spanish,
 so please excuse me for any grammatical 
or syntax errors 
in the translation of this content.

📸 Unsplash | Cyril Saulnier
Cafe icons created by bqlqn - Flaticon
Text divider created by sangerz


Original Content by @jakim7
Copyright @jakim7 | All Rights Reserved
Animated Banner Created By @zord189
---
---