[ Eng - Esp ] Coffee and Reading | Poetry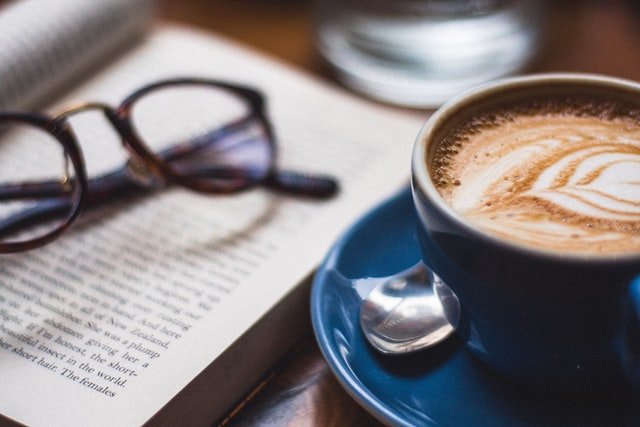 Hello coffee lovers, happy beginning of the week, I hope you are happy, successful, and productive in everything you do and undertake. The poem I share with you in this post is inspired by reading and coffee, this combination is perfect in my particular case, due to the combination of two pleasures, both are taken hand in hand, I often drink coffee and read, especially when I read poetry, then that desire of euphoria that promotes caffeine is activated in me and reading is more fluid and pleasant, I have already proven this after several essays, coffee and reading are two of the pleasures I enjoy the most. That is why I have decided to title this poem of my inspiration: Coffee and Reading.

Hola amantes del café, feliz comienzo de semana, espero que sean felices, exitosos y productivos en todo cuanto realicen y emprendan. El poema que les comparto en este post está inspirado en la lectura y el café, esta combinación es perfecta en mi caso particular, debido a la combinación de dos placeres, ambos están tomados de la mano, en mí es frecuente beber café y leer, sobre todo cuando leo poesía, entonces se activa en mí ese deseo de euforia que propicia la cafeína y la lectura es más fluida y grata, esto ya lo he comprobado después de varios ensayos, el café y la lectura son dos de los placeres que más disfruto. Por lo que he decido titular este poema de mi inspiración: Café y Lectura.
Coffee and reading, divine pleasures
that I enjoy at any time,
when I browse through the pages
of a book in my cup of coffee
everything becomes different and pleasant,
time seems to dilute
with each sip and in each line.
Coffee and reading, are the ideal combination
to overcome the daily routine
and travel every time we read,
every line read is an adventure
with the aroma and taste of coffee
that takes us to places
in the writer's mind.
Coffee and reading, a mix
perfumed in each paragraph
that is aromatized with reading
as time
It drowns in each chapter.
Brain + Caffeine Wise Formula
to discover, create and recreate.
Coffee and reading, two roads
that lead to a great treasure,
where creativity and euphoria
give us their fleshy fruits
for the delight of soul and spirit,
every time that the dew of the letters
rises in the volutes of coffee.
Coffee and reading free us from mental fatigue
from mental fatigue
and from the daily tedium
that boxes us in
in the corners
when we do not drink letters
and we stop traveling in books.
Coffee and reading open their doors
to the imagination, strengthening
our neuronal networks,
every time we read
and enjoy a coffee
our knowledge expands
and we subtract hours from time.
Coffee and reading
my inseparable friends,
travel companions
that give colors
to my days, to my insomnia,
rain and storms,
thank you for carrying me in your suitcases.

Café y lectura, placeres divinos
que disfruto a cualquier hora,
cuando navego en las páginas
de un libro en mi taza de café
todo se torna diferente y grato,
el tiempo pareciera diluirse
con cada sorbo y en cada línea.
Café y lectura, combinación ideal
para vencer la cotidiana rutina
y viajar cada vez que leemos,
cada línea leída es una aventura
con aroma y sabor a café
que nos pasea por lugares
en la mente del escritor.
Café y lectura, una mezcla
perfumada en cada párrafo
que se aromatiza con la lectura
a medida que el tiempo
se va ahogando en cada capítulo.
Cerebro + cafeína fórmula de sabios
para descubrir, crear y recrear.
Café y lectura, dos caminos
que conducen a un gran tesoro,
donde la creatividad y la euforia
nos regalan sus carnosos frutos
para el deleite de alma y el espíritu,
cada vez que el rocío de las letras
se eleva en las volutas del café.
Café y lectura nos liberan
de la fatiga mental,
y del tedio diario
que nos encajona
por los rincones
cuando no bebemos letras
y dejamos de viajar en los libros.
Café y lectura abren sus puertas
a la imaginación fortaleciendo
nuestras redes neuronales,
cada vez que leemos
y disfrutamos un café
se expande el saber
y le restamos horas al tiempo.
Café y lectura
mis amigos inseparables,
compañeros de viaje
que le dan colores
a mis días, a mi insomnio,
a la lluvia y a las tormentas,
gracias por llevarme en sus maletas.
📌
Translated with 
www.DeepL.com/Translator 
(free version)
Notice to the reader
My mother tongue is Spanish,
 so please excuse me for any grammatical 
or syntax errors 
in the translation of this content.

📸 Unsplash | Harry Brewer
Iconos creados por Freepik - Flaticon
Text divider created by sangerz


Original Content by @jakim7
Copyright @jakim7 | All Rights Reserved
Animated Banner Created By @zord189
---
---