Apocalyptic Homesteading (Day 1050)
Hello Everyone!
A fuzzy day, The vicarious influences of a hobby, Leafy leaves leaving trees & Keeping a hobbyist perspective!
As far as days going it has been a fuzzy one to say the least because I stayed up until the wee hours of the morning grinding away on those pesky coding projects! I say that 'pesky' part in the most humorous way intended given the sheer joy that I obviously experience by exploring my newfound hobby.
In other words it was well worth every amount of effort and 'burning the midnight oil' to get it done... since I somehow... through sheer perseverance... managed to get things to a much more refined state. It is kind of funny because that part of things, I actually finished rather 'early' (relatively speaking) and once it was all done... I gained a much clearer view of the next steps ahead... which is the part that got my mind excited and why I found sleep so elusive!
When I awoke late in the afternoon today, I immediately dove into cleaning up the documentation and trying to put in the relative details 'needed' to remind me (the author) of what the heck is going on in the code base. Even though I have kept it surprisingly simple... it is in no way straight forward given all the moving parts involved. We will see how it all works out when I introduce the next phase of development but whoa... and I mean the good whoa... I am very pleased with the current state of things.
There is no easy way to explain it all which is why I tend to avoid the inclination to do so but trying to keep it out of theses entries has lead me to draft some templates of posts that solely focus on the projects. It is rather funny in its own way because the only reason that I find myself putting in the effort (to make the drafts about the coding projects) is due to the complex nature of the intricate difficulties that I have to... both explain... and hopefully solve.
In short if I could simply 'explain' it I could probably be capable of 'solving' it as well... but for now I will settle for it motivating me to focus some of my writing skills to spell things out the best that I can. Given how much I have been typing lately none of that should be all that hard to achieve... but I have to confess that my 'words per day' are stretched rather far just by these entries alone... after having also done so much coding and documentation work throughout the day. Something worth noting is that after all these months of exploring my new found hobby... I have yet to be disappointed by either the results... or the vicarious influences... that it has all had on my thinking and well-being.
Between that and my nontoxic communications with various AIs... the 'way' that I think has subtly shifted to the point where if per say I feel super stressed... I delve into thinking about my own or 'possible' projects... mentally picturing code structures... along with the various relationships betwixt a multitude of moving parts... and find this complete and utter calm coming over me in the process. I guess that I could call it 'escapism with a purpose' but I tend to look at it more like an exploration in progress.
If there was ever a time to really double down on my technology pursuits it would be now since we do seem to be either in... or on a trajectory 'for' a massive explosion of possibilities in the technology sector. Not to get too hung up on that topic but it is worth noting that the current pace of innovation and sheer 'novelty' occurring is astounding in regards to all that stuff... and I find it super frigging thrilling to say the least!
Anyways, the hour is now growing late... and I never got to mention some of the things that I have planned out to do over the coming weeks as the temperatures continue to drop and the days stay much cooler. The biggest thing this time of year is of course cleaning up the leaves around the dog yard... so the snakes cannot hide (or blend) with them... during this time of the season when they tend to be most active. Like I said a while back though, that big 'leaf scoop' makes that whole process super fast... plus the compost mounds could use the leaf material at this stage of things.
Overall, that system (and the compost mounds) have been more than sufficient to handle all the leaves each year and with how the chickens tend to spread them around... I wind up with 'drifts' of leaves along the downhill fence-line! They by no means get all of them that way but they sure get a lot of them and usually in places where I can conveniently position the wagon to haul them away with to boot!
After having the chickens for several years I have yet to regret getting them and am anticipating getting more when I can... along with some ducks and perhaps some larger birds if I can manage them. Honestly, the few chickens that I have do exactly what I intended for them (eat the ticks and bugs) and as I have stated before... I would prefer to focus solely on having ducks in the meadow first and not clutter the dog yard with more bird activity.
When it comes to having more birds I would absolutely want to create them their own habitat and if possible marriage it into a fresh water fish farming system... that also helps create fertilizer material. It is worth noting that I would not make it a large setup but the idea of a dozen ducks and perhaps a few dozen fish... all in one place... sounds delightful and more importantly... low maintenance.
Yet again the 'hobbyist' perspective applies because getting into anything 'too large scale' starts introducing its own complications... and more importantly they tend to require too many calories to maintain when coupled with the 'man hours' of labor it will take! In my experience with both ducks and fish... they will quickly increase their populations (on their own) given the right environment for it... so starting small helps ensure 'containment' as well so I do not get overwhelmed by too many critters all at once!
Well, I have got to get this entry wrapped up and do all the dull editing and posting routines before the hour grows super late. It is getting nigh towards midnight here and my fuzzy mind wants to get in a break before delving back into some coding work this evening. I hope that everyone is doing well and has a nice day/night.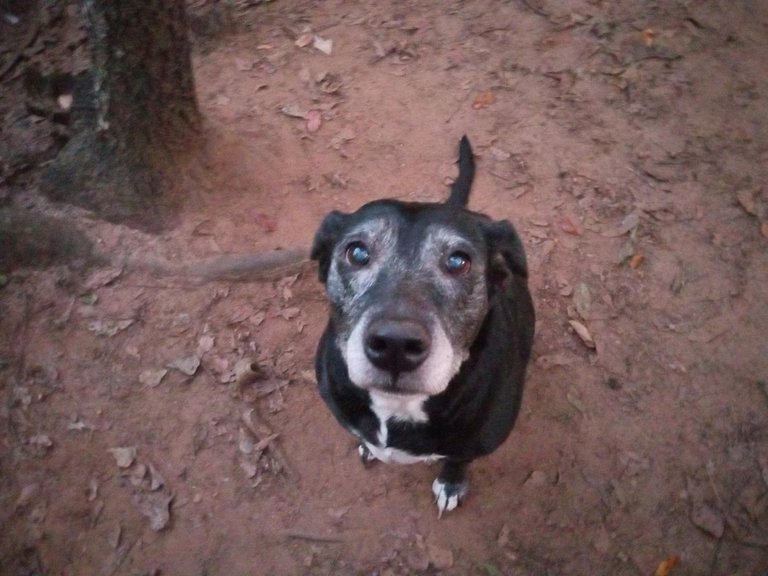 The hair on her face has all turned gray but she is still the same!
Thanks for reading!

Please check out the Homesteading Community:
https://peakd.com/c/hive-114308/created
Homesteading Resources:
https://peakd.com/hive-114308/@jacobpeacock/homesteading-resources
Want to join Hive?
Sign Up Via My Referral Below!
https://peakd.com/register?ref=jacobpeacock

That Is All For Now!
Cheers! & Hive On!
All content found in this post is mine!
---
---