Apocalyptic Homesteading (Day 1044)
Hello Everyone!
A clacking keyboard, Focusing on simpler solutions, False parasols galore & Ye ole trifoliate orange!
I dunno why I keep putting off writing all day until the evening (or close to it) but it sure keeps happening a lot lately. Part of that is because I keep allowing myself to get sucked into doing other stuff upon waking... and part of it is me not focusing on it first thing in the morning the way that I should be doing. Maybe if I had my 'head in the game' more with it all... I would not find myself here each night clacking away at the keyboard and hoping that I can get it done before I grow too sleepy.
Anyways, it was another 'lazy day' on my part (meaning it was intentional) and I focused on some coding projects so much... for so long... that the majority of the day had passed before I realized that I had not even gone on a single hike. I am unsure if I even made all that much real progress on the coding project but I do feel good about some of the ideas that working on it gave me.
Not to get over-involved with that topic but I was so hyper-focused on doing things one way that I had somehow missed a much simpler way in the process. Thinking there was a 'better way' was partially why I got so focused on it in the first place... but what I had not noticed was that the solution had been staring me in the face the whole time. We will see how that all turns out once I decide to refactor the code and adapt it to my latest idea for storing file data as text on a blockchain.
On a different note, those Chlorophyllum molybdites mushrooms continue to pop up like crazy in the compost mound. Although I never mentioned it before, I did at one point use a shovel to 'look inside' the mound... and it is absolutely full of mycelium. From the looks of things that type of mushroom has inoculated the entire mound and most likely the other mounds near it.
All of which is for the best in my thinking because it should help accelerate the breakdown of the mound's contents. I should do some kind of comparison test between the mounds that have the mushrooms and those which do not and see if I can tell any difference between them. That sounds pretty simple at first glance but given there can be a massive amount of reasons why one mound might breakdown faster... or create a richer soil than the others... can be 'complex' to say the least and any comparison that I did make... would be more to satisfy my own curiosity than being a real test.
On a similar note. This coming fall I can finally start harvesting soil from the first compost mound that I created here and am pretty stoked to see what kind of potting soil that I get from it and how the worms have fared. Since it is mainly compost comprised of dog waste, dirt, leaves and unwanted plants... I am thinking that it will work well for the next round of black locust trees that I grow from seed.
So far the soil from the topsoil trap in the dog yard has been working well for planting stuff in... but I doubt that it is anywhere nearly as 'rich' as the soil from the compost mounds will be. It is hard to gauge exactly how much soil I have between both the compost mound that is nearly ready to harvest... and the soil in the topsoil trap... but what I do know is that I need a heck of a lot more flower pots. The other option is to quit 'dallying about' and find some places to create a few above ground garden beds in.
Another thing that I am considering doing with the soil from the compost mound is to use it in one or two large worm boxes to help get them established. I know that I have procrastinated the worm farming for a long time now... but I keep getting hung up on what the heck to feed them (aside from dog poop) because the small amount of food waste that I produce... already goes to the dogs or chickens. At one point I mentioned feeding them kudzu but since then I have grown inclined to feed that solely to the chickens!
Alright, I should segue into explaining where I am at with stuff and what my goals are because it is getting close to that time of year where I can get a lot done without it being super hot and buggy outside. There are assuredly several projects that need attention but perhaps the best thing for me to focus on is going to be doing anything and everything that will put me in a good position for gardening come next spring.
To be clear I do not want to 'create too much work' for myself with the gardening than I can feasibly do... but it would be nice to get some tomato plants growing along with some kind of 'leafy green' plant that I could make salads with. Having recently learned about the 'trifoliate orange' (a type of citrus tree) I am feeling inclined to try growing some of them also. Either from seed or perhaps even buying some saplings. One way or another I want to grow more fruits and vegetables... and manage to get the beginnings of a cold tolerant citrus grove going.
Something that I continually overlook is how well that bananas might grow around the meadow which more often than not has standing water in it. The bananas would not do well in most of the meadow's edges but there is one particularly damp area that they might do well in. For now it is another idea to make a mental note of but whoa I would love to grow some of those finger sized bananas or even 'lady's fingers' or small plantains.
Well, I think I am going to keep this entry short and sweet. I hope that everyone is doing well and has a nice day/night.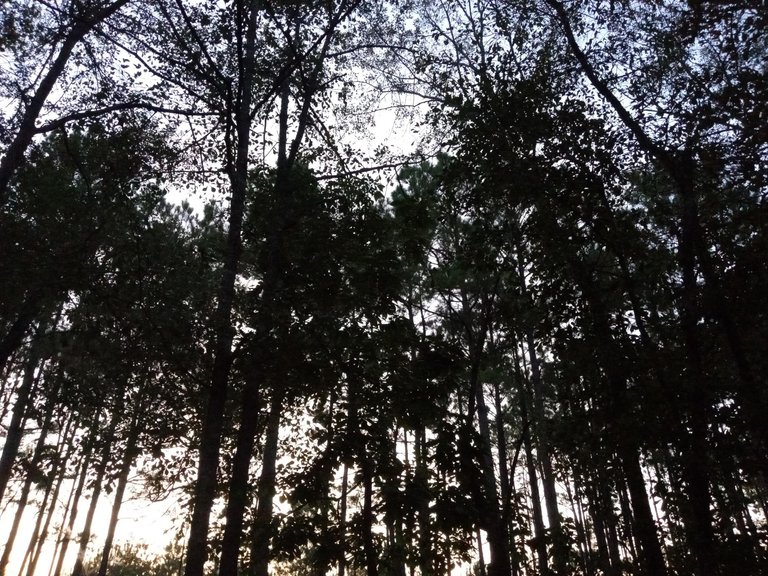 Just another sunset through the pines!
Thanks for reading!

Please check out the Homesteading Community:
https://peakd.com/c/hive-114308/created
Homesteading Resources:
https://peakd.com/hive-114308/@jacobpeacock/homesteading-resources
Want to join Hive?
Sign Up Via My Referral Below!
https://peakd.com/register?ref=jacobpeacock

That Is All For Now!
Cheers! & Hive On!
All content found in this post is mine!
---
---