Apocalyptic Homesteading (Day 1038-1039)

Hello Everyone!
A coyote encounter, Honking near the gate, Barking too late & Quite the long sleep!
So, far I have yet to write anything and it is just after three in the afternoon!
Okay, I fell asleep for an afternoon nap not long after writing that... and did not wake up again until nearly twelve hour later! In other words it is now the following day and the sun will be peaking over the eastern horizon in another few hours. I guess those few days of sleeping odd hours and doing so much physical activity finally caught up to me and while the rest is welcome... I missed out on staying on track with my posting routine!
I guess that I should start off by telling the story of something that happened during the wee hours of the morning on 'Day 1038' and perhaps part of why I was a bit tired during the day. To be clear I am unsure why I was out in the dog yard at such a late hour (it was either to let the dogs in or something) but just as I was about to head back indoors I heard a vehicle's horn honked twice in two quick bursts. So, the sound was 'honk, honk' which is what I think of as the way folks honk to get something (like a dog) or someone's attention.
Given that times have been hard in this country (and growing harder all the time) over the last few years I could not ignore a horn honk like that in the middle of the night... and especially so when it sounded like it was from a vehicle parked at or near the main gate here. Thankfully I had already put the dogs inside and they did not start a ruckus when the horn was honked... but I let them right back outside... then I slipped out the gate and began inching my way through the darkness towards the area of the property where I heard the horn from... while the dogs watched the proverbial home-front.
To be clear here... the area I live in is quite chill and folks tend to leave other folks alone and given that most folks either are armed, have dogs or both... I doubt that will ever change... but my point is that I was more inclined to think there had been a vehicle wreck or someone was in need of aid... than there being anything nefarious going on. So, I might say that I began 'inching my way' towards the aforementioned area but I actually moved towards it at a good clip.
Per usual I considered bringing one or more dogs with me but decided that on the off chance that it was something nefarious going on... that it might suite the situation better to just occasionally turn on my flashlight and turn it back off again after a few moments as I ambled along towards the gate. Do not ask me to explain the full psychology of that tactic aside from it more or less shows anyone watching that whoever has the flashlight... might (or might not) be trying to keep their position secret... which essentially introduces uncertainty about their intentions. It is a bit of mind fuckery that has served me well over the years and well... old habits die hard... if they die at all!
Anyways, I eased all the way up to a place where I could stand and not be seen if the moon peaked out from behind the clouds... and where I could not be seen from a distance... but also a place where I had just enough 'open area' around me that I could see anyone (or anything) within a dozen or so steps of me. To say that I am 'strategic' in such moments would be an understatement... but honestly I still had it in my mind that someone might be in need of aid and the spot I was in also gave me the perfect vantage for listening to any sounds indicating such... without exposing myself along the way.
I dunno how long that I stood there gently breathing in the cool night air... but I never heard a peep from that vehicle again but the whole time I could not shake the feeling that there was something or many somethings in the woods around me. I am unsure if I can really convey that sentiment without coming off as 'paranoid' but for anyone who has spent a lot of time in the bush... I think that they know exactly the sensation I am referring to. Heck, I even did a few experimental 'big dog barks' just to see if I could make someone (or something) move off or at least reveal its position.
All that I heard was the distant sounds of neighbors starting their day in the wee hours of the morning like farmers and country folk in general are wont to do. So, I of course just kept listening... kept standing there in the semidarkness... waiting for something. My thinking was more or less: I have come all this way... why would I turn back now! In other words, I was committed at that point and wanted to figure out why the heck I felt so drawn to keep standing there and waiting. Call it intuition if you will but as I often do I just called it 'a feeling' and was not going to budge until the scenario finished playing out.
As it turns out I did not have all that long to wait because after five, ten or twenty minutes (sorry time gets slippery to track for me in such moments)... I heard what I thought at first was a distant siren but what turned out to be the yips of coyotes. Now to be clear I am unsure if they were running down the paved road, on a property across the road or some combination of the two... but they were moving fast and the sound got closer and closer at a breakneck speed.
It is worth noting that during my stay here I have heard many coyote packs and successfully run them off the place... but this pack was larger and from the sounds each one was making and how fast they were moving... I would be inclined to believe that the coyotes themselves were larger or at least much healthier than the others I have heard here in the past. To be utterly clear it was of the size (maybe seven, nine or eleven coyotes) that is just large enough to be a threat to a lone person and especially one that might be standing in their path as they are chasing something... which I realized in short order that they were doing.
Everything happened pretty quickly but basically they were driving something towards me and I could not tell if it was a deer, a deer being chased by a dog who was in turn being chased by the coyotes... or two dogs being chased by coyotes... or two dogs chasing the coyotes. Whatever the combination of critters was it all 'came to a head' (one kind of critters closed in on another) more or less directly in front of me but well off this property... and it was rather brutal sounding to say the least.
In those final moments as things were coming to a head... I had the thought: That is either multiple dogs driving those coyotes or one dog fighting like hell to get free of them! Which of course gave me pause because if it were the former then I would want to stay out of it and let them finish their job of running off the coyotes but if it were not the former I was already too late... because they were most likely running it into an ambush.
Well, I did not have long to find out the answer to that because that feeling of other things around me in the bush vanished (in hindsight that was the coyotes laying in ambush) and the dog yelped its surprise as they sideswiped it... most likely from both sides of the road. Honestly, in that moment my heart sank because I knew I was already too late and yeah I did not kick myself in the butt for not putting the pieces together of what was going on earlier with the coyotes... but keep in mind I was more focused on that vehicle horn I had heard and whether folks were in need of aid or whatever the heck was going on... that caused the honking!
What happened next happened fast but I heard the scenario off in the darkness before me go 'from bad to worse' for the dog. I still do not know if their was also a deer involved because I did hear what sounded like a deer get taken down by the coyotes and a few of them break from the pack and go quiet. Anyways, my heart went out to the dog that was on the losing end of things and the biggest, most clear, badass 'big dog bark' erupted from me that I have probably ever made and everyone of them coyotes went absolutely quiet and vanished from the vicinity... then every dog within a half mile started barking!
Lets just say that I have long worked to perfect that bark and having used it on coyotes before they will on occasion back off to a relatively safe distance before stopping to challenge the bark with their concerted efforts as a pack... essentially 'barking' back to see if they can intimidate the 'dog' or lure it into an ambush... that by then they have already set... when they regrouped at said distance. Back to my point... they did no such behavior and just kept fleeing!
Once I had successfully driven the coyotes off with my 'bark' I let out some much quieter barks in an effort to call out to the dog and/or let it know I was there still but I never heard another peep except the distant sounds of other dogs barking... including my own... which as a side note are a heck of a lot louder sounding when the air turns chilly here and the sound carries in a crisp clear way through the pine trees!
I am unsure how long I remained there but I never could locate the dog even after shining my light around, walking out near the road and generally trying to either alert it to my presence or be able to hear it if it were laid up somewhere injured. Eventually I had to give up and make my way back to where I had come from without ever finding out what the heck the honking was about but the following afternoon I found what looked like either a big four-wheeler's (or utility vehicle's) tire tracks in the grass leading along the western edge of the property between the ditch and the treeline. There were no reverse tracks so I am assuming it turned off into the road from there or was very careful to back out over its own tracks.
None of which is all that suspicious because folks often ride their recreational vehicles on and along the roads here (all quite legally) and honestly it is something that I like about the place and nothing that has ever bothered me in the slightest... but... and I mean but... I had not previously seen anyone driving along the treeline here like that on the wrong side of the ditch to be just going from 'point A' to 'point B' so to speak. In other words I found it suspicious and made a mental note of the spacing between the tires and how wide the tires themselves were just in case I see those tracks again.
To keep an open mind about it there is a very good chance that the tracks were made later (during the day) as someone around here was looking for their dog... it could have been the vehicle that I heard honking (perhaps at night while looking for the dog)... or it could all be unrelated... but irregardless of all that... it is way more activity than I am comfortable with happening before the sun comes up!
Sadly, I gotta say that I do not think that the dog made it and my 'barking' occurred a few seconds too late to save it but honestly had I barked even a few seconds earlier my bark would most likely been ineffective in surprising the entire pack and driving it off. Mainly that was because of the terrain and where I was positioned at and how the trees growing in that area are arranged... because when you spook a coyote pack like that ya gotta give it somewhere to flee to... preferably as a single unit (pack) where their collective panic will help keep them running. To explain that some... if they get scattered they will 'circle' (or remain) in the area so they can regroup their pack.
Anyways, it looks like I need to walk the dogs up and down that edge of the property so they can 'mark' it well so that it will for one help keep the coyotes away but also make it less appealing to use when they set an ambush... which like I said is what I think happened there in those final moments before I barked on that coyote pack. Truthfully I have slacked on doing that because it had been so long since I had heard any coyotes and the only one that I had seen since then was that one with the pup (a year and a half ago) not all that far from the dog yard.
To be clear about things I do not mind if a female coyote dens up at a place I am at and has her pups in safety... but I do not want the packs roaming the place or causing problems for neighbors for that matter. I am sure that I would feel differently if they were indigenous to the area (or even to the region) but they are not and without any wolves or wild dogs to deal with them... they can be problematic to say the least... especially since most places are over hunted and the wildlife populations cannot endure any more pressure put on them than they already get... and be able to sustain said populations.
There is always a tricky balance to maintain with all that stuff and given that we are in the midst of a mass extinction event... I tend to try to preserve and/or protect as much life as I can... while also acknowledging that some things (like the coyotes) have to take a lower priority due to their effect upon the scenario. It is worth mentioning that in all my years of dealing with various sized coyote packs I have never been outright attacked nor ever been in a situation where I found myself killing a coyote.
I like to think of them as 'the bravest skittish' critter that I know and since they are here (in a region they should not be) and there is no 'ever getting rid of them' then the best thing to do is 'keep them at the edge of things' and not let them overpopulate. They also tend to help thwart other invasive populations as well as domestic pets that have gone wild in an area. Believe me when I say that if you think a pack of sixty wild coyotes roaming the countryside is problematic for the wildlife... you should see what sixty feral house cats can do to the small mammal, reptile, amphibian and bird populations! At least the frigging coyotes roam for miles but those damned cats will wipe out everything around them... and will only roam as far as their is food to be found!
Okay, it is much later in the day and having gone out and hiked a bit I saw that indeed the vehicle had veered off the grass and used the driveway to get out on the road. I will steer clear of re-hashing that earlier noted stuff (about the tracks) but it is worth noting that nothing else seemed disturbed or anything. Technically I think it is inside the curtilage and I would not necessarily impede anyone traversing there unless they were littering or somehow infringing upon the place.
On a different note it has already continued the trend towards cooler weather and I even 'had' to wear a jacket just so I would stay warm... when the sweater I was already wearing would have worked just fine! I even remembered to shake it out really well first and turn it inside out, shaking it more and checking the pockets... at least enough to safely wear it without getting surprised by any brown recluses or even black widows.
Hopefully... and I mean it... because a tropical storm is brewing near the coast... so... hopefully the nice weather we are currently having will hold and I can continue wearing myself out on projects each day, hiking and even getting in some time to do some gardening. I even found some more passion flower vines on a different part of the property but they were so mixed in with briers, carolina jasmine, two types of wild grape vine and a slew of other vegetation... that I left them alone. They were also in the middle of a large 'poison berry' patch... and were more or less well protected from the wildlife treating them like fodder. Much like why I only found them in the dog yard before is my guess.
Alright, I am going to keep this entry short and sweet and call it good enough. I hope that everyone is doing well.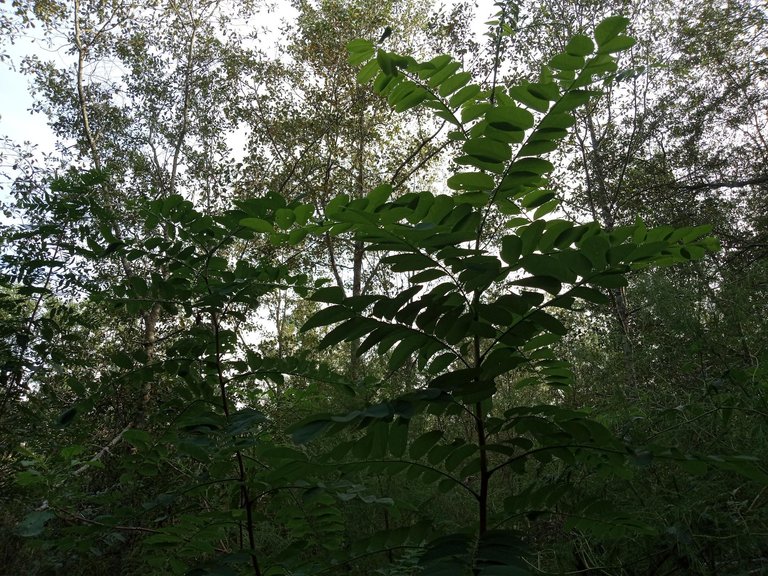 My two large black locust saplings put on another half meter of growth!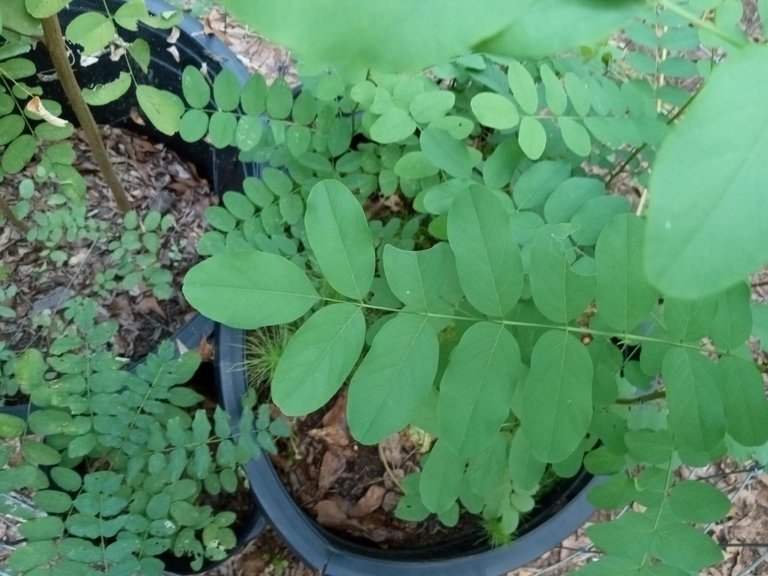 One of the black locust strains I am growing has very large leaves.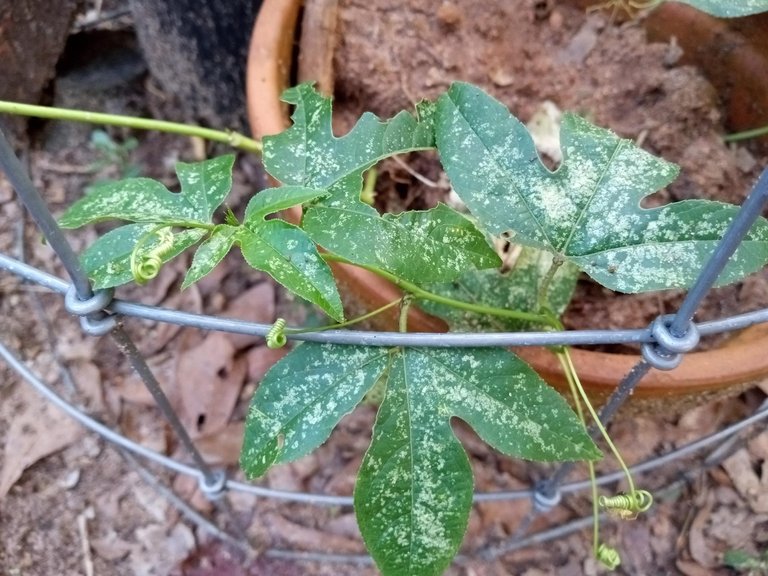 The passion flower rooting experimenter is going well!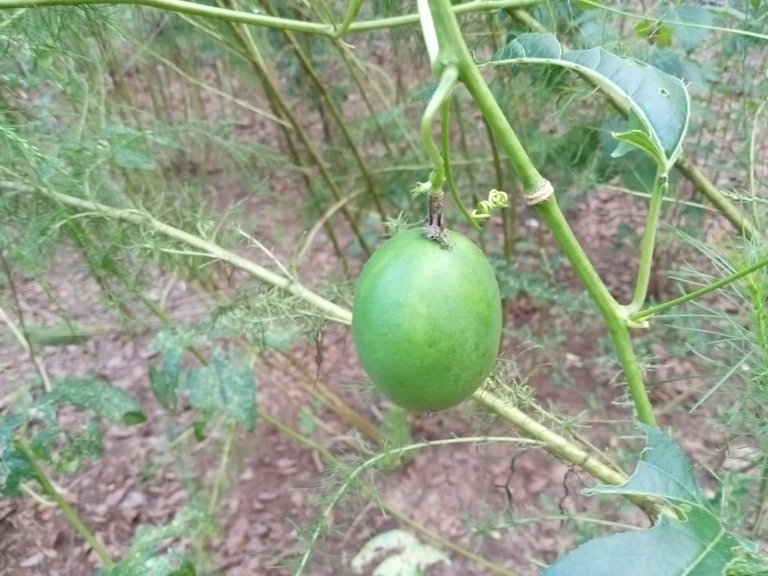 That smallest passion fruit got much bigger!
Thanks for reading!

Please check out the Homesteading Community:
https://peakd.com/c/hive-114308/created
Homesteading Resources:
https://peakd.com/hive-114308/@jacobpeacock/homesteading-resources
Want to join Hive?
Sign Up Via My Referral Below!
https://peakd.com/register?ref=jacobpeacock

That Is All For Now!
Cheers! & Hive On!
All content found in this post is mine!
---
---