[Esp/Ing] Fin de Semana en Familia/ Weekend with the family

Hello friends of The Weekend, this is my first post in this community, and I really joined because I found that bringing everyone together in a community dedicated to share our weekends is a great way to make community, because sharing similar experiences and see that we have much in common we can get to feel more like the big family that makes up Hive.
My weekend was normal, yes common, a little bit like I was used to it (in family), lately the situation separated us as all the families, and.... You may ask, well at home we were 5 siblings, my parents and my older sister's family (3 children and her husband) my brother's wife and my wife @jemima1996 in total we were 13 people living in a kind of family county since everyone has their own house.
But my brother in law had to travel for work to another state and my sister and nephews were gone, with five less the family was reduced to 8; but my brother also moved to Colombia and we were only 6, recently my sister came to visit us for errands and my brother also had to come for a weekend, and we were together almost all, my brother in law and niece did not come, but while they were here, we took the opportunity to catch up, and enjoy a weekend lunch, a soup that really never fails in family reunions.
In this community I would have liked to share photos of everyone, but we were so focused on the reunion that the photos did not happen, however I was able to share with my nephew, and I will share with you some photos where I was making him a bow to play with, and then I taught him how to shoot arrows; although he knew the basics I gave him some tips.
Hola amigos de The Weekend, este es mi primer post en esta comunidad, y realmente me eh unido porque me ha parecido que reunir a todos en una comunidad dedicada a compartir nuestros fines de semana es una gran forma de hacer comunidad, pues al compartir experiencias similares y ver que tenemos mucho en común podemos llegar a sentirnos mas como la gran familia que conforma Hive.
Mi fin de semana estuvo normal, si común, un poco a como estaba acostumbrado a que fuera (en familia), últimamente la situación nos separo como a todas las familias, y... ¿Qué tanto nos separo? preguntaran, pues en casa fuimos 5 hermanos, mis padres y la familia de mi hermana mayor (3 niños y sus esposo) la esposa de mi hermano y mi esposa @jemima1996 en total éramos 13 personas que vivíamos en una especie de condado familiar ya que cada uno tiene su casa.
Pero mi cuñado tuvo que viajar por trabajo a otro estado y pues mi hermana y sobrinos ya no estaban, con cinco menos la familia se redujo a 8; pero mi hermano también se mudo a Colombia y ya solo quedábamos 6, hace poco nos visito mi hermana que vino por diligencias y mi hermano también tuvo que venir un fin de semana, y pues estuvimos juntos casi todos, mi cuñado y sobrina no vinieron, pero mientras estuvieron aquí, aprovechamos para ponernos al día, y disfrutar de un almuerzo de fin de semana, Una sopa que realmente nunca falta en las reuniones familiares.
En esta comunidad compartir fotos de todos me hubiese gustado, pero realmente no estábamos sino concentrados en e reencuentro que las fotos no se dieron, sin embargo pude compartir con mi sobrino, y les compartiré unas fotos en donde le estaba fabricando un arco para que jugara, y luego lo enseñe a lanzar flechas; que aunque el sabia lo básico le di algunos tips.
---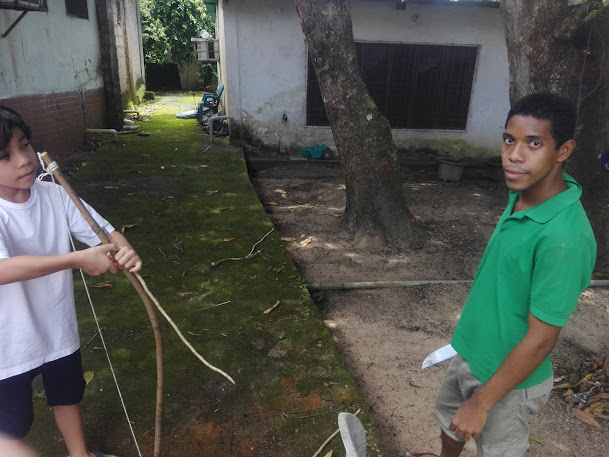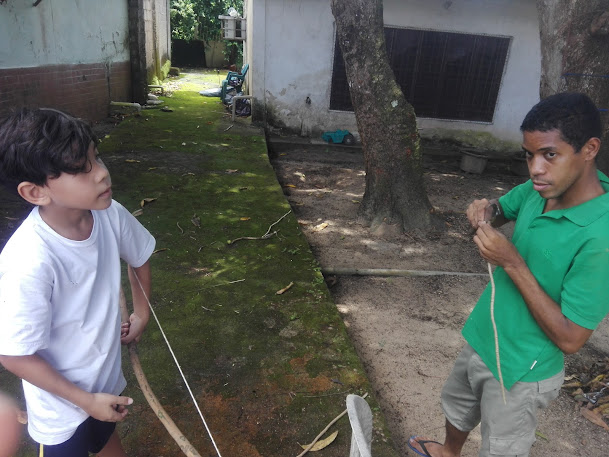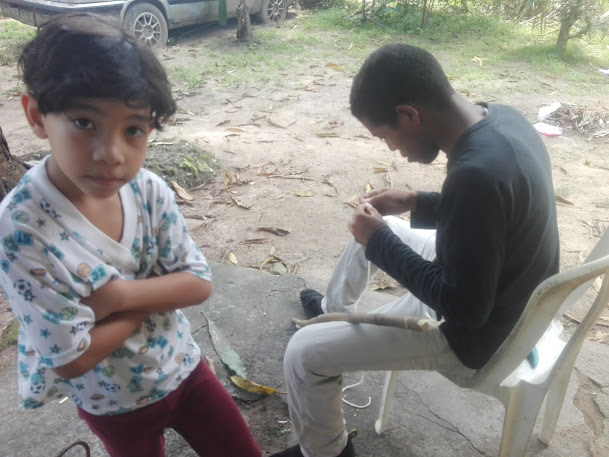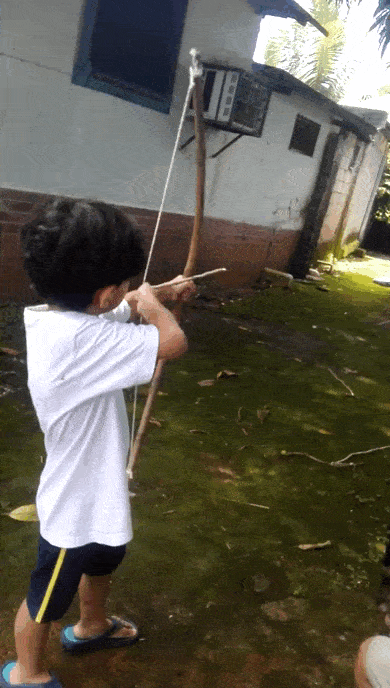 ---
Reunirse en familia siempre será disfrutar de un buen fin semana con una sopa.
Gathering as a family will always be a good weekend with a bowl of soup.
---
---