My first visit to BANTAYAN ISLAND 🌊
I had so many high expectations before visiting Bantayan. Perhaps, most of my friends keep on telling me how good the island is.
I was expecting the most beautiful sunset at Kota beach, the amazing white sand long island beach and more.
Bantayan is an island in the Northern part of Cebu. It's a four-hour drive from Cebu City to Hagnaya Port. And From the port, it took about 1 hour and 15 minutes depending on weather conditions to reach the island.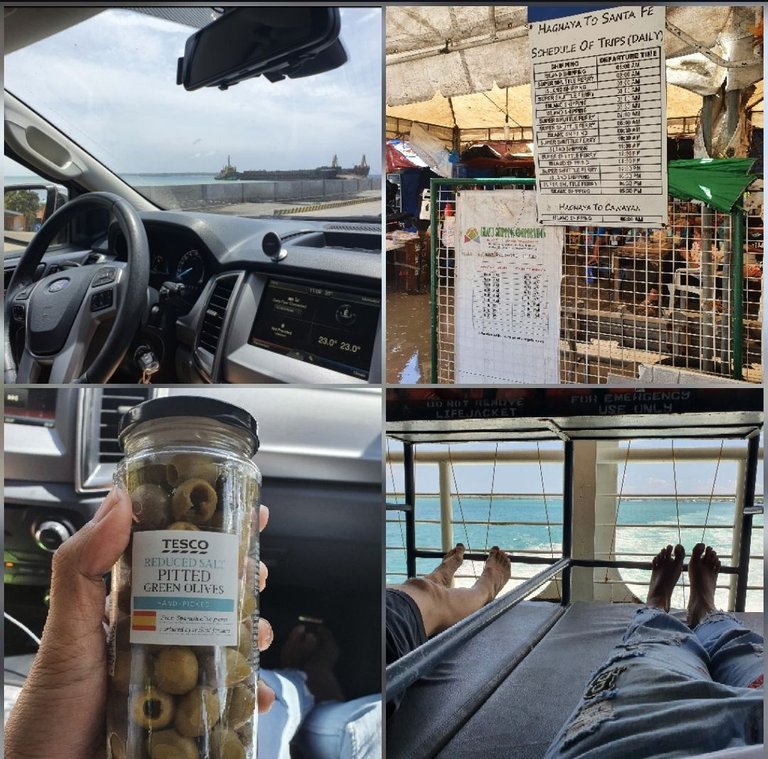 We brought our car with us since none of us know how to drive a motorbike. And I guess it's so easy to drive around not having someone waiting for you every places you go.
The sun shines a bit but it's quite windy that day when we sail but as we almost arrived at the port on the island. The weather seems to be calm and nice.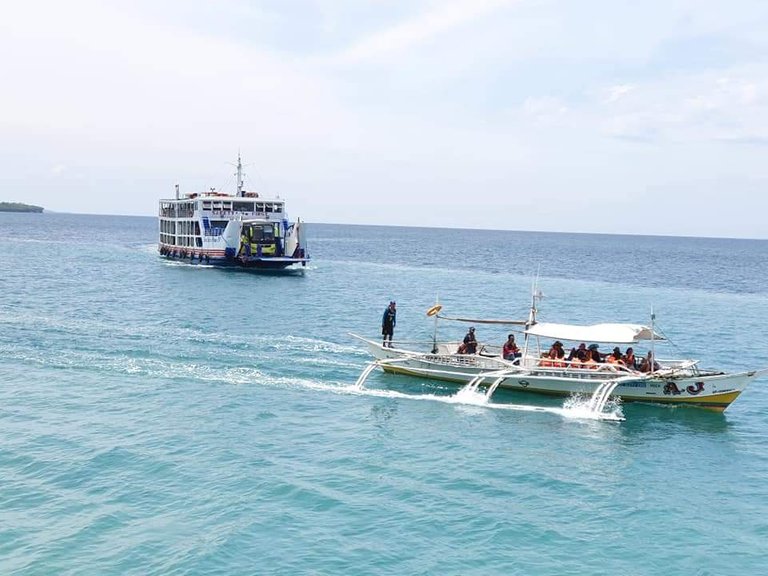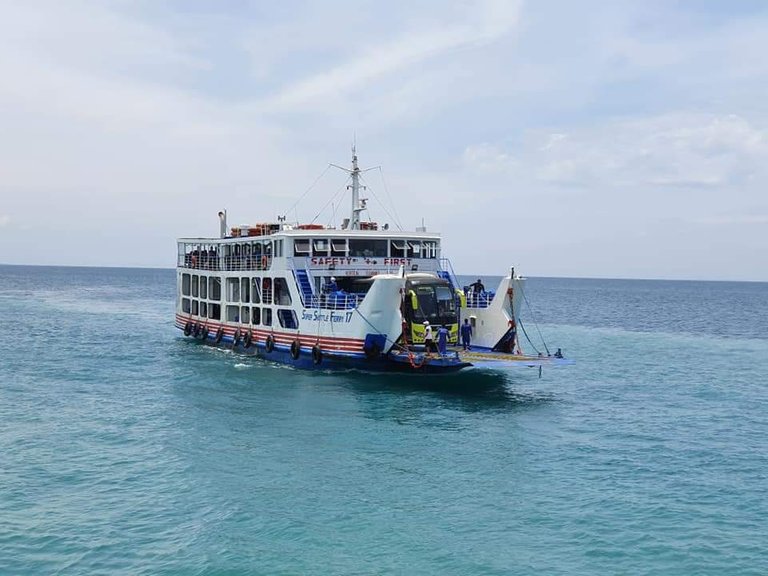 How the island transportation roll. And yes! It's a public bus on a barge. Few buses come from Cebu city up to the island daily as scheduled.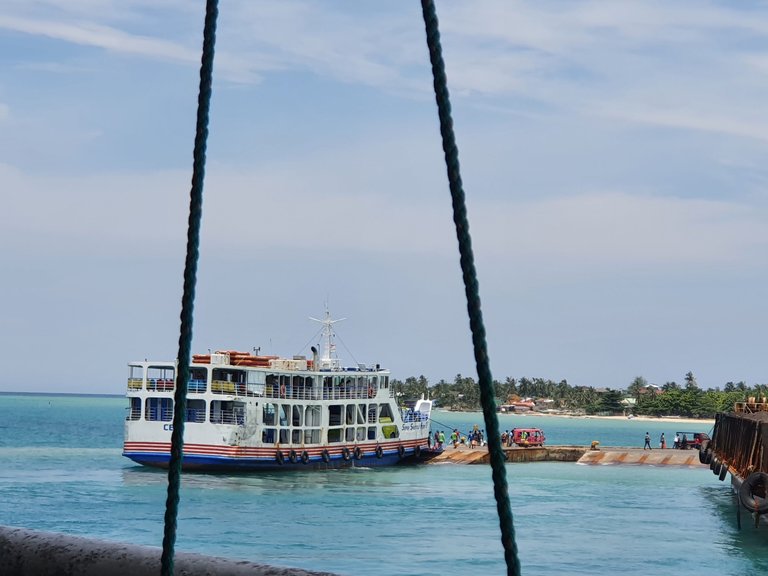 As we arrived in Bantayan port. We have to fill in some paper thingy like a declaration tourist documents kind of.
Then we drive like 10 minutes to the resort that we arrange. We stayed at Marlin's resort. When we checked in. We're the only guest at that time.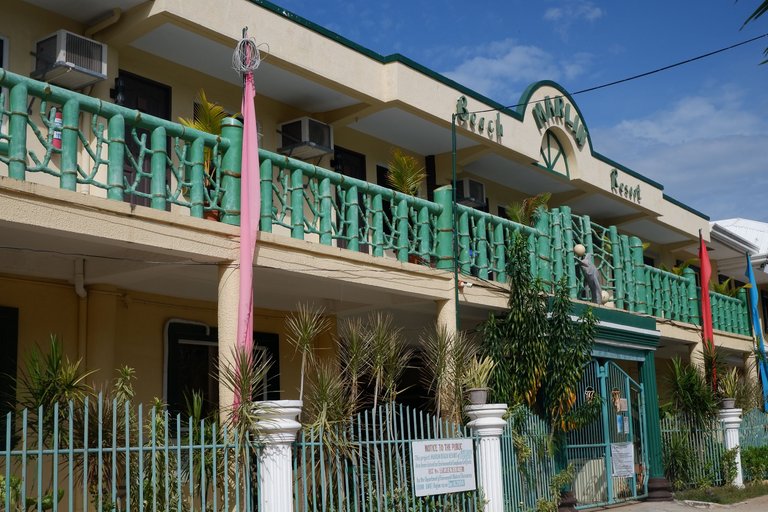 The front view of the resort.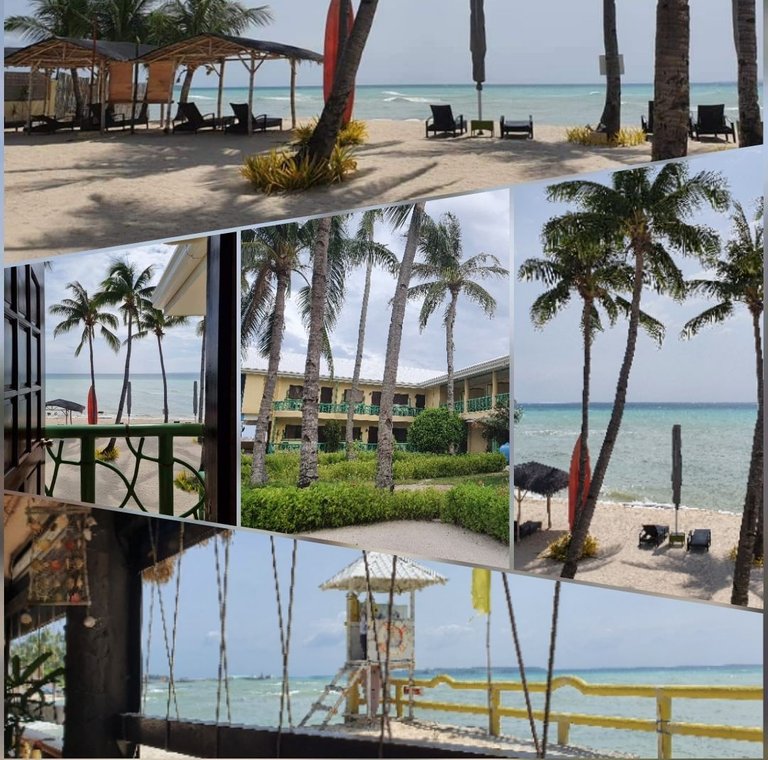 It's a beachfront and just a few steps down away to Kota beach.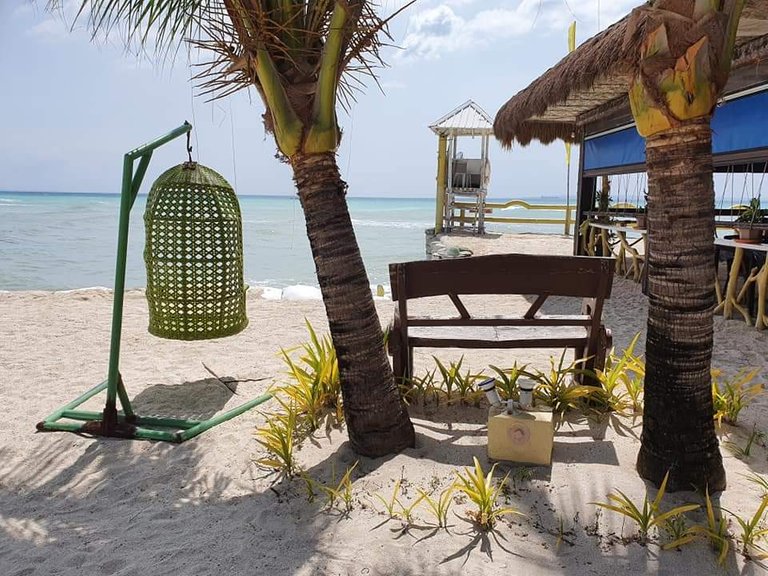 This is my favourite spot 👣🌊☀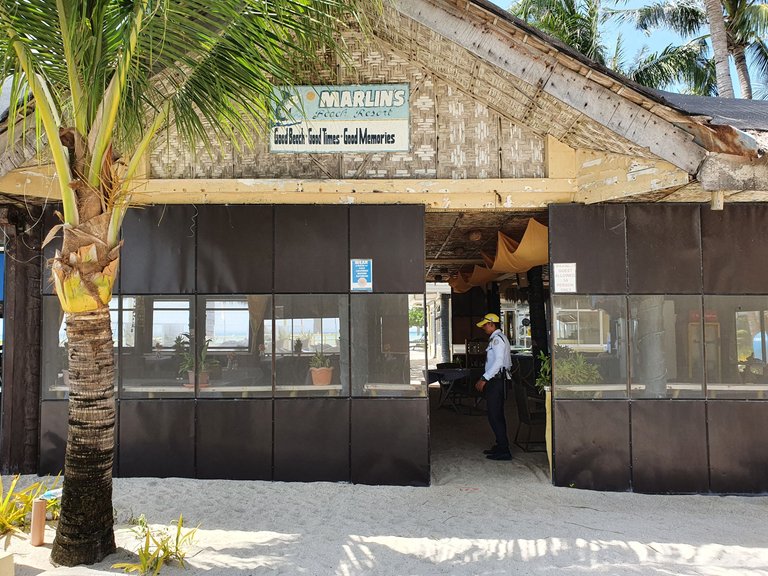 The resort's restaurant 😽 (And yes! They are a pet-friendly resort. So, you can bring your pet when you don't have someone to look after them when you're away.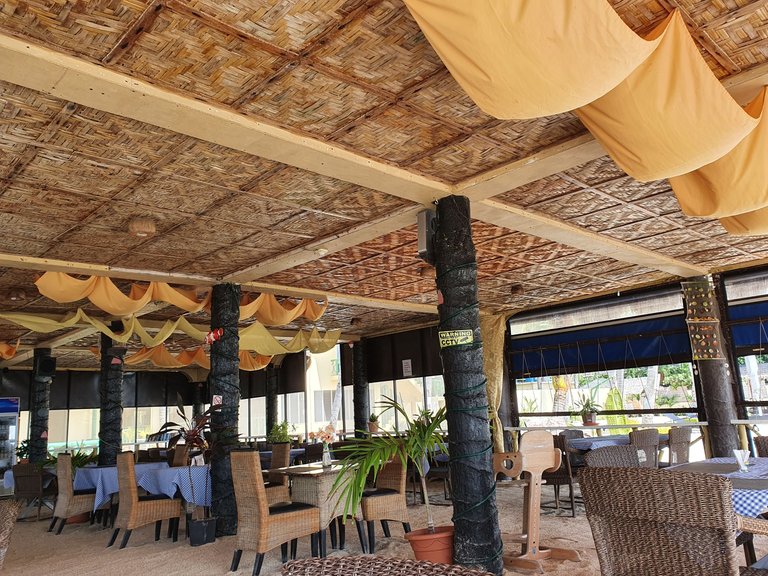 Cozy on the inside 🍽🍻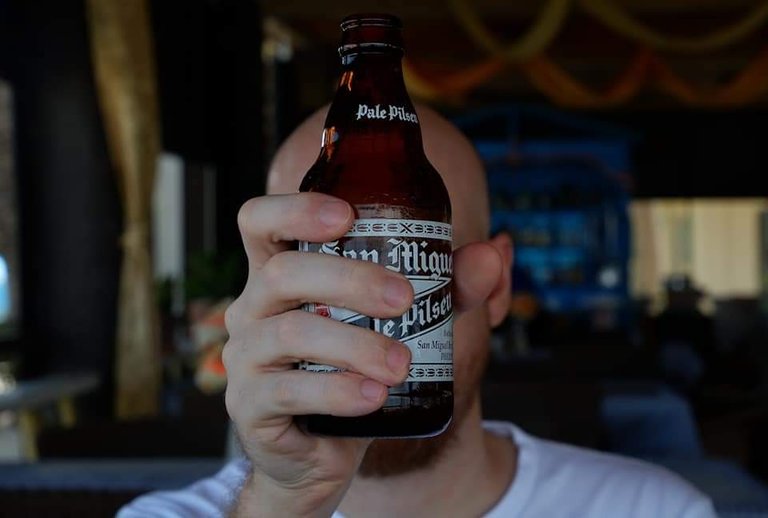 They have different choices of breakfast. But I had this dried fish for every morning 😋 Life is really good! (Bulad lang ang malakas 😁)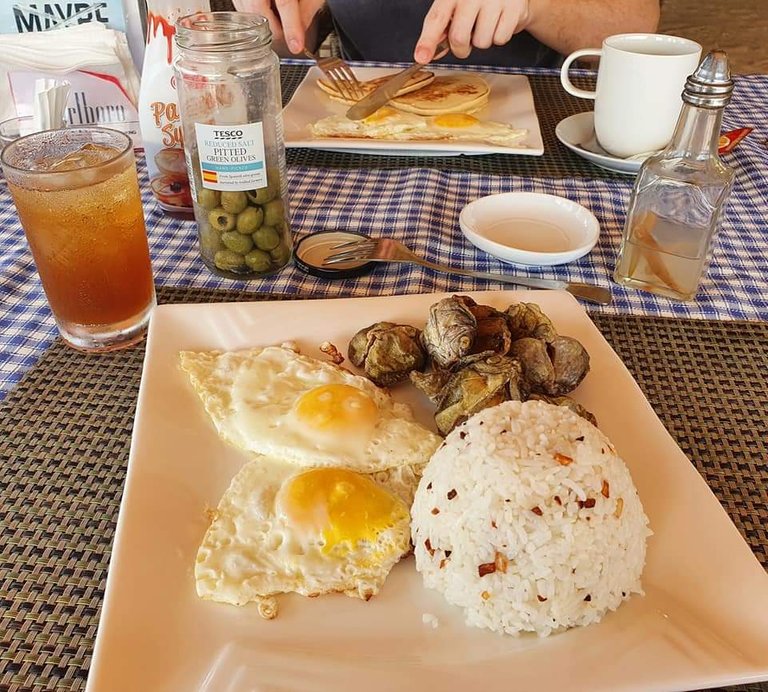 Of course, they also offered some other choices of food on the menu.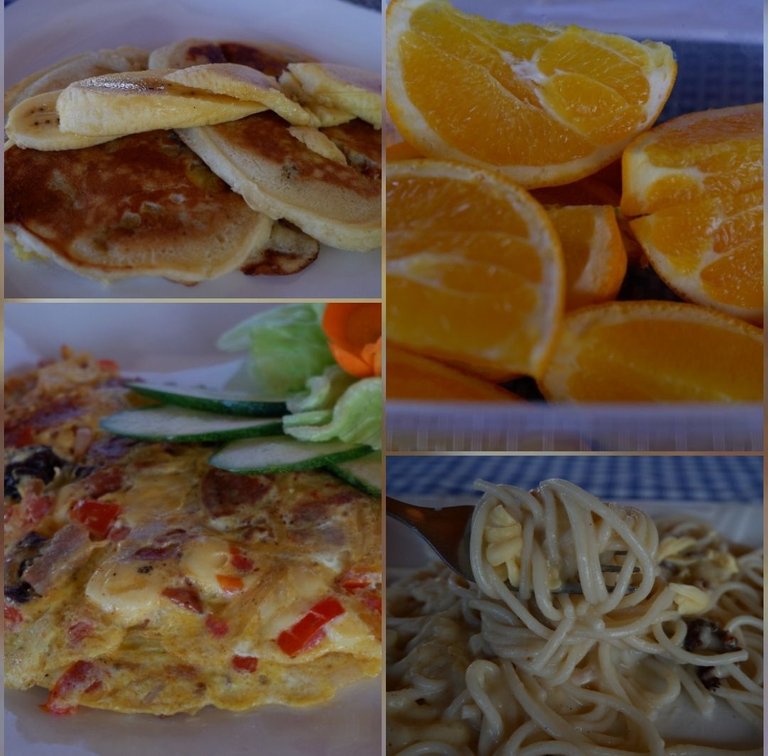 I would be staying here again if I will be back in Bantayan sometime.
We have a few places to visit on our list but the main reason why we visit Bantayan is to relax and have some Island time away from the busy city.
So, let me share with you what places we visited during our few days stayed.
AND LET THE ADVENTURE BEGINS...
•KOTA BEACH 😎
This beach is quite famous because of its long sand bar and its white powdery sand.
It's just a few steps down from the resort that we stayed but since it's high tide. We couldn't pass. The entrance close to Kota resort is closed for construction and even though we asked the guard from the resort if we could just pass through very quickly. But, he does not agree 😶 So, we don't have a choice but to look for some entrance to be able to get on the beachfront.
It's been windy, gloomy that time that the weather is not good and big currents. There's a lot of local people around and a lot of seagrasses everywhere.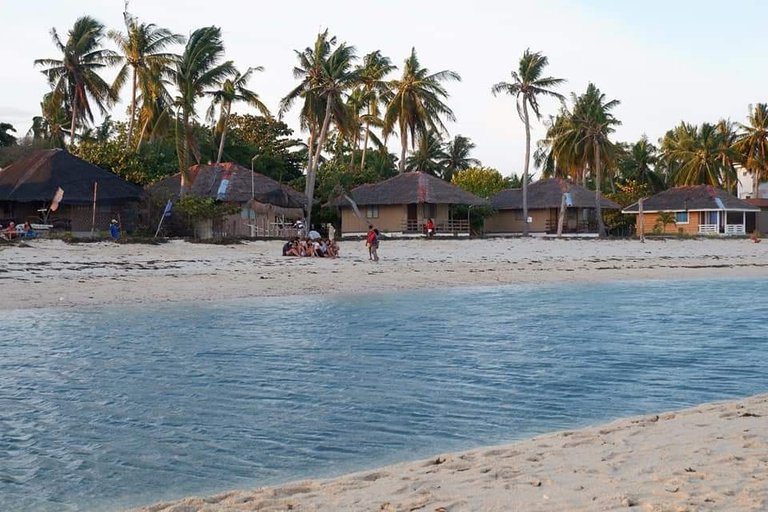 I think if just the weather is right. Here and there and everywhere will be a good spot ☀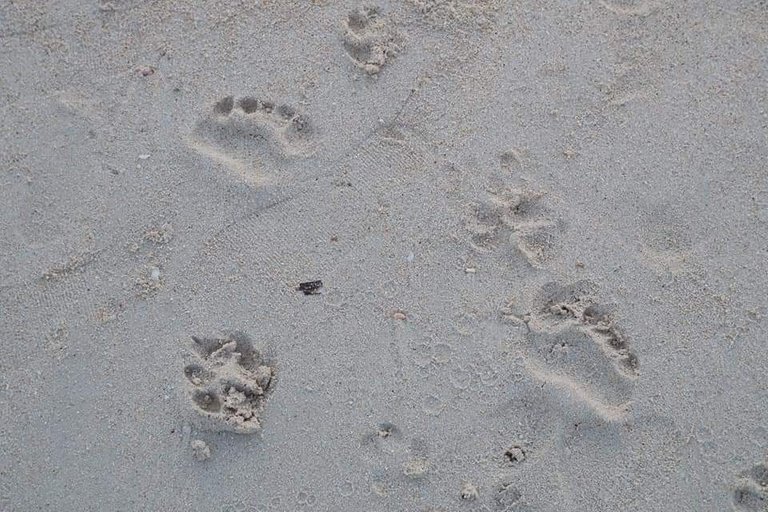 Beautiful white sand 🌊⛱🌞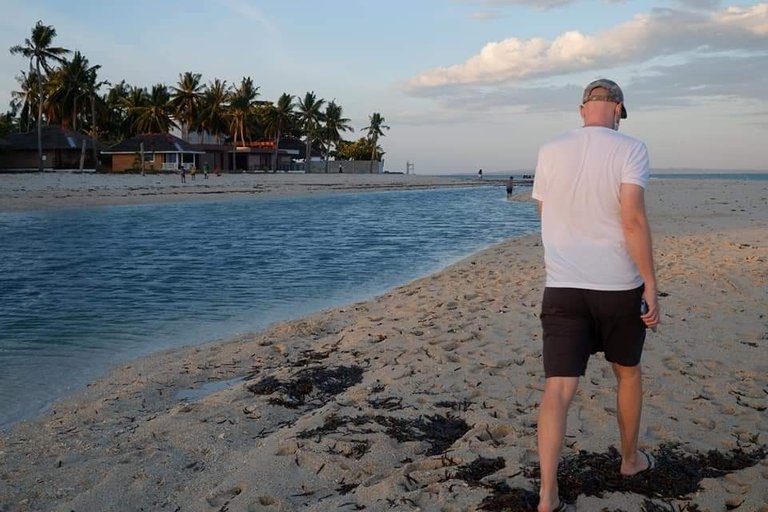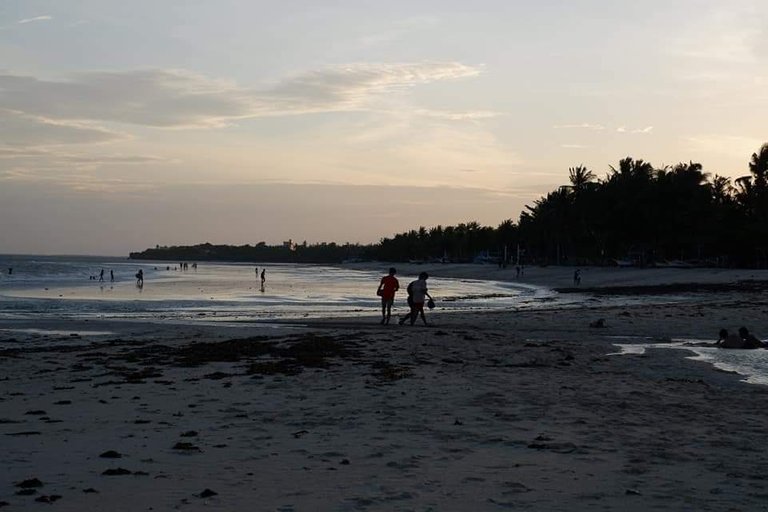 Writing our pets names coz we missed them so much! Meeeeoooooow 🐱🐈🐱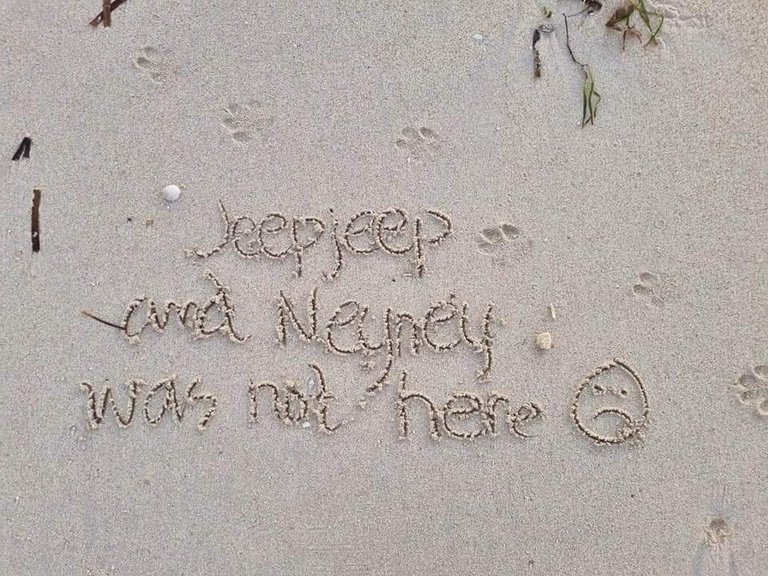 •BALIDBID OCEAN LAGOON
I saw this place while reading some of the travel blogs on what to do and visit in Bantayan. I was amazed at all those beautiful drone photos shared online. That's why I asked Ras to bring his drone and maybe we could fly and take a few shots around the lagoon. The road going to the lagoon is a little bit tricky and quite small. It's one way and it's better to drive motorbikes instead. But, we managed to drive to the area and emerge to local people. This is the busiest place in Bantayan so far. Since it's hidden.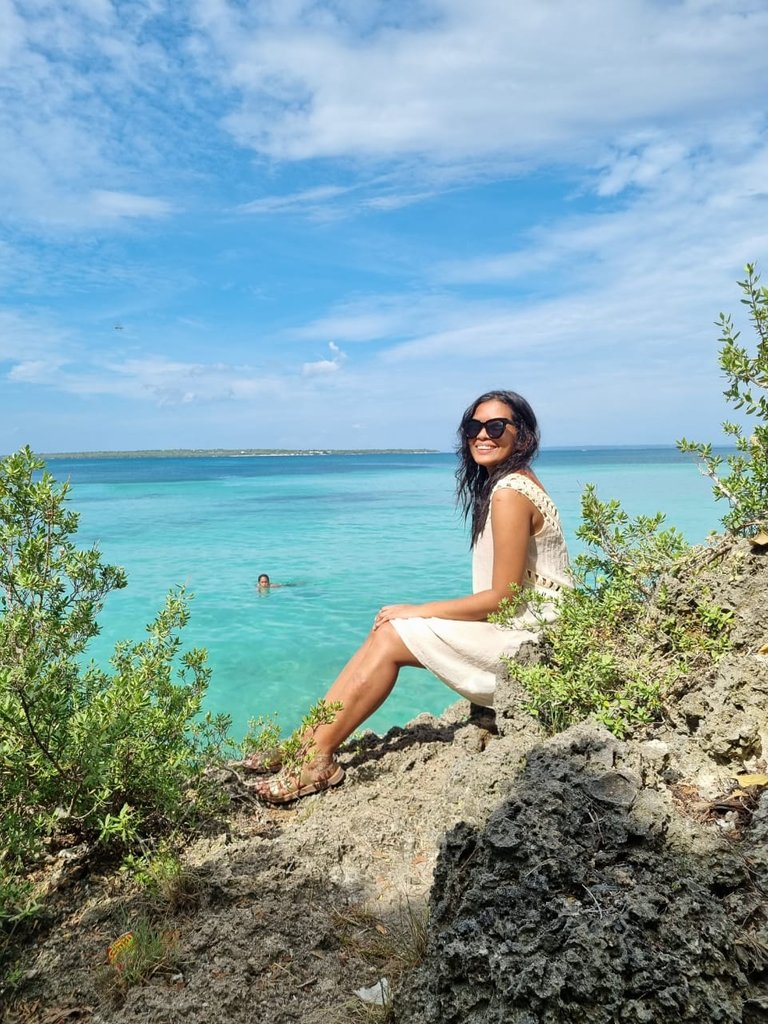 The best place for flying drones but since it was windy at that time. We couldn't fly ours. But, We have been swimming there with the locals. It's powdery white sand too. This place is so beautiful and I love how the locals enjoy the place by themselves.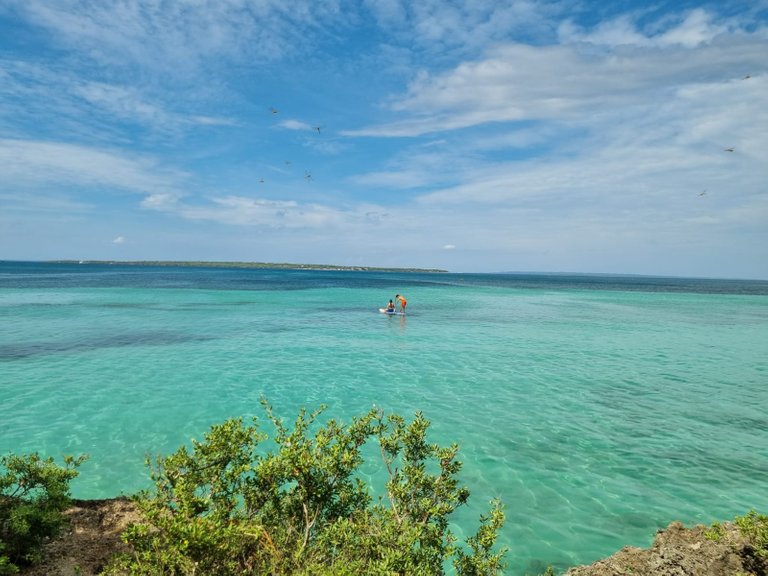 A danger zone! Yes, you read it right. Years ago, someone drowned in that area. From that time on. You cannot swim in the lagoon anymore, but you can swim in the open seawater instead.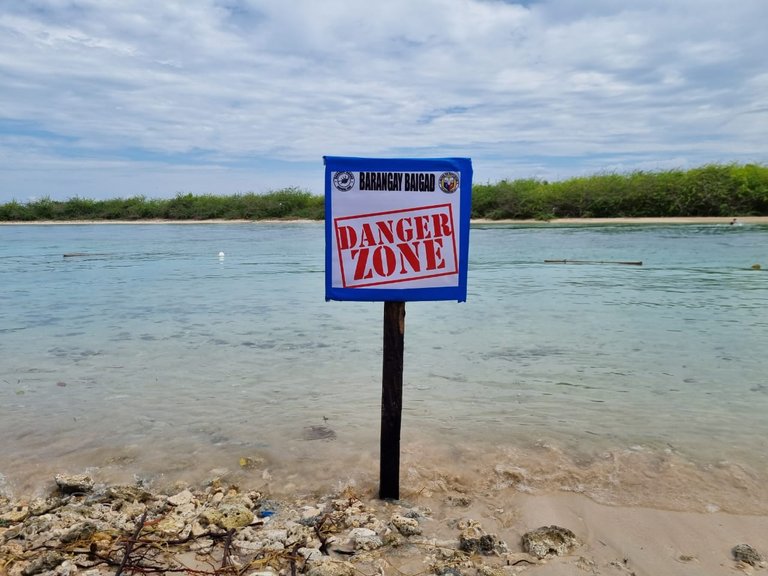 •SAINT PETER AND PAUL CHURCH ⛪
One of the things that makes me happy while travelling is visiting churches. Old historic places that never learn from books. And I'm so glad that Bantayan has not only one but more places to explore and one of them is this beautiful church which is situated in the proper town itself on the island.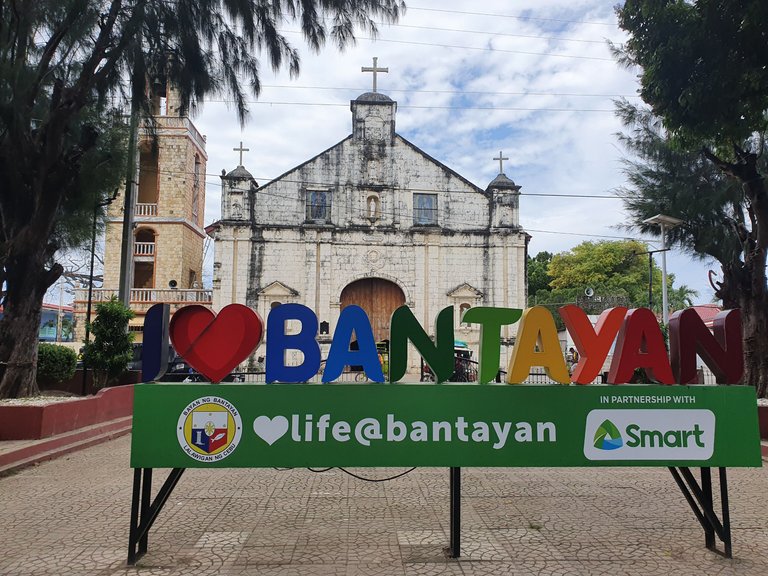 The beautiful view of the church from the front view 🤩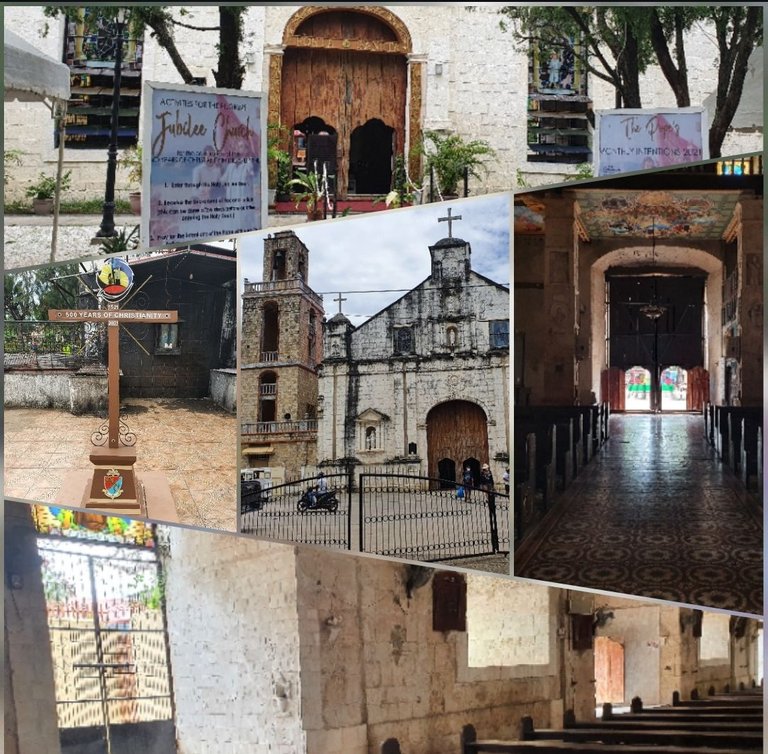 This beautiful ceiling is everything 🤩😇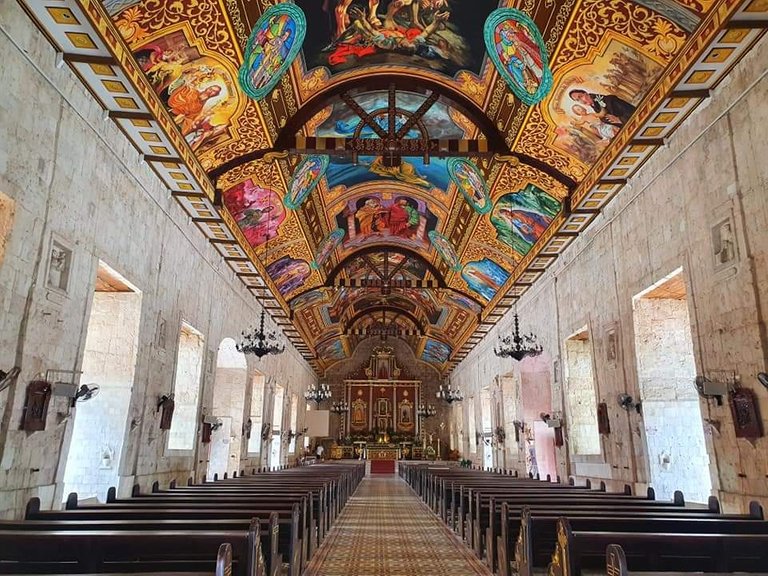 This is a very old church. To learn and know more about it.
Read it here.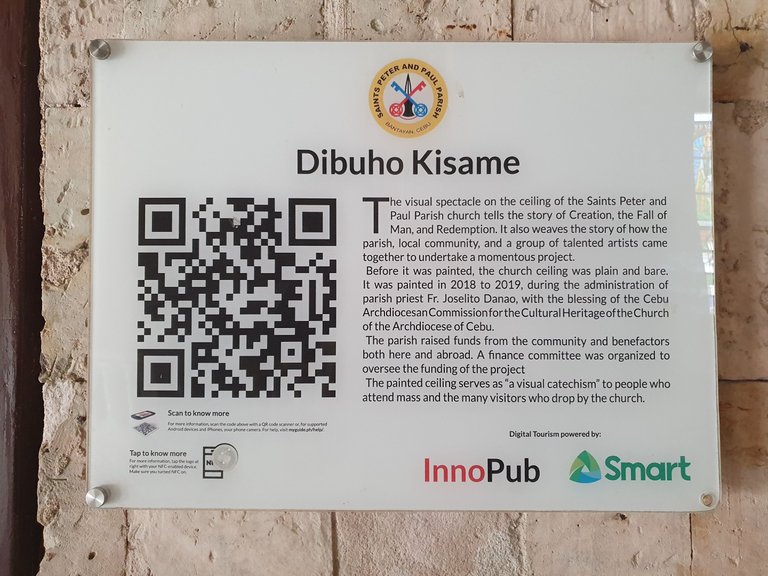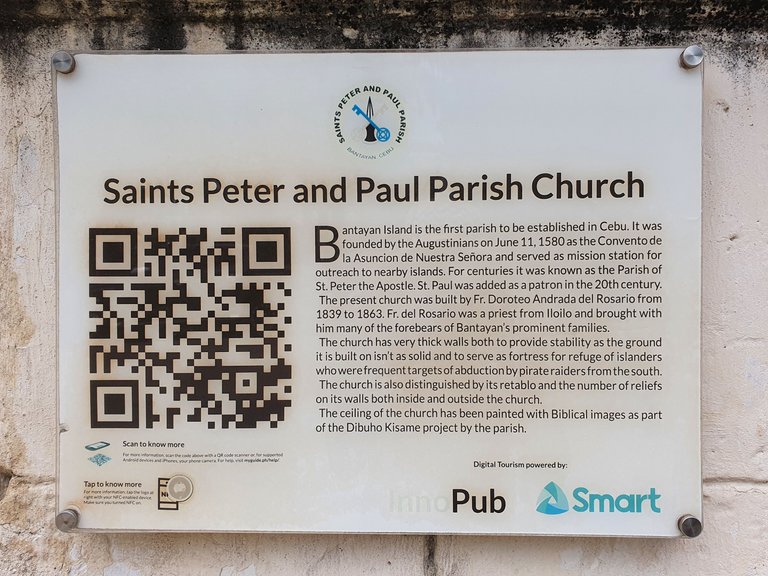 Amazing right? I was very fascinated by it. So, this is one of the oldest churches in Cebu.
•MADREDEJOS 🌊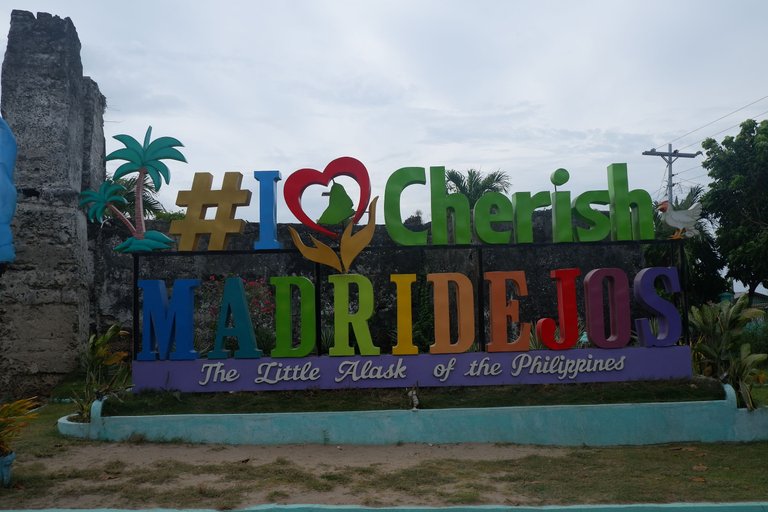 Madridejos is one of the municipalities of Bantayan. It's also called the Old Spanish Fort.
It has some ruins.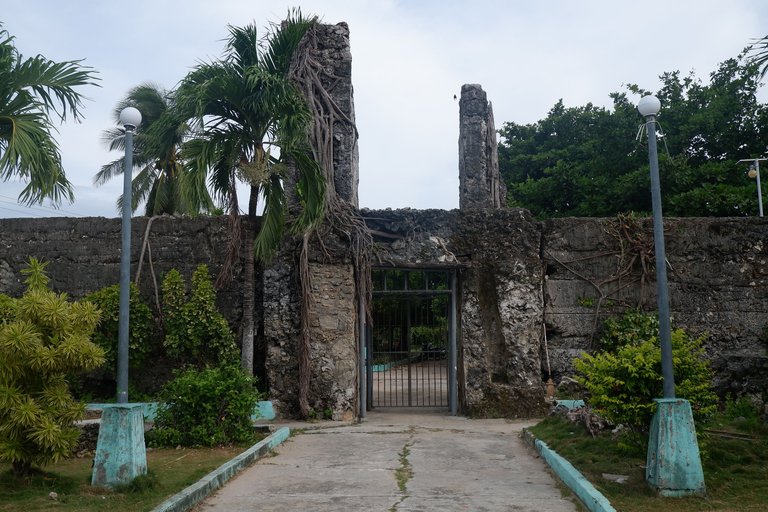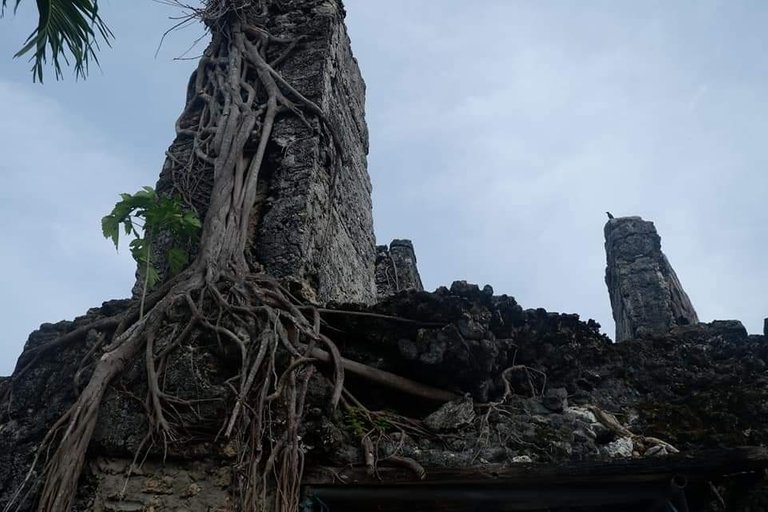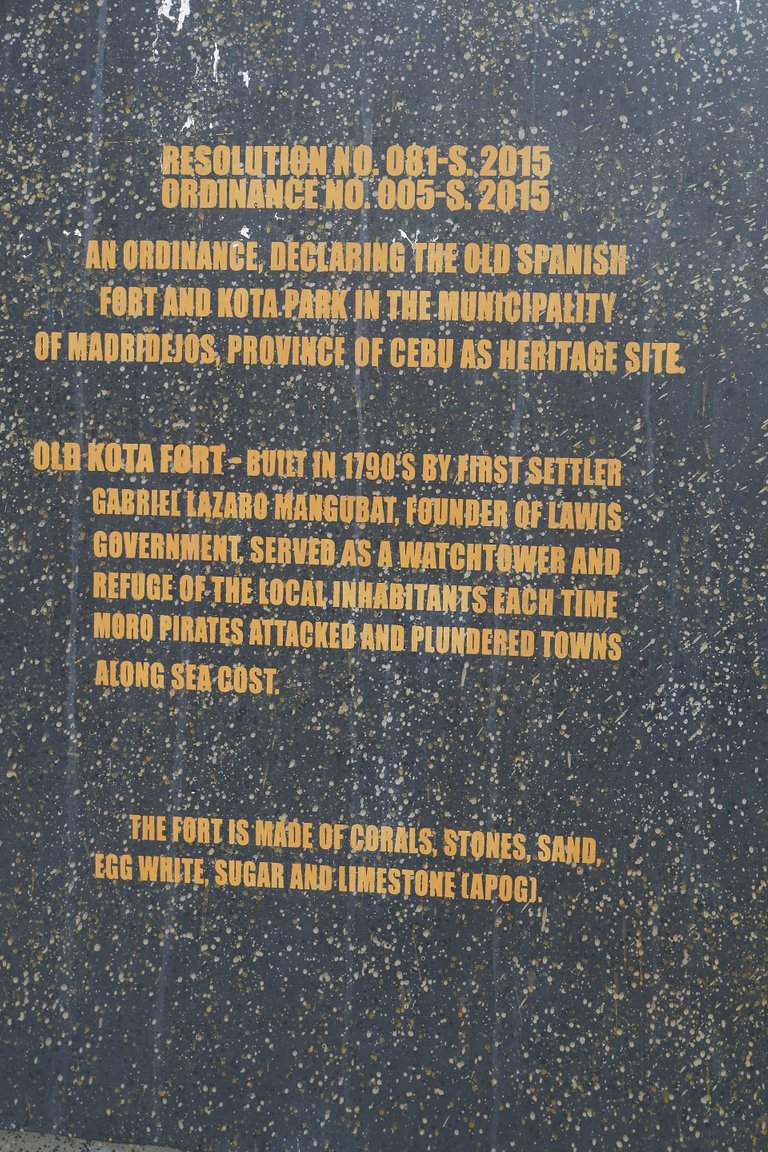 It was a beautiful place. Very local and the ruins of the old Spanish fort is just not big enough unlike the Fort that we have in Cebu city. so, it's so easy to walk around. Upon entering, you can see those rocks, seashells being used as walls for the fort. The guy who's probably working there is looking after it from the outside for visitors to come. I guess the locals didn't take care of the place. It's smell like pee everywhere and you can see garbages too. I was a bit disappointed with what's supposed to be a treasured place. 😶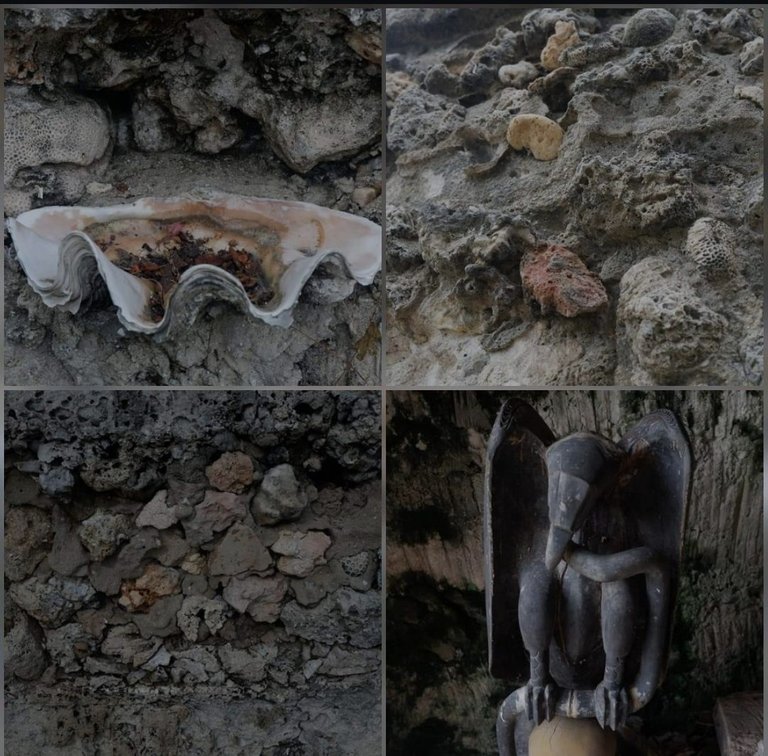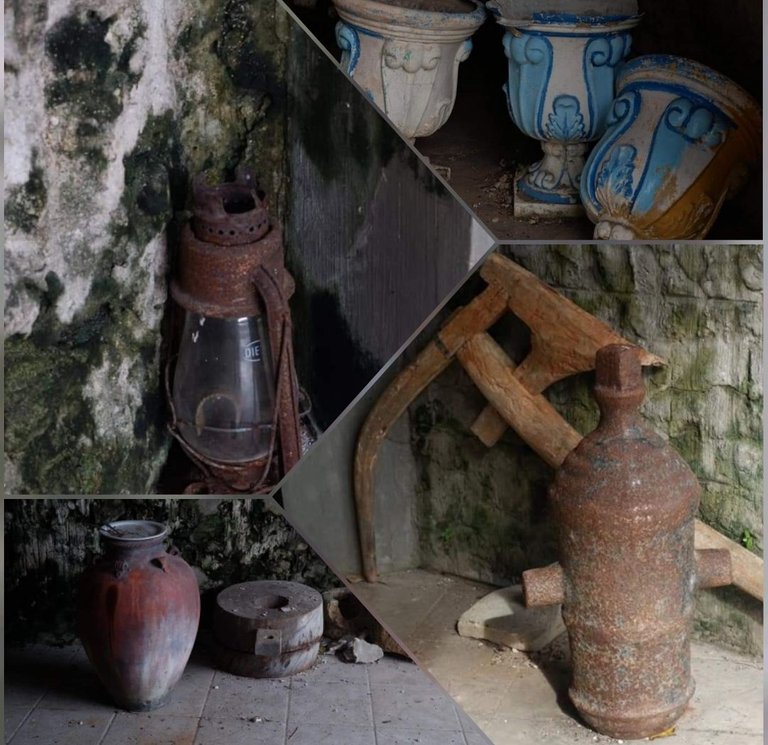 Aside from the ruins. Madridejos is a good place to witness the beautiful sunset. Since it was not good weather when we visited the place. We didn't have the chance to see the spectacular sunset in Bantayan.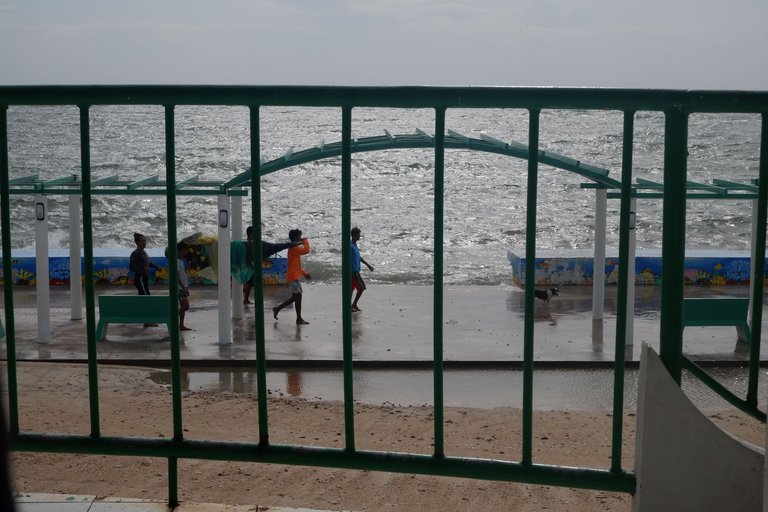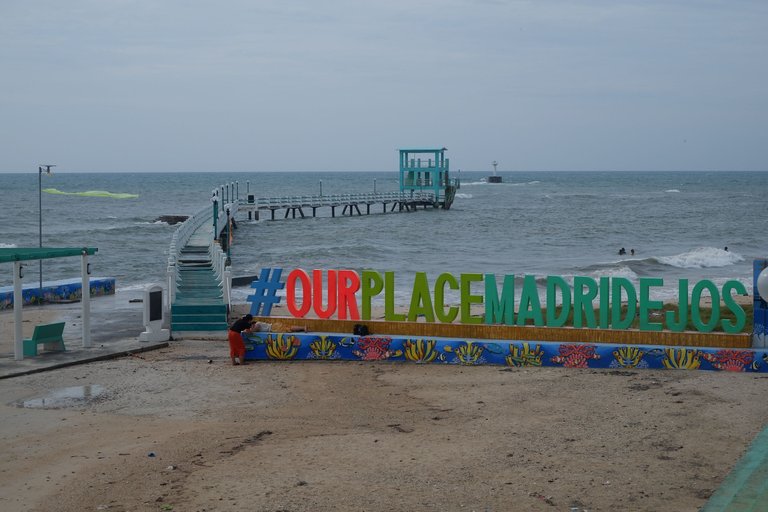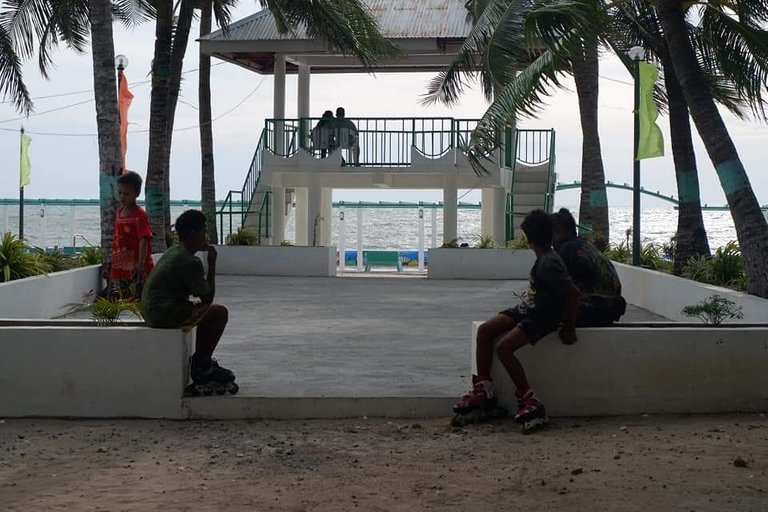 This bay walk is open to the public and serves as a hangout area for everyone of any age.
•OBOOB MANGROVE ECO PARK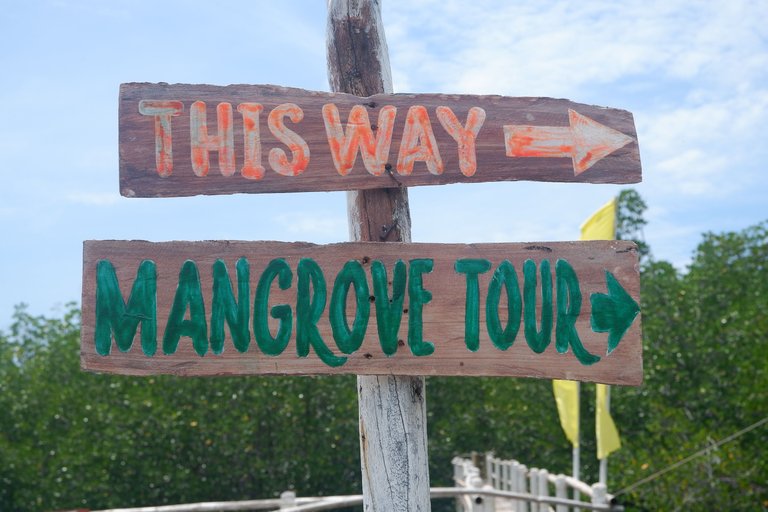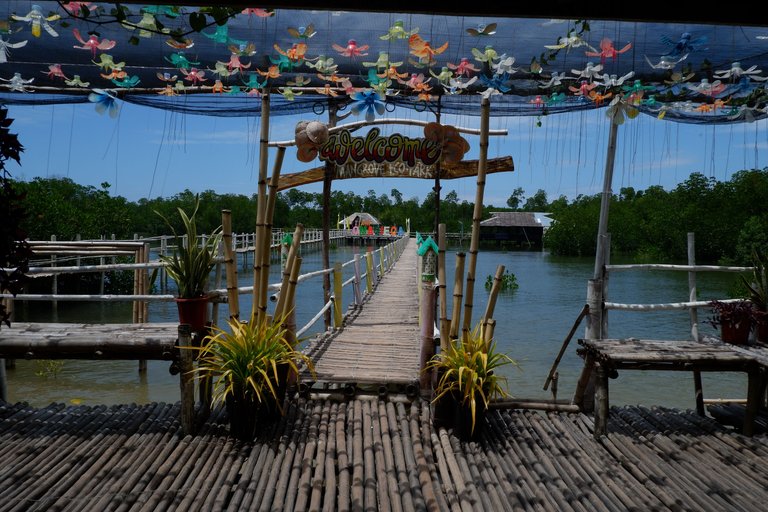 There are thousands of different varieties of mangroves planted here.
There's an orientation of the things you need to learn about the area, the mangrove and what are the things you need to avoid while walking around.
This place is one of my favourite places in Bantayan. It's very green, so peaceful and love hearing the birds while walking on the bamboo bridge.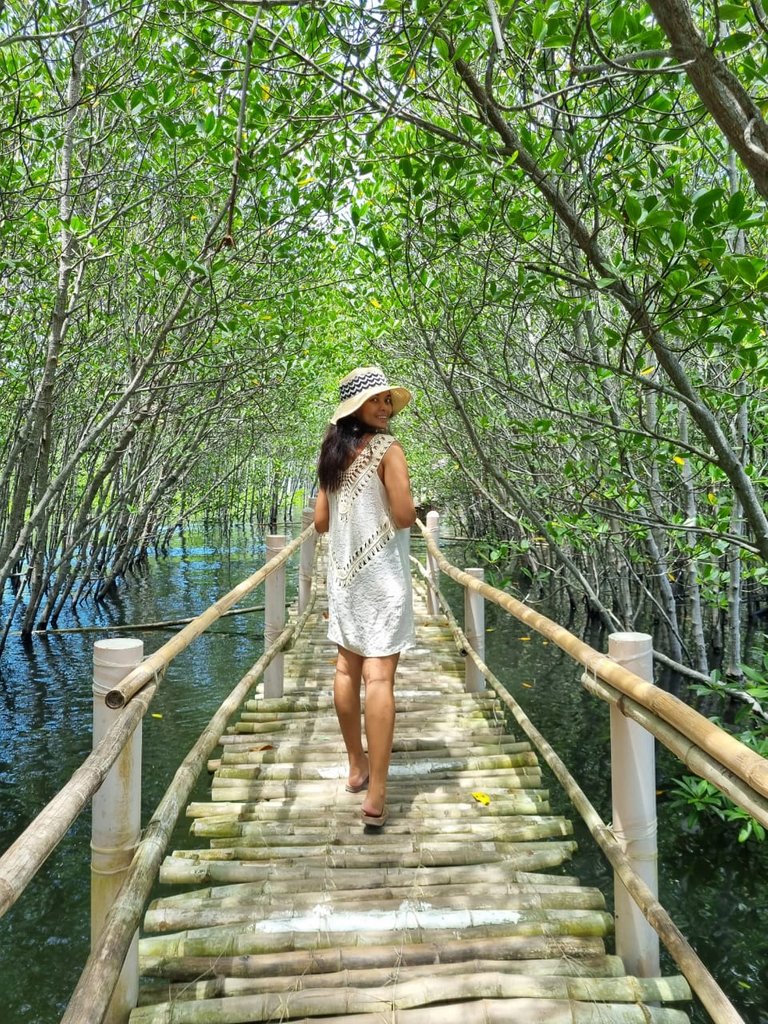 The green mangrove around is just amazing🥰 The tunnel and everything.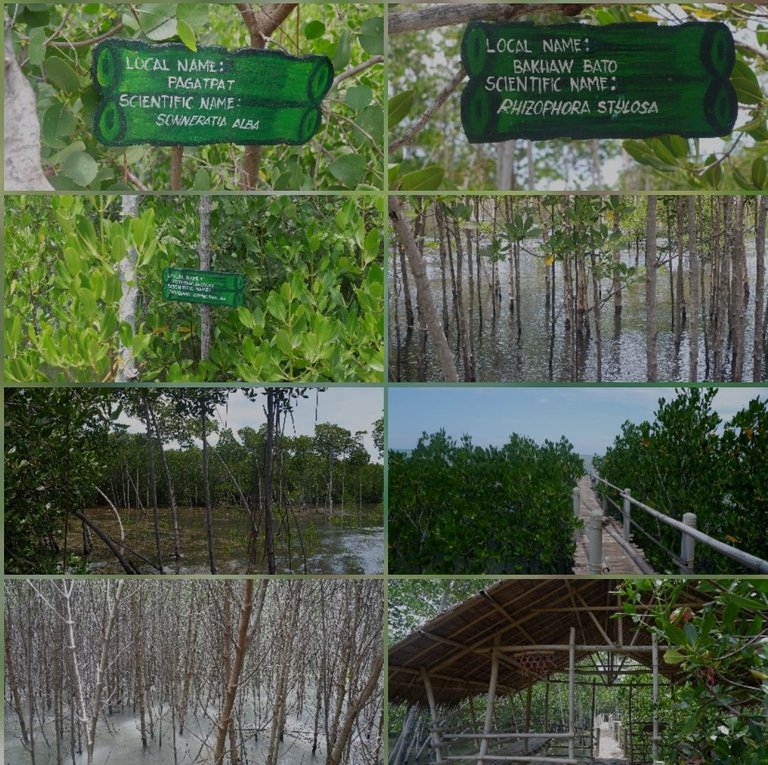 There's a lot of rest station floating nipa hits in between. You can take a rest a bit if you want.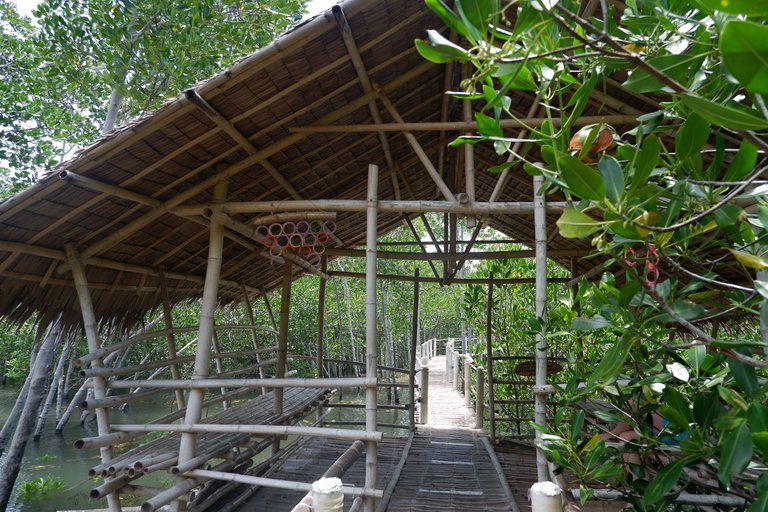 A feeding fish area 🤩 Where there's a vendor selling fish food for 5 pesos. We bought quite a lot of it and enjoy the feeding situation.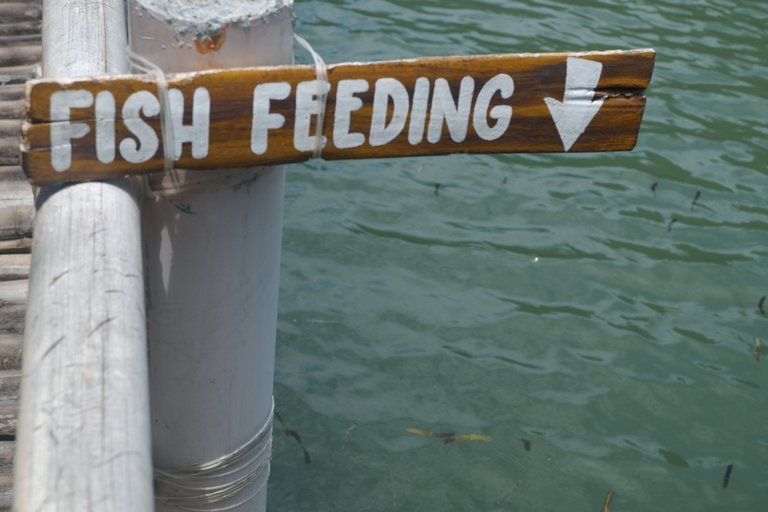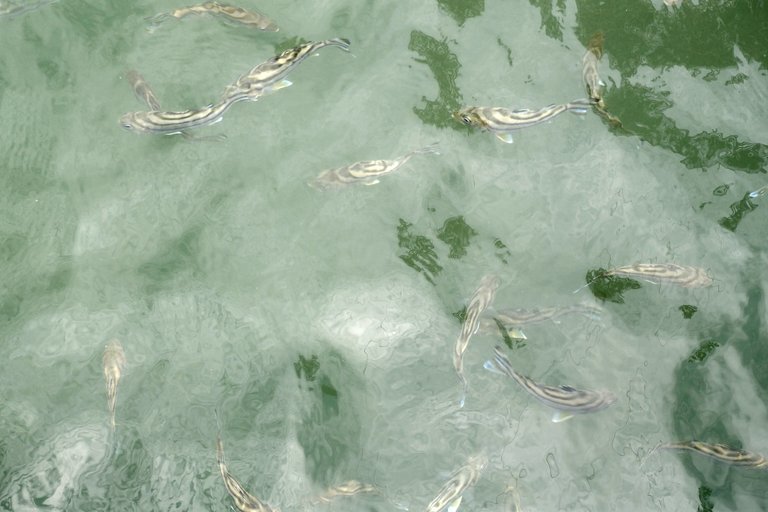 We even saw some eel swimming around.
It was just a perfect visit with no people around. Just us and the thousands of mangroves trees. Such an amazing experience.
Some of the restaurants, an eatery in Bantayan has been closed and out of business since the pandemic started. So, they're mostly only local people who visited the island for the moment.
And we have our favourite restaurant that caters for our tastes and cravings.
• THE COUCOU BAR
Coucou bar is also a hotel. And it's has the most variant ambience and Bali inspired hat cottages for guests to dine in. Beautiful right? As we walked around the area. We eventually told ourselves we gonna come here every day.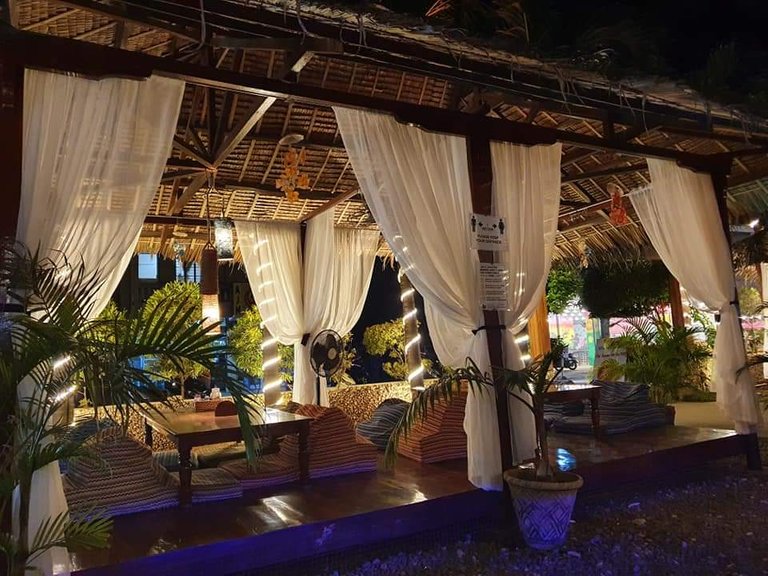 The lighting is very good during the night but prepares yourself for some mosquito lotion while dining in for dinner. Mosquitoes love to join 😉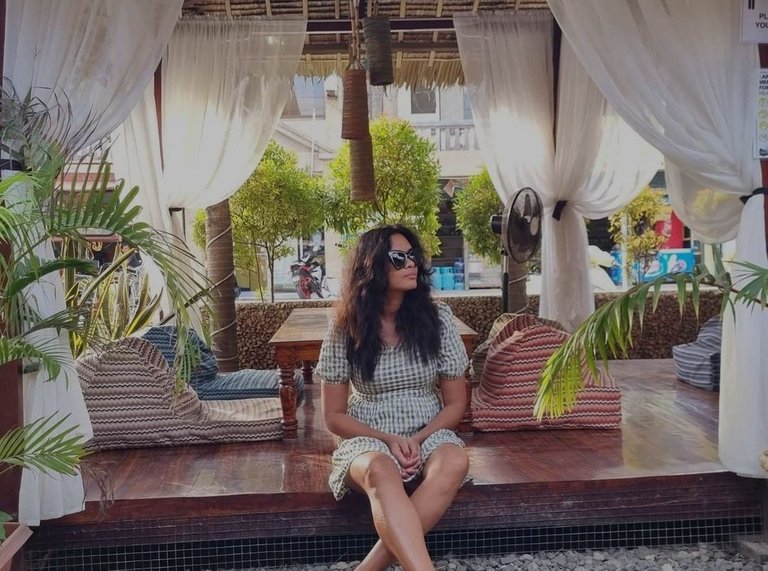 Of course very good for pictures 😜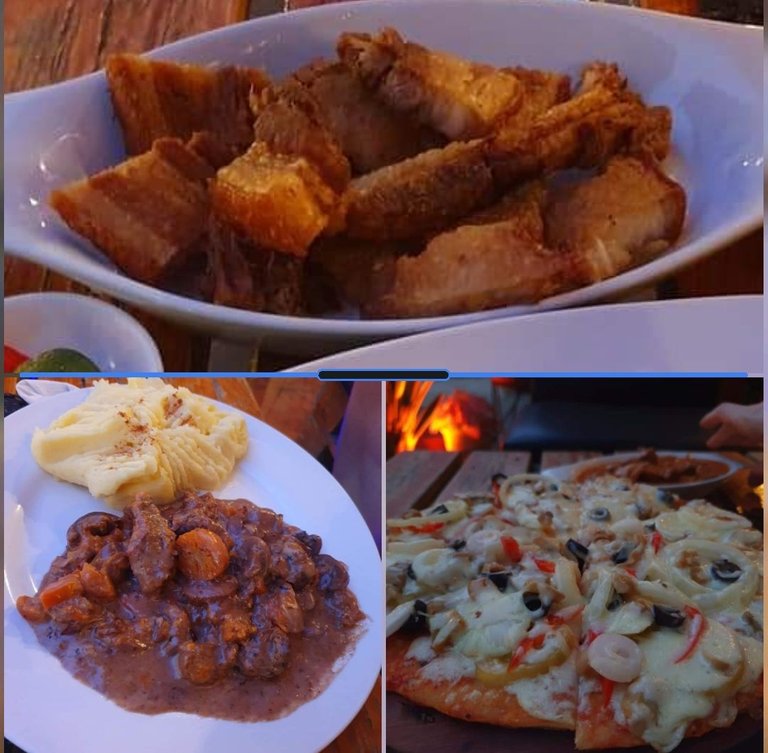 They offer a lot of varieties of food on the menu.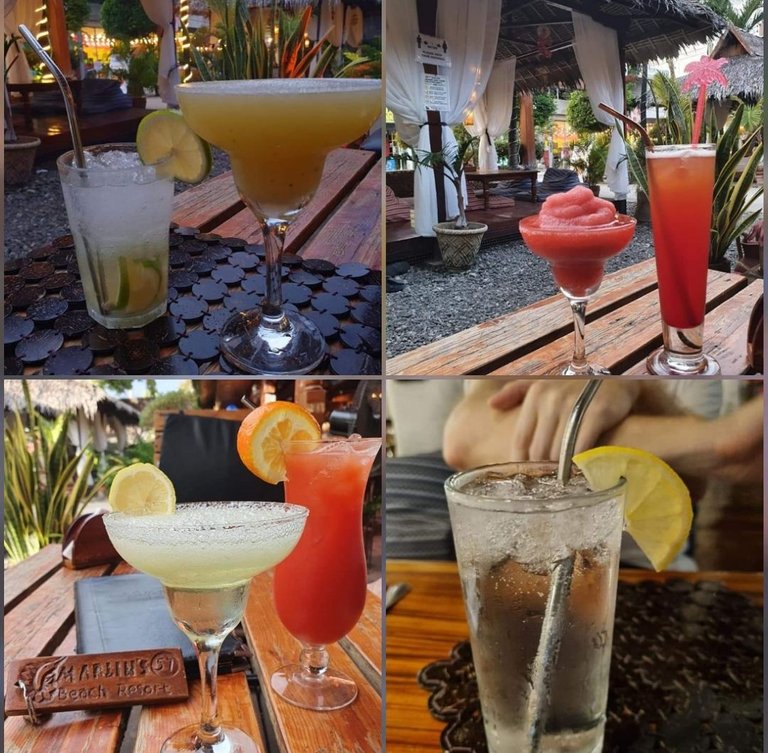 And who never love happy hour with all your favourite cocktails?
The visit wouldn't be complete without the locals.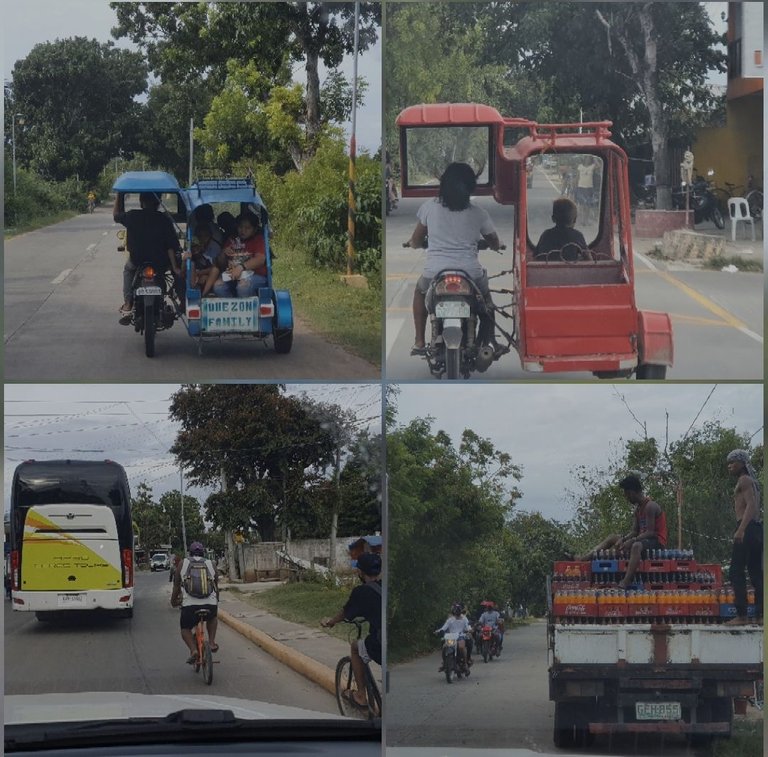 The most valuable transportation in Bantayan is bicycles. We have seen a lot of people biking around. Which is a good thing. I have never seen people biking around in the Philippines as much as the Bantayan Islanders.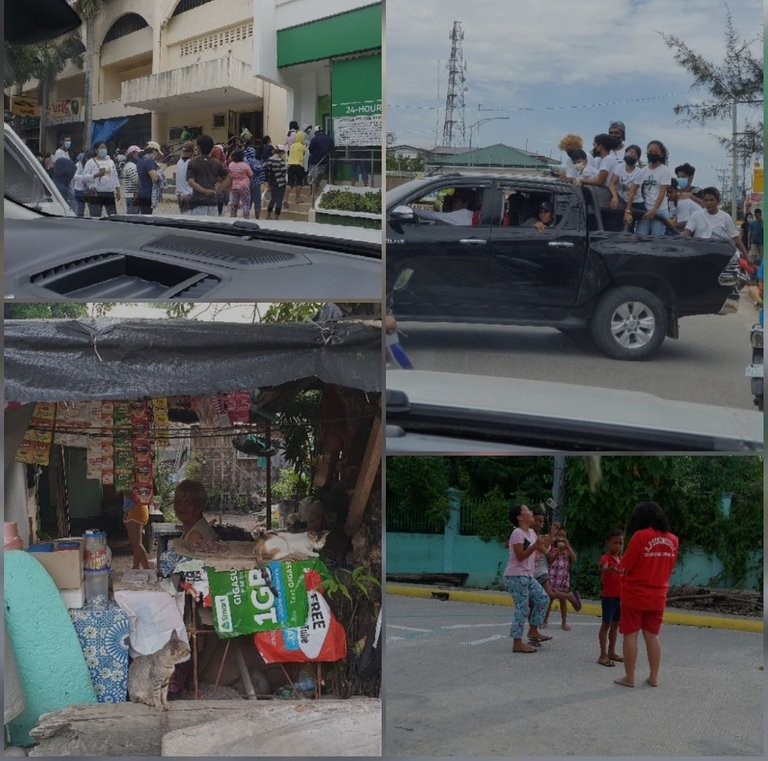 The happy Islanders live their best life every day.
Happy feet with the Bantayan shells🐚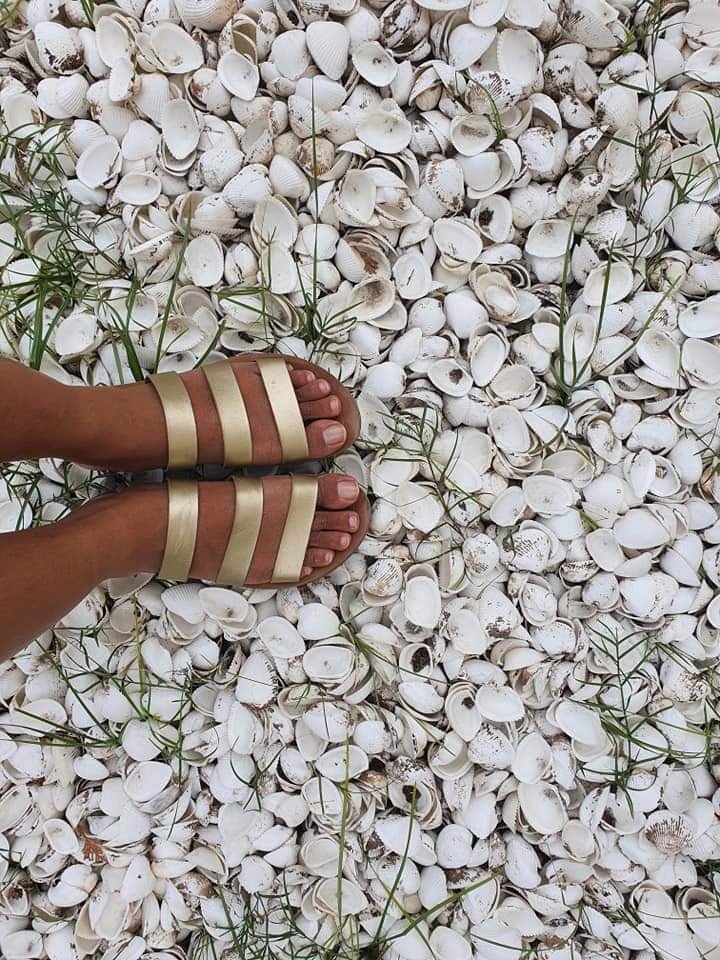 Always been reminded of this everywhere I go to live life always 🥀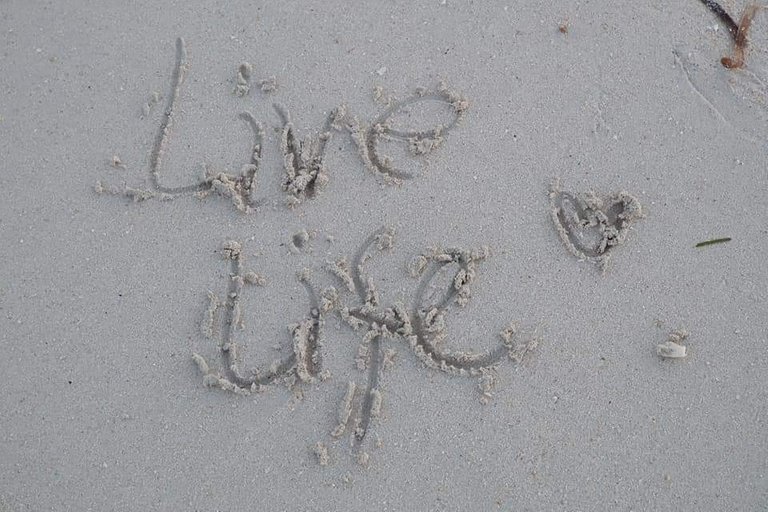 Until the next island adventure 🌼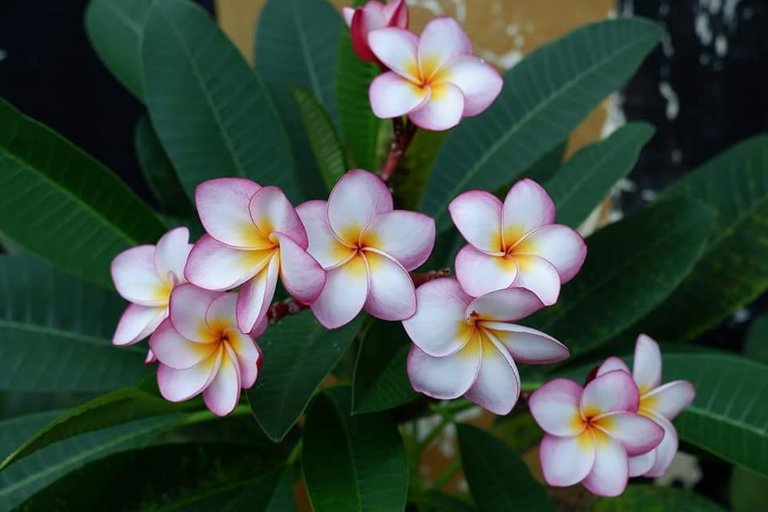 Ciao 🦋✨
---
---