Celebrating Jeepjeep and Neyney's birthday and Adoptsary 🌼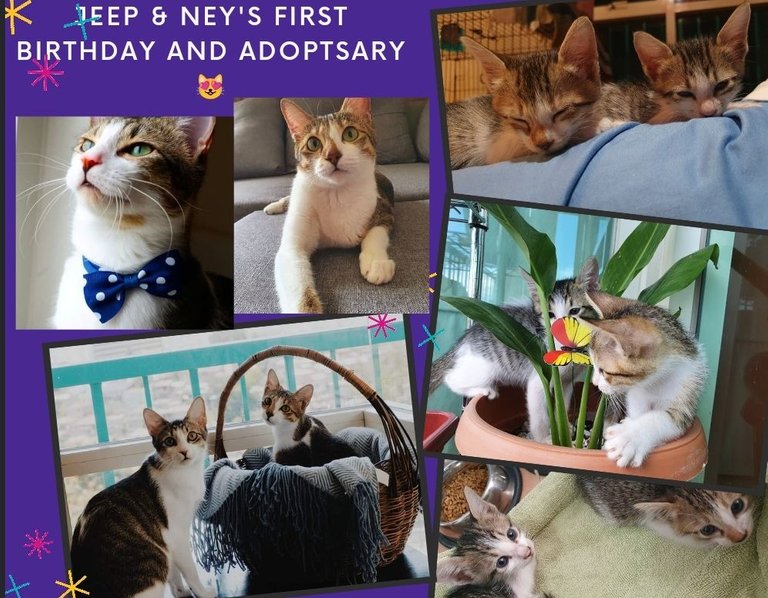 It's been a roller coaster ride. 365 days around the sun with these two munchkins in our lives.
This month of September we celebrated Jeep and Ney's birthday and Adoptsary.
I will share with you guys some of the cutest photos from these two in the span of a year since they arrived into our home.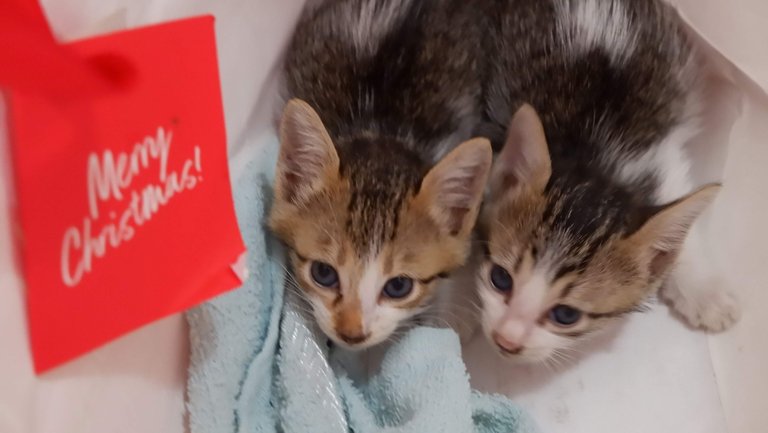 My partners employee gave Jeepjeep and Neyney to us. They found out that we are looking for some cats. But, we never said stray cats. Then she showed Jeepjeep and Neyney photos from their Jeepney. She said it's not really their cats. But, it seems they don't have owners at all. So she told us the story of these cats. First, I was hesitant. I want a cute cat. And we're looking for a British Shorthair cat that time. Ras convinced me so well to take them and see the good side of fostering cats. And we'll be able to help and provide these two a good life. We even agreed that if we try to let them stay for a week or two and if we really want them we can keep or return them. Weeks past by. We adore them already. Even though it's a lot of work to raise such tiny kittens.
These two was delivered in a paper Christmas bag. And it was love at first sight. Actually, they were the most valuable early Christmas gift we received that year.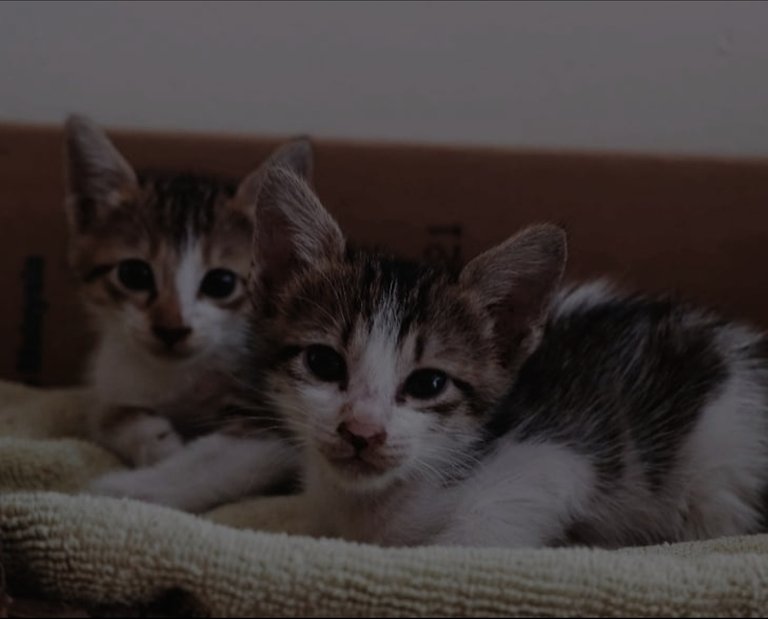 This picture was taken during the first few hours of Jeep and Ney into our home. Couldn't even recognize which is Jeepjeep or Neyney. They're both a bit dirty and very small.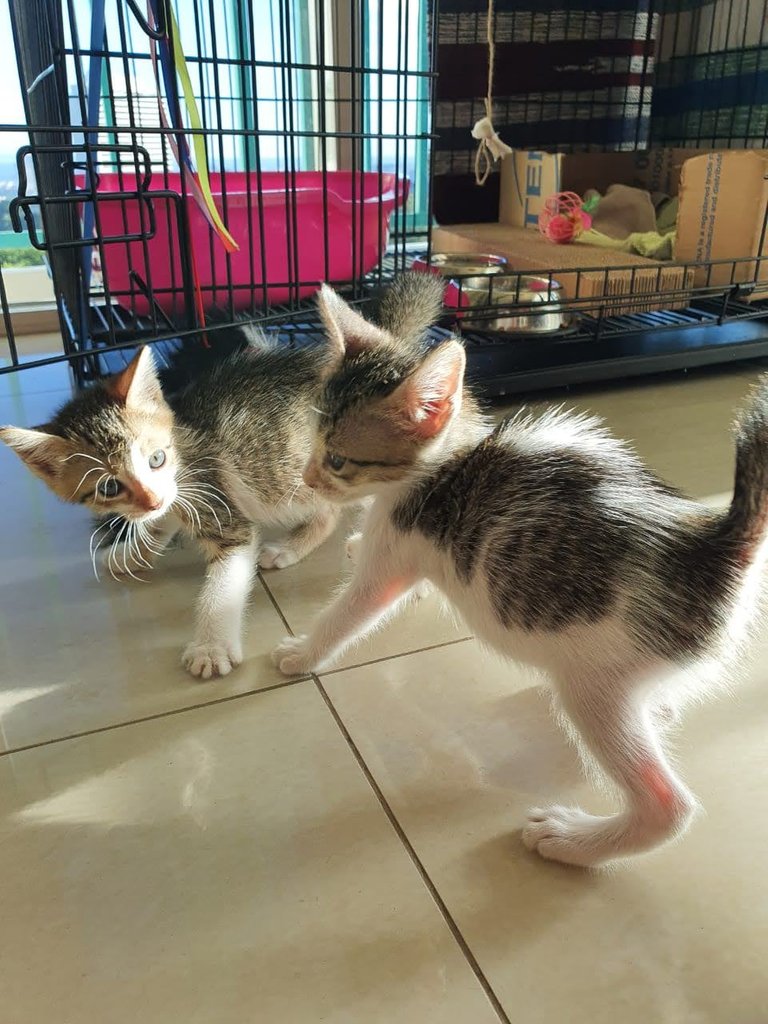 Settling in. 🤗😻💕 Look at those tiny legs, paws and hairs.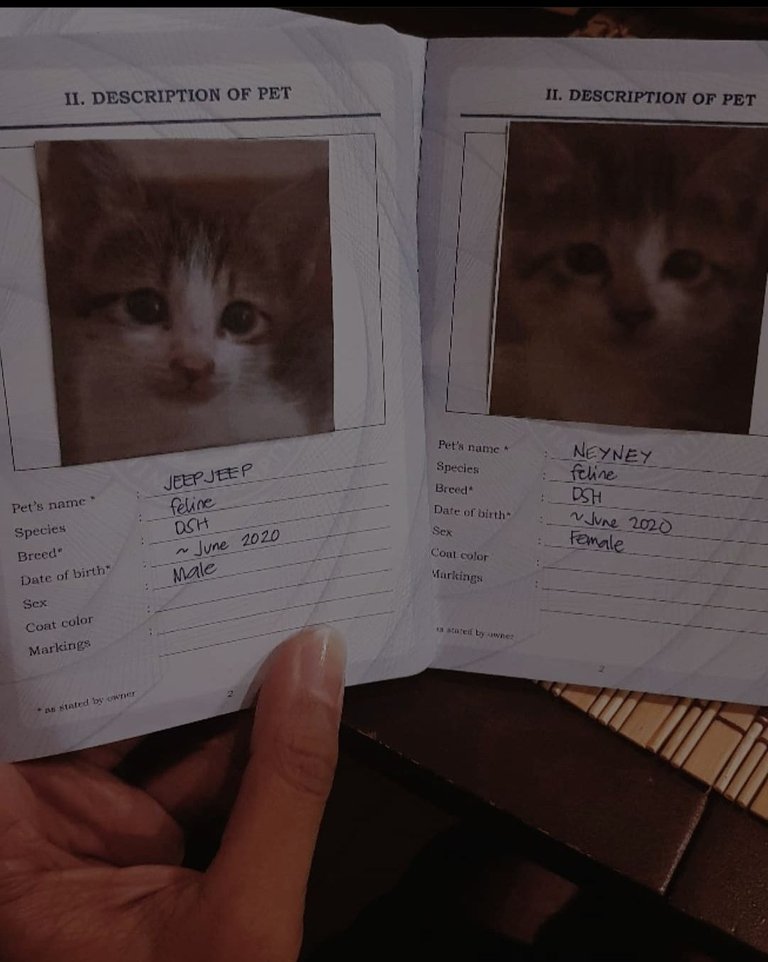 The FIRST of many visits to the VET. They actually gave them their health passport. When the doctor checked them. He said they're like 3 months old that's why he put June 2020 as their birthday.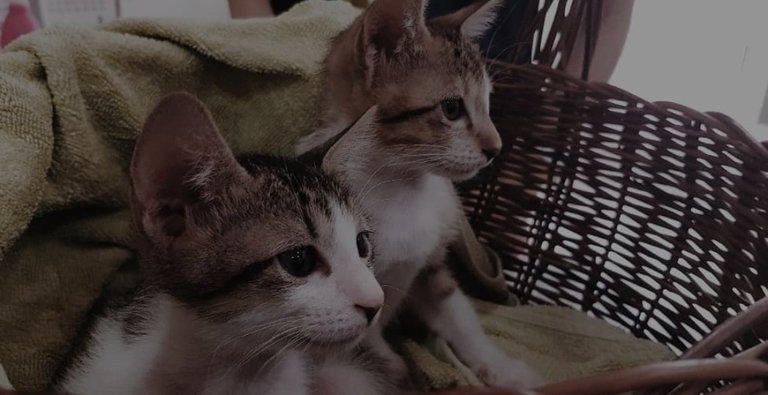 These two were both curious and happy visiting the vet before unlike these days.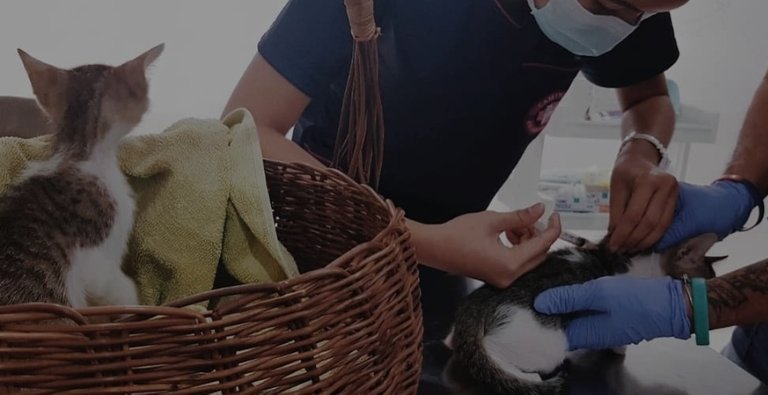 And very very brave 😌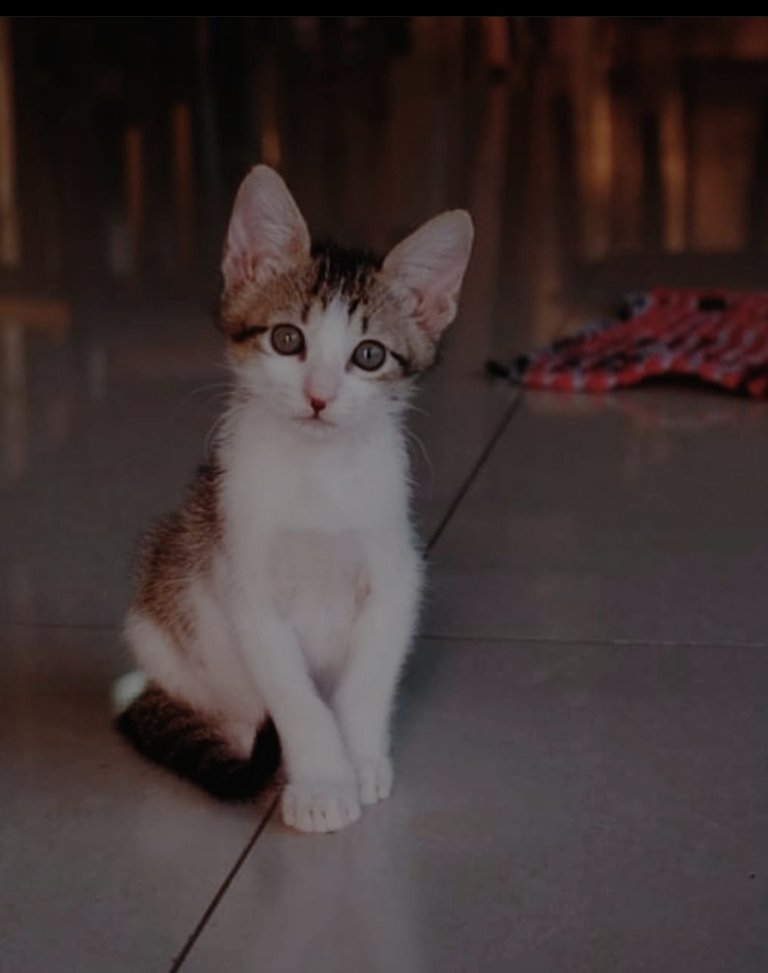 Here's Jeepjeep practicing his pose. He is so tiny. Can't imagine how big he is right now. His vet told us few days ago that he's already obese. Now, we are slowing down his meal and its proportion. How could this little guy became obese in just one year? Time flies.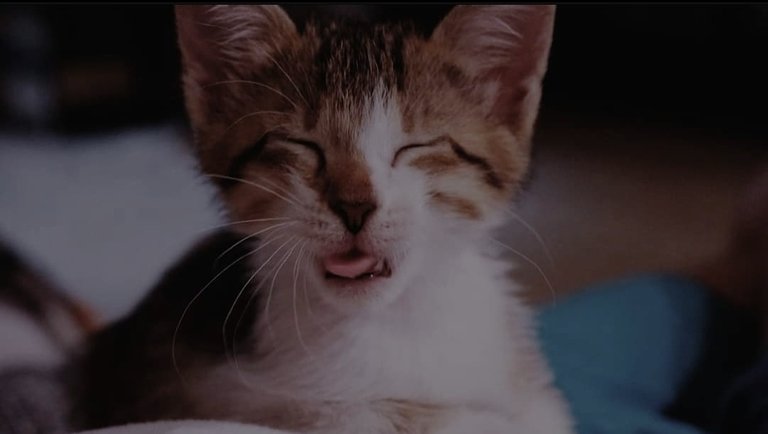 And look at our girl, at early age. She knows already how to be cute in front of the camera.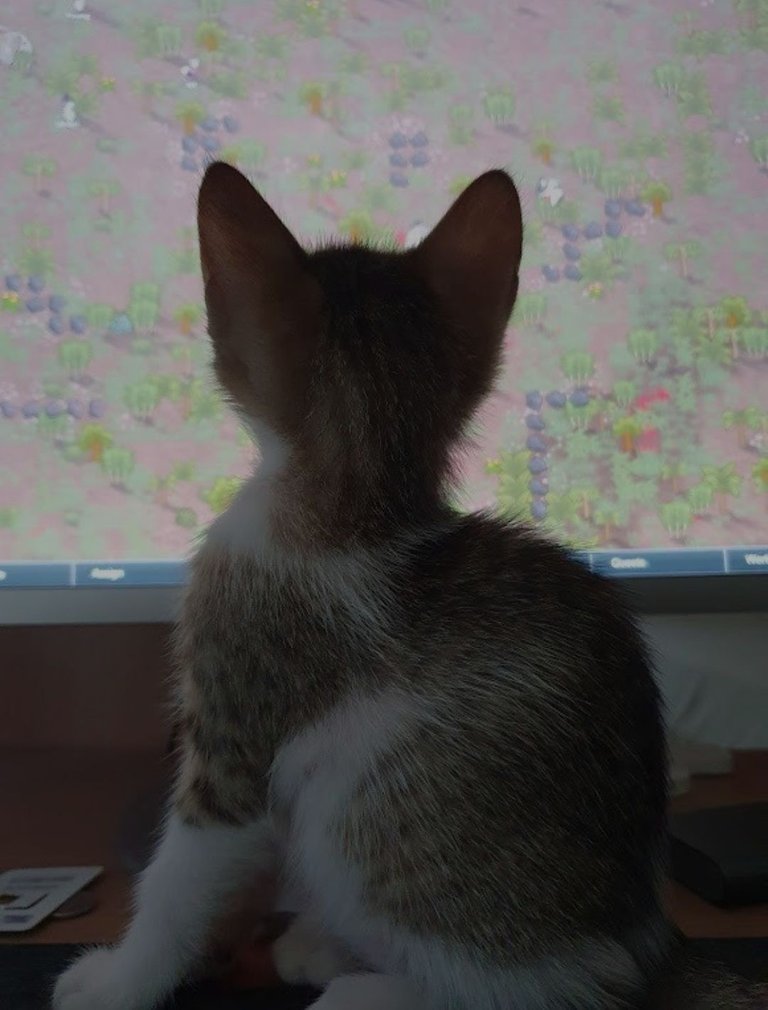 Our lady gamer ☺️ Neyney loves watching the computer screen while Ras is playing his games.
These two dumplings cannot sleep and live without each other. So I created a collage to sum up all their sweet moments together when they were little.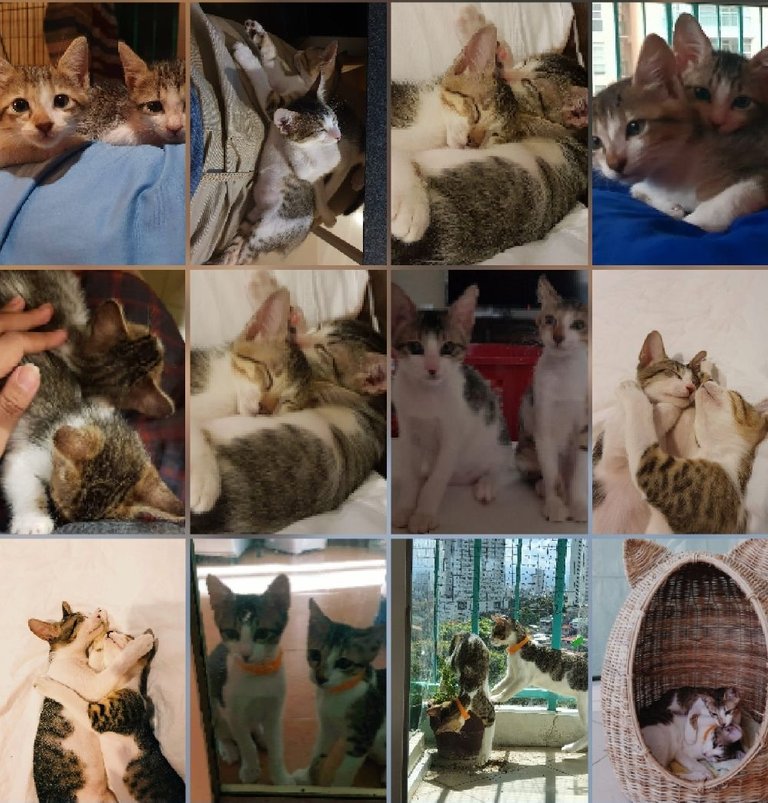 Me and Ras were talking about it all the time. How these two literally change our lives. It's like having kids. But, I think these were the spoiled kids 😬 A friend visits me few days ago. She also has rescued cats. Then she tries to give Neyney some piece of chicken. Neyney came over and smell the chicken and left. She told me it's so strange coz if that will be her cats. They will eat the whole thing. And we admit that we are accountable to that. We never give them human food since they were kitten kids.
When we get so annoyed with Jeepjeep and Neyney sometimes. We always joke at them that they will be sent to Mindanao on a boat and that his Lolo will take care of them and they will only eat rice and live in the village 😹 I know, that's brutal.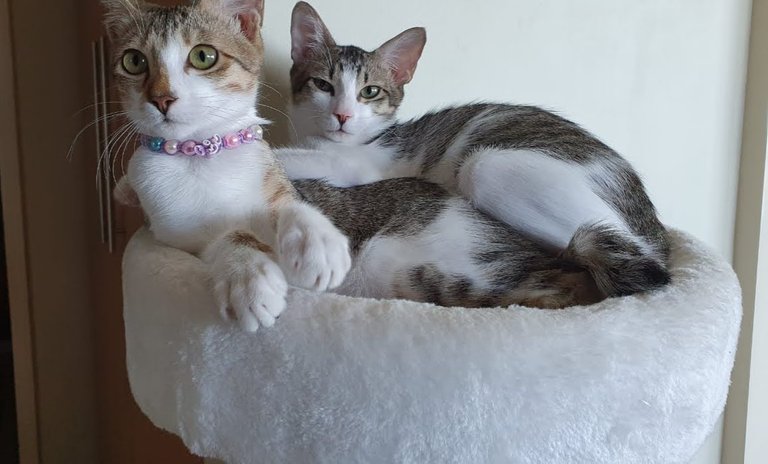 Chillin, sleeping with the city view 😻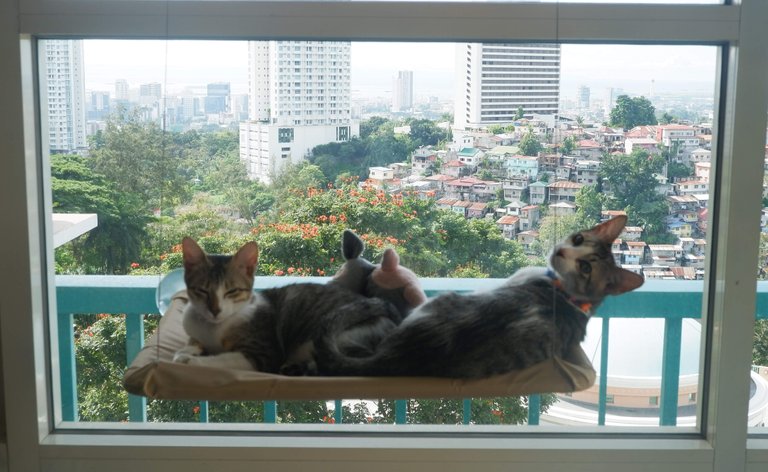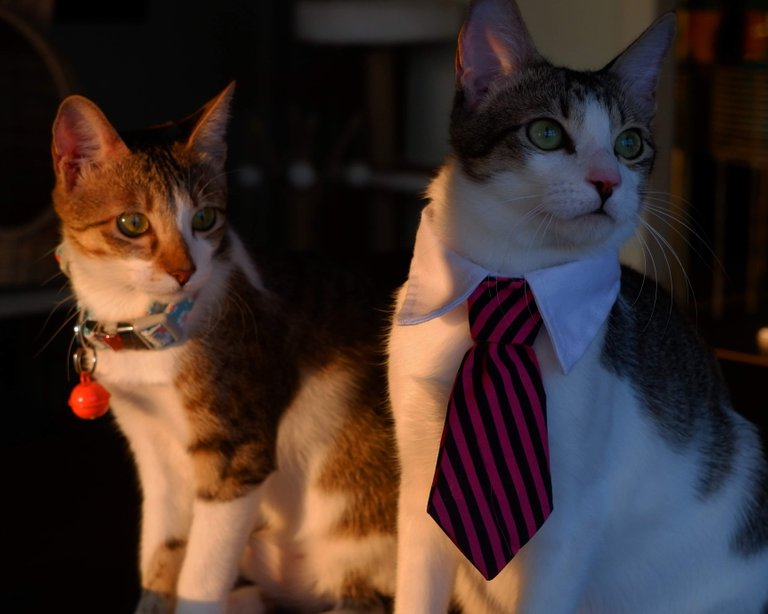 Dressed up for a zoom meeting ☺️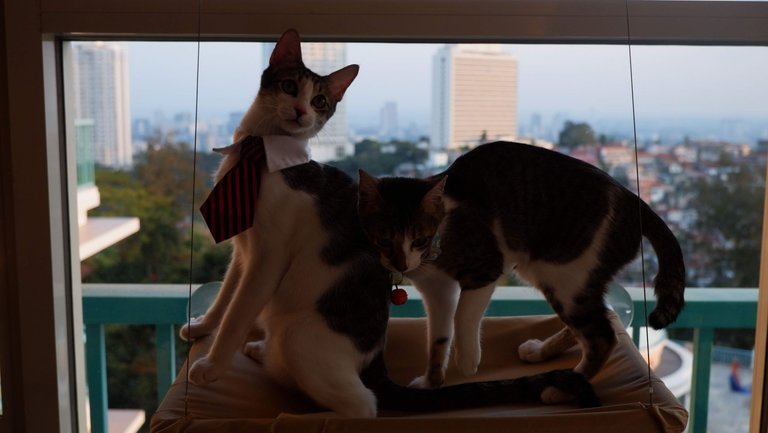 The love and hate relationship 💞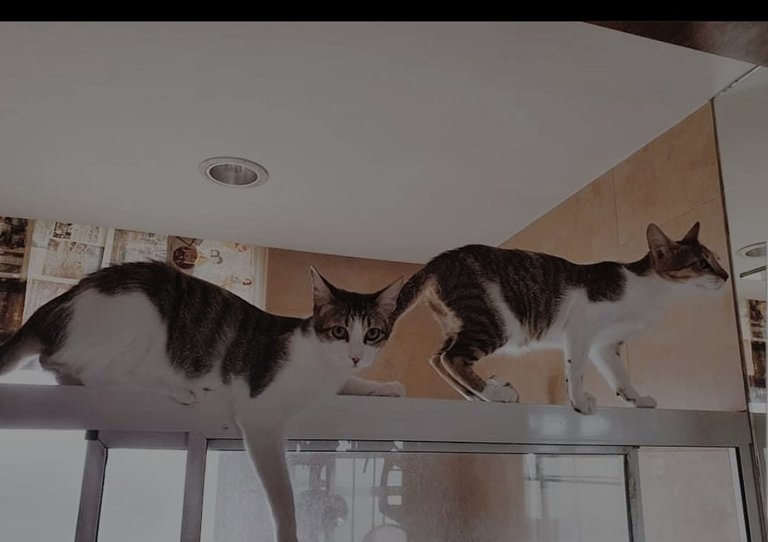 These two doing naughty and crazy dangerous thing together. Oh cats! 🤭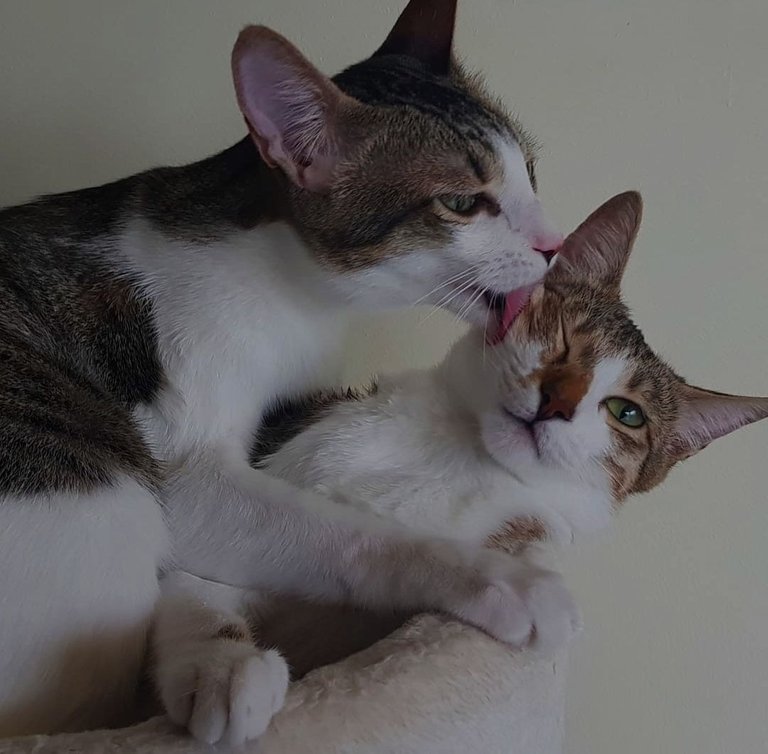 Jeepjeep showing love to her little sissy. Licking, licking good 😋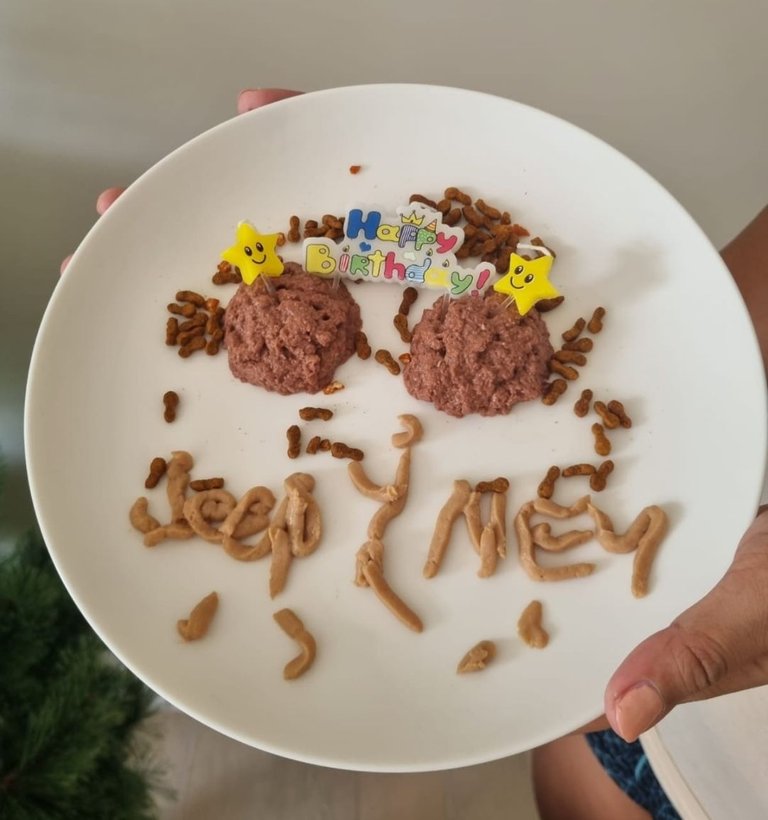 Making the best cake thingy that I could possibly make for them ☺️ When they saw it they start panicking and try to grab it out from my hand.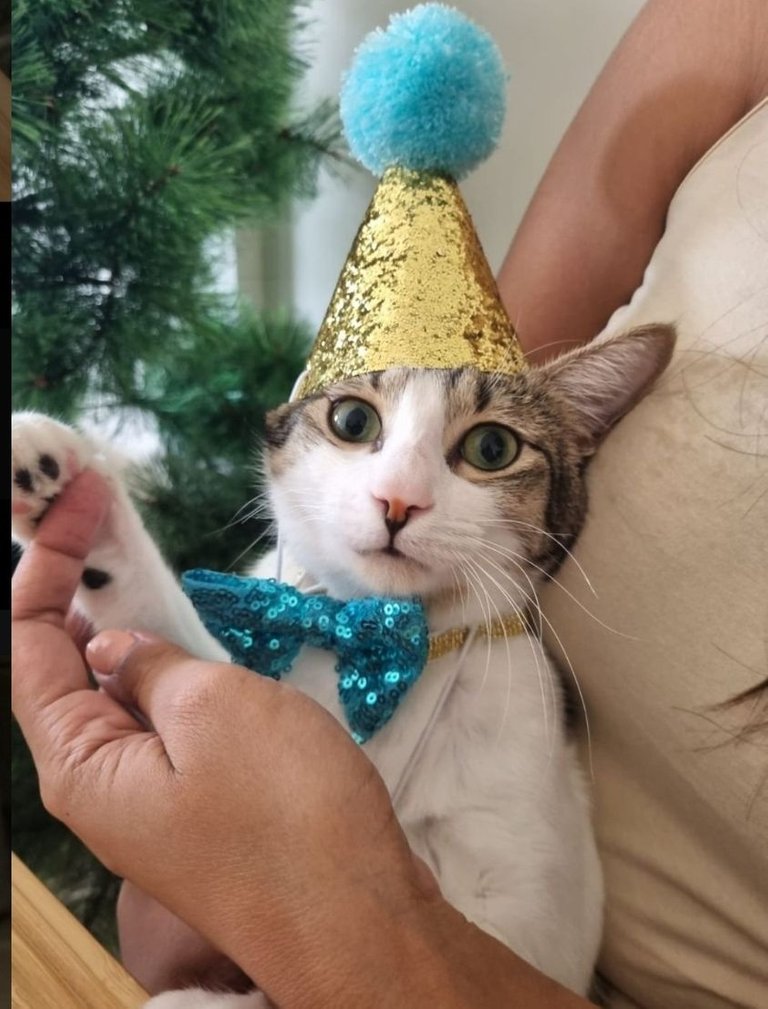 Jeepjeep having his best party costume. But, I think he's not happy about it. Haha. The only thing he love is that sitting on my lap while having meal or watching TV. He can sit like a baby. He's very good at it. 🤭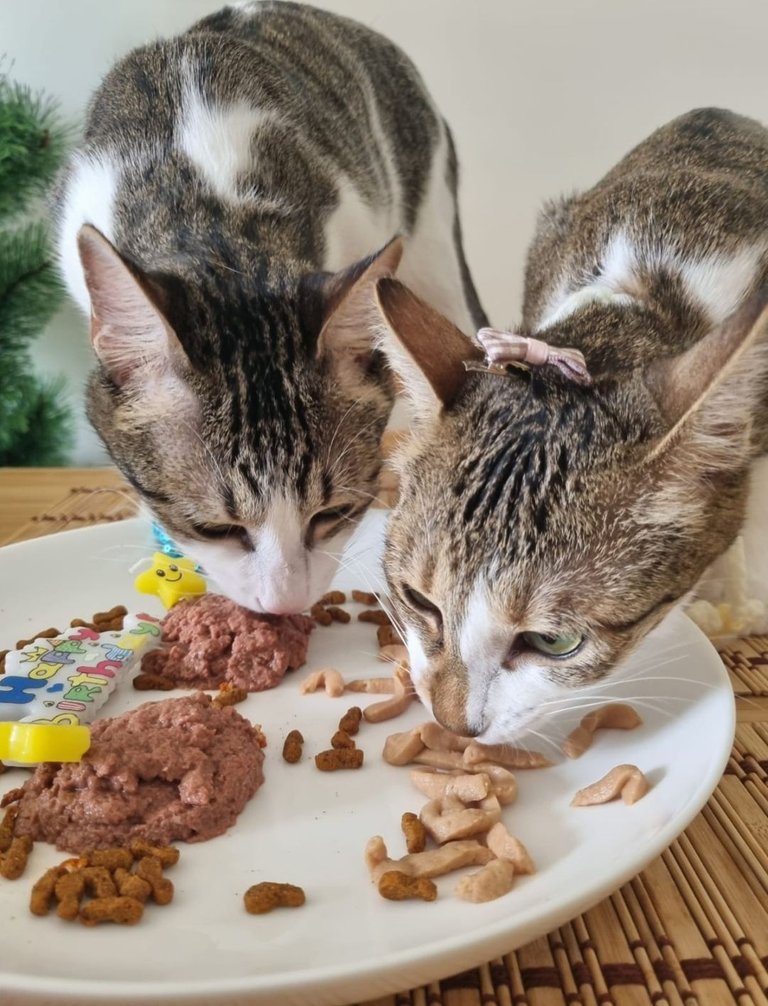 They both love their home made cake thingy full of dry, wet food and treats. What a happy 1st birthday to these cutie. I wish we will live longer, merrier together.
I think, I mentioned it before that having pets is a commitment and a lot of big time responsibilities. If we have just a big space for everyone. I'd already picked those cutie kittens I've been eyeing. But for now having these two is more than enough 😻 So, to those people who wants to have pets. Please consider for adoption. There are so many angels on the street that needs love and home. You might change their lives but they will also change yours.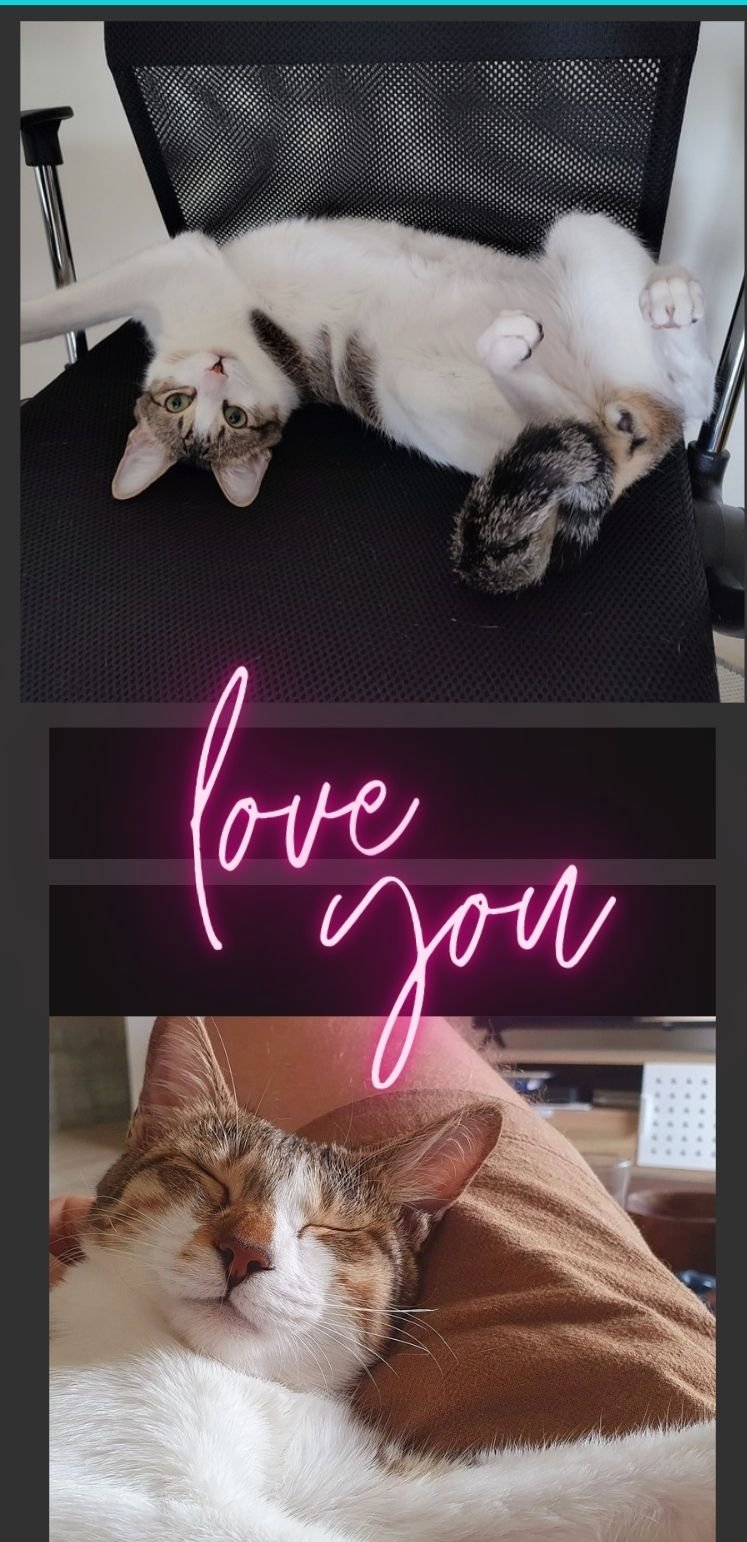 Cheers to a good cat life. 🍾🥂
---
---