Red Poppies in the Mountains | 山中罂粟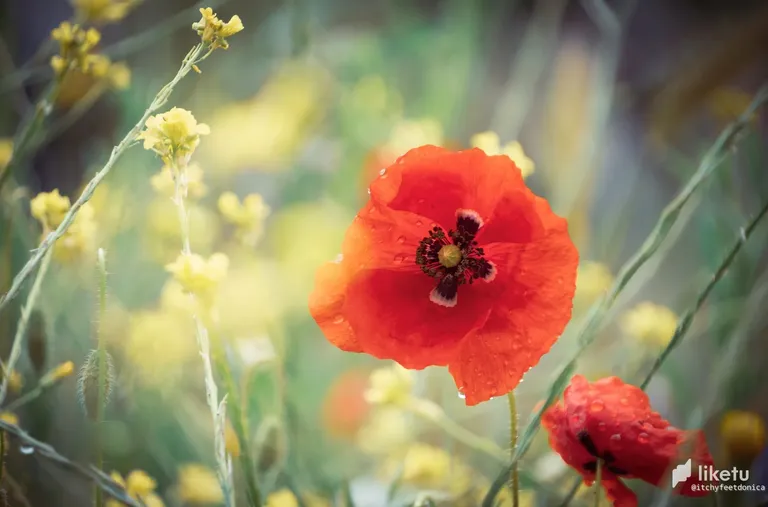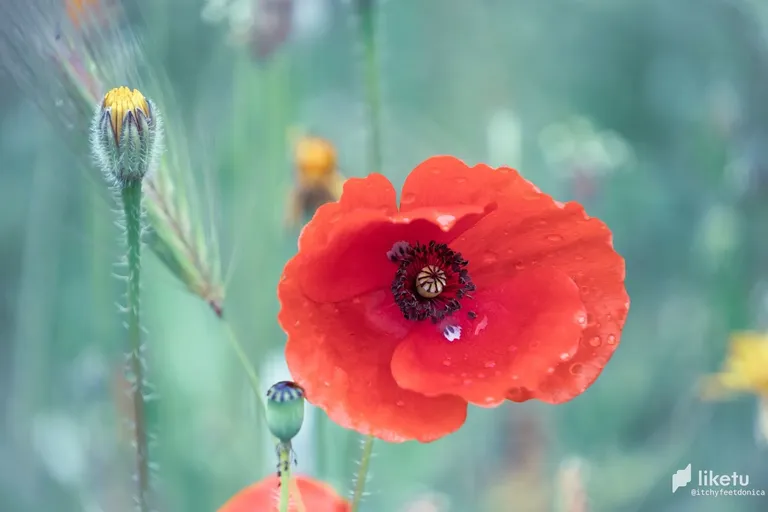 I just saw the Flower theme of Photo Games Show Off Saturday, and the host @fotostef posted some beautiful red poppy flowers in his head image. It's a lovely theme that many people adore, including myself. The same problem exists - I'm not sure which flower photo to enter because there are simply too many options.
On a recent hiking trip, I also came across a large number of red poppies. So, in today's post, I'll show you some photos of them. These were taken in the central mountains of Spain. It had been raining earlier in the morning, and I began walking up the hill when the rain had nearly stopped. So you can see the water droplets on these poppies in the first few photos. Later, the sun was shining through, and it became increasingly warm and bright. Meanwhile, the flower petals were also getting dry.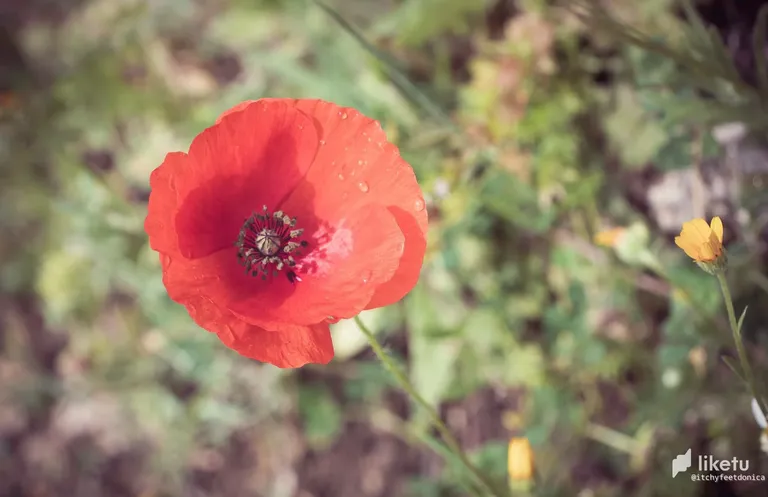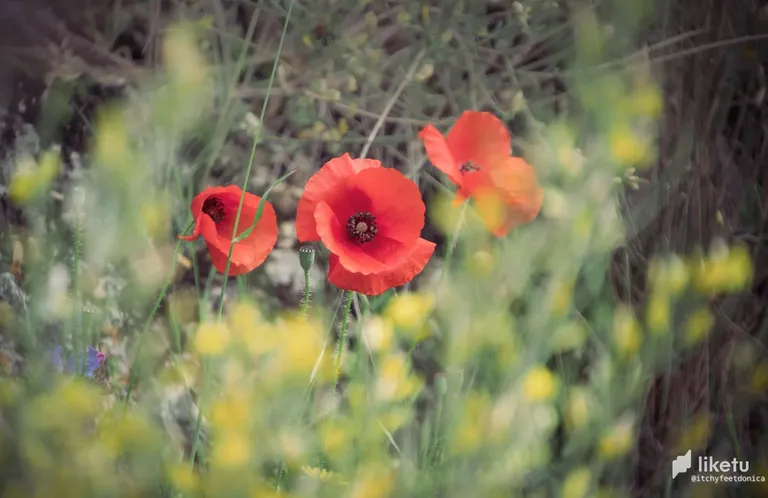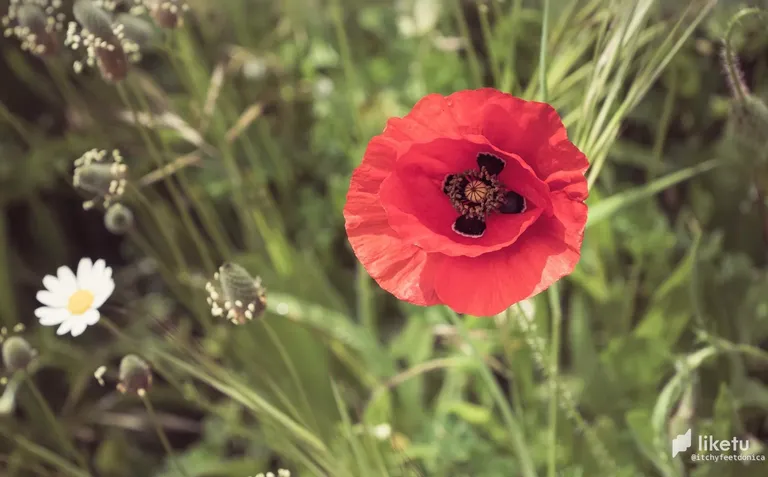 Because it was quite windy in the mountains that day, the light soft poppies were swaying with their long delicate stalks. As a result, it was difficult to focus on the flowers, and I initially had some blurry photos. The last photos that made it here turned out to be better. =) The clear water droplets on the petals immediately transport me back to that hike in the fresh mountain air.
These red poppy flowers are also very common in Belgium, and they are well known alongside the famous poem 'In Flanders Fields', written by Canadian doctor and commander John McCrae, who lost his dear friend in the battle in West Flanders. Red poppies bloom in the fields there, just as they did in the First World War. People now wear red poppy flowers as a symbol of remembrance on November 11th every year. The color of the red poppies resembles the soldiers' blood soaking the ground.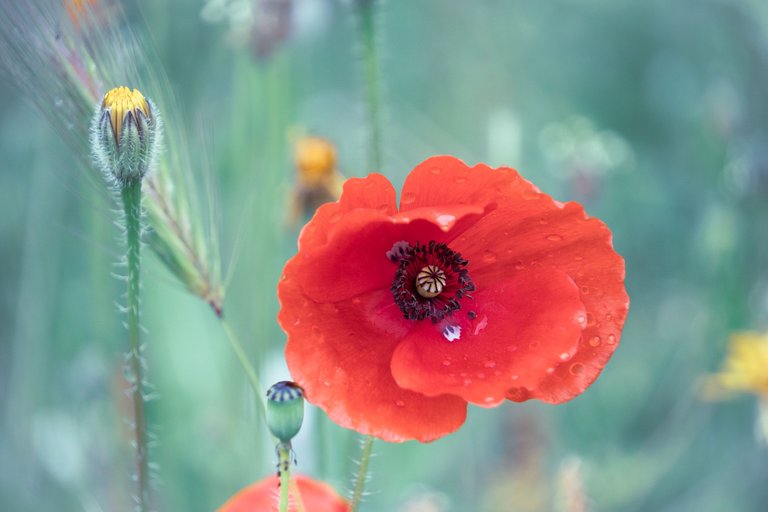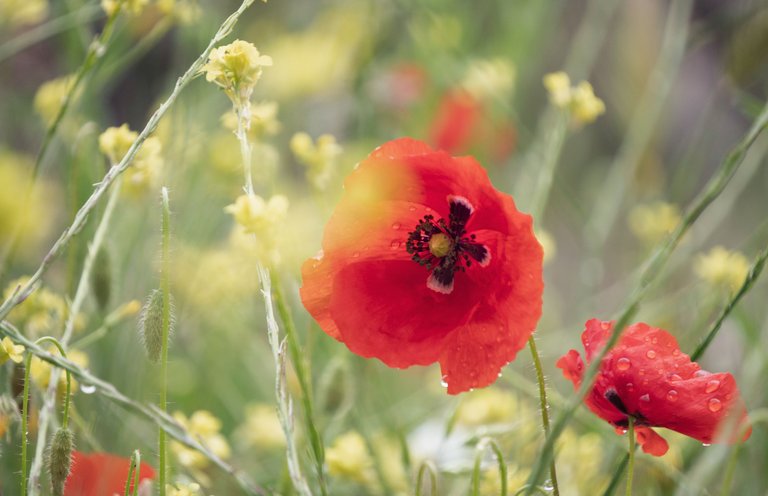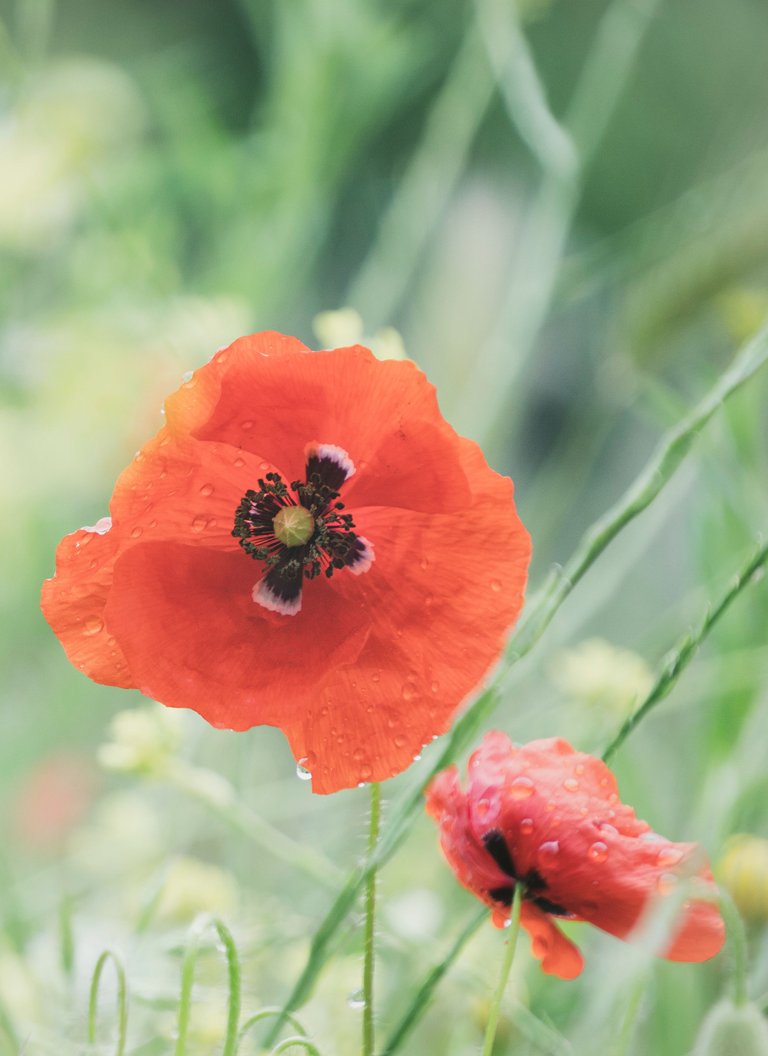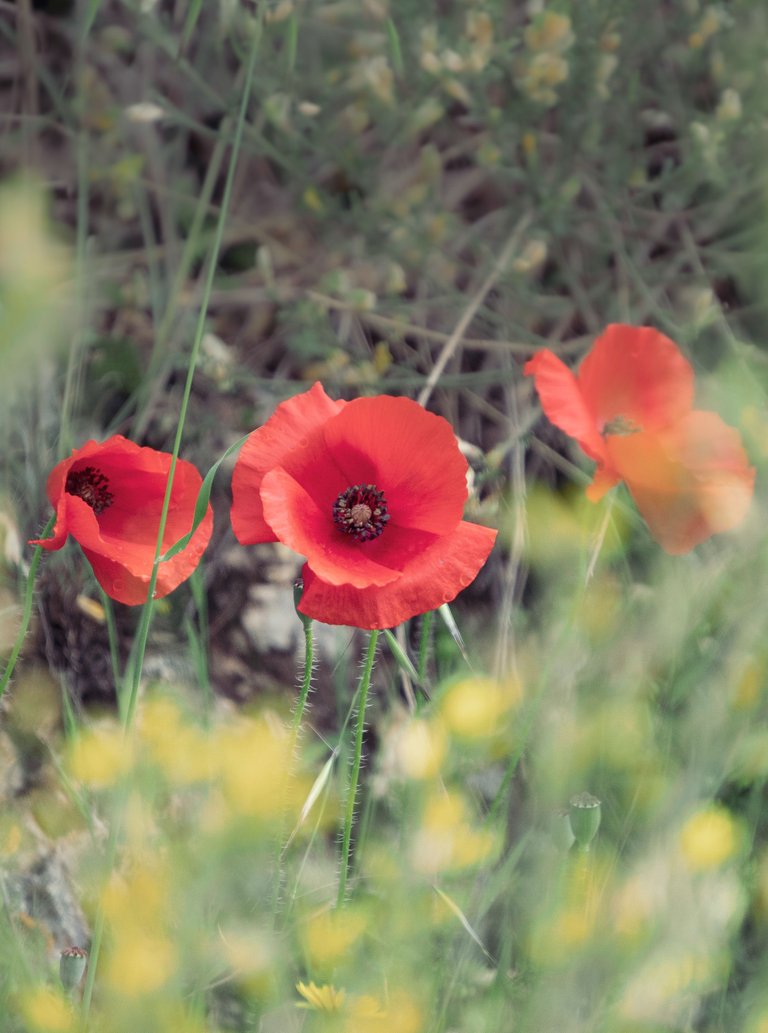 ---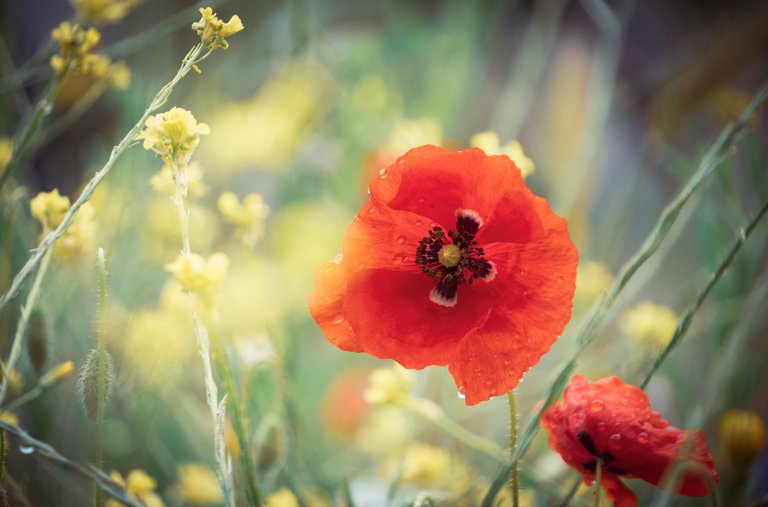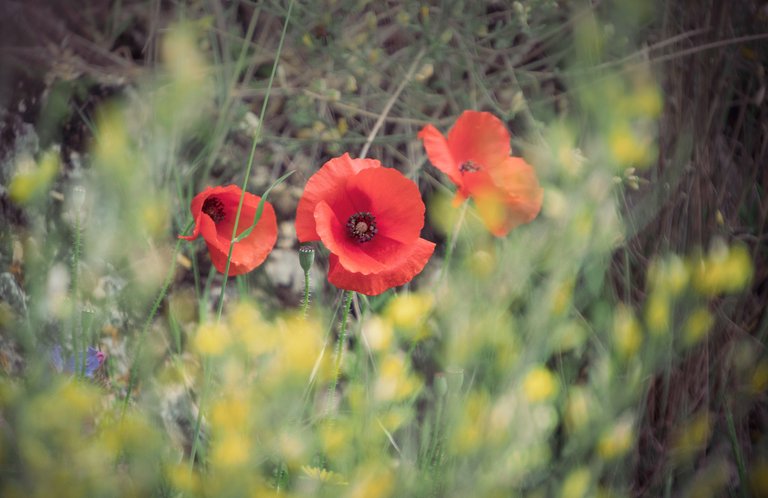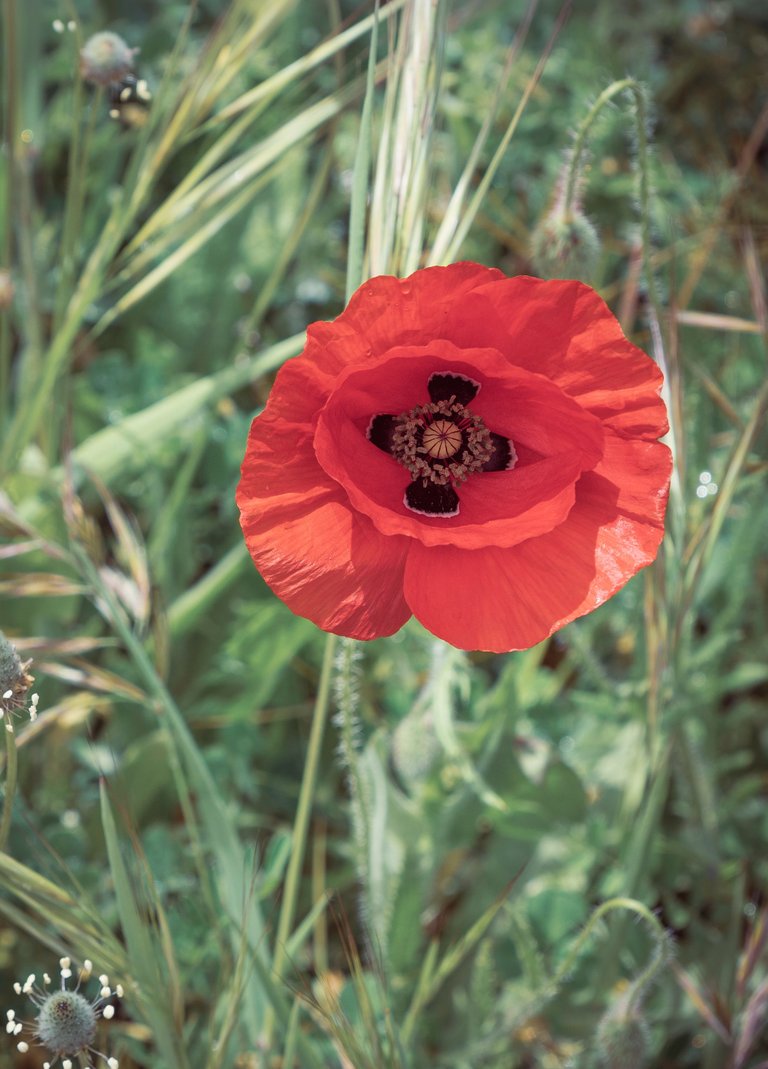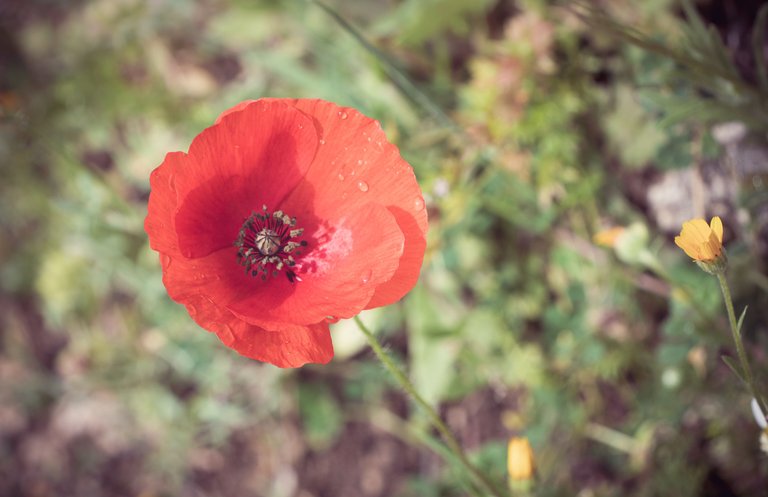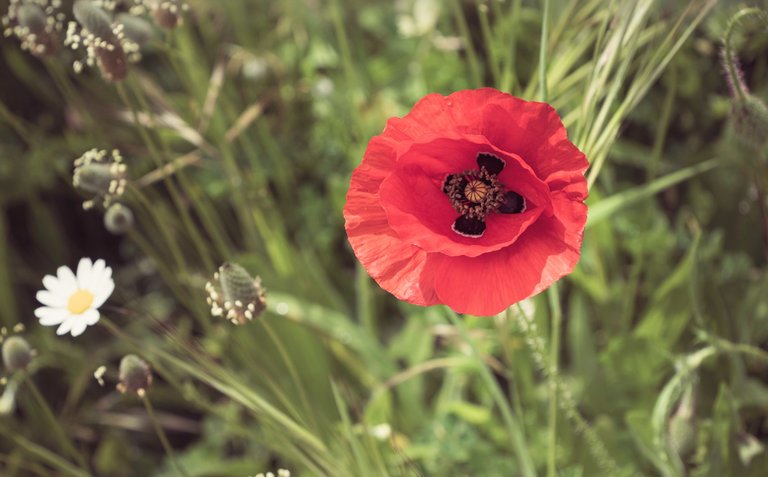 刚看到Photo Games这周六摄影的主题是花,很多朋友都喜欢拍美丽大自然中的花花草草,我也不例外。正巧最近在西班牙中部山区的一次徒步中,看到好多红色的罂粟花。所以今天就来分享一些它们的照片。
那天早上起初在下雨,等雨几乎停了的时候,我就开始上山。所以前几张照片中的罂粟花瓣上还有水滴。后来雨过天晴,越来越温暖明亮,再看到的花儿已经变干。细长纤弱的茎托着轻薄的罂粟花瓣,随着微风不停摇曳,让拍照聚焦变得困难,开始拍出来的几张都是模糊的。这些经过筛选幸存下来的照片算比较清晰了,现在看到花瓣上清澈的水珠,仿佛又立刻置身于清新的山间空气中。
这些红色的罂粟花在比利时也很常见,我记得曾经写过,当时是发了蒙古拍到的黄色罂粟花,还挖了坑说将来会po更常见的红花,刚翻回去找了一下旧文,发现这坑一挖竟然就是四年······ 当时真有闲情,还翻译了那首名诗,我现在直接贴过来好了:


"而在一站时期欧洲大陆的弗兰德斯战场,鲜红的虞美人盛放在战后满目疮痍的焦土之上,仿佛是被战士的鲜血所染红。
我曾去比利时西弗兰德斯省临近法国的伊普尔小镇参观弗兰德斯战场纪念馆。第一次世界大战期间,这个位于法比交界的重要战略地区成为同盟国和协约国争夺的焦点。伊普尔曾爆发五次战役,伤亡人数100多万。这里也是全球第一次被使用化学武器的地方。
1915年春,第二次伊普尔战役期间,加拿大军医麦克雷在佛兰德斯前线痛失战友,看着战场上在微风中摇曳的鲜红虞美人,麦克雷创作出著名的诗作《在弗兰德斯战场上》(全文请见英文部分链接),影响深远。


诗歌的开头和结尾都提到了战场上的虞美人:
在弗兰德斯战场上,
在一排排墓地的十字架旁,
罂粟花儿随风飘荡,
这是战友们长眠的地方;
......
我们将无法安息,
纵使虞美人盛开在弗兰德斯的战场上。


上面是我刚翻译的,原文节选如下:
In Flanders fields the poppies blow
Between the crosses, row on row,
That mark our place;
...
We shall not sleep, though poppies grow
In Flanders fields.


之后每年的11月11日一战停战纪念日,很多人会在胸前佩戴"弗兰德斯虞美人"的鲜花或者胸针来缅怀战争中逝去的同胞。"
All content by @itchyfeetdonica. Thank you for visiting!
图文 by Donica,谢谢来访!=)


---
---
For the best experience view this post on Liketu
---
---