How to Sew or Grow Rice Seedling ? Some Quantitative Suggestions, Rice Plants Transplantation To Rice Crop Cutting Process

Hello everyone & Hello Gardners of this platform Hive.blog I hope you are all doing great and enjoying your fantastic day.Basically today I am going to write my blog on step by step procedure of germination rice seedling and its transplantation of rice seedling into plots filled with water upto ripening process.
Let's Start:
Every crop is cultivated according to suitable season for the crop.Now days here in Pakistan we are growing rice crops as according to season.The growing process of rice crop consists on many steps.A pictorial view of these steps shown below: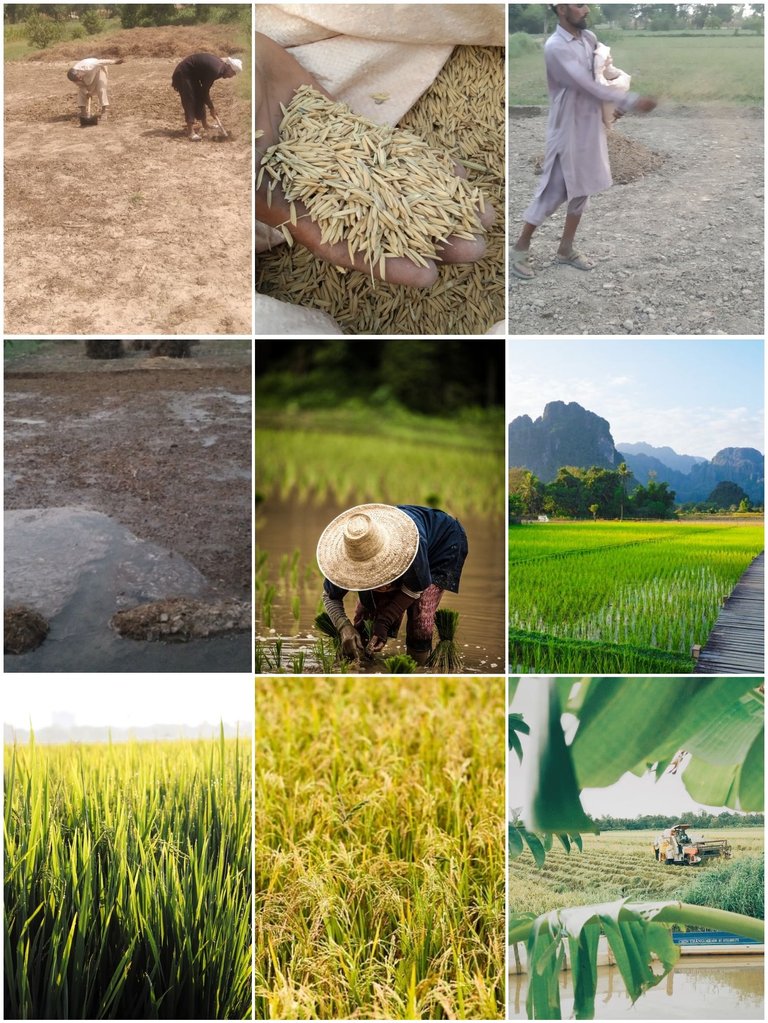 Here some pictures taken from free images site(unsplash.com)!
Traditionally Rice Seedling Sewing Processes:
Selection of Suitable Soil:
In order to sew rice seedling first of all we ll prepare suitable soil.For this purpose we pull out the grass for making it clean.As many peoples are unaware about it and due to this mistake their seeds germination is disturbed.As we have selected a suitable part of soil: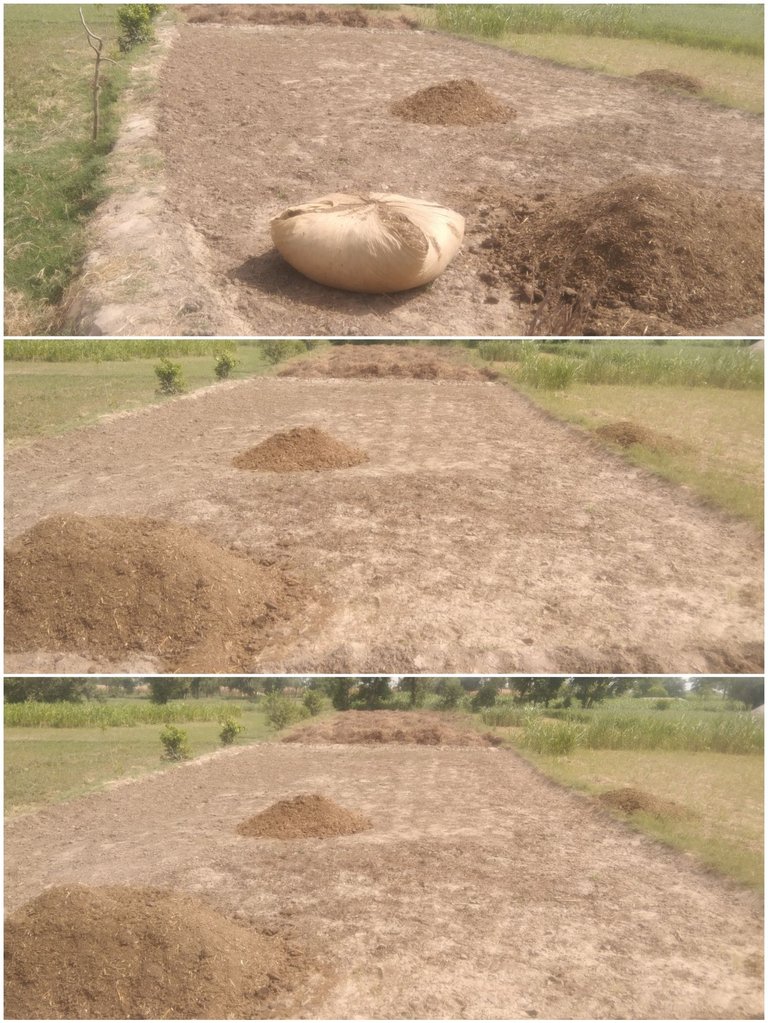 (picture captured by me by using my CP camera)
Ploughing process:
After the selection of suitable soil we ha to plough it. For this purpose we use man made instrument for ploughing it and to soften it upto required limit so that seeds can germinate freely.As shown below the workers are ploughing the soil: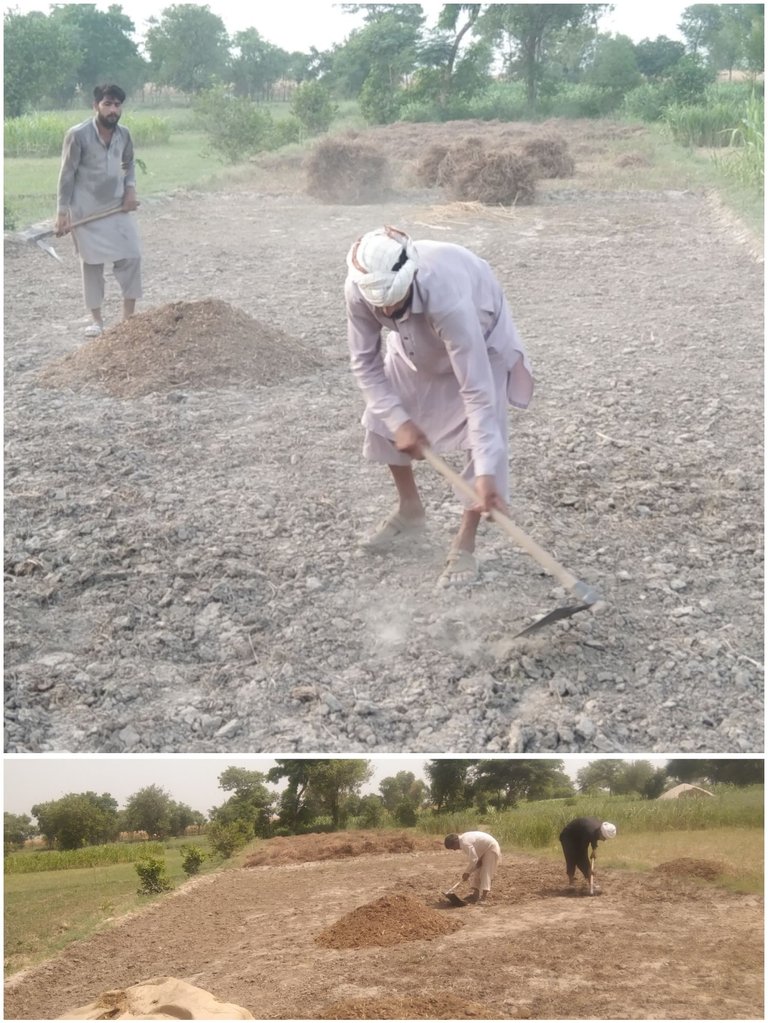 (Picture captured by me)
Rice Seeds Spreading Process:
After ploughing we have to maintain the level of soil and then we spreads seeds on the soil surface by throwing with hand as shown below: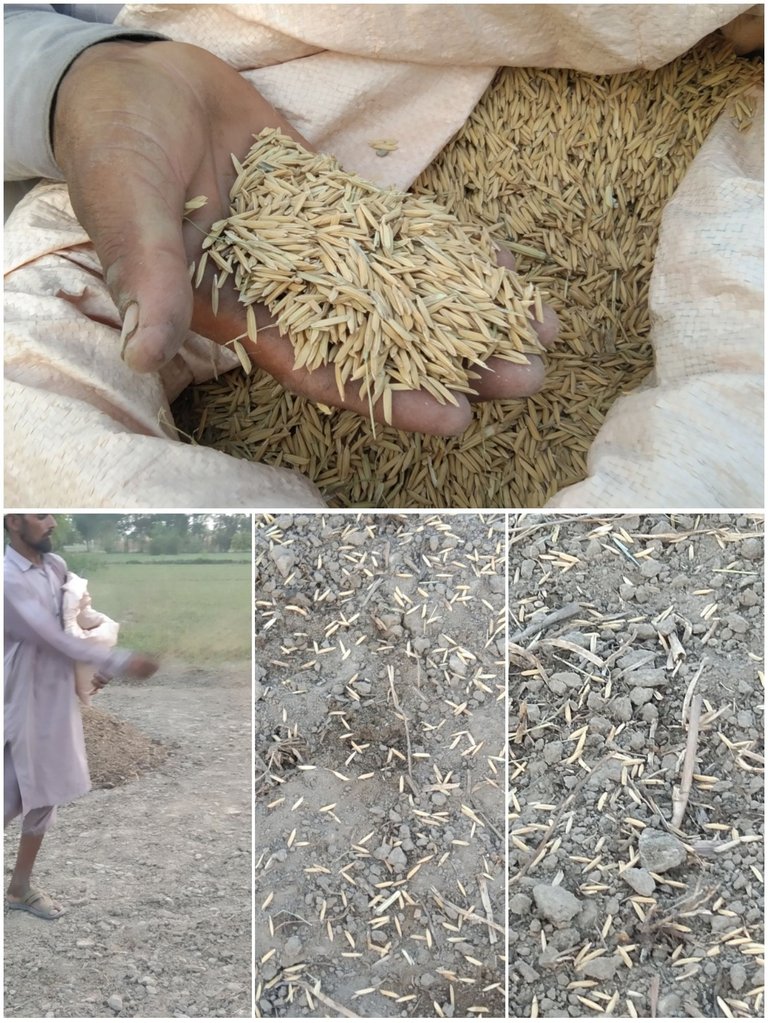 (Picture captured by me)
Manure Spreading Process:
I order to cover the seeds we use manure of animals which provides suitable environment for the germination of rice seedling and saves the seeds from birds: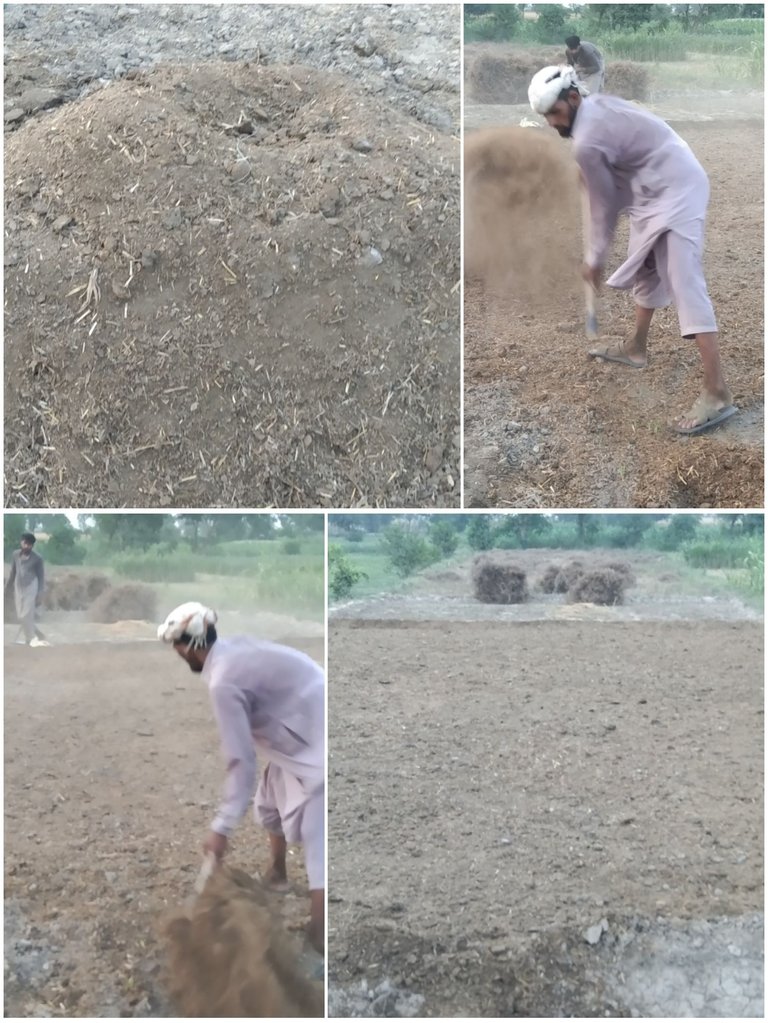 (Picture captured by me)
Irrigation Process:
After covering the seeds with animal manure we have to fill the whole cultivated are water.After providing the water the germination process starts and during this stage we provide the water to the seeds just after two days and this process is repeated for 7 to 8 times.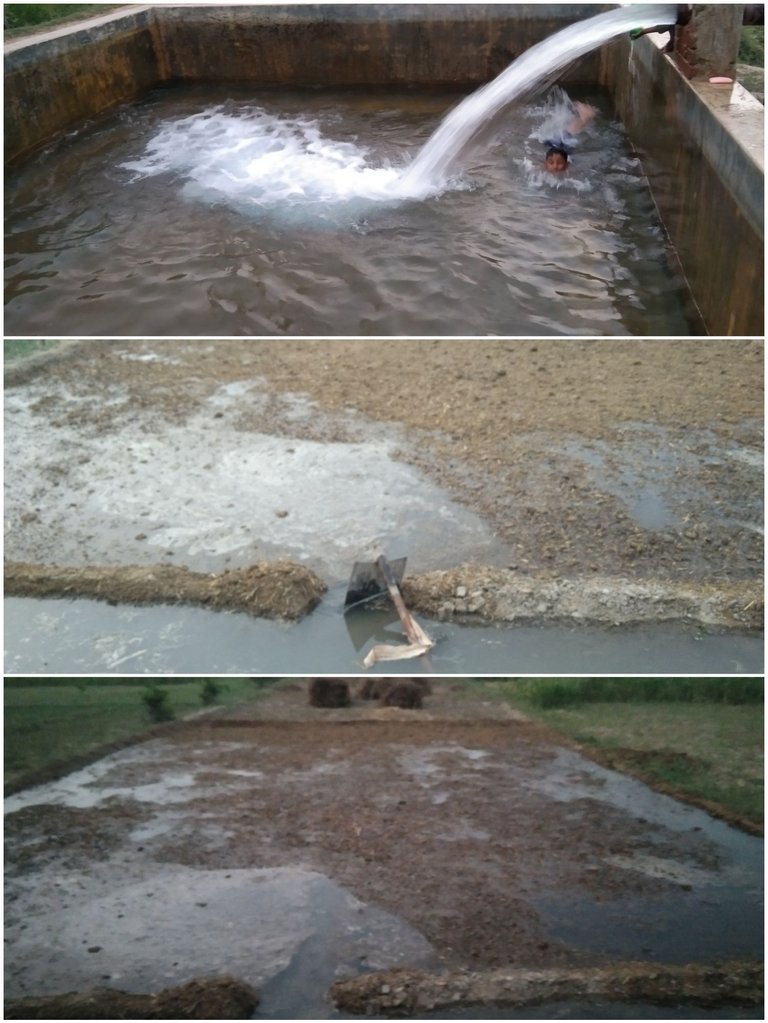 (Picture captured by me)
Here Some Important Quantitative Suggestions:
If someone wants to grow seedling of rice these quantitative suggestions are very helpful for all of you guys. Suppose if you want to cultivate one Acre plot:
(1):Just prepare 4 to 5 marlas plot for rice seedling
(2):Then make it suitable and maintain the balance
(3): Just take 6 Kilograms rice seeds and spreads them onto the selected surface of soil.
(4): Give the water after two days and repeat it 7 to 8 times as the rice seedling takes 15 to 20 days for growing Into little plants
(5): Transplant the little plants in acre when their length is 9 inches to 12 inches (1Feet).
If someone going to cultivate more than one Acres can follow these instructions as for 2 acres can multiply about mentioned amount with two and so on.
Let's Start Second Stage After Growing Seedling:
Transplantation Process:
when the rice seedling grow up then the second stage starts and in this process we have to pull out the the rice seedling and then tie it in small bundles so that' it can be gripped easily by one hand.After pulling these little plants from the roots we prepare acre area by using tractor 🚜 plough and when soil becomes soften then we fill it with water and then start transplantation process by labour.As in the picture a woman is transplanting the rice seedling or little plants in the soil filled with water and everyone can see the tie bundles of little plants of rice seedling: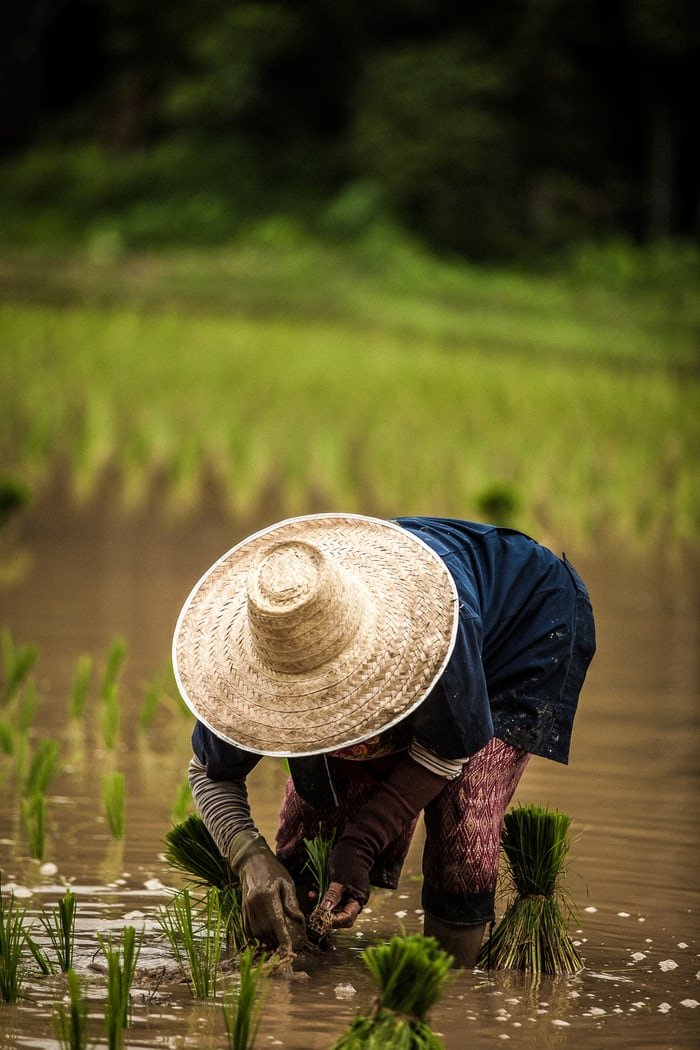 (Source: Unsplash.com Free images site)
After the transplantation we uses different fertilizers and chemicals for the growth of rice crop and we uses DAP ,Urea, Nitrogenous fertilizers and some spray's for killing the insects and to control the growth of grass and other plants grown in the rice crop.After 15 to 20 days the rice crop looks like this as shown in picture: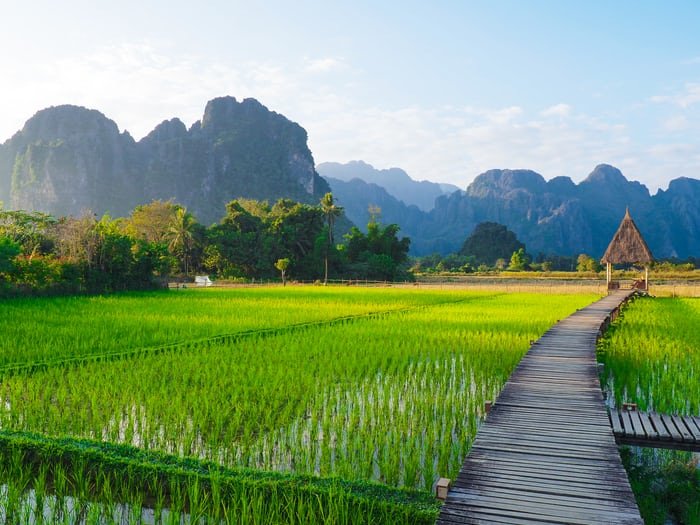 (Source:Unsplash.com free images site)
The ripening duration of rice crops are different and it depends upon the type of rice as many kinds of rice seeds available in the agricultural sector mostly are hybrid and can ripe just after 60( 2 Months) days after Transplantation.And some rice crops takes 90 days (3 Months) duration for ripening snd a fully ripened rice crop pictorial view is shown: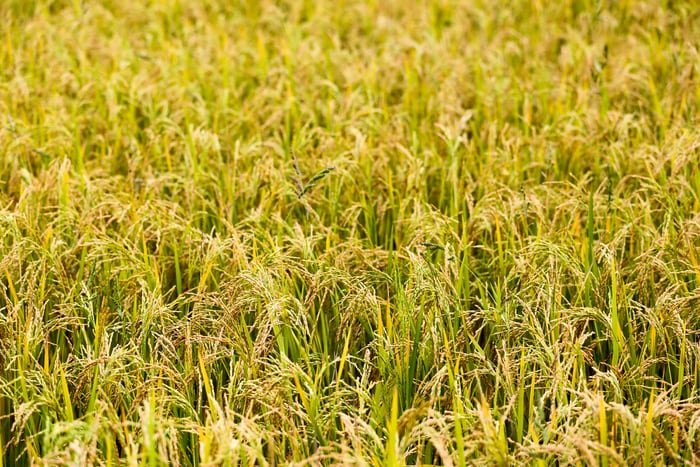 Cutting Process OF Rice Crop:
When the rice crop is fully ripened then we start cutting process to collect the rices for cutting process we use different machines to harvest the rice crop as cutting of rice crop shown below: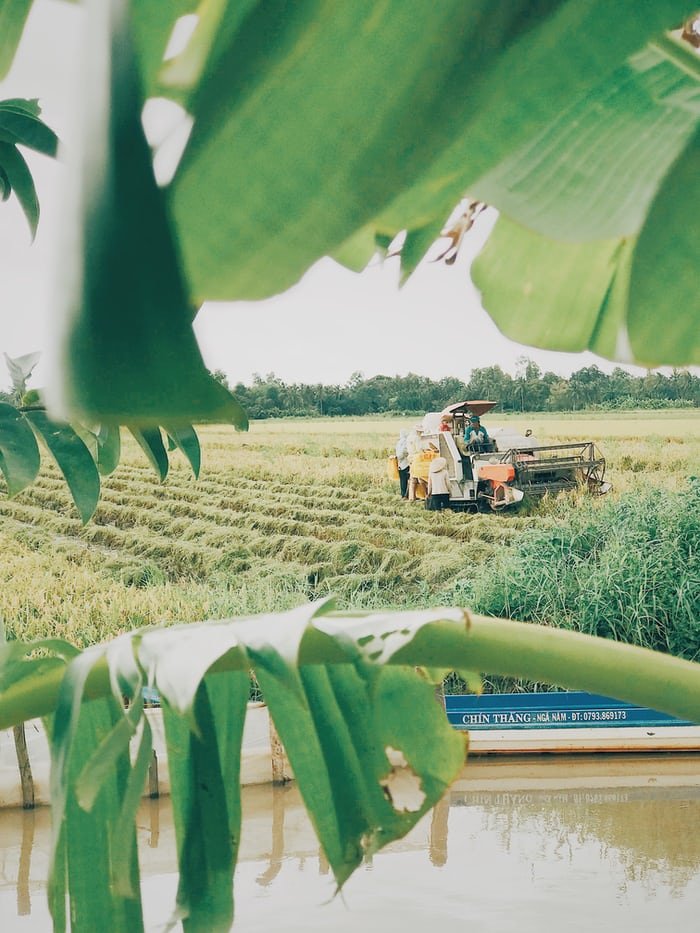 (Source: Unsplash.com free images site)
After cutting process we collect the rices and uses different machines to get pure rice without any other impurity and we use the for cocking purposes and in many dishes like biryani ,matka biryani and many sweet dishes as shown below: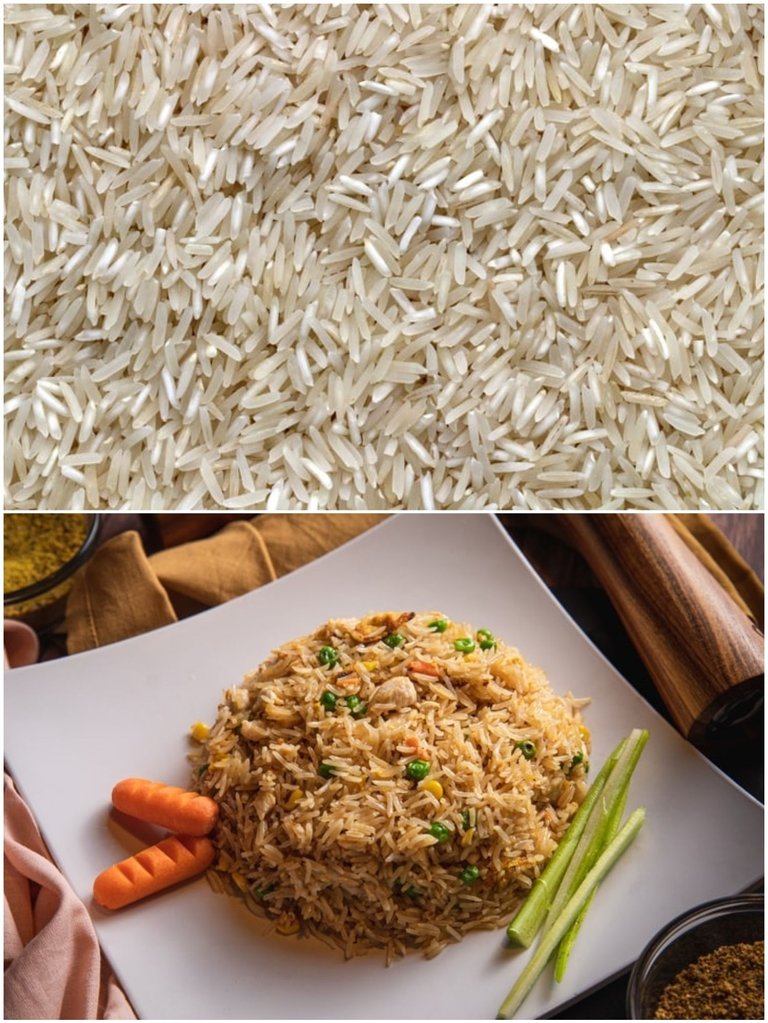 (Source: Unsplash.com free images site K have prepared collage)
Conclusions:
As we know we uses rice for eating purposes and here in the world some countries are eating rice dishes as they have lack of wheat for example Philpinese, Bangladeshi and Indonesian peoples are eating rice and fish mostly in thei male's.Rice are also in bakeries too.As I am son of farmer and rice are also means of earning money as we sell them in market and in the return we get money which is helpful for reaching daily life expenses.
Thanks reading my blog & I am waiting for your positive response because your positive response encourage me to write more informative contents.......!
---
---