Kidnapped: My Most Terrifying Experience
They say fear is 'False Evidence Appearing Real' but sometimes the evidence is not false and the experience is more real than our own flesh.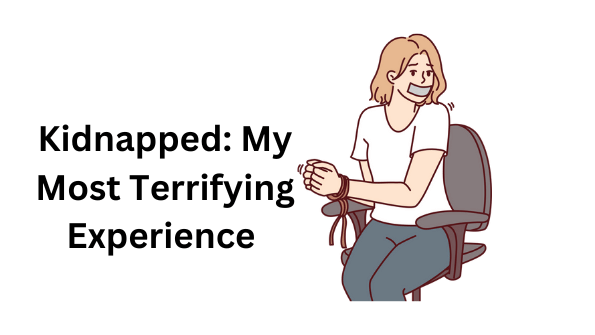 Source
I was walking home from work one day, enjoying the cool evening breeze playing with my hair and tickling my cheeks. I plugged my earphones in to complete the awesome feeling that solitude brought when I felt a light tap on my shoulder. I turned to see a young man mouthing inaudibly. I thought he was just there to beg some money from me so I took my earphones out to listen to him.
"Come with me" he spoke with the faintest tone possible.
I turned to look around me and discovered I was on a lonely path somewhere behind the school building. There were only a few people in the distance. I was really uncomfortable so I apologized saying I had to be home soonest as my parents were waiting for me and began to walk as fast as possible.
This young man didn't need to run to catch my strides. He was walking closely enough even though I was almost running. I intended to get to somewhere busy or crowded and shout for help.
I was almost at the main road when two other guys emerged from the bushes before me and began walking towards us. Somehow I wasn't at ease but I thought to myself that if I had to escape the guy behind me, then I had to move forward, so I kept walking.
The two men in front of me spread out and began to encircle me. At this point, I knew I was in deep trouble. One of the guys walked up to me and snatched my phone and the next thing, I was out. I gained consciousness to find almost 17 pairs of eyes staring at me. It took me some time to remember what was going on, when the guy from the school came into the room with a machete, everything came flooding back.
It was then I realized that I had been kidnapped.
My entire body began trembling, beads of perspiration rolled down my body in different parts, my heart was pounding faster than an afrobeat and my teeth were chattering like I instantly developed a fever.
I tried to relax and take a good look around me; We were all packed up in a small room with no windows and high walls. About 17 other people were looking tired and waiting patiently for death to come.
The most interesting part? No one was talking. It seemed everyone had accepted that they were going to die and we were patiently waiting for their turn.
Something in me couldn't just accept it, I began to recite all the Psalms and bible portions I knew about God protecting His children then I began to pray. After a while, a hefty-looking guy walked into the room. He scanned around quickly then roughly picked up a young lady.
We could hear the lady pleading and struggling in the distance, at some point, her voice faded out leaving total silence but suddenly we heard a high-pitched scream in the distance followed by a loud thud. I knew it was over.
That was the point where I got genuinely scared for my life. I became frantic, telling myself that I couldn't lose my life in such a terrible manner. I could already imagine the chaos my disappearance was causing at home, hoping my mom's blood pressure had not already risen.
I decided that I wasn't going to sit back and do nothing while these men terrorized us, so I got up and tip-toed to the door. Some of the people in the room with me were sobbing softly, it was very cold so others were curled up in different corners of the place. I tried my best to walk over them so I wouldn't upset anybody.
"What do you think you're doing?" A rich baritone voice stopped me in my tracks. It was then I knew why the other victims had been calm and quiet, one of the kidnappers was right there with us. He rose and seized me by my arm. Before I could say "Jack", I was dragged into the dark, freezing night to another hut where he threw me at someone's feet.
"What is this?" the guy asked
"She's trying to escape". The guy turned a flashlight on to see my face, then said to the one who brought me "Go back, I'll handle her". He left immediately.
I thought that was the end for me, that instead of buying myself more time to live, I had cut short my life with my hands. So when I heard him call my name, I thought I was imagining things.
"Blessing! What are you doing here?"
I raised my eyes to look at him and couldn't hide the extent of shock that seized me. What was my secondary school friend doing here?
"Bishop…."
"Listen, there is no time. When I take you to that plantation over there, make sure you run as fast as you can and don't look back" he dragged me up and guided me gently. I was in too much shock to begin asking questions.
When he asked me to run and I looked up at him, I don't know if it was contempt or gratitude I was feeling, but whatever it was, the tears did not come until I began to run.
---
---