Frenemies
I had a best friend named Amy who always ghosted me. She ghosts me for a variety of reasons. The first time she did so was when we were about to enter junior high school. We both applied to Queen's junior high school and the process was very rigorous.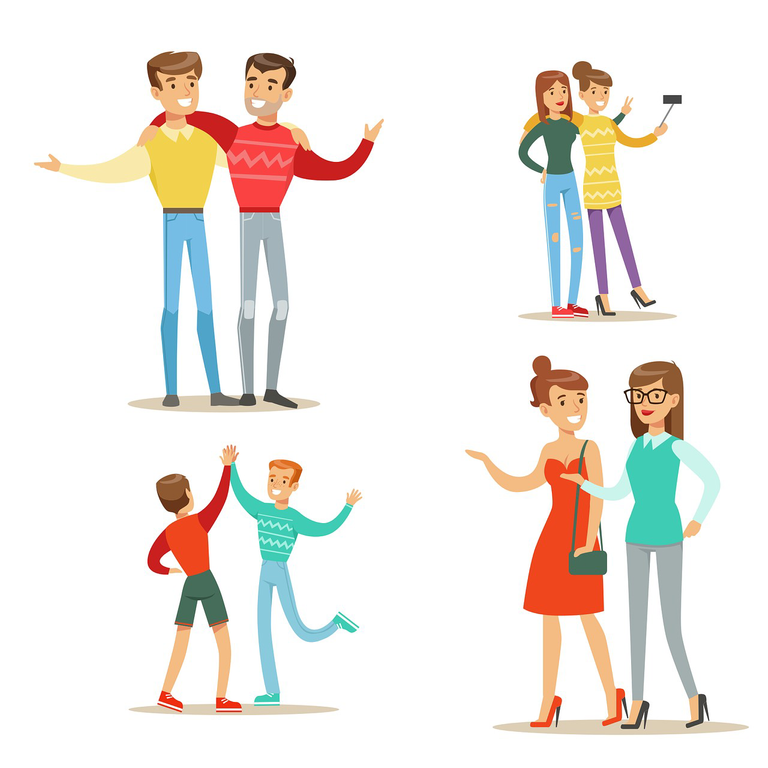 Source
Soon, the names of successful applicants were released and my name wasn't among them. Amy was admitted and I was very proud of her. Although I was sad I couldn't make it in and really needed someone to talk to. Immediately Amy learned I didn't make it in, she ghosted me.
No calls, no visits, and no messages. Even when I reached out, there was no response and she never returned my calls.
A few days later, I was informed by the school that one of the admitted students was giving up his admission because his parents were transferred to another state and he wanted to relocate with them.
So I was offered admission. I was so glad, I forgot that Amy had been ghosting me. When we resumed school, Amy was surprised to see me in school. I told her about my admission process and accused her of ghosting me.
She apologized and we were cool again. We were still best friends and hung out with each other during recess. Then, we got to senior year. Amy was pretty and tall and soon became popular in school. Boys were swooning over her and soon she got a boyfriend and totally ignored me and stopped hanging out with me.
I felt bad each time she treated me like a disposable person because I truly saw her as my best friend. But she began to hang out with Florence and her group.
Florence was like every other queen bee in school. She had her minions, was the leader of the cheerleaders in school, and was super hot. Her blonde hair was always slick and straight with not a single strand out of place and she had a fashion style that could kill.
The only thing left to complete her awesomeness in school was if she could get Jeremy, the leader of the basketball team, to date her. That was not to happen, because along the way, Jeremy fell in love with me and we began dating each other.
That caused quite an uproar in school. I became the focus of many students and the target of bullying by Florence and her cohorts. Amy tried to switch sides at this point but I had already made up my mind on what to do.
Amy did that so she could hang out with me and Jeremy more and gain more popularity. I figured that anytime she took a step forward, she would ghost me because she thought we were no longer on the same level, so, I decided to give her a taste of her own medicine.
One day, she asked me out to the movies on a double date and I agreed. I never informed Jeremy and a few minutes into the date, I went to Jeremy's house to watch a movie and switched off my phone.
When I put it on later, I saw tons of missed calls from Amy. I didn't call to apologize but sure enough, she called me and I gave her one of the flimsy excuses she normally gives to me after ghosting me.
I stopped calling her, stopped texting, and pretended to not be at home whenever she visited me. She was frustrated but could not say a word because she wanted to keep hanging out with me.
I felt bad treating her like this but I knew that if I continued to be self-righteous, she'd always dispose of me. I just wanted her to have a little taste of her own medicine.
We kept going back and forth with each other until one day she got fed up and approached me. I told her the reason for my behavior and she apologized saying she was truly sorry and so on. I forgave her and we became besties again.
Then it was time to write our college entrance exams. Amy once again passed while I failed so I had to wait till the next year to rewrite. I was once again sad and Jeremy had to travel outside the state to go to school.
He stayed as much as he could and called me often when he left. Amy once again ghosted me. She ignored my calls and texts.
I used the extra year at home to start a fashion business and by the time I was finally graduating, it had become one of the best fashion brands within the country.
Then, one day it was time to interview the interns we were recruiting and lo, It was Amy and her cohorts!
"Amy," I said, not bothering to be polite.
"Ja...Jane?" She said
"Hmmm,"
She immediately put on a bright smile
"My bestie. Is this how you are going to treat your best friend?
You just ghosted me and I couldn't reach you…."
I scoffed in disbelief
"You know what Amy, I don't have time to waste on you. I'll just go straight to the point. You can't have this job because I don't want someone who would ghost the company when it hits a crisis and then gaslight it later.
You may leave with your cohorts and call the next person for me," I said finally and watched as she left dejectedly.
---
---