Seeing Forest Destruction in Simajambu Village, Batang Toru Forest Area
---
---
There is sufficiency in the world for human needs, but not for human greed." - Mohandas K Gandhi
---
---
Earth provides everything that humans need. Forests produce clean water, as well as wood products that are used as the foundation of houses by humans. However, human greed and lifestyle make a bad impact on environmental damage and cause ecological disasters such as floods in the future. This time I want to tell you about my trip several years ago to see illegal logging activities and illegal forest clearing (deforestation) for agriculture in Simajambu Village, which is directly adjacent to the Largest Tropical Forest Area in Sumatra, Batang Toru Forest.
---
Simajambu Village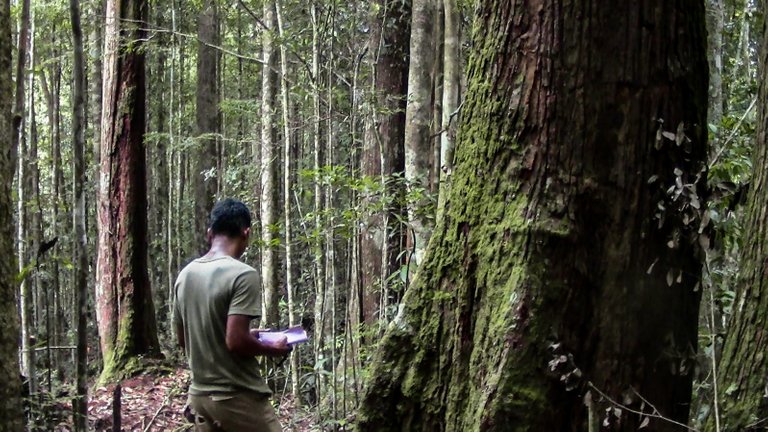 Several years ago, when I was still working in a Non-Government Organization, which was called Perkumpulan PETRA. We have a community assistance program for economic improvement in Simajambu Village. This village was chosen for two reasons, first because this village is a buffer village and one of the villages directly adjacent to the Batang Toru Forest. The second reason is that this village is famous for many cases of illegal timber buying and selling activities, and the theft of protected animals.
Simajambu village has a very beautiful scenery. The air is very fresh, the people are very friendly, so that anyone who stops in this village does not want to go home immediately. The majority of the people have rice fields and work as farmers, but the farming method is still traditional and the yield is not optimal and the harvest is priced cheaply.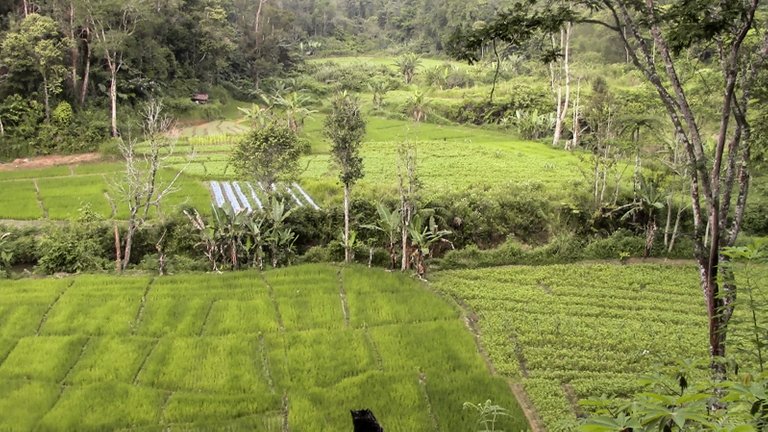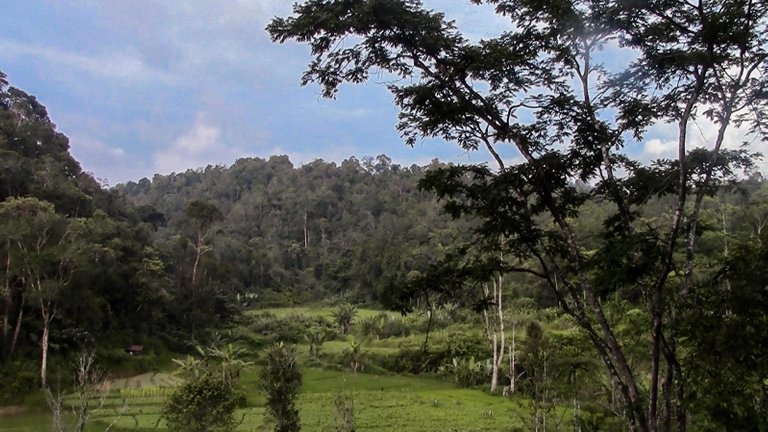 Our program at that time in the village was how to increase crop yields from agriculture and ensure that the community's crops were purchased at a reasonable price. During our time there, logging activity in the forest decreased drastically, but when we returned for the year-end vacation. The scariest thing happened.
---
Deforestation of Batang Toru Forest
In early 2016, we were reported by villagers that they had arrested several people involved in massive illegal logging activities, and these gangs managed to steal a lot of high quality wood from the Batang Toru Forest. We immediately went to the forest to see how much damage was caused at that time.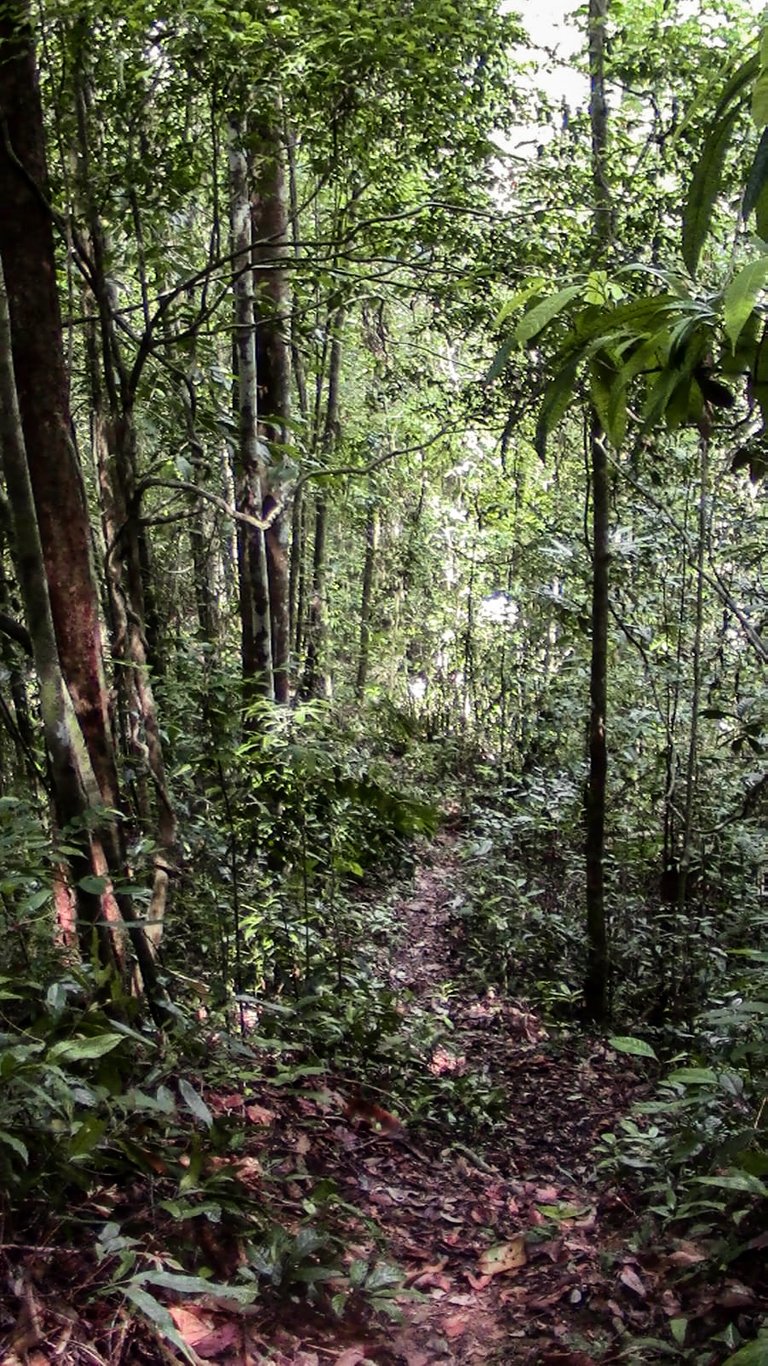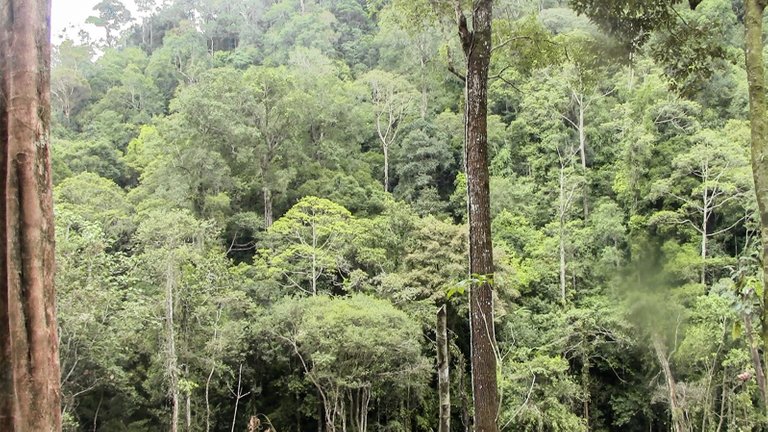 A trip to the forest that is still natural and rarely touched by humans is a special thing, especially when we were guided directly by the villagers at that time. Actually we were not prepared to go into the forest. We didn't bring lunch, we only brought gps equipment and also a camera whose screen had started to break. The village people told us that later in the forest, we would just look for fish and make grilled fish where we rested later.
After walking for two hours from the village, we arrived at the location. My colleagues and I immediately went to work to see how severe the forest damage was. These wood thieves are quite clever, they don't take wood at the edge of the forest but go to the middle of the forest so that at a glance from the village there is no forest damage that has occurred, but when entering the forest we will see several locations where the trees have been cut down.
The perpetrators of illegal logging, create many points of damage and they move from location to location, so that in one forest area we can find several locations that have become empty because trees are cut down.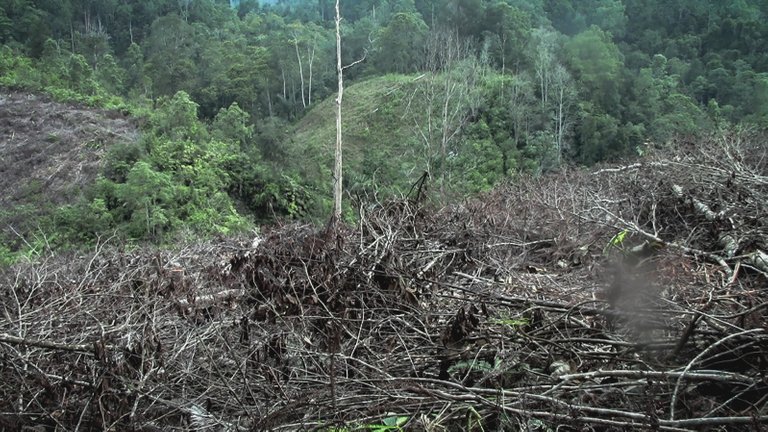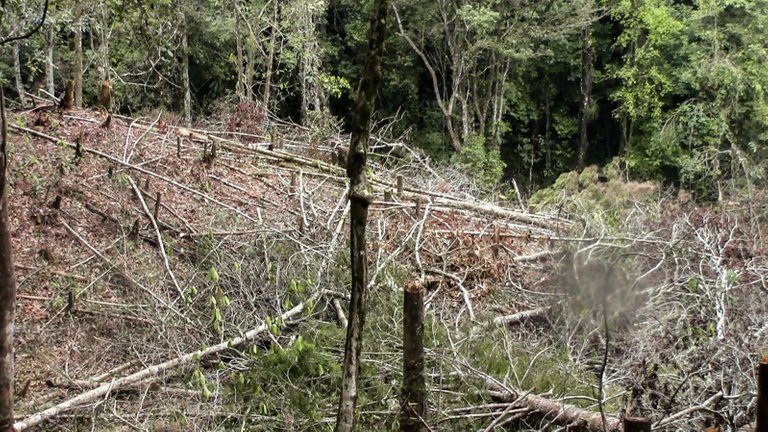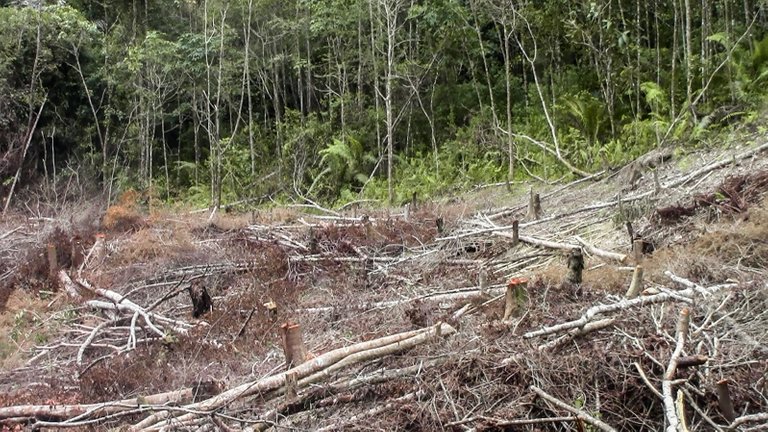 It is very sad when forests in Indonesia continue to be lost and will probably remain in history in the future. Deforestation in Indonesia is not only done by ordinary people to get a little money but as a result of the oligarchy and a corrupt political system, officials regard natural resources as a source of income that can be exploited for political interests and personal gain.
Policy makers, competing to exploit forests for various purposes such as opening mines or creating oil palm plantations, sometimes the permits given by the government to open plantations to a company are misused just to take wood in the forest, after the wood is exhausted the plantations that are discussed are not been planted.
---
Eating in the Forest
If we are wise, forests always provide their needs for humans, provided that they are not greedy and take enough and always take care of them. While we were doing our job, the villagers fished in the river to prepare it for lunch.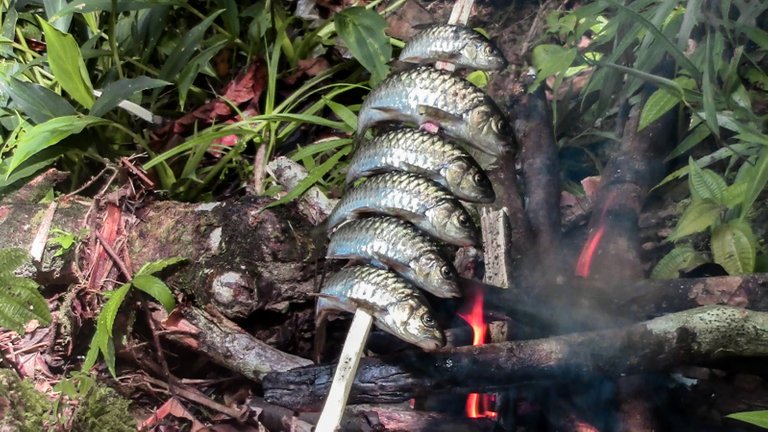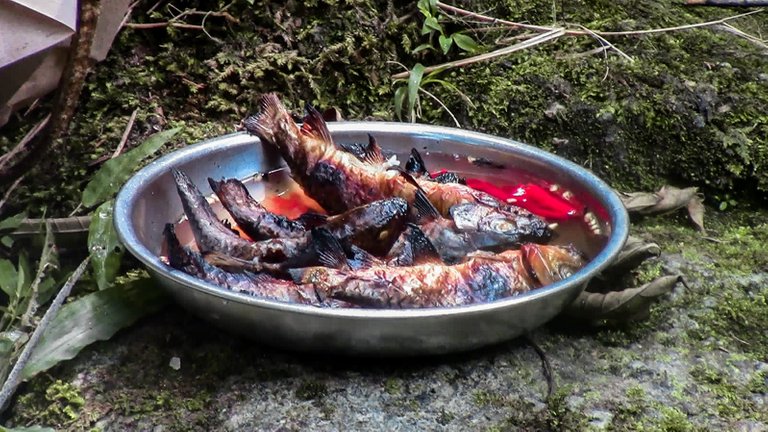 They get a lot of fish, and all the fish in this river we probably won't get in the market. We cook the fish by grilling it and adding only salt. Seeing, various types of endemic fish such as jung fish, carp etc. can still live in the river is something that is difficult to find in big cities. Because there are many, rivers in big cities in Indonesia are already highly polluted by production waste and household waste.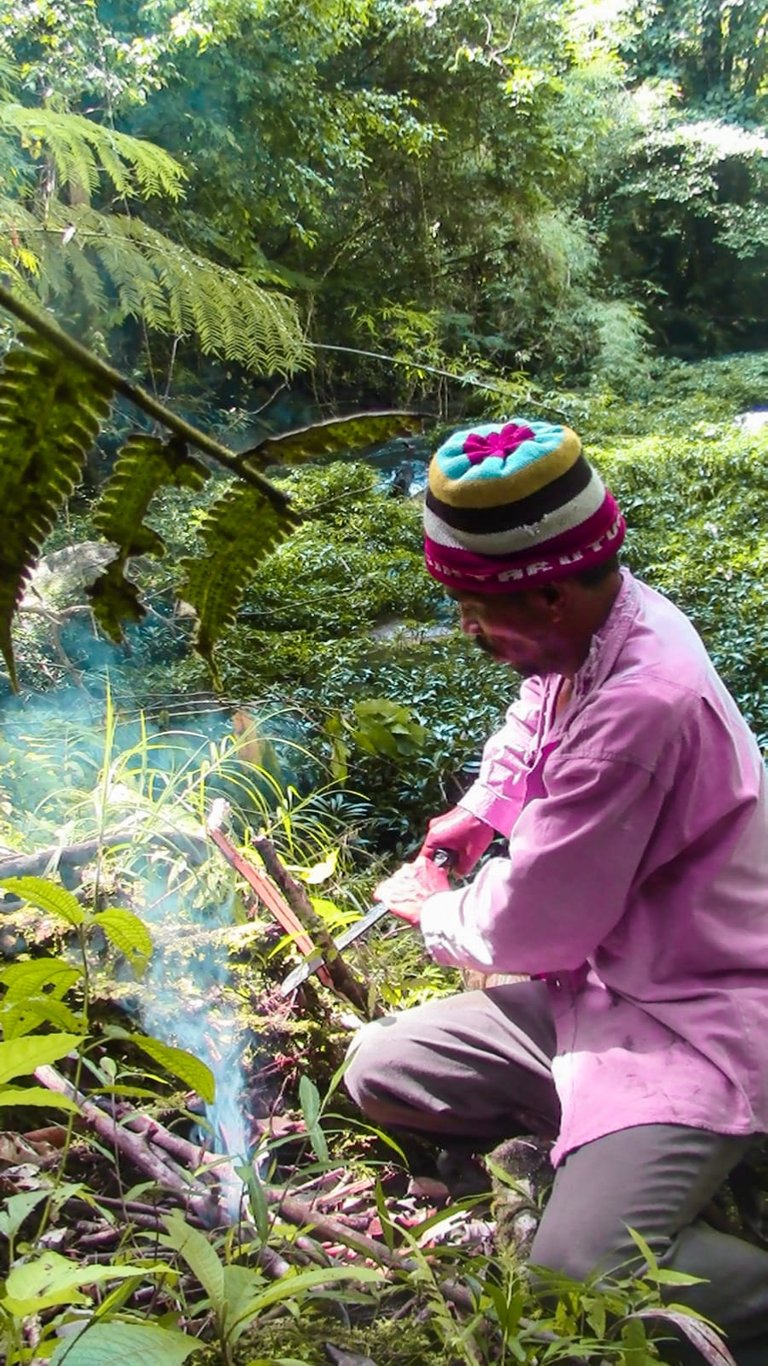 Although cooked with simple tools, the taste of this grilled fish is very delicious. The fish doesn't have a mud taste like fresh water fish sold in the market, maybe because the river is still very natural, and the meat tastes very sweet. To eat it, we have to be careful too because there are many thorns in the flesh of the fish.
My journey at that time, made me realize one thing. Humans as perfect beings and can think, must be able to change the way of life and greedy nature. Every human being must change and not harm the environment and forests. There are many ways to preserve nature, simple ways such as not littering, reducing the use of plastic and not cutting down trees without replanting. And the most important way is to choose board members or executive leaders who care and make policies that are pro-environmental and not as corporate agents that will destroy the environment and create natural disasters in the future.
---
---
---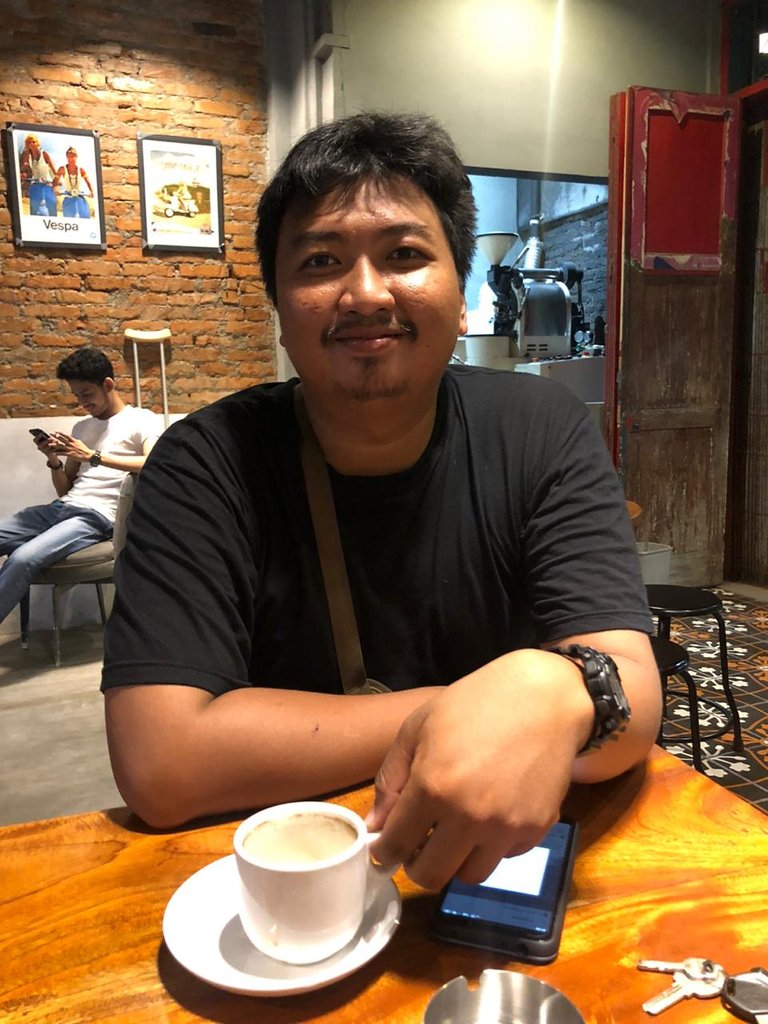 About Author

Call me Isdarmady, because I have a full name that is very long, namely Isdarmady Syahputra Ritonga. I am a head of the family who work as Farmers Vegetables Hydroponic and Consultant Hydroponics, sometimes I also sell coffee from various regions in Indonesia.
I have expertise dispensing coffee with a variety of techniques and tools brewing, because I have the desire to make a coffee shop with hydroponics as centerpieces. Help me realize that dream.
Thanks for read, vote, re-blog and support me in Hive. Maybe god will reward the kindness, let's success together.

---
---