Lovely Man (2011) - Indonesia Movie about A Transgender Father's Relationship with His Daughter
---
---
Movies can be said to be one of the most popular entertainment media by many people. Watching movies at the cinema, Netflix, or television is a fun means of expression for us. In addition to entertainment, we can also use movies as a means of learning and knowing the culture of one place or country. This time, I would like to invite my friends to study and recommend Indonesia Movies to add to your movie references. The movie I want to recommend is Lovely Man (2011).
Synopsis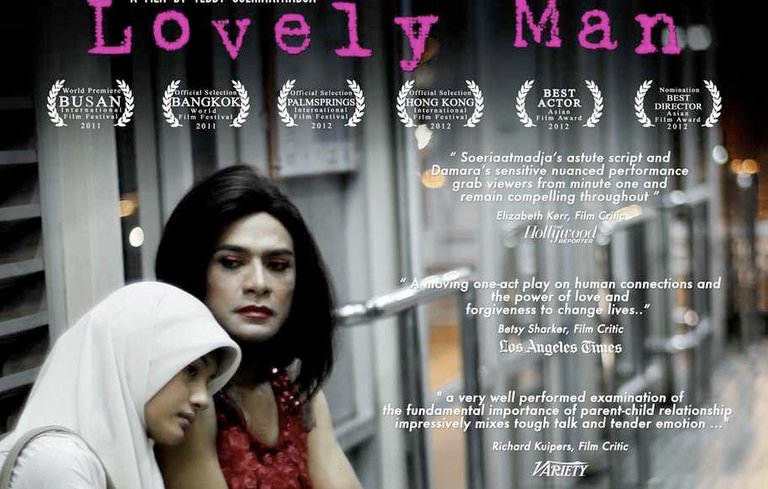 Source Picture
Lovely Man is an Indonesian-language family drama film written and directed by Teddy Soeritaatmadja. Lovely Man was produced and screened in 2011, before being released in Indonesia, this film participated in a number of festivals such as the Osaka Asian Film Festival and the Tiburon International Film Festival. In addition, Lovely Man also received nominations and awards for several categories at the Indonesian Film Festival, the highest film award event in Indonesia.
Lovely Man tells the story of Cahaya (Raihaanun), a girl who attends Islamic Boarding School who goes to Jakarta to find her father. A figure he had never seen or met for these 15 years. Cahaya departed from the village to Jakarta by train and promised to only go for one day.
Cahaya only has a little money, an old cell phone, and a scrap of address paper as a clue to find her father. However, Cahaya finds out that her father works as a transgender prostitute in Jakarta every night under the name Ipuy (Donny Damara). This meeting of father and son made them decide to connect with each other and exchange stories by walking the streets of Jakarta all night long. The two try to find a lost bond and try to learn about love, responsibility and honesty.
Director : Teddy Soeritaatmadja
Screenwriters : Teddy Soeritaatmadja
Actors :
Donny Damara (as Ipuy)
Raihaanun (as Chaya)
---
---
Why I Recommend This Movie ?
---
---
Bold Story Premise


Source Picture
In Indonesia, the majority of the population has a religion and observes religious orders well and many people are still very conservative. The premise of Lovely Man has the potential to be criticized by Indonesian society. Movies about transgender or shemale are still very limited in Indonesia, especially in the year this movie aired (2011-2012). Many people have not been educated about Transgender and knowledge is still very minimal.
A transgender father's relationship with his innocent daughter in her hijab became a new premise at that time and was very close to the reality of many people. In Indonesia, culturally it is known about transgender or shemale individuals, namely a man who is stylish, dressed up and behaves like a woman with a specific purpose. These pre shemales usually work as singers, entertainers, dancers or become prostitutes. There were various reasons for the man to become a shemale, partly because of the need for money and partly because of his sexual needs.
The drama's intensity in this movie is increasing when Ipuy (Waria's father) finds out that his daughter is 8 weeks pregnant and faces a dilemma to decide whether to give birth or abort this child. Cahaya (the daughter) doesn't want her son to have the same fate as the one who lives with a broken family. At this moment, we get an explanation of the responsibilities of the father, even though he has worked as a transvestite in Jakarta for 15 years, he still makes a living by sending money to his wife and children.
A bit of an anomaly, when an innocent teenage girl who studies at the Islamic Boarding School is pregnant out of wedlock and a father who works as a shemale prostitute but is still responsible to his wife and child. At that time, our moral index was being pitted, as if to ask which one is better?
---
---
Intimate Dialogue in the Darkness of Jakarta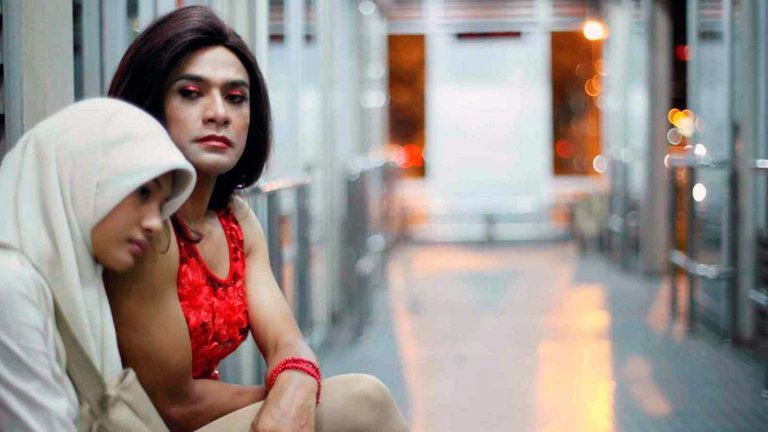 Source Picture
Lovely man is a movie that has the power of conversation between the protagonists that takes place in one night. At first glance, this movie is similar to the Before Trilogy, but the relationship is raised between father and son. The viewpoint of Lovely Man is darker for a father and daughter encounter.
Many meaningful dialogues and full of moral messages from this movie. Like the culture in Indonesia, conversations between fathers and children will always be dominated by fathers with advice no matter what condition the father is in worthy of giving advice or being a role model, but that is the father. How is the condition of the child, a father will always be appropriate and able when asked to give advice to his child.
At Lovely Man, we can see the nightlife of the marginalized in Jakarta. Certainly different from the image of a megapolitan city with tall buildings, nightclubs, or all other luxuries. Lovely Man is darker, we will see these two characters walking around the quiet night of Jakarta in different ways. Lovely Man tries to be a more realistic film, we can see this from the way the footage is shot, which seems to vibrate and is a bit rough.
---
---
Iconic Characters
Ipuy character is played perfectly by the actor. Donny Damara is an actor who has undergone a significant process of changing roles and characters. When he was young he was an action actor and when he got older. Doony Damara often plays a strict and strict father. Her role as Ipuy in Lovely Man changed the way I see her.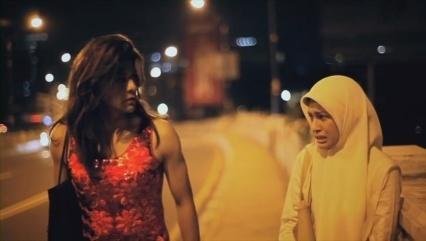 Source Picture
Every scene Ipuy appears, always steals our eyes with a tight and bright red dress, high heels, excessive make-up, wigs that change positions frequently and also a flirty voice. We also see the muscles of Ipuy as a symbol of his man. We get a contrasting view when we see the figure of Cahaya (played by Raihanun) who is described as an innocent young woman, diligent in worship and wearing a hijab. The two characters in Lovely Man will always be remembered as an iconic duo in the history of Indonesia Movie. Two figures with very contrasting karate and may be symbols of two communities (Muslim and transgender communities). extreme relationships but bound by family ties.
---
---
My Short Review
As a movie, Lovely Man gives us a new perspective on transgender or Shemale in Indonesia. Being a transgender person in Indonesia is very difficult, because you have to face insults and ridicule from many people. In Indonesia, these shemales and transgender people are often objects and people's opinions or opinions will never be heard. There is a dialogue about that "one shemale dies in Jakarta, no one will care".
Lovely Man tries to get us to sympathize with transgender people without judging them. Lovelyman makes a shemale more human because he has a wife and children. In contrast to many Indonesian movies that install shemale as a complement and suffering that only provokes laughter.
Lovelyman has a simple storyline but still strong and intimate. The story of the two, packaged in one night. The Jakarta shown in Lovely Man is not the majestic and metropolitan Jakarta that we often see in cinemas or dramas, but a slum and suburban Jakarta.
---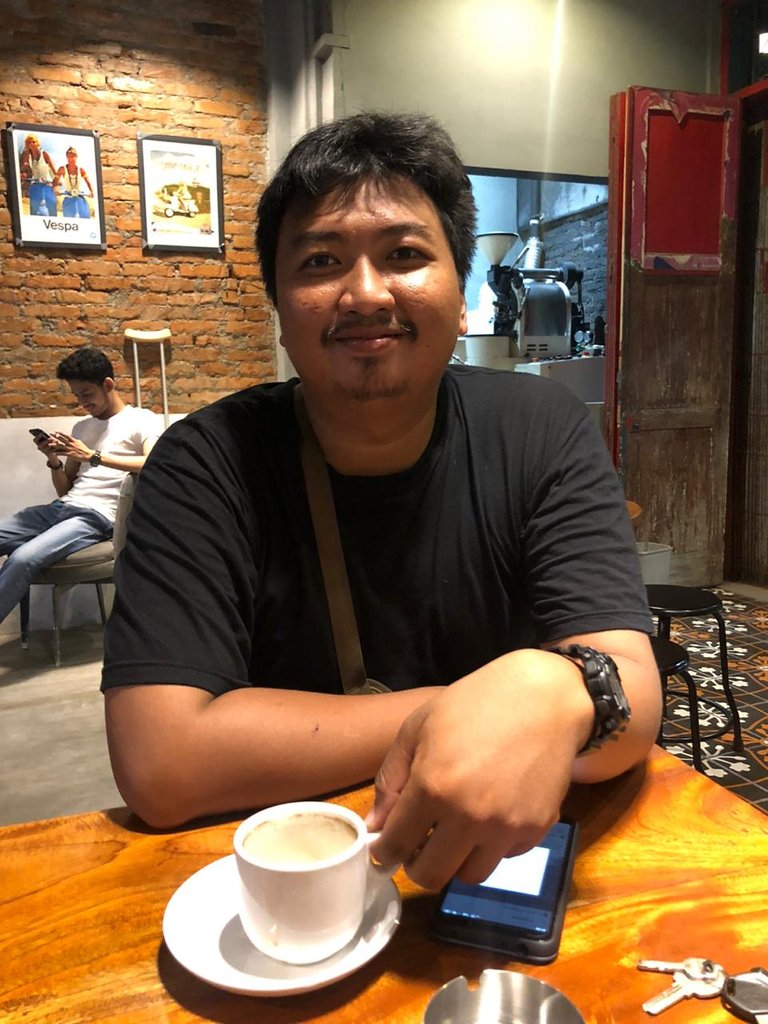 About Author

Call me Isdarmady, because I have a full name that is very long, namely Isdarmady Syahputra Ritonga. I am a head of the family who work as Farmers Vegetables Hydroponic and Consultant Hydroponics, sometimes I also sell coffee from various regions in Indonesia.
I have expertise dispensing coffee with a variety of techniques and tools brewing, because I have the desire to make a coffee shop with hydroponics as centerpieces. Help me realize that dream.
Thanks for read, vote, re-blog and support me in Hive. Maybe god will reward the kindness, let's success together.

---
---