Interior Design Inspiration from Catta Tea House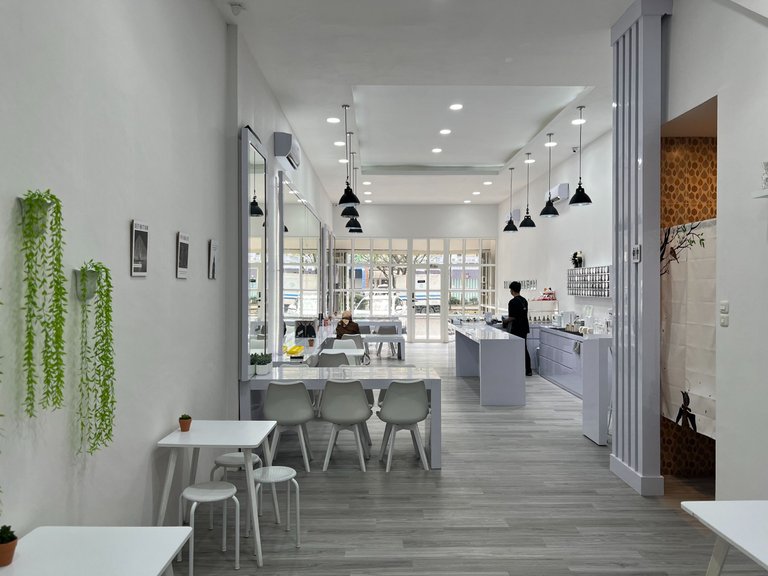 ---
---
Hello everyone and all members of the Architecture+Design Community, how are you today? I hope that all of us will always be given health and happiness in living this life. This time, I come back to this community to share stories about my experiences and impressions of a building that has an interesting architecture for us to discuss. Come on, see my story this time.
One of the topics and discussions that I often post in this community is about the design and architecture of cafes, coffee shops or restaurants in Medan City, the city where I live. I myself have an interest in the influence of the design and architecture of a food and beverage business on the reasons customers come.
---
---
Catta Tea House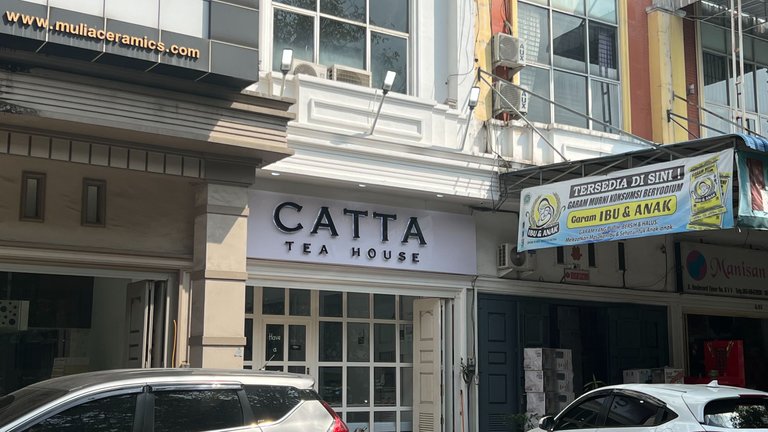 Three days ago, my wife and I went to Cemara Asri Cluster to meet one of my clients who was planning to install a hydroponic installation. The Cemara Asri area is one of the elite residential areas which is also equipped with various supporting facilities such as restaurants, cafes, housing and supermarkets. The Cemara Asri area is quite far from where I live, and because my business is done within 15 minutes, I invite my wife to find a place to hang out and we choose to visit Catta Tea House.
Catta Tea House is located on Boulevard Timur Street – Medan Estate District. Catta Tea House is one of the food and beverage businesses trying their luck in this area. I was interested in stopping by this Tea House because I saw a very different and unique design and architecture. Why is it like that ? As friends know, a shopping complex or shophouse is a building that has a uniform and monotonous shape. Therefore, to make this Tea House need a touch that is different from other buildings that make it stand out from other shop houses.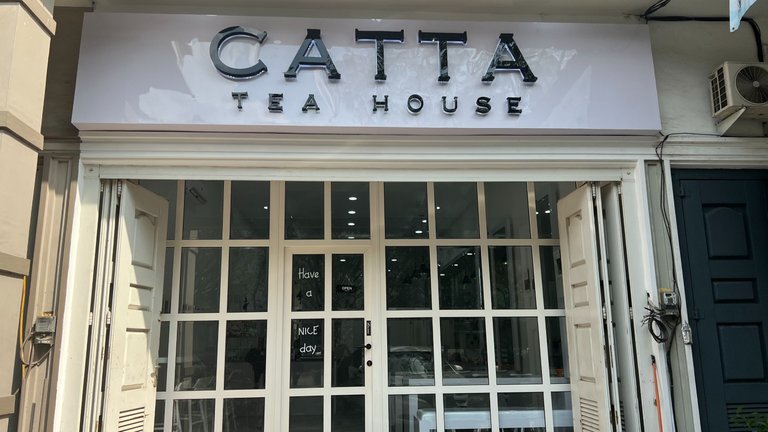 The front of the Catta Tea House building uses a combination of glass doors and transparent glass walls. The glass walls do not use large and monotonous transparent glass but are made into square ornaments that are neatly arranged and symmetrical. The square sections on the glass walls and doors give us the impression that this transparent glass is made up of small square sections.
---
---
Interior Design from Catta Tea House
To be honest, this is my first experience to come to Tea House. So, I don't have basic knowledge about architecture or interior design that is used by Tea Houses in general. My first impression when I came to Catta Tea House was white, clean and aesthetic. I fixated on the door, and saw how a shop building with limited space looked wider and wider than usual.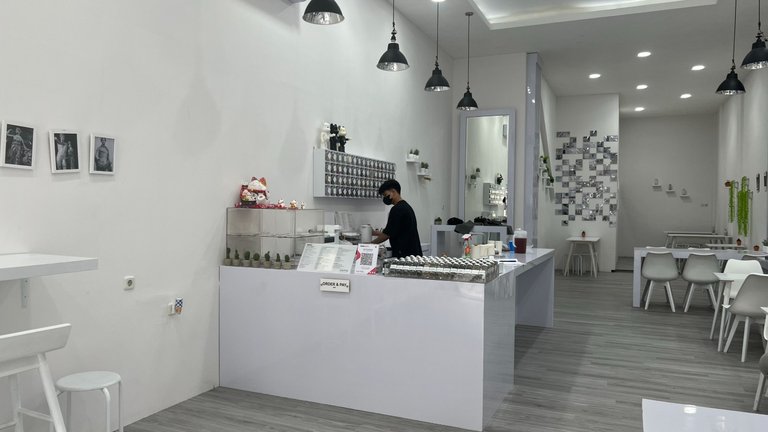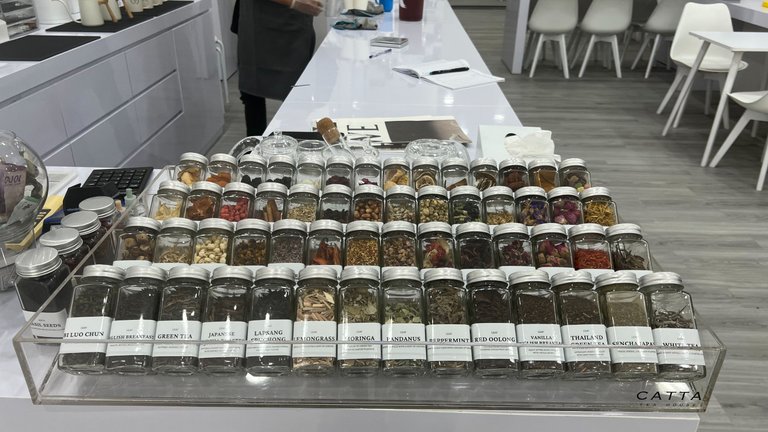 From the front, we also see a bar table in the middle of the room. The arrangement of the bar table in the middle of the room is very minimalist. We also see various tea collections on display by Catta Tea House. The design arrangement of the bar table is very important for a narrow room like this. Catta Tea House provides a good example by setting a bar table that is simple but beautiful to look at.
There are many things I would like to discuss about this Catta Tea House, perhaps the first thing I would like to discuss is the choice of white as the interior identity of this building. We know, white is a neutral color that always matches any color. Choosing white for the interior can give a clean and bright impression, compared to other colors. Moreover, Catta Tea House uses a shop building that has no windows on the side walls. Therefore, the white color can provide maximum light reflection to the ends of the building.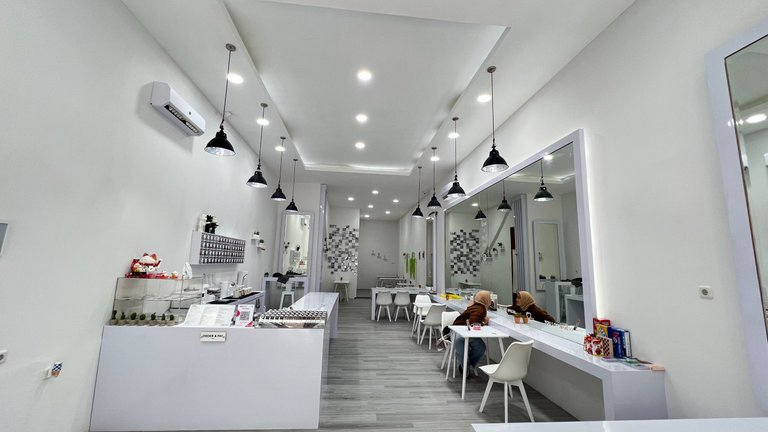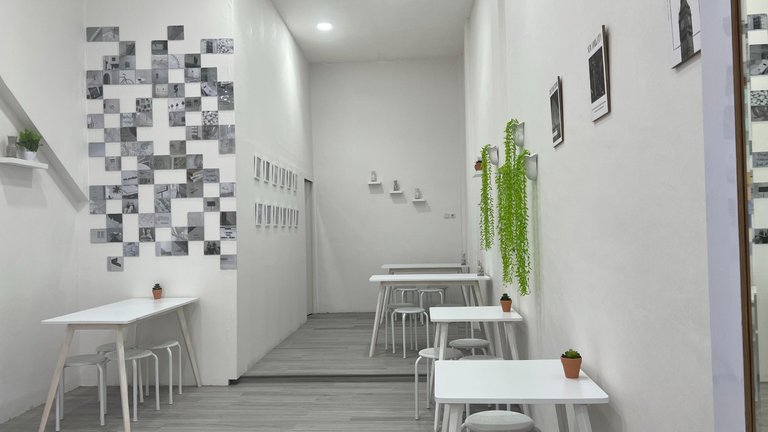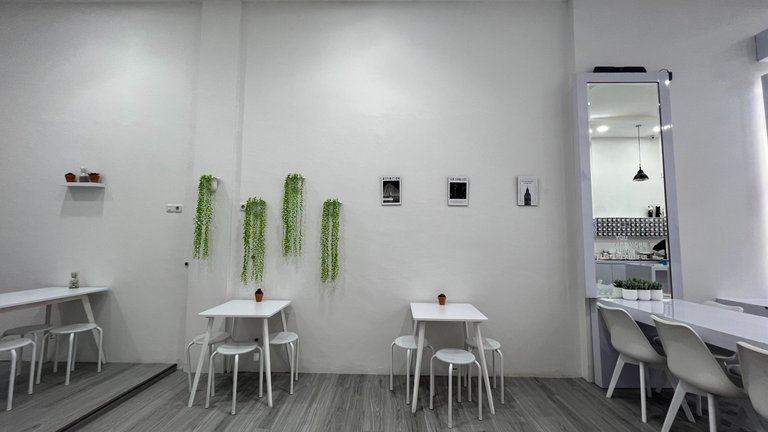 In addition to the walls and bar tables which are dominated by white, Catta Tea House also consistently uses white for the furniture used. The table and chairs use a minimalist design that is simple and beautiful. The distance between the tables is also not too close so that visitors who come will be comfortable enjoying their visit here.
Wall Decoration and Display
If I pay attention, there is also one factor that makes Catta Tea House look wider than the original building. If friends pay attention, on the side of the wall are displayed several mirrors with very large sizes. In my opinion, it is this mirror reflection that gives us a wider visual. I think this is a very interesting idea for a narrow interior room, but of course it must be supported by good lighting in the room.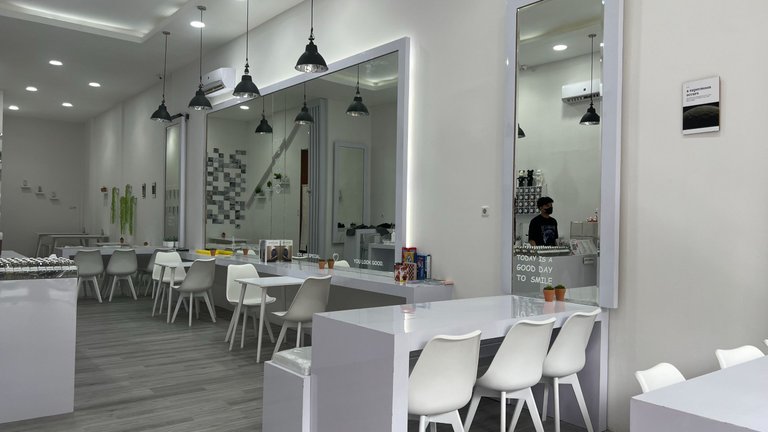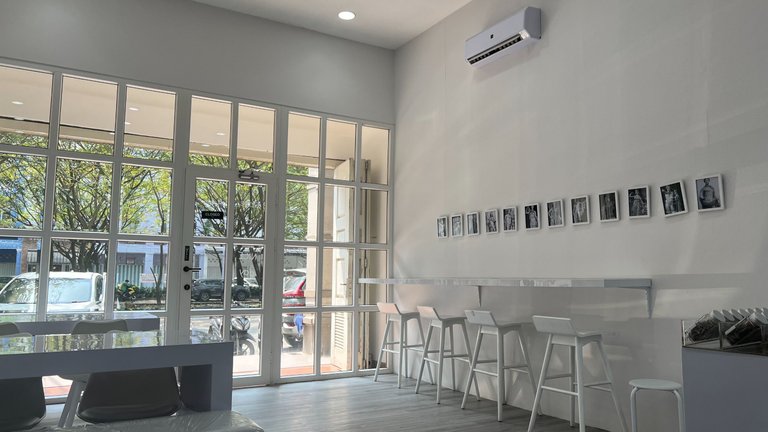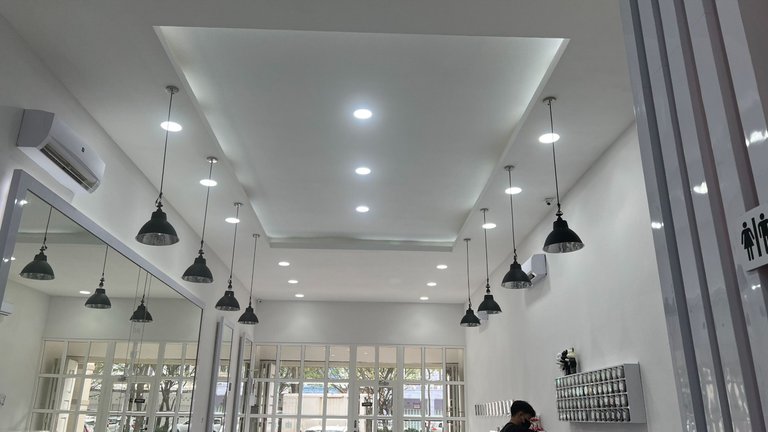 Catta Tea House takes advantage of sunlight coming in from the front, and coupled with lights that are put to good use. I also like the chandeliers used by Catta Tea House. The chandelier is mounted on the roof not only as a light source but also gives a minimalist and excellent interior design.
The toilet section of Catta Tea House also gets a very nice interior touch. When I enter the toilet, we will be greeted by two abstract paintings right in front of our eyes. It is as if, when we are in this toilet and see this abstract painting, we can get enlightenment and inspiration.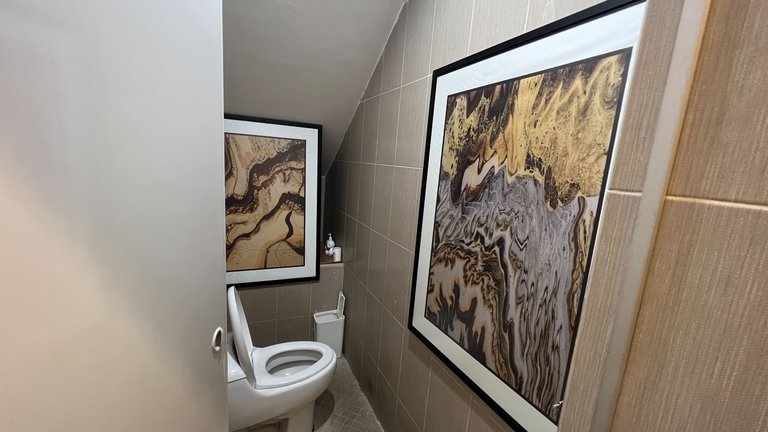 My short visit to Catta Tea House, brought back my memories and desire for the interior and design of the house I want to make. Since a long time ago, I really wanted to have a house with a simple, minimalist concept and dominated by white like this place. Unfortunately, the funds we currently have are not enough to make that happen, but I'm sure one day we will be able to make it happen. In addition to my post this time, see you next time.
---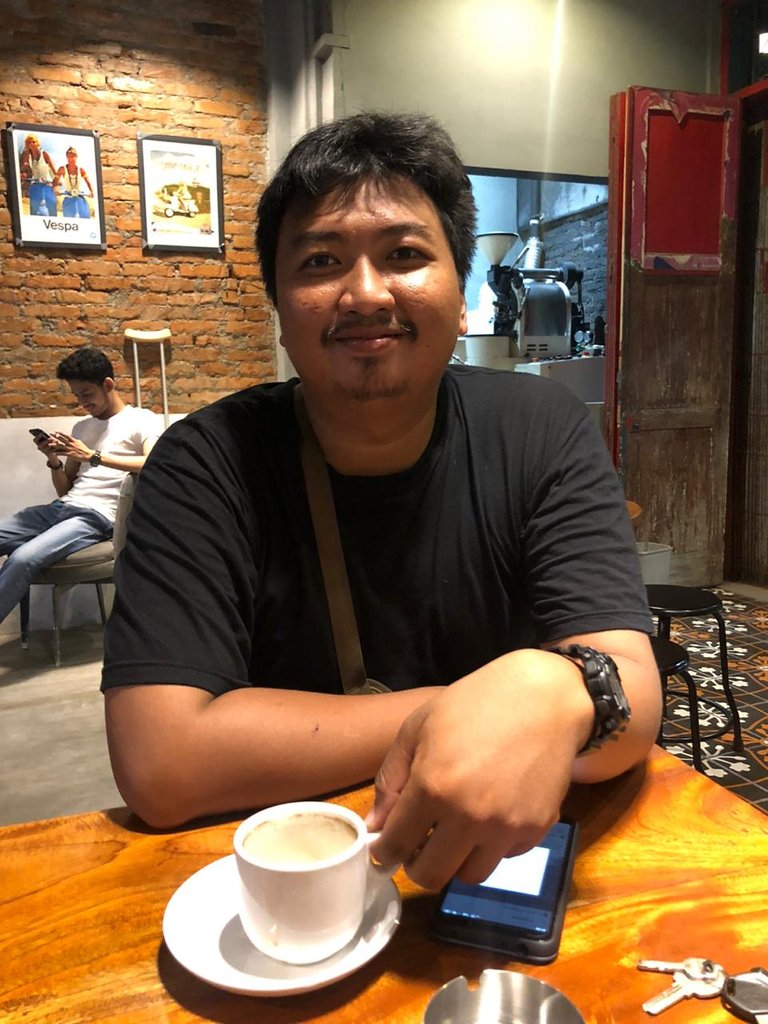 About Author

Call me Isdarmady, because I have a full name that is very long, namely Isdarmady Syahputra Ritonga. I am a head of the family who work as Farmers Vegetables Hydroponic and Consultant Hydroponics, sometimes I also sell coffee from various regions in Indonesia.
I have expertise dispensing coffee with a variety of techniques and tools brewing, because I have the desire to make a coffee shop with hydroponics as centerpieces. Help me realize that dream.
Thanks for read, vote, re-blog and support me in Hive. Maybe god will reward the kindness, let's success together.

---
---