Enjoying The Most Delicious Meatballs in My City : Bakso Granat Bang Samsul
---
---
Hello everyone and foodies, how are you all? I hope we are always given health and also make our business and work easier. Where I live now is the rainy season, almost every afternoon it rains and sometimes makes some spots in my city flooded. In addition to flooding, after the rain also makes the weather cooler and our bodies more easily hungry. But, I'm lucky to live in Indonesia, which has a lot of food vendors.
Although there are various types of food vendors and various foods available. However, there is one of the favorite foods of the Indonesian people during the rainy season, namely Bakso (Indonesian Meatball). Maybe, many of you don't know about this food, I'll try to explain a little, about "Bakso".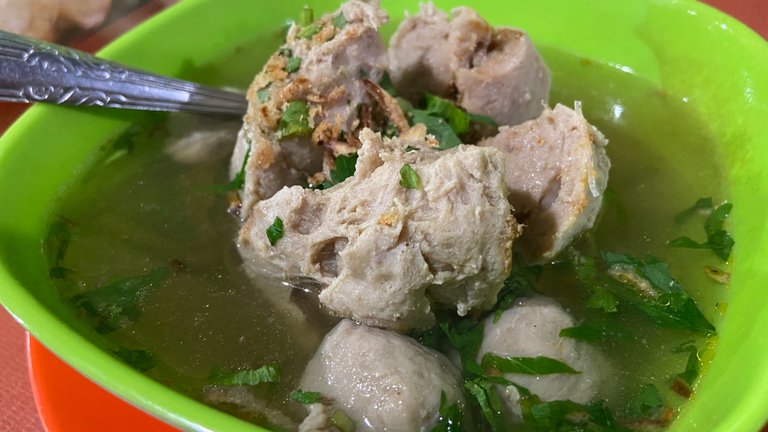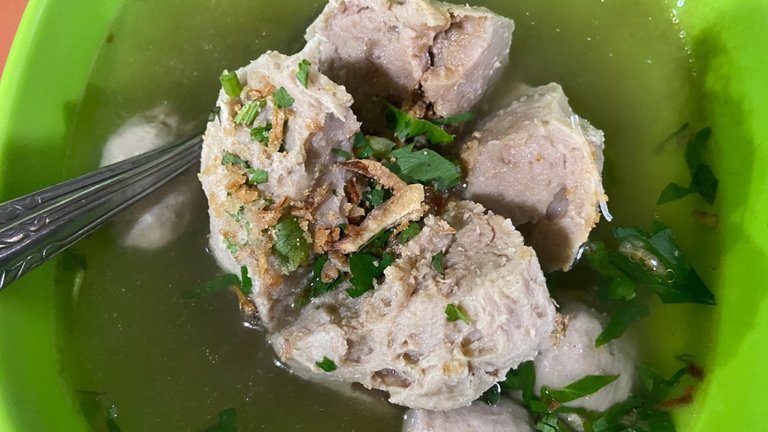 ---
---
Bakso (Indonesian Meatball)
Bakso is one of the favorite foods of Indonesians, and is probably one of the most popular Indonesian dishes. Bakso is a food made from beef mixed with tapioca flour and the meatball seller's secret seasoning, thus creating a delicious and savory taste.
This food, is one of the foods in Indonesia that comes from the acculturation of culinary culture, namely Chinese cuisine and Javanese (Indonesian) cuisine. Folklore about how bakso (meatballs) are made, is closely related to the devotion of a child to his parents. He said, bakso (meatballs) are food made by a child who feels sorry and sad to see a mother who is old and has no teeth anymore, can't eat meat. So, because of the child's initiative, the meat is processed into bakso (meatballs) so that it can be enjoyed for his mother. So sweet.
Meatballs are also a food that can be enjoyed by all people, the price varies depending on how the quality tastes and also where the meatball seller sells (of course selling on the roadside and in restaurants the price of a bowl of meatballs must be different. There are thousands of meatball outlets in Indonesia, this time I went for eat bakso (meatballs) at Bakso Granat Bang Samsul, one of the most delicious bakso (meatballs) in my city.
---
---
Bakso Granat Bang Samsul
Bakso Granat Bang Samsul, is one of the sellers of meatballs in the city of Medan. The location is located at Jalan Denai no. 131 A, Tegal Sari Mandala II, Medan Denai District - Medan, North Sumatra. You can easily find it if you use the map application on your smartphone.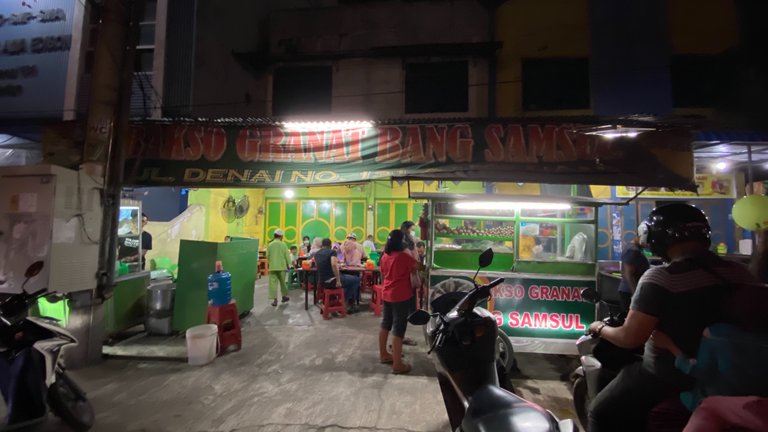 Don't imagine the place is luxurious and exclusive, because they sell in the front yard of the shop. However, even with such a modest place, we will find it difficult to find an empty place because of the large number of customers from this food merchant. Luckily, when I arrived I saw a customer had finished eating and I took a seat right away. You don't expect to be served and find a seat, we must take the initiative and move quickly when eating here or at street food.
The atmosphere at this food merchant is very crowded, many people eat on the spot and also some people are seen ordering to take home. I ordered two grenade meatballs without noodles. One bowl of meatballs usually consists of gravy, noodles, dumplings, meatballs, and vegetables. However, there are also some people like me, who only order meatballs without noodles. My order came quickly, you don't have to worry because meatballs are a type of food that is easy and fast to serve.
---
---
About Taste of Bakso (meatball)
Why is it called a meatball grenade? This is because, because the size of the meatballs served is larger than the size of normal meatballs, and inside the meatballs there is a meat filling that tastes very delicious and delicious. Not infrequently, many meatball sellers also put cayenne pepper in the meatball filling to create a delicious "explosion" taste in the mouth.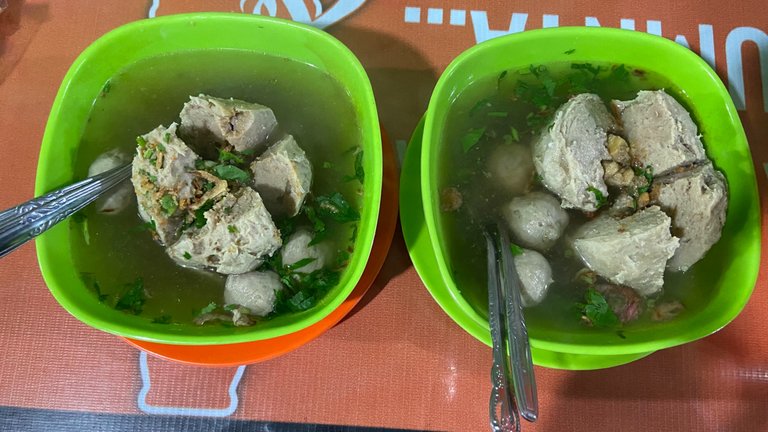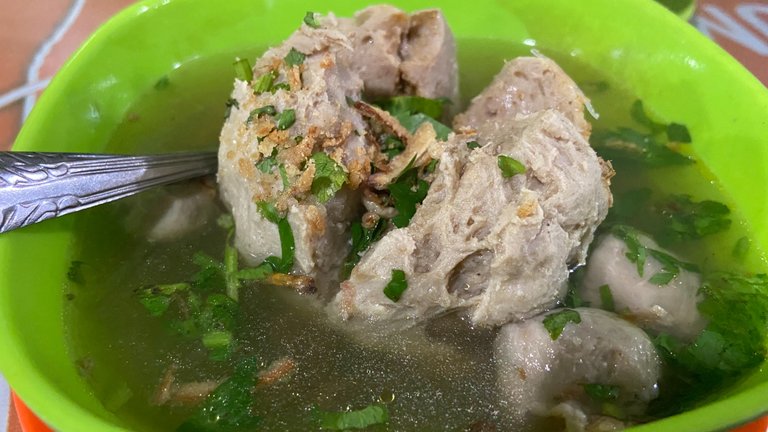 Usually, everyone's way of eating meatballs is different. There are people who like to eat meatballs first, noodles, or the sauce first, and there's also someone who immediately gives sauce or chili. I am the type of person who sips the broth first. I did this because I wanted to calibrate the taste of the meatballs, whether to add chili or sweet soy sauce. For me, a delicious meatball sauce is one that doesn't need any additional sauce or soy sauce.
Next, I will eat the meatball slowly. The meatball texture is very chewy and tasty. For jumbo-sized meatballs, the texture is chewy and a bit tough when I bite into it. One important thing is that the beef tastes good, because there are also many meatball sellers who make the composition of the meatballs with too much flour.
For the price of this meatball grenade from Bakso Bang Samsul, I paid IDR 46K for two servings of meatballs, a pretty cheap price for two very delicious bowls of meatballs. Indeed, we can find cheaper meatball prices, but the quality and taste cannot be fooled. Besides, I think the price of IDR 23K for a bowl of meatballs is still okay, and we are also very full after eating it. In addition, to drink water, provided for free here.
---
---
Ending
That's my culinary journey this time. Are you hungry? and interested in trying meatballs? Luckily, I live in Indonesia (only for culinary purposes, because my country's political policies are very bad).
We will never have trouble finding food in Indonesia. Why ? every corner of the city or on the side of the road is always filled with food vendors. Starting from street food, restaurants, buffets, coffee shops, restaurants, stalls, or restaurants. Each of these food merchants has a variety of Indonesian specialties, home-cooked meals, or modern snacks. For 24 hours, there are always food vendors ready to fill our stomachs. We just need to choose what food we will buy later.
---
---
---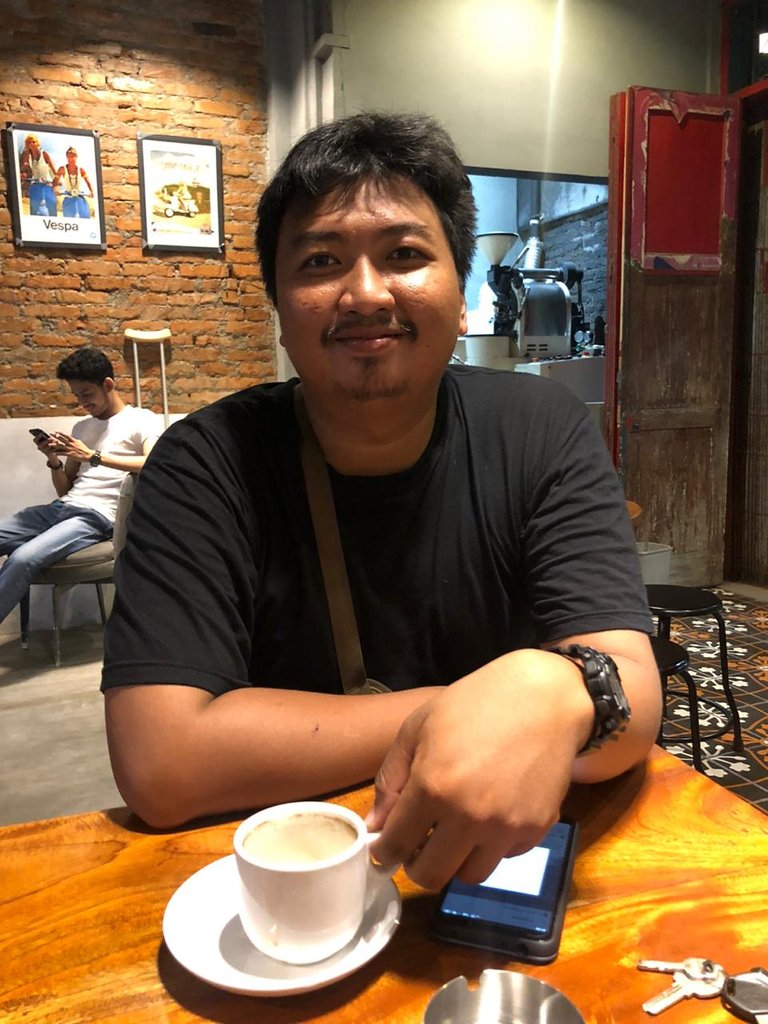 About Author

Call me Isdarmady, because I have a full name that is very long, namely Isdarmady Syahputra Ritonga. I am a head of the family who work as Farmers Vegetables Hydroponic and Consultant Hydroponics, sometimes I also sell coffee from various regions in Indonesia.
I have expertise dispensing coffee with a variety of techniques and tools brewing, because I have the desire to make a coffee shop with hydroponics as centerpieces. Help me realize that dream.
Thanks for read, vote, re-blog and support me in Hive. Maybe god will reward the kindness, let's success together.

---
---