Design and Architecture of Orizuru Ramen Restaurant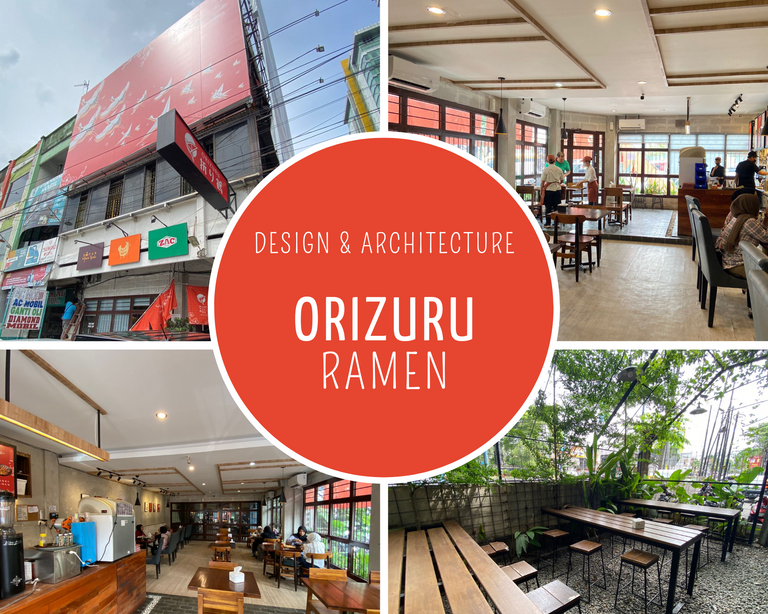 ---
---
Hello everyone
How are you guys today? I hope and pray that all of us are always given health and happiness in living this life. This time, I want to re-participate in the Architecture+Design Community to share my story about my experience and review of a building that has an impressive design and architecture for me and may be worth discussing.
Usually, I write about buildings such as cafes, coffee shops or others where I come to that place because I am influenced by social media. This time, I wanted to try taking a different subject and getting up close. In 2022, I have one of my favorite ramen restaurants almost every month I come to enjoy. At first, I thought, Why am I here? Maybe, because I love the taste of ramen, but my recent visit to this ramen restaurant made me realize one thing I not only love the taste of the ramen but love the vibes of the design of this ramen restaurant. Let's continue to read my story this time.
---
---
Orizuru Ramen & Coffee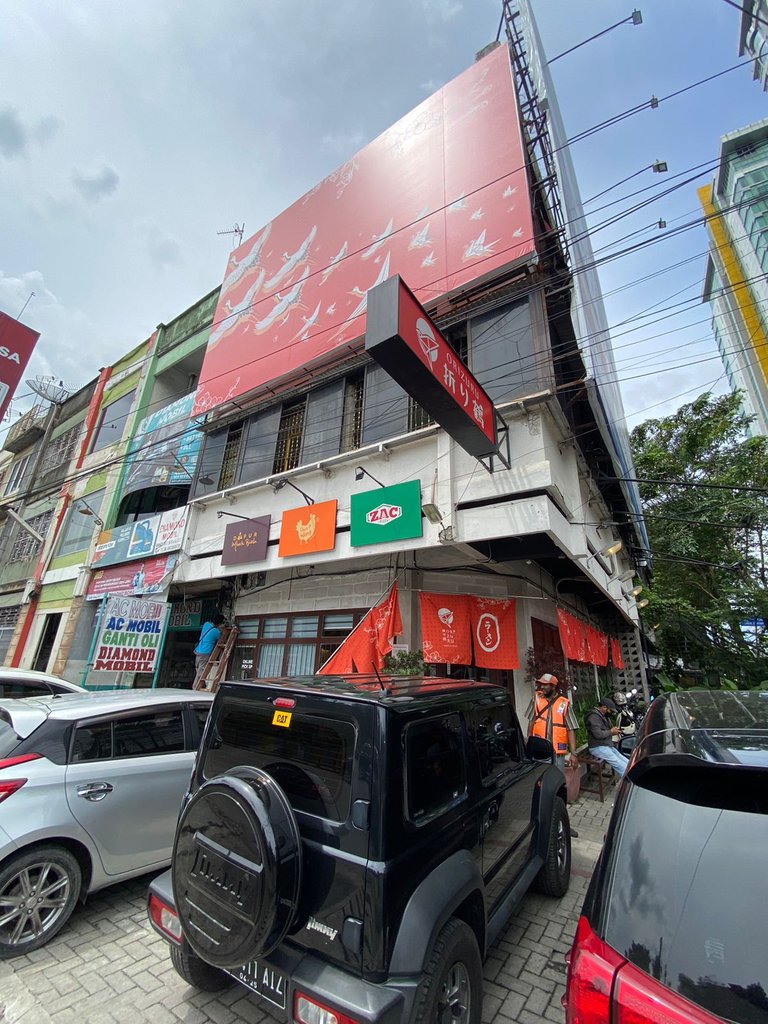 Last Monday, my wife and I came to Orizuru Ramen & Coffee for lunch. Yup, Orizuru Ramen is always top of our mind when it comes to eating ramen or udon in my city. This restaurant is located at S. Parman Street no. 248A Medan Petisah District and located in the center of the city. We came at noon, around 12 noon and it was very crowded at that time.
Orizuru Ramen uses a shophouse building at the end of the street. The shophouse building on S. Parman Street has been around for a long time, as far as I remember from the 1970-1980 era when the construction of Medan City was massive. The building used by Orizuru Ramen was used as a famous boutique and tailor in my city in the 1990s-2010s decade, then changed to a coffee shop and then a ramen restaurant.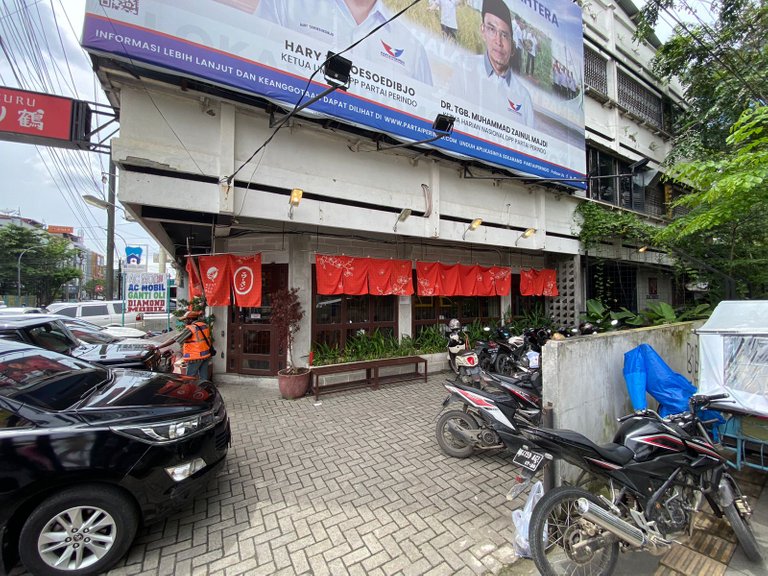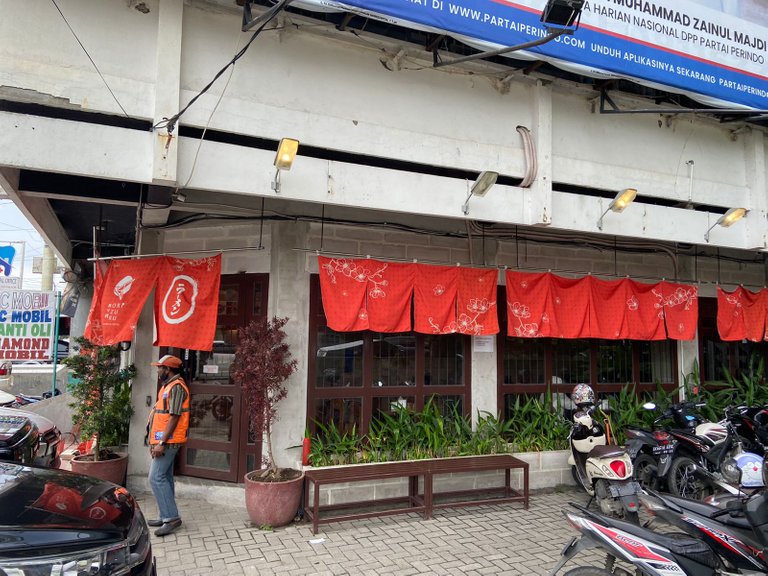 As a shophouse building in the middle of the city and on the side of a protocol road, we know that this building is not designed to have sufficient parking space and is not ideal as a restaurant. Therefore, Orizuru had to make something special to distinguish this building and identify it as a ramen or Japanese restaurant. You can see, how Orizuru Ramen makes this monotonous building different.
The top and front of this building are about 3-4 stories high, Orizuru made a large orange billboard with a very distinctive seagull motif and is a sign to visitors. To give the building an "authentic Japanese" characteristic, Orizuru also made a traveling flayer decoration as we often see in Japan through pop culture. I feel that way, when I look at this Orizuru building from a distance I feel like I'm remembering a Japanese manga chapter I read.
---
---
Interior Design Indoor Space
We enter the inside of this ramen restaurant. The atmosphere of the restaurant was also very crowded when I came. Orizuru Ramen is a restaurant that combines Japanese cuisine with a coffee shop, so we are the first to enter this place. We will see a coffee bar in front of the entrance. The arrangement of the coffee bar at the front of the room is often found in coffee shops, which were inspired by European-style coffee shops in the past and are now commonplace. I love the transparent windows used along the walls of this restaurant. Although Orizuru Ramen uses a shophouse building that shares walls with other buildings, but because of its location at the very corner it is possible for this restaurant to modify the walls by using many windows.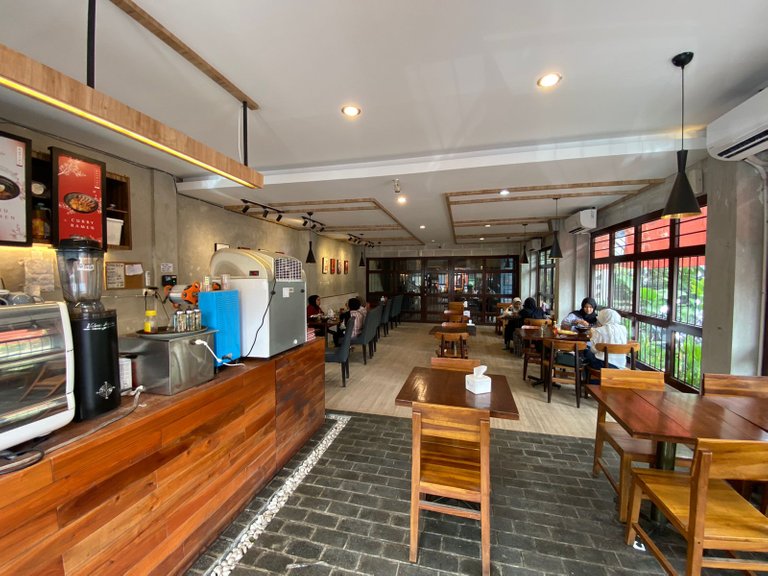 The shape of the window is also a rectangle with three shapes. The existence of this window provides aesthetic value and also helps provide sunlight entering as lighting. Moreover, some of the remaining walls of this place use the concept of industrial design, which is to maintain the shape of the hebel brick wall plus a little cement wall to make it look more like an unfinished building.
Orizuru Ramen uses a building that doesn't have much space. Therefore, the arrangement of the furniture must also be appropriate and good. When I first came to this ramen restaurant in early 2022, I saw Orizuru Ramen make a lot of tables and chairs for four people. However, when I came here two days ago I saw that the center had been changed to a table for two. It seems, Orizuru Ramen sees a lot of customers coming alone or alone so that it changes some of the furniture designs used and also makes the room more comfortable.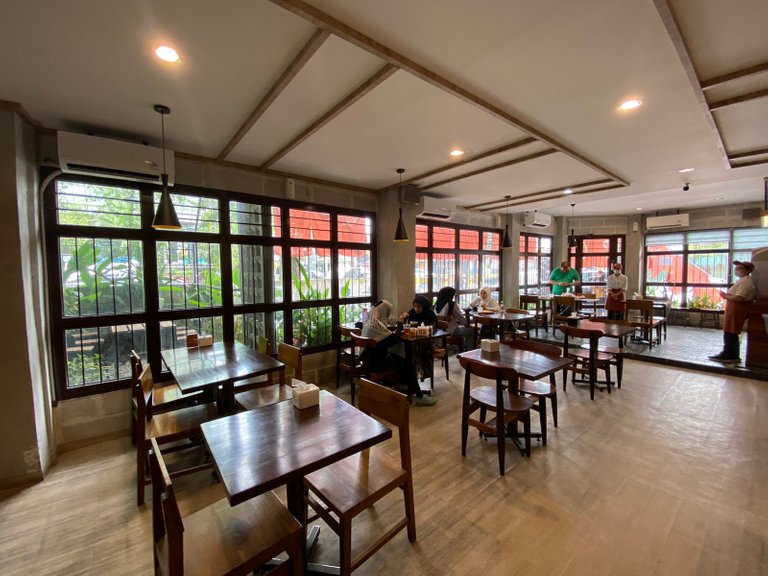 For the selection of furniture such as tables and chairs, Orizuru Ramen uses tables and chairs made of well-furnished wood. From the quality of the wood and its shape, it seems that this furniture product is high quality furniture that uses quality wood. The concept of wooden furniture used is also very in harmony with the selection of the floor design used. The front of the bar table, this restaurant uses small ceramics that are slightly dark in color then in the seating area. The floor uses vinyl with a beige color that is very balanced with the color of the furniture used.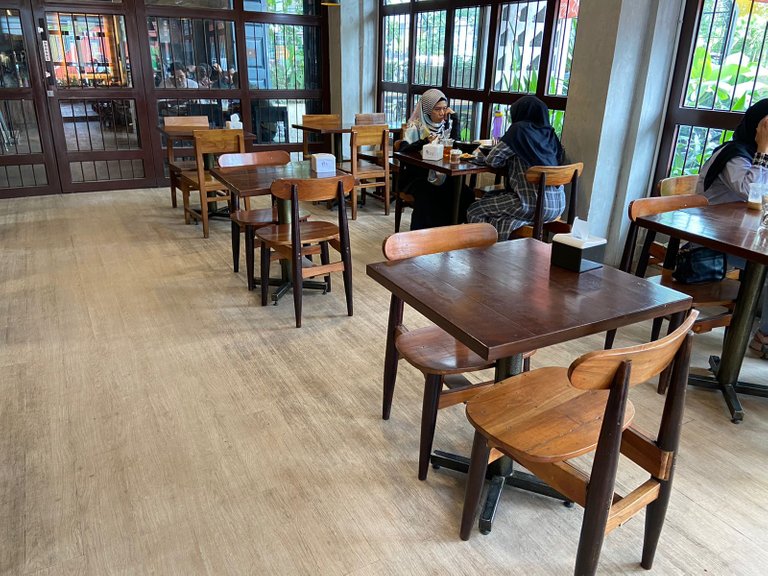 I also like the way this restaurant decorated the roof of the building. We know that shophouse roofs usually use cast cement and there are very limited designs that can be made. Orizuru Ramen makes it simpler by maintaining the color of the cement but giving a little wood ornament so it doesn't look monotonous. This indoor space from Orizuru Ramen is my favorite spot when I come, because the air conditioner used makes this room cool and avoids the hot weather of Medan City.
---
---
Semi Outdoor Area
In Indonesia, almost all food and beverage businesses have indoor and outdoor (or semi-outdoor) rooms, because more than 65% of men in Indonesia are smokers. Yup, 7 out of 10 men we randomly find if we ask must be smokers, and of course the food business will not want to lose this market. In fact, there are still many tenants in the mall who make smoking rooms to facilitate that. Orizuru Ramen also tried to facilitate it.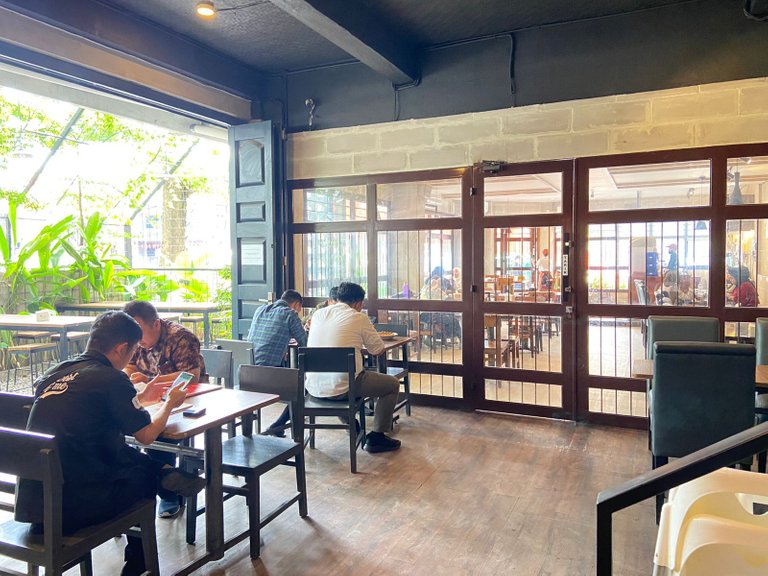 Orizuru Ramen has one semi-outdoor room and one outdoor area. For the semi-outdoor space, Orizuru Ramen uses the room at the back of this shophouse building. The concept of semi outdoor space is very simple and side by side with outdoor space. The floor uses vinyl but with a choice of lighter wood motifs.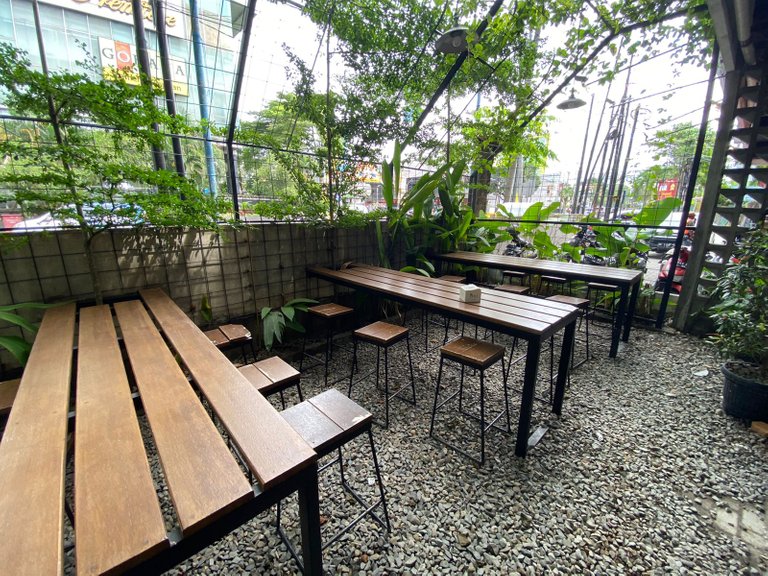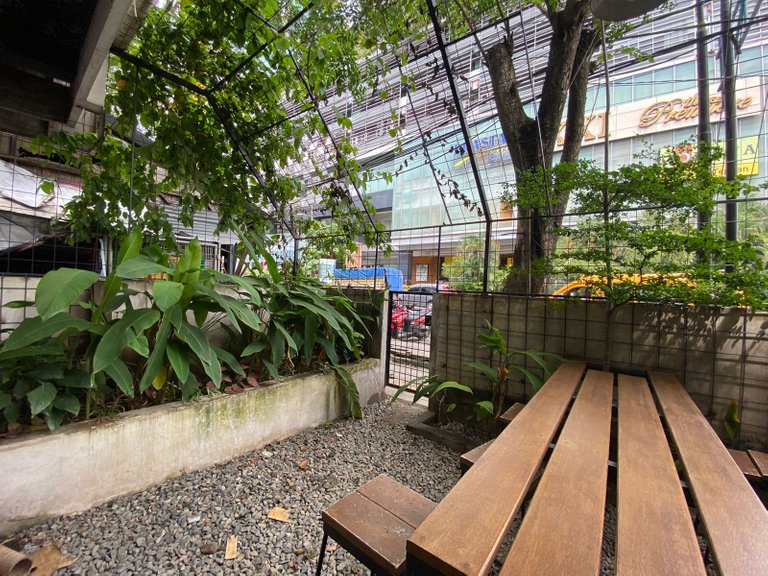 I've eaten twice at the outdoor space of Orizuru Ramen, of course I'm with my friend who smokes. The outdoor space is built with a garden café concept, the outdoor area is surrounded by green plants. In fact, this restaurant also uses vines that are useful for reducing the heat of the sun when relaxing here.
For the floor, Orizuru Ramen uses wooden tables and chairs with iron poles. Actually, I'm not comfortable sitting in this outdoor chair, because I feel too tall, can't lean back and feel that this chair can't support my weight. In addition, Orizuru Ramen uses pebbles for the floor so that we can feel the impression of an outdoor garden.
This is my story and feedback about the design and architecture of Orizuru Ramen. I believe, when we visit a restaurant more than three times, we are not only attached to the taste of the food but also to the "taste" of the building and its interior. See you next week.
---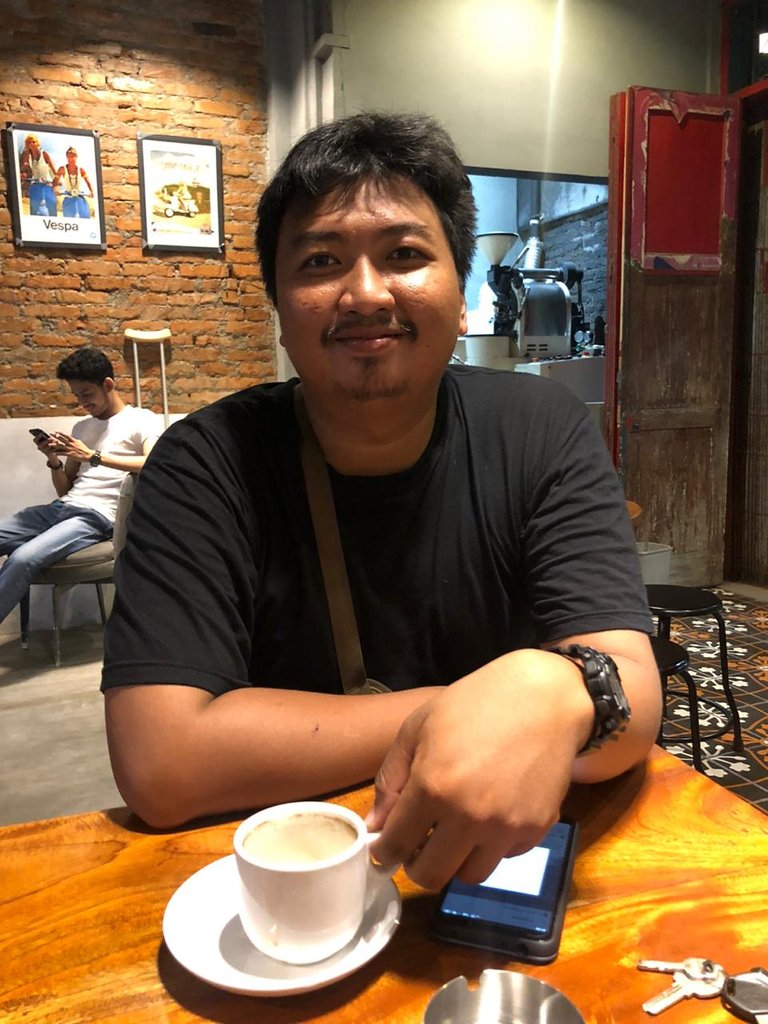 About Author

Call me Isdarmady, because I have a full name that is very long, namely Isdarmady Syahputra Ritonga. I am a head of the family who work as Farmers Vegetables Hydroponic and Consultant Hydroponics, sometimes I also sell coffee from various regions in Indonesia.
I have expertise dispensing coffee with a variety of techniques and tools brewing, because I have the desire to make a coffee shop with hydroponics as centerpieces. Help me realize that dream.
Thanks for read, vote, re-blog and support me in Hive. Maybe god will reward the kindness, let's success together.

---
---