Condition of My Hydroponic Garden in the First Week of May - Garden Journal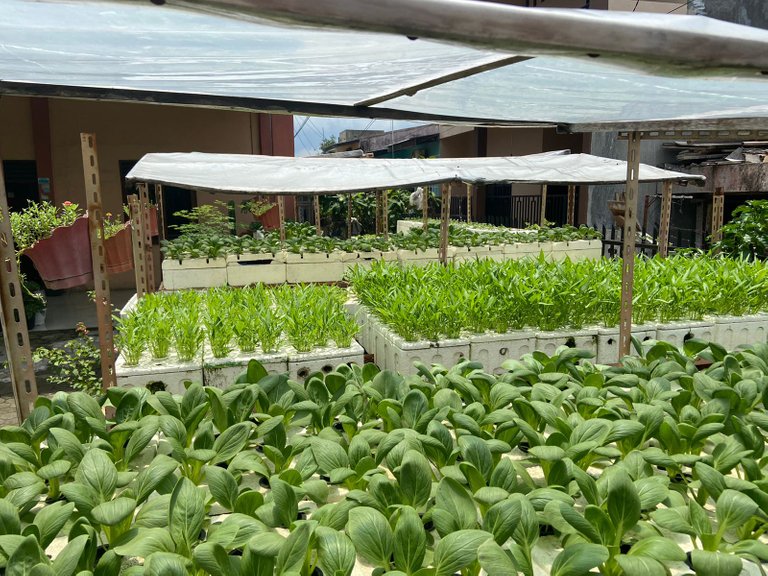 ---
---
Hello everyone and all members of Hive Garden Community, how are you today? May friends always be given health and happiness in carrying out every routine and work at this time. I can't believe it, we are already in early May and this time I want to share my garden journal this week.
Conditions of Hydroponic Gardens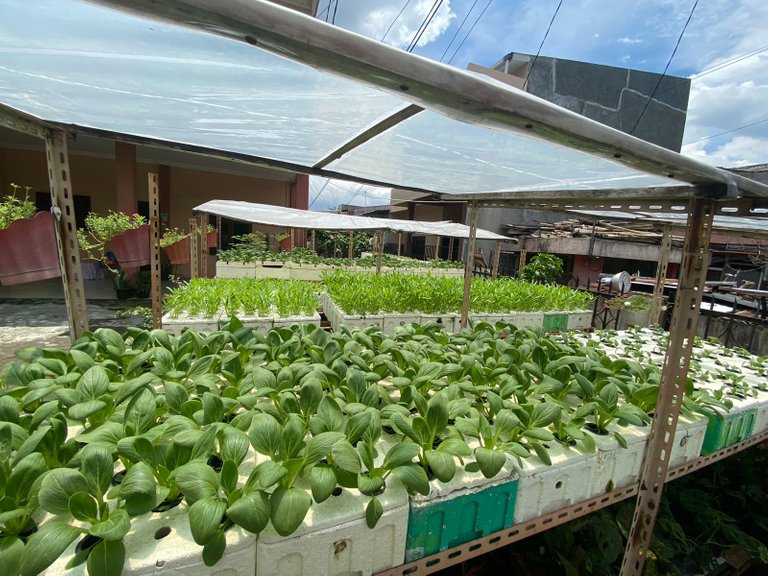 Usually, I keep my garden journal every Monday and I want to try to replace it on Friday from now on. For your information, I have a hydroponic garden that is planted with various vegetables such as kangkong, pakchoy, lettuce. Apart from that, I also grow herbs such as mint leaves.
This week, the weather conditions in my city are very good. Rainfall is good and the sun is not too hot to shine on the earth. I can also do activities comfortably outdoors to take care of my vegetables. However, I also continued to work extra, because on May 2, I was celebrating Eid al-Fitr and that prevented me from working a few days later.
The hydronic farming system makes it easier for us to deal with situations like this. I just need to make sure and check all my hydroponic installations and media are in full condition with the right nutrient solution. If the water in the hydroponic medium is full, we can leave our hydroponic installation for about two days unattended.
---
---
Pakchoy Development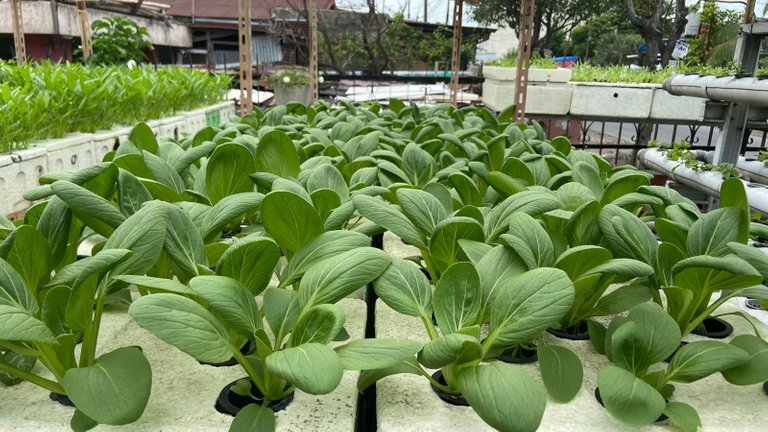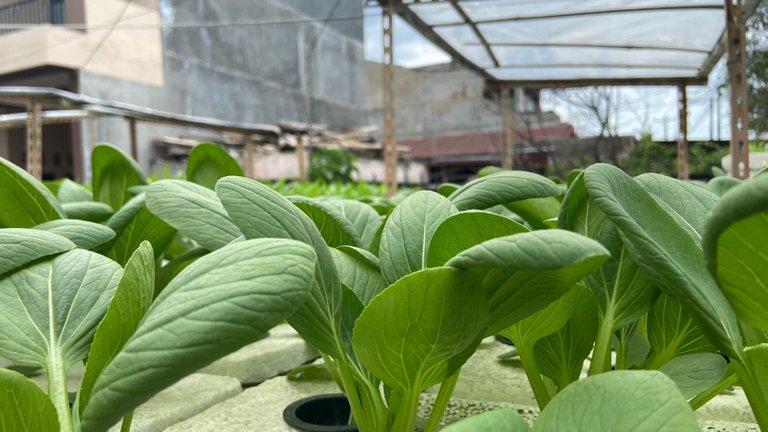 How do you feel when you see these photos of fresh vegetables? looks very pretty, doesn't it? This pakchoy is 24 days old after sowing and has very good and optimal growth. We can see it from the condition of the pakchoy that grows uniformly and there is not the slightest pest attack on the leaves.
I used a liquid fertilizer solution with a concentration of 1000-1100 ppm last week. This I improved from the previous use to promote the growth of vegetables and also anticipate the condition I can neither control nor observe these vegetables for several days. Seeing the condition of the vegetables that are growing like this, next week we may have some or all of them harvested.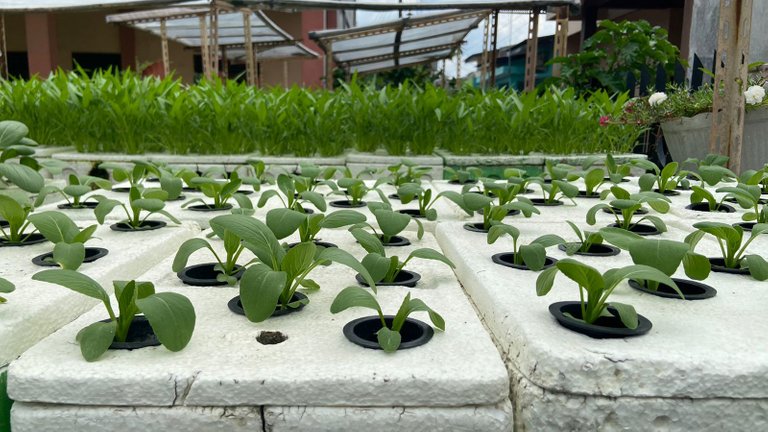 In addition to the pakchoy that are already big, I also have pakchoy that are different in planting age from the photos above. This is a pakchoy about 14 days after sowing. The growth of this vegetable is also still very good and optimal, for this condition I still use a fertilizer solution with a concentration of only 800 ppm.
---
---
Kangkong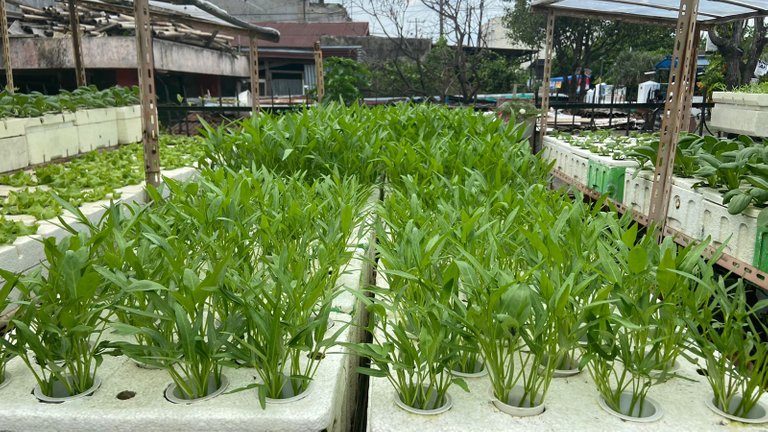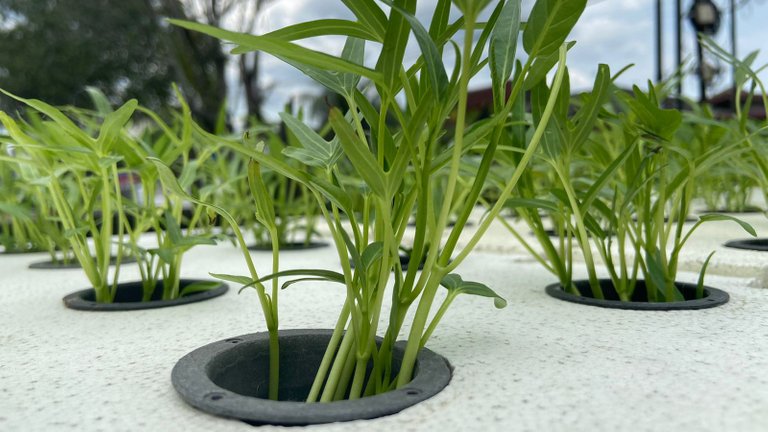 I have a bit of a problem with this vegetable due to the delay in transferring to plant media. I transplanted the kangkong seedlings on two different dates and produced kangkong with different heights. You can see, the kangkong on the back in the photo is taller than the front. In fact, the kangkong was sown on the same day but moved on a different day. The effect of liquid fertilizer makes vegetables that are transferred earlier grow better than those that are later.
The kangkong I planted is growing very well. This vegetable grows green and there are no signs of pest attack on the leaves or roots. If we continue to be consistent like this, next week these vegetables can be harvested and consumed by our families and customers.
Lettuce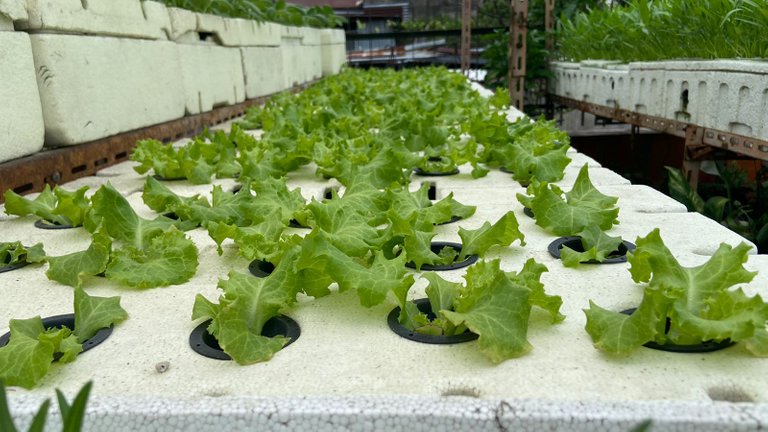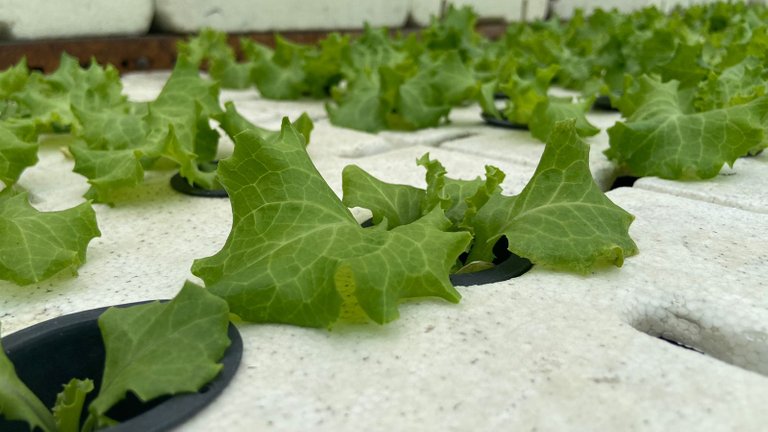 Lettuce is a vegetable that requires cool weather and not too much direct sunlight. Constant sunlight can cause the lettuce edges to burn. Therefore, in each of my hydroponic media planted with lettuce, I try to find ways to limit direct sunlight. Lettuce only needs about 4-6 hours of sunlight to grow and develop.
I transferred this lettuce last week to hydroponic media. Its growth is also very good and optimal. This lettuce grows uniformly, the color is also bright green and there are no signs of pest attack on all the plants. I used a liquid fertilizer with a concentration of 600-700 ppm this week and we will see how this lettuce develops next week.
---
---
Mint Leaves in PVC Hydroponic Installation
This week, I'm not harvesting my mint leaves and keeping them lush and fresh. I harvested too many mints in the last two weeks and made them too short to harvest.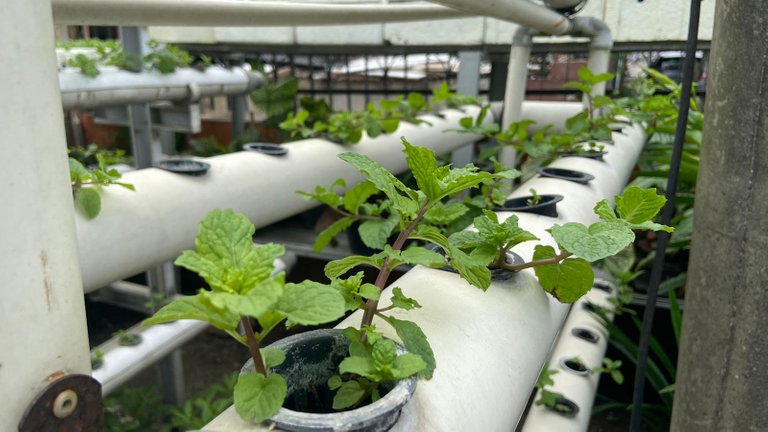 Caring for mint leaves is not difficult and very easy. We just need to make sure there are no caterpillar attacks on the leaves and also keep the roots not too thick and dense. Dense root conditions will hamper water circulation and so growth is not optimal.
Okay, this is my garden journal in early May. Hopefully I can provide inspiration and new knowledge for all of my friends.
---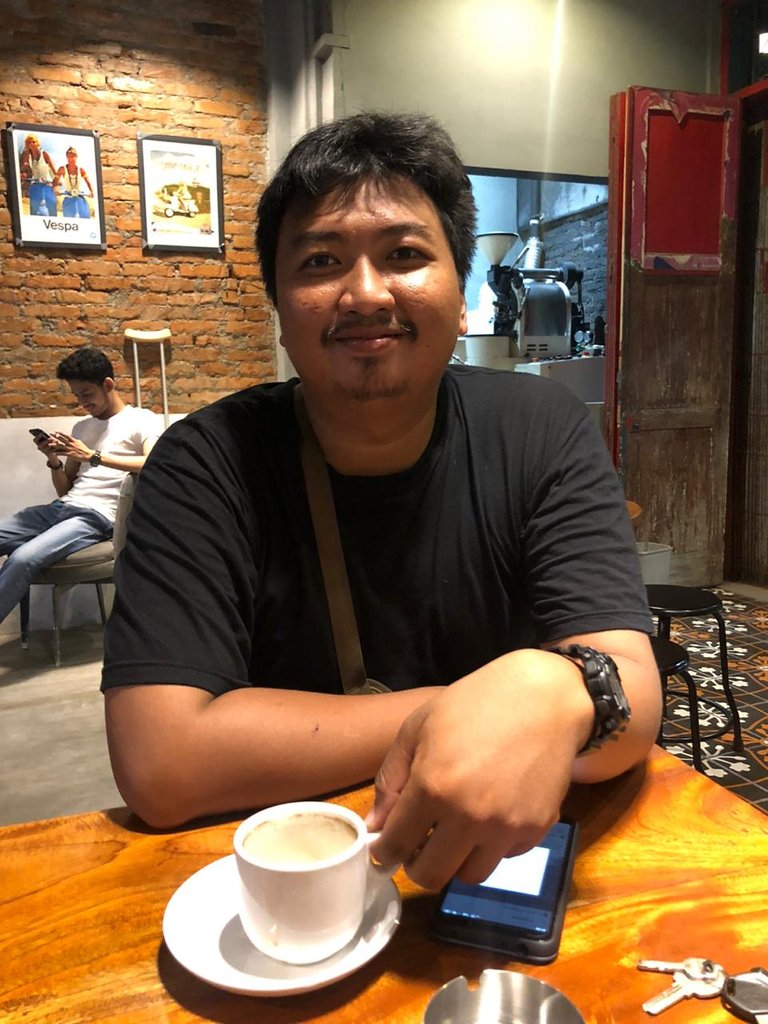 About Author

Call me Isdarmady, because I have a full name that is very long, namely Isdarmady Syahputra Ritonga. I am a head of the family who work as Farmers Vegetables Hydroponic and Consultant Hydroponics, sometimes I also sell coffee from various regions in Indonesia.
I have expertise dispensing coffee with a variety of techniques and tools brewing, because I have the desire to make a coffee shop with hydroponics as centerpieces. Help me realize that dream.
Thanks for read, vote, re-blog and support me in Hive. Maybe god will reward the kindness, let's success together.

---
---