Coffee Bean Review : Blue Batak Arabica Coffee from Onan Ganjang Village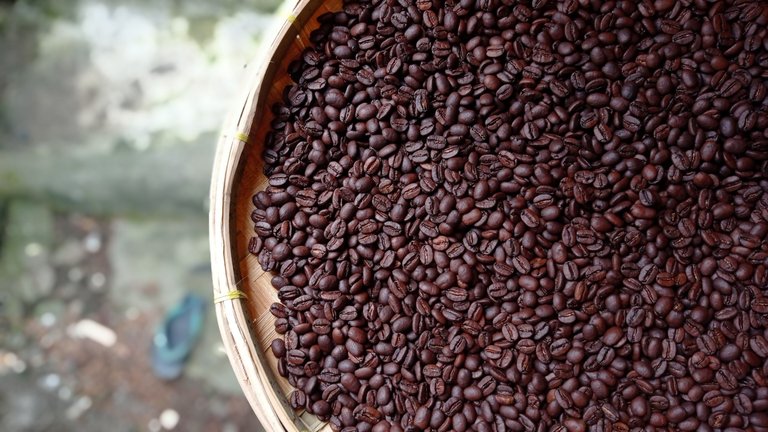 ---
---
I've heard a quote "A loyal friend is like a precious treasure", if we have friends in times of sorrow and joy, wherever we are, even though we are separated by distance and time, we should still maintain communication with each other. A few days ago, I was contacted by an old friend of mine. We met when we were in college, we were very close because we were both on the same football team and the object of research. At first we worked in the same livestock company but in different divisions, and we both resigned at the same time, and one thing in common from our friendship. We both love to drink and enjoy coffee.
Long story short, this friend of mine owns a coffee shop in Silangit District, North Tapanuli Regency. He asked me for help to defrost the packaging for the coffee product he was going to make. I helped him sincerely, of course because he was an old friend of mine. He was planning to send money but I said no effort. I said just send coffee if there is stock. He promised me to send one kilogram of his best coffee green beans to me.
Two days ago, the green bean coffee came to me. I called my friend again to say thank you, and asked the origin of the coffee. The coffee he sent came from his own village, Onan Ganjang Village – Lintong and this coffee has its own characteristics, according to him. He told me that I would definitely like this coffee. My friend also explained that this coffee belongs to the legendary Blue Batak Coffee category.
---
---
Arabica Blue Batak Coffee Beans
I simplified the name of this coffee, to Blue Batak or Lintong Arabica Coffee. For sure, both are the same. For coffee enthusiasts in North Sumatra, the naming of coffee with Blue Batak signifies confidence in the taste and quality of the coffee. The name "Blue Batak" appeared several years ago, when a coffee expert from the west came to North Tapanuli and was amazed to see the green bean Arabica coffee and its special taste when roasted. The coffee expert coined the name "Blue Batak" because he saw the green bean Arabica which looked bluish green. The coffee reminded him of the famous "Jamaica Blue Mountain" coffee, and he was sure that this coffee from Tapanuli had the same taste quality and was not inferior.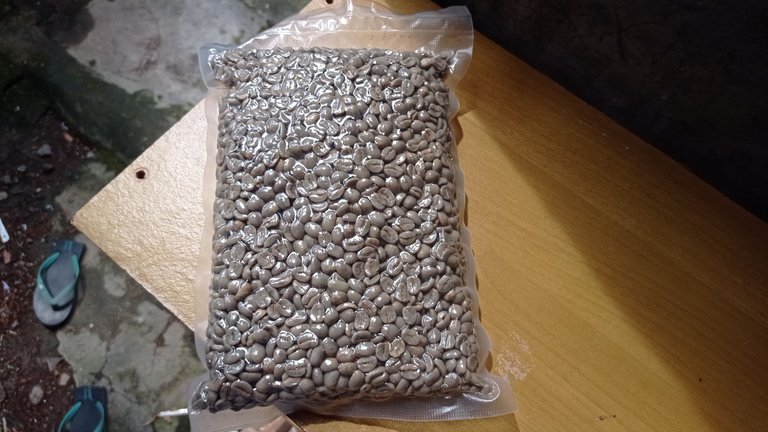 We hear that story often, from every coffee shop in my city. Because there are too many speakers, and the name of the coffee expert is not clear, I thought it was just a story to increase the branding of this coffee. So, let's get rid of that story. Let's just focus on the coffee I got.
My first impression, the packaging is very good. This green bean coffee has been vacuum packed to maintain its freshness. I really like it, even though this coffee comes from a village far from the big city but the standard they make for packaging is very good. I can't wait to open this coffee.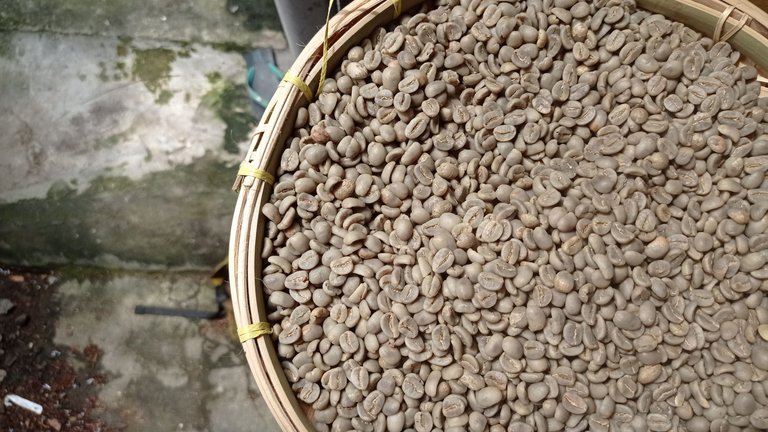 I was amazed to see green bean Arabica from Onan Ganjang Village. This is one of the best green beans I've ever had in 2022. I can't comment anymore, even from the aroma before roasting, I can already feel the freshness of this coffee bean. The coffee beans are also very uniform with a fairly large bean size of about 7-8 mm. Coffee beans with large and uniform size are one of the characteristics of Arabica Blue Batak coffee.
---
---
After Roasting
I can't wait to roast this coffee. I went to my regular coffee roaster, and discussed the right level of roasting to get the best aroma and flavor out of this coffee. After a long discussion, we will roast at the medium roast city + level to get the sour taste that will disappear if the coffee beans are roasted too dark.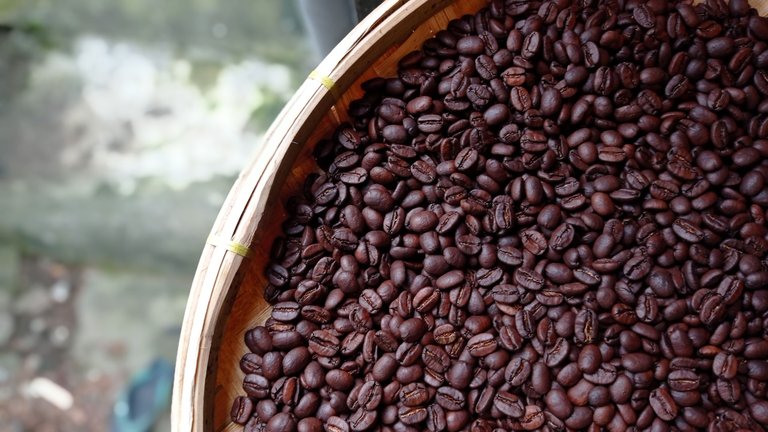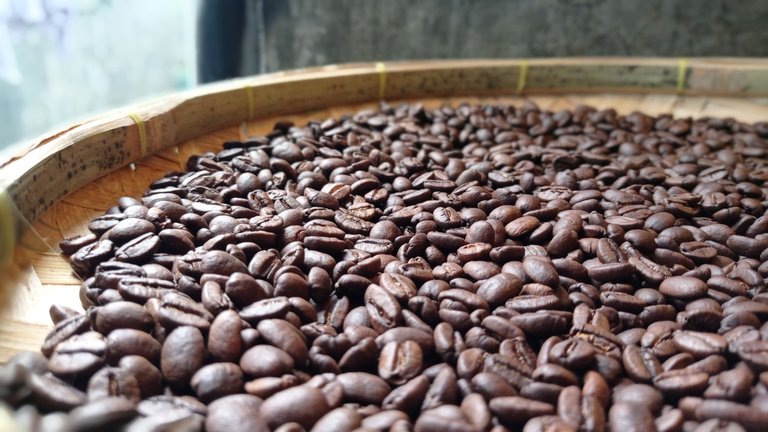 The photos of the roasted coffee beans look very beautiful. A uniform brownish black color, I like to use the term caramel color to describe the color. From the roasting process, we can confirm one thing, namely that the harvesting of coffee beans is done very well and that no coffee beans are harvested in a raw condition.
The process of roasting coffee beans can see how much raw coffee is harvested in one batch of coffee. Coffee that is harvested when the coffee beans are not ripe will experience a striking color difference with coffee that is harvested after the coffee beans are ripe. Usually, roasted raw coffee beans will be light brown in color. However, I did not find it in this coffee, which indicates how good this coffee.
---
---
How About Taste This Coffee ?
Actually, I can't wait to brew this coffee. However, the most appropriate coffee brewing time after the coffee is roasted is around 36-48 hours. Therefore, the time required for the remaining carbon dioxide left in the roasting process will evaporate and disappear. After two days, I immediately brewed this coffee. Because during these two days, the aroma of this coffee came out of the glass jar and "disturbed" my concentration.
I asked my friend, what is the most appropriate brewing method to enjoy this coffee he sent. He answered simply, brewed by "knocking down" only. The "tubruk" brewing method is a traditional brewing method in Indonesia, simply by means of a medium grind coffee that is brewed with boiling water.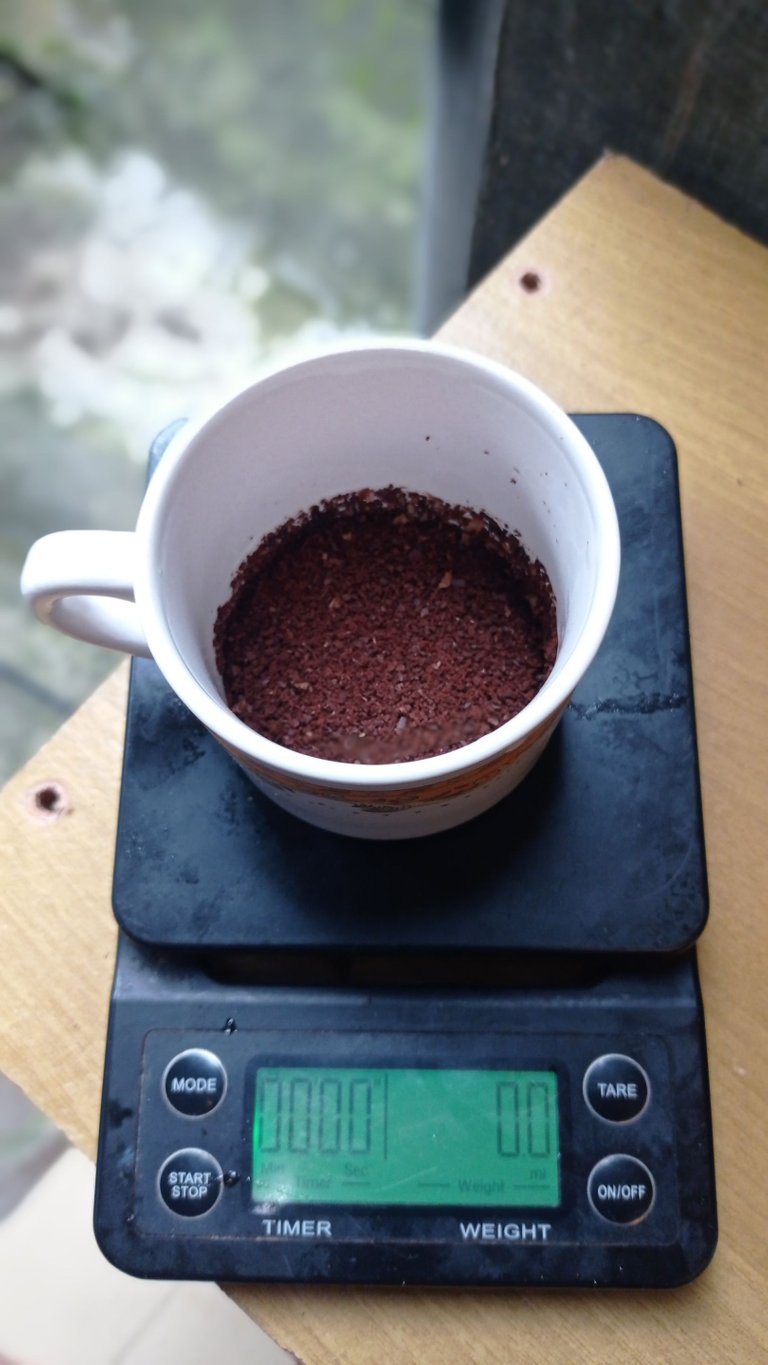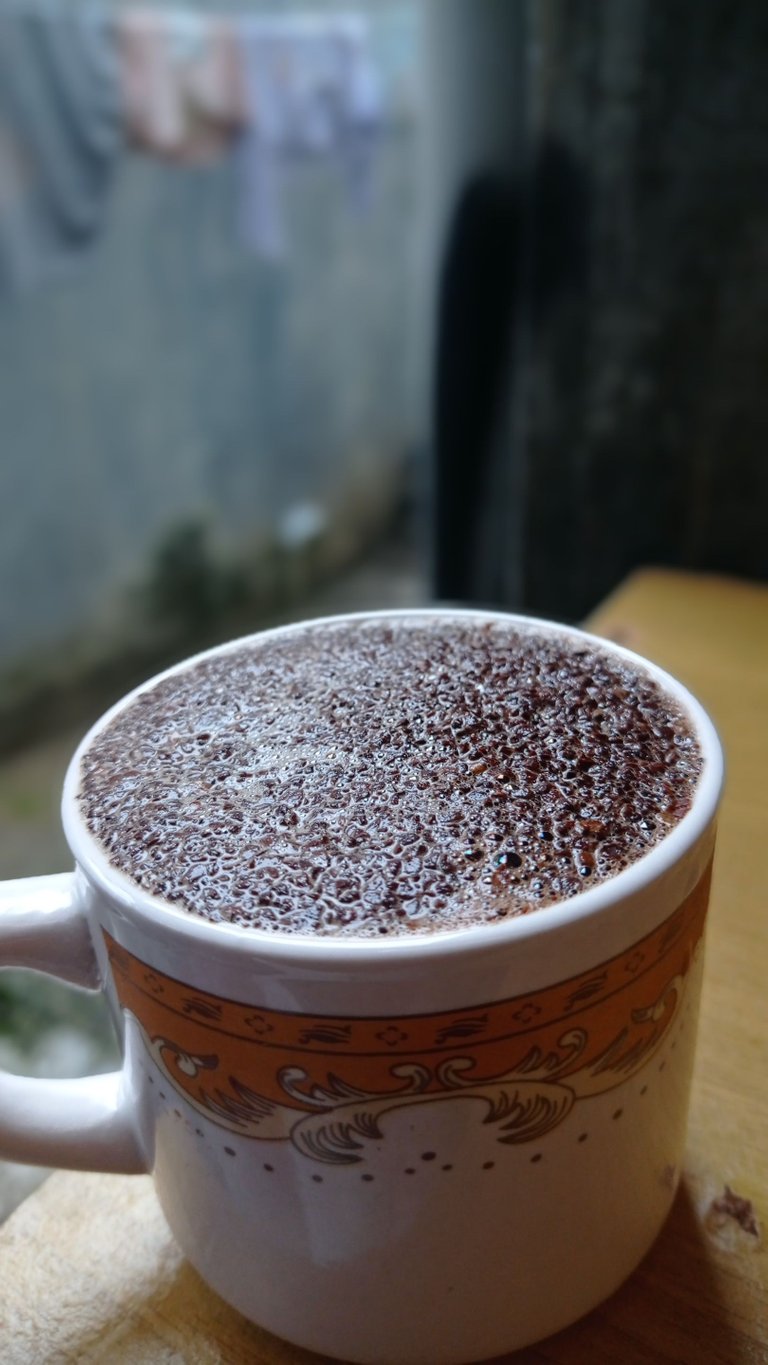 Yup, like the way we brew instant coffee, but in the "tubuk" brewing method we can't stir it. Why should coffee brewed with this method not be stirred? we will make the coffee grounds go down by themselves by waiting a few minutes after brewing. This method is actually similar to the coffee cupping process (the process of assessing the taste of coffee beans).
I enjoy thrilling moments like this, I feel like an orgasm but by inhaling the aroma of this coffee. Coffee grounds slowly began to fall, I immediately took a sip of my glass. I swear, this coffee has a very clean after taste for the taste of local Indonesian coffee. Usually, local Indonesian coffee often suffers from poor post-harvest so that there is a lump when drunk.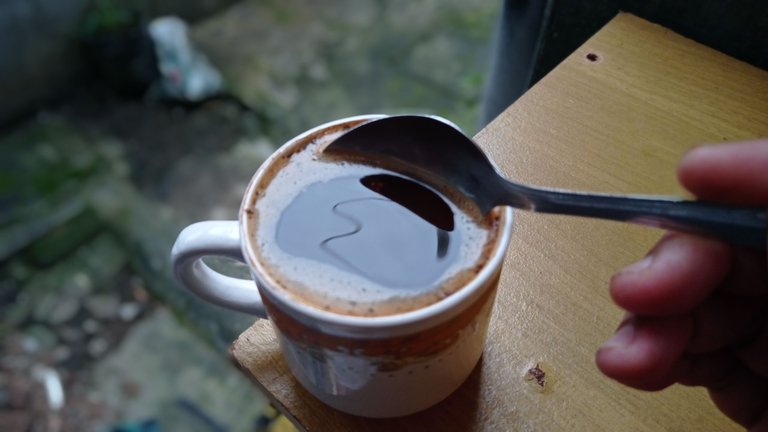 One more thing, this coffee has a very thick body, in accordance with the characteristics of coffee that is common in Sumatra Island. For the acidity of this coffee a little less for me but the swetness is very good. The flavor is not too dominant, but I can still enjoy the taste of nuts and chocolate in this coffee.
There is no conclusion from me, because I am still under the influence of the enjoyment of this coffee. See you next time friends.
---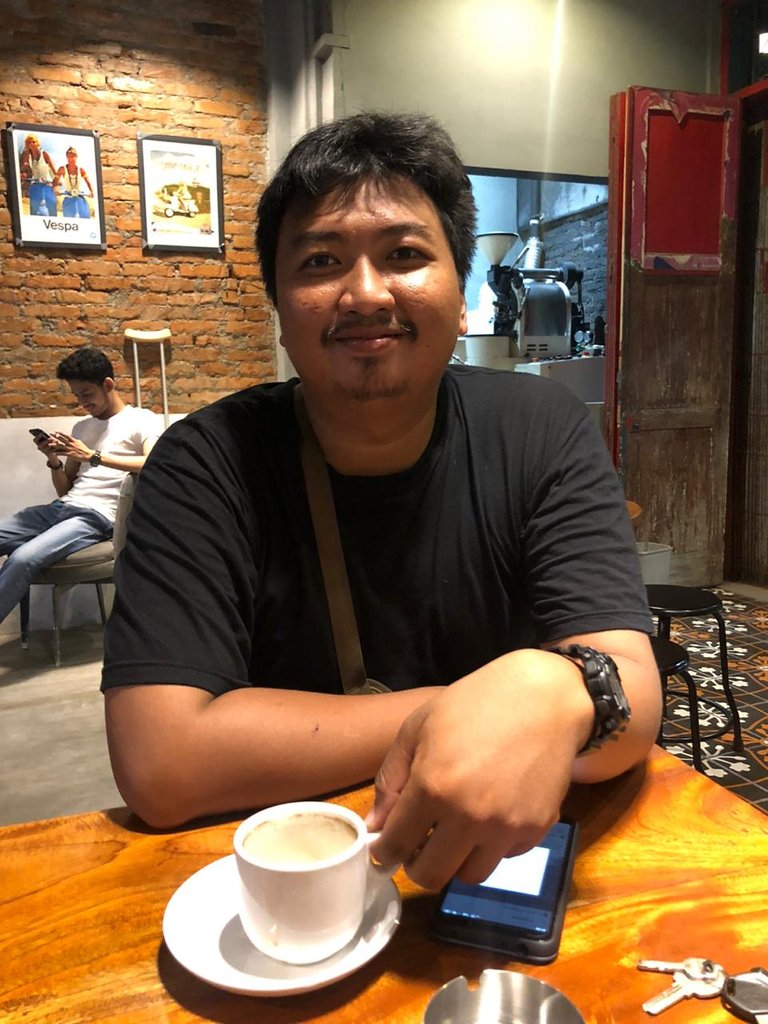 About Author

Call me Isdarmady, because I have a full name that is very long, namely Isdarmady Syahputra Ritonga. I am a head of the family who work as Farmers Vegetables Hydroponic and Consultant Hydroponics, sometimes I also sell coffee from various regions in Indonesia.
I have expertise dispensing coffee with a variety of techniques and tools brewing, because I have the desire to make a coffee shop with hydroponics as centerpieces. Help me realize that dream.
Thanks for read, vote, re-blog and support me in Hive. Maybe god will reward the kindness, let's success together.

---
---