Beginner's Mistakes When Starting Hydropnic Part 1 and My Hydroponics Journal Weekly (8 - 15 August 2022)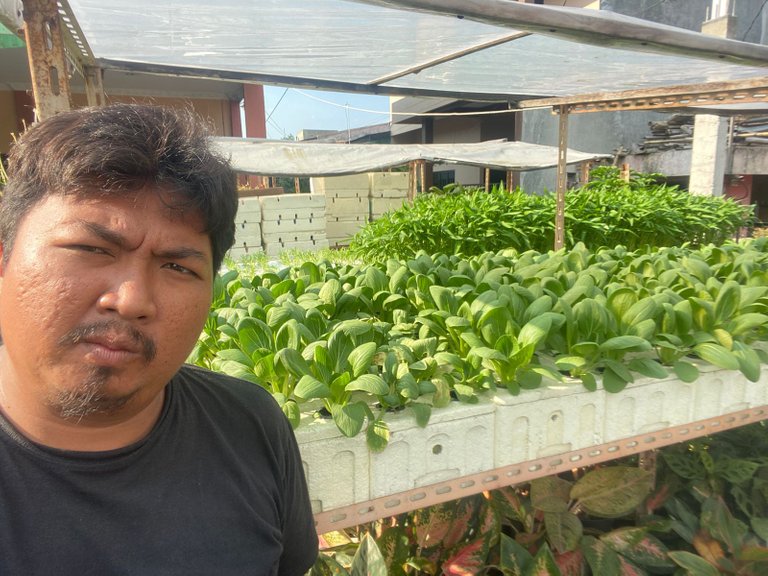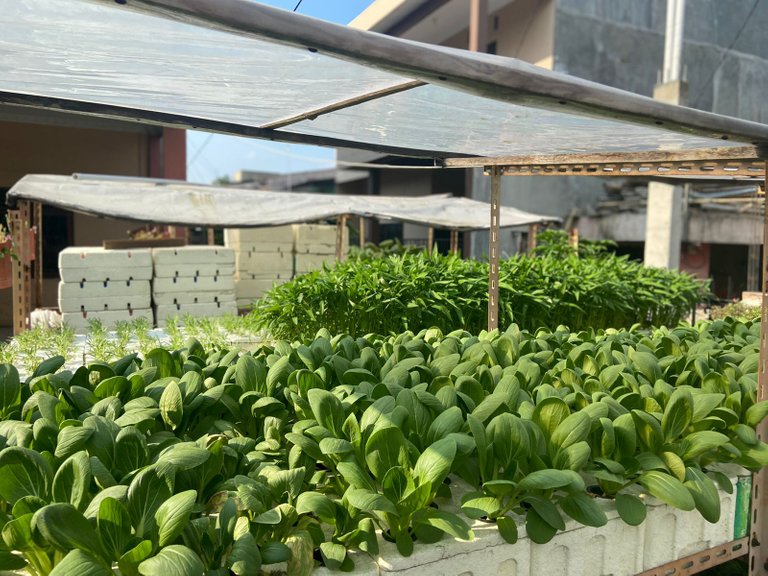 ---
---
Hello everyone and all members of HiveGarden Community, how are you today? I hope and pray for all of us to always be given health, happiness and also ease in living this life. As we all know, life in this world is full of challenges and also many people are always commenting on what we do and do. Let's stay focused on what we are doing and always keep this spirit.
Every Monday, I always try to participate in this community by sharing stories about my activities in my hydroponic garden. Writing a hydroponic garden journal also makes me more consistent in caring for and making my hydroponic garden continue to produce.
Currently, gardening with a hydroponic system is mostly done by people for activities at home. The hydroponic system is easy to do, hydroponic farming allows us to get fresh vegetables from our own garden and process them directly. However, many people also fail to start growing vegetables with a hydroponic system for various reasons. In my experience, there are several things that we need to avoid or pay attention to when starting to grow vegetables with a hydroponic system.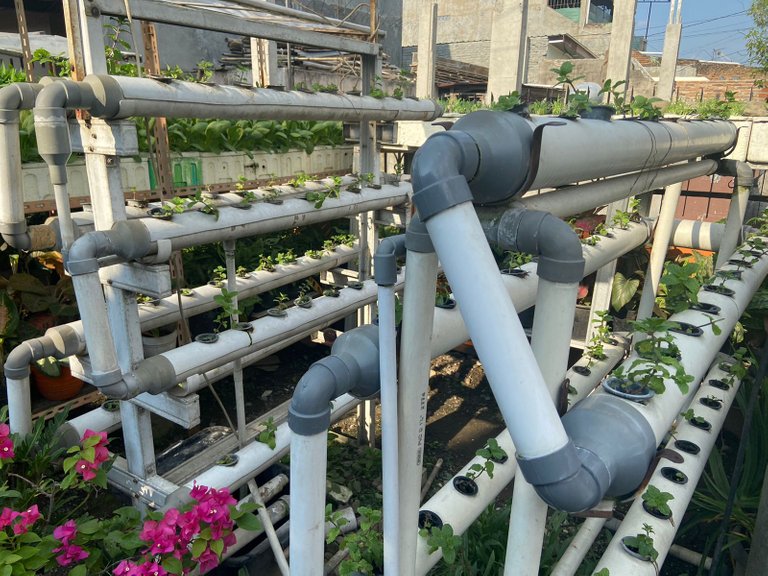 Start with a hydroponic installation that is cheap and easy to use
In my opinion, when you want to try a hydroponic system, it's best to use hydroponic media that fits your budget and room capacity. Avoid using hydroponic installations with expensive systems. For example, when I started hydroponics for the first time, I used the wijk system with stryrofoam as the hydroponic medium. It's cheaper and doesn't cost me too much to start with. Avoid spending too much budget when starting a hydroponic system. The next reason I will discuss next week, this time I will tell the conditions in my hydroponic garden and some of the current vegetable developments.
---
---
The Development of Hydroponic Pakchoy
Pakchoy is one of the varieties of mustard that is widely grown in Indonesia. Pakchoy is also a short-lived vegetable because it can be harvested before 40 days after sowing. This vegetable has a unique taste, the leaves taste like spinach and the stems are slightly bitter. Pakchoy is also a vegetable that has many benefits for our body.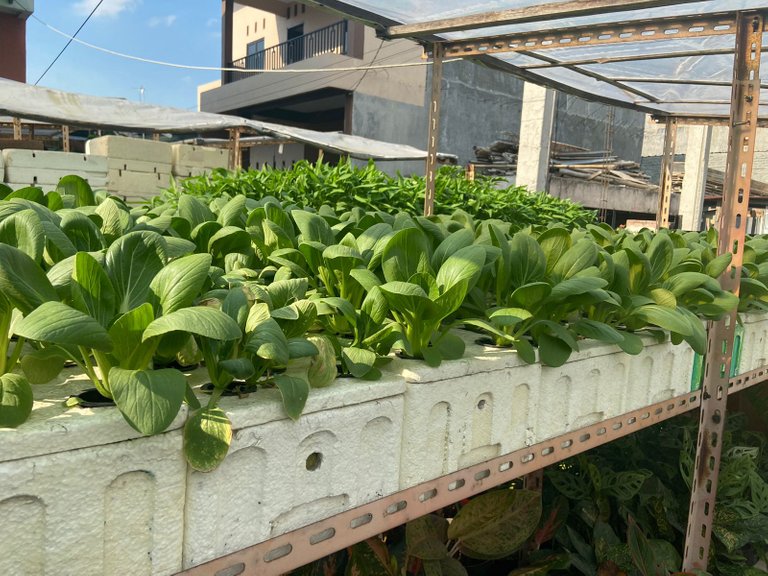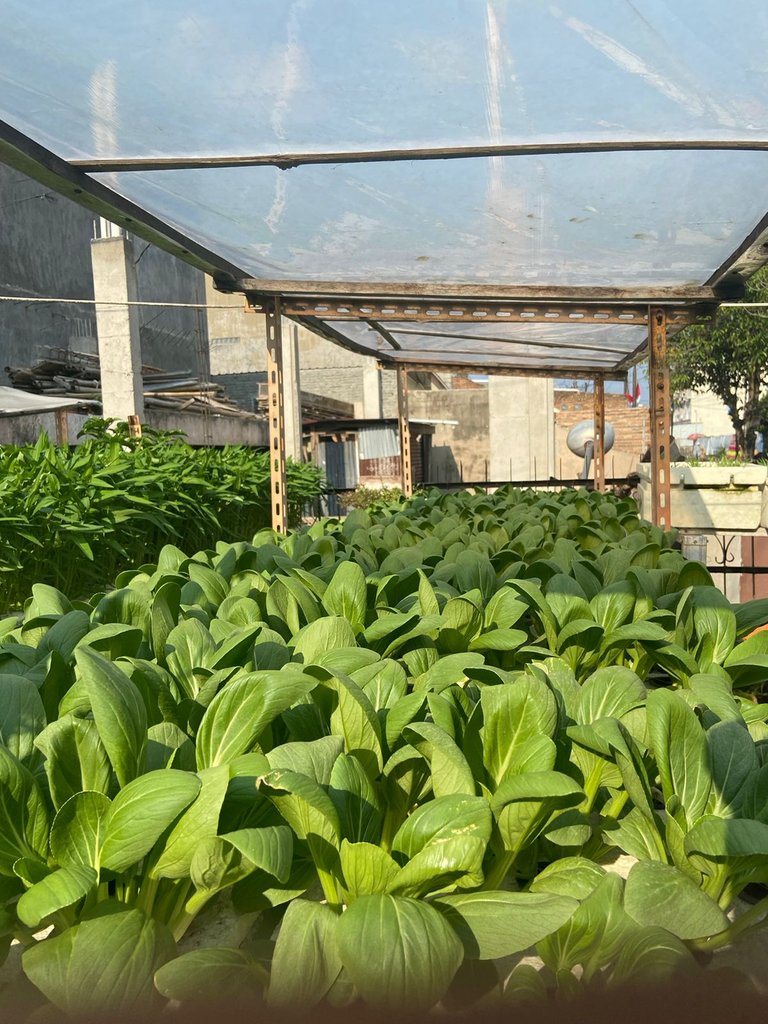 Pakchoy 28 Days After Sowing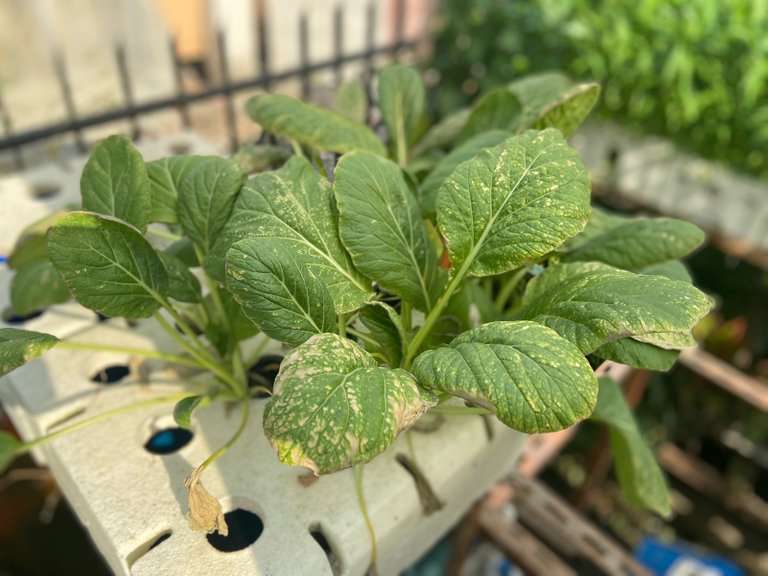 Vegetables damaged by drought
I always grow pakchoy in my hydroponic garden. In this planting period, I have pakchoy with two different planting ages and we will discuss them one by one. First, I have about 200 pots of pakchoy with 28 days of planting after sowing. The majority of these pakchoy grow well and optimally. The leaves are bright green and the stems are very sturdy and beautiful. However, one planting medium experienced a drought last Thursday and caused 8 pots of pakchoy to take severe damage. Vegetables that lack water in hydroponic media will get a burning effect and also cause death. I tried to save by adding water in the hydroponic medium but it seems I'm too late. I think I will harvest all of these pakchoy this week, because on Sunday there are already several potential customers who come to check the quality and quantity.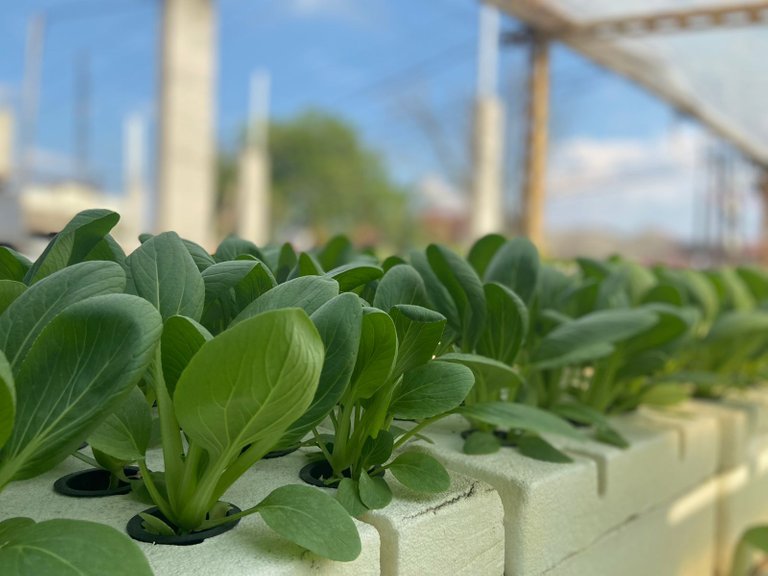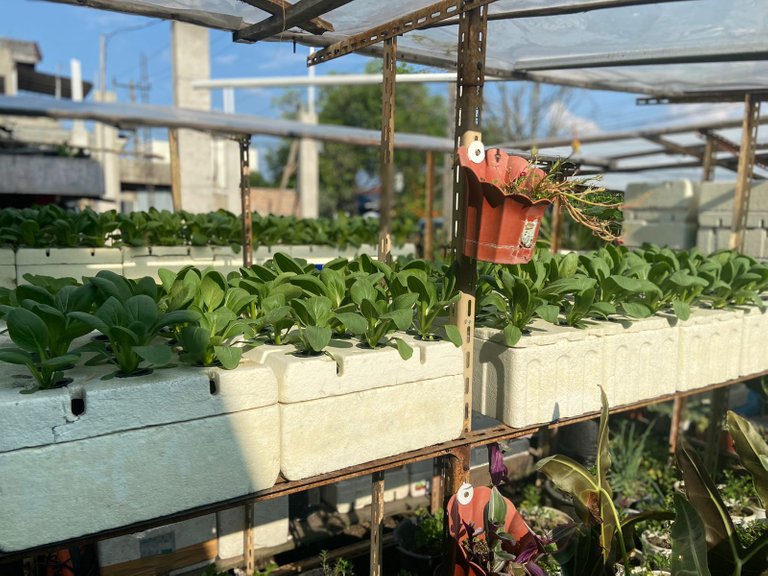 In addition, I also have pakchoy which is 21 days after sowing. This Pakchoy grows well and optimally. For the mini planting period, I used a hydroponic liquid fertilizer solution with a concentration of around 1000-1100 ppm and it seems to be running optimally. I also do pest prevention by spraying garlic solution regularly every three days.
---
---
Hydroponic Kangkong Conditions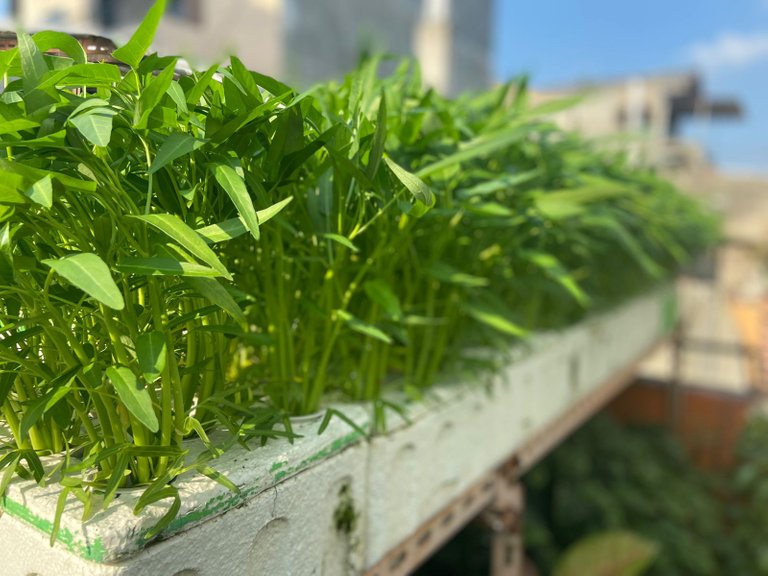 Kangkong is one of the popular vegetables in the community. Kangkong has a delicious taste and is easy for anyone to cook. In addition, this vegetable also has high nutrition and is rich in minerals and fiber. Therefore, kangkong has always been a popular vegetable grown by conventional farmers as well as hydroponic farmers.
In my hydroponic garden, I always grow kangkong and make sure there is a stock of this vegetable. Kangkong is very easy to grow and doesn't take long to harvest. The photo above is a photo of my kangkong about 26 days after sowing. Friends, you can see for yourself, this kangkong has grown optimally and is ready to be harvested. There is no special secret to getting kangkong that grows well, the most important point is to provide fertilizer with the right concentration.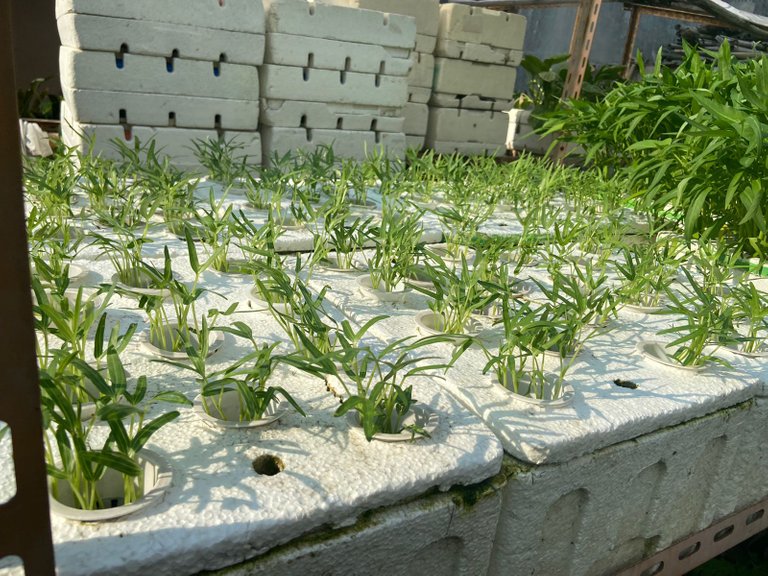 Last week, I told my friends about my activities in sowing kangkong seeds. This week, all the kangkong seeds are ready to be transferred to hydroponic media. I use a hydroponic liquid fertilizer solution with a concentration of 800-1000 ppm, hopefully this kangkong grows well and we will see its progress next week.
---
---
Bitter Mustard Condition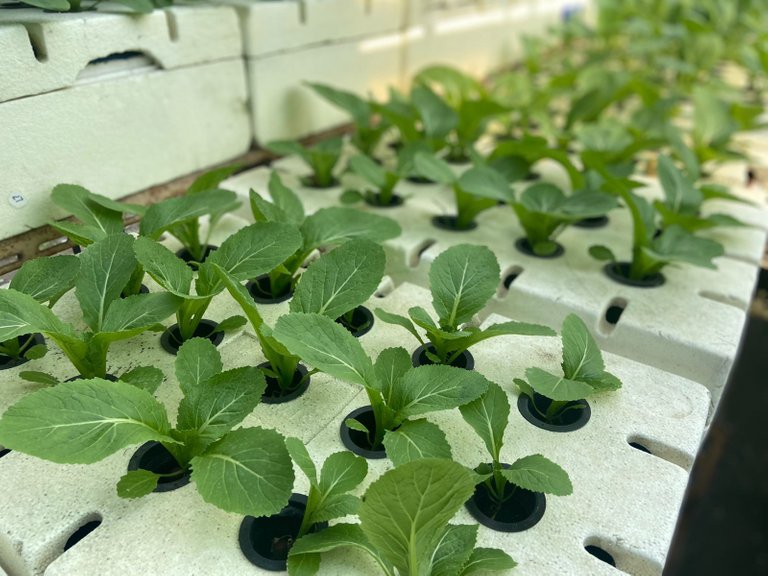 If my pakchoy and kangkong grow well and optimally, it's a different story with this one vegetable. Bitter mustard or also known as chicory has a few obstacles in the growth process. I noticed that in every hydroponic medium there is at least one vegetable pot that is stunted.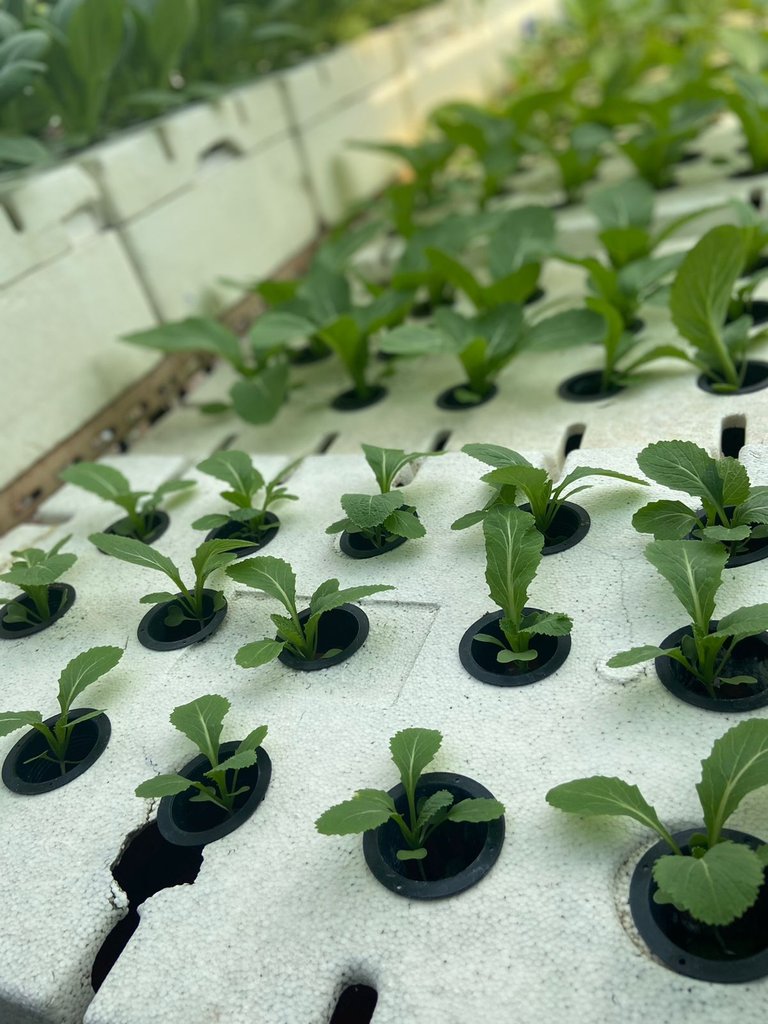 I tried to take action by grouping stunted vegetables in one hydroponic medium, then in that hydroponic medium I used a liquid fertilizer solution with a concentration of 1400 ppm. I hope that by using the maximum concentration of ppm it can stimulate the growth of the stunted vegetables.
My Hydroponic Lettuce Condition
Next we move on to lettuce. Last week, I harvested the remaining lettuce in my hydroponic garden. Currently, in my hydroponic garden left lettuce with the age of 14 days after sowing.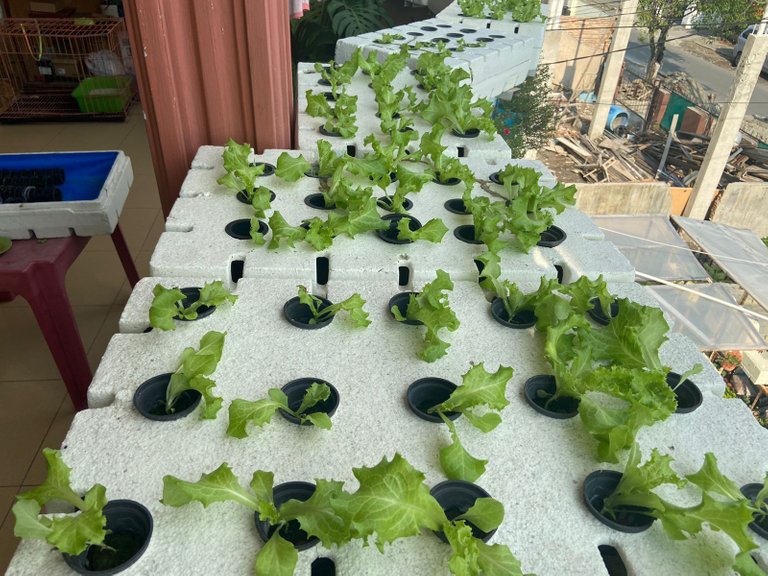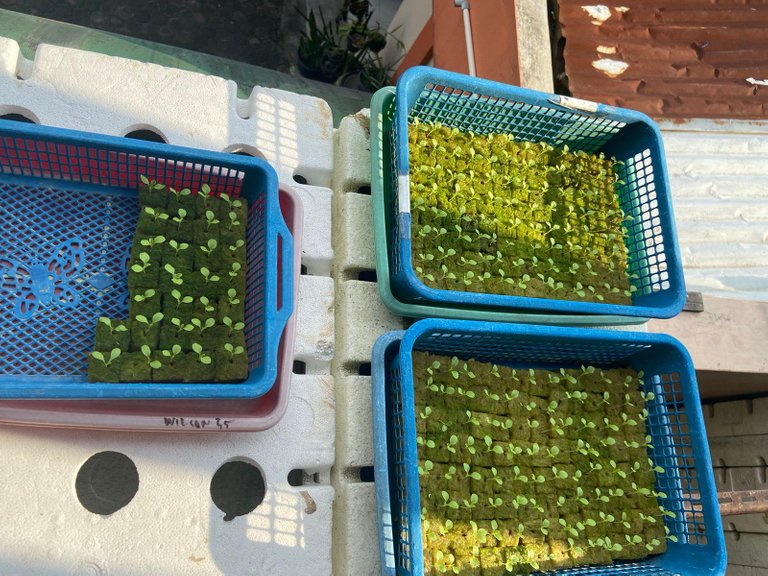 This lettuce grows not uniformly, this is because a few days ago, some of the lettuce that I planted was used by my sister as equipment for hydroponic counseling in villages, as one of the campus programs for the community. This week, the lettuce seeds that I planted have also grown well, marked by two leaves on the seed. My plan, next week I will move to my hydroponic media.
Okay, this is my Garden Journal this time. Hopefully I can always stay consistent and may we all always be enthusiastic! Fighting!
---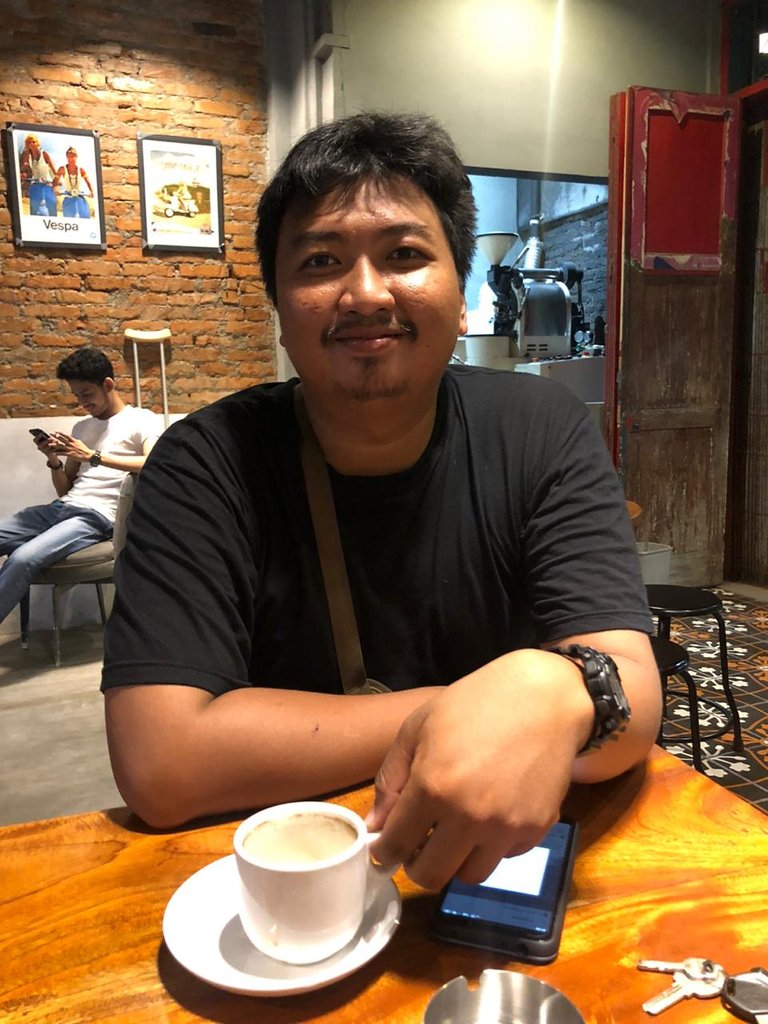 About Author

Call me Isdarmady, because I have a full name that is very long, namely Isdarmady Syahputra Ritonga. I am a head of the family who work as Farmers Vegetables Hydroponic and Consultant Hydroponics, sometimes I also sell coffee from various regions in Indonesia.
I have expertise dispensing coffee with a variety of techniques and tools brewing, because I have the desire to make a coffee shop with hydroponics as centerpieces. Help me realize that dream.
Thanks for read, vote, re-blog and support me in Hive. Maybe god will reward the kindness, let's success together.

---
---