A new member of the family. / A Picture is Worth A Thousand Words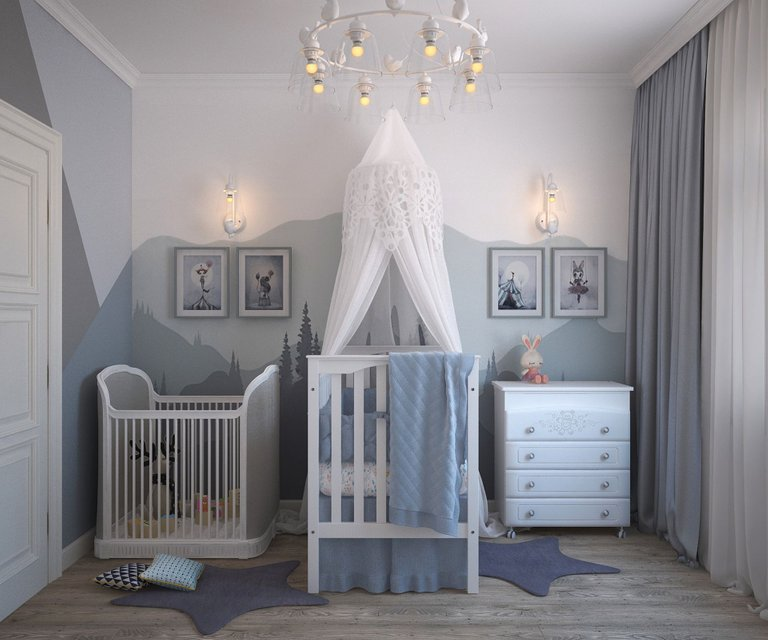 Maria had her baby last Sunday, it is her first child, but she is a new member of the family.
I like it and I am happy that children are born since they are the joy of the whole family and they enlarge the genealogical album.
As soon as they told Maria to stop, I went to meet her baby, a beautiful boy that everyone had to see.
When I entered his room I felt a pleasant sensation with all those shades of gray, white and blue that the room had and all the decoration.
The crib, the playpen and the chest of drawers were white, with boards that resembled lines, giving the decoration a bit of elegance.
The curtains, one white and the other gray, gave the impression that the room was not completely dark.
On the wall I had a drawing of some mountains and vegetation, but they were not in the foreground, they were in a second and third plane or dimension.
So I did see the way they painted them and the colors they used. You could hardly see the mural but it was there.
The beautiful mosquito net that the crib had was not necessary, but in the decoration it gave a touch of distinction.
The small squares caught my attention since I did not like the drawings that were framed for a child's room, for my taste, there are more appropriate drawings for babies. But they were very well aligned.
It shows that they took pains to make this room comfortable for the arrival of this child.
https://hive.blog/hive-161155/@freewritehouse/a-picture-is-worth-a-thousand-words-572022

Traduccion al Español:
Un nuevo miembro de la familia.
Maria habia tenido a su bebe el Domingo pasado, es su primer hijo, pero es un nuevo miembro de la familia.
Me gusta y me alegra que nazcan niños ya que ellos son la alegria de toda la familia y agrandan el album genealogico.
Enseguida que le diron de alta a Maria fui a conocer a su bebe, un niño hermoso del cual todos tenias que ver.
Cuando entre en su cuarto senti una sensacion agradable con todos esos tonos de grises, blanco y azules que tenia el cuarto y toda la decoracion.
La cuna, el corral y la comoda eran en color blanco, de tablillas que hacian semejanza a lineas le daban un poco de elegancia a la decoracion.
Las cortinas una en blanco y la otra en gris, daba la impresion de que la habitacion no quedaba a oscuras del todo.
En la pared tenia un dibujo de unas montañas y una vegetacion, pero no estaban en primer plano, estaban en un segundo y tercer plano o dimension.
Asi lo hacia ver la forma en que las pintaron y los colores que usaron. Casi no se veia el mural pero alli estaba.
El hermoso mosquitero que tenia la cuna no hacia falta, pero en la decoracion daba un toque de distincion.
Los pequeños cuadros llamaron mi atencion ya que no me gusto los dibujos que enmarcaron para un cuarto de niño, para mi gusto, hay dibujos mas acordes para bebes. Pero estaban muy bien alineados.
Se nota que se esmeraron en hacer de esta habitacion algo confortable para la llegada de este niño.
---
---