Invocación/Summoning.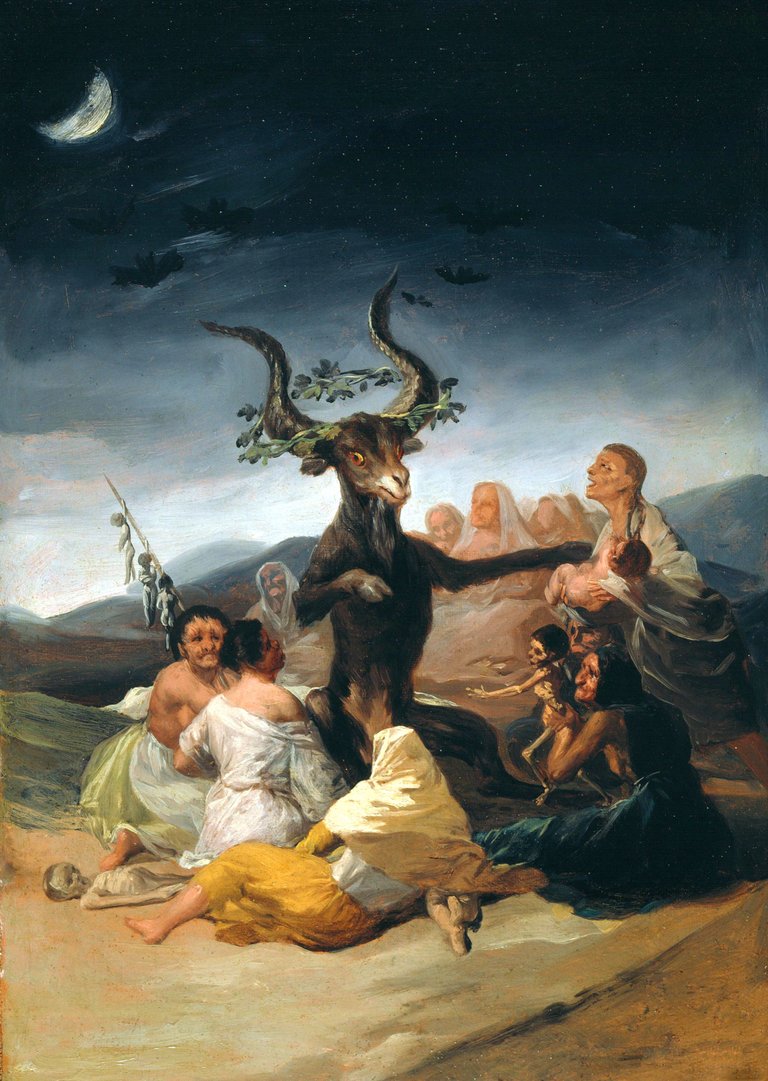 Pintura: El Aquelarre de Francisco de Goya, 1798.
Picture: Witches' Sabbath by Francisco de Goya,1798.
Fuente
Saludos a todos, advierto que este poema puede herir a personas algo sensibles. Tengan en cuenta que solo es un poema y hablante y autor no somos necesariamente el mismo.
En esta primera ocasión en esta comunidad, traigo un poema demente con aires de religiosidad. Si les gusta este trabajo, por favor, síganme y lean mis siguientes publicaciones en las cuales estaré explorando el mal desde varias perspectivas.
Invocación
En la encrucijada del tiempo
Con los grimorios abiertos
La insania como puerto
Y contra la dirección del viento
Reunidos con fervor
En muy vesánico pacto
Aspirando con ardor
De maldad, ¡cuán divino acto!
Con los cuerpos agrietados que dimos como sacrificio
Pertenecientes a doncellas cautivas en un hospicio
Pedimos, Padre Sepulcral, acudas con tus huestes
Para exterminar con tu poder toda la vida terrestre.
Hemos prestos cercenado el cuello manso del cordero
Y los cuerpos infantiles fulminado en el madero
Los cuatro humores esenciales desparramado con mansalva
Y tu nombre prohibido dicho en la Montaña Calva.
Despreciamos toda regla que la moral reclama
Y asumimos con premura la bestialidad negada:
Los términos obscenos escritos están en las estacas
Con las heces de las niñas destripadas con la faca.
Brindaremos en tu honor, con el vino de sus pechos
Despreciando siempre al sol y a los más laureados hechos
Mancillando las costumbres y execrando mandamientos.
Desechando a la cordura de nuestro pensamiento.
Ahorcamos con sus tripas a nuestros amigos más loables
Embutimos nuestras vergas en los cráneos de nuestros padres
Hemos anegado en bilis las banderas nacionales
E infestado de chiripas los símbolos celestiales.
Anhelamos nuestro viaje en tus alas colosales
En el rapto sempiterno junto a hordas demenciales
Para arrasar con saña a todas las sociedades
Y embargar de miedo y caos en infinitas bacanales.
Para esclavizar a todo aquel que en dos piernas camine
A la desesperación someter a quien no compagine
Y a las hijas seducir dulcemente a la guillotina
Enceguecer al mundo con nuestra doctrina:
Que los sabios coman pasto tal como las bestias
Y las beatas regurgiten como perras en las fiestas
Los mandatarios se revuelquen con el veneno de las cobras
Y se borre el recuerdo de todas las «buenas obras.»
Mientras las criaturas míticas surquen el cielo marchito
Y surjan proles vampíricas de nuestro semen maldito.
Y el baile de fuego arreste nuestra purulenta mente
A un ritmo inentendible como de enfermos ecuestres.
Hasta que caiga como esqueleto el último de los mortales
Y encuentren nuestras ruinas los monstruos abisales.
¡Acude, oh, Padre Vomitivo, a nuestro llamado funesto!
¡Permítenos torcer todo lo que está recto!
Gracias por tomarte el tiempo de leerlo.
Quiero crear una estética del mal, de lo abominable, que le provoque repulsión al lector, decir cosas que nadie se atreve a decir, y no porque yo las sienta, sino porque me parece que hay una cierta belleza en el horror, una cierta hermosura en el espanto. Por ello los poemas que he de publicar desde hoy en adelante tienen como objetivo causar grima a quien los lea. Si les disgustan, pues quedaré complacido.
The English version differs slightly in terms of meaning since I want to preserve the rhyme in both languages.
Hello, everyone. Warning: the following poem can hurt sensitive people. Please, consider that author and speaker are not necessarily the same.
This is my first post in this community. I bring you an insane poem with ocultist air. If you like this work, please, follow me and read my posts in which I'll be exploring evil from different perspectives.
Summoning
At the crossroads of times
With the grimoires opening
Insanity as our war cry
And against the wind blowing
Gathered with fervor
In a deep vexanic pact
Longing with ardor
For wickedness, our divine act!
With the cracked bodies we gave as offerings
Belonging to captive maidens murdered with suffering
We ask, Sepulchral Father, come with your hosts
To extinguish all forms of life and leave just their ghosts.
We've diligently severed the gentle lamb's neck
And the children's bodies struck down on the stakes
The four essential humours spilled in the fountain
And your forbidden name pronounced at the Bald Mountain.
We despise every rule that demands their morality
And we've assumed in a rush the denied bestiality:
The obscene terms are written on the fences
With the feces of the girls disemboweled on the benches
We toast in your honor with the wine from her tits
Always despising the sun and the most praised deeds
Sullying the customs and execrating commandments
Discarding sanity from our thoughts with joyful excitement.
We've hanged our laudable friends with their own guts
Into the skulls of our fathers we've stuffed our cocks
We have drowned in bile all the national flags
And the celestial symbols we've infested on slag
We long for our journey on your colossal wings
In the everlasting rapture during mankind's last spring
To raze angrily with scourge all civilizations
And in infinite bacchanals seize through fear and devastation
To enslave everyone who walks on two legs
To punish till desperation and make them knee and beg
And the daughters seduce sweetly to the guillotine
Blind the world within our doctrine of sin:
May the wise eat grass just like the beasts
And the nuns regurgitate like whores at the feasts
May the leaders wallow with the poison of the snakes
And the memory of all "good works" may be erased.
While mythical creatures streak across the withered sky
And vampiric offspring from our cursed semen arise.
And the dance of fire arrests our gangrenous head
To an unintelligible rhythm swirled among the dead
Until like a skeleton falls the last of mortals
And find our ruins the ancient abyssal monsters.
Come, O, Vomitive Father, come in our fatal praise!
Please, let us twist all the things that are straight!
Thanks for taking some time to read it.
I want to create an evil aesthetic, of all ominous and abominable things, poems that provoke repulsion and disgust on the minds of the readers. I want to say things no one says and not because I feel them, but because I see certain beutifulness in horror, an unexplainable loveliness in dread. Therefore, the poems that I'm about to post from now on aim at causing sickening experiences on those who read them. If you feel disturbed or find them disgusting, I'll be pleased.
---
---