Cryptobrewmaster. Pub vs Beer
Good day!
Today I want to share with you my experience and opinion about energy recovery in Cryptobrewmaster. That is kind of an addition to one of my previous posts about energy.
Why I am talking about energy so much? Because I find it is very important, and although I am playing Cryptobrewmaster for more than a month, I still couldn't understand Is there any way to make the maximum energy level higher than 24?
So, as far as I know learned until today, there are 2 ways to recover the energy: drink a beer in the pub or drink the beer bottle in your bag.
The main difference between these 2 ways is that if you drink in the pub your energy won't exceed the maximum 24 points. For example, if your current energy is 23 points, i.e. you miss just 1 energy point to the maximum, and if you drink the beer in the pub that recovers 10 points, then you will still get just 1 point!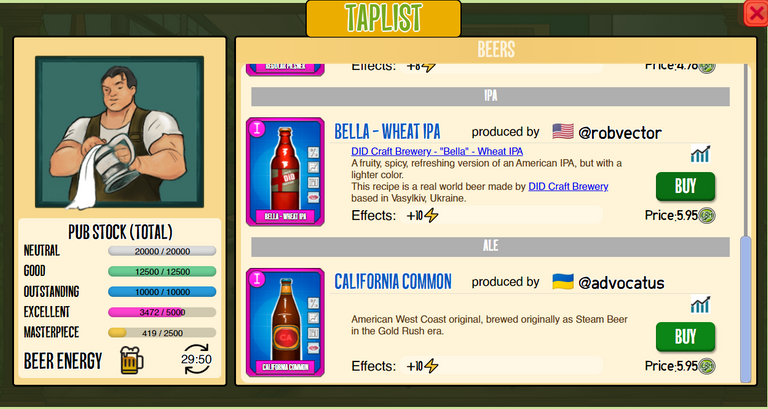 In the case of a beer bottle, you can brew it by yourself, so you don't spend CBM, unless you spend CBM on buying ingredients or even a beer bottle.
I made a price comparison between the price per 1 energy point. But, keep in mind that the prices of beer in the market fluctuate. Also, different beer types and qualities have different prices too. I chose the basic and the cheapest beer - Neutral European Lager.
So, the price per 1 energy in the pub is about 0.595CBM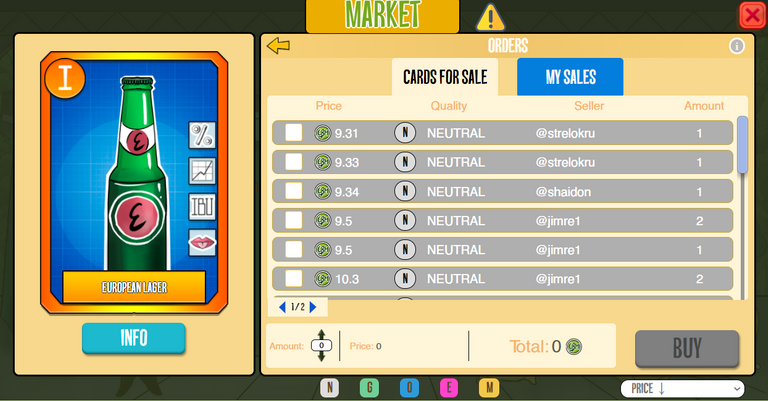 And, the price per 1 energy of the beer bottle is 1.034 CBM.
So, it looks like it is cheaper to buy beer in the pub. At least, in the case of Neutral European Lager.
Do you buy beer? Where do you buy it?
---
If you don't play Cryptobrewmaster, you should definitely start to do it! And don't miss giveaways run by @cre47iv3! You can win a free passport that is worth 1,000ASH!
---
Other useful posts
Good luck! Have a nice day!
---
If you don't play Splinterlands yet, try it now and win a free card or earn DEC tokens.
If you don't play Rising Star yet, try it now and win a free card or earn STARBIT tokens.
If you don't play CryptoBrewMaster yet, try it now and win a free card or earn CBM tokens.
---
The post was published via @Ecency. Ecency is one of the best communities and posting platforms on Hive Blockchain!
---
FOLLOW ME HERE
---
---